If you always wondered why your WiFi is slow and unstable, the router you are using might be the reason why. Routers tend to degrade pretty drastically after a few years. Most Internet Service Providers provide a really basic router that didn't perform all that well on bigger property.
This is why most people buy their own wireless router for better performance. While routers do vary in price, we will be looking at WiFi 6 routers less than RM250 that you can buy in Malaysia right now. These routers will be fully compatible with Malaysia ISPs including Unifi, Maxis and more.
Best Budget WiFi 6 Router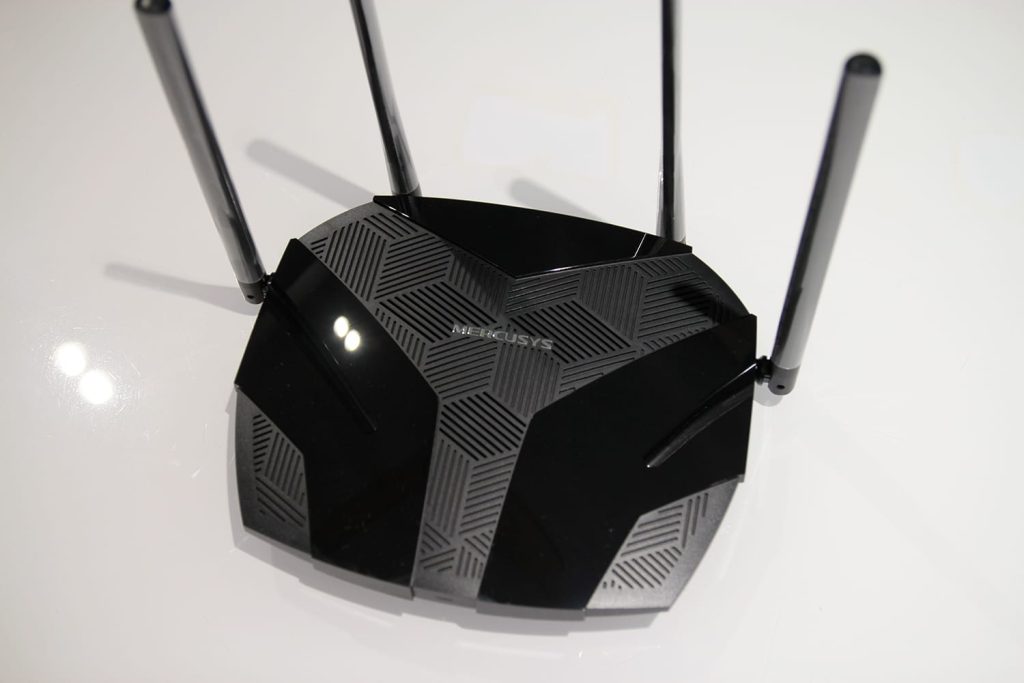 WiFi 6 AX3000 • 3 LAN Ports • WPA3 Security
The best budget router we have tested is Mercusys MR80X. It's a simple wireless router that's good enough for small to mid-sized property, even when there are a lot of WiFi devices at connected to it. It is powered by a fast Quad-Core CPU which means most users will not face any CPU performance issue.
Although the features are quite limited, it got all the basic right with a well-designed user interface since it's powered by TP-Link. The WiFi 6 AX3000 radio of this product provided good WiFi speed and great coverage, making it a good budget option under RM250 and typically go on sale at RM219.
Best Budget Router - Features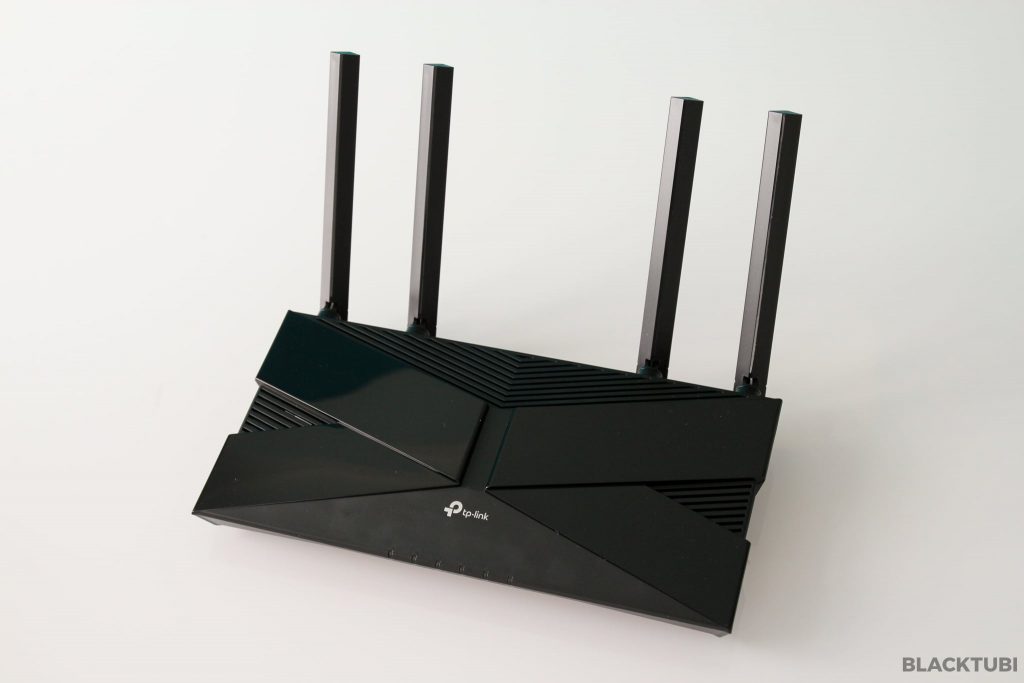 WiFi 6 AX1800 • 4 LAN Ports • WPA3 Security • OneMesh
TP-Link Archer AX23 is the also a great budget WiFi 6 router. While it's not as fast or as strong as the Mercusys MR80X. It comes with plenty of features and might be as cheap as RM209 during sales. It has stable performance and good enough for smaller property.
It's also the only router here with mesh WiFi features. The Archer AX23 features TP-Link OneMesh technology which let you to easily extend the WiFi coverage to other OneMesh support WiFi extenders under the same WiFi name and other seamless roaming function.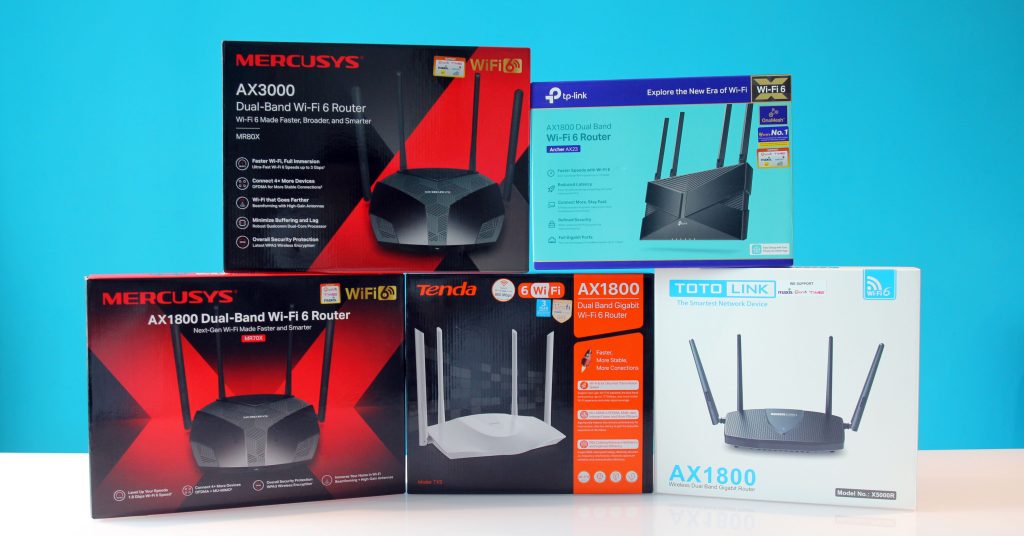 These are the routers that we managed to find in Malaysia market that cost less than RM250 at the time of writing this article. Most of them are AX1800 except the Mercusys MR80X which comes with a faster speed up to WiFi 6 AX3000.
| | | | |
| --- | --- | --- | --- |
|   | Price | LAN Ports | WiFi Specs |
| Mercusys MR70X | RM195 | 3 | AX1800 |
| Mercusys MR80X | RM249 | 3 | AX3000 |
| Tenda TX3 | RM229 | 3 | AX1800 |
| Totolink X5000R | RM229 | 4 | AX1800 |
| TP-Link Archer AX23 | RM249 | 4 | AX1800 |
All the routers mentioned above are also tested to be able to support Malaysian ISPs including TM Unifi, Maxis Fiber, Celcom Fiber, DiGi Fiber and more.
5GHz Performance Comparison
For the first test, I will be testing the 5GHz WiFi performance on a WiFi 6 device. All the routers will be configured to use channel 36 with 80Mhz bandwidth for consistency. I will be testing them on a Gigabit Internet connection with download speed up to 1000Mbps.
My test device will be a Windows laptop with the Intel AX200 WiFi 6 wireless adapter. Both the router and the wireless adapter will be running the latest firmware or driver at the point of writing this article.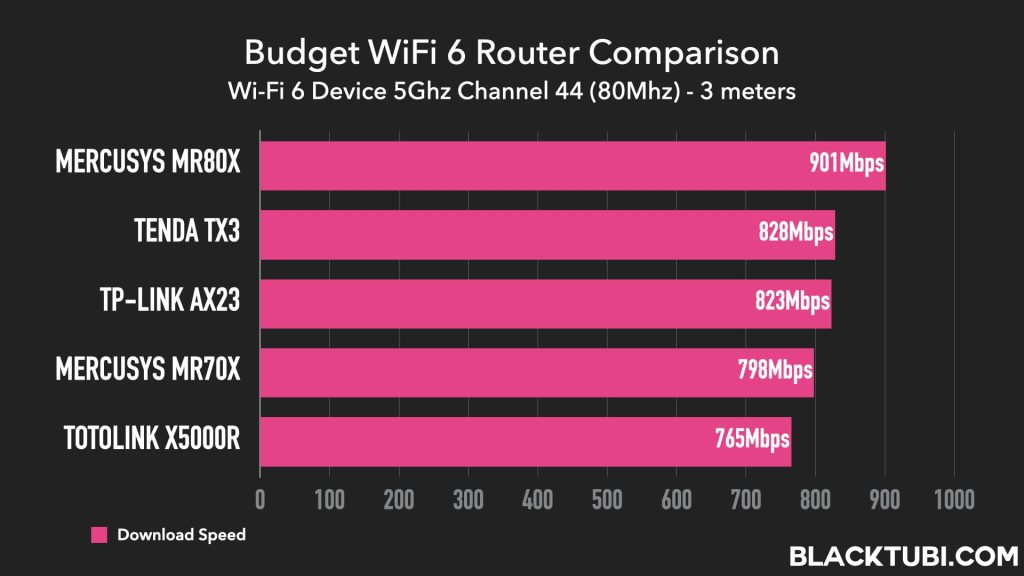 On the short distance test less than 3 meter, all routers performed similarly exceeding slightly over 800Mbps in speedtest result. All WiFi 6 routers should be able to provide such performance at short distance. I wouldn't pick a winner here as the difference is insignificant.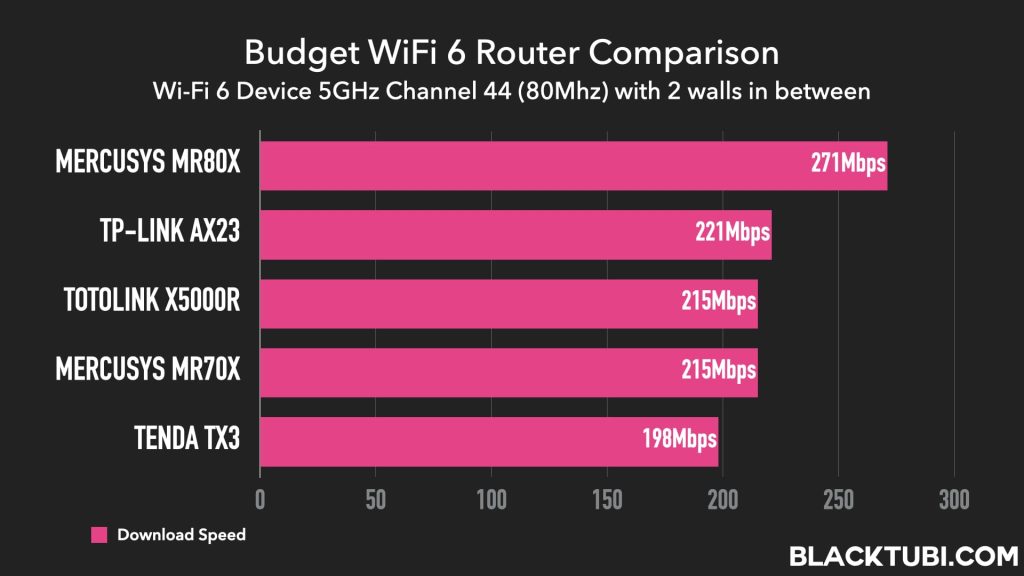 On the long distance test, the quality of a router really comes into play. Clearly, the Mercusys MR80X is much faster than other products. Not a surprise since it is the most expensive product here with the best specification. However, it's really surprising to see the cheapest Mercusys MR70X coming up on second.
Both of the tests showed that the Mercusys MR80X have really good performance and we are not even using the 160MHz mode yet. The signal strength of the Mercusys MR80X is also the strongest in all of the tests 
I also tested these routers on a Samsung Galaxy S7 which is an older Wi-Fi 5 or Wireless AC device. For comparison sake, I added the D-Link WiFi 6 router that's provided to most new TM Unifi Fiber Internet subscribers these days. This test will be conducted at a short distance to the WiFi router.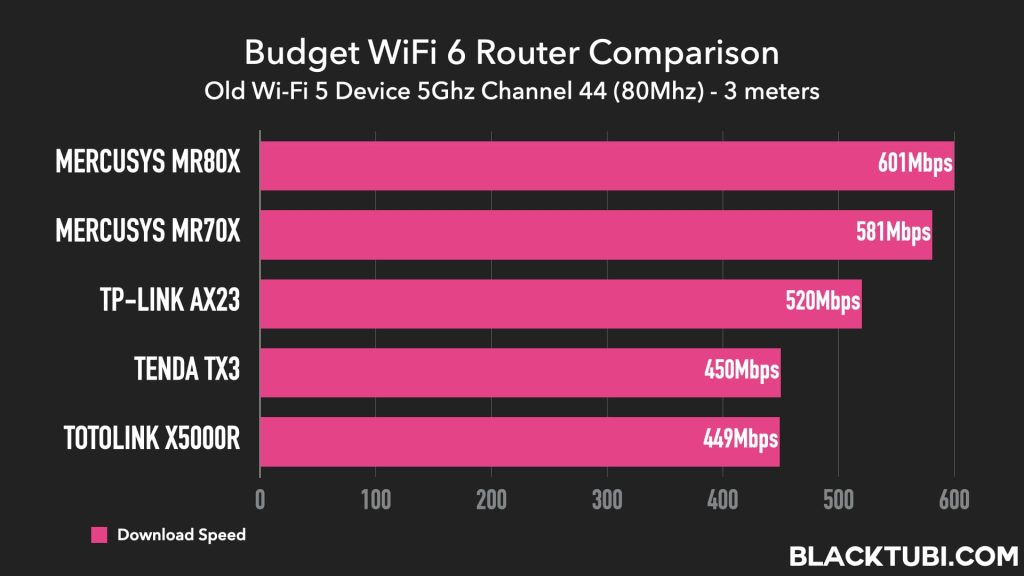 The results are pretty clear that a new router offered a signigicant boost in performance over older WiFi 6 routers even when testing on older devices. That's because a newer router actually comes with better signal processing and stronger WiFi signal amplifier that will benefit all devices as well.
2.4GHz Performance Comparison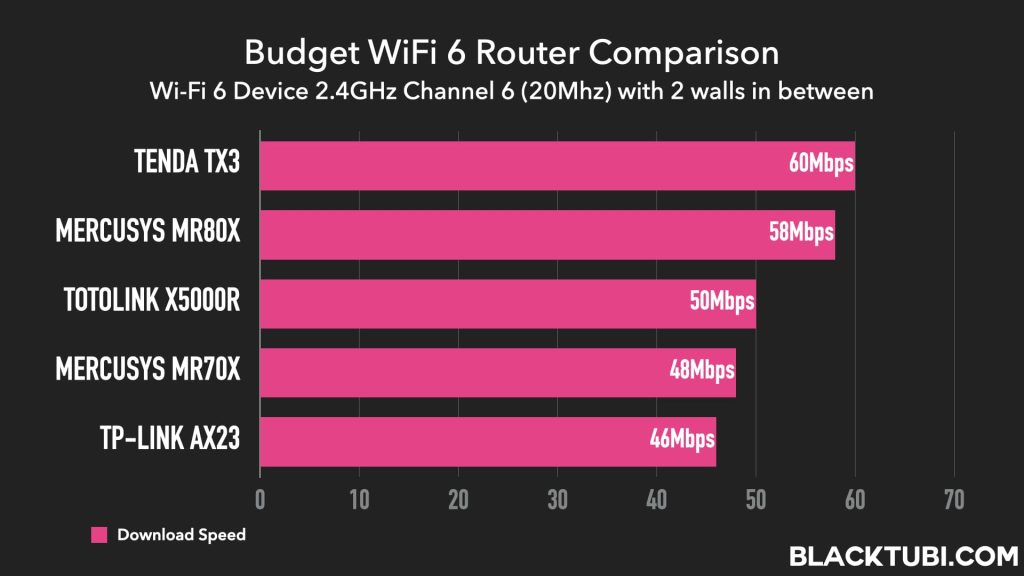 While I don't recommend using 2.4GHz these days, it is still very important for smart home devices. This is why I am testing them as well to see whether the 2.4GHz WiFi is good enough to power smart home devices such as wireless security camera, smart sensors and more.
Interestingly, the Tenda TX3 is the fastest when it comes to 2.4GHz performance. However, the Mercusys MR80X isn't too bad at just slightly behind the Tenda router. This also illustrate why you shouldn't use 2.4GHz as the speed is really slow compared to 5GHz network.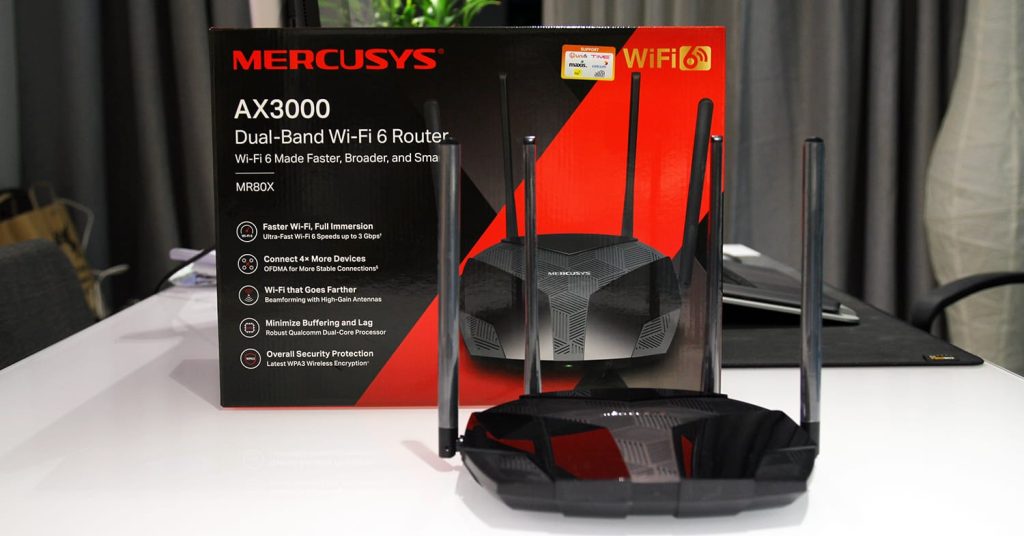 If you are looking for the fastest and strongest coverage WiFi 6 router under RM250, the Mercusys MR80X is your best bet. It comes with good WiFi performance with great stability. While the features are rather basic, it gets the job done for most day to day networking requirements.
Don't expect fancy QoS software or advanced content filtration feature as you'll typically need to purchase a premium router for those features. However, if you need just a simple WiFi 6 router that perform well at a really low price, this is the one to get.
ASUS RT-AX53U: While having a decent performance, the RT-AX53U exceeded the RM250 price cap. However, it's a decent product with ASUS' solid AiProtection software suite and AiMesh feature.
Mercusys MR70X: It's most affordable router here but it seems to perform really well and even exceeding TP-Link's own Archer AX23 at some point.
Tenda TX3: The Tenda TX3 is the only product powered by a Broadcom chip here. It has some neat tricks such as speed limiter and WiFi repeater function in the firmware.
TOTOLINK X5000R – Totolink is a new brand in Malaysia and might be a good alternative if the price is cheap during promotion. However, the firmware might need some improvement.