As our Internet is getting faster, home networking is a part that should not be overlooked. Imagine you are suffering from poor signal at one spot of your house, you can reuse your existing router to expand the coverage and enjoy all the benefits of a mesh network. Asus AiMesh is a solution designed exactly for that. In short, AiMesh allows you to create a mesh network with multiple Asus routers. You also enjoy the benefit of a mesh wireless system where you have centralized control and good roaming performance.
AiMesh is compatible with most high-end Asus routers and here are the supported routers at the point of writing this article:
RT-AC68U
RT-AC86U
RT-AC88U
RT-AC5300
ROG Rapture GT-AC5300
Setting Up Asus AiMesh
Setting up Asus AiMesh is really simple as long as all your Asus routers are running the latest firmware.
Maintaining all the routers is really simple as well. All routers are maintained by the main router and that include firmware updates. Unlike most mesh systems in the market, you are able to enjoy the full features of your Asus router such as AiProtection and AdaptiveQoS. It also supports a Unifi connection. Another plus point for AiMesh as most mesh networking system in the market offers very basic features and they do not support Unifi.
In my demo, I will use the Asus ROG Rapture GT-AC5300 as the main router and 2 Asus RT-AC68U as the AiMesh node. Asus suggests that the fastest router should be used as the main router.
Update to the latest firmware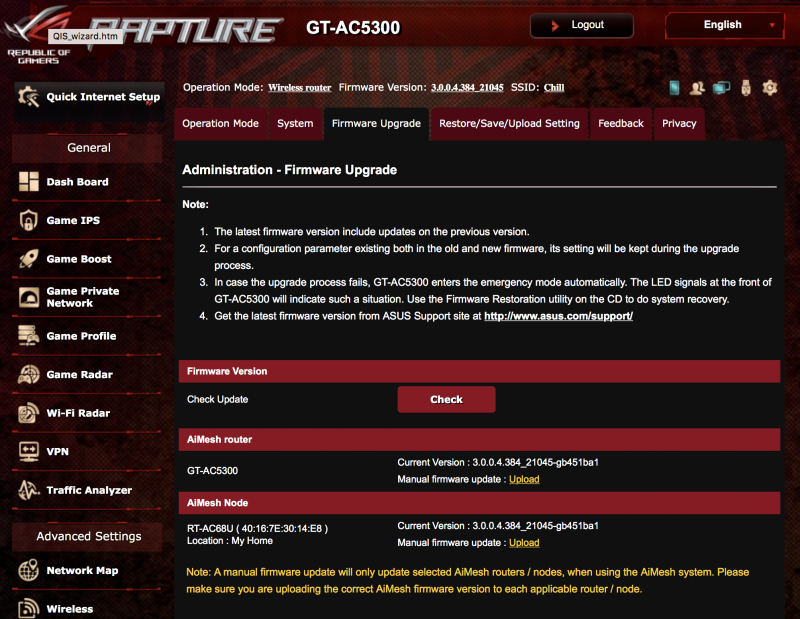 Before you start, you have to ensure all your Asus routers are running the latest firmware. You can do that manually or just navigate to Administration>Firmware upgrade.
Factory reset your AiMesh Node
You have to factory reset your secondary router or known as AiMesh node prior to the configuration. You can do so by using the firmware interface or by pressing the RESET button on the router for at least 10 seconds.
Turn on your AiMesh node
Once you reset your AiMesh node, you can turn it on. Make sure you do not do anything or connect it to the main router.
Adding the AiMesh node
Now, you are able to add your AiMesh node to your existing router. Navigate to the configuration interface of your Asus router and click the 'Search' button under the AiMesh tab. Once you saw your AiMesh node, click add.
It will take some time for the main router to configure the AiMesh node. Once it is done, it will prompt you a message and reboot the AiMesh node.
Performance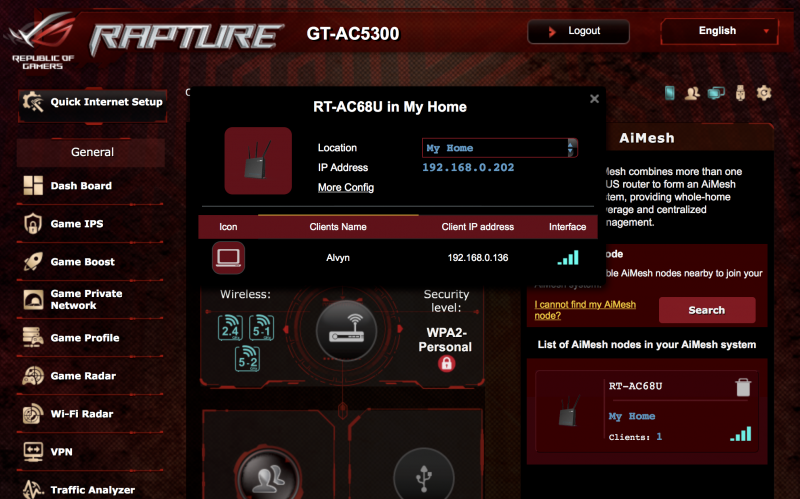 In order to gain the best performance, the placement of your AiMesh node is really important. Your AiMesh node need to hear from the main router before extending the network. With that, you should place your AiMesh node at somewhere with at least decent connection.
In my quick test, I will compare this AiMesh setup against a single router setup consisting of the ROG Rapture GT-AC5300 router.
Backyard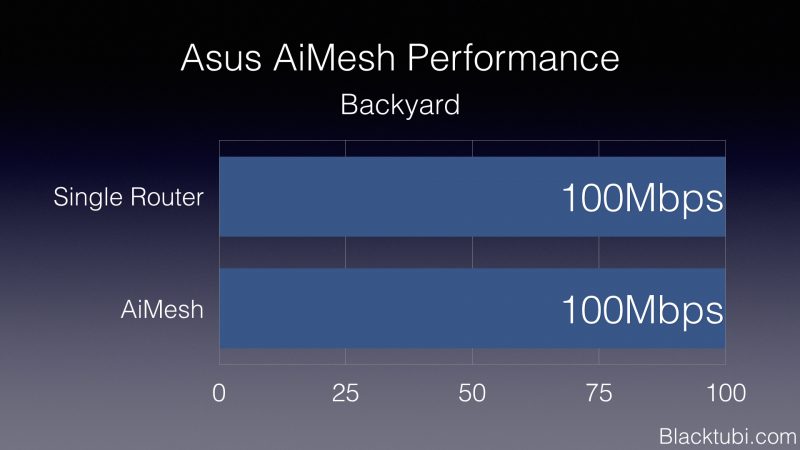 This is a test to demonstrate the efficiency of AiMesh as I am aware that certain mesh wireless system cannot even reach 100Mbps on mesh mode. From the results, it is clear that Asus AiMesh passed the test. I will perform a further test in the next article to actually determine the max capacity.
Second floor bedroom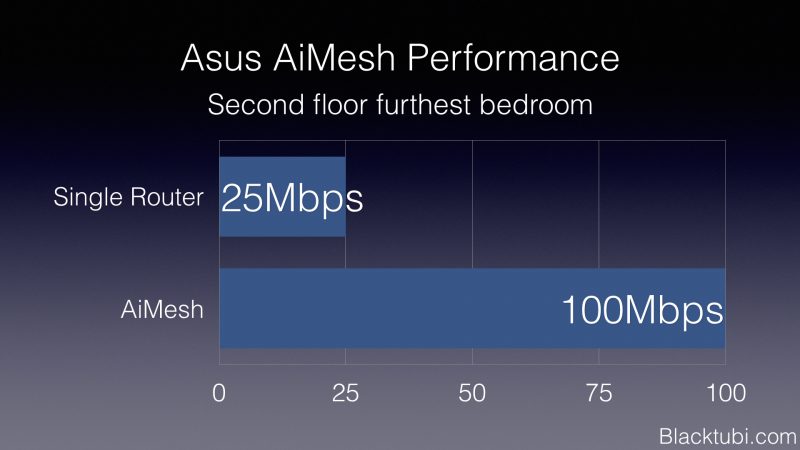 This is going to be a typical case of wireless connectivity woes. A lot of people always have issues with wireless connectivity in the third floor of their property. While I do not have access to such a property, this should be able to display how a mesh system will help.
From the results, by placing the AiMesh node on the hallway of the second floor, the furthest room at the second floor is able to enjoy the full 100Mbps Internet performance of my home network.
Second floor furthest bathroom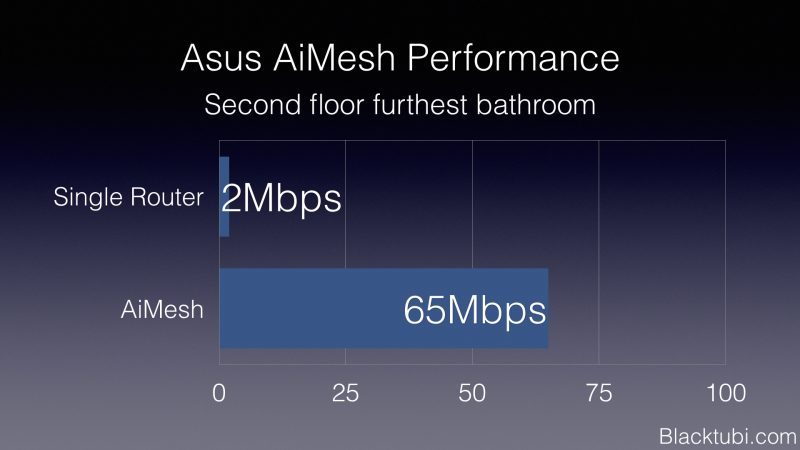 This case will be on an extreme situation as I always face issue with wireless connectivity in this bathroom. This bathroom is furthest from the router and thanks to the the enclosed nature of how a bathroom is constructed, it is really hard for wireless signal to get through.
I can hardly even maintain a consistent connection in here, not even on 2.4Ghz if I do not use any network extension devices. However, with an AiMesh node placed at the second floor, I am getting decent speed. This shall be a good case study for those planning to improve their coverage on bigger properties.
Closing Thoughts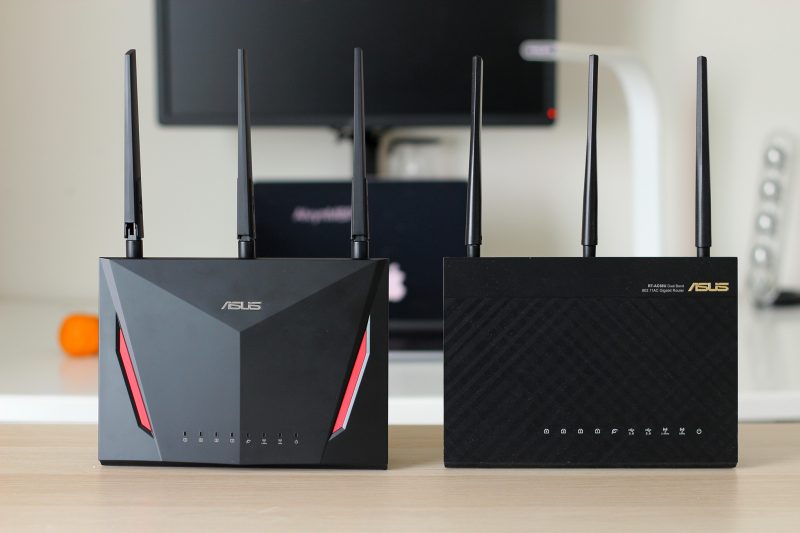 Asus AiMesh is a great feature from Asus. It is easy to setup and it provides another use for your old Asus routers shall you decided to upgrade your router to a higher end model. It also works pretty well as a mesh wireless system with solid performance.
Like all new features, it is not perfect now as there are still some bugs in the mesh system but it is nothing serious. I am sure Asus will iron out all the imperfections soon considering the feature has received countless updates since the official debut. Stay tuned for our upcoming article in the series for a deeper dive into Asus AiMesh. We will have a more in depth performance testing, roaming and latency benchmark.