ASUS AX6100 Mesh WiFi System Review:
Extremely fast and strong coverage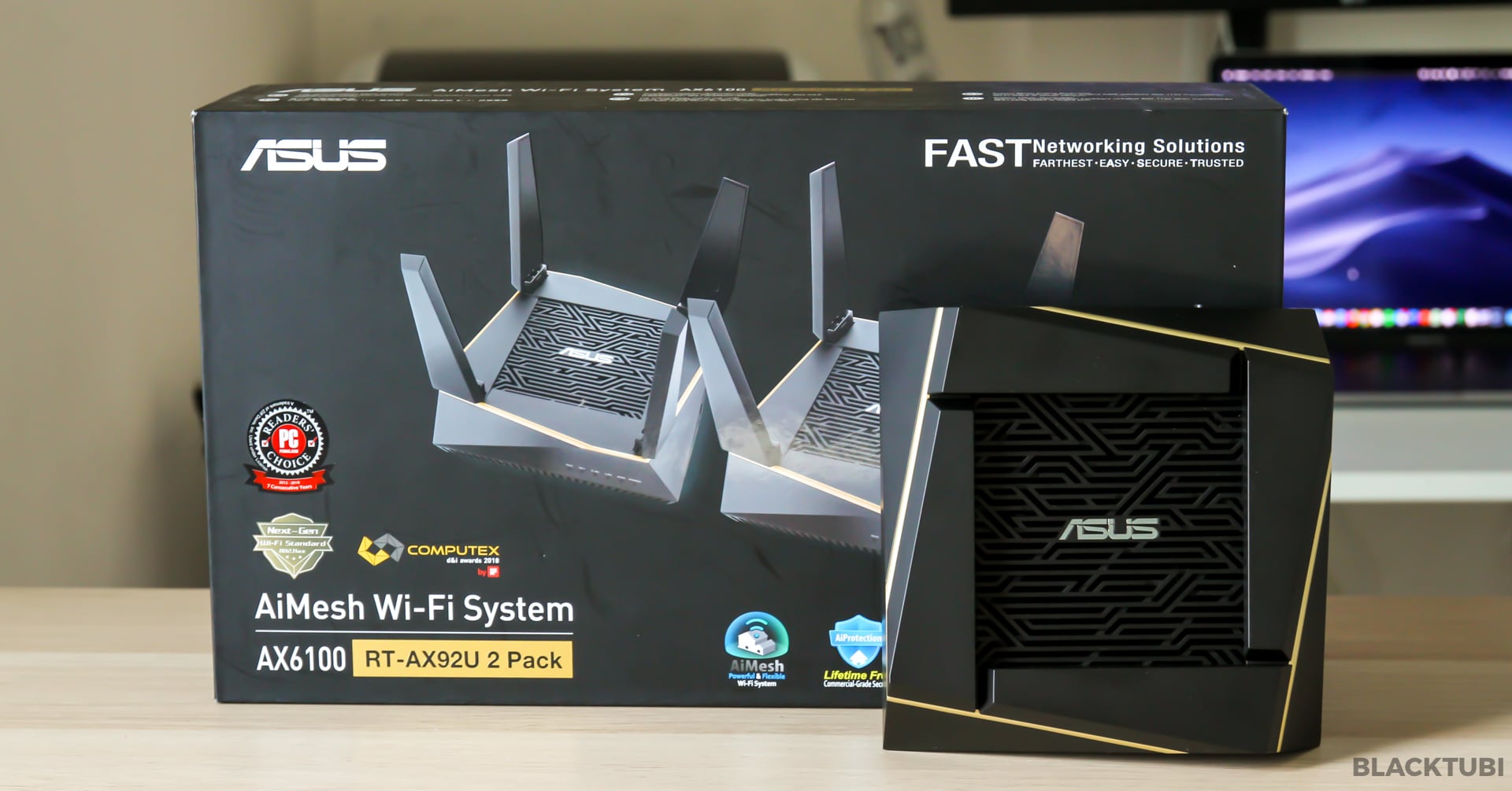 You probably heard a lot about mesh WiFi these days. With Internet getting faster, old WiFi router cannot deliver the kind of WiF speed we demand today. This is where mesh WiFi system come into the picture. Instead of a single WiFi router, a mesh WiFi system combine multiple access points to blanket a house with WiFi coverage. 
ASUS recently released the RT-AX92U twin pack AiMesh Mesh WiFi system. It is the world's first mesh WiFi system powered by Wireless AX technology for sale at RM2699.
Mesh WiFI isn't as complicated as you thought. A mesh WiFi system contain multiple mesh nodes working together to broadcast the WiFi connection. The mesh nodes are linked together with WiFi backhaul without the need of dedicated Ethernet cable.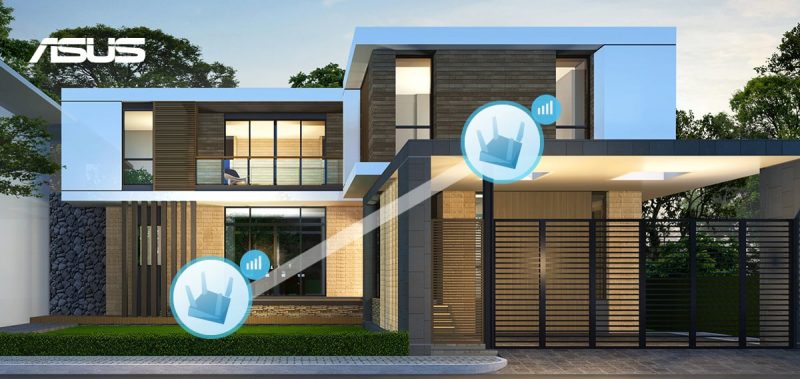 Unlike WiFi extenders, a mesh WiFi system broadcast just a single WiFi network. There is only one WiFi name to connect to. The user experience is more seamless without the need of manually switching WiFi connections as you move around your home.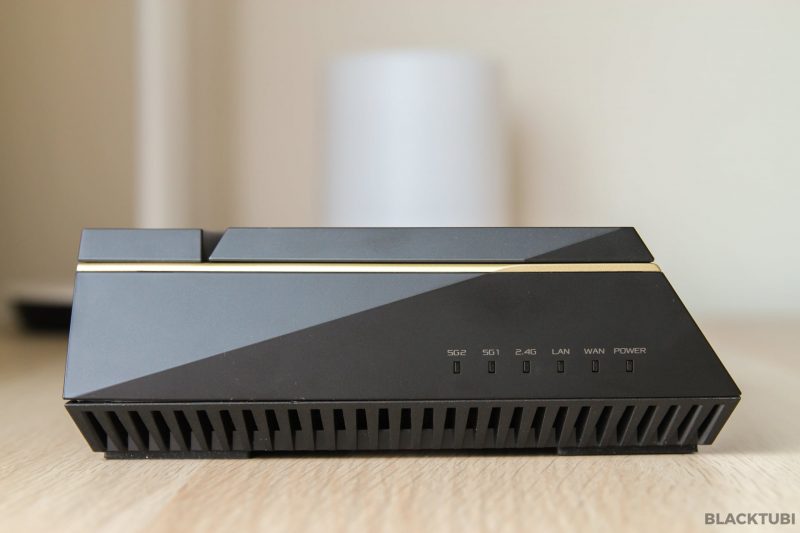 ASUS AX6100 AiMesh mesh WiFi system features Smart Connect where both the 2.4Ghz and 5Ghz bands are combined connection. The system will decide which WiFi band is fastest depending on the signal situation and congestion. It will then steer your device to the particular band. Of course, this is all done behind the scene with little to no interruption to the user.
ASUS RT-AX92U Specs and Hardware
Broadcom BCM4906 processor (1.8Ghz Dual Core)
512MB RAM and 256MB ROM
Tri-Band Wireless AX6100

2.4Ghz 2×2 Wireless N up to 400Mbps
5Ghz  2×2 Wireless AC up to 867Mbps
5Ghz  4×4 Wireless AX up to 4804Mbps

4 Gigabit LAN + 1 Gigabit WAN
1x USB 3.1 + 1x USB 2.0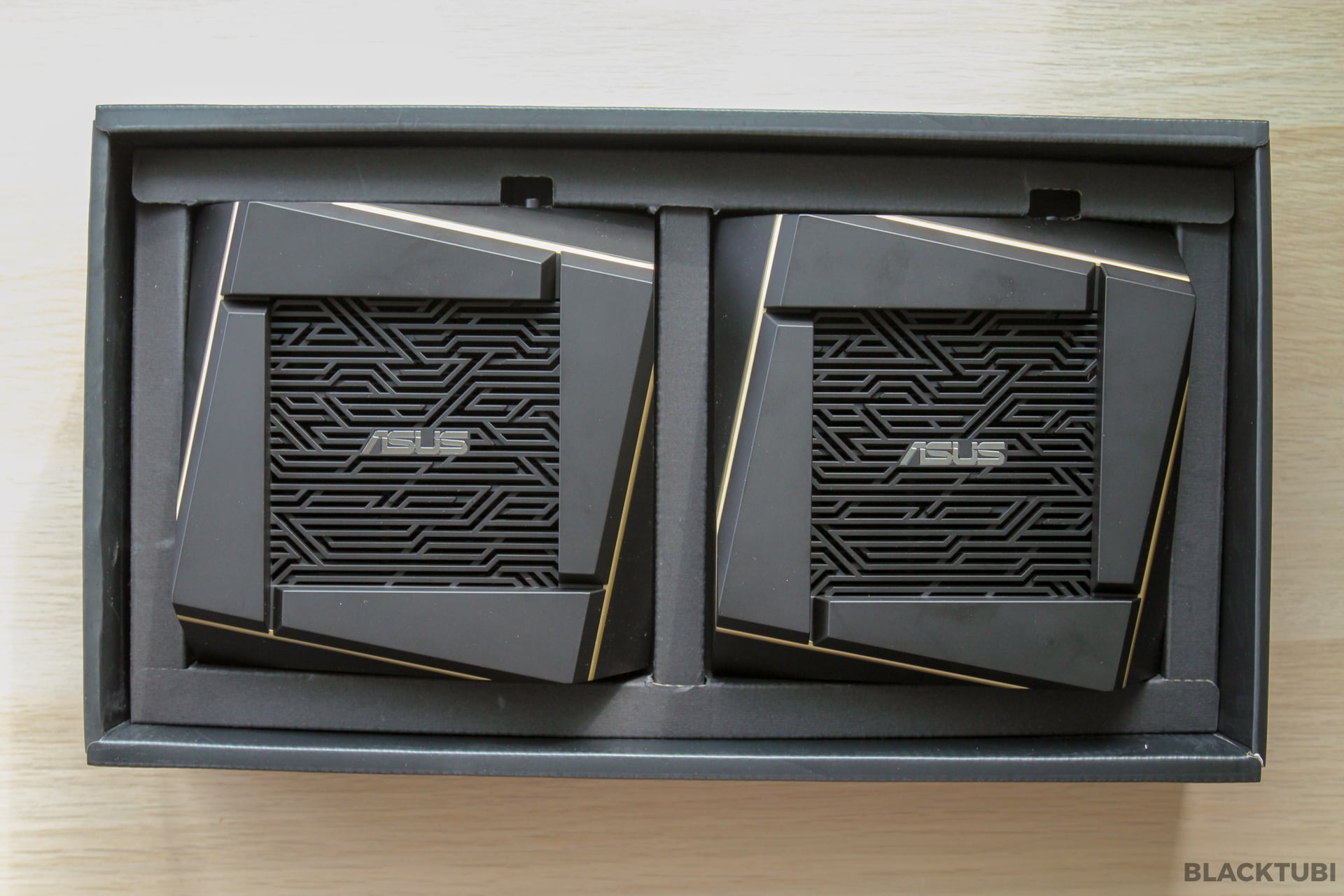 ASUS RT-AX92U is sold in a twin pack in Malaysia with support for up to Wireless AX6100. It features a Tri-Band WiFi with an additional 5Ghz band reserved for mesh WiFi backhaul. The WiFi backhaul is powered by Wireless AX supporting up to 4804Mbps. By having a third dedicated band, the user WiFi speed is faster than a dual-band system as the backhaul bandwidth is not shared with the actual WiFi connection.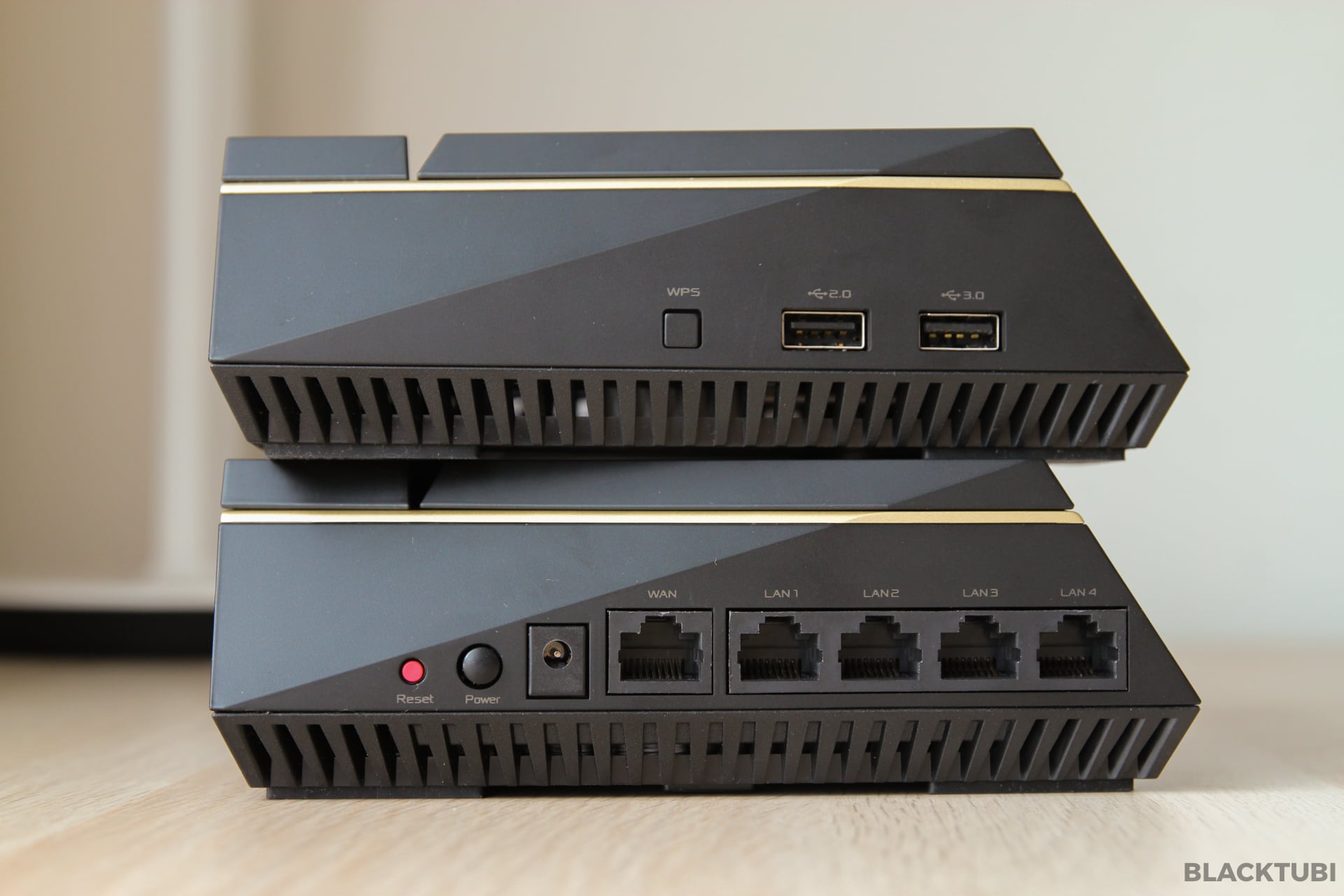 Although the second 5Ghz band is reserved for backhaul by default, it can be enabled for normal usage. However, we do not recommend doing this as non Wireless AX devices may slow down the backhaul. Leaving it reserved just for the mesh backhaul will provide the best total performance.
Wireless AX is the latest version of WiFi after Wireless AC. It brings many improvements in order to have a faster and more reliable WiFi experience. This is achieved by more efficient use of resources and better resource allocation. It is already supported on the  Samsung Galaxy S10 and coming to more devices later this year.
Ignoring all the technical jargons above, ASUS RT-AX92U  comes with really powerful hardware for a full home WiFi coverage. It will provide a really fast WiFi connection for a huge home. I think it will be great for a 3 storey or a semi-detached home.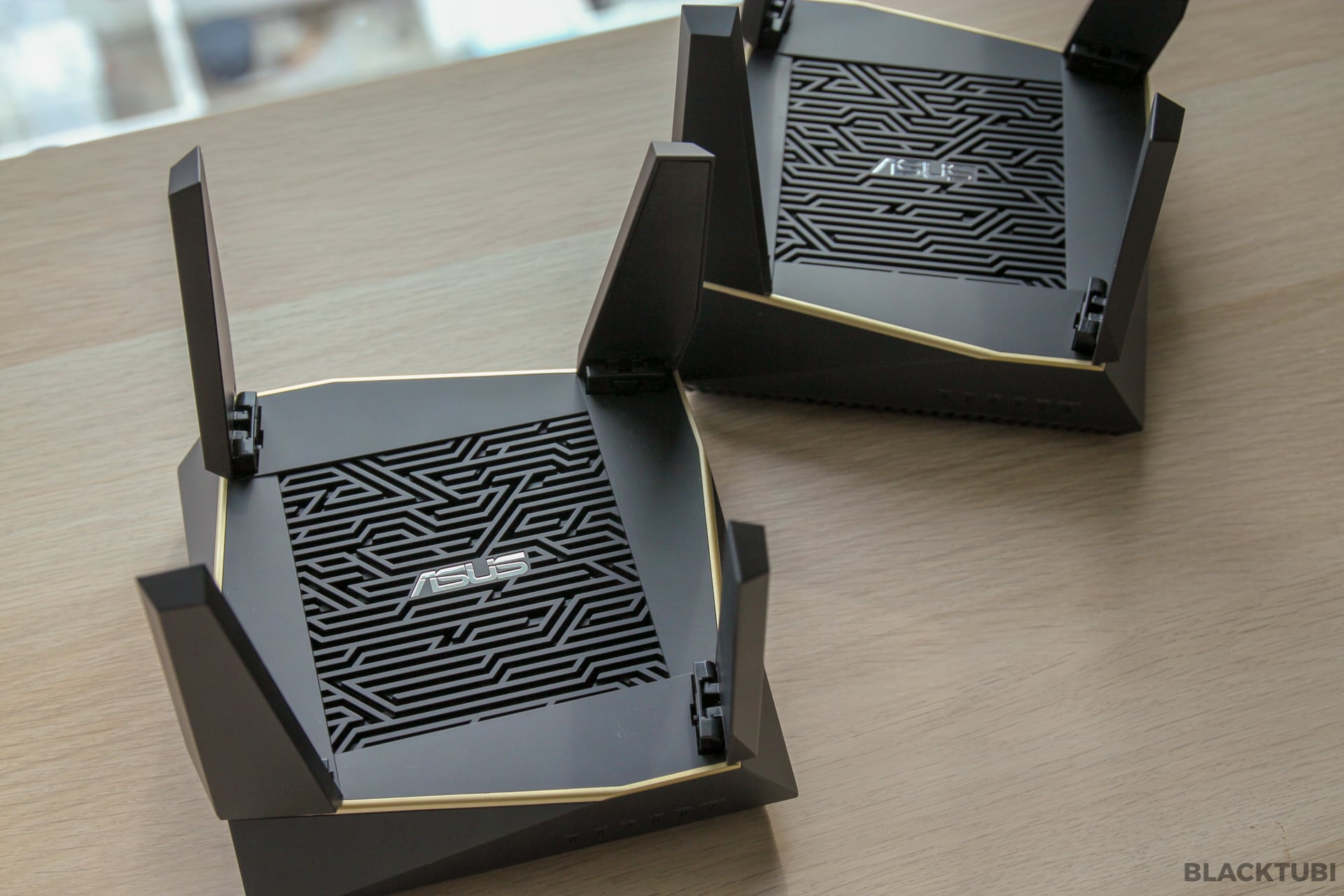 The hardware of the RT-AX92U comes with 4 non-removable external antennas. Cooling is done pretty well here since the entire top and bottom is covered with ventilation hole. Although it does get warm but nothing too serious to worry about.
ASUS RT-AX92U mesh WiFi system is really easy to setup. ASUS AiMesh system can be configured using the app or the web interface. We prefer the web interface as there are more options available. It also supports Unifi, Maxis, TIME and more. You can refer to our setup guide here.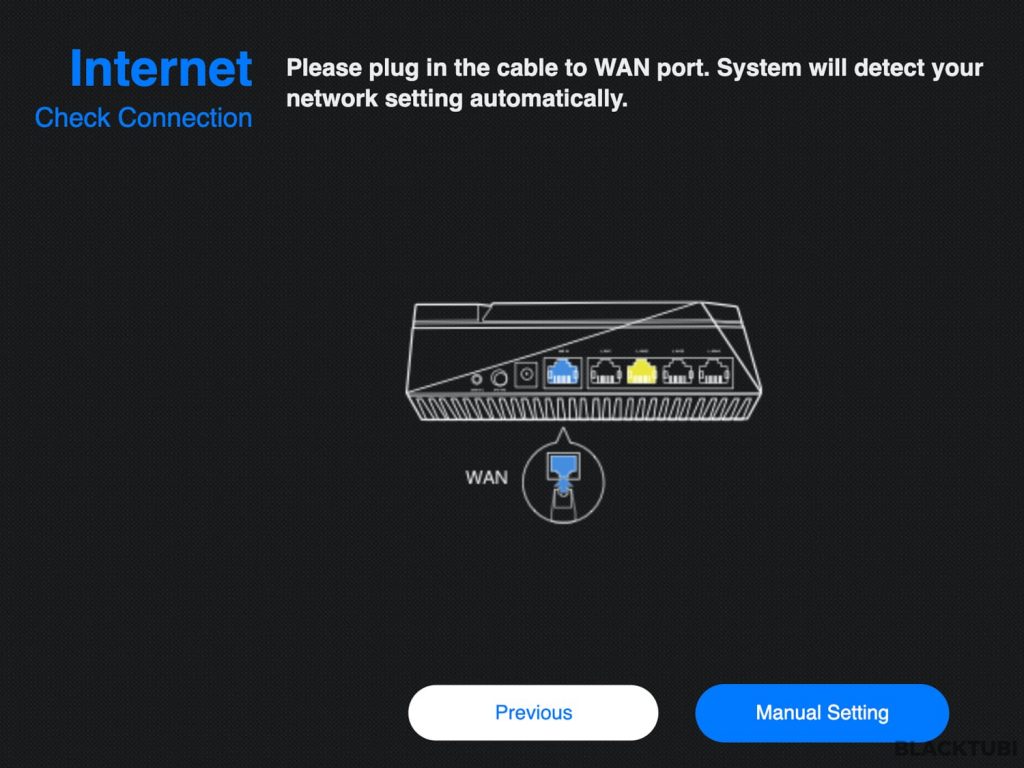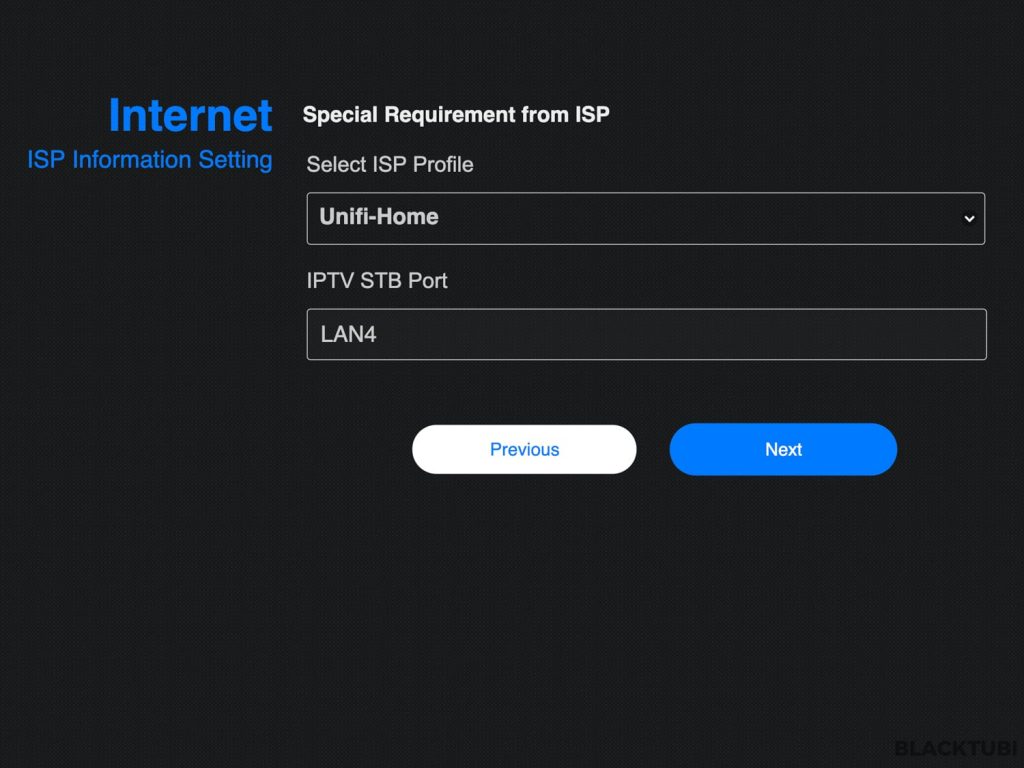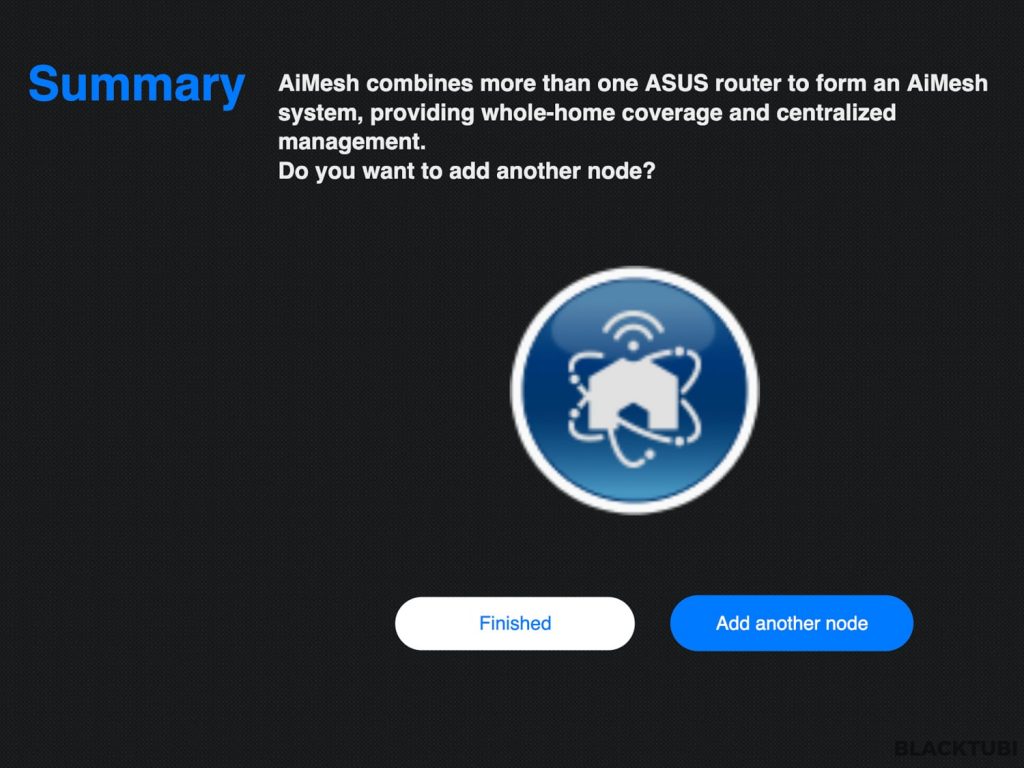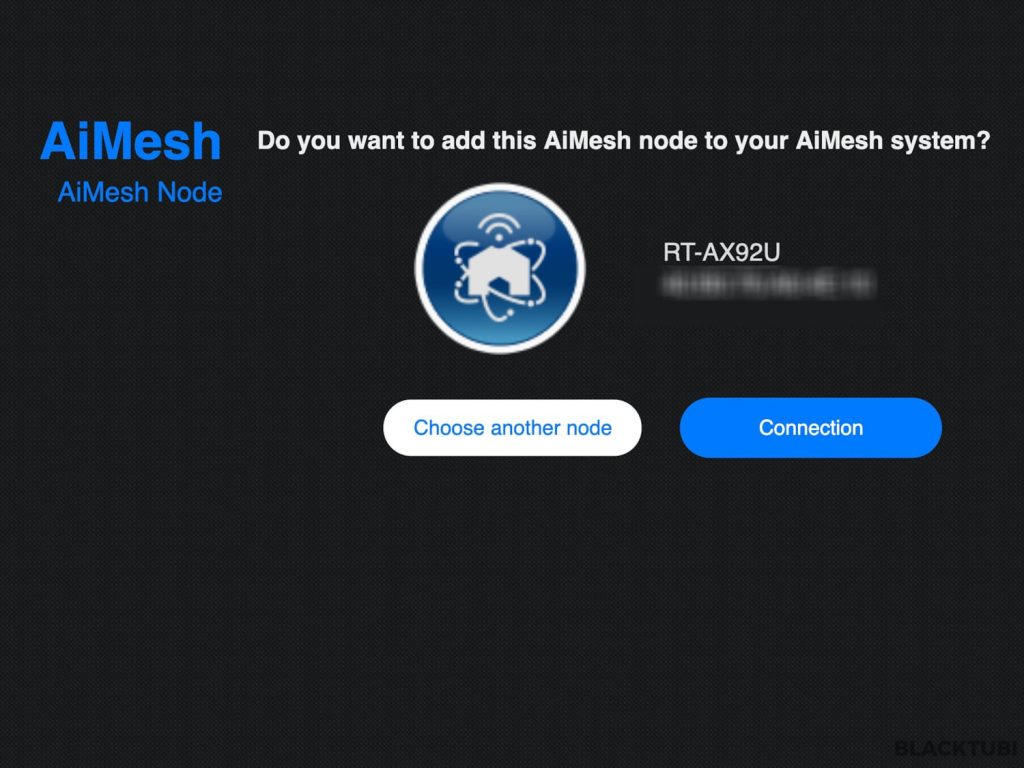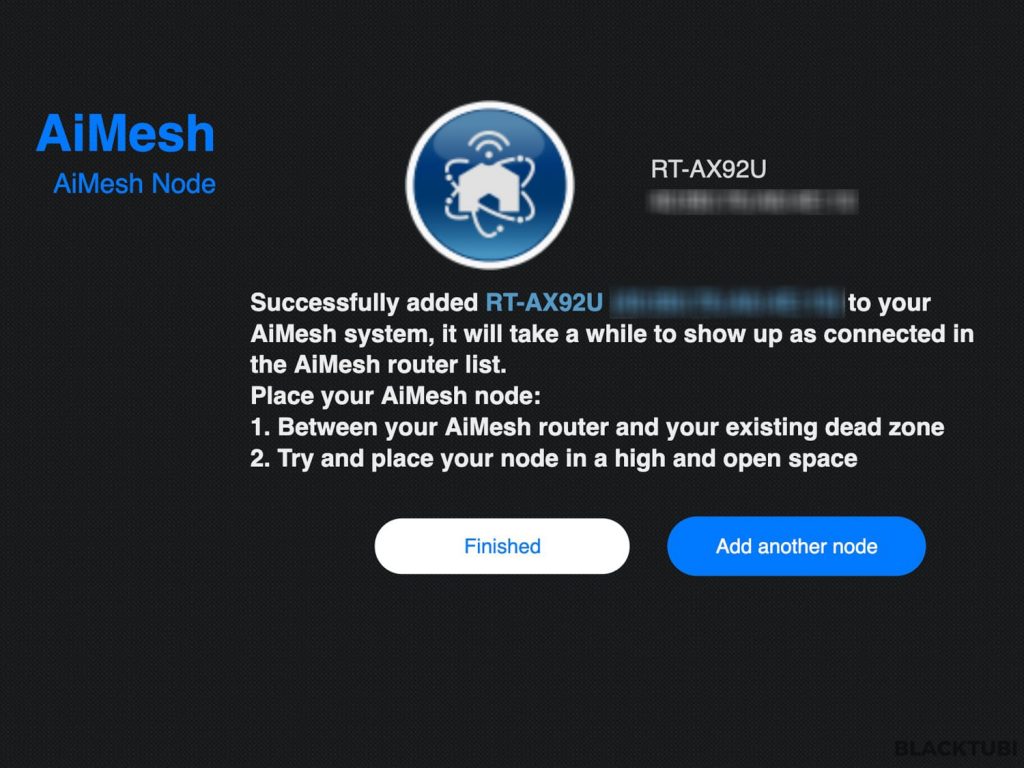 The initial setup is similar to all ASUS routers. We connected the main unit to the ISP modem and turn it on. The web interface can by accessed by connecting to the default WiFi which is labeled below the router. The setup wizard is similar to all ASUS routers and you can refer to our guide here.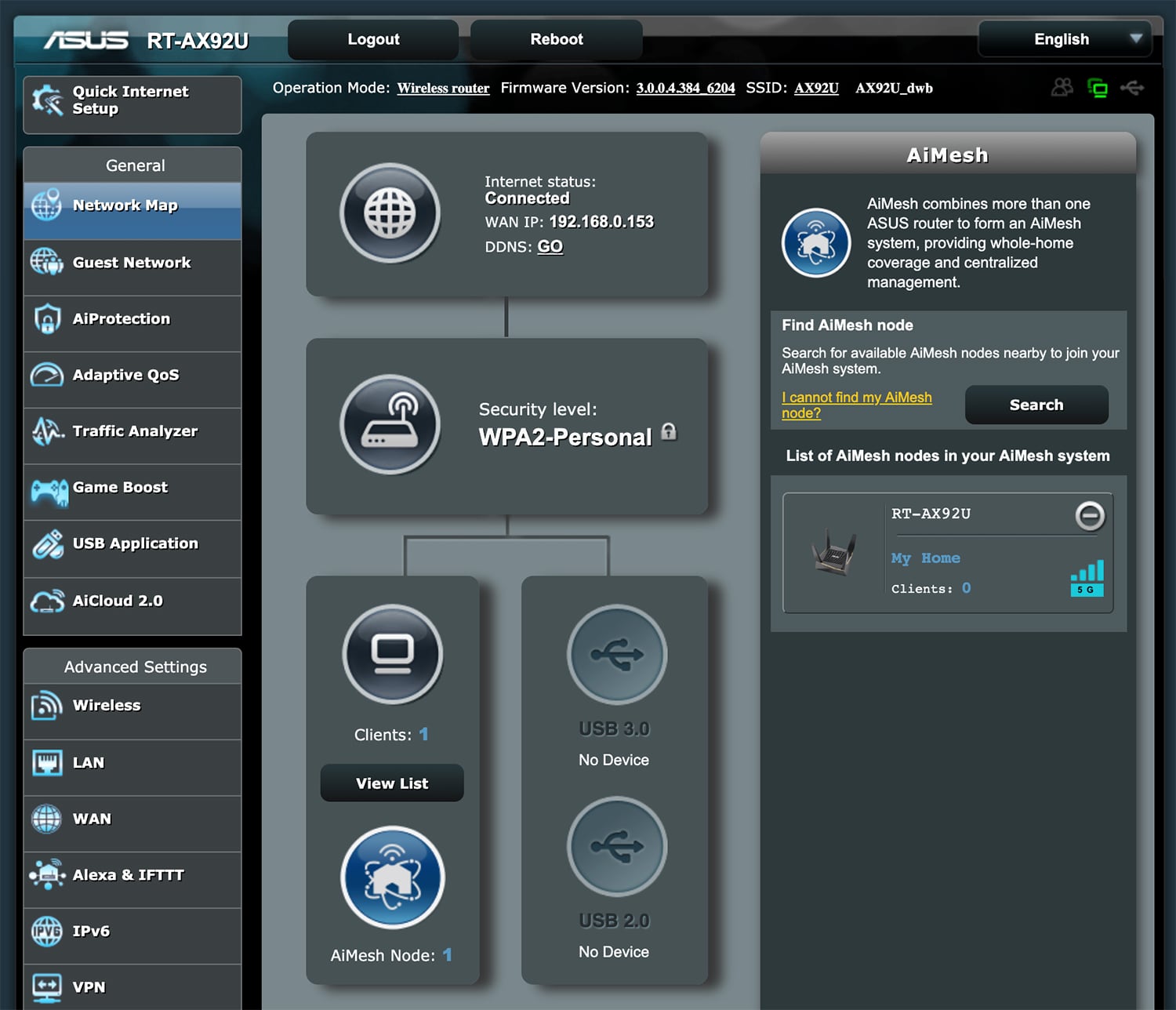 Once the initial configuration is done, we will need to connect to the new WiFi connection. The setup wizard will ask us to add the second unit of the RT-AX92U. We just turn on the second unit, let it boot for a while and add it into the mesh system from the main unit. 
The layout of my apartment is really long and I always face WiFi issue at the room in the far end of the home. This will be the perfect scenario to see how Mesh WiFi system can help. The main unit of ASUS RT-AX92U is placed at the TV rack with the second unit placed at the middle of the apartment.
I will perform a speed test at various location with a Gigabit Internet connection. Each location is progressively further from the main router with more walls in between. We also compared it against the TP-Link Deco M9 Plus which is also a Tri-Band system but it is a Wireless AC unit.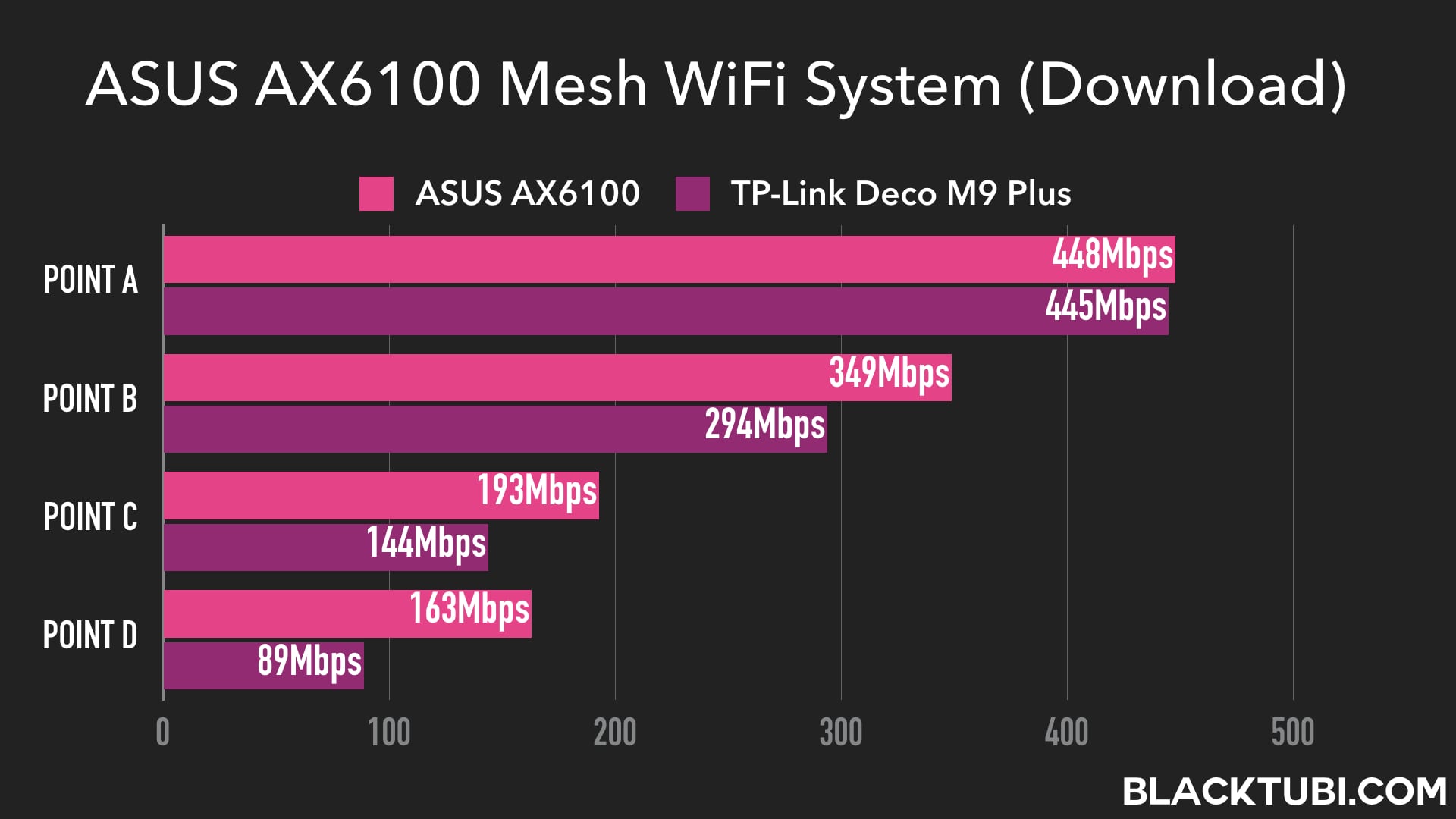 The WiFi speed of ASUS RT-AX92U mesh WiFi is a lot faster especially at longer distances.  This is thanks to the much faster mesh backhaul band with Wireless AX and 4×4 support. The WiFi signal is also much stronger on ASUS RT-AX92U with the powerful external high gain antennas.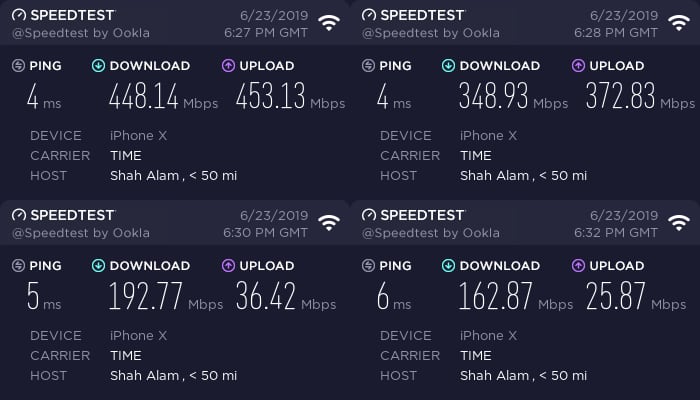 Despite being a mesh WiFi system, the latency is still really good in our test. We are using 5Ghz for every test point to obtain the best performance as 2.4Ghz unusable at my location due to congestion. Even at the further point, the latency impact is just a mere 2ms compared to the main node.
ASUS' routers have always been the best in the industry in terms of firmware. ASUSWRT is constantly updated and ASUS is committed to support their products with frequent firmware updates. The AX6100 comes with the full suite of ASUSWRT features.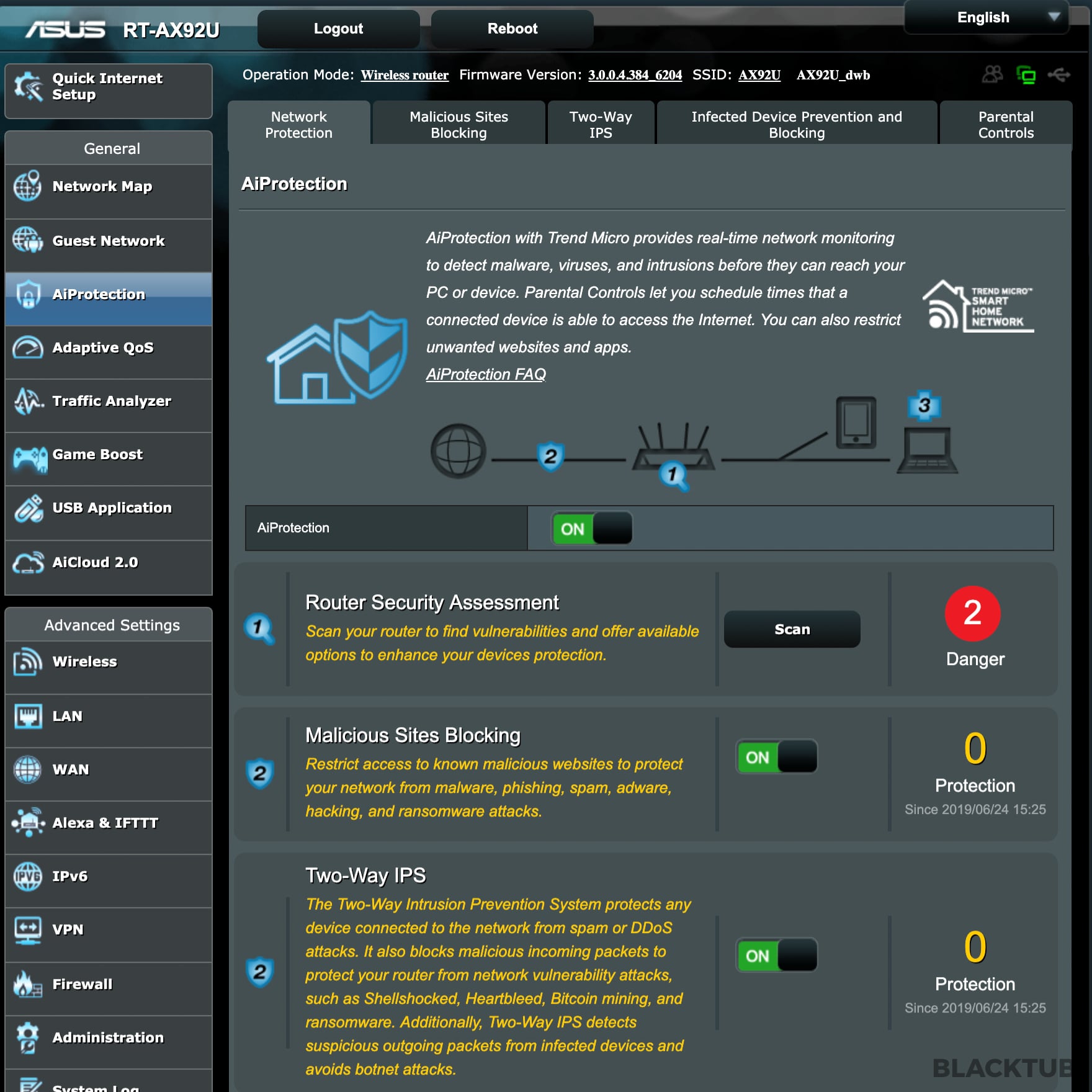 We really liked ASUS AiProtection antivirus feature which  is powered by TrendMicro. The antivirus feature is free for lifetime and it can protect your devices against internet based attacks. AiProtection also features a comprehensive parental control feature with multiple preset content filtering profiles.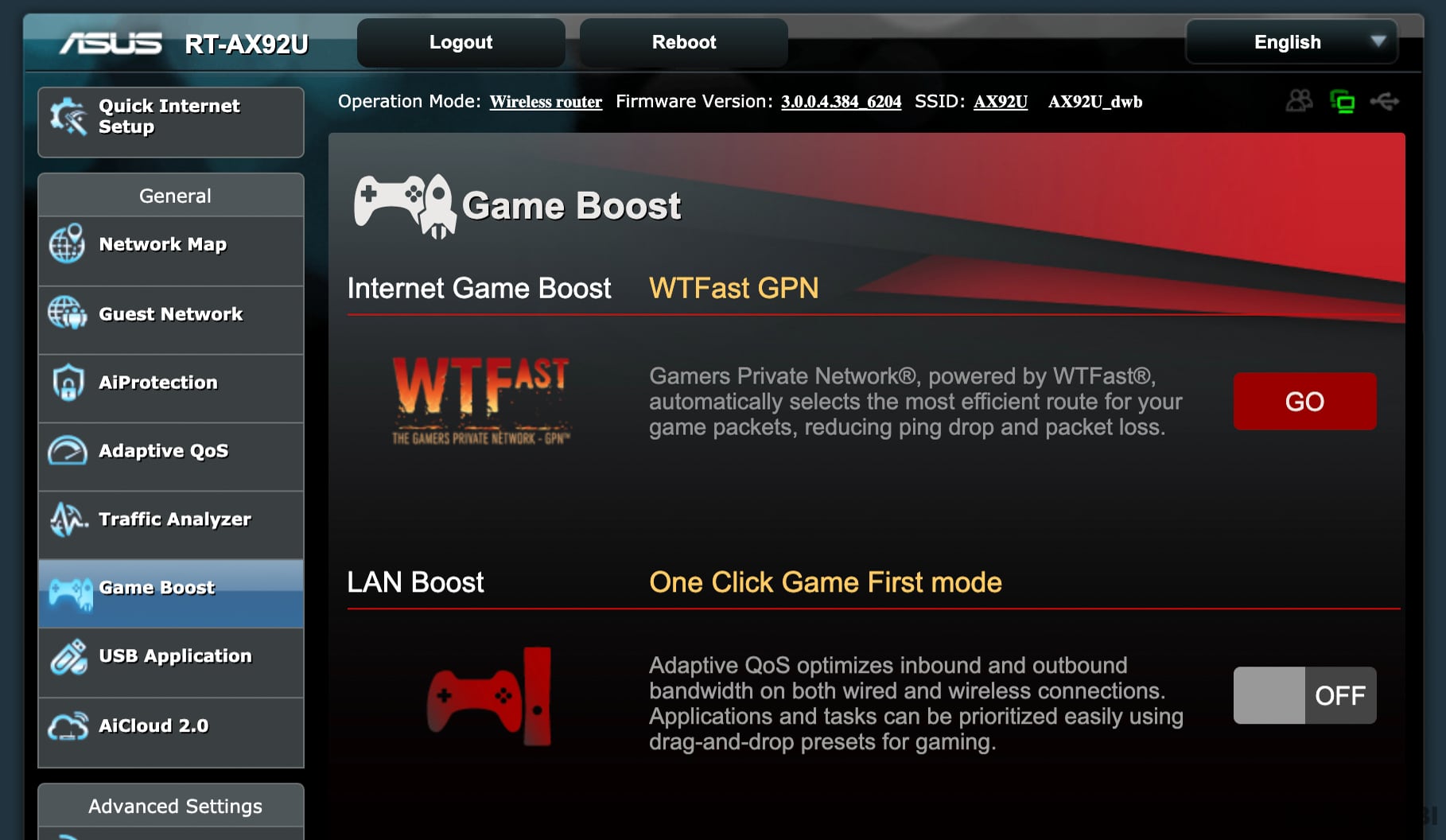 Despite the RT-AX92U is not an ROG router, it does come with some gaming features as well. ASUS included the WTFast and the signature Gaming Boost feature where it will prioritize gaming packets for a lower latency.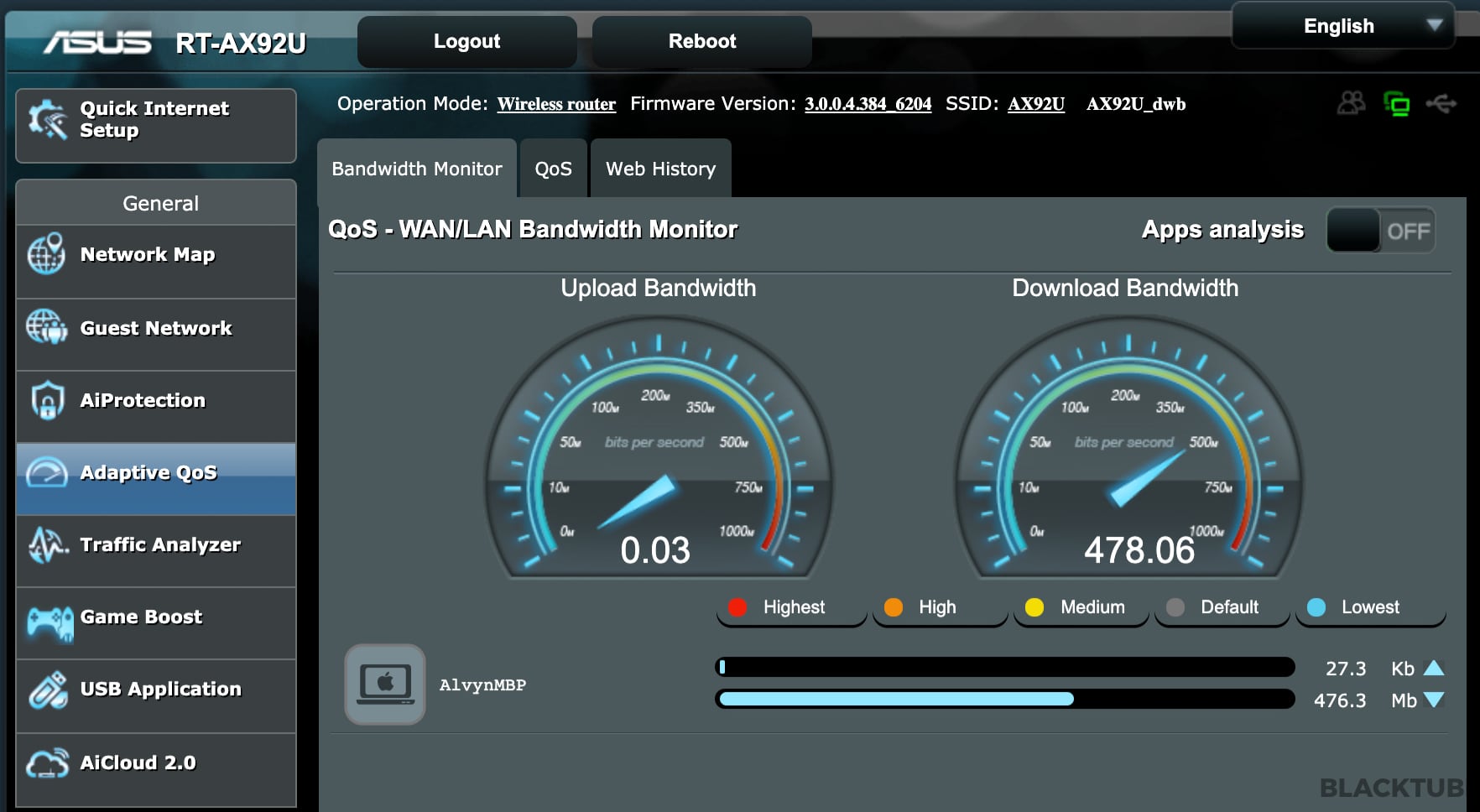 ASUS AdaptiveQoS feature is still class leading and the best in the industry. The firmware can show you an accurate real time Internet usage of each devices on the network. There is also an option to see web history of the users but that is disabled by default.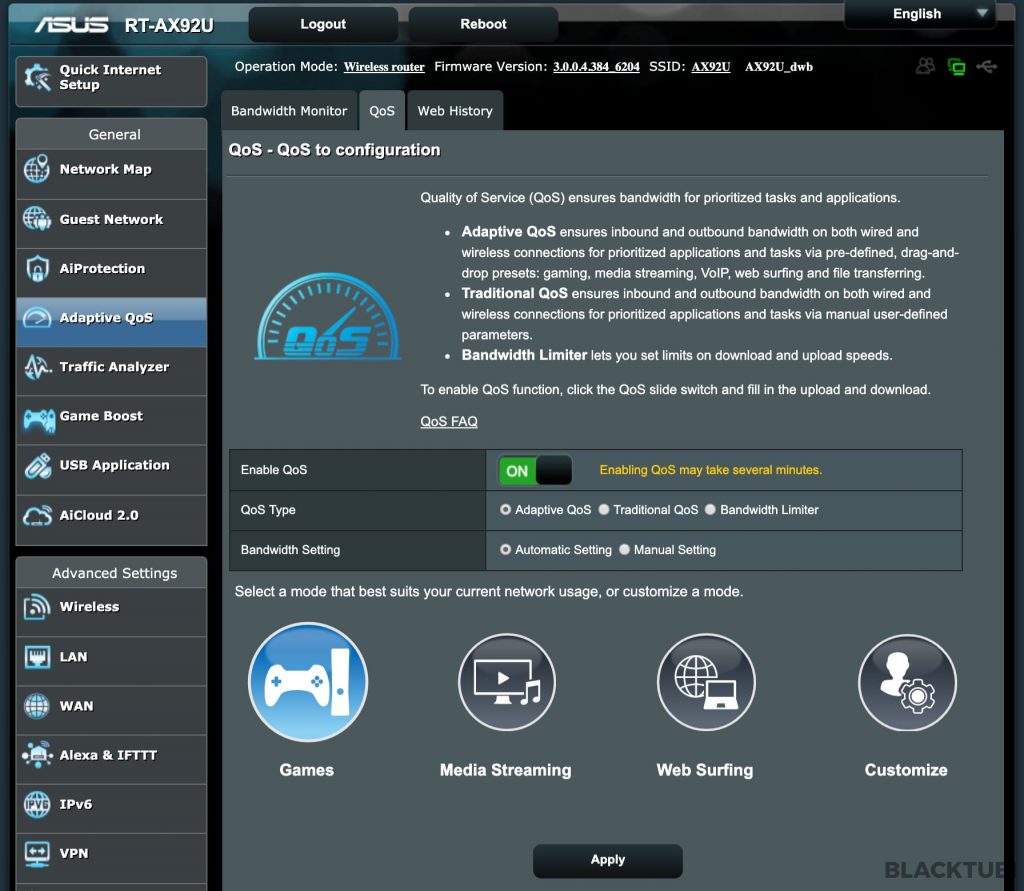 ASUS QoS feature is also the best in the industry, offering multiple profiles and QoS mechanism. We really like the AdaptiveQoS feature which can what application to prioritize. If you prefer a more direct approach, the bandwidth limiter QoS can let you to limit the speed for selected devices.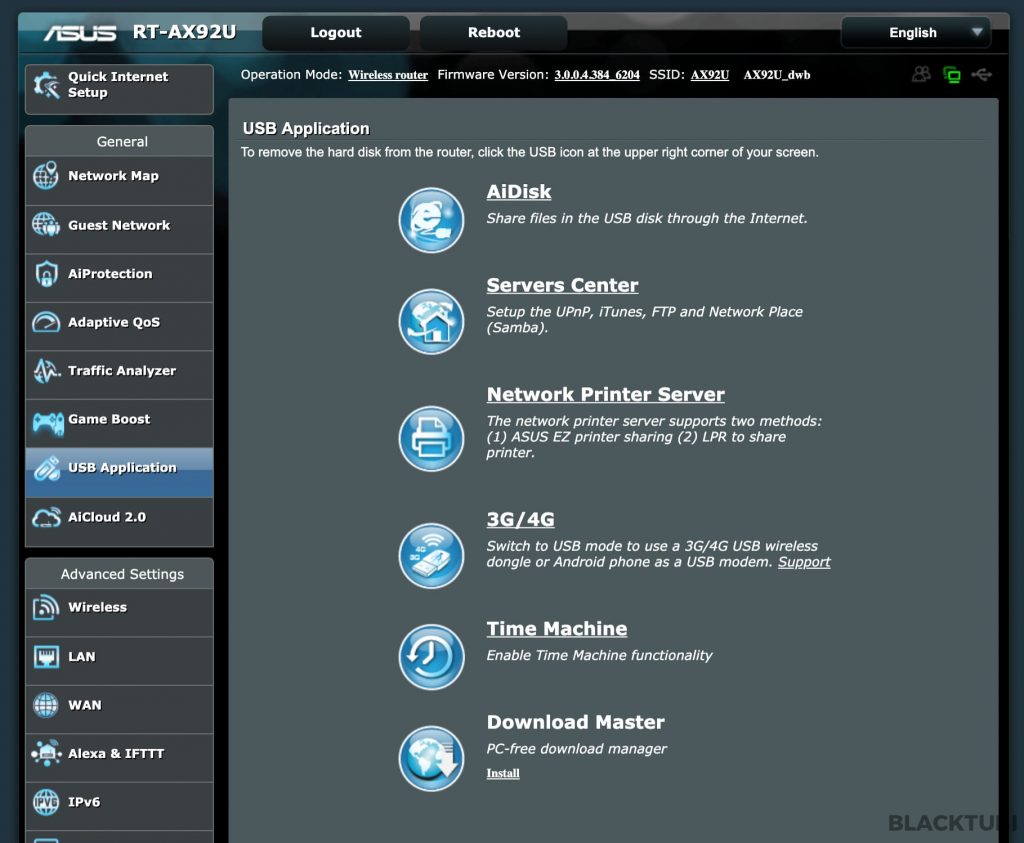 The dual USB ports support a ton of features. You can share files on your network or use ASUS AiCloud feature. However, only the USB port on the main router will work,  ASUS says the USB port on the mesh node will be enabled in a future firmware update.
Mesh Backhaul Performance
ASUS claimed a theoretical backhaul performance of up to 4804Mbps. In order to verify this, we placed both units side by side and connected the second unit to my computer over a Gigabit Ethernet cable.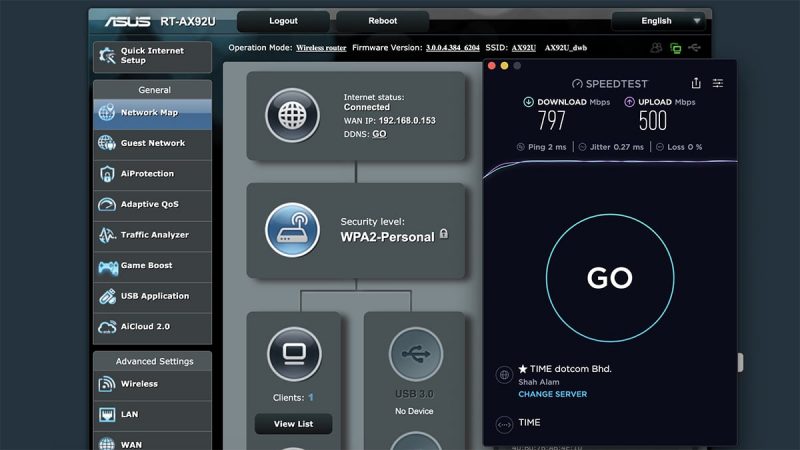 However, we only able to use 80Mhz in our test due to a firmware limitation. We still manage to obtain a mesh backhaul speed of close to 800Mbps. It will definitely be even faster once 160Mhz is available in Malaysia.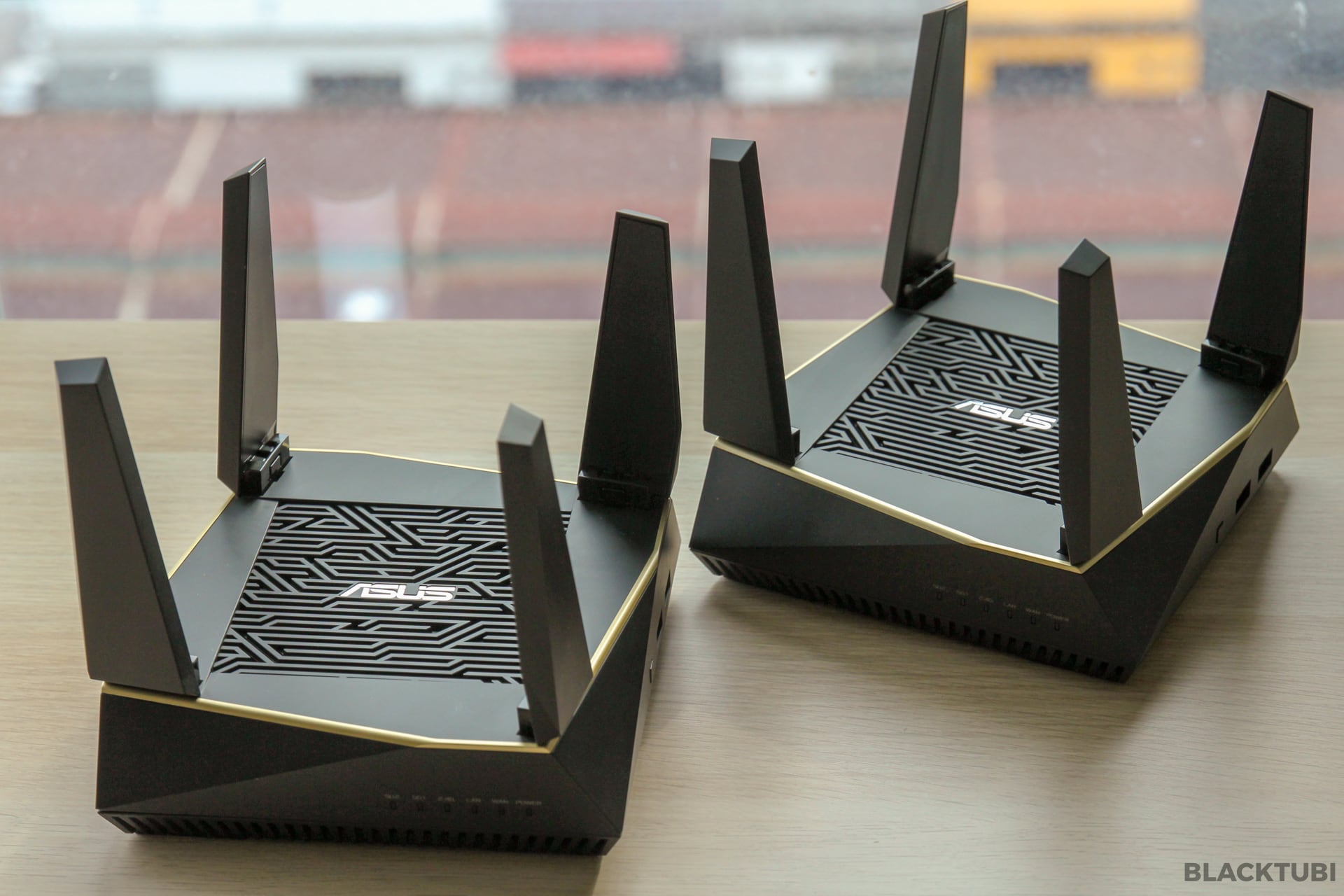 ASUS RT-AX92U is a amazing Mesh WiFi System with really good performance. By leveraging on the benefits of Wireless AX, ASUS created probably the world fastest mesh WiFi system in the market with extremely good WiFi coverage and performance. 
We also enjoyed ASUSWRT firmware as it is still the leader in terms of stability and features. The system is also really easy to setup and fully support Malaysian ISPs. If you are looking to cover your entire home with fast WiFi connection, the ASUS RT-AX92U Mesh WiFi system will not disappoint.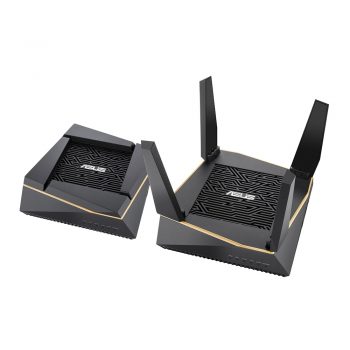 ASUS RT-AX92U AiMesh Mesh WiFi System
Strong coverage and fast WiFi speed
More ports and features than other mesh WiFi system
160Mhz not available in Malaysia currently