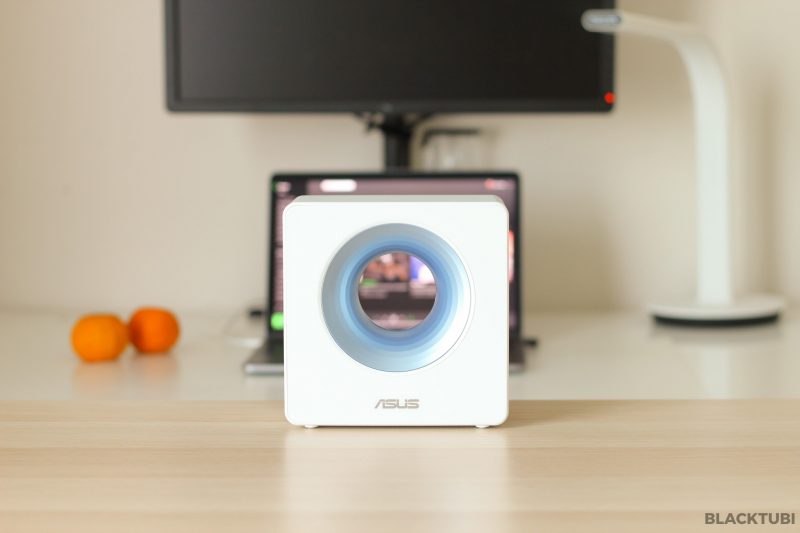 Asus Blue Cave is a new kind of router from Asus with an extraordinary design. The design, whether you like it or not, is Asus' answer to a market with more and more requirement on the design of their gadgets. You have seen a lot of routers with the typical matte black color and antennas poking out of the body. The Blue Cave is totally different with a harmonious white color surrounding the blue hole in the middle. This unsuspecting device is actually the latest high performance router from Asus and it looks nothing like all other routers Asus have made in the past.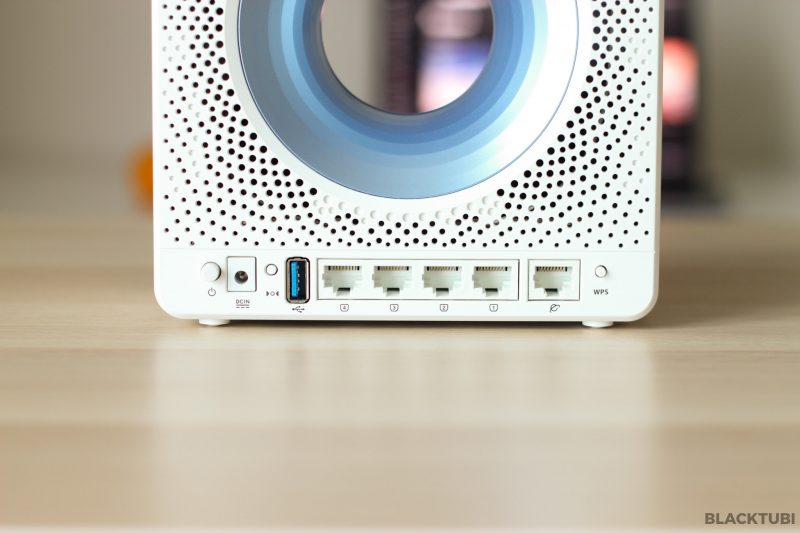 I received plenty of compliments and many asking what is this device in the living room right beside my television. Some friends even wondered since when Asus ventured into the air purifier business. Well, it surely looks a lot like some blade-less fan from a famous brand. Well, a lot of engineering effort have been poured in the creation of a device with such a small volume with an impressive specifications yet with a hole in the middle.
Not just looks, Asus Blue Cave performs!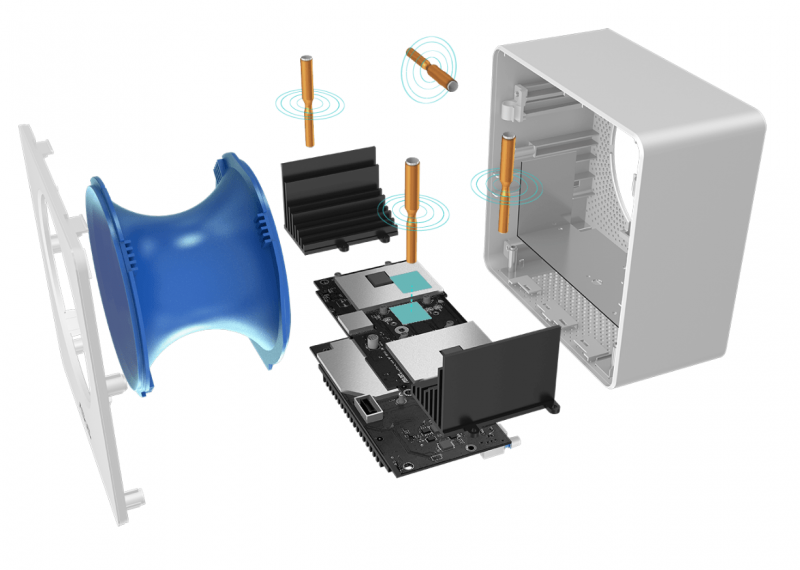 Wireless AC2600
4×4 MU-MIMO
4 Gigabit LAN
Dual Core SoC
The Blue Cave is not just about the looks, it is a high performance router, a really good one indeed. Powering the Blue Cave is a dual-core Intel chipset instead of the usual Broadcom chipset Asus normally uses. It is a 4×4 MU-MIMO capable wireless router with support up to wireless AC2600. The high performance hardware is complimented by an antenna design where signal is pushed in both horizontal and vertical direction as we hold our devices in different angles. That is some serious power being cramped into such a small form factor it is even smaller than a RT-AC68U.
All this really shows in the performance of the wireless router. It is easily the best performing AC2600 class wireless router in the market and it can easily surpass some older AC3200 and AC3250 routers. My laptop which comes with a AC1200 wireless card with peak speed of 867Mbps is consistently peaking at 620Mbps even after a certain distance from the wireless router. It is the same story with my iPhone X which consistently pushing close to 500Mbps. I am pretty confident that this wireless router can reliably deliver much better speed if I have a device with a AC1750 wireless ability but right now, most devices on the market only support AC1200.
The signal coverage is nothing short of impressive either. I cannot really put coverage into words but I would say it is better than my old RT-AC68U and about the same as Asus' own RT-AC88U. Of course, being a AiMesh compatible router the wireless signal can be further expanded by configuring AiMesh. Old Asus routers can be reused as a AiMesh node or you can have a second Blue Cave or other models with AiMesh support as well. AiMesh itself is a huge breakthrough from Asus and you can check out my article on AiMesh here.
Powered by the user friendly AsusWRT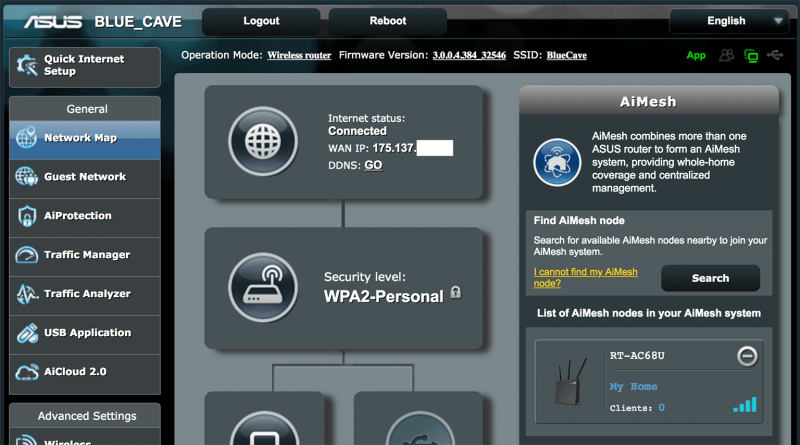 Powering the Blue Cave is of course the ASUSWRT router firmware. ASUSWRT is the most featured packed router firmware in the market right now. The Blue Cave being a high-end model come with the full suit of features from ASUSWRT. ASUSWRT is still largely unchanged in 2018 apart from minor changes to the setup tutorial and some icon change, it is still the familiar ASUSWRT. Also, it comes with the Asus router companion app which work really well but mainly for monitoring and some quick configuration such as disabling the wireless or changing the password. You probably want to use the computer for anything more advanced. 
AdaptiveQoS
AiProtection
AiMesh
VPN Server 
…the list goes on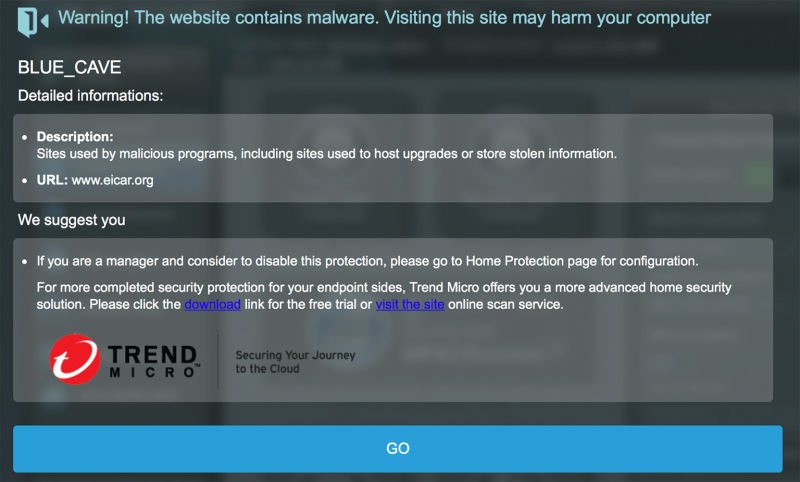 I always talk heavily about AiProtection because I am a huge fan of that feature. I find it really handy considering a lot of our devices are connected to the Internet and sometime we may not have the most tech savvy users on the network. AiProtection is the solution where it protects your users from harmful and malicious website at the same time preventing devices in your network from getting infected by malware. Powered by TrendMicro, it may not be a fully fledged enterprise level firewall solution but I find that it is sufficient for a household and definitely a great value added to a home gateway.
Fast USB file storage performance
The single USB port on the Blue Cave can support multiple features. You can insert a USB 4G modem to share the Internet connection. Apart from that, it allows you to share the files on your USB external hard drive to devices on the network. It even allows you to share a printer on the network. But, unlike other Asus routers, it only have one single USB port.
Thankfully the performance is really good, we recorded some really good performance when sharing files on the network either over Ethernet or wireless.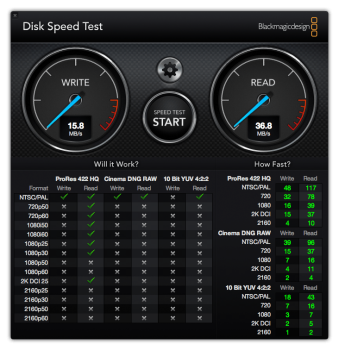 Asus Blue Cave support Unifi up to 800Mbps
We have tested the Asus Blue Cave and we concluded that it will work with Unifi connection up to 800Mbps, in line with the free Unifi Turbo upgrade program. Of course, being an Asus router running ASUSWRT, setting up the Asus Blue Cave with Unifi is incredibly easy. You can refer to our Asus Unifi setup guide over here.
I really like this router. My first router from Asus is the RT-AC68U and it still receive new firmware updates after so many years. But, despite how much I liked the RT-AC68U, it is starting to show its age. I would see the Blue Cave to be a good replacement for that. The blue cave is not that much more expensive than the RT-AC68U, it performs really well and most importantly, the harmonious design fit right in my living room. 
With the recent Unifi Turbo upgrade, I see Asus Blue Cave will have no trouble supporting speed up to 800Mbps. Also, as it supports AiMesh, you can always get another Asus router or you can repurpose your old RT-AC68U as an AiMesh node to expand the wireless coverage.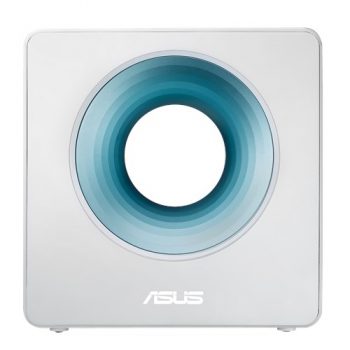 Don't be fooled by the looks, it performs incredibly well with extraordinary whole home wireless coverage. Recommended for users with Internet speed up to 800Mbps.
Clean looks
Good wireless coverage
Plenty of features

AiMesh supported with new firmware update!
Single USB Port
 No AiMesh