Free public WiFi networks are great as they provide connectivity considering how Internet is a necessity these days. However, we'll never know whether a public WiFi network is as safe as your WiFi network at home. With that, ASUS launched Instant Guard which is a game-changer feature for their wireless routers.
ASUS Instant Guard is a fast and simple solution to obtain secure Internet access when you're abroad. It works by sending all your Internet traffic through an encrypted secure VPN tunnel back to a safe network environment at your home if you use an ASUS wireless router. 
The best part about Instant Guard is the VPN server is actually hosted at your home which means it is free for life. It also provide reasonable assurance that no third party provider is able to see what you are browsing as all the traffic didn't even pass through any ASUS servers.
Most public WiFi networks are poorly configured and they are unsecured without a WiFi password. It's really easy to conduct a sniffing attack on such WiFi network where the criminals are able to spy on you and steal your information without you knowing it happening.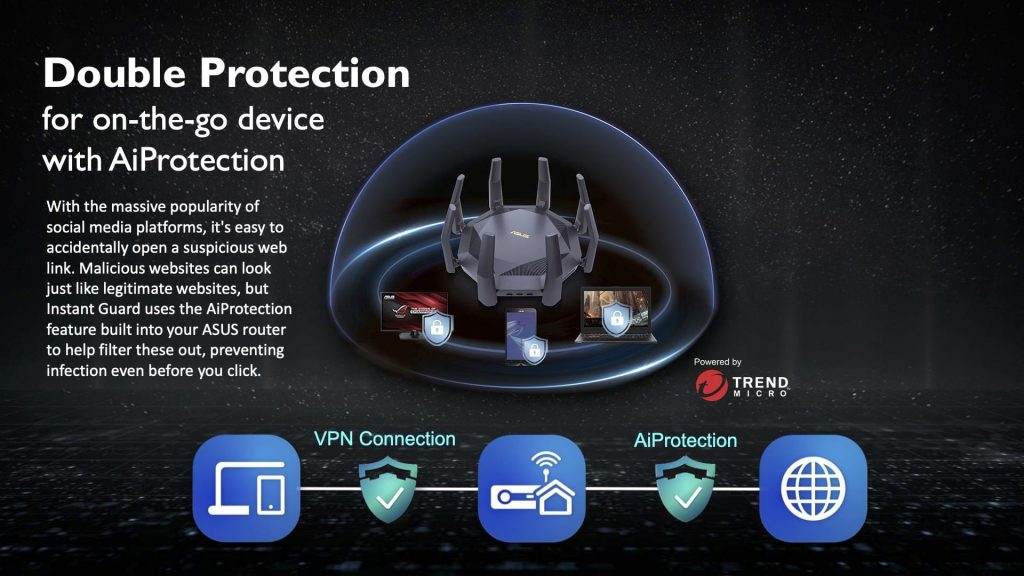 When ASUS Instant Guard VPN is used, all your Internet traffic are send through a secure end-to-end encrypted tunnel which is really hard to intercept. Your traffic will then be tunneled back to your home Internet connection to access the web which is more secure than a typical public WiFi network.
Combining this with ASUS AiProtection firewall feature at the wireless router, it is able to provide additional protection to your devices. ASUS AiProtection is a commercial-grade network firewall which is able to block and prevent your devices from a webpage containing a malware or virus.
Setup and Onboarding Process
The best part about ASUS Instant Guard is how easy it is to get it up and working. You'll need to ensure your router support Instant Guard. Once that is done, download the ASUS Instant Guard app and click the blue button. The app will then create the VPN profile and the VPN will be ready for you next time.
Being a first generation product, I am really surprised by how easy it is to get your own VPN service up and running. On just one click, the app configures the VPN profile itself and it will be ready when the VPN is needed. It takes less than 20 seconds to get everything up and running. However, this process will need to be repeated on every devices you own.
ASUS Instant Guard uses the IPsec VPN protocol which is commonly used by many Enterprise for remote access. Without going into the detail, the IPsec protocol is sufficiently secure. By looking into the logs, we also know ASUS is using the AES256 encryption and HMAC-SHA1 hashing method.
Since the VPN server is hosted on your own router unlike a third party VPN provider, your traffic is not routed through any ASUS servers. It also give you total control over the VPN performance since it is not shared with other users. However, when Instant Guard is enabled, it will enable the DDNS and remote access feature on the ASUS router as well.
Currently, most current high-end ASUS routers already received the software update for this feature. ASUS is also planning to add this feature to all their routers that can support the IPsec VPN protocol. Make sure you are running firmware version 386.40322 and newer to see the feature. The full list of supported products can be viewed on ASUS website here.
ASUS Instant Guard feature will only work with ISPs that provide a public IP address such as TM Unifi and TIME Fibre in Malaysia. It does not support ISPs that provide private IP addresses such as Maxis Fibre. Some ISPs may provide a public IP upon request but that entirely depends on their goodwill and terms.
On the VPN client side, the current Android and iOS apps have shown to be really robust. They should work with most Internet connections including 4G network and most public WiFi network. However, some office WiFi network or public WiFi are known to block VPN connections but those are really rare.
The performance of ASUS Instant Guard is really goood. On my RT-AX88U, I have no issues achieving close to 300Mbps over the VPN tunnel on a Gigabit Internet connection. However, this will depends on how fast is your home Internet connection and how good is the network routing of your Internet service provider.
The CPU used on ASUS routers do play a part as well. Those models with a Broadcom 1.8Ghz CPU (BCM4906/BCM4908) comes with a dedicated AES encryption engine and they will perform better. I done a simple benchmark on a few selected ASUS routers to compare their performance in the chart below.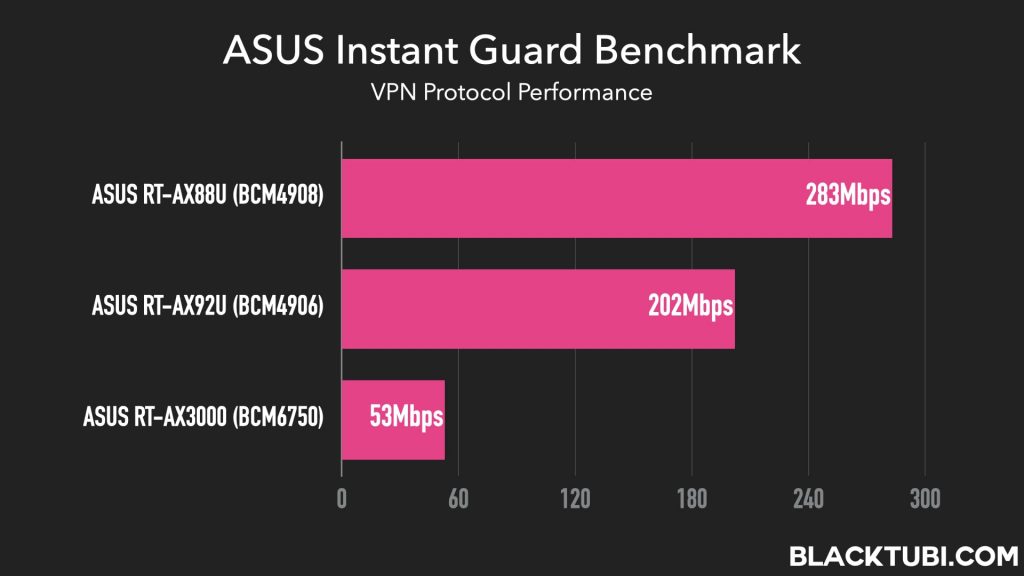 As you can see, the VPN performance on the Broadcom 1.5Ghz CPU (BCM6750/BCM6755) is slower. However, do bear in mind that this is a simple, non-technical benchmark conducted in best case scenario. Your ISP network routing will have the ultimate say on how fast is the VPN network.
ASUS told us that Instant Guard VPN will be getting a Windows and MacOS client in the future. ASUS is also planning to simplify the onboarding process by allowing the VPN profile to be shared to another devices directly. This will definitely make the feature even more user-friendly with the sharing ability.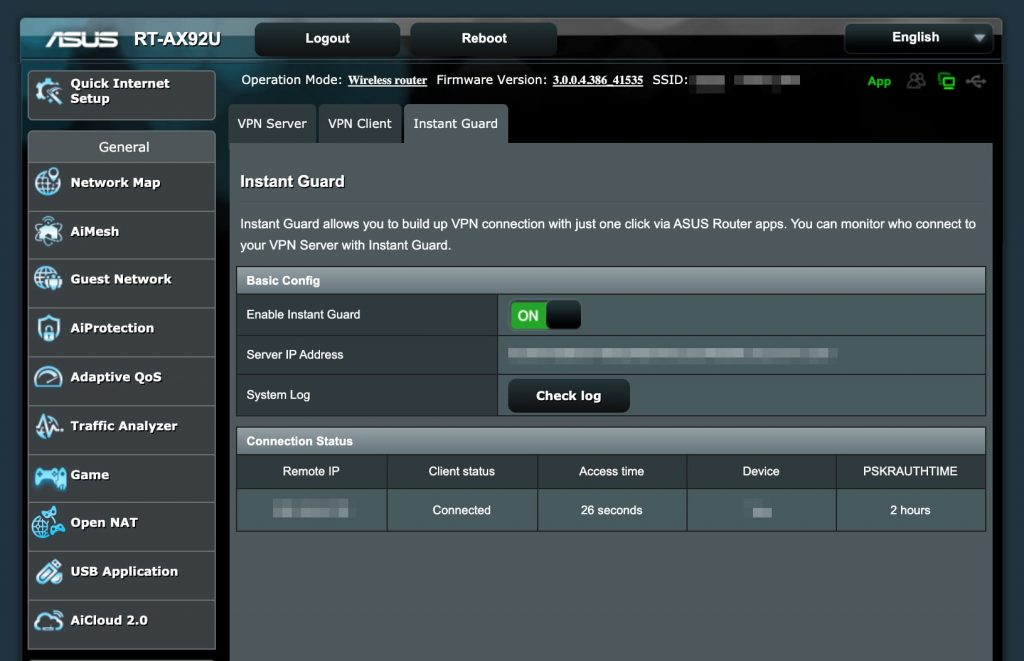 I am certainly looking forward to these improvements to test them out in the future. For now, I think the feature is well designed and implemented. If I have to nitpick, I hope ASUS can add a speed limiter feature to limit the VPN speed so it does not affect the Internet performance at home if I share my VPN access to more family members.
With the launch of ASUS Instant Guard, it transforms ASUS routers to not just being a home connectivity product. It extends beyond your home to provide a secured connection even when you are abroad. I think this is a step in the right direction for ASUS considering their premium pricing and branding proposition. This is certainly a very valuable feature for ASUS fans.
Althought most router brands do offer some sort of VPN server, they often require plenty of manual configuration. By comparison, ASUS Instant Guard is easier to operate as the app will do everything in one click. The Instant Guard implementation is secure, elegant and user-friendly.