ASUS Lyra Voice is ASUS latest wireless router which comes with a smart speaker. Well, with the crowded smart speaker market, someone has to be innovative to differentiate. ASUS' attempt is to add mesh WiFi to their smart speaker.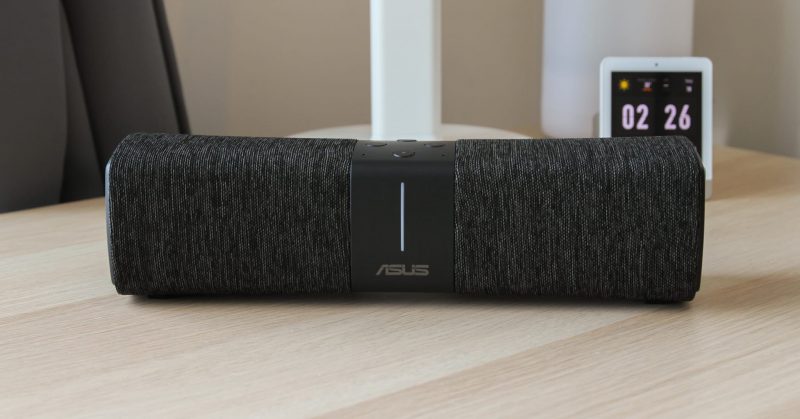 Being AiMesh compatible, it means you can link this device with another AiMesh supported router to form a mesh WiFi network and enjoy a faster WiFi speed and coverage. The Lyra Voice is a Tri-Band router makes it perfect for AiMesh as there will be a band for dedicated WiFi backhaul.
Smart Speaker + Wireless Router + AiMesh WiFi System
ASUS relies on Amazon Alexa as the virtual assistant for the smart speaker. Alexa actually supports a lot of smart home devices so you can control them using your voice. Flexibility is where the Lyra Voice shines as it support Spotify Connect, TuneIn, Pandora and even Bluetooth audio.
ASUS Lyra Voice looks really elegant and nothing like your conventional WiFi Router. The entire thing is wrapped with cloth apart from the middle which houses the button and the LED indicator. There is a dedicated privacy button to disable the microphone and the LED indicator can be disabled on the ASUS Router app.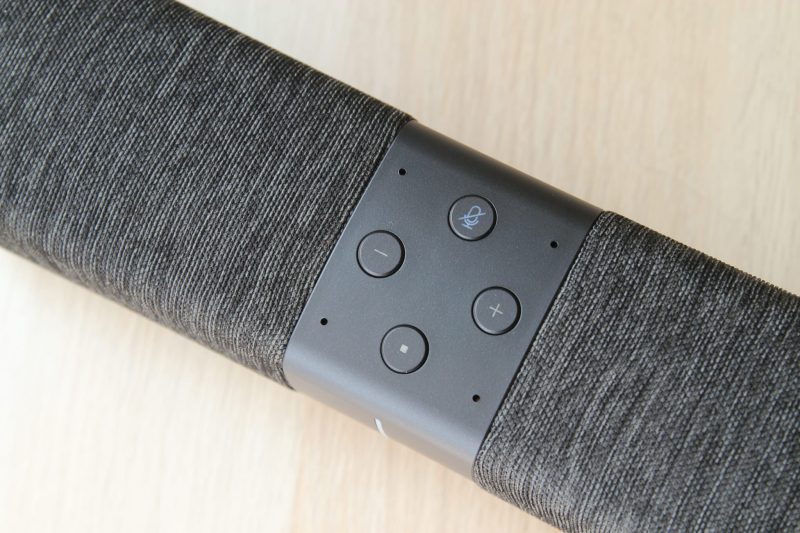 The Lyra Voice features dual 8W Stereo speakers. On the router side of things, it has support for Tri-Band wireless AC2200 with MU-MIMO. That will be two 5Ghz bands with link speed up to 867Mbps each and a single 2.4GHz band.
As for the antennas, although there aren't any visible ones, there are actually 6 antennas hidden inside the device. Contrary to popular believes, antennas do not need to be visible to be good.
Now, the Lyra Voice is a smart speaker with Amazon Alexa support so you can get it to work with the entire Alexa ecosystem. The setup process is really simple with the ASUS Router app. The Lyra Voice also features Spotify Connect so it can stream directly from Spotify's servers, resulting in better audio quality. It is also possible to use Alexa voice command to play Spotify music.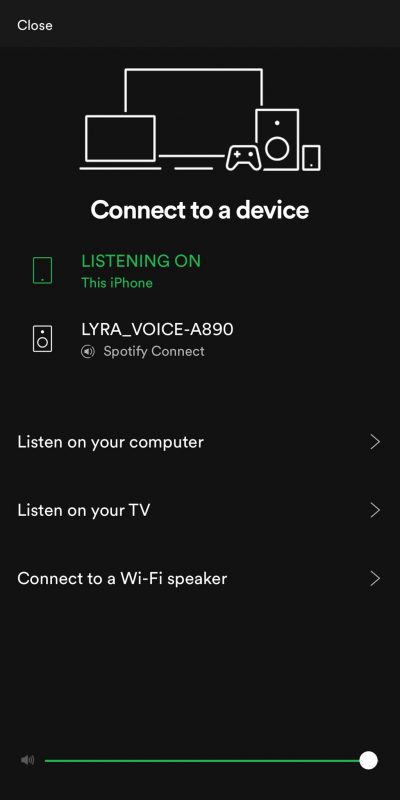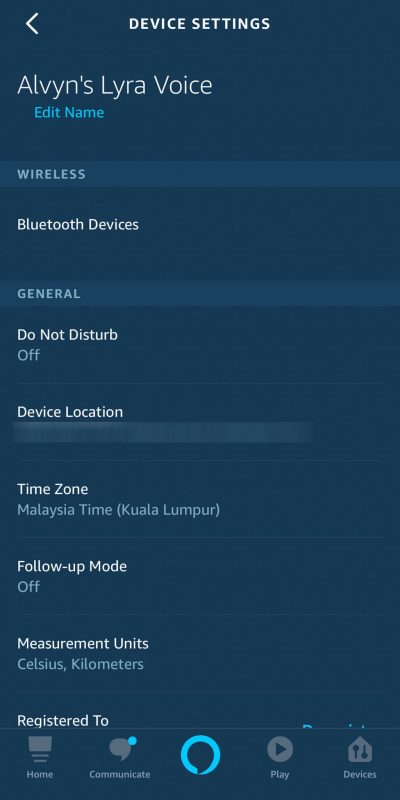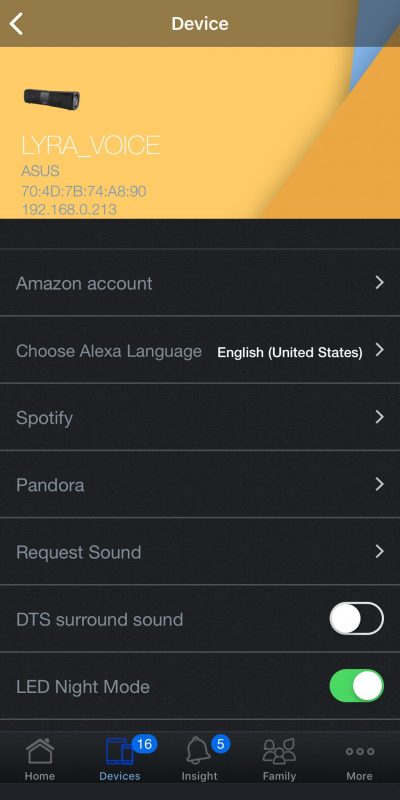 The microphone on the Lyra Voice is extremely good. It is able to hear my voice command even when I am more than 5m from the device at normal speech volume. I tried talking from multiple different angles and it even worked with background music playing.
The speaker quality is pretty decent although 8W doesn't sound like a lot, it's gets pretty loud at maximum volume. ASUS Lyra Voice also support DTS virtual surround sound which can be enabled on the ASUS Router app. I prefer the audio with it off but it is a personal preference and it is off by default.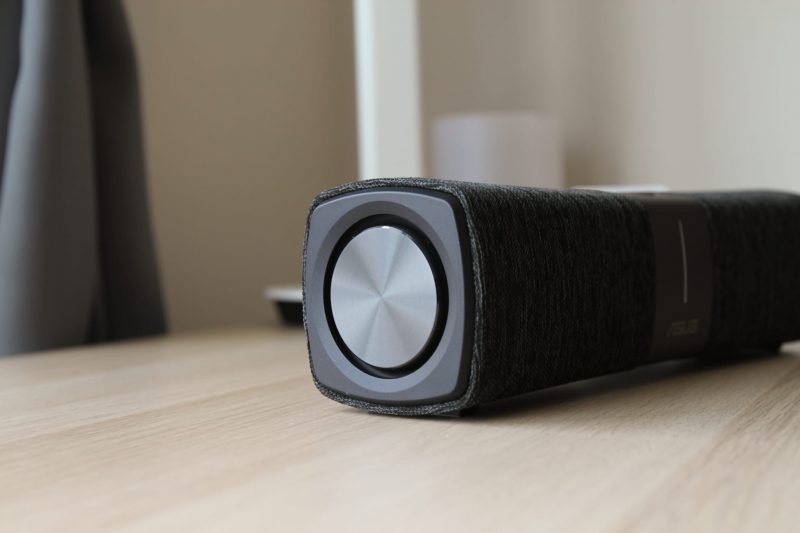 The sound quality is pretty decent but there's not much lower end as it is small 8W driver. But, I throw every kind of music on the Lyra Voice, it is all very listenable without any noticeable distortion. I wish ASUS lets us to manually configure the equalizer or have some sort of sound control in a future update since everyone's preference will be different.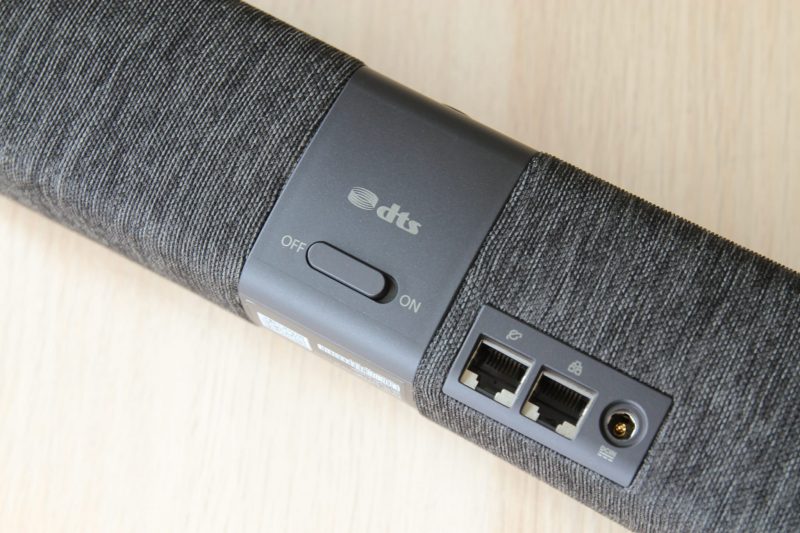 The Lyra Voice is also an AiMesh enabled wireless router. It is compatible with all major ISPs in Malaysia including Unifi, Maxis and TIME. The configuration part is similar to all ASUS wireless routers. You can refer to our guide here.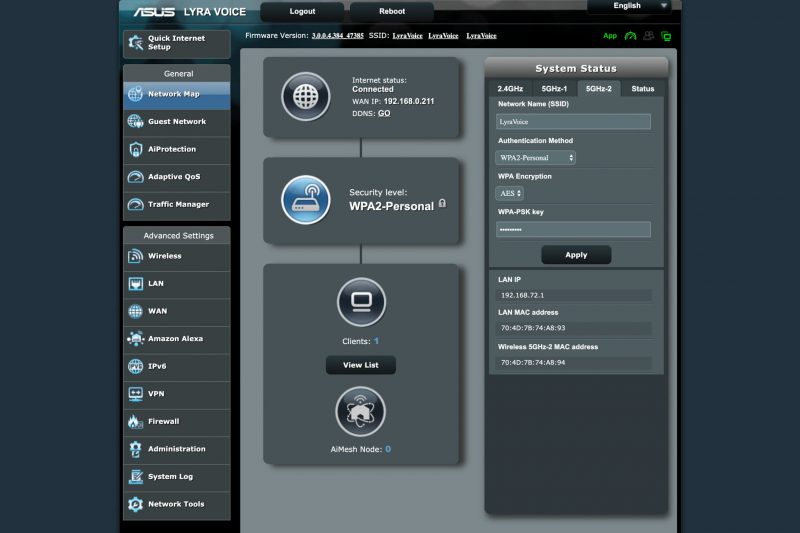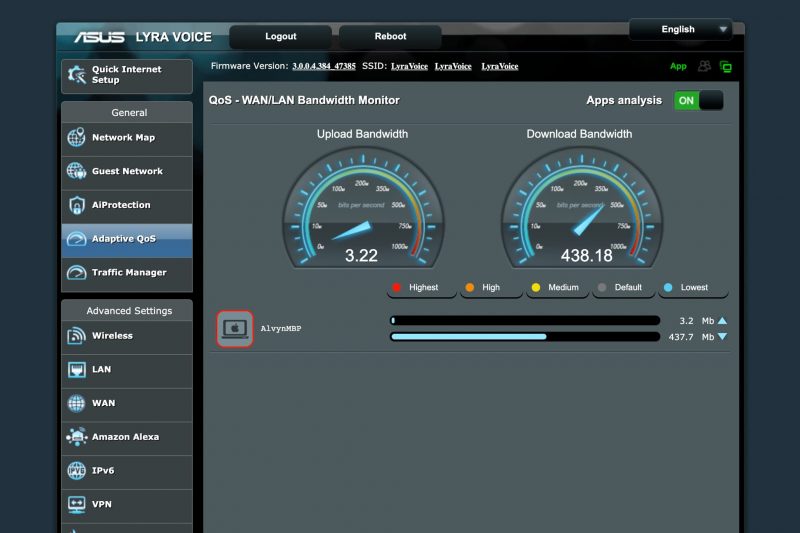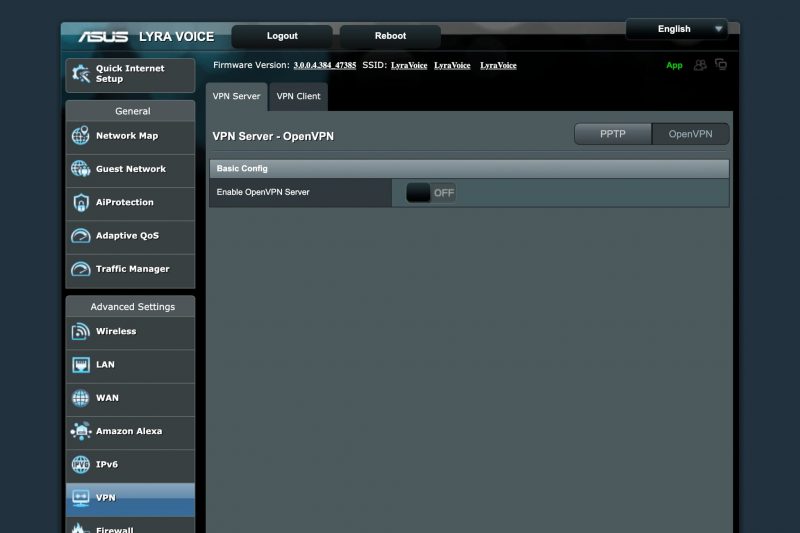 The Lyra Voice is actually quite a good wireless router with plenty of features and decent specs. Flexibility is what ASUS routers shine as the Lyra Voice support VPN server, VPN client, guest WiFi, QoS, DDNS, port forwarding, speed limiter and etc.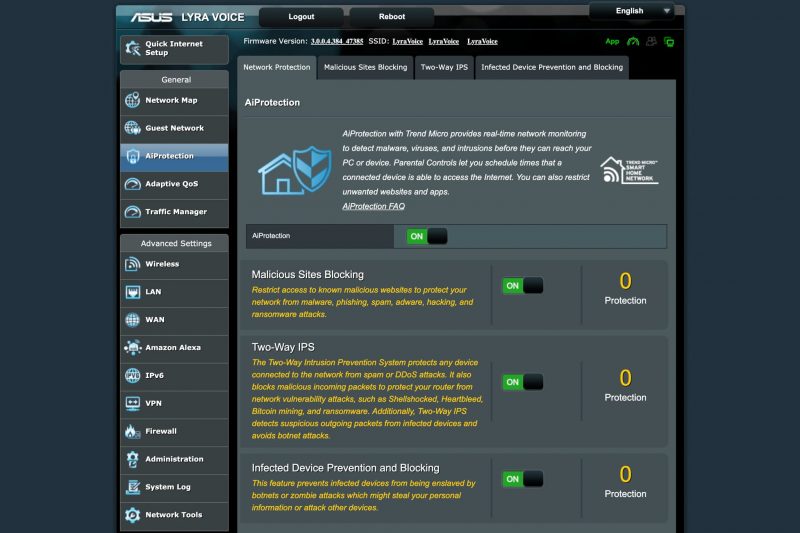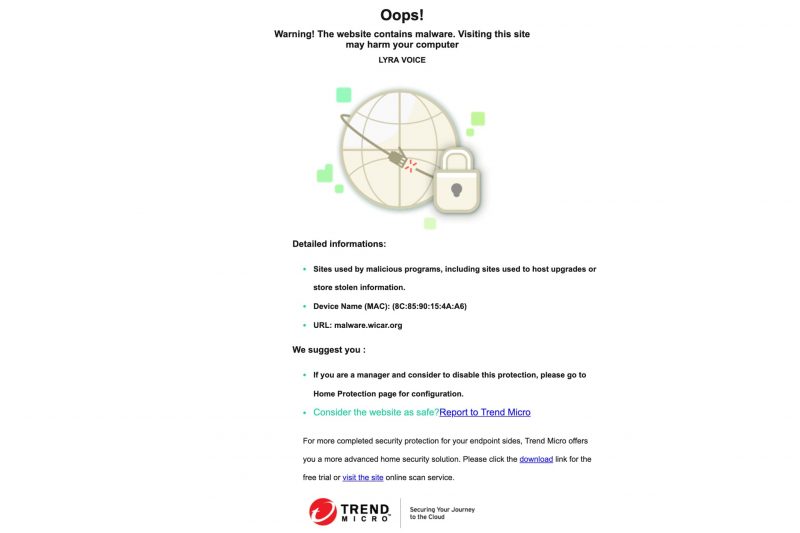 My favorite feature is ASUS AiProtection Pro which will prevent your connected devices from accessing websites containing a malware or viruses based on a database by TrendMicro. It works really well and it will show a warning to the user when a malware infected website is detected.
Being AiMesh compatible, you can link it with other AiMesh support Asus routers to expand the WiFi coverage. The setup process is really simple and you can refer to our setup guide over here. Not to mention that the smart speaker functions still work even when the Lyra Voice is configured as an AiMesh node.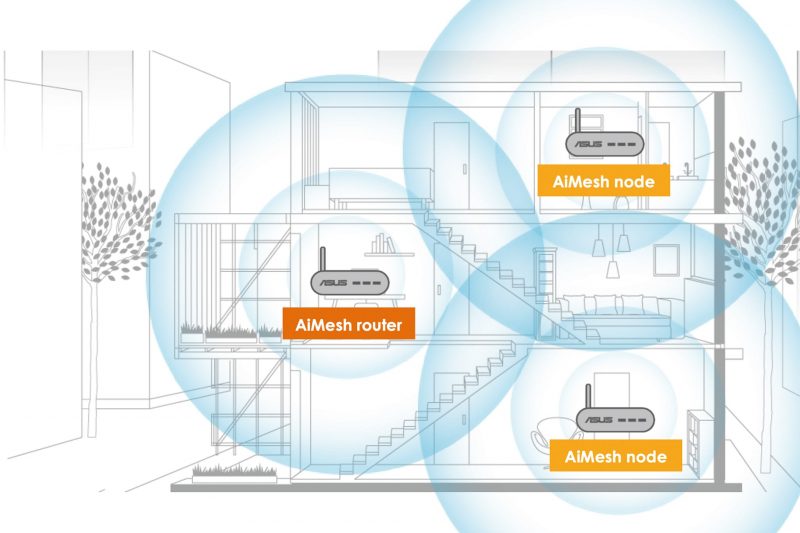 Having a mesh WiFi network can improve WiFi coverage which in return enhance the WiFi speed and performance. Mesh WiFi is also much better than WiFi repeaters with a same network name with multiple features to enhance the user experience. AiMesh supports seamless roaming and self-healing for the best experience. 
We tested the WiFi performance of the Lyra Voice using a Macbook Pro using Speedtest.net app. A short distance and a long distance speedtest is conducted and compared.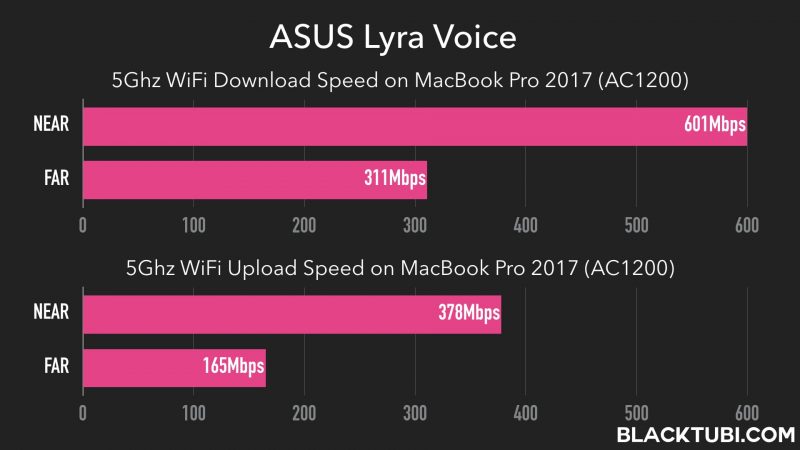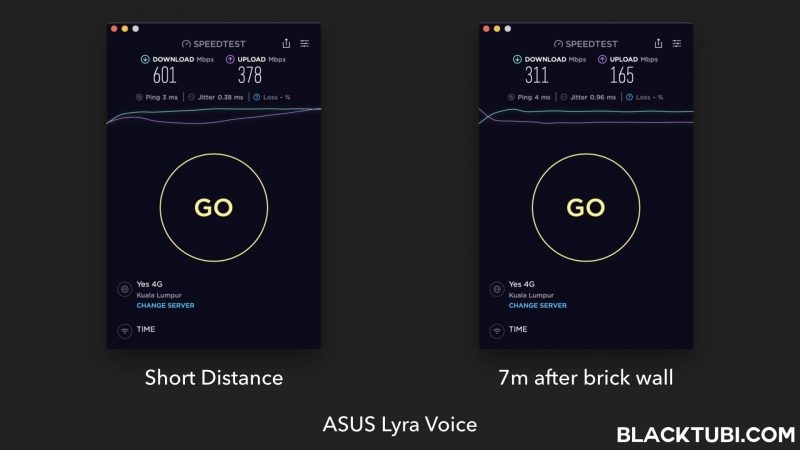 The performance are pretty decent and quite surprising and we are quite amazed by the WiFi performance of the Lyra Voice. Despite being a mere AC2200 device, the performance is actually quite good.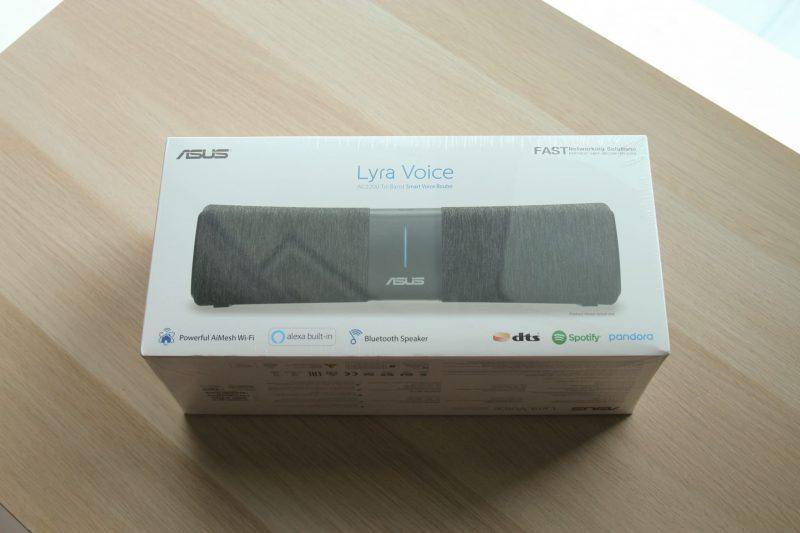 ASUS Lyra Voice is an interesting product from ASUS. It is a great smart speaker with decent audio quality and a good microphone for voice commands. Ignoring the smart speaker, it is also a great Tri-Band WiFi router with great WiFi performance and features. I also liked the fact that it is able to form a mesh WiFi network with another AiMesh router to improve my WiFi coverage.
I never owned a smart speaker since we do not have Alexa or Google Assistant officially in Malaysia. But this really changed my mind on the possibilities of smart speaker especially the convenience it can bring. Right now, I can get it to play music or get my Xiaomi Air Purifier to turn on without me leaving the couch.
I hope the Lyra Voice can support Apple AirPlay in a future update but that remain as something to complain, for now.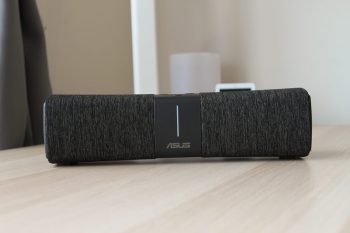 ASUS Lyra Voice is a smart speaker and AiMesh router that will blow your mind
Great features and flexibility
Microphone is very sensitive
Good WiFi coverage
Only 2 Ethernet ports
No AirPlay support