ASUS ROG Rapture GT-AX11000
Asus ROG RAPTURE GT-AX11000 is Asus latest wireless router with some really mind boggling specs. It is not just one of earliest Wi-Fi 6 or some call it Wireless AX router. It is also ASUS highest end gaming focused wireless router you can buy today. This also also serve as an updated version of the GT-AC5300 to stay ahead of the competitors.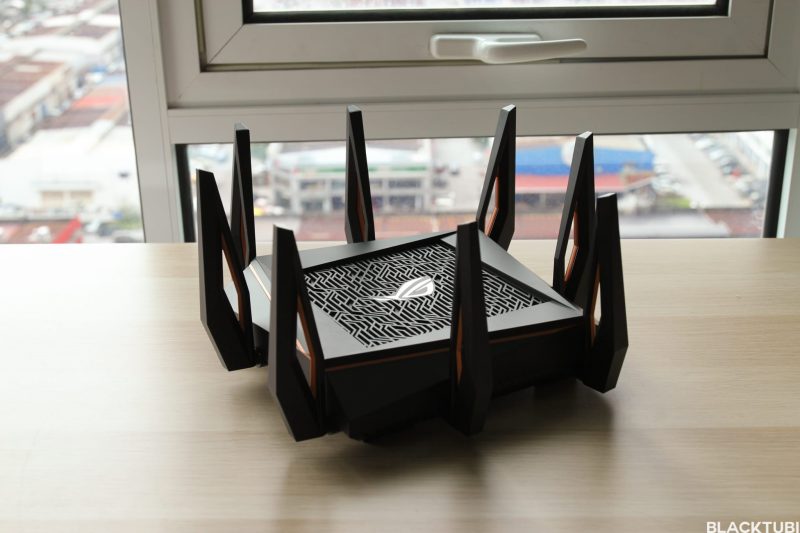 Wi-Fi 6 is definitely the future of wireless connectivity. It has many improvements over Wireless AC mainly being speed and stability. This is not some rumors as Wi-Fi 6 is already here. The Samsung Galaxy S10 is recently launched with Wi-Fi 6 and you will definitely need a Wi-Fi 6 router to enjoy significantly faster Wi-Fi speed.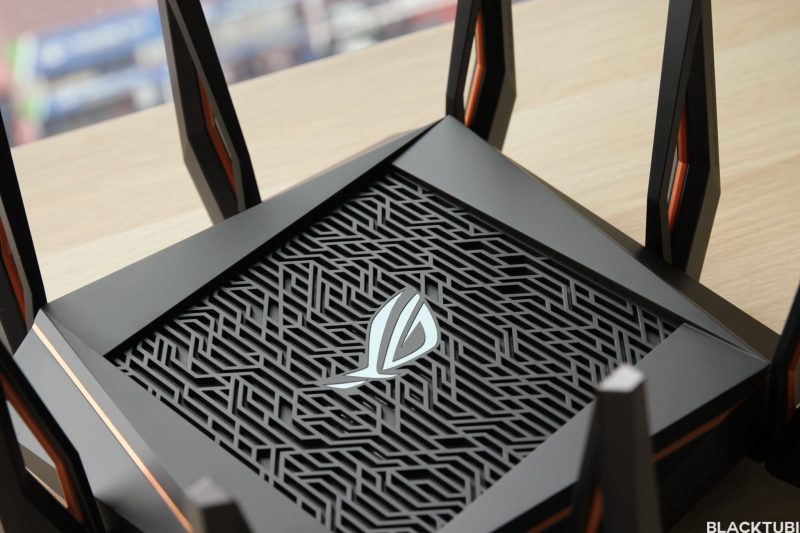 Asus GT-AX11000 is definitely the peak of what wireless router design and it defines what a gaming router should be. The GT-AX11000 now comes with a premium RGB lighting effect on the ROG logo. Not only that, the entire design is designed to gammers. It looks super cool to just have it on your gaming desk. But, it is not just for show though, the pattern on top of the router cleverly hides the vents.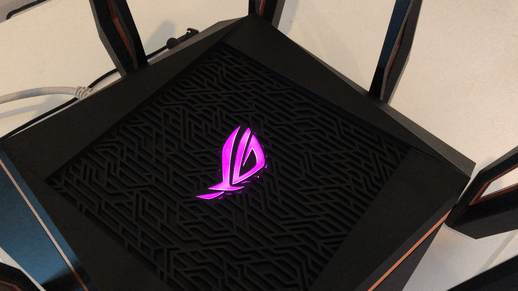 Asus ROG RAPTURE GT-AX11000 is not just for gamers, it comes really top of the line specs even for the most demanding user. It features a Tri-Band Wi-Fi 6 capable network with an aggregate speed of up to 11000Mbps. To break this down, it is actually up to 4804Mbps on each of the 5Ghz band and up to 1148Mbps on each of the 2.4Ghz band. There are 8 external removable antennas to broadcast the signal and each of them are responsible for just an individual stream.
The ridiculous specs do not end there. It is powered by a Broadcom 1.8Ghz Quad Core processor and there is a whopping 1GB RAM in this router. Both of this will translate into better VPN performance and more simultaneous connections. Asus also included dedicated 2.5G WAN/LAN port in addition to the existing Gigabit WAN and 4 Gigabit LAN port. But, Asus has taken a step back as the GT-AC5300 comes with 8 Gigabit Ethernet ports. I think the 2.5G port is more practical than 802.3ad link aggregation and it will be more common in terms of device support as well. 
All the specs here matter for gamers but it is also for the everyday consumer networking needs as well. With this specs, I am confident that the ROG Rapture GT-AX11000 will perform really well and Asus tested the Wi-Fi to be able to support up to 64 devices connected per band.
Should you Wi-Fi 6 router now?
The key question is definitely do you need to buy a Wi-Fi 6 router now. Well, it is definitely a matter of future proofing. Like the recently announced Samsung Galaxy S10, it supports Wi-Fi 6 and it will be available in many upcoming devices in the future. Currently, our peak speed on a typical mobile device with 2×2 Wireless AC is around 400-500Mbps. With a Wi-Fi 6 device on a similar 2×2 configuration, I will expect the speed to increase to around 700-800Mbps.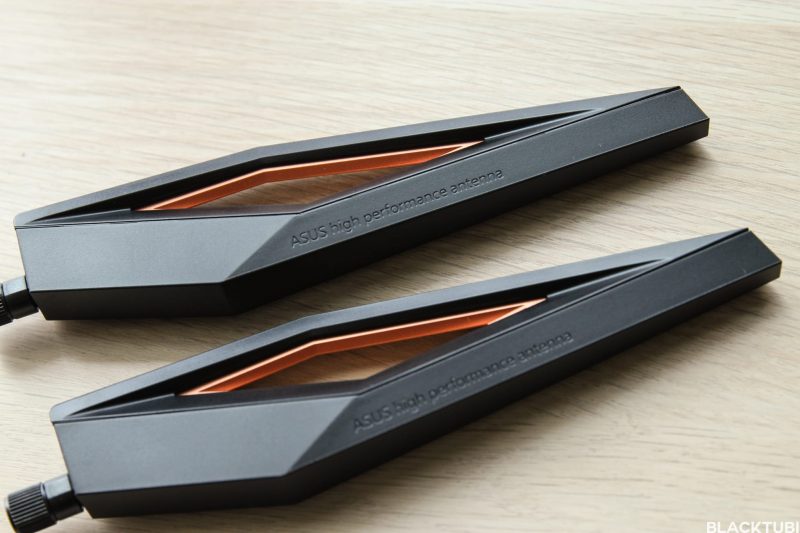 The speed improvement is thanks to new technologies and innovations being brought to Wi-Fi. One key focus of Wi-Fi 6 is on spectrum efficiency. Wi-Fi 6 introduced OFDMA, a technology that's already being used in LTE for better resource allocation. Besides, Wi-Fi 6 also standardized 1024QAM and and there will be physical link rate improvement. You can refer to Cisco paper on key technical details but in layman terms, Wi-Fi 6 will introduce truly Gigabit Wi-Fi speed and it will be a lot more efficient.
As for existing devices, Wi-Fi 6 will be backwards compatible with Wireless AX devices. The will be no increament in terms of physical link rate. But, with newer Wi-Fi chipsets, they will be better in terms of interference mitigation and signal reception.
ASUS ROG Rapture GT-AX11000 cool factor does not end at the RGB lighting and the 8 antennas . The firmware have been given a proper ROG gaming treatment and they added some premium features for gamers. This is of course on top of the already feature packed ASUSWRT which we all know it is the best and most stable router firmware in the market. 
Like all high-end Asus routers it has the usual AiMesh, AiProtection firewall, AiCloud, Download Master, Alexa/IFTTT integration and etc. I will highlight a few features below that is different from the typical ASUS routers.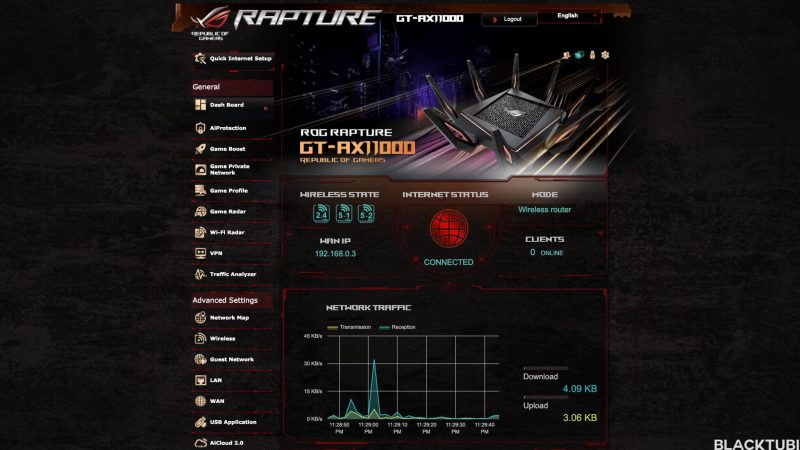 Starting from redesigned dashboard, you can see the internet status and connectivity usage. I like the ping deviation and ping graph so I know when my ISP screwed up their routing again. I think this interface is better than the cluttered interface on the GT-AC5300.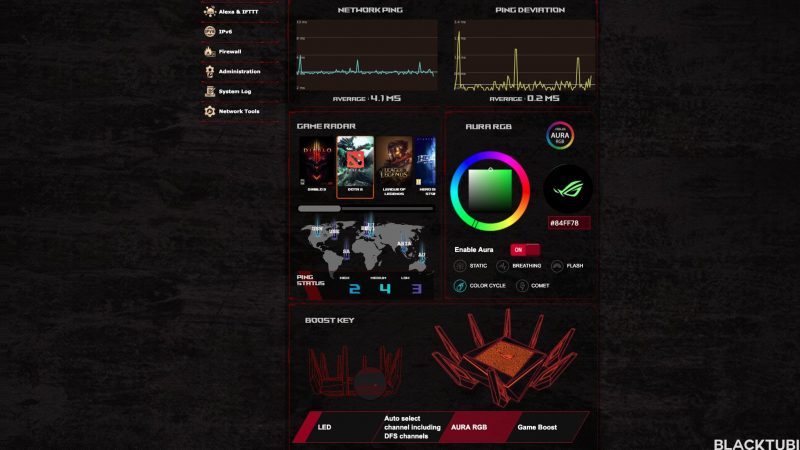 The Aura RGB lighting controls are here and there are multiple effects. You can even decide what color you want the RGB to be down to the hex code. The boost button can be configured to toggle different options on this page as well.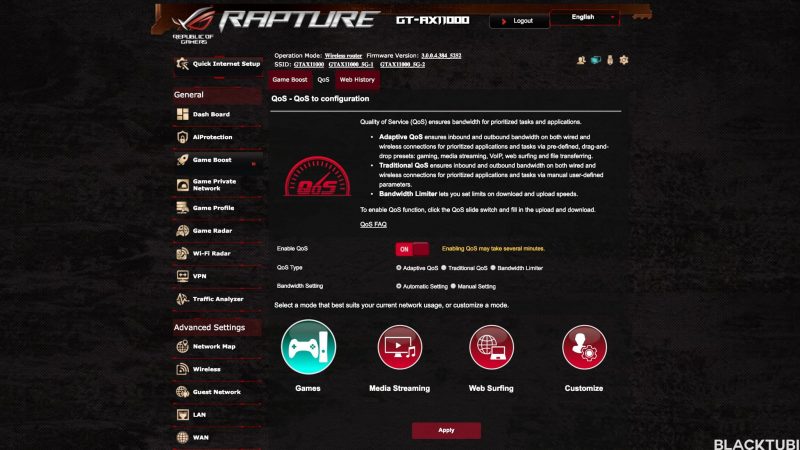 Game Boost is ASUS proprietary QoS profile which you can enable it. It will automatically prioritize gaming packets which will result in lower latency and have a higher priority over other packets.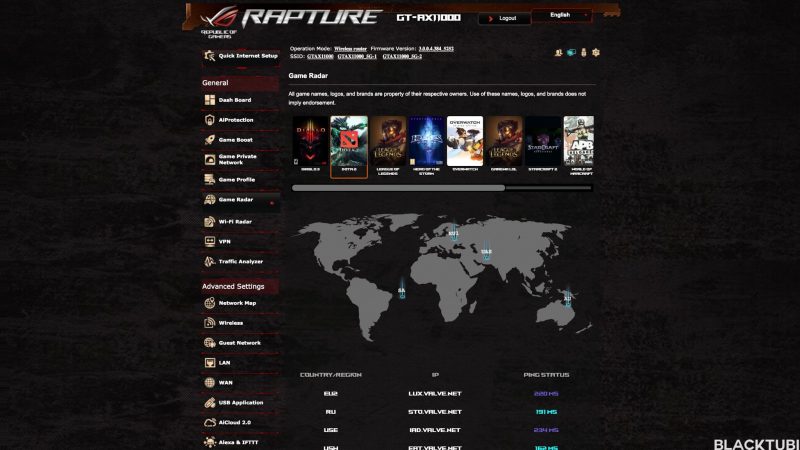 Like what the name states, game radar will check and let you know what is the latency to the servers of some famous online games. I not sure how useful this is since many games actually have this feature built-in but I think it lets you to quickly check the ping status without the need of running the game itself.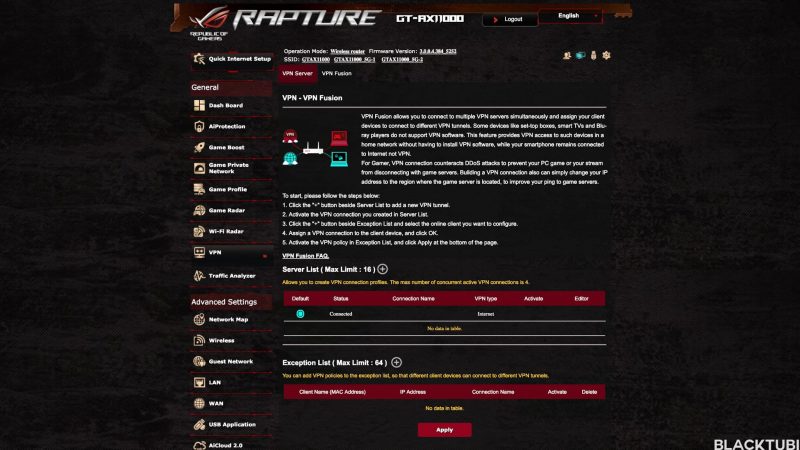 I think this is by far the most game changing feature on a consumer wireless router. Previously, if you use a VPN connection on your router, it will actually tunnel all your devices through the VPN server. This is not desirable considering some VPN servers will actually slow down your Internet connection or increase your latency.
But, with VPN fusion, ASUS lets you to select what devices to be tunneled through the VPN server. It doesn't end here as you can have multiple VPN connections and different devices tunneled through different VPN servers at the same time.
This open many possibilities in your networking needs. I can imagine tunneling a TV STB to a USA VPN to bypass regional content restriction and at the same time tunneling a gaming PC through a VPN for better connectivity and DDOS prevention. You can also use this to let your devices that do not have built-in support of VPN to connect to a VPN connection. Good job by Asus here.
Asus ROG Rapture GT-AX11000 can be managed on the Asus Router app. There are a lot you can do such as changing QoS profile, configuring parental control and monitoring connected devices.
Asus missed an opportunity here by not adding the RGB Lighting control here. Imagine how cool it will be controlling the RGB effect from your phone. I also hope that the Game Radar feature can be checked quickly from the app as well.
Wi-Fi Performance Testing
There is no Wi-Fi 6 receiver in the market and the Galaxy S10 have not arrived. The only way we can test the performance of Wireless AX is to use another Asus router so naturally we used another GT-AX11000 on media bridge mode to act as a receiver and compared it against the GT-AC5300.
On the short distance test, both the GT-AX11000 and GT-AC5300 with no doubt peaked our Gigabit Internet without breaking a sweat. On longer distance, it gets really interesting. Both routers are 4X4 and 1024QAM supported so the only different is newer standards and 160Mhz support. As we can see, the GT-AX11000 with Wi-Fi 6 is 23% faster over it's older counterpart.
We wish to perform a more proper testing in the future as more devices become available. I also want to note that we are testing this in at an even further distance compared to our usual "far" test in order to better showcase the difference. 
160Mhz Performance Testing
The GT-AX11000 also support 160Mhz Wireless. Most Wi-Fi adapters in the market only support up to 80Mhz but some of the newest Wi-Fi adapters do support them. If you happen to use a laptop with Intel Wireless-AC 9260 or 9560, you are in luck. With an 160Mhz router, you can essentially double the maximum link speed from 867Mbps to 1733Mbps.
In our case, we used Asus PCE-AC58BT, a new PCIE Wireless card from Asus which uses Intel 9260 Wireless chipset with 160Mhz support. With that, we can reach up to 800Mbps when conducting a speedtest and mind you this is just a normal 2×2 wireless receiver that many laptops have. 160Mhz will bring rather significant improvement to link speed. 
If you happen to have a laptop with Intel Wi-Fi chipset, do remember to update the driver else it will cause issues with this router. I also recommend using DFS channels if you enable 160Mhz.
We also tested the GT-AX11000 on our usual test device which is our Macbook Pro to see if there's any improvements that existing devices will experience. Well, we can say that this is the fastest speed we even reached in this test category. Although there are no improvement in physical link speed, the actual speed is slightly increased due to improvement in chipset.
ASUS ROG Rapture GT-AX11000 is definitely the best wireless router money can you now. Not only it looks premium with the RGB lighting the gaming design, it has top notch specifications to match the outlook. It is pointless to even talk about performance as this will be the benchmark for routers to beat. With Wi-Fi 6 becoming more common soon, buying a Wi-Fi 6 router is definitely a good move for future proof. We think the specs on the ROG RAPTURE GT-AX11000 will last many years before it is obsolete.
But, being the early adopter, you will be paying a premium price of RM2589 for this router. Asus justified it with a premium design with RGB lighting and various premium features for gamers and I think it is justifiable. I wish Asus can squeeze in 4 more LAN ports but I would prefer the 2.5G port rather than more ports which I can always buy a cheap switch.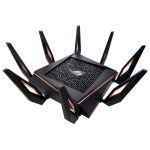 Asus ROG Rapture GT-AX11000
This is literally the best router money can get you right now with a premium design with RGB lighting and top of the line specs.
Ridiculously good specs
Unbeatable WiFi coverage
Wi-Fi Gen 6 supported
5 LAN ports only
Can't control RGB on app