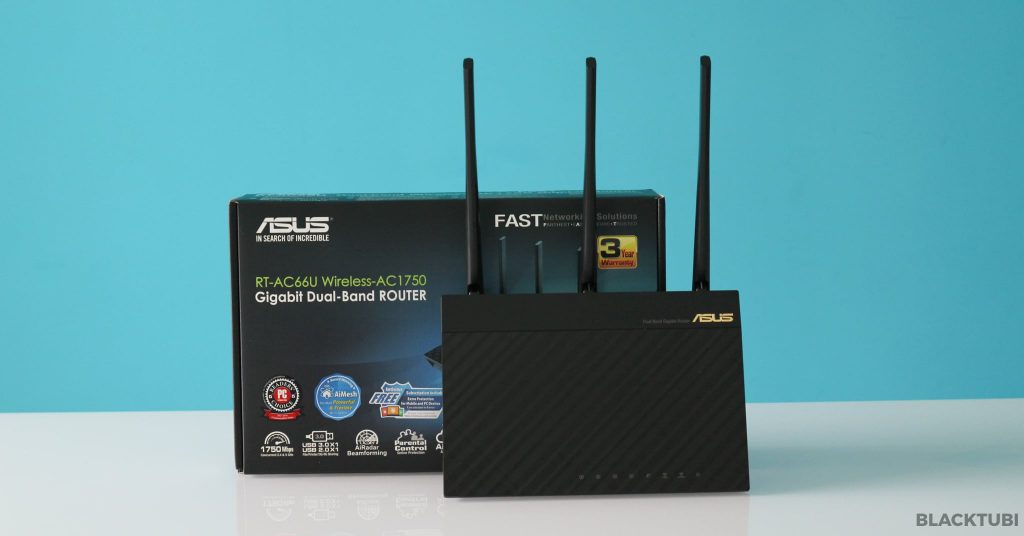 ASUS RT-AC66U have been in the market for a really long time. The current version that ASUS sells is an updated RT-AC66U B1 version with improved specifications and AiMesh function added.
AiMesh is ASUS version of mesh WiFi developed to be compatible with their existing routers. But, instead of selling them as a pack, ASUS let you to mix and match AiMesh products according to your needs.
With that, you can form a mesh WiFi to improve WiFi coverage at your home by combining multiple different products with AiMesh support. They can work together as long as they are AiMesh supported by ASUS.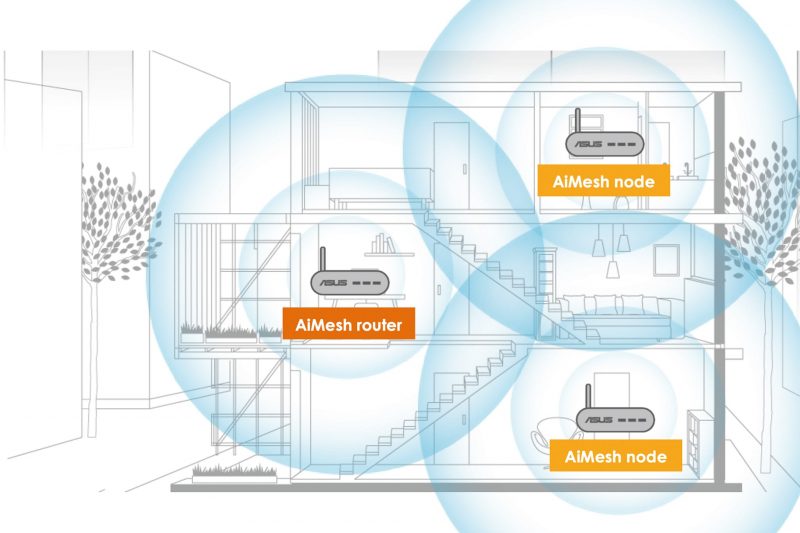 The best part is you can reuse your old routers as an AiMesh node if they support AiMesh as ASUS added AiMesh to some of their old routers. You also retain the full features that are already available on ASUS routers.
Hardware and Specifications
We will be reviewing the ASUS RT-AC66U B1 and the RP-AC55 AiMesh combination and evaluate  how they perform in a real world testing. We tested the RP-AC55 on repeated mode previously.
Wireless 2.4Ghz
Wireless N up to 450Mbps
Wireless 5Ghz
Wireless AC up to 1300bps
CPU
Broadcom Dual Core SoC up to 1Ghz
RAM
256MB
Ports

Gigabit Ethernet WAN + 4 Gigabit Ethernet LAN

2 USB ports (USB 2.0 + USB 3.0)
The RT-AC66U B1 is a great entry level WiFi router to the ASUS AiMesh router ecosystem. It has decent specs with a good amount of RAM and a Dual Core 1Ghz CPU. While the WiFi is rated up to AC1750, we will see how well they perform later.
By adding the RP-AC55 as an AiMesh node, the RP-AC55 will be able to work together with RT-AC66U B1 to provide a stronger WiFi signal with better coverage. This will result in a better WiFi speed and reduce WiFi dead spots.
RT-AC66U B1 WiFi Performance
We will first be testing the WiFi performance of the RT-AC66U B1 with a Macbook Pro to see how good the router can actually perform.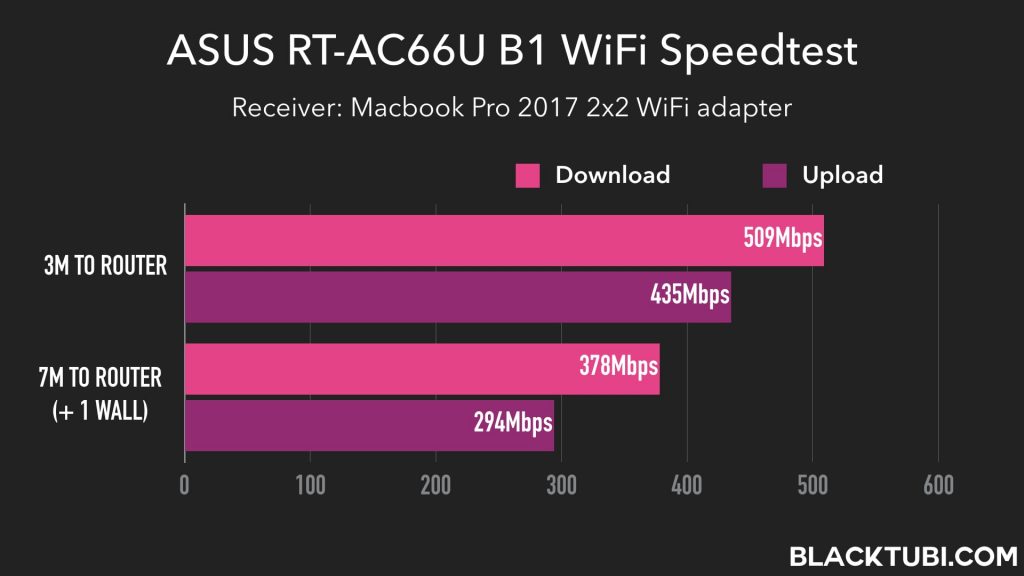 ASUS RT-AC66U B1 will have no issue reaching over 500Mbps over WiFi connection. But, you will need a good cleint device preferably something with at least an AC1200 WiFi adapter to reach 500Mbps.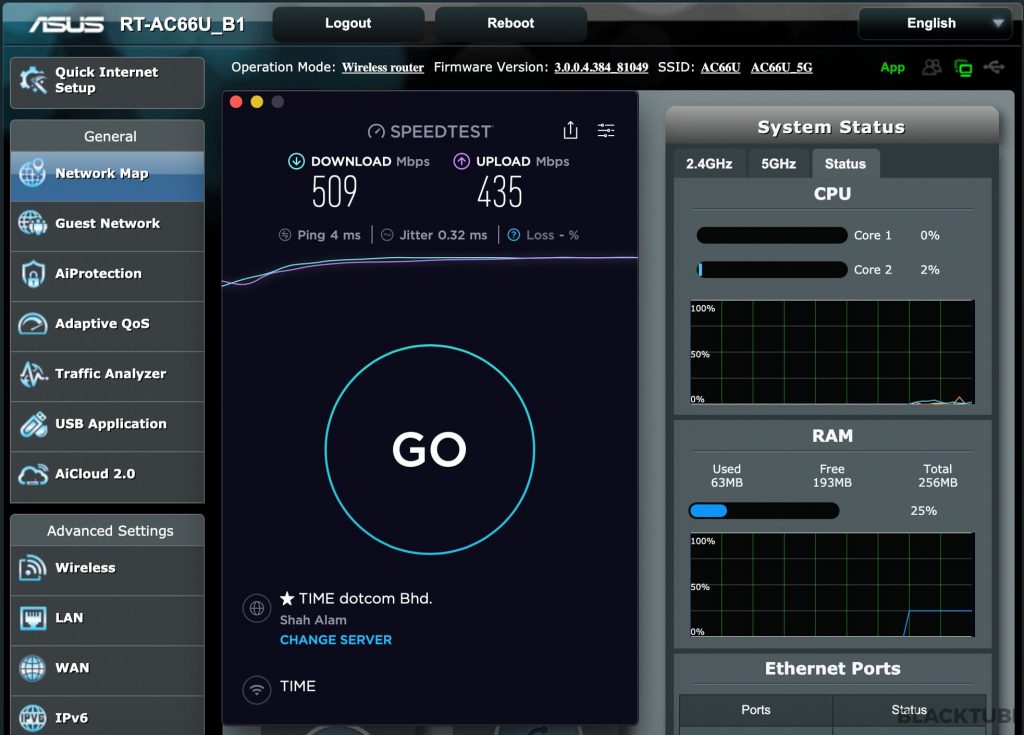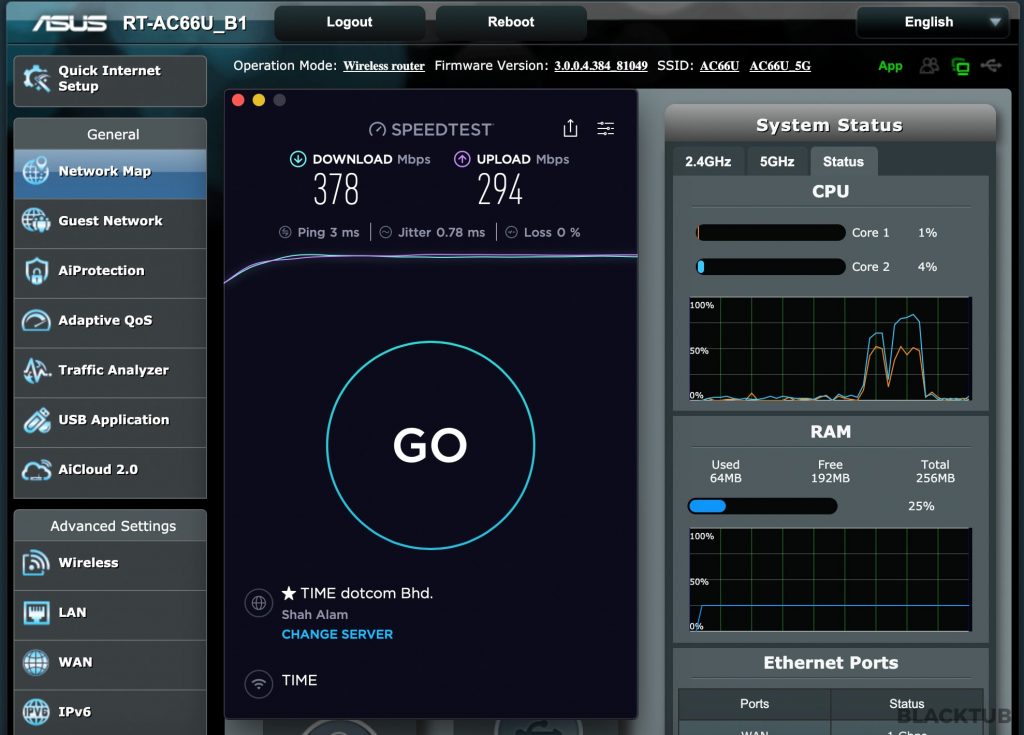 Now, we added the RP-AC55 as an AiMesh node and we will see how was the coverage in different points of my house. This time, I will be using my iPhone X to test the WiFi speed as it is easier to move around.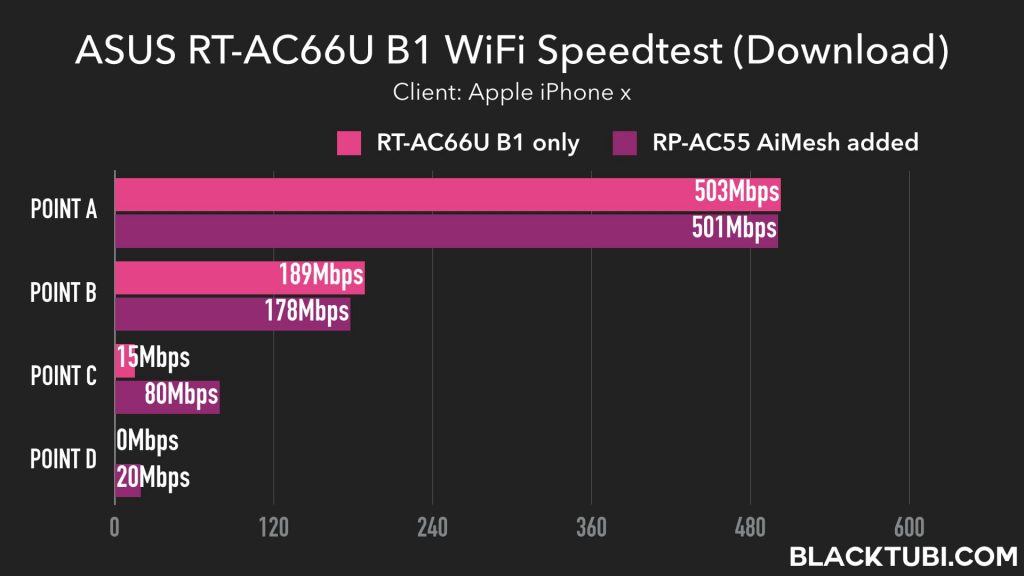 The results is very obvious when I am further from the WiFi router. The addition of the RP-AC55 as an AiMesh node improved the WiFi coverage and speed at longer distance. At point D, I can't even connect to the main router but that is resolved when I added the RP-AC55.
The entire WiFi network will use the same WiFi name due to the nature of mesh WiFi. My phone can automatically select the best WiFi network without need to changing it manually.
RT-AC66U B1 and AiMesh Setup
Setup the the RT-AC66U B1 is just like any ASUS router. You can refer to a setup guide I did for ASUS router here. But, to setup the AiMesh system, you will need to go through a few extra steps:
Ensure all devices are running the latest firmware with AiMesh function

Perform a hard reset before setup of the AiMesh node (RP-AC55)
Setup main router as a normal ASUS router
Make sure AiMesh nodes are in reset state
Search for AiMesh node while connected to the main router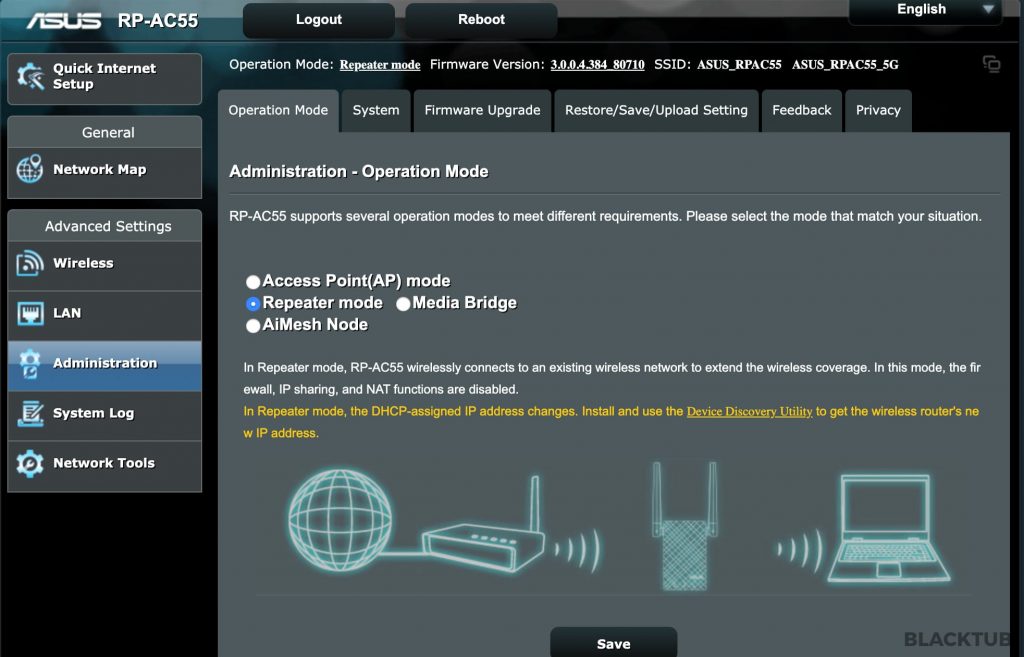 The RP-AC55 will require a firmware update before it will support AiMesh mode. Make sure you can see the AiMesh node feature on the RP-AC55. You can refer to this ASUS video here. The RT-AC66U B1 already comes with AiMesh support out of the box and you will see the AiMesh icon.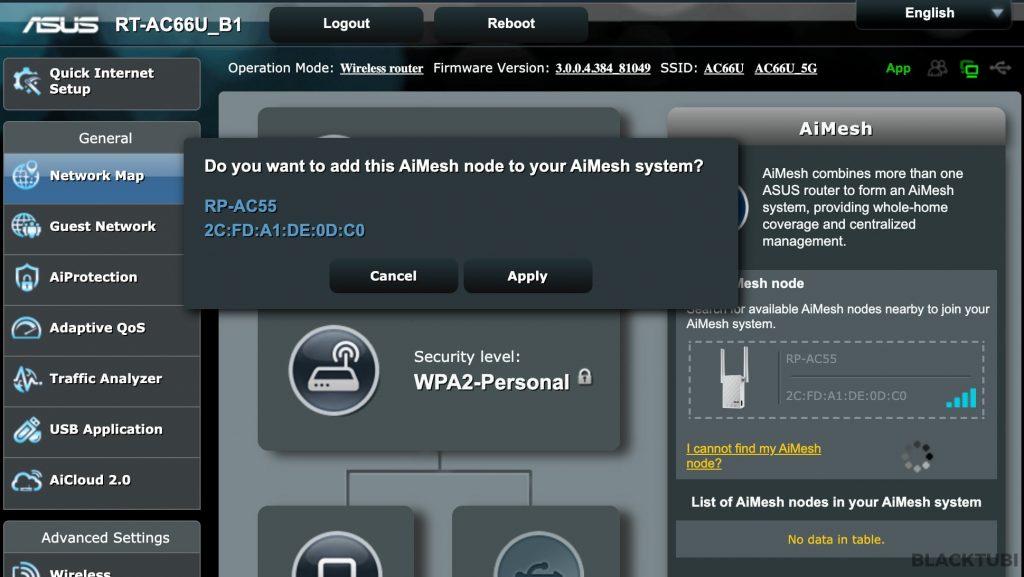 Simply click the search button and select the RP-AC55 and wait for it to initialize the AiMesh connection. The whole process will take around 5 minutes. Once the RP-AC55 is added as an AiMesh node, it can only be managed directly using the main router.
ASUS routers are always more expensive for a good reason. The firmware that power ASUS routers come with a ton of feature. ASUS is also committed to keep the firmware updated for many years for users that purchased their router.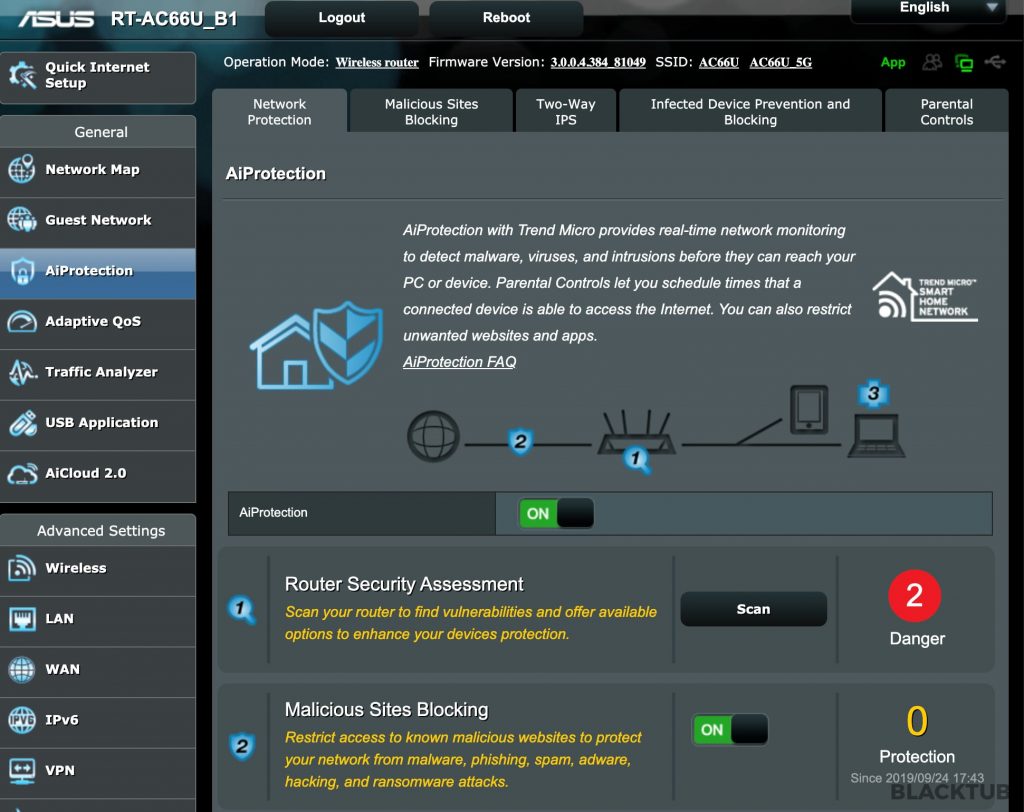 The RT-AC66U B1 also comes with AiProtection to protect you and your devices from online threats and virus. The Antivirus database is provided by TrendMicro.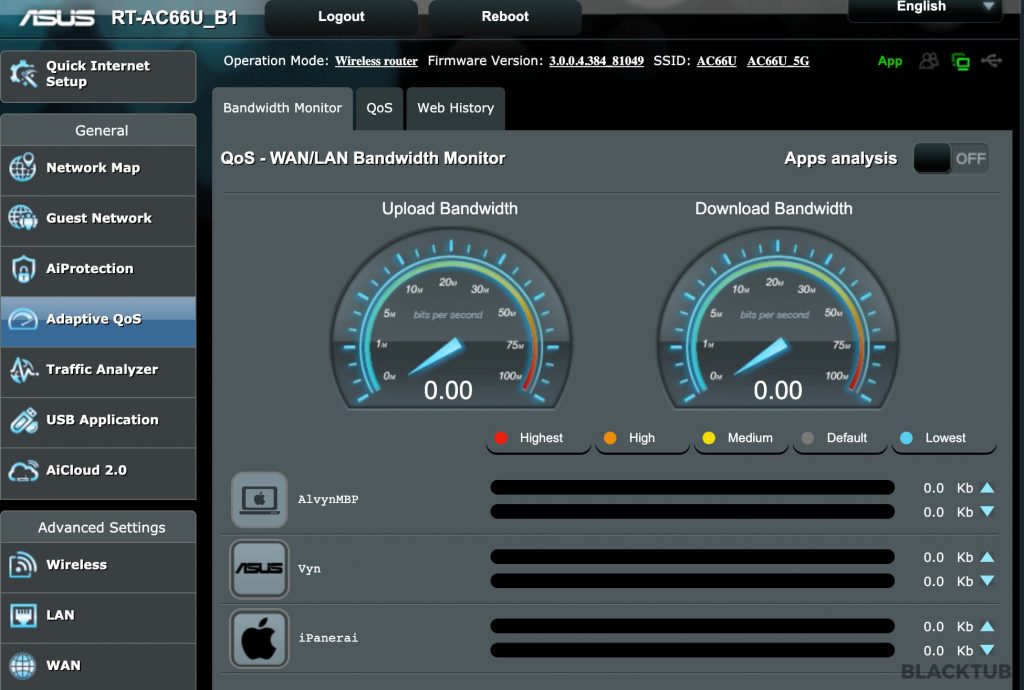 ASUS Adaptive QoS is my personal favorite will show you all the connected devices and their current network speed. It lets you to see which device consume the most bandwidth. You can also use the QoS feature to select which device to have a high priority.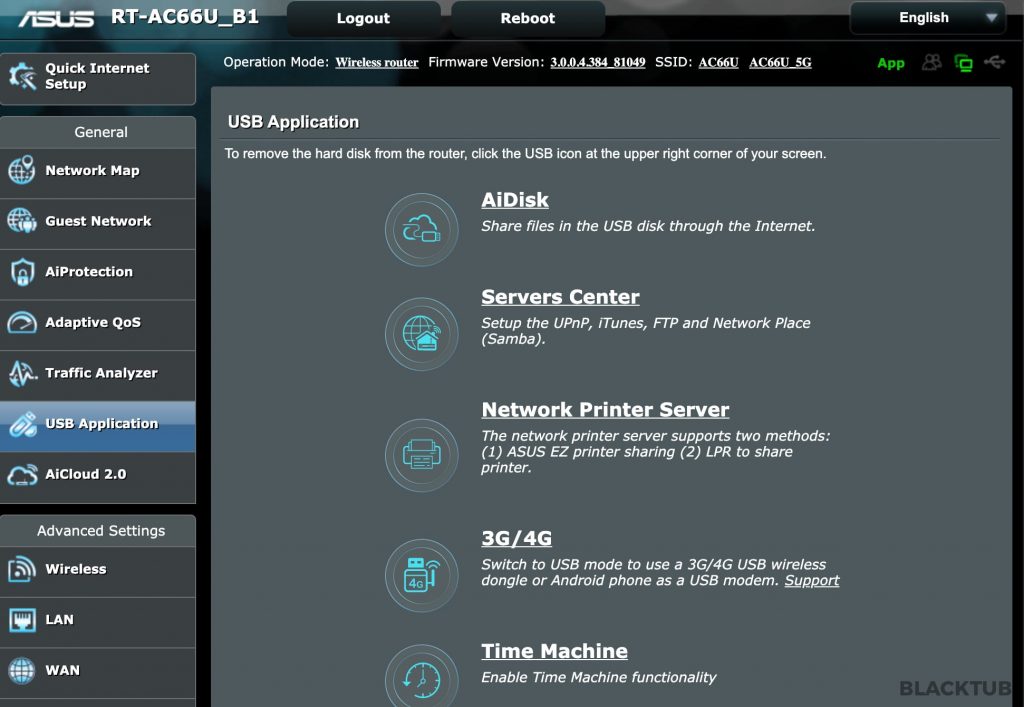 You can also use the USB port of the RT-AC66U B1 to share files or printer. It is also able to support using a USB 4G modem if you use Maxis One Prime with the 4G backup feature.
ASUS lets you to tweak a lot of settings for their AiMesh system. You can view which node your devices are connected and event prevent them from being roamed automatically.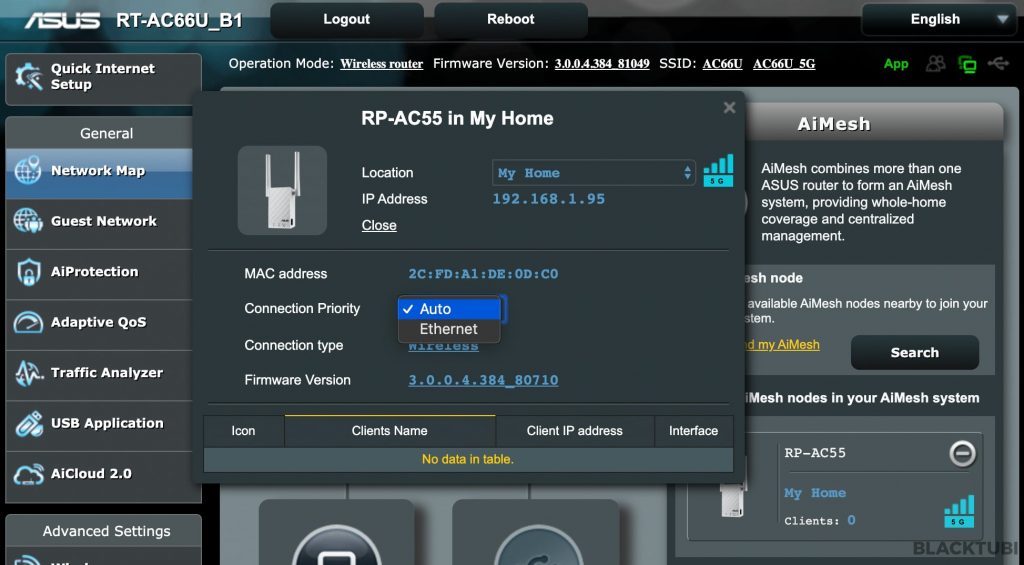 There is also an option to use Ethernet backhaul by default on AiMesh mode. Using Ethernet backhaul will further improve the mesh WiFi performance.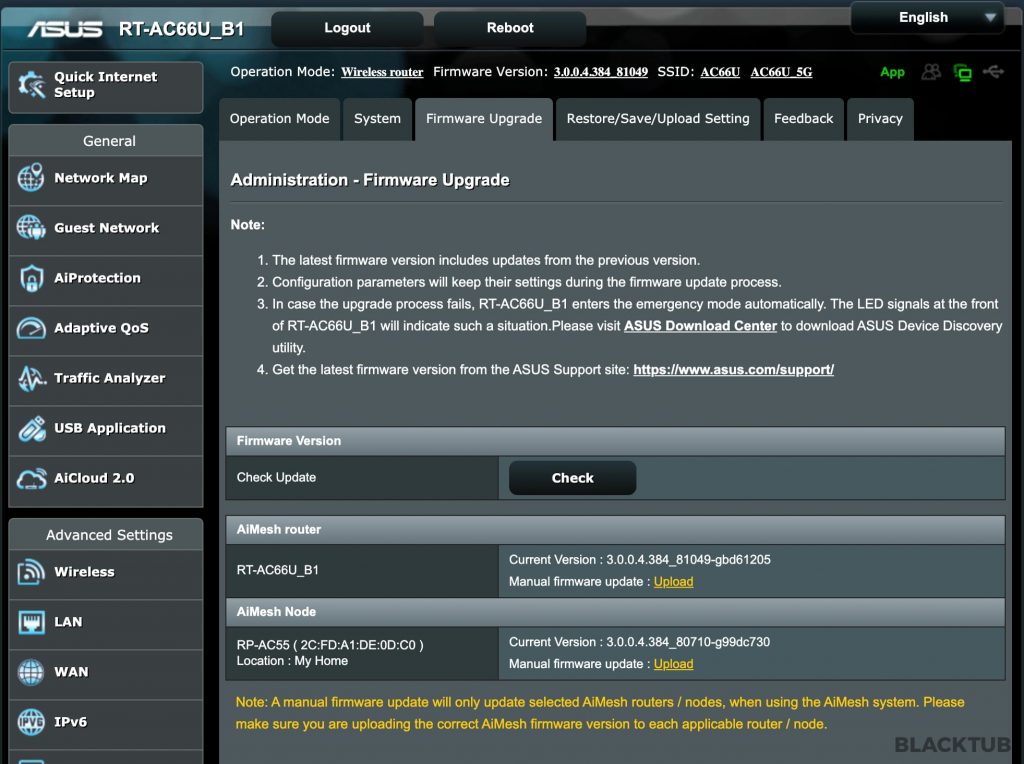 All the firmwares for all your devices are managed from the parent router. It is possible to update the firmware for all AiMesh devices with the click of a button.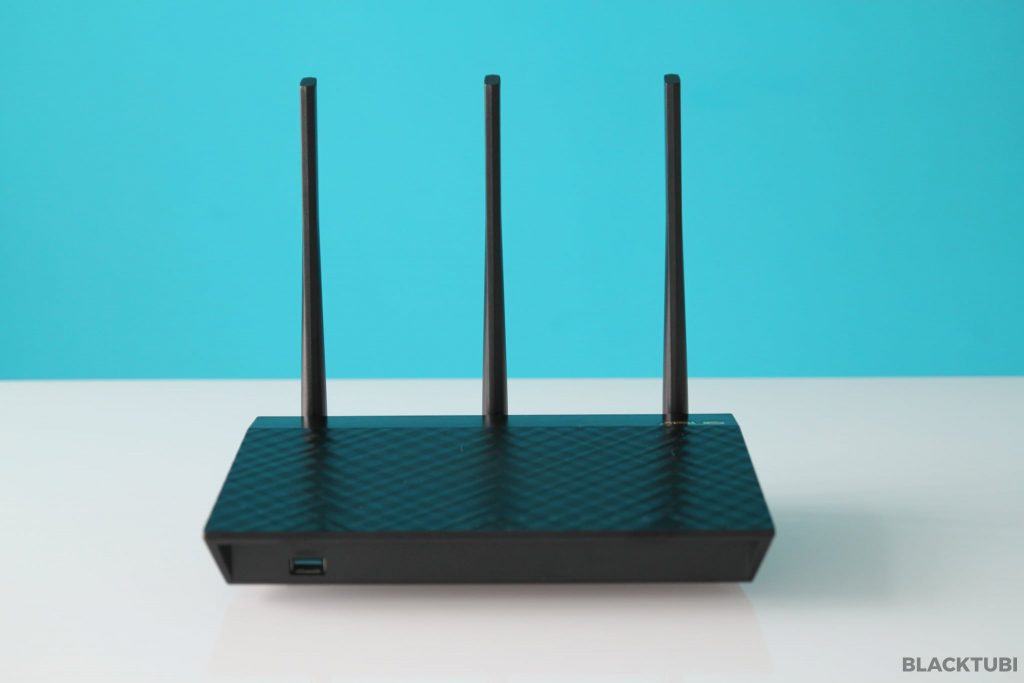 The RT-AC66U B1 is the most affordable wireless router with AiMesh support if you wish to join the ASUS ecosystem. While the specs are not top notch, it does perform decently in our testing and would be sufficient for those using a 500Mbps Internet connection.
While there is a learning curve to setup AiMesh, it does result in a stronger WiFi coverage with a seamless WiFi connection.
All Gigabit Ethernet ports

AiMesh support

A lot of features
No MU-MIMO and Beamforming