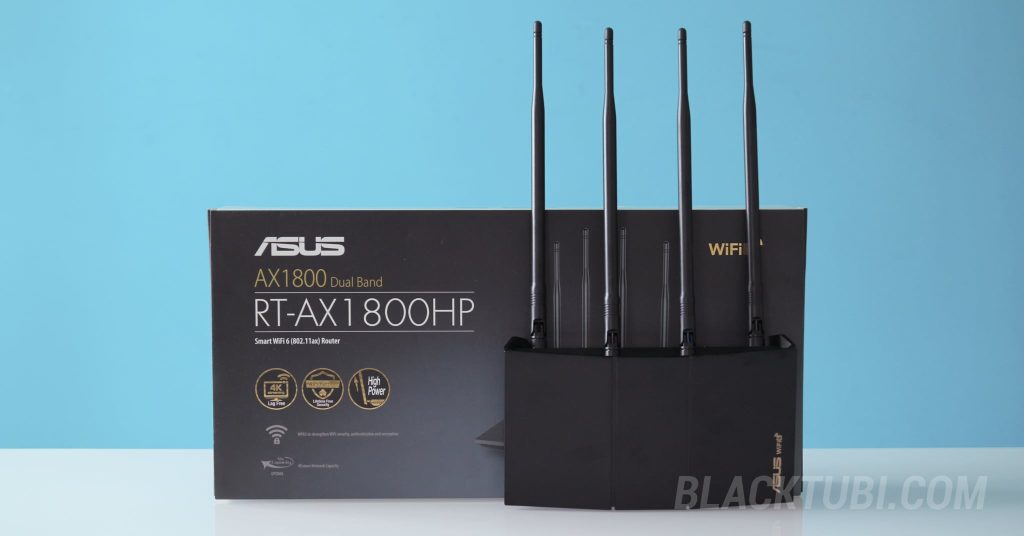 ASUS brand new RT-AX1800HP is a ASUS' first Wi-Fi 6 high power wireless router. It comes with 4 high-gain antennas and a powerful Wi-Fi amplifier for stronger Wi-Fi coverage than other Wi-Fi 6 routers within the same segment. It also comes with a quad-core CPU for a high performance Wi-Fi network.
From first glance, the antennas on the RT-AX1800HP is longer than other Wi-Fi 6 routers. The length of the antennas are almost double the length of the antenna on the ASUS RT-AX55 and RT-AX53U. ASUS told us the antennas on the RT-AX1800HP are having higher gain than other routers in the same segment.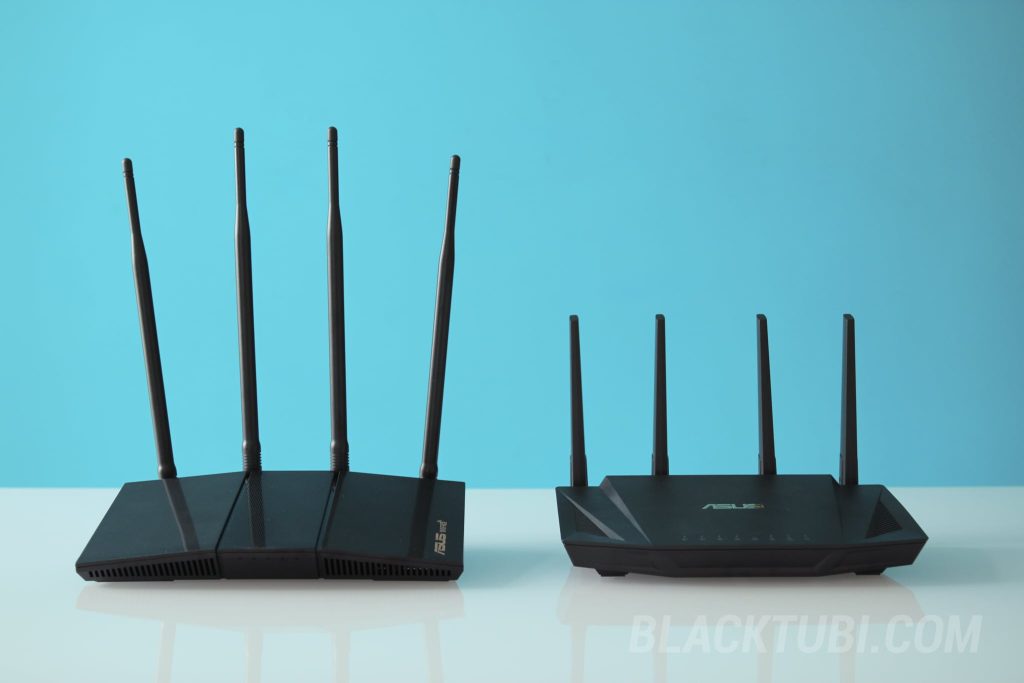 Without reading further, I can tell you that the signal on the RT-AX1800HP is definitely stronger than other Wi-Fi 6 routers in the same segment. The high gain antennas are definitely more effective in penetrating walls and providing a more stable Wi-Fi coverage on your property.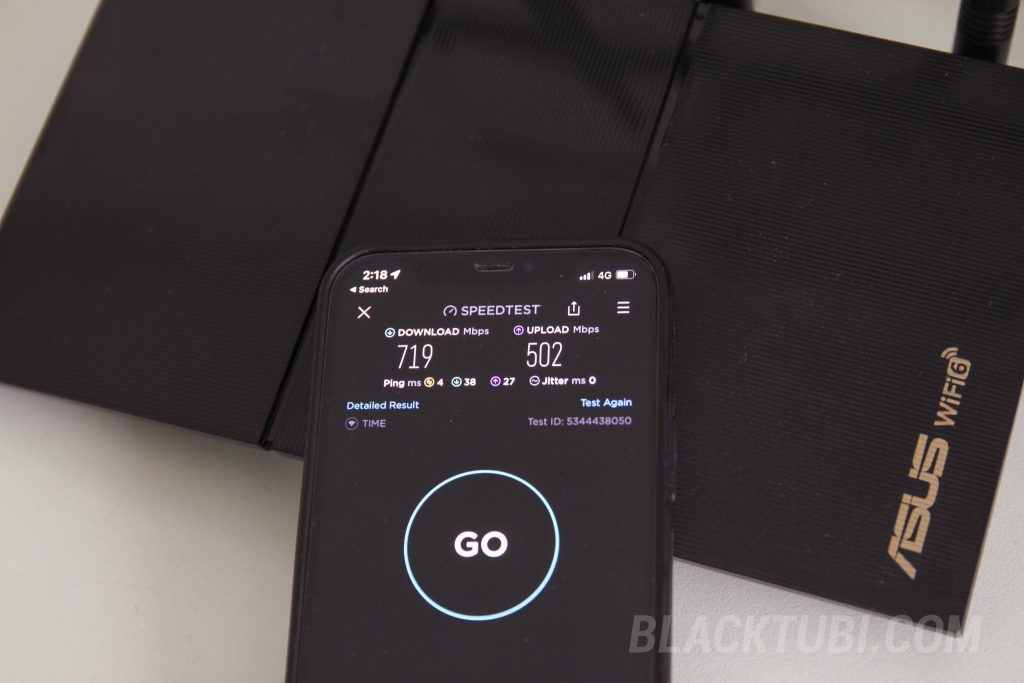 I tested the Wi-Fi performance of the RT-AX1800HP in my property at different spots over varying amount of walls. The goal is mainly to compare the Wi-Fi performance and whether the Wi-Fi signal is actually stronger on the RT-AX1800HP.
Point A = directly in front of the router
Point B = 2 walls from the router to the test device
Point C = 3 walls from the router to the test device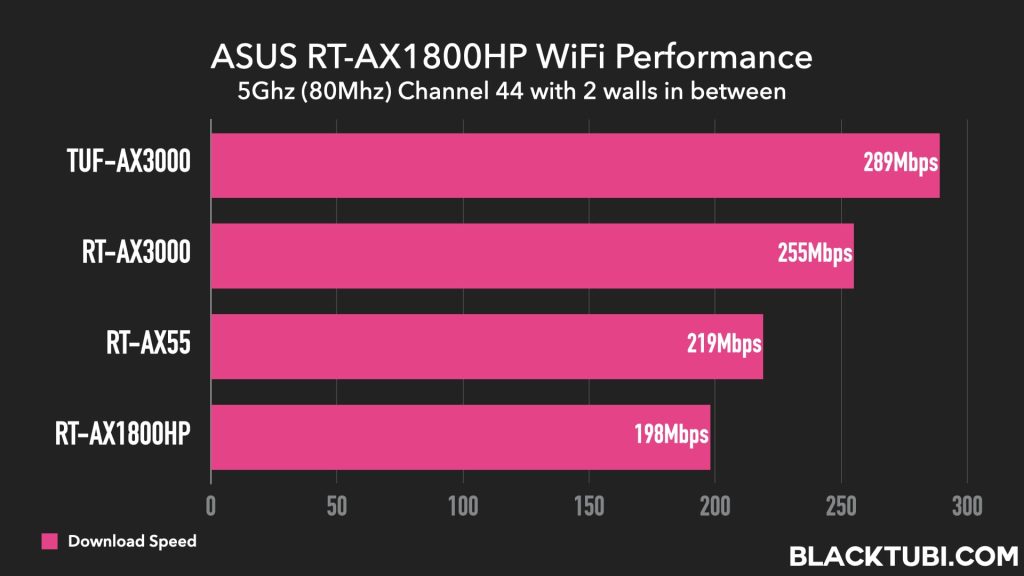 On point A and point B, the RT-AX1800HP showing great Wi-Fi performance similar to other Wi-Fi 6 AX1800 routers in the market.  I can easily get over 700Mbps if I am standing right in front of the router and dropping to slightly less than 200Mbps on Point B after 2 walls.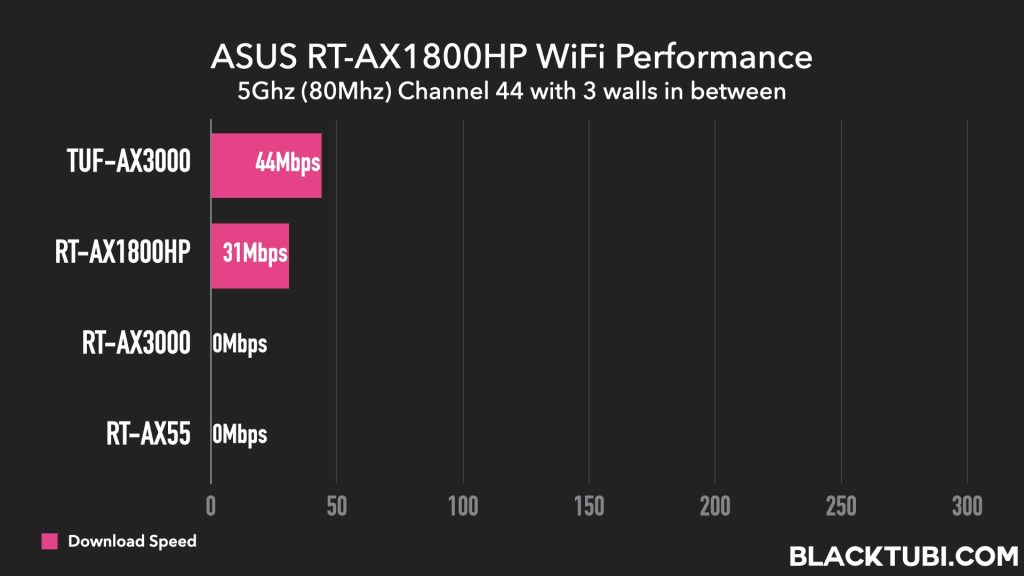 It gets interesting at point C as I can no longer connect to the Wi-Fi network of the ASUS RT-AX55 and RT-AX3000. However, the RT-AX1800HP is still able to remain connected with a usable speed of 30Mbps. That's still good enough for 4K YouTube streaming and casual browsing.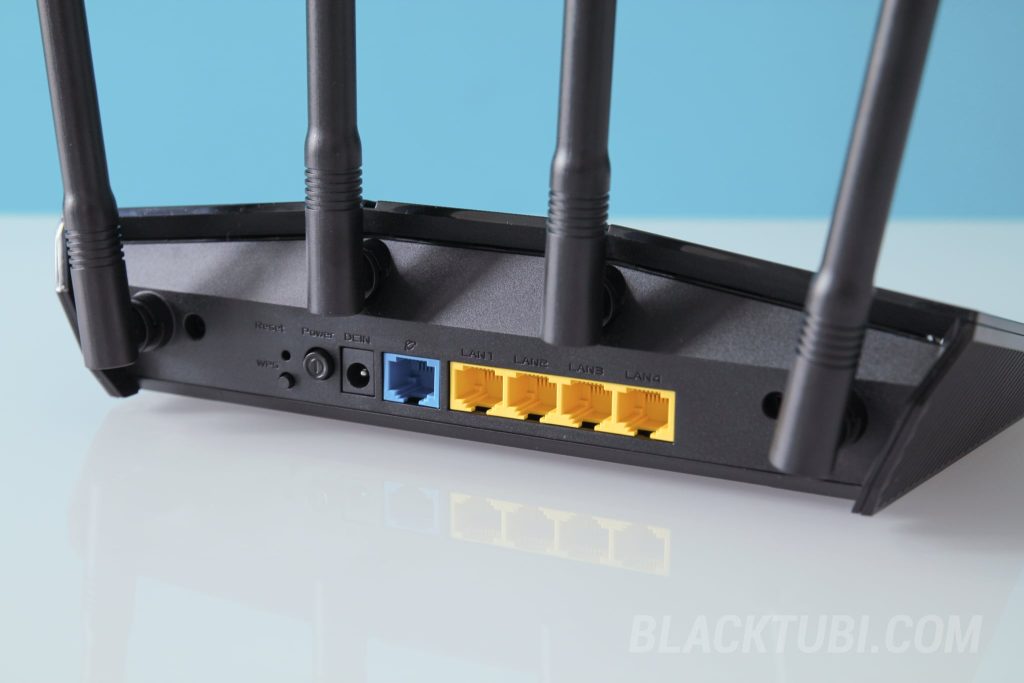 Powering the RT-AX1800HP is a Mediatek based quad-core SoC. It comes with 4 Gigabit Ethernet LAN ports with a single Gigabit WAN port. For Malaysian users, the RT-AX1800HP can work with all local ISPs including Unifi, DiGi Fibre, Maxis Fibre and more.
Setting up the RT-AX1800HP is very simple as it can be done easily on the ASUS Router app. However, I need to update the firmware of the router before it can connect to the Internet. ASUS told me the firmware right out of the box might not be compatible with some fiber modem provided in Malaysia.
If you stay in a bigger property, you might want to add a few other ASUS routers at your home. ASUS' AiMesh technology allow you to easily link several unit of other AiMesh routers wirelessly to form a mesh Wi-Fi network. This can combine the power of several routers to provide an even stronger Wi-Fi coverage.
The features on the RT-AX1800HP is pretty much identical as the RT-AX55. It comes with the same AiProtection classic functions which provide an antivirus firewall feature to protect your network and a basic parental control function that provide usage time limitation schedule.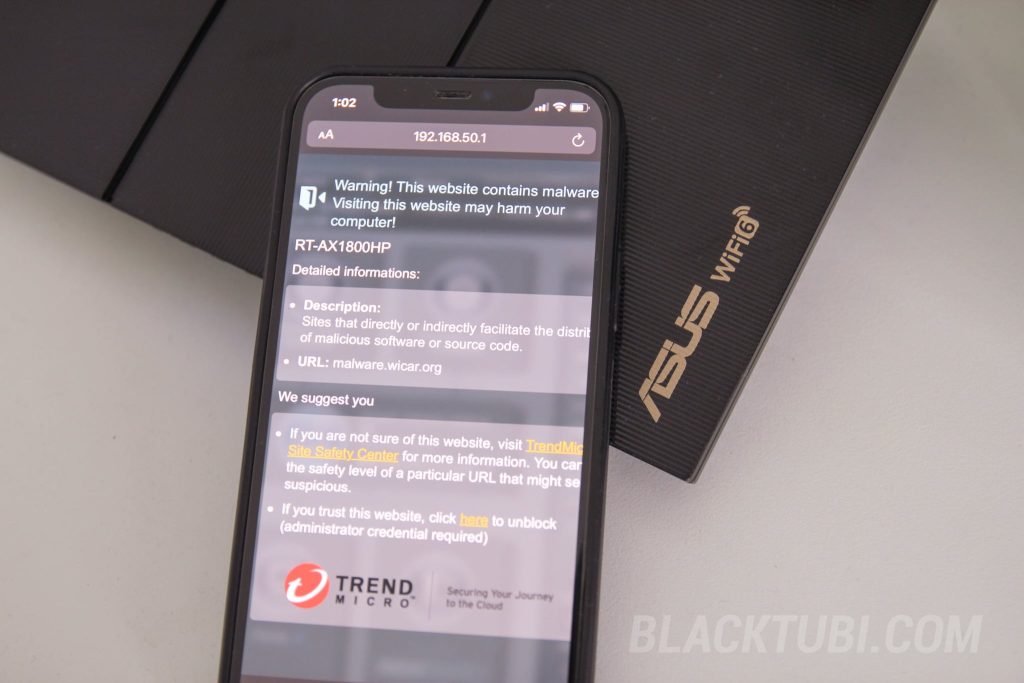 AiProtection classic can prevent devices connected to the router from acessing website containing harmful or malicious content. That included malware infected website and known scam pages. It does work pretty well in our test, blocking the website that I used to test such feature on router.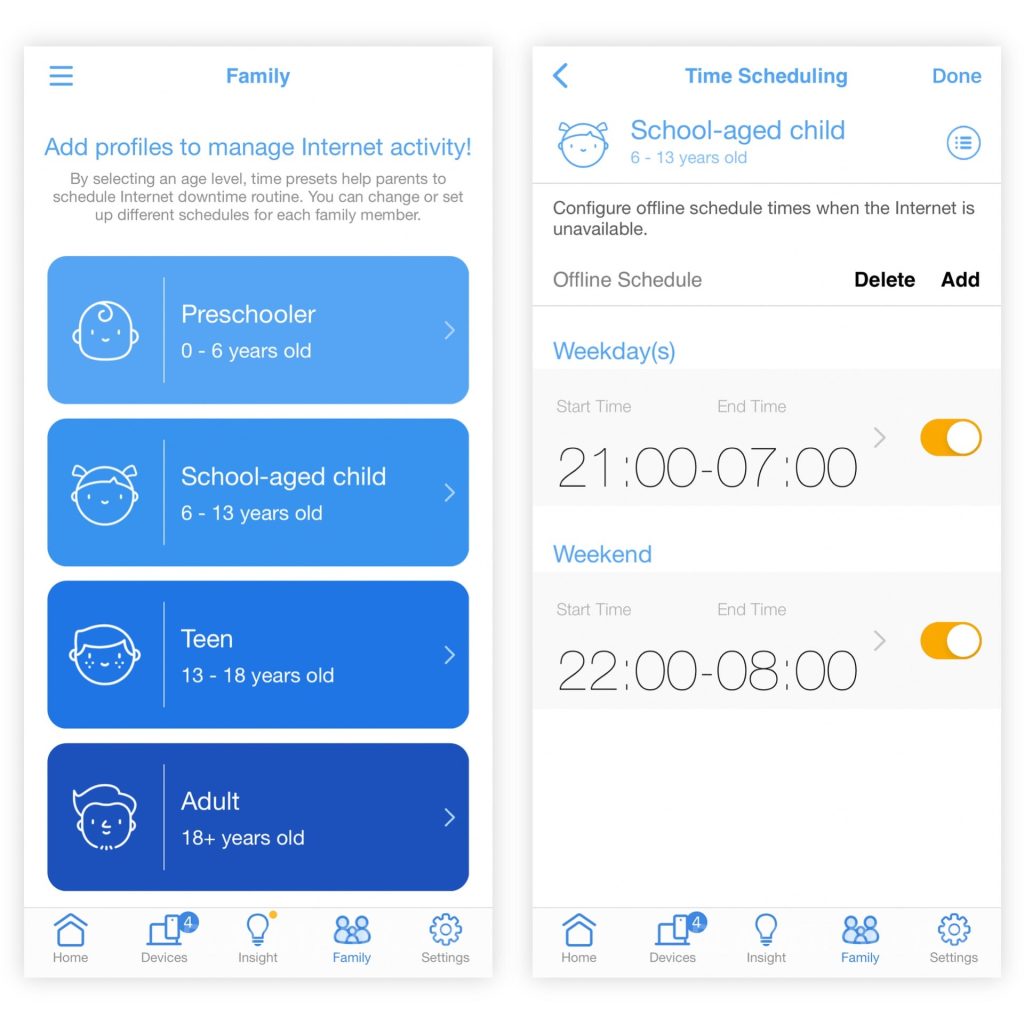 The AiProtection parental control is just a simple time usage limitation that include daily usage limit and the Internet scheduling function. You can configure several online usage time schedule for selected devices on the network. However, it doesn't come with any sort of content filtration or content blocking function.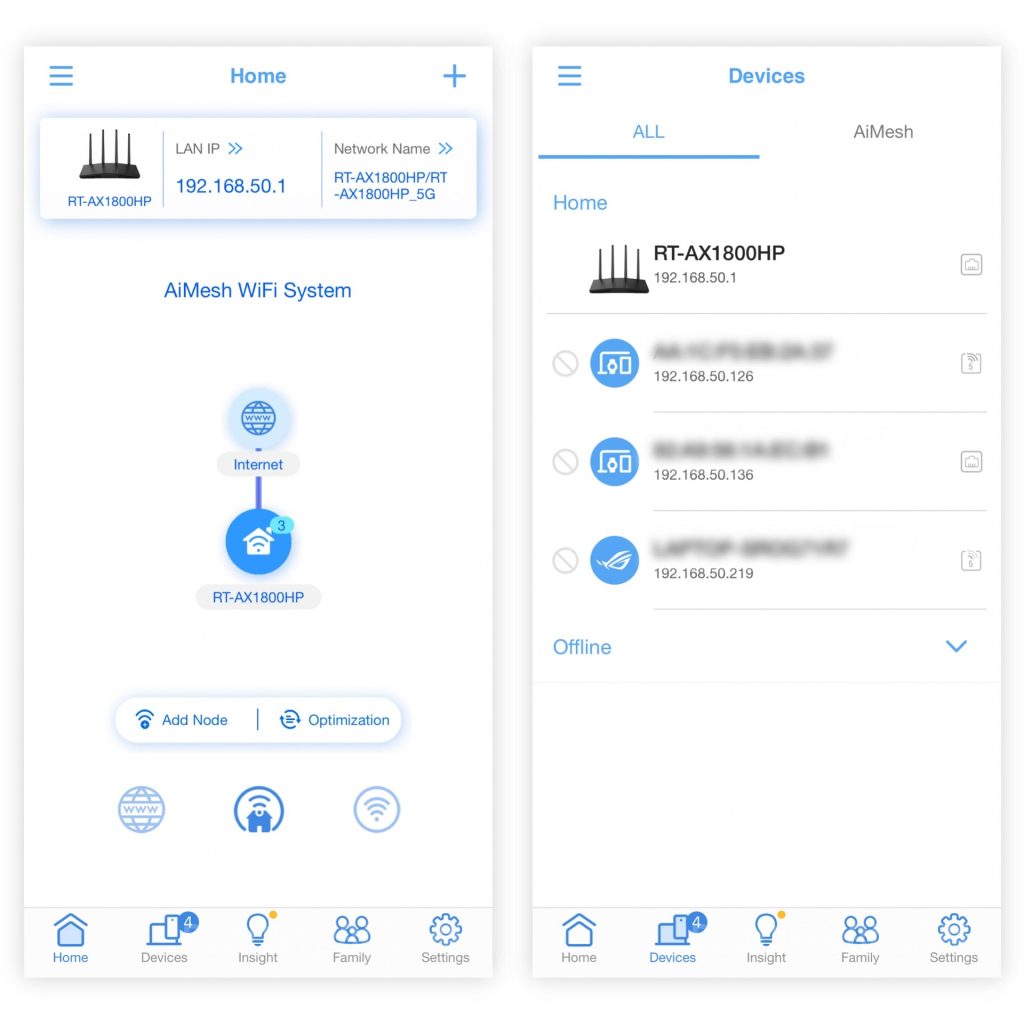 I also liked the simplicity of ASUS Router app , with a clear view on connected WiFi devices and their current network speed. It's also possible to quickly block connected devices and configure speed limit for selected devices on the app. The app also supported remote management with ASUS free DDNS service.
The RT-AX1800HP support the following ASUSWRT advanced features:
Connected device speed limitation
Guest WiFi speed limitation
VPN server and client on router
Repeater mode and wireless bridge mode
Network traffic monitoring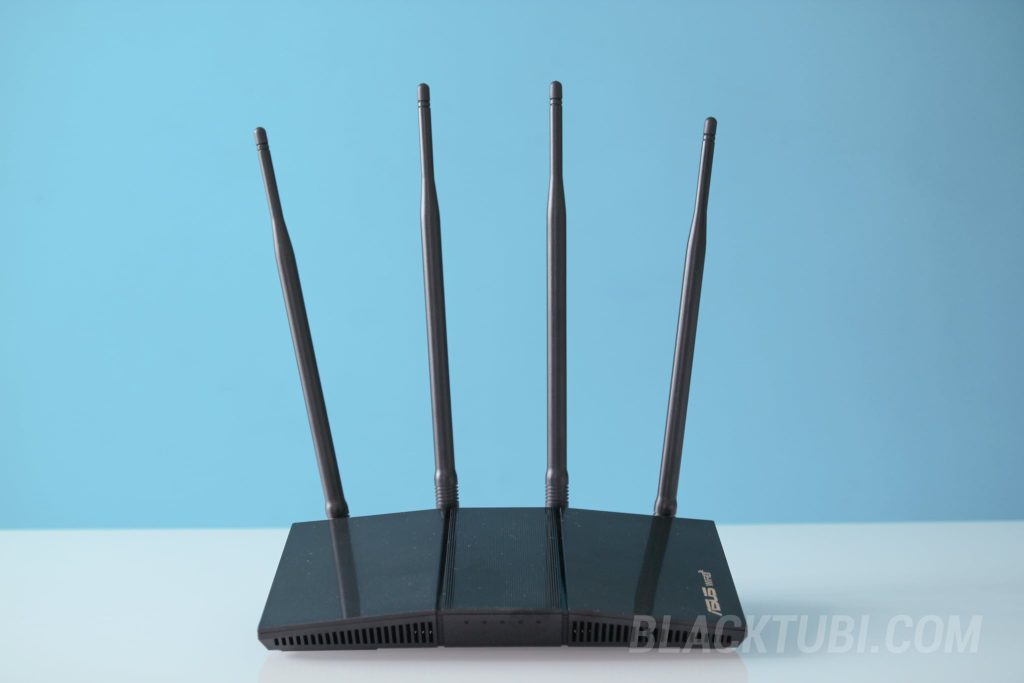 If you are looking for an affordable Wi-Fi 6 router with strong signal strength, ASUS RT-AX1800HP is the one to look for. It's not the fastest router out there but it can provide a strong signal and great wall penetration due to the high gain antennas and high power WiFi radio.
Comparing to ASUS' own RT-AX55, the RT-AX1800HP has a stronger Wi-Fi coverage. However, the former is slightly faster which will be important if you plan to use ASUSWRT features or VPN on the router. However, if you only need a stronger Wi-Fi coverage and a better speed than your current router, get the RT-AX1800HP.
Lifetime AiProtection security updates
Strong WiFi coverage signal
Expandable with AiMesh technology
No content filtration parental control