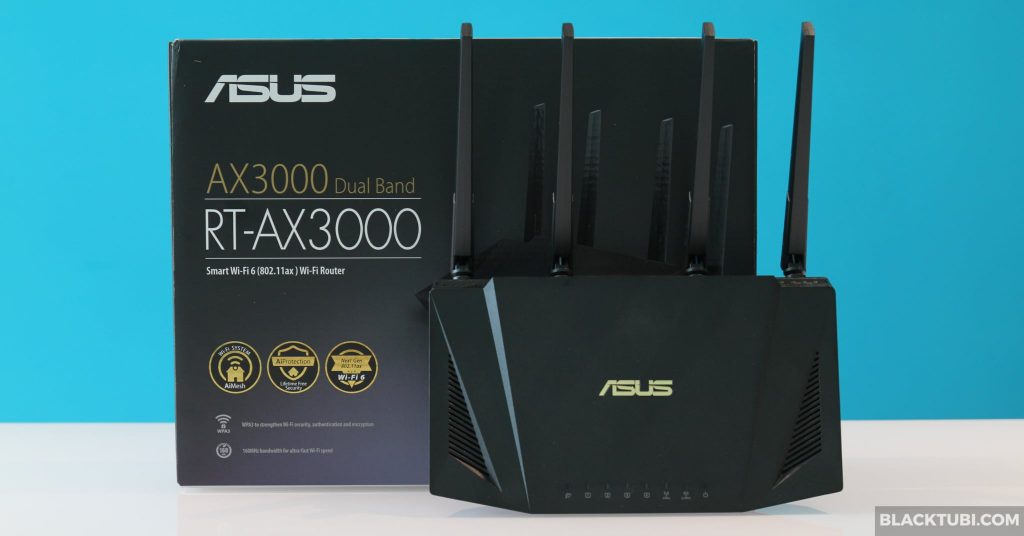 ASUS RT-AX3000 is a dual-band Wi-Fi 6 capable wireless router recently announced by ASUS. It is similar to ASUS RT-AX58U and currently available in Malaysia for RM1099. There's also a 3 years one to one exchange warranty included with the router.
The RT-AX3000 comes with a totally new design with 4 external non-removable antennas. It will perform better than all mid-range ASUS router today up to the ASUS Blue Cave and it comes with plenty of features on the firmware. In fact, the features of the firmware is largely similar to the famous ASUS RT-AC86U.
Wi-Fi 6 or Wireless AX is the next generation wireless technology after Wireless AC. Without going into the technical details, Wi-Fi 6 will improve Wi-Fi speed significantly when you are using it with a Wi-Fi 6 device. There are also multiple user experience improvements which promises to enhance battery usage on devices and offer improved stability.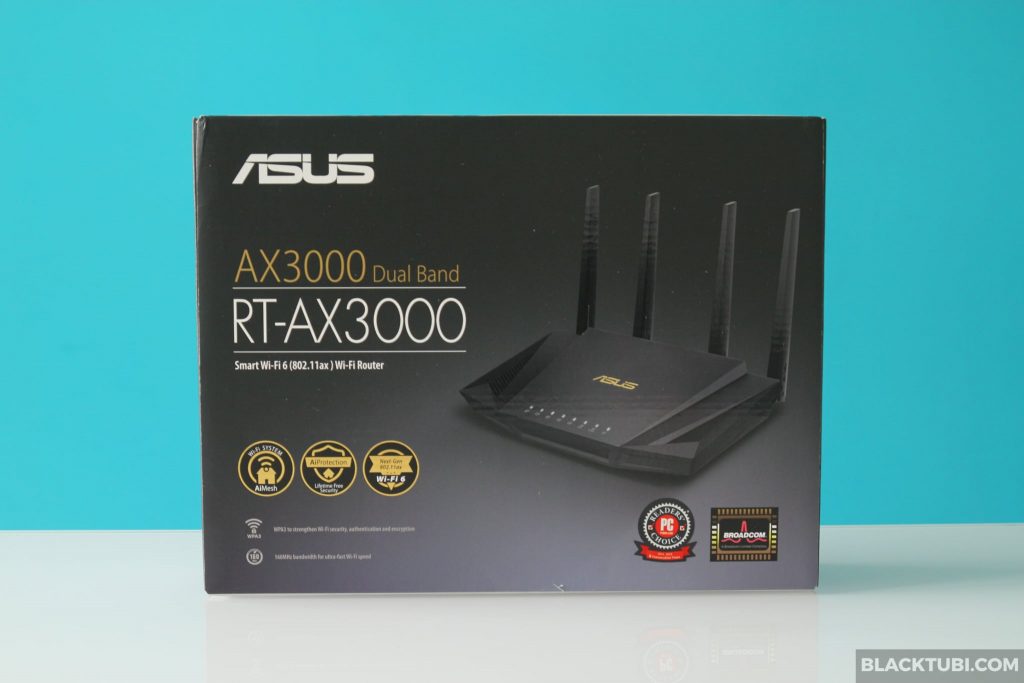 There are already some Wi-Fi 6 devices in the market such as the iPhone 11 and it will be more commonly available starting in 2020. If you already use a Wi-Fi 6 device, getting a Wi-Fi 6 wireless router will greatly improve the Wi-Fi speed. Even if you are still using Wireless AC devices, a modern wireless router will perform better as a result of improved hardware design.
ASUS RT-AX3000 comes with some decent specs with a
Broadcom
 1.5Ghz 
triple-core
 CPU and a decent 512MB RAM. The router also supports ASUS
 AiMesh
feature. It lets you to link another AiMesh compatible router to form a mesh Wi-Fi network to blanket your home with Wi-Fi coverage.
| | |
| --- | --- |
| Wireless 2.4Ghz | Wireless AX up to 574Mbps (40Mhz 2×2) |
| Wireless 5Ghz | Wireless AX up to 2402Mbps (160Mhz 2×2) |
| WiFi Features | OFDMA, MU-MIMO, Beamforming, AiMesh |
| CPU | Broadcom BCM6750 1.5Ghz Triple-Core CPU |
| RAM | 512MB |
| Ports | 1x Gigabit WAN port + 4x Gigabit LAN port |
|   | 1x USB 3.1 port |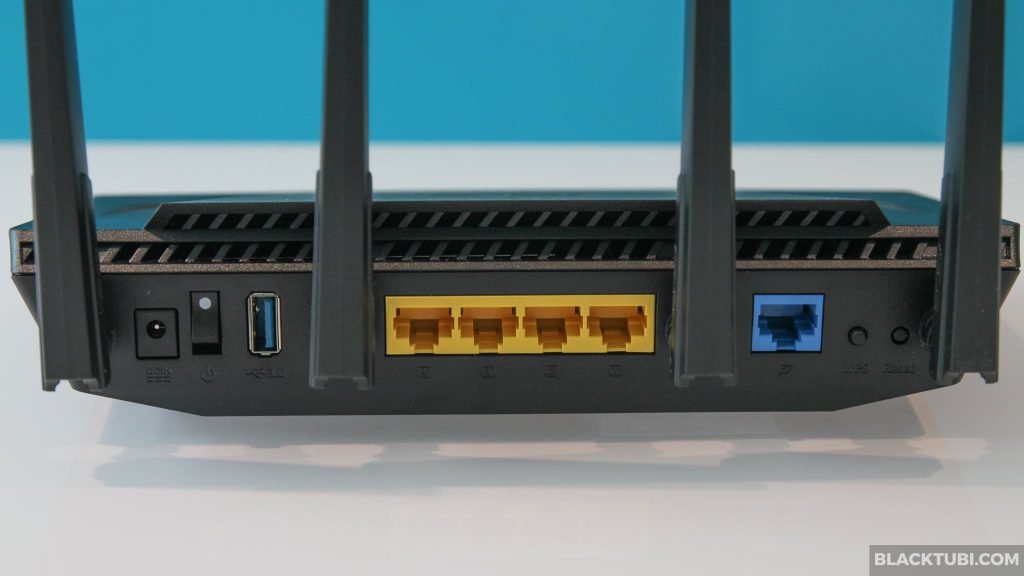 Unlike the RT-AX56U, the RT-AX3000 only comes with a single standard USB 3.1 port for printer sharing and file sharing feature on the network. You can insert a USB hard drive and share files on the network using ASUS AiDisk feature. All the LAN ports are Gigabit capable.
Setting up the RT-AX3000 is really easy by using ASUS router app available for both Android and iOS devices. The app will guide you how to connect the router to the modem. If you use Unifi, remember to select the Unifi-Home profile on the app. 
The setup process takes only around 10 minutes. If you use Unifi TV, your STB should be connected to LAN Port 4. There's also a web interface if you prefer doing it the old way. You can refer to my ASUS Unifi setup guide here.
We will be testing the Wi-Fi performance of the RT-AX3000 using ASUS PCE-AX58BT Wi-Fi 6 AX3000 wireless adapter on a desktop and Samsung Galaxy S10. I will be running speedtest on my TIME Fibre 1Gbps Internet connection with 500Mbps upload speed.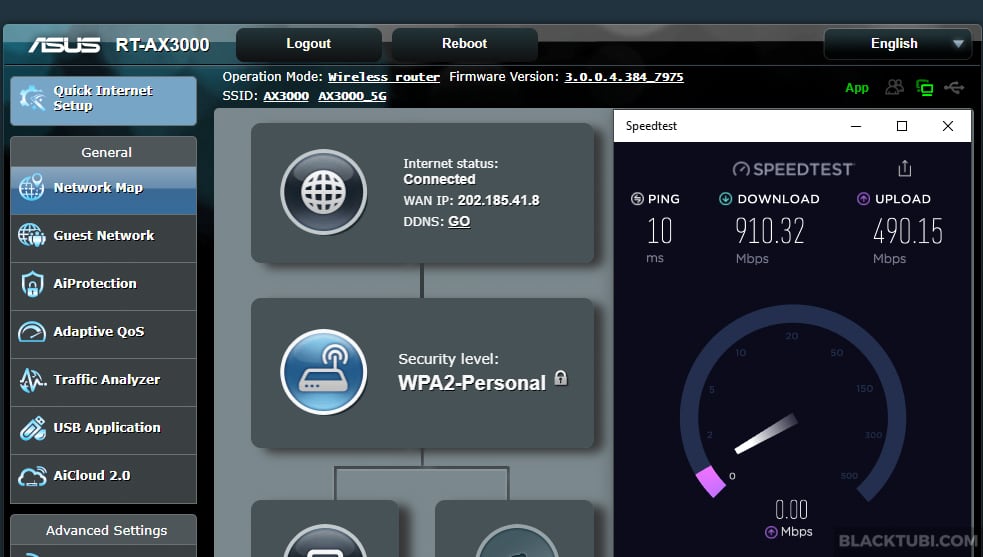 On the peak performance test, we placed the router at a close distance to my desktop to see what is the maximum Wi-Fi speed the router can reach on the best conditions. I am surprised that this affordable router can reach close to 900Mbps on a Wi-Fi speedtest.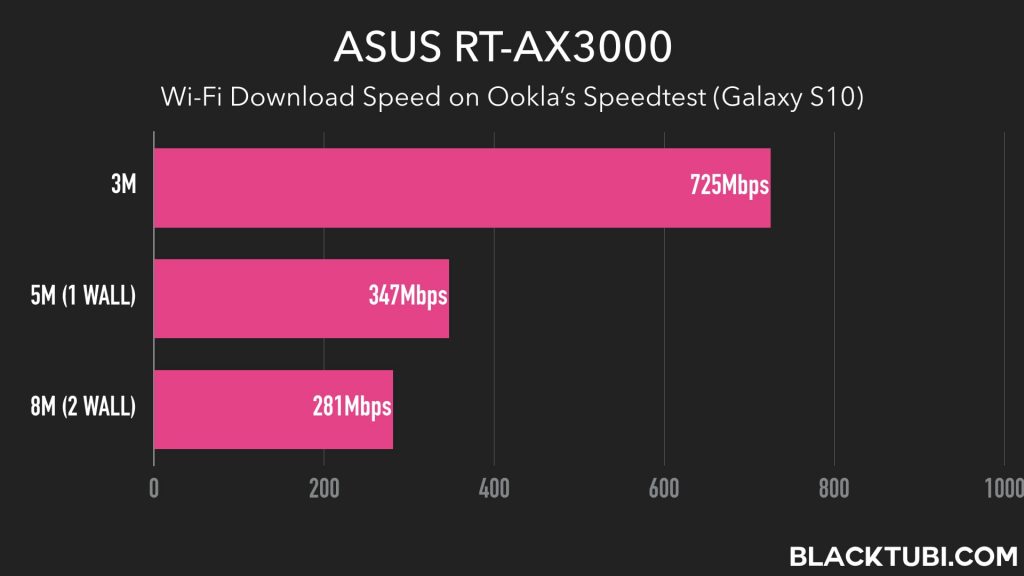 On the next test, I run the speedtest at multiple points to see how the router performs after several walls using the Galaxy S10. Like all routers, the speed dropped as I moved further from the router. However, the performance remain solid and is always above the 100Mbps mark.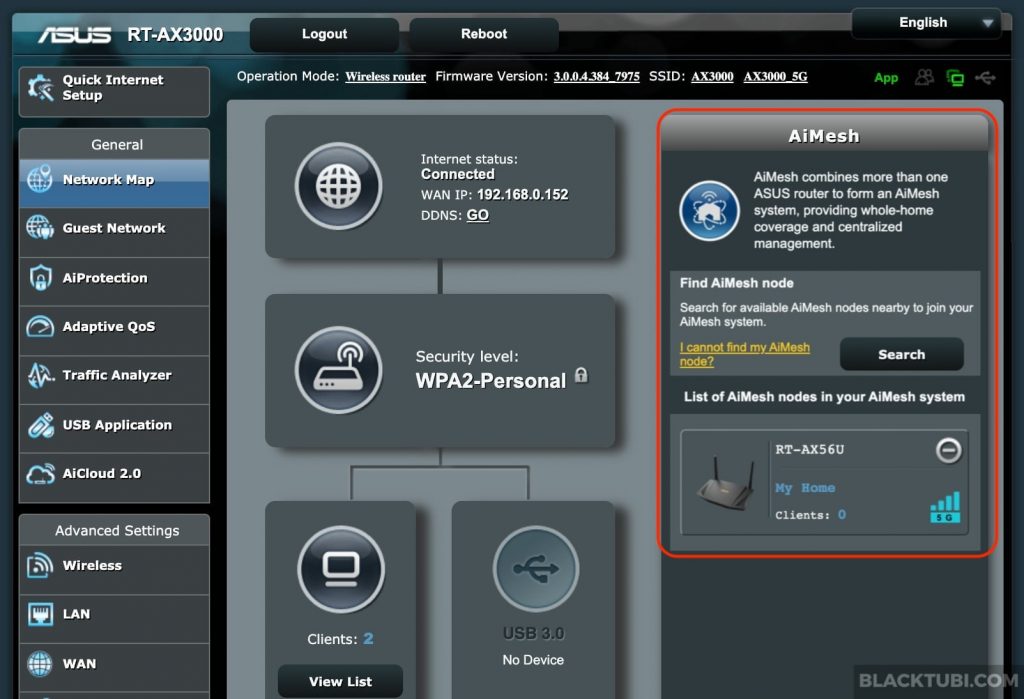 If you need a stronger Wi-Fi coverage, you can always extend it by using ASUS AiMesh function where you can link other AiMesh router to form a stronger mesh Wi-Fi network. It's possible to use an older ASUS router as long as it supports the AiMesh function.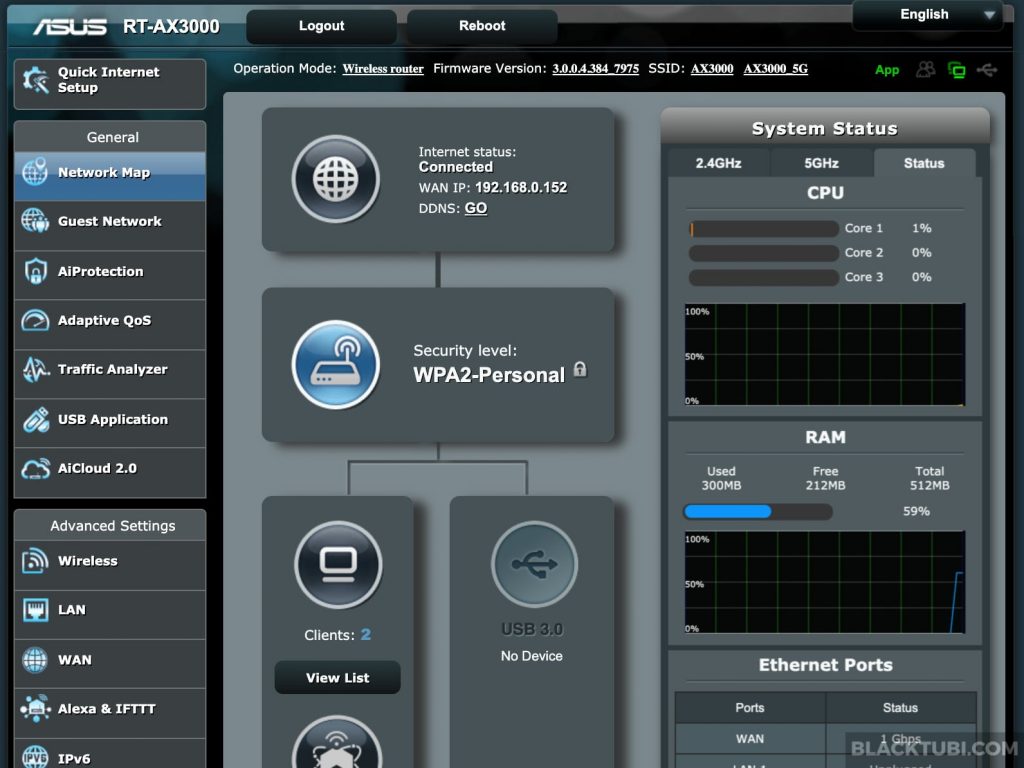 ASUS' ASUSWRT firmware remains one of the best in class with plenty of features offered and plenty of customization. The firmware is similar to all ASUS routers in the market today. The will be some learning involved if you never used an ASUS router as the firmware comes with a ton of options.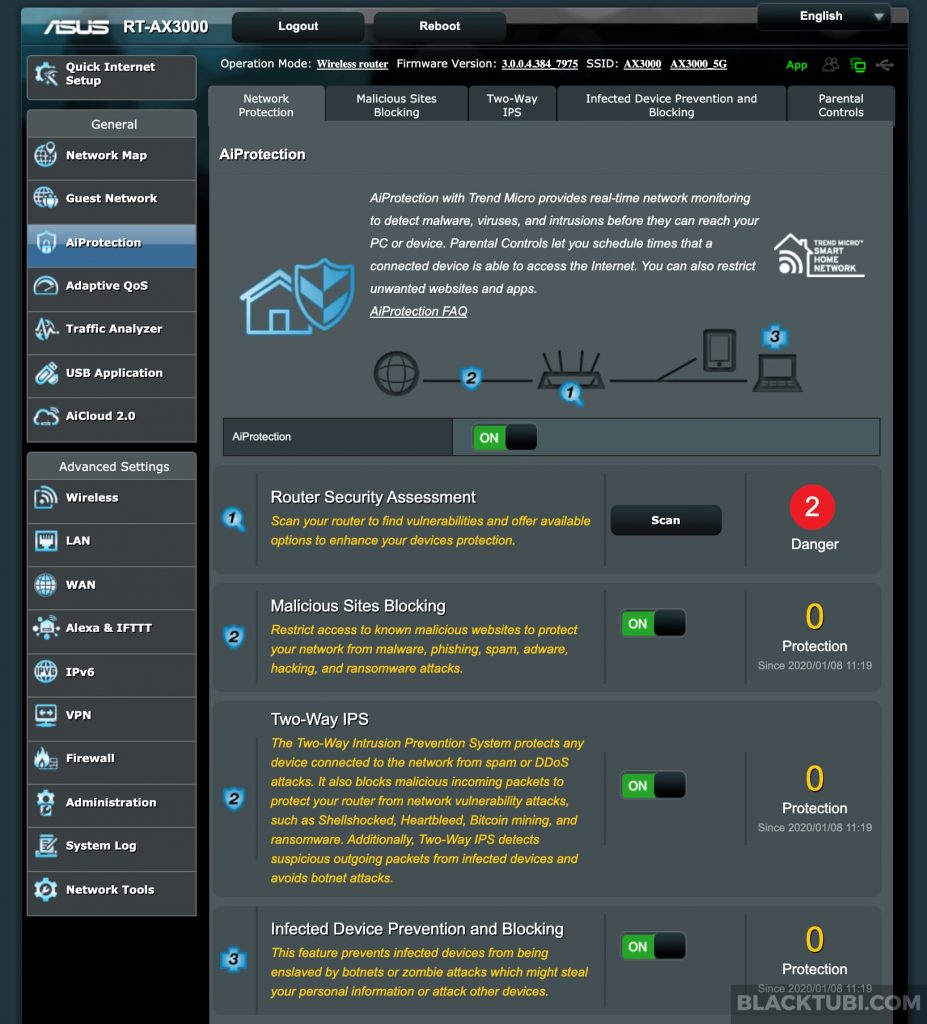 The included AiProtection Pro Antivirus feature is powered by TrendMicro database. It is designed to block any website containing a malware or virus. In our testing, this feature works well and do not cause any decrease in Internet speed.  We suggest to have this feature enabled.
There's also the parental control feature which can block website and apps for selected users based on a preset category. It is also possible to configure Internet usage time limit for selected users. It is also possible to block URL or keyword directly but it does not work on HTTPS website.
ASUS RT-AX3000 comes with Adaptive QoS which will show all the current speed for connected users. The Adaptive QoS feature let you to pick which users and services to enjoy a higher priority. There's also a traditional speed limiter function if required. With our faster Internet today, I don't recommend using QoS unless necessary as it increase the load on the router.
In addition to the features I mentioned just now, there's also some really advanced feature such as dual-WAN, VPN server, VPN client, download master and more. Most users will probably never need these but enthusiasts will appreciate these function.
There's the ASUS Router app which can be used to manage the ASUS RT-AX3000 wireless router. The app is really functional and it can let you to perform quite configuration without using the web interface.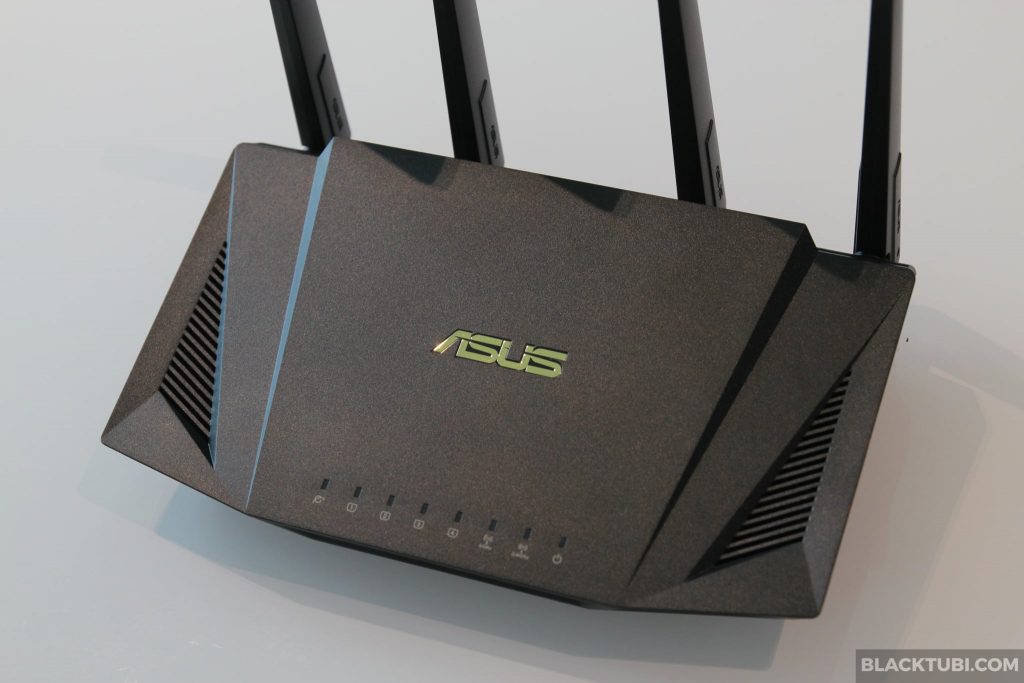 ASUS RT-AX3000 is a great wireless router. It offers really good Wi-Fi performance with fast Wi-Fi speed and strong Wi-Fi coverage. ASUSWRT comes with plenty of great features and customization. The AiMesh function is also handy as it lets you to repurpose old ASUS router for a stronger Wi-Fi coverage.
While the price is higher than competing brands, ASUS justify it with the comprehensive features of the ASUSWRT firmware. You won't be disappointed by the ASUS RT-AX3000. 
Strong WiFi coverage

A lot of customization options
Fast WiFi 6 performance