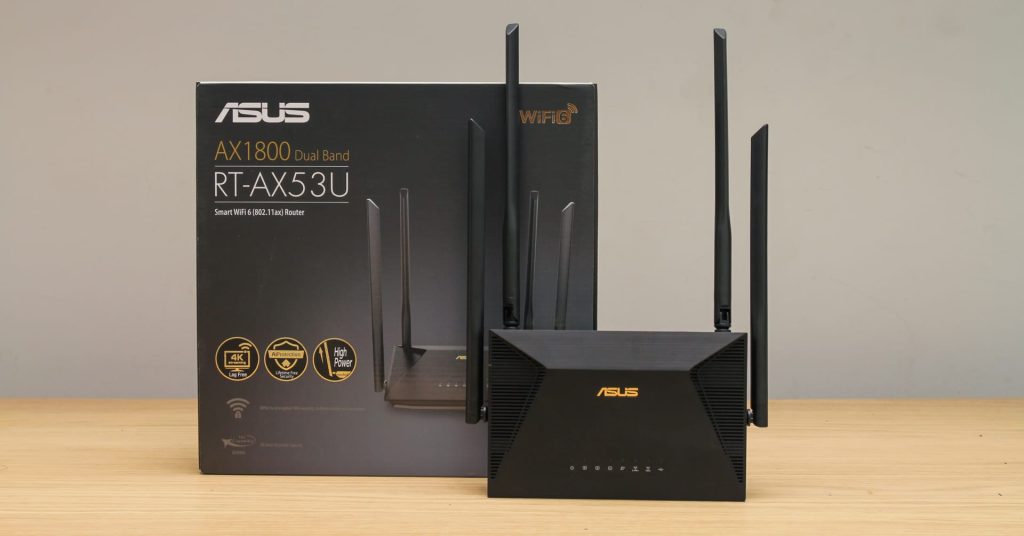 If you are looking for an affordable and fast router that's really stable, the new ASUS RT-AX53U is worth a look. The new ASUS RT-AX53U which costs RM309 is the company's latest attempt to produce an affordable wireless router to the mass market after the famous RT-AX55.
ASUS routers are known for their excellent ASUSWRT firmware and this is why they are always sold at a premium price compared to the competitors. The RT-AX53U is an affordable product with the latest WiFi 6 technology powered by the same class-leading ASUSWRT firmware.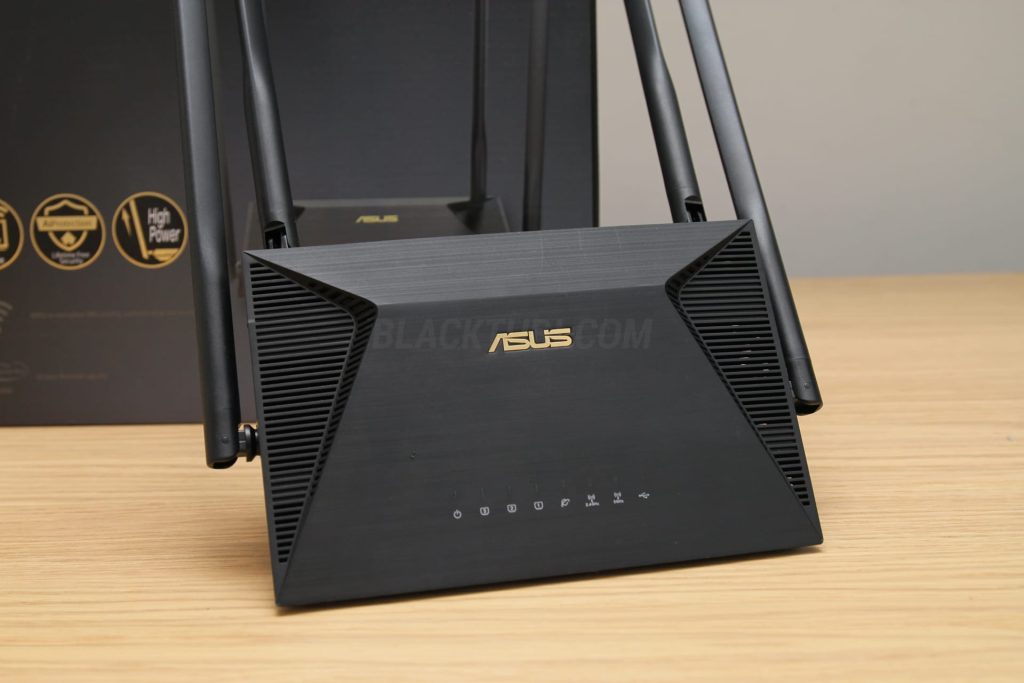 The design of the RT-AX53U is very simple but it is certainly well-build with high quality material. I've tested it for one week and find that the performance of this product to be decent and it is very stable and consistent throughout my test. Signal strength also exceeds my expectation for an AX1800 device.
The RT-AX53U will be available to purchase in Malaysia with a suggested retail price of RM309 at the time of writing this article. All routers sold by ASUS authorized dealers will come with a 3 years warranty from ASUS Malaysia.
RT-AX53U Hardware and Specs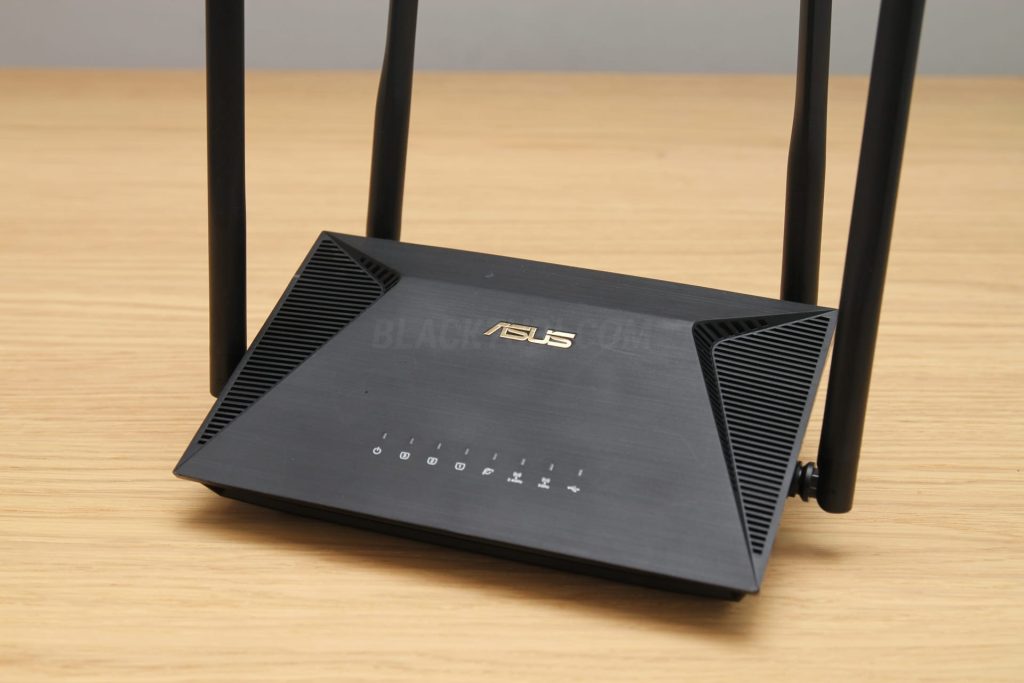 | | |
| --- | --- |
| Wireless 2.4GHz | Wi-Fi 6 up to 574Mbps (40Mhz 2×2) |
| Wireless 5GHz | Wi-Fi 6 up to 1201Mbps (80Mhz 2×2) |
| WiFi Features | OFDMA, MU-MIMO, Beamforming, WPA3 |
| CPU | Mediatek MT7621 with 256MB RAM |
| Ethernet Ports | 1x Gigabit WAN port + 3x Gigabit LAN port |
|  USB | 1x USB 2.0 port |
The RT-AX53U is powered by a Mediatek dual-core chip with 256MB RAM. In reality, the Mediatek chip coupled with 256MB RAM on the RT-AX53U can perform really well and support my Gigabit Internet connection easily.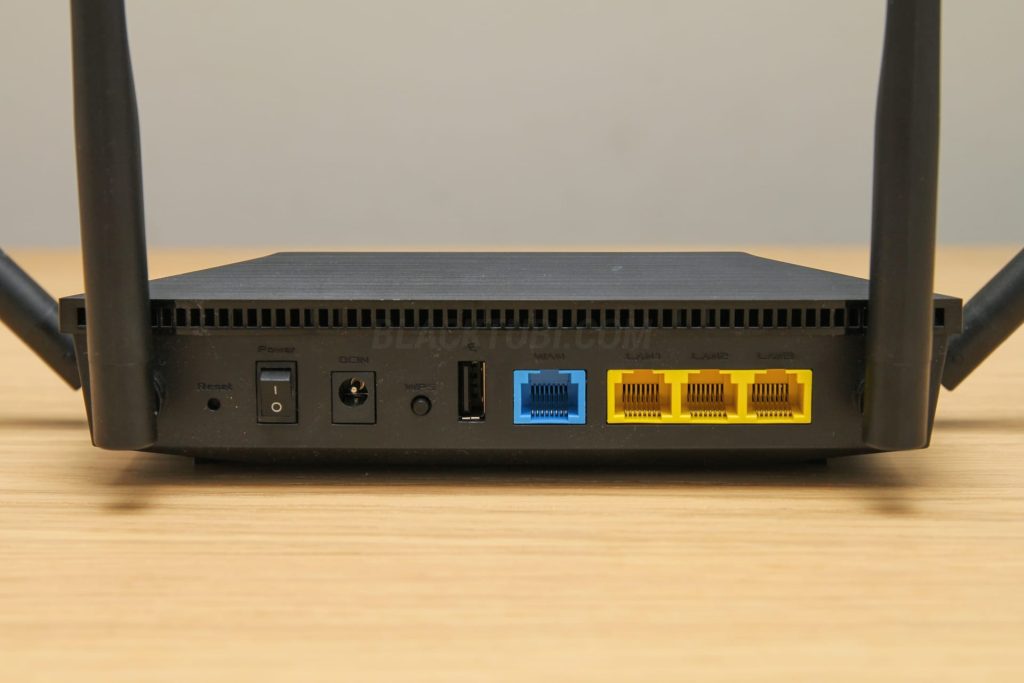 The ports are pretty standard with a single Gigabit WAN and just 3 Gigabit Ethernet LAN. A standard USB port is included for USB file sharing, printer sharing and some other USB features.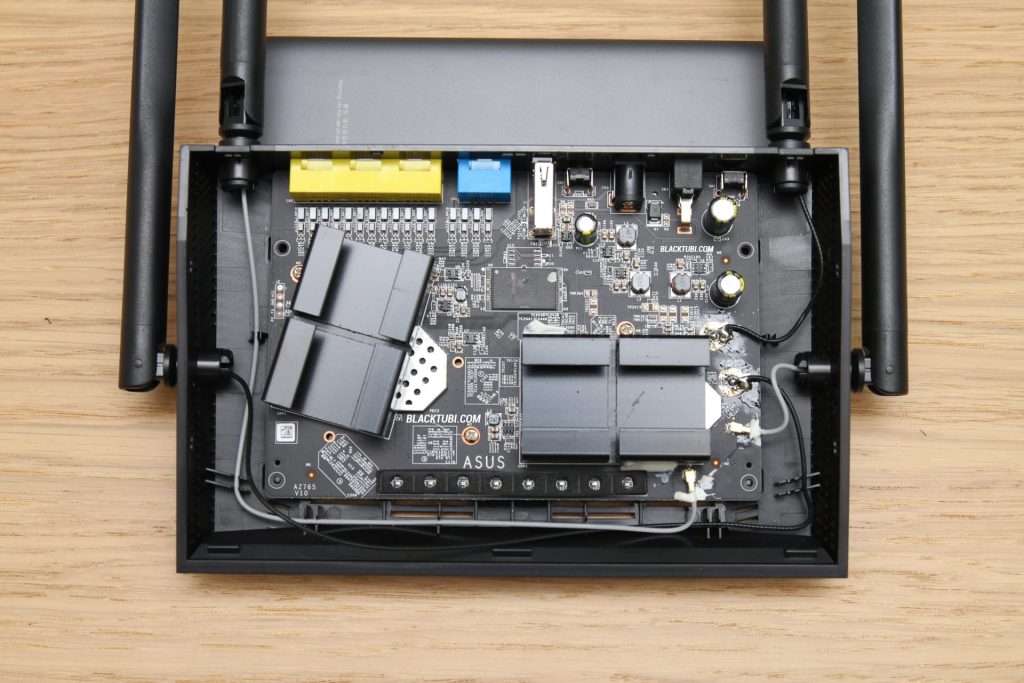 Looking inside the product, it is well-built with two proper heatsink on top and a big heatspreader at the bottom side of the PCB. Despite it is the cheapest WiFi 6 router from ASUS, the hardware quality is on par with the standards set by premium ASUS router.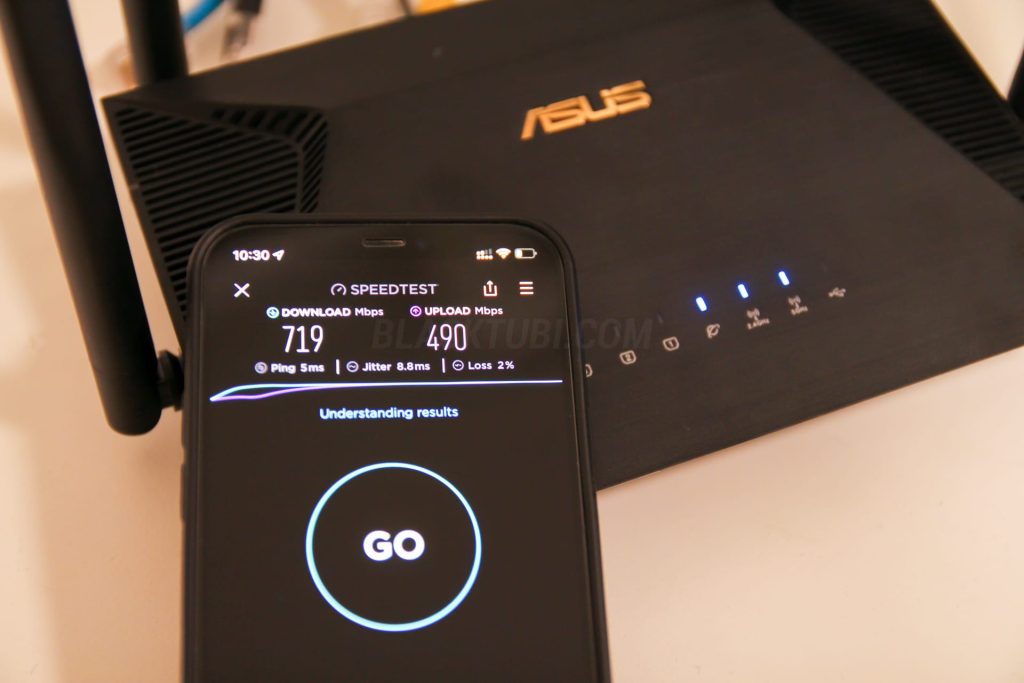 Being an entry-level product, the WiFi 6 performance is decent. It can support slightly faster than 700Mbps download speed on short distance with my iPhone. This is tested at around 3m distance to the router without any objects blocking it.
RT-AX53U 5Ghz WiFi 6 Performance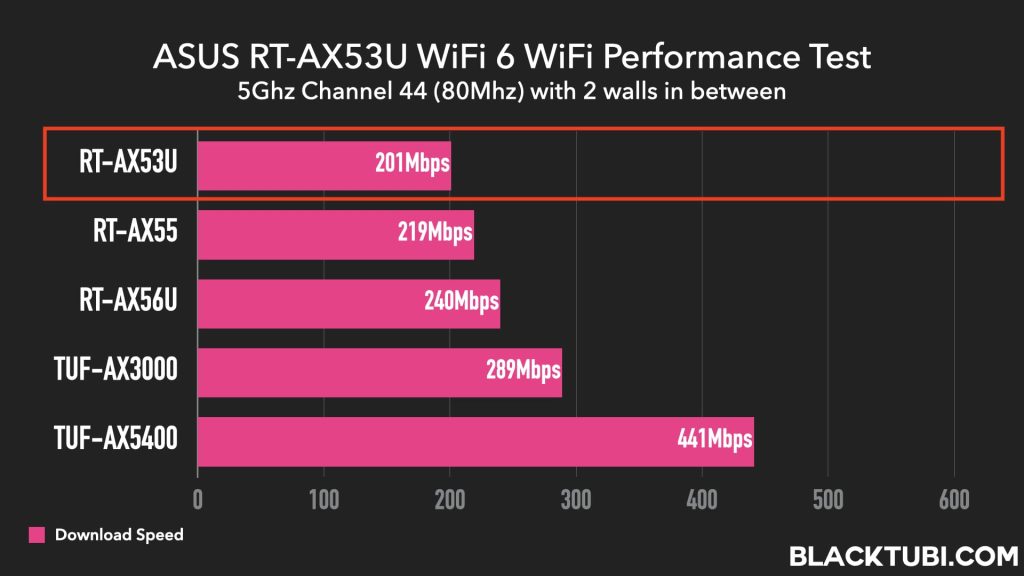 Comparing to other ASUS WiFi 6 AX1800 routers, the performance gap is very small despite the RT-AX53U being based on Mediatek rather than the usual Broadcom chip. However, the gap is bigger when being compared to more expensive model such as ASUS TUF-AX5400 model.
RT-AX53U 2.4Ghz WiFi 6 Performance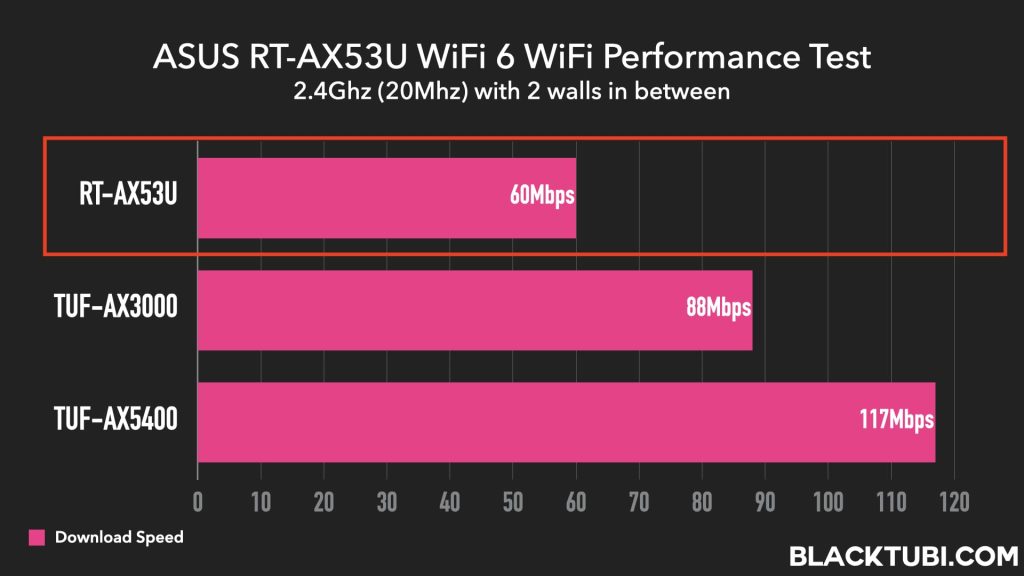 The performance of the 2.4Ghz network on the RT-AX53U is still pretty respectable, clocking at 60Mbps after 2 walls.
Extensive ASUSWRT Features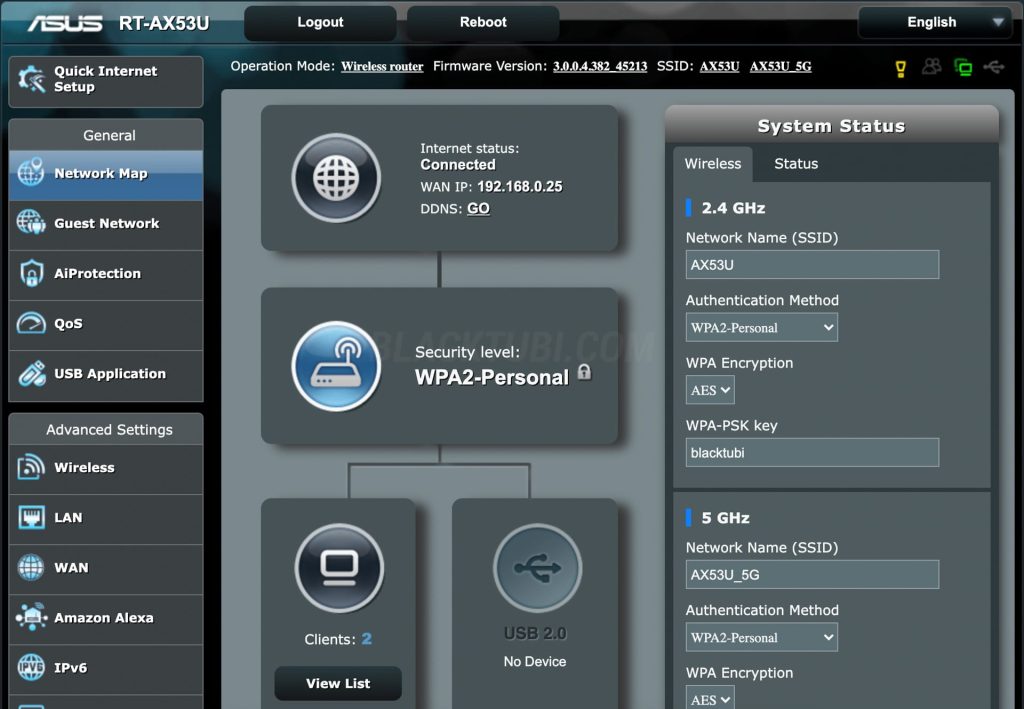 The star of the show will be ASUSWRT and that's probably the biggest selling point of this product. I've tested many routers and ASUSWRT is still the most feature-rich and most customizable consumer router firmware in the market currently.
ASUS RT-AX53U doesn't disappoint despite being a cheaper product. It still features the full ASUSWRT customization ability such as speed limiter, multiple Guest WiFi network, VPN server, VPN client, ASUS DDNS, USB File Sharing and more.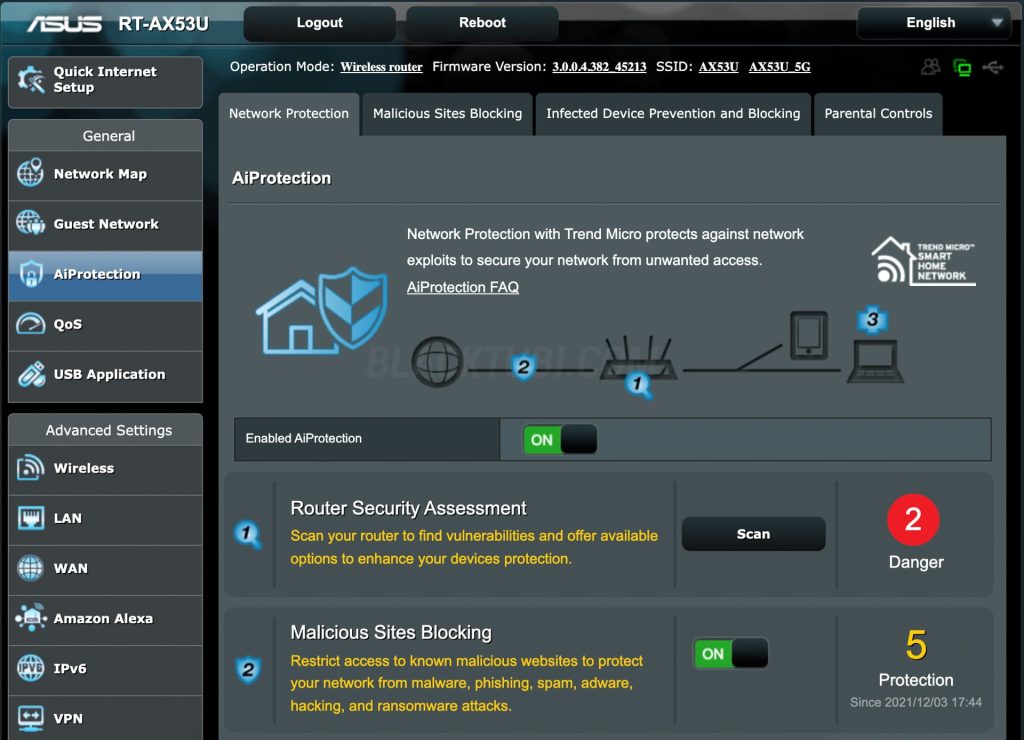 ASUS is very generous by including their AiProtection security service on the RT-AX53U. It comes with lifetime free security database update for the malicious site blocking function. The latest WPA3 WiFi security is also supported right out of the box of the router.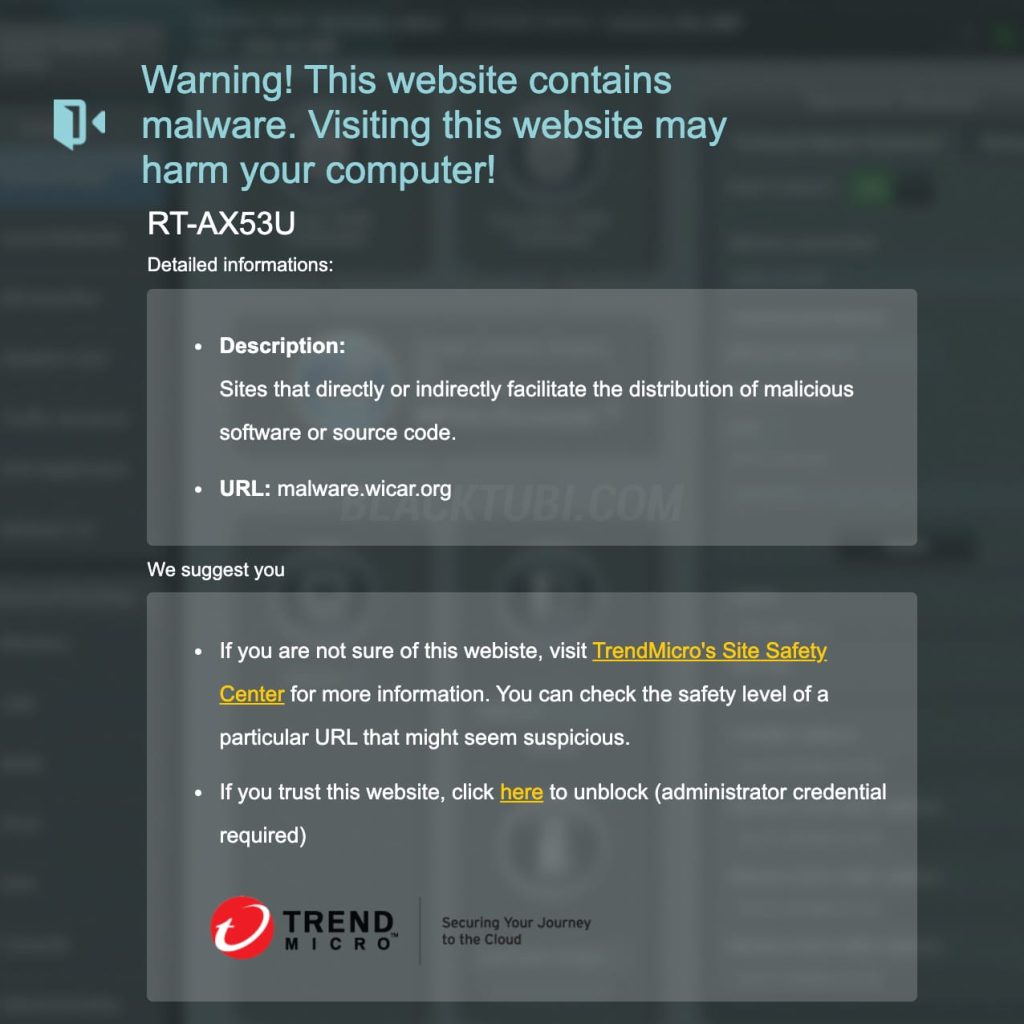 Security is definitely a big selling-point of the RT-AX53U with the AiProtection enterprise grade security firewall service. Once enabled, it will block website that contain a virus or malware on the Internet from being accessed on your all the devices connected to the router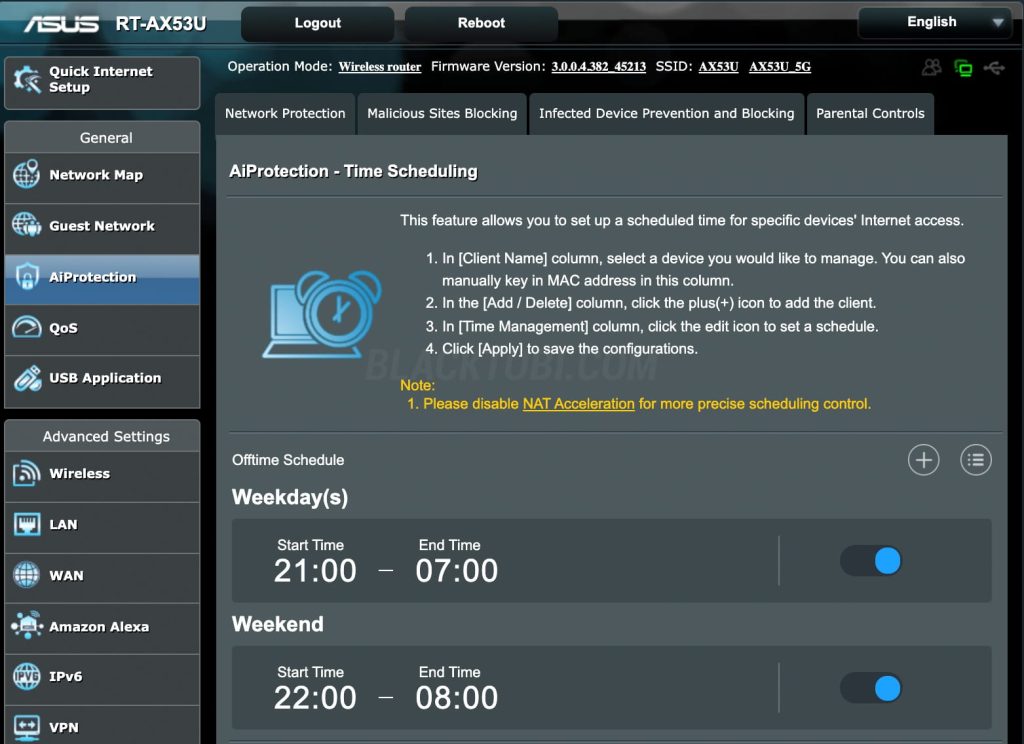 As for parental control, the RT-AX53U will only let you to schedule the time where Internet will be accessible for selected WiFi devices. It doesn't come with the content filtering function found on more expensive ASUS routers such as the RT-AX56U.
There's also an app for the router to show connected devices and perform the initial setup. The app can be accessed remotely even when not at home to see list of connected devices and perform some basic settings.
In addition to the usual features, the RT-AX53U comes with really powerful features below:
Dual-WAN with WAN Aggregation
USB file sharing with TimeMachine feature
USB 4G modem support for connectivity backup
Device based or Guest WiFi Internet speed limiter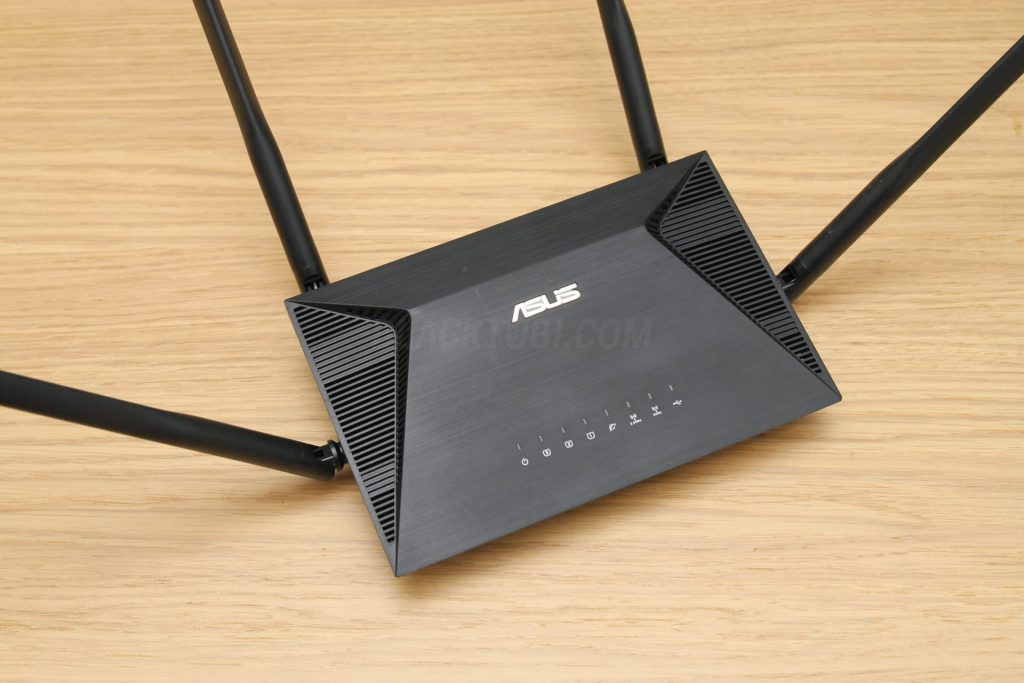 The RT-AX53U is a great entry level product to ASUS router ecosystem. It can povide a fast WiFi performance while maintaining ASUS rock-solid stability with plenty of value-added features. As usual, ASUS routers offer strong security with lifetime free database update to the AiProtection feature.
While the ASUS RT-AX53U is more expensive than the competitors, the higher cost can be justified by the class-leading ASUSWRT firmware that's really robust. ASUS is also known to provide many years of features update and security improvement to their router.
Lifetime AiProtection security updates

WPA3 security supported out of the box

Easy network expansion with AiMesh
Stable and consistent WiFi performance
3 LAN ports only unlike the usual 4