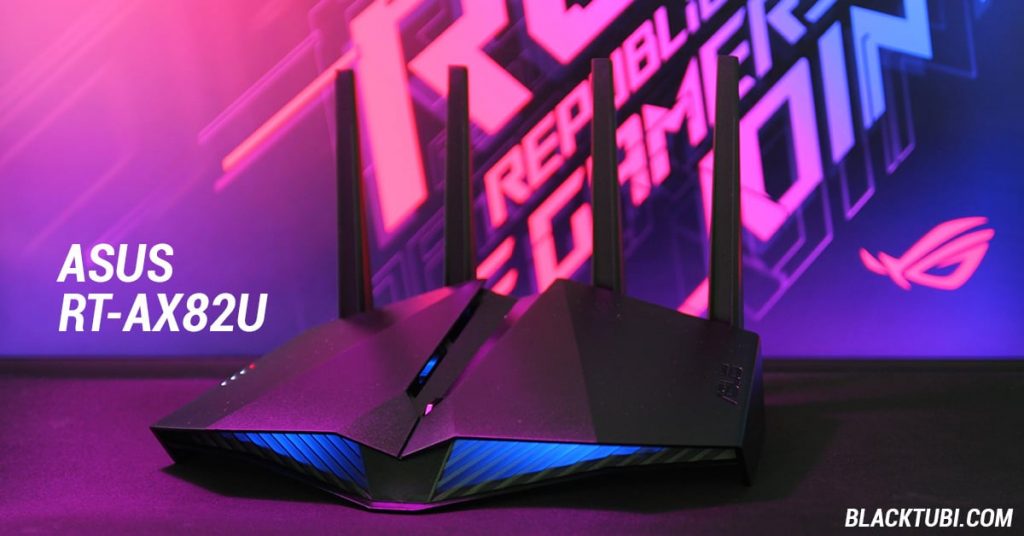 ASUS RT-AX82U is probably the coolest router you can get in 2021. The striking design is combined with vibrant RGB lighting effect to compliment the gaming aesthetics and I think it works really well here. It also comes with the latest WiFi 6 technology up to AX5400 with 160Mhz support for the 5Ghz band.
The RT-AX82U is a gaming router designed for gamers. It combines a powerful hardware coupled with good software function to provide the best performance especially for gamers where consistency is key. It is now available for sale in Malaysia at a price of RM1069 with 3 years warranty.
ASUS is not joking when they say RGB. The RT-AX82U comes with legit ASUS Aura RGB lighting effects like other ASUS products. The RGB lights are really vibrant and bright even under daytime. However, there's no Aura Sync so it's not possible to link it with other ASUS Aura Sync products.
Looks aside, the RT-AX82U is a really well-built high quality product. It has a high quality matte black plastic that looks great and feels good in hand. There're a ton of ventilation holes to keep the router cool. It's also a rather heavy and chunky router to house all the high performance hardware.
Hardware and Specifications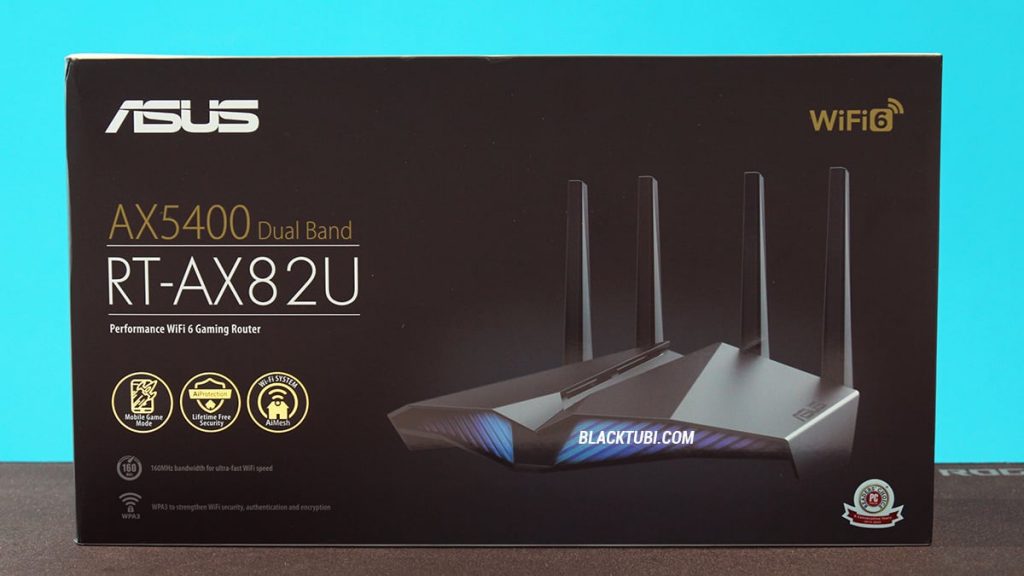 Being a premium wireless router, it does feature a decent specification with a 1.5Ghz Triple-Core CPU and 512MB RAM. I wish ASUS could've given it more RAM given the price of this router but this specification will be sufficient even for the most intensive gamers.
| | |
| --- | --- |
| Wireless 2.4Ghz | Wi-Fi 6 up to 574Mbps (40Mhz 2X2) |
| Wireless 5Ghz | Wi-Fi 6 up to 4804Mbps (160Mhz 3X3) |
| WiFi Features | OFDMA, MU-MIMO, Beamforming, WPA3, AiMesh |
| CPU | Broadcom BCM6750 1.5Ghz Triple-Core |
| Ethernet Ports | 1x Gigabit WAN port + 4x Gigabit LAN port |
|  USB | 1x USB 3.1 port |
One thing to note on the RT-AX82U is the 160Mhz support. This means the WiFi can get really over Gigabit speed in the right situation. However, this only happens if your device support 160Mhz. Currently, the only WiFi adapter that support 160Mhz that I know of is the Intel AX200 and AX210 series.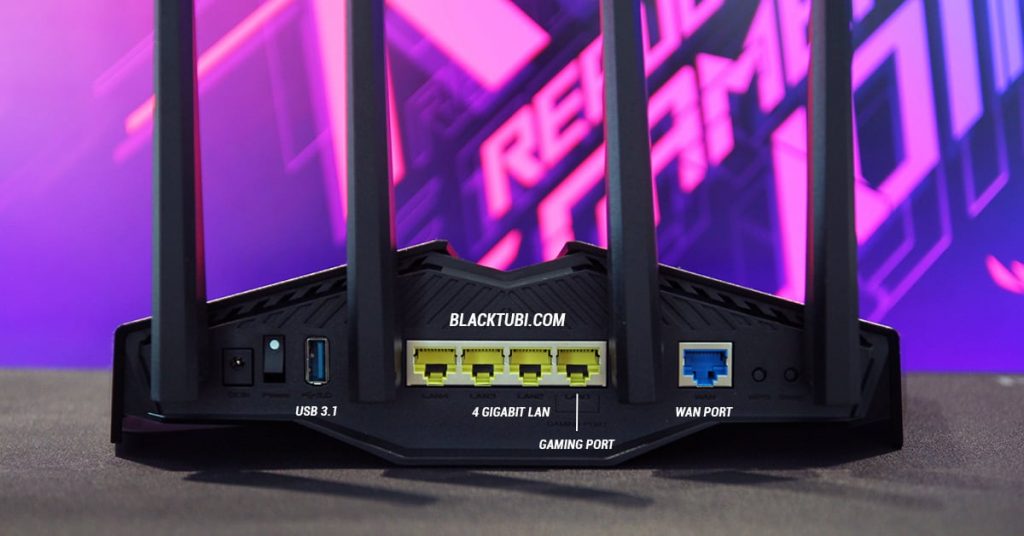 Connectivity wise, the RT-AX82U comes with the typical single Gigabit Ethernet WAN port and four Gigabit Ethernet LAN ports. It's possible to configure Dual-WAN and 802.3ad link aggregation on this router. There's also a single USB 3.1 port on the router for USB storage file sharing and printer sharing.
ASUS included a dedicated gaming port on the router where it will prioritize the device connected to the port for gaming stability. I'll recommend connecting your gaming PCs or gaming consoles to this port to enjoy a lower latency and better stability during extended gaming session.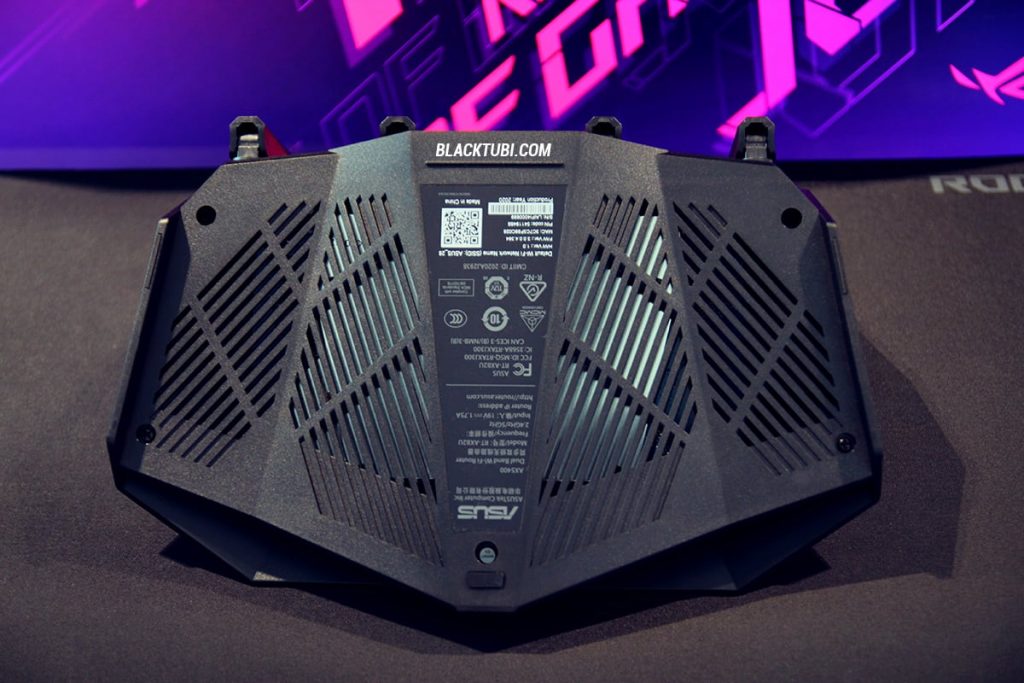 The bottom of the router is full of vents, exposing the metal heatsink for better airflow. This will improve the thermal performance of this router.
I will be testing the 5Ghz network of the RT-AX82U under a 80Mhz and 160Mhz situation and compare it against the RT-AX3000 and TUF-AX3000. I will not be conducting a 2.4Ghz benchmark due to high 2.4Ghz interference at my location.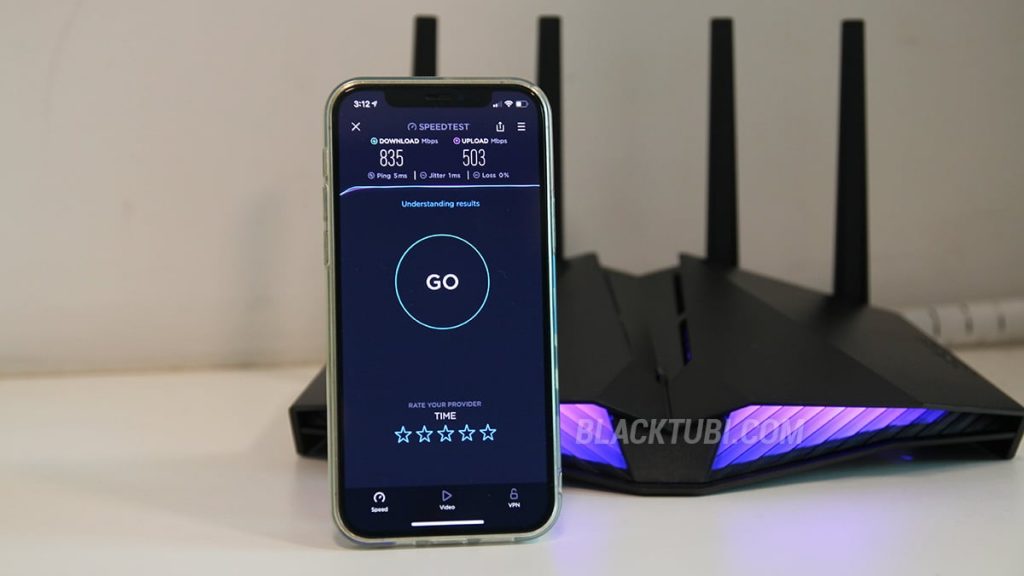 On the 80Mhz test, I disabled the 160Mhz mode on the router and performed speedtest via the Speedtest.net app on my 1Gbps Internet connection with 500Mbps upload speed. My iPhone is able to reach almost the peak of my Internet speed at around 2m distance to the router.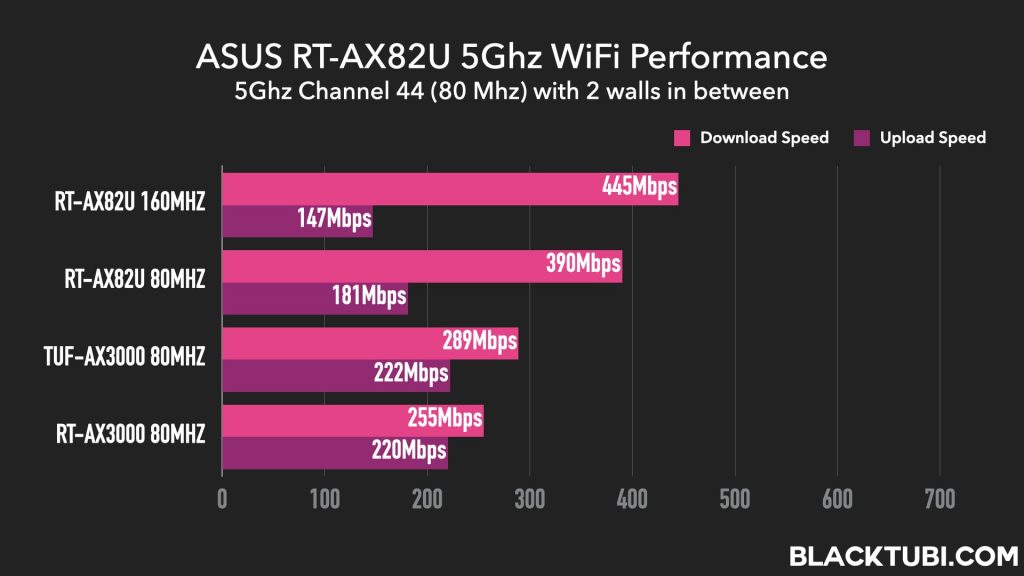 On the long distance test with my laptop, the RT-AX82U performs really well after 2 walls. The 5Ghz signal is strong and stable with good performance. It's worth nothing that the RT-AX82U also outperforms the TUF-AX3000 that's slightly cheaper despite having similar hardware.
On a side note, the router comes with the smart connect feature which combine both the 2.4Ghz and 5Ghz band into a single WiFi name. I highly recommend you to enable this so you do not need to manually switch the WiFi networks when moving around in your home.
ASUS firmware interface is known for their advanced customization and they are still maitaining their lead. It runs the familiar ASUSWRT router interface with a ton of features which some may find overwhelming. Thankfully, the ASUS Router app is very easy to use and it can be used to setup the router as well.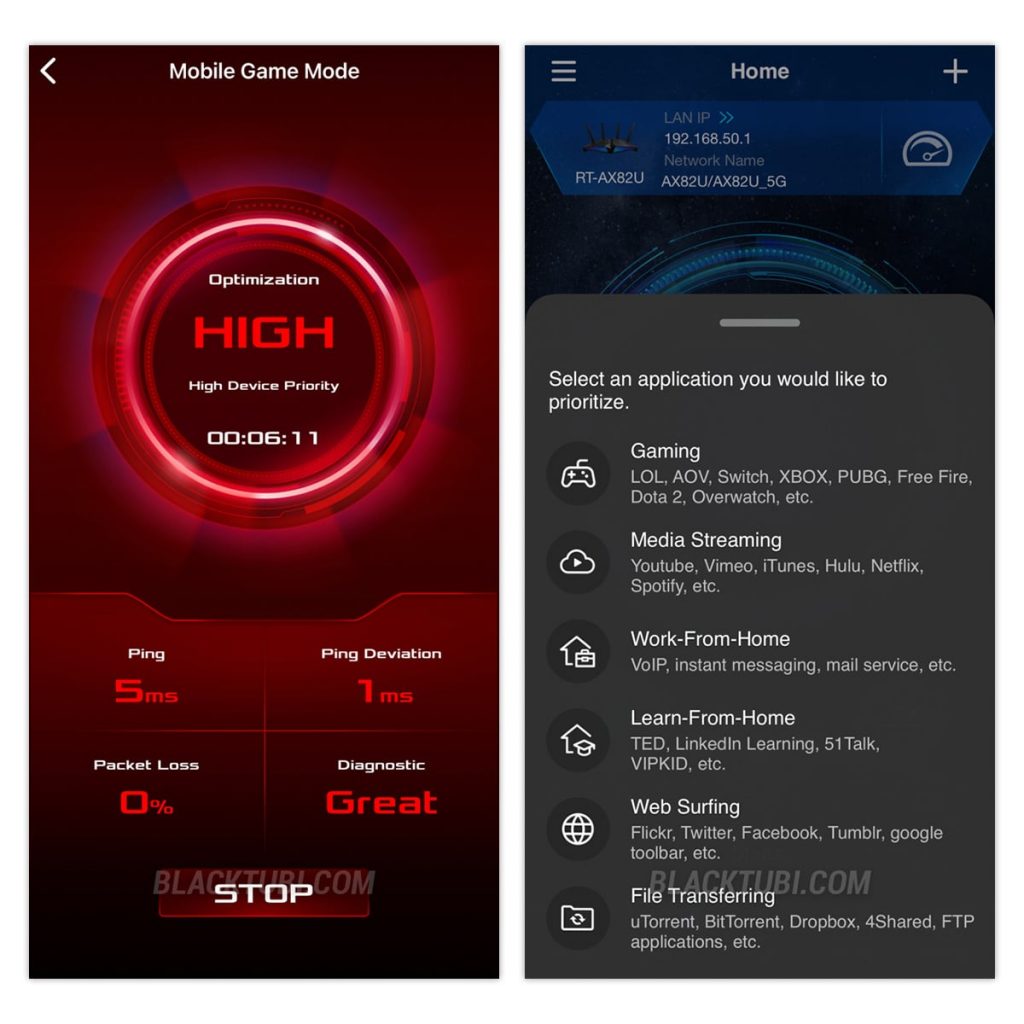 Mobile gamers rejoice as there's a similar feature for the mobile phone over WiFi as well. The ASUS router game comes with a built-in game accelerator mode. Upon enabling this feature, the router will permanently give the connected smart phone network priority resulting in a more stable connection.
You can also use the ASUS Router app to manually choose the AdaptiveQoS profile you wish to enable for your WiFi network. There are several profiles to choose from, each of them suitable for difference usage scenarios. Once selected, the router will automatically optimize the network for the selected profile.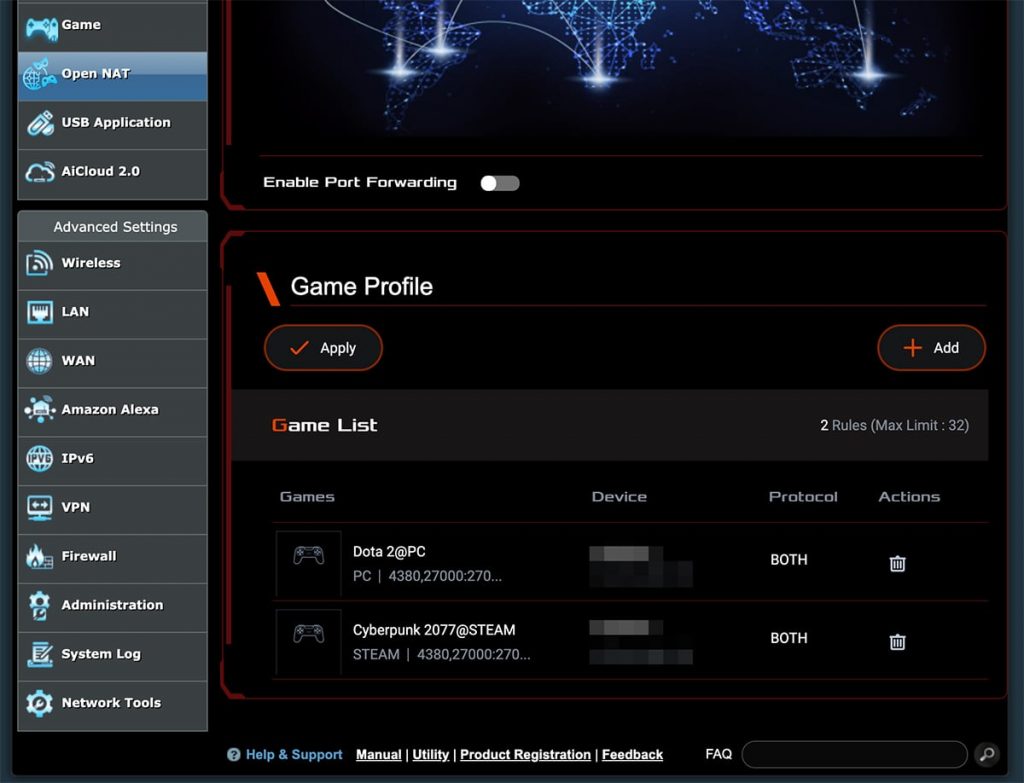 Gamers will also benefit from the game profile feature on ASUS Gaming Routers. The game profile will create a port forward profile suitable for the game selected. This will improve connectivity and consistency as the network port will always be reserved for the selected device.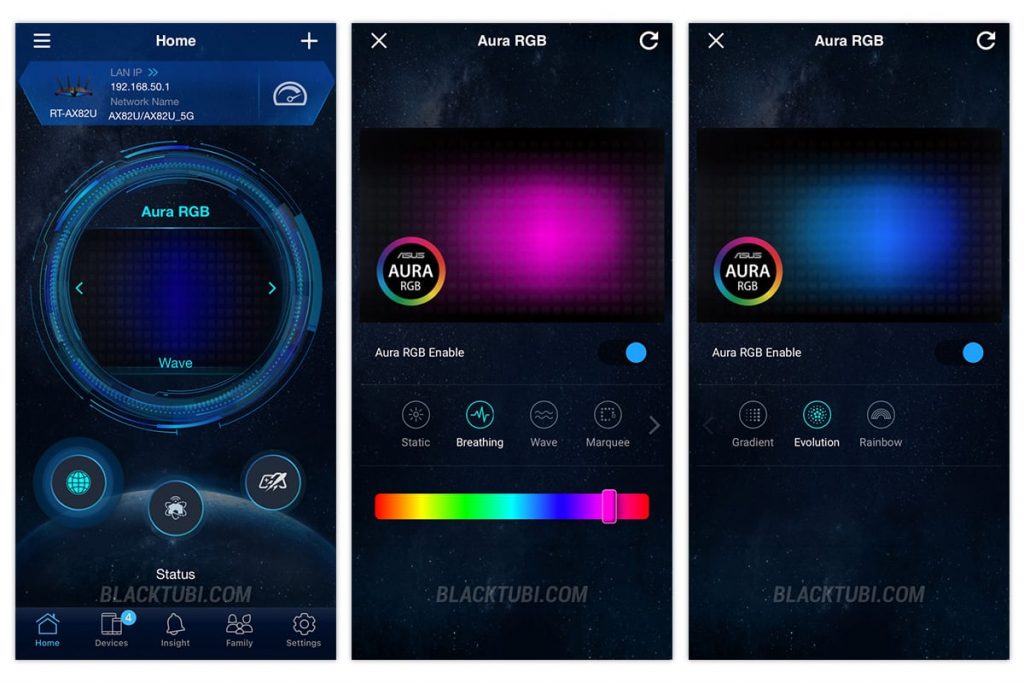 The RGB LED color can be adjusted on the ASUS Router app easily. In fact, there're a ton of customizations can be done here. ASUS also included 7 RGB effects and unlimited amount of color combination.
AiMesh has come a long way and it's much more reliable than what it's used to be. ASUS fixed a lot of the stability issues which make AiMesh worth considering these days. The beauty of AiMesh is it allows combining multiple AiMesh routers to form a mesh WiFi network for a stronger WiFi coverage.
Once AiMesh is linked, the second router will be wirelessly connected to the main AiMesh router and work together to extend the WiFi coverage with the same WiFi name and password. Then, the second unit can be placed anywhere within the coverage area of the main unit to boost the WiFi coverage further.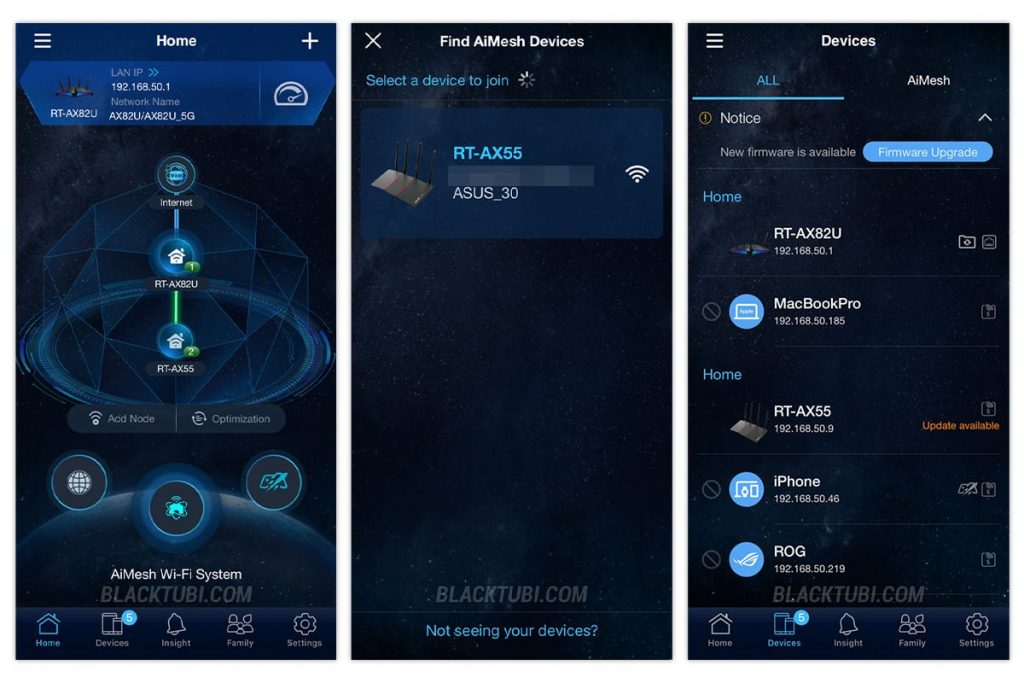 In my case, I can link the RT-AX82U with a cheaper router like ASUS RT-AX55 to gain a stronger WiFi coverage on a bigger home. While the RT-AX82U WiFi signal isn't weak, those staying in a bigger property will appreciate the ability to form a mesh WiFi with a high performance gaming router as the main router.
Since the mesh node is not doing much processing, I can use a cheaper model like the RT-AX55. The best part is I will retain all the gaming features although I am using a cheaper router as the mesh node. However, bear in mind that the WiFi speed on the mesh node will be slower which is expected.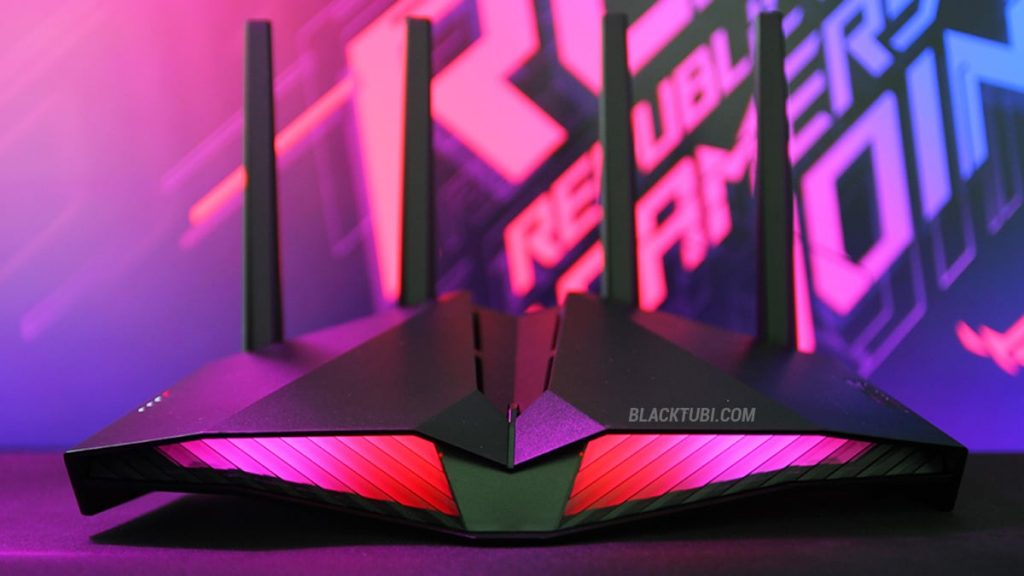 ASUS RT-AX82U is an excellent gaming router. It performs well and has good stability which is the most crucial part of a gaming router. ASUS also included several gaming optimizations to improve latency and stability during gaming session. Thanks to the AiMesh capability, it's possible to wirelessly link another AiMesh router to get a stronger WiFi coverage.
However, like anything with RGB, the RT-AX82U is a premium product with premium pricing. But, you'll not be disappointed by the aesthetics and performance of the RT-AX82U if you purchase it.
Premium design and aesthetics
Vibrant RGB lighting effect
Good performance
Premium price
No 2.5G port