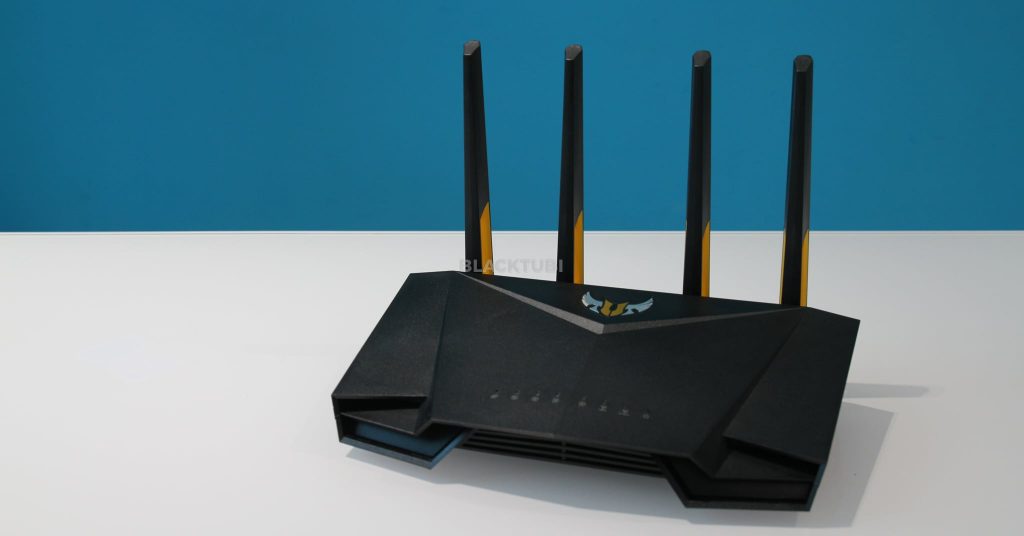 ASUS TUF Gaming AX3000 is a new gaming router from ASUS. Being from the TUF lineup, it is supposed to be built tougher for use in a more demanding condition. Coupled with some gaming optimization on the firmware to make it a great gaming router.
So, what's a gaming wireless router? In my opinion, they have to offer a really stable connection without any hiccups. This can be done by combining excellent hardware and software optimization to improve the connectivity. ASUS TUF-AX3000 does exactly that with a decent specs coupled with several features developed for gamers.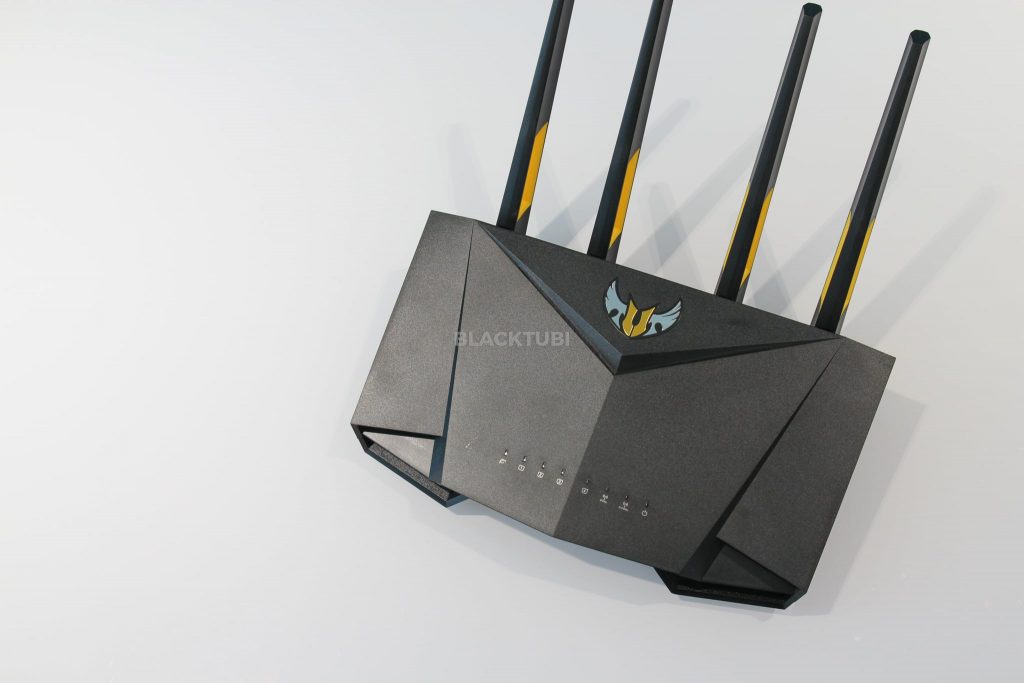 What I really like about the TUF-AX3000 is it has the latest Wi-Fi 6 technology which is much faster than existing Wireless AC routers. This is due to new technologies such as OFDMA and 1024-QAM designed to enhance bandwidth efficiency and increase link speed. Of course, ASUS routers are known to be really robust and stable. 
If you are still using the original wireless router provided by your Internet Service Provider, you will notice a big improvment in performance when upgrading to a third party wireless router like this. ASUS TUF AX3000 will also benefit older Wireless AC devices as a newer router often comes with stronger Wi-Fi coverage and a better interference mitigation.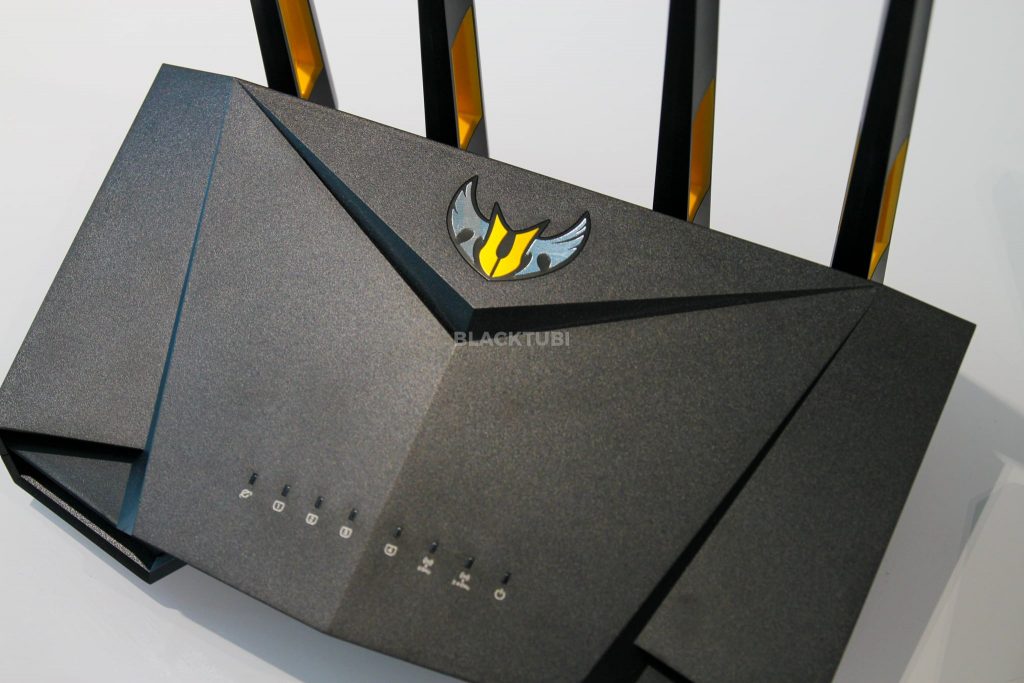 The design of the TUF Gaming AX3000 is very gaming esque with a very aggresive shape. The router comes with a matte surface that feels really rugged. There's also yellow accent on the antennas of the router. In fact, they are probably the same antenna used on the RT-AX88U.
| | |
| --- | --- |
| Wireless 2.4Ghz | Wireless AX up to 574Mbps (40Mhz 2×2) |
| Wireless 5Ghz | Wireless AX up to 2402Mbps (160Mhz 2×2) |
| WiFi Features | OFDMA, MU-MIMO, Beamforming, AiMesh |
| CPU | Broadcom BCM6750 1.5Ghz Triple-Core CPU |
| RAM | 512MB |
| Ports | 1x Gigabit WAN port + 4x Gigabit LAN port |
|   | 1x USB 3.1 port |
ASUS TUF-AX3000 comes with Wi-Fi 6 support up to AX3000 thanks to 160Mhz mode. This will be a huge boost in Wi-Fi speed up to 2402Mbps on the 5Ghz band if you happen to have a device that support 160Mhz such as the Intel AX200 Wireless Adapter or ASUS own's PCE-AX58BT.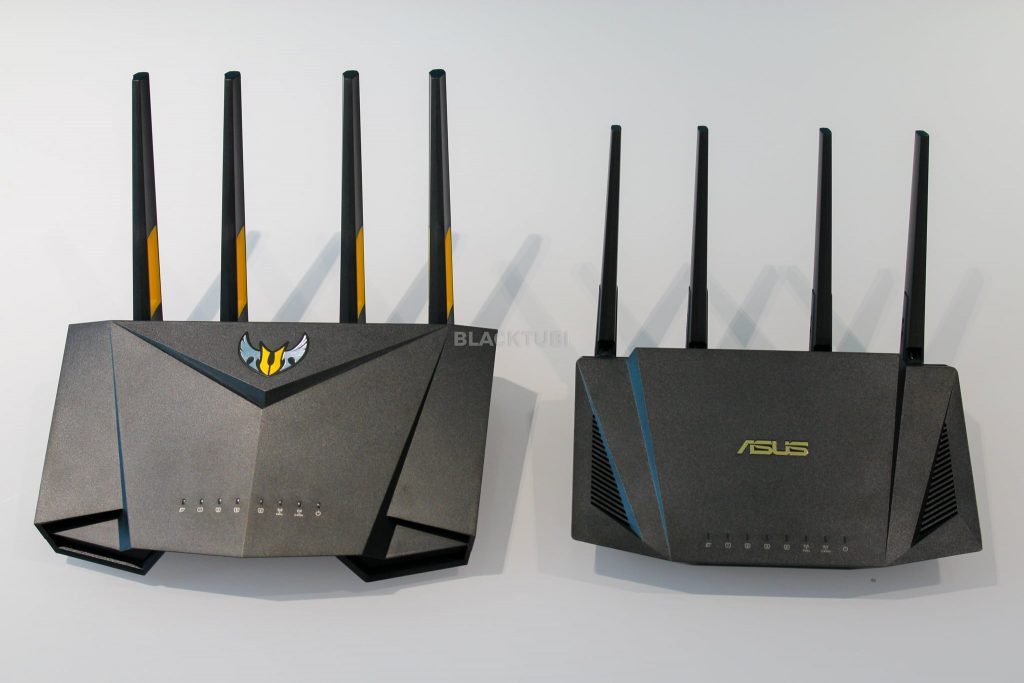 The TUF-AX3000 actually have a similar specifications like the RT-AX3000. But, they are not exactly the same, the TUF AX3000 Gaming Router is built to a higher standards and come with additional gaming function on the firmware. The TUF AX3000 is also slightly bigger than the RT-AX3000 with bigger antennas.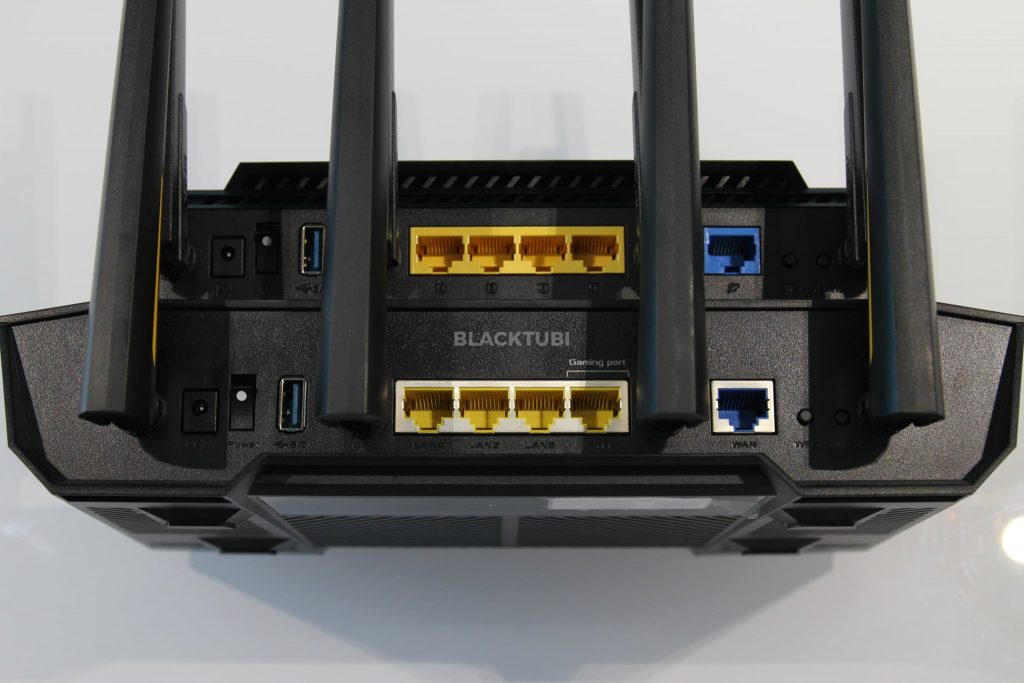 Comparing to the RT-AX3000, the Ethernet ports on the TUF-AX3000 are metal shielded. This will result is better stability as it will help to reduce interference. There's also a single USB 3.0 port which support USB file sharing, USB 4G modem, TimeMachine backup server and more.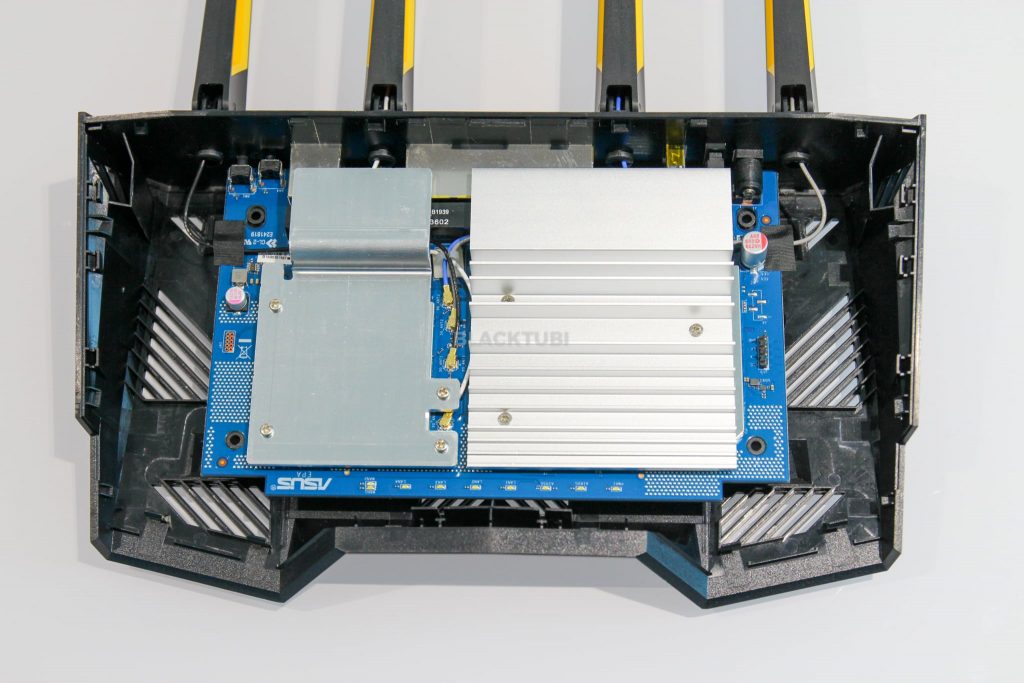 The build quality of TUF-AX3000 is certainly really good. It has some huge proper metal heatsink combined with solid capacitors! This router will probably last for many years with these high quality components. 
Like the RT-AX3000 that we know, the TUF-AX3000 performs really well in our WiFi speedtest. It has a strong Wi-Fi coverage and a fast Wi-Fi speed. It also supported the latest WPA3 security right out of the box.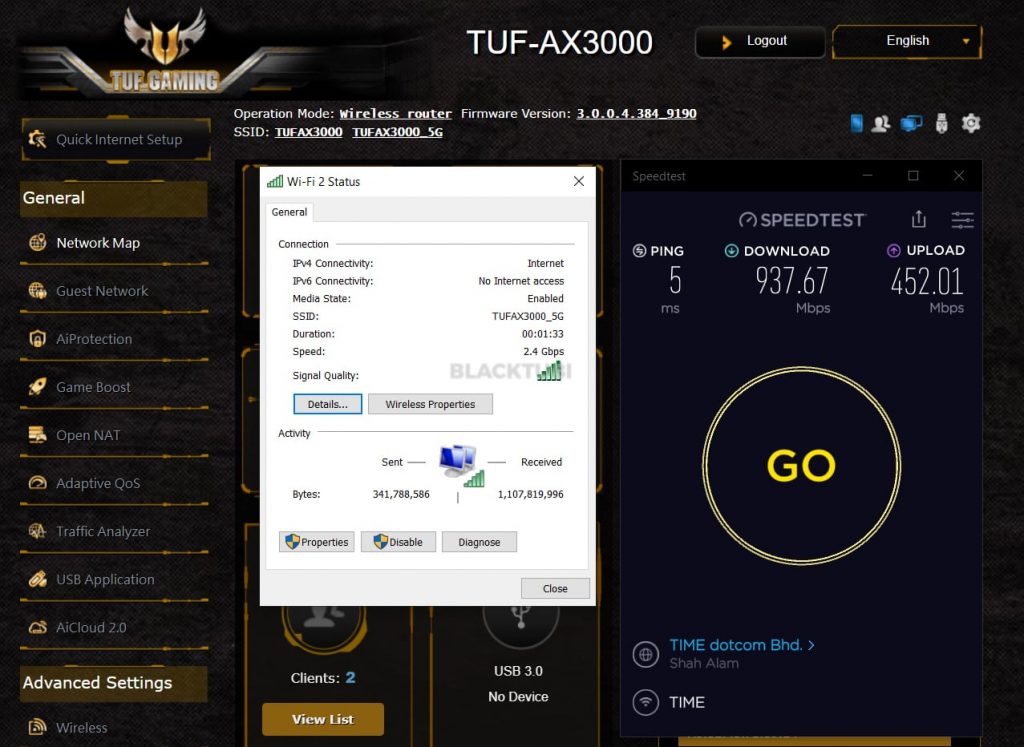 On the close distance 5Ghz test with my laptop powered by Intel AX200 Wireless Adapter, there's no surprise here and the router is able to hit the full 940Mbps of my Gigabit Internet connection. This is possible even when just using 80Mhz without enabling the full potential of this router.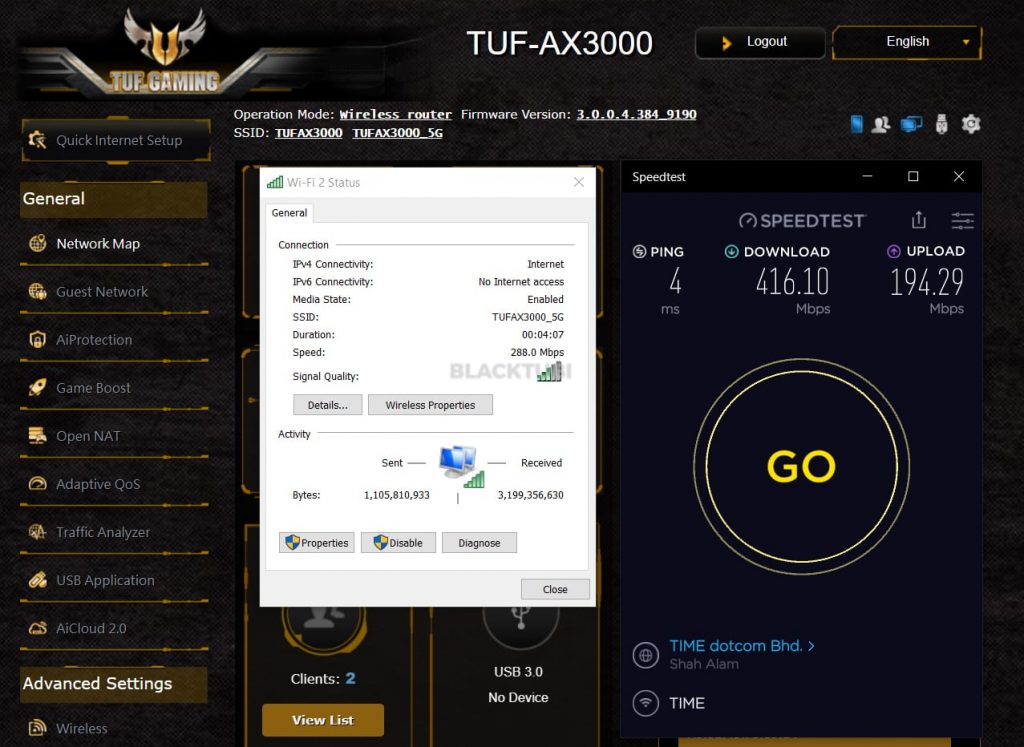 On the long distance 5Ghz test after 2 walls, we have a great performance exceeded 400Mbps with 160Mhz mode enabled. This is faster than all other AX3000 routers that we have tested and it is even slightly faster than ASUS own RT-AX3000.
If one unit of TUF-AX3000 is not sufficient to cover your entire home with strong 5Ghz Wi-Fi coverage, you can always expand it further by linking it with another AiMesh wireless router. You can get a stronger Wi-Fi coverage by setup a AiMesh mesh Wi-Fi network.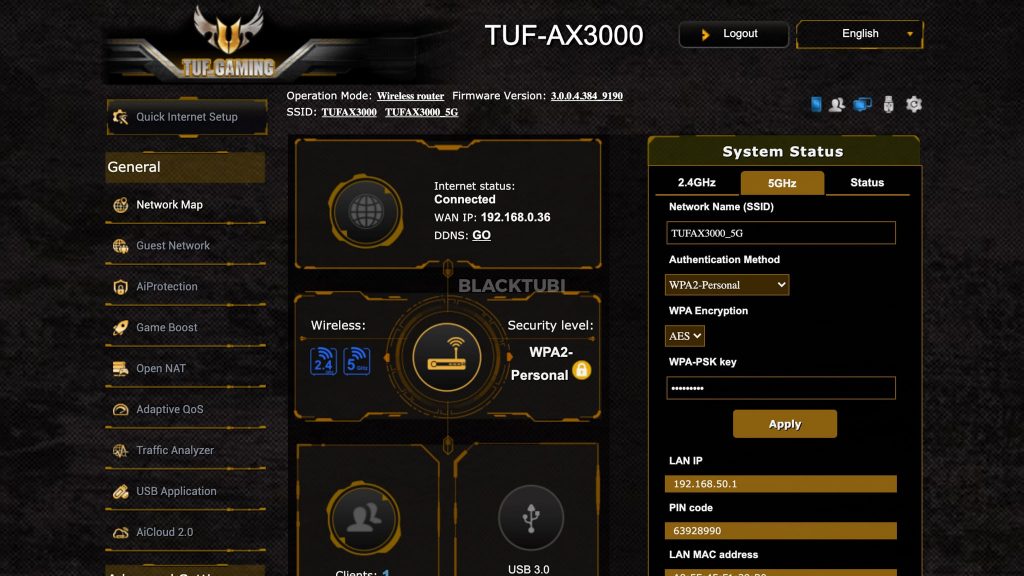 ASUS TUF-AX3000 comes with the familiar ASUSWRT router firmware like every other ASUS wireless router. Generally the interface is quite user-friendly and easy to work with. However, this time, it has a fancy TUF skin on top of the usual interface. The firmware is stable and we do not encounter any issues when we are testing this router.
ASUSWRT is the most functional router firmware in the market. For most users, you probably won't even use most of it but enthusiasts will appreciate the customization possible on this router. Some features like dual-WAN, VPN server and built-in VPN client is rarely seen on other consumer level routers in the market.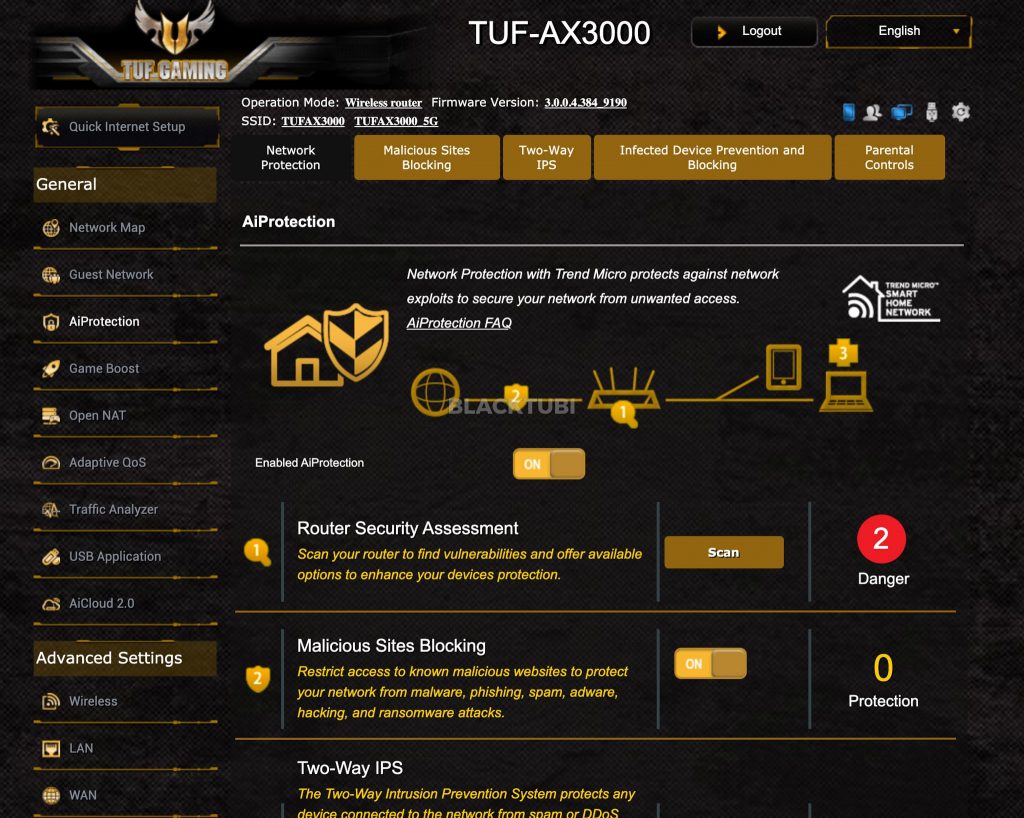 ASUS takes security seriously by including their advanced AiProtection Antivirus suite with this router. The Antivirus suite works in addition of the usual firewall to prevent connected devices from accesing a website containing a malware or virus. It is powered by TrendMicro database and comes with free lifetime database upgrade.
There's also the ASUS Router app to monitor the TUF AX3000 Gaming Router. The app lets you to see who's connected to the network and it is able to perform some basic configuration as well. It does show what is the current network usage of each device which will be great to identify bandwidth hoggers on your network.
I really like the QoS ability of this router. There are several profiles available to optimize the Internet connection for the selected usage. Once enabled, it will attempt to balance the usage across the whole network to ensure each user have at least a usable connectivity for the selected apps to priotize. In my testing, I found that it works really good on slow Internet connections as it prevents certain apps from hogging the bandwidth of the entire network. It's useful for gamers as well with a gaming QoS profile.
The gaming features are what set the TUF-AX3000 apart from the normal RT-AX3000. It comes with a mobile game booster, OpenNAT and VPN fusion.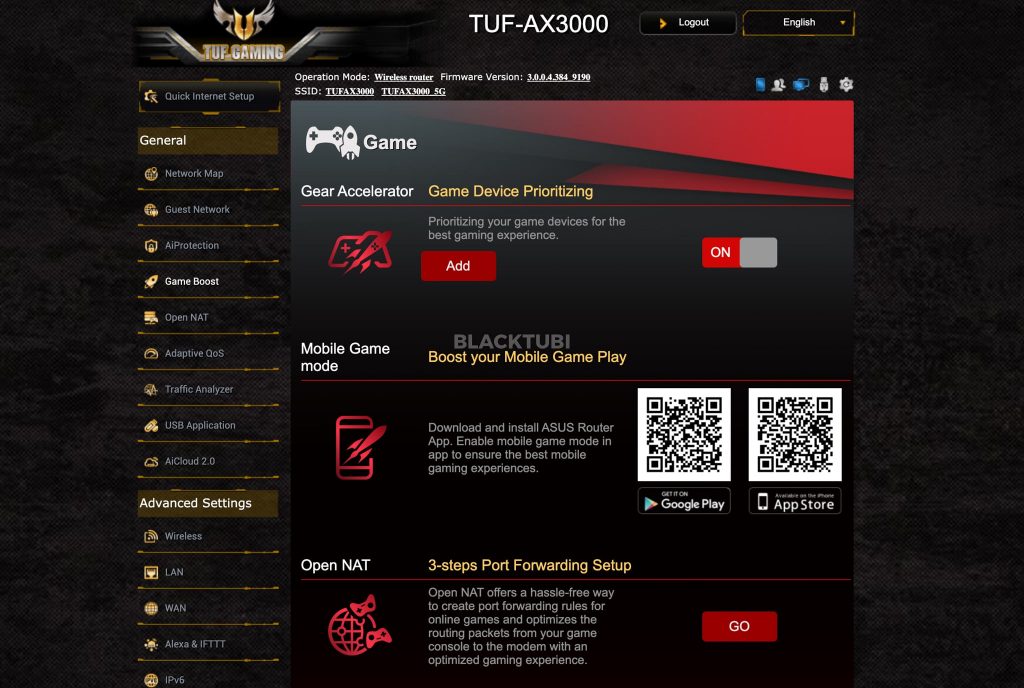 All the gaming related function are located in the Game Boost tab. The gear accelerator function can only be accessed from the web interface. This will be helpful to select your gaming PC or gaming laptop to prioritize their connection on a gaming session.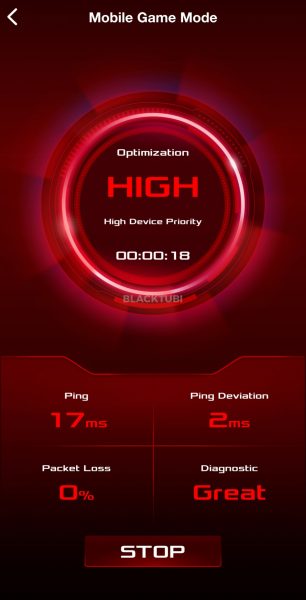 The mobile game booster is pretty much self-explanatory. You will need to enable it from the ASUS Router app on your phone and it will prioritize that device to improve the gaming experience. It will prevent other devices from contesting the connection with the device with game booster eneabled.
In my testing, I find this feature to work really well especially on a slower and highly congested network with a lot of devices connected. Enabling this feature stabilize my ping to 12ms when playing PUBG Mobile on my phone compared to a fluctuating 12-40ms. You probably wouldn't notice any different if you have a faster Internet connection with a great ISP.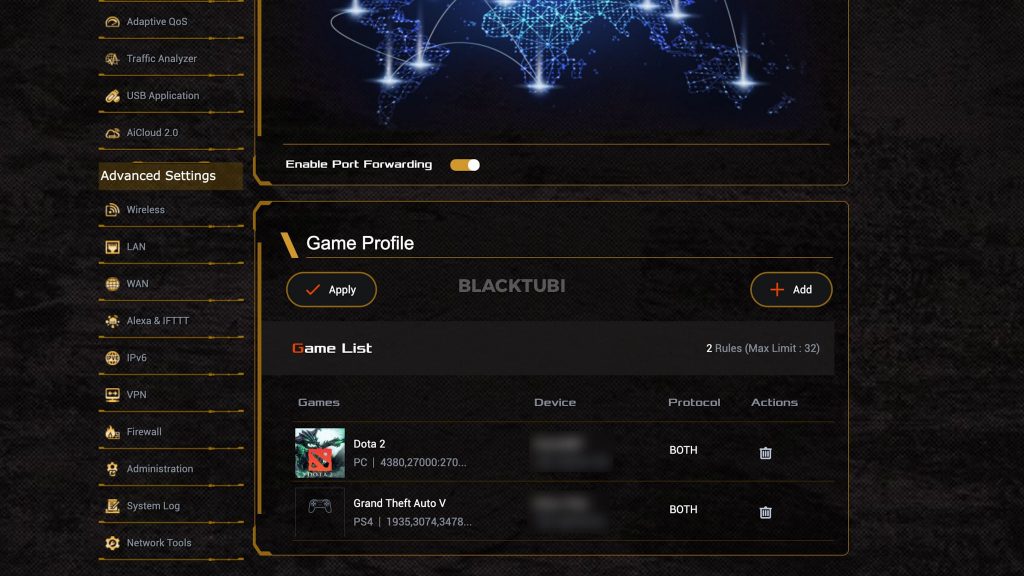 The OpenNAT function basically let you to automatically configure port forwarding (NAT) for some games. While the usefulness of this feature is subjective to your network condition since most games no longer require port forwarding but this is a nice touch from ASUS.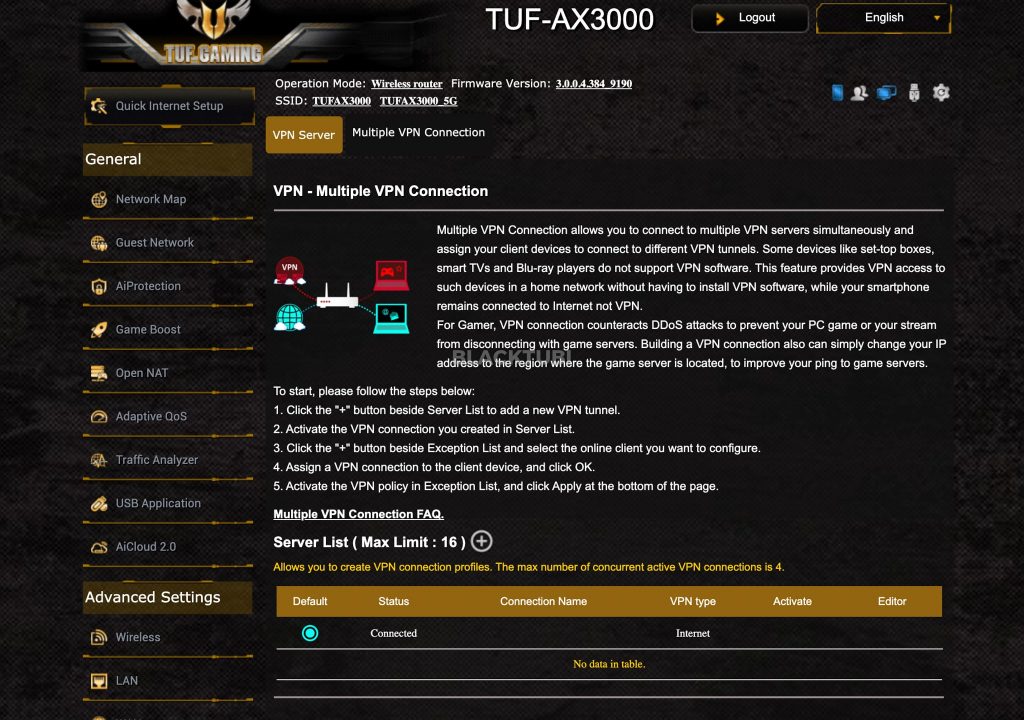 The VPN fusion feature is really interesting. It lets you to setup a VPN connection only on selected devices. This will be useful in situations where you can use a VPN connection for selected devices without a built-in VPN capability to either gain better connectivity or bypass region restriction.
It could be a TV set top box or a gaming console without built-in VPN function. This willl let you to use a VPN connection for just that selected device. Although ASUS didn't mention which VPN protocol it supports, it should work with the majority of the VPN providers using the OpenVPN protocol.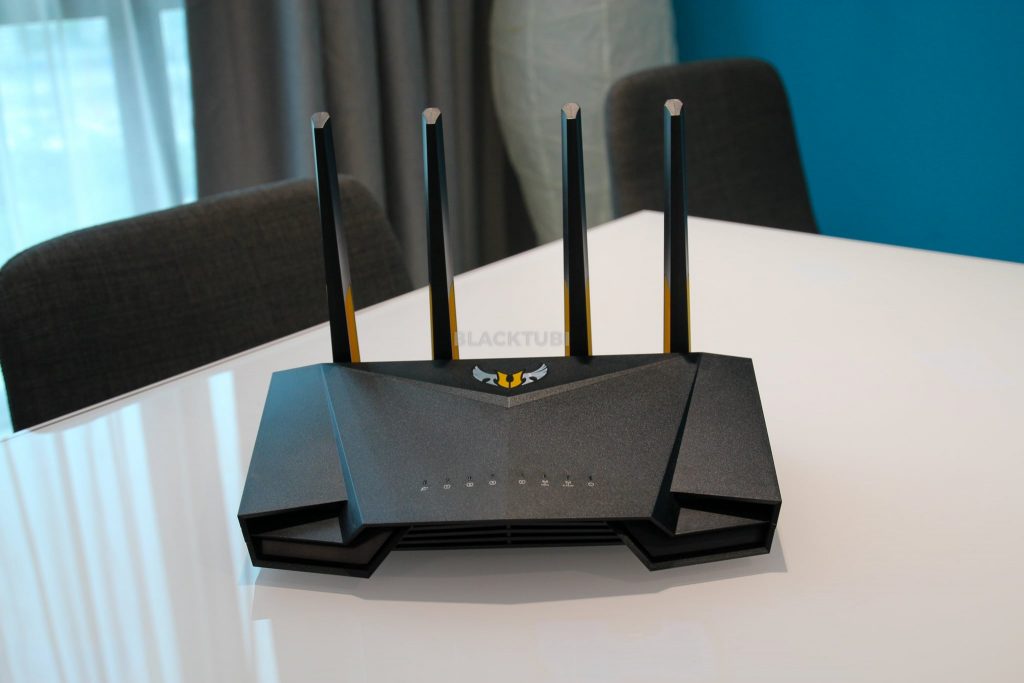 ASUS TUF AX3000 Gaming Router is a great product from ASUS. It performs really well in our performance test and able to sustain the high performance thanks to the robust build quality. It also comes with the gaming features only available for their gaming router lineup that truly works and not just a gimmick in our test.
Really good WiFi stability

WPA3 securoty and AiProtection Pro free for lifetime
AiMesh works with other AiMesh router
1 USB Port only

Gaming design might not suit everyone