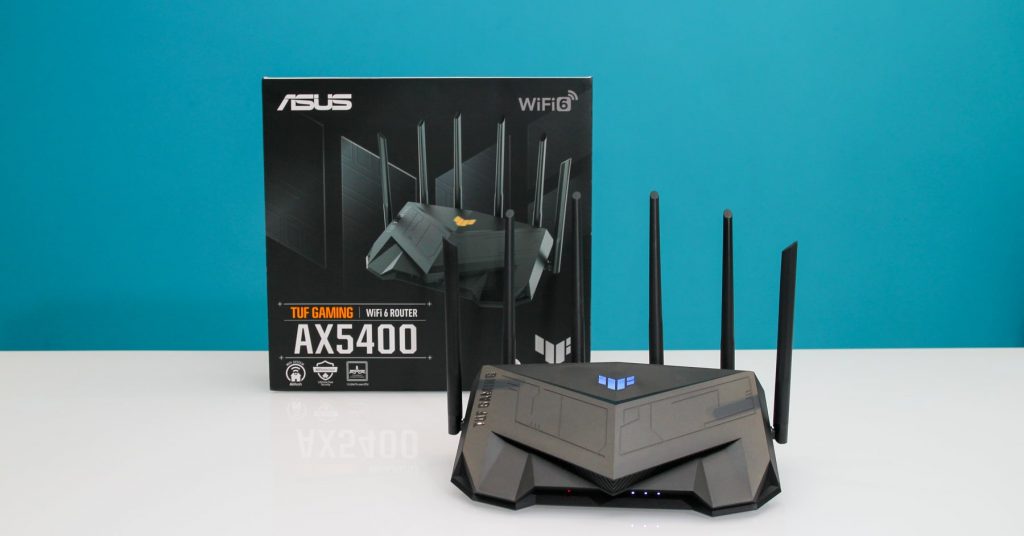 We have not seen a new ASUS router for a really long time. That's not a surprise considering the pandemic caused global chipset shortage and affected the release schedule of many tech products. Thankfully, ASUS recently launched their new TUF-AX5400 WiFi 6 Gaming Router.
The star of the show will be the gaming features on the TUF-AX5400 router. ASUS told us that they optimized the hardware and software on the router for gamers. This will improve gaming stability and reduce the ping latency during extended gaming session.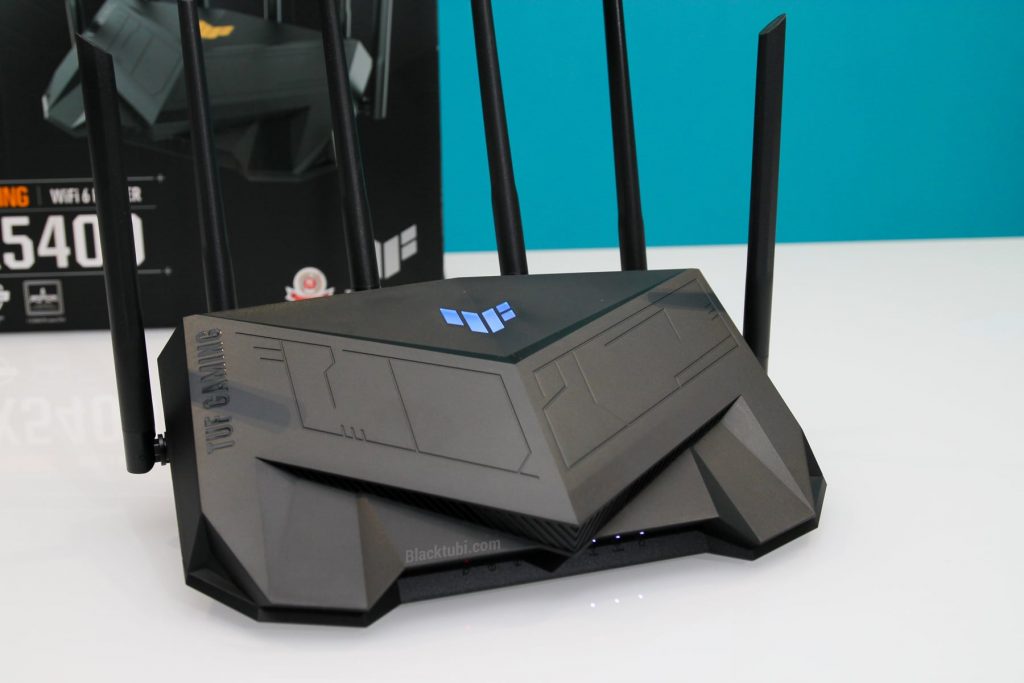 The TUF-AX5400 comes with a really aggressive design. It certainly fits the gaming theme with the extensive ventilation holes and 6 external antennas. ASUS also added a RGB light on the TUF logo which can be adjusted on the setting page or ASUS Router app.
I've tested the TUF-AX5400 extensively for two weeks and it does not disappoint. The WiFi coverage and signal is a big step up over previous WiFi 5 routers. I also really like the Game Booster feature which greatly enhanced the gaming consistency and reduce the ping latency.
Taking it at face value, the router is fairly priced at RM838 with a high performance AX5400 WiFi 6 radio, robust gaming features, and a really good support policy that will see it receiving security updates for at least 3 years. That's a pretty good deal.
ASUS TUF-AX5400

Hardware and Specs
| | |
| --- | --- |
| Wireless 2.4Ghz | Wi-Fi 6 up to 574Mbps (40Mhz 2×2) |
| Wireless 5Ghz | Wi-Fi 6 up to 4804Mbps (160Mhz 4×4) |
| WiFi Features | OFDMA, MU-MIMO, Beamforming, WPA3, AiMesh |
| CPU | Broadcom BCM6750 1.5Ghz Triple-Core with 512MB RAM |
| Ethernet Ports | 1x Gigabit WAN port + 4x Gigabit LAN port |
| USB | 1x USB 3.1 port |
The specs of the TUF-AX5400 is decent with Broadcom's 1.5Ghz Triple-Core CPU and 512MB RAM to provide great performance even on a really congested network. WiFi is handled by the Dual-Band WiFi 6 radio that support a combined speed up to WiFi 6 AX5400.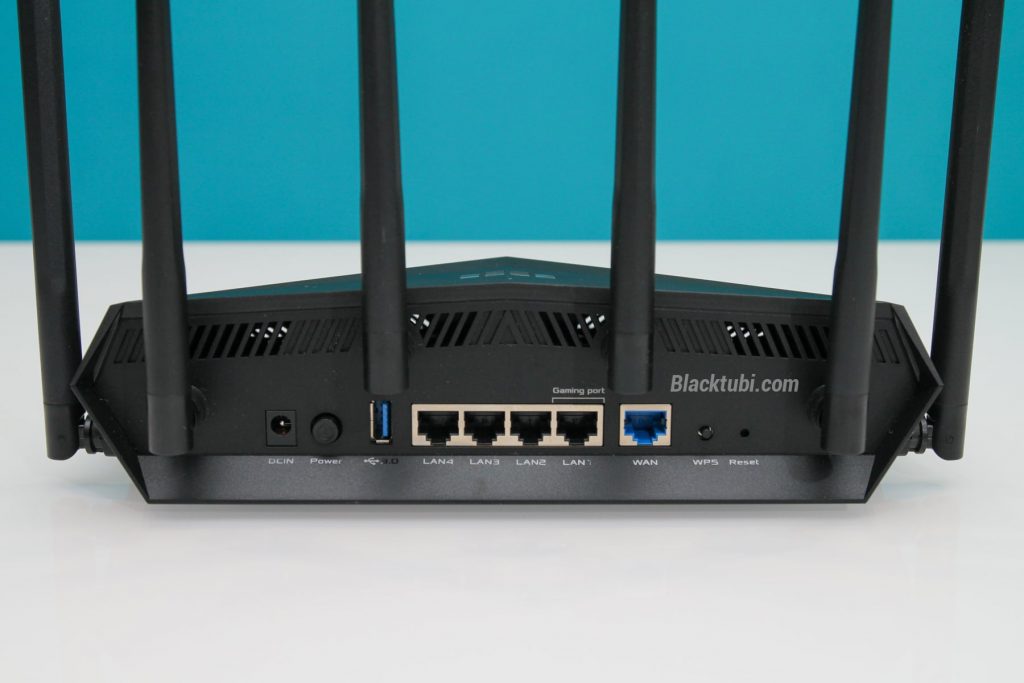 ASUS reserved one of the LAN ports to be the dedicated Gaming Port. The router will prioritize the traffic from the Gaming Port on the router. I also like the fact that ASUS used metal-shielded Ethernet ports to reduce interference which should help with stability.
As for the USB port, it can be used for many features on ASUSWRT firmware. In addition of the usual USB file sharing feature, the router also offers printer sharing, USB 4G modem and TimeMachine backup function for MacOS users.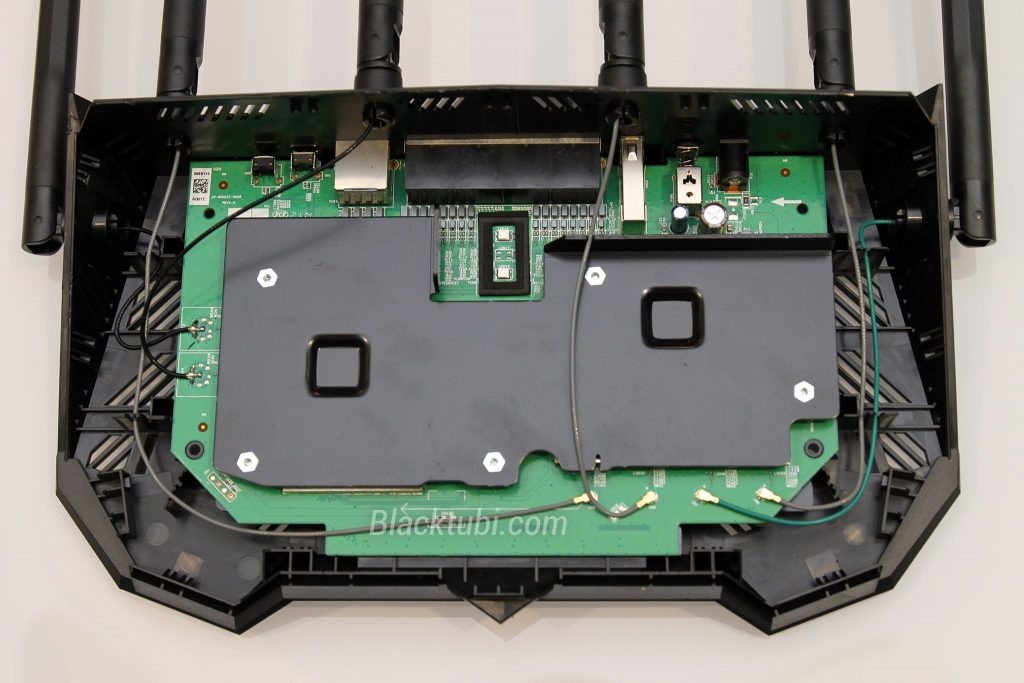 ASUS used a heat spreader instead of heatsink on the TUF-AX5400. There are 2 heat spreaders, one on each side of the PCB. In reality, the router barely heats up with just a slight warm on the bottom even after stress testing it.
ASUS TUF-AX5400

Gaming Features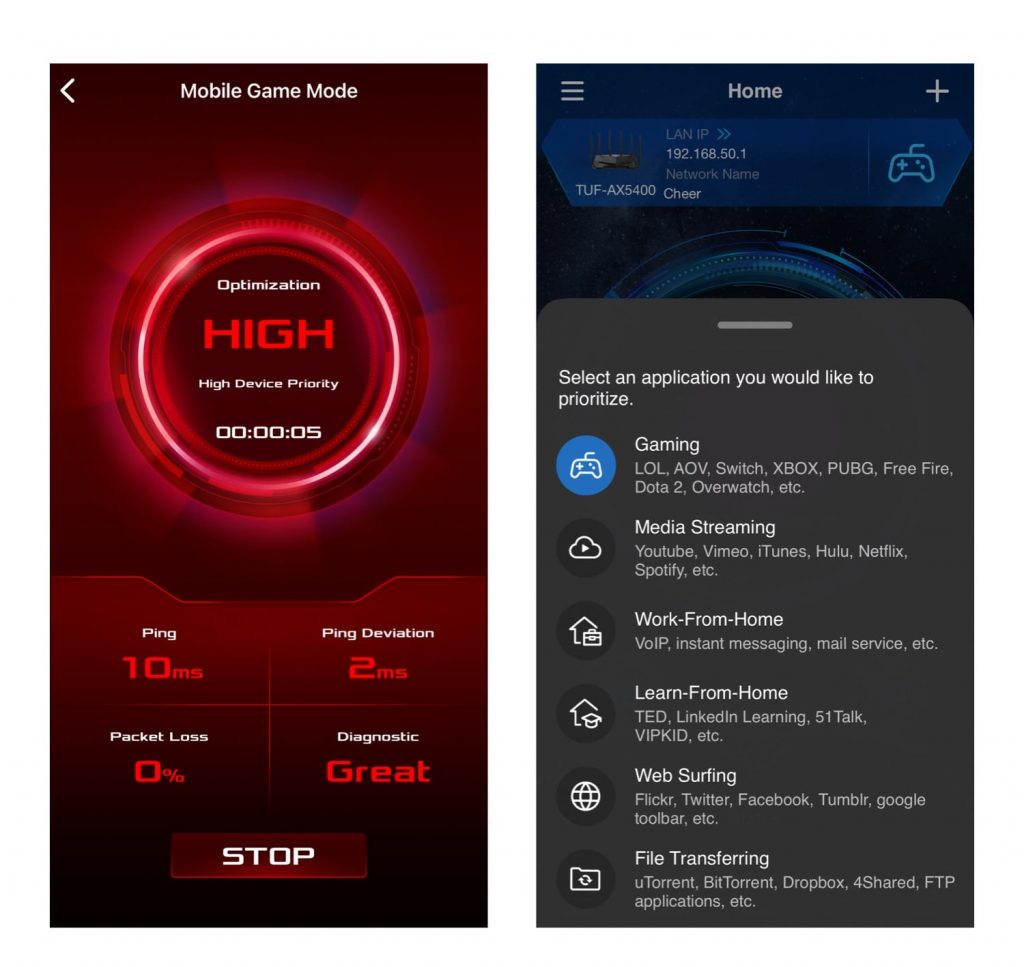 Fancy a little more performance for your mobile games? There's a built-in mobile game booster on thee ASUS Router app. When enabled, the router will give priority to the phone for better gaming stability and lower ping time. It will also analyze the connection automatically on the app.
For PC devices, I will recommend the AdaptiveQoS function. While there are multiple profiles to choose from, the Gaming profile is definitely the one you should use if you're a gamer. When enabled, the QoS engine will prioritize gaming connections to ensure stability and consistency.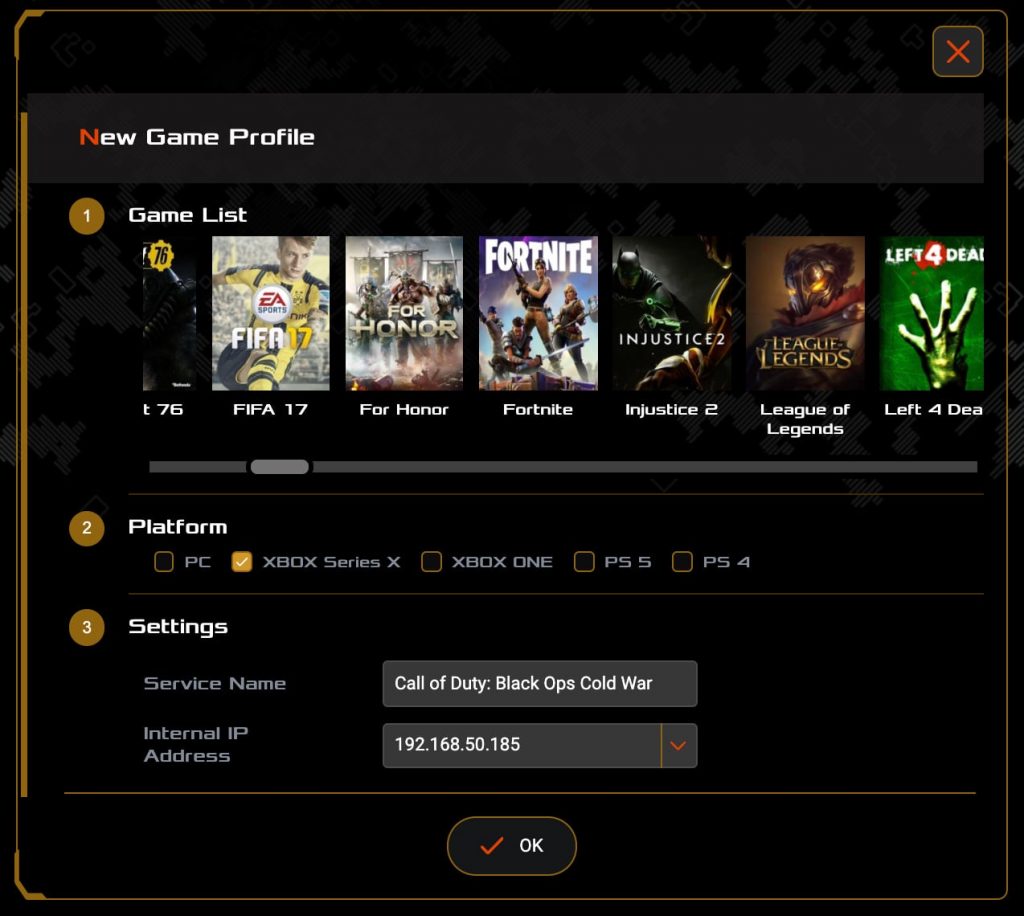 If you're a PS5 or XBOX console player, the OpenNAT feature is definitely for you. Even the latest PS5 or XBOX consoles are prone to port forward issues, resulting in strict NAT. The OpenNAT feature can prevent this and make sure your console is getting the best connectivity for hosting games.
TUF-AX5400 WiFi Performance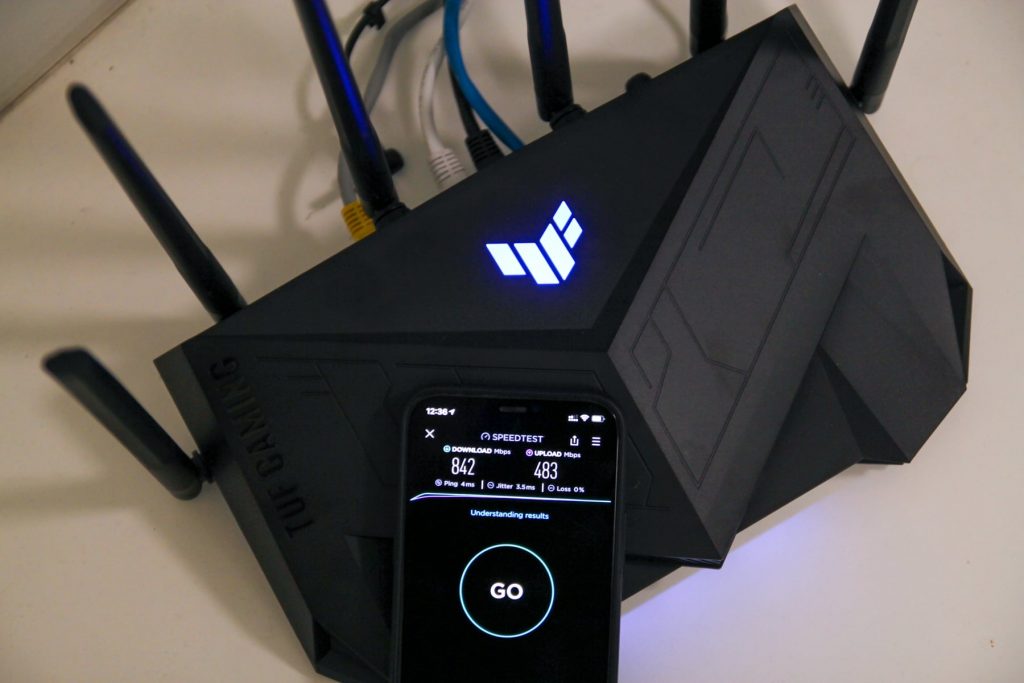 Wi-Fi signal strength and performance of the TUF-AX5400 is really good even on long distance. On short distance, I can obtain more than 800Mbps consistently on my iPhone with a Gigabit Internet connection.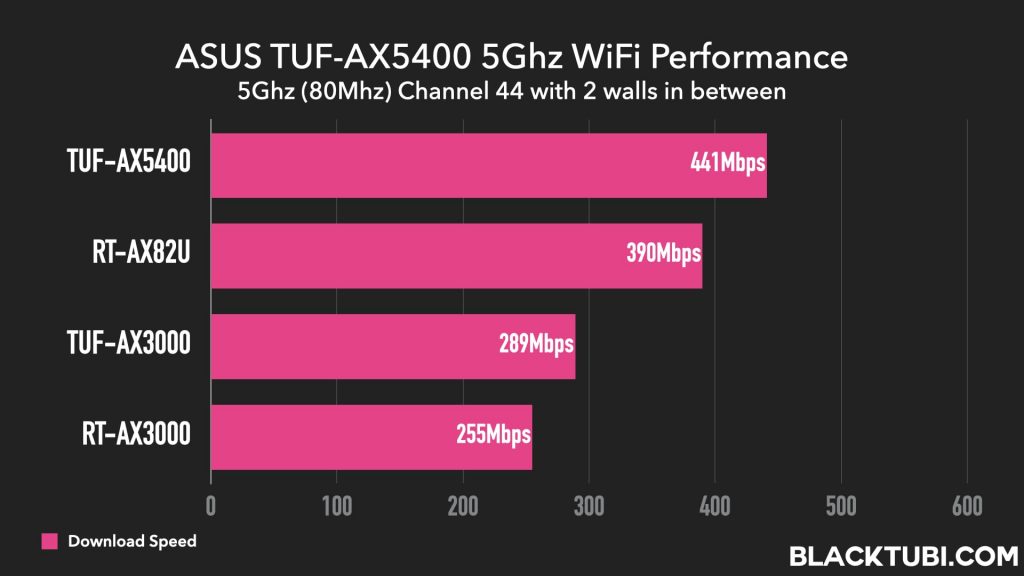 On the long distant test, the TUF-AX5400 does not disappoint. It has a really good WiFi speed and very good stability on my laptop with the Intel AX200 WiFi adapter. Strangely, the TUF-AX5400 is performing better than the RT-AX82U that we tested previously.
How much faster is 160Mhz?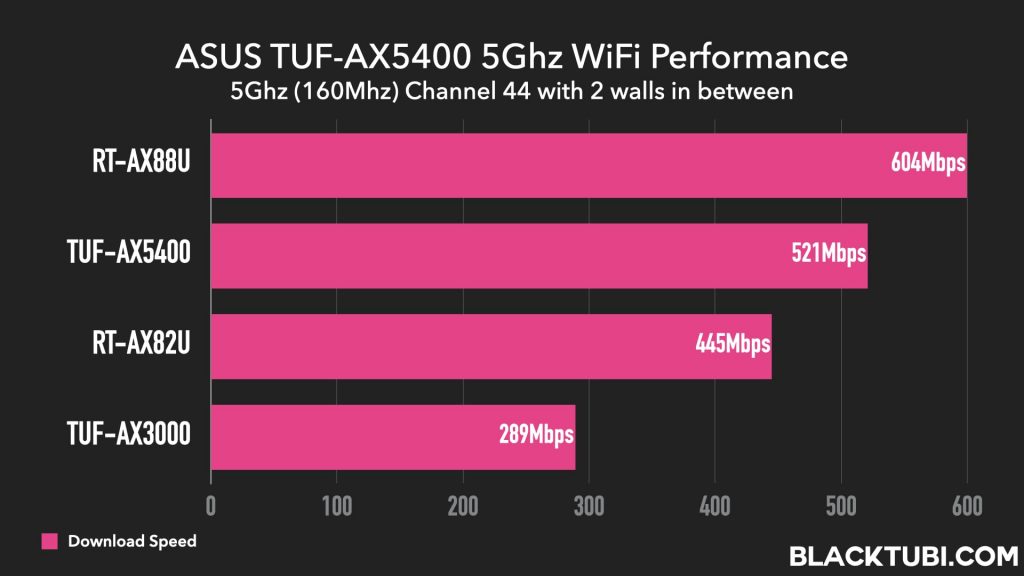 Since the TUF-AX5400 supported 160Mhz, I manually enabled this feature for a faster WiFi speed. However, bear in mind that there's really not much devices that supported WiFi 6 160Mhz. It's better to disable it unless you have a 160Mhz device as it doesn't benefit 80Mhz WiFi devices.
When 160Mhz is enabled, my WiFi speed increased by 18% on my ROG Gaming Laptop. That's rather significant which could make a huge difference when downloading game updates or streaming. The additional capacity will be helpful for more simultaneous connections.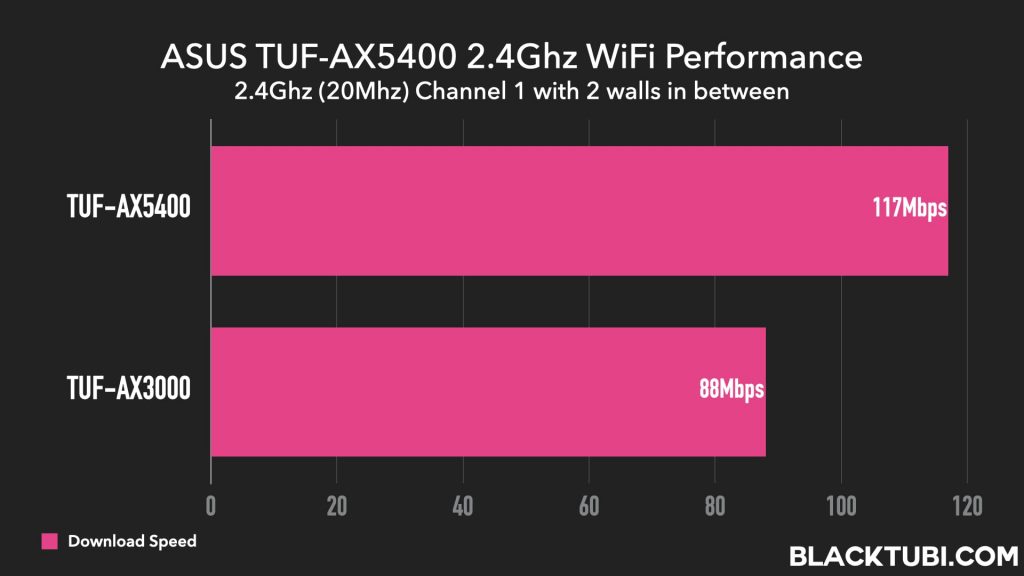 The TUF-AX5400 is also doing really well on the 2.4Ghz WiFi performance on my ROG Gaming Laptop with good WiFi speed. However, don't expect too much on 2.4Ghz as this is an obsolete technology and should only be used for smart home devices. Try to use 5Ghz whenever possible.
Need a stronger WiFi coverage on a bigger house? The TUF-AX5400 is an AiMesh Mesh Router which means you can add-on any AiMesh router and it will form a link wirelessly to boost the WiFi coverage for the entire house.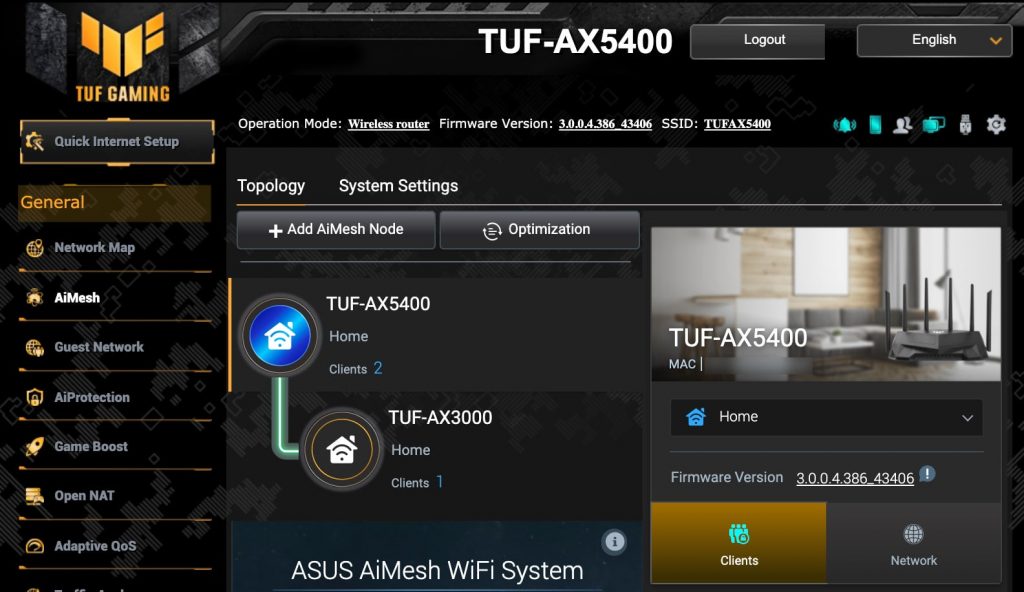 There's no need to purchase another mesh WiFi system as the router can communicate with a mesh node directly. However, this is only limited on AiMesh products released by ASUS and it wouldn't work with mesh WiFi system from another brand.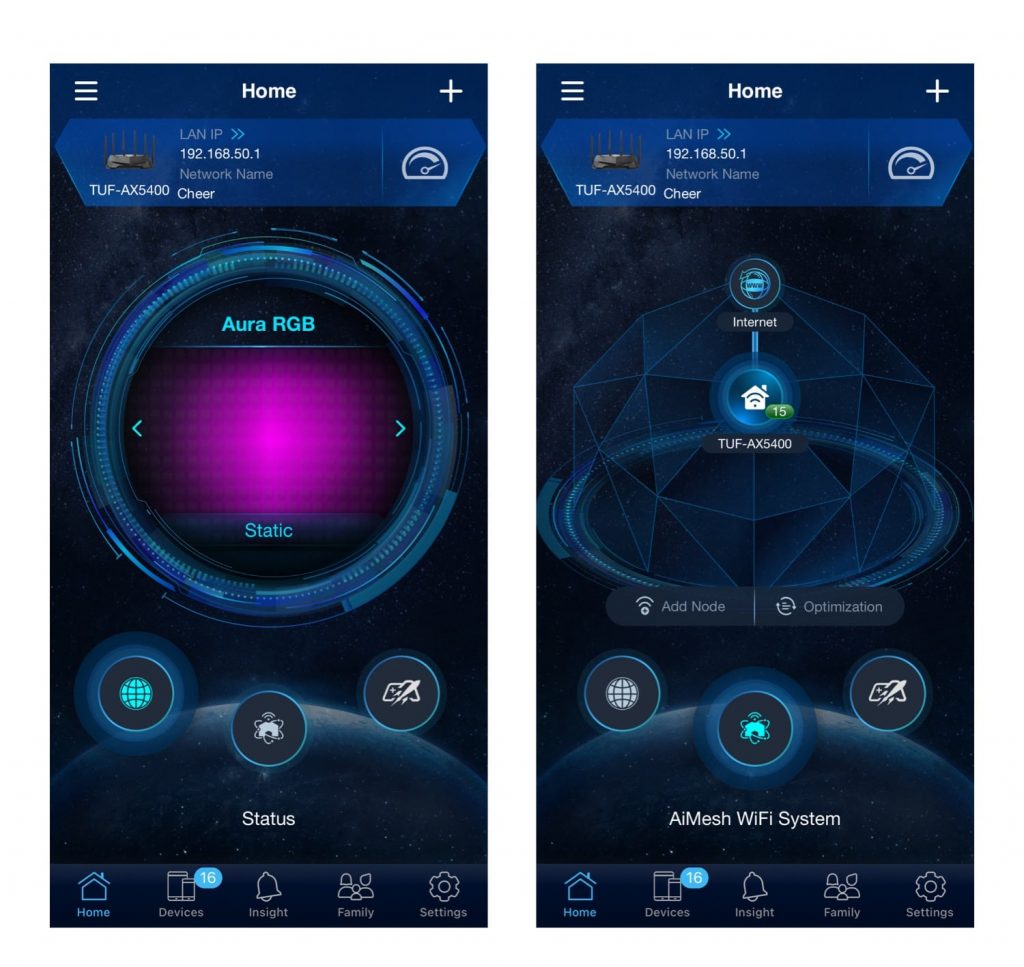 The firmware has always been the strength of ASUS router and it remains really solid here. The TUF-AX5400 is compatible with all major Internet services in Malaysia including Unifi, Maxis, TIME and more. The setup process is also really simple and shouldn't take longer than 5 minutes.
AiProtection Pro Security and Parental Control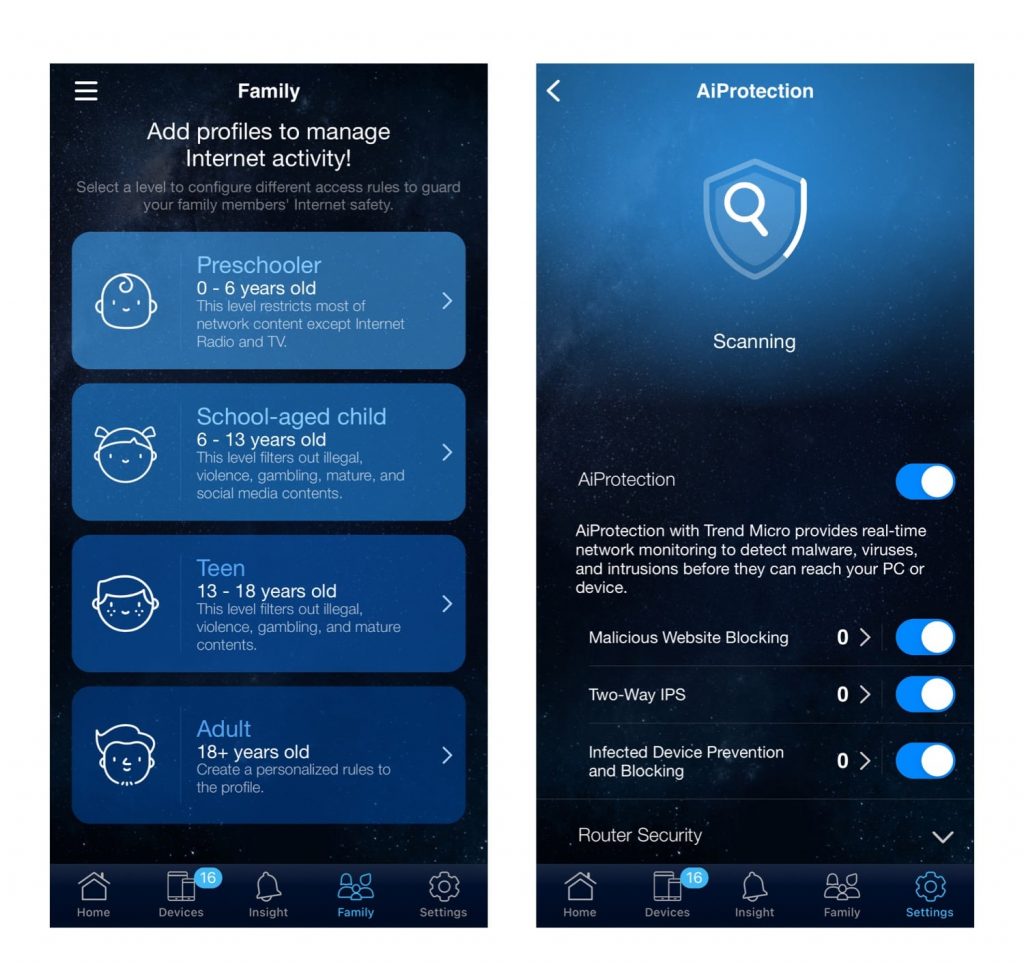 For those looking for more control over their home WiFi network, the AiProtection Pro parental control is very handy. It can perform content filtering by category and set daily usage time limit for every devices easily on the ASUS Router app.
ASUS AiProtection Pro enterprise grade antivirus feature will also protect WiFi devices from website containing virus or malware. The router also comes with the latest WPA3 WiFi security right out of the box.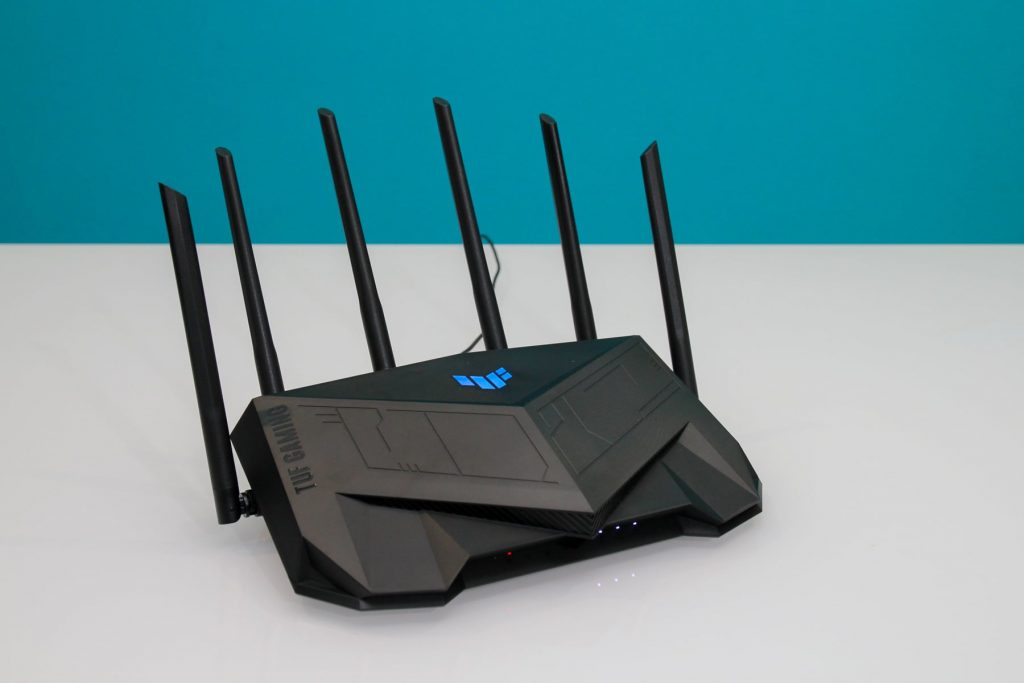 The TUF-AX5400 is a powerful router for gamers to enhance their gaming experience. It's also a really good router for power users thanks to the great performance and stability toughened by ASUS TUF division. The end result is a router that's extremely robust and flexible for all usage scenario.
If you are looking for a product with great support, then the TUF-AX5400 really isn't a bad choice. ASUS security update track record, great overall performance and robust gaming function make it one of the best options from ASUS right now.
Extensive amount of gaming features to improve gaming performance

Solid WiFi performance and strong WiFi coverage

 Easily expand WiFi coverage by linking it to another AiMesh router
Only one USB port is included
Does not comes with 2.5G WAN port