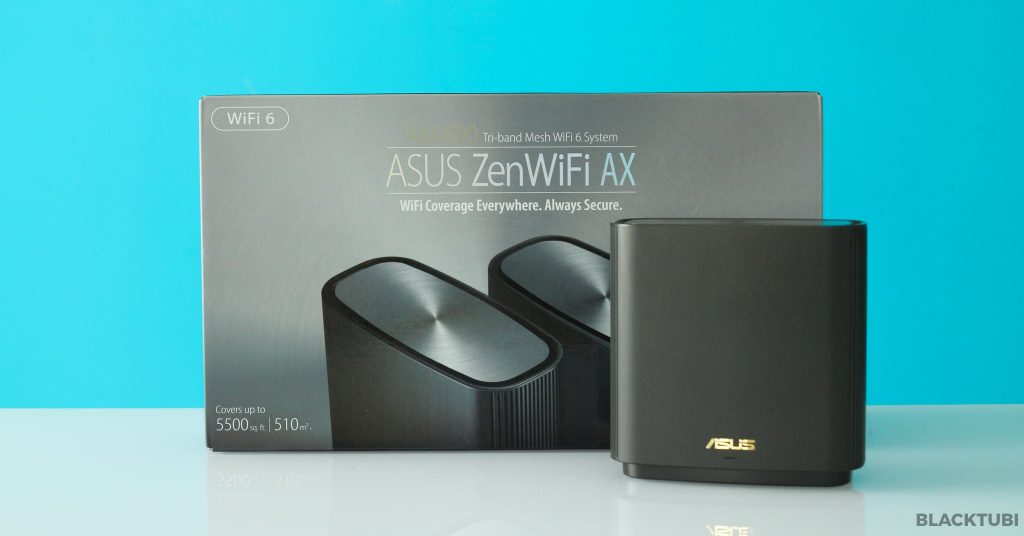 If you face poor Wi-Fi connectivity in your home even when you are already using a really great wireless router, perhaps you can consider upgrading to a mesh Wi-Fi system. ASUS ZenWiFi AX XT8 is their latest additioan to their ZenWiFi series. It is now powered by Wi-Fi 6 technology promising a really great Wi-Fi performance espcially for larger home.
If you are staying in a larger home, you will really want to invest in a mesh Wi-Fi system. This is because even the best wireless router in the market will struggle to cover a huge home with 5Ghz network. 5Ghz network is weak at penetrating walls due to law of physics. You will want to use 5Ghz whenever possible as 2.4Ghz Wi-Fi is really slow.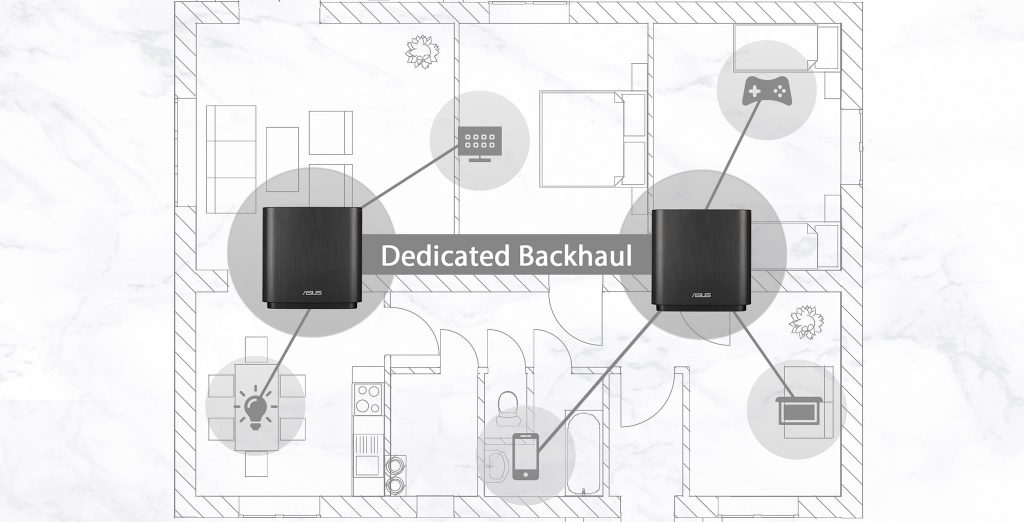 However, a mesh Wi-Fi system is able to circumvent this by combining the power of multiple mesh nodes to blanket your home with a strong and reliable 5Ghz Wi-Fi coverage. What makes the ZenWiFi AX different is it uses a high performance 4×4 dedicated wireless backhaul for communication between 2 units. It's also possible to use Ethernet backhaul for an even better performance.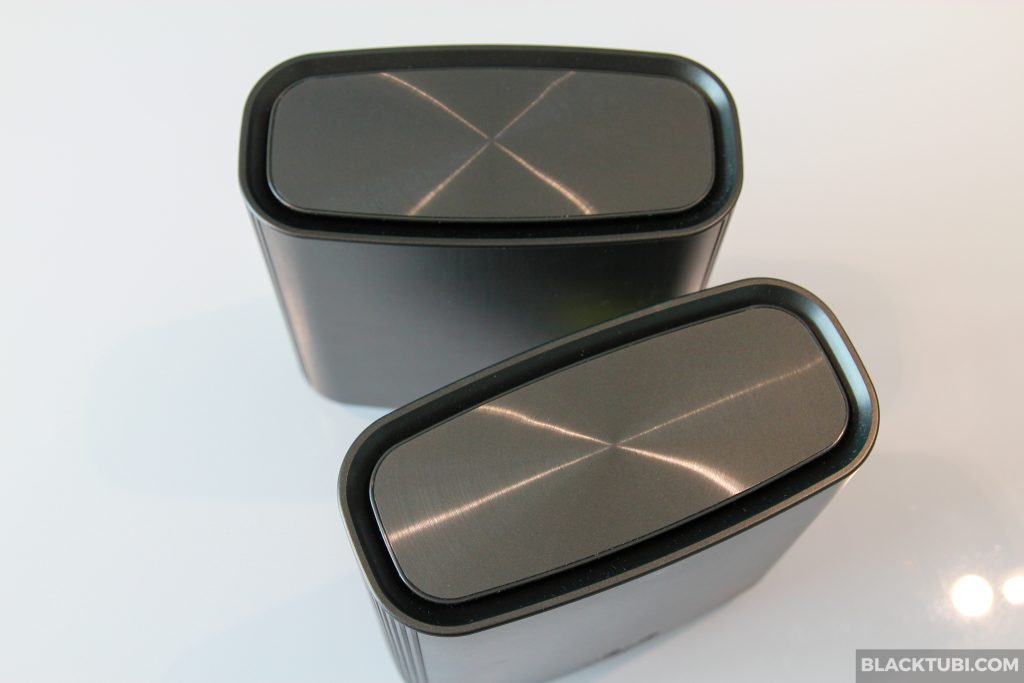 ASUS ZenWiFi AX is without a doubt a really beautiful product. It looks really good in any modern household and I really liked the color of the device. The outlook is the exact same as the ZenWiFi AC CT8 that I reviewed previously. It has the same elegant circular pattern like you would find on an ASUS ZenBook laptop.
Although having the same outlook, the ZenWiFi AX XT8 is a faster product compared to the ZenWiFi AC CT8. This is because the ZenWiFi AX XT8 uses Wi-Fi 6 technology to achieve a much better Wi-Fi speed. If you already have Wi-Fi 6 devices, buying the ZenWiFi AX is a no-brainer as it will give you the best Wi-Fi experience you would get today. 
I will be testing the ZenWiFi AX XT8 twin pack which comes with 2 units retailing at RM1868. ASUS says it will be good for up to 5500 sqft of Wi-FI coverage.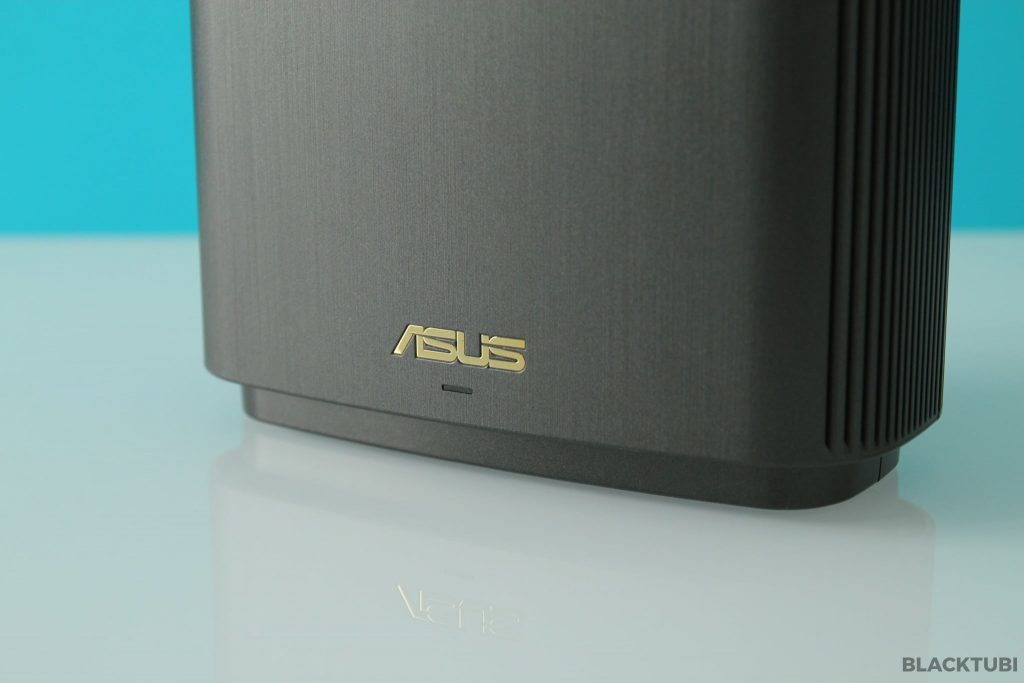 WiFi Specs
2.4Ghz : Wi-Fi 6 up to 574 Mbps (2×2 40Mhz)
5Ghz-1 : Wi-Fi 6 capable up to 1201Mbps (2×2 80Mhz)
5Ghz-2 : Wi-Fi 6 up to 4804Mbps (4×4 160Mhz)
CPU
Broadcom BCM6755 1.5Ghz Quad-Core CPU
RAM
512MB
Ports
1x Multi-Gig 2.5G WAN + 3x Gigabit LAN + 1x USB 3.1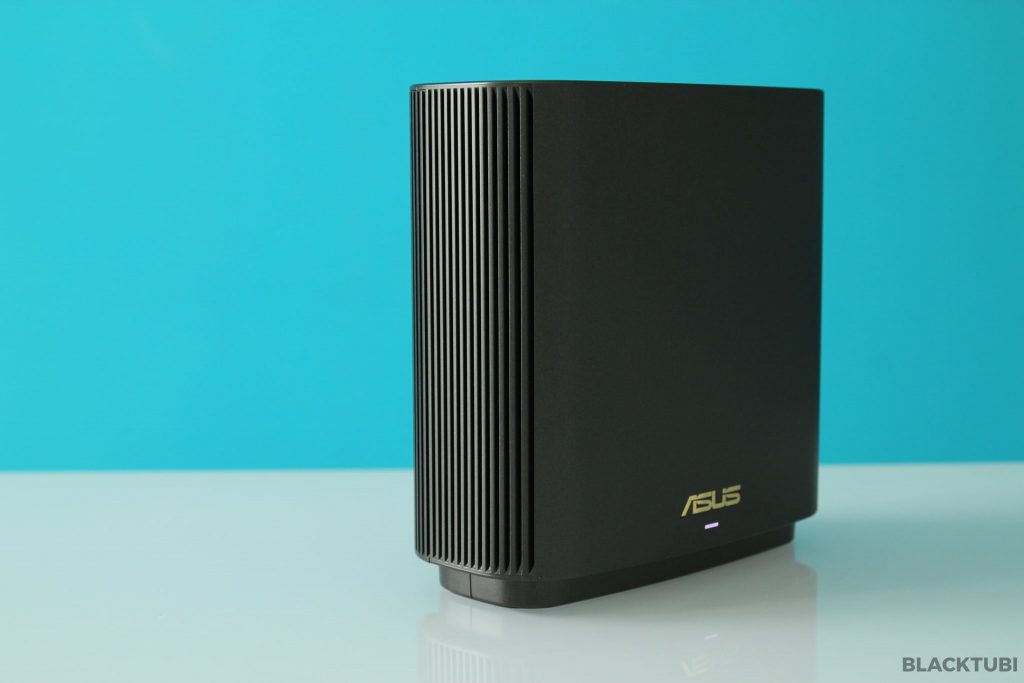 Powering the ZenWiFi XT8 is a Broadcom 1.5Ghz Quad-Core CPU. It has a dedicated 4×4 wireless backhaul for communication between the main unit and the mesh node via the 5Ghz-2 band with a maximum speed up to 4804Mbps.  However, it will only operate at 2402Mbps out of the box with 80Mhz only. To use 160Mhz, you must set the region and manually select the bandwidth to be 160Mhz.
The front haul network is just a AX1800 configuration with speed up to 1201Mbps on the 5Ghz network and 574Mbps on the 2.4Ghz network. Unlike ASUS' own RT-AX92U, the fronthaul network is also powered by Wi-Fi 6 technology.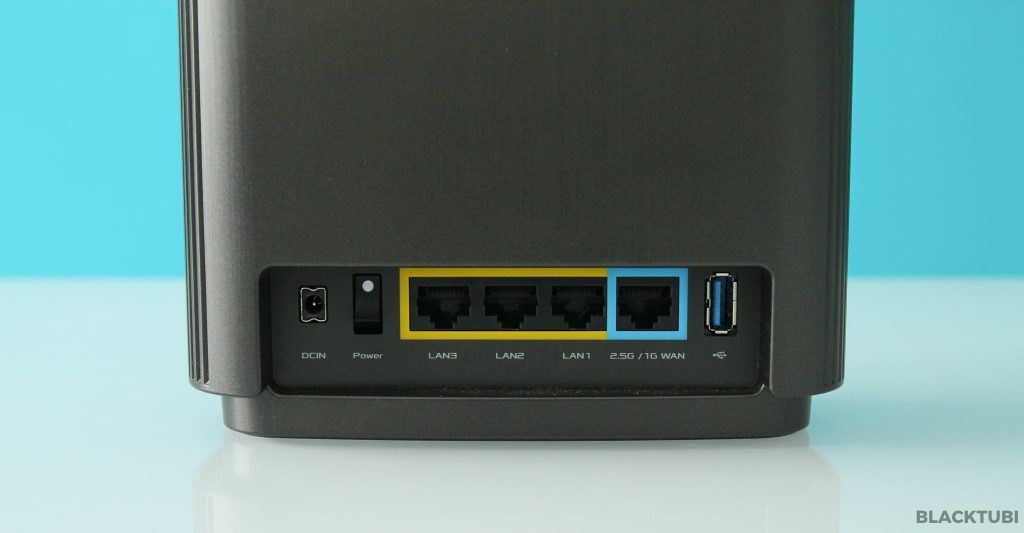 We really liked ASUS ZenWiFi AX as it comes with 3 Gigabit Ethernet LAN ports unlike most mesh Wi-Fi system in the market with just 1 LAN port. ASUS also added a Multi-Gig Ethernet WAN port up to 2.5G. There is a USB port which can be used for printer sharing, file sharing or even 4G Internet backup with a USB 4G modem.
The setup process of ZenWiFi AX is really simple, just connect from your modem to the ZenWiFi AX and switch on both units. I suggest downloading the ASUS Router app to perform the initial setup for the system.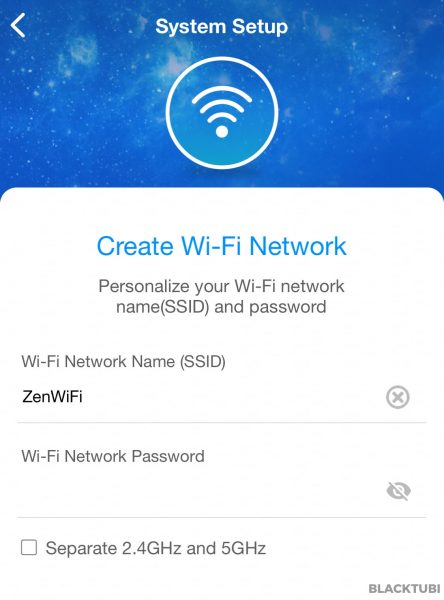 You should directly connect it to the modem if possible. A PPPOE username and password is probably required to authenticate to the network and you can obtain that from your respective Internet Service Provider.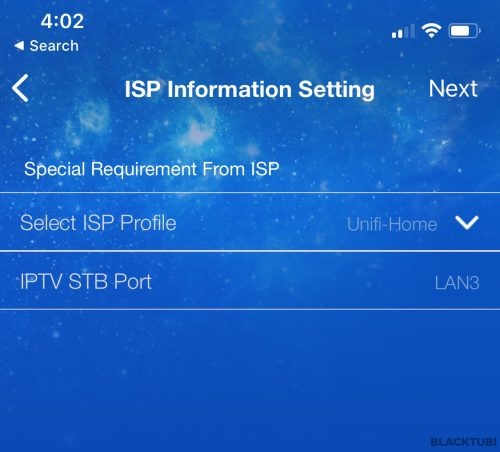 For Malaysians, the ZenWiFi AX is capable of replacing the router for Unifi and Maxis. It is also compatible with Unifi HyppTV and bridging function for Maxis Fiber VOIP. Make sure you select the ISP profile when you are performing the initial setup. Take note that the LAN3 port will be reserved for HyppTV if you use the Unifi profile.
Once the setup is complete, the second unit will be automatically linked to the main unit. If the auto link function failed, you can add them manually using the ASUS Router app.
Wi-Fi Performance Testing
What's so great with ASUS ZenWiFi AX is the performance. Most mesh Wi-Fi system in the market can provide adequate coverage. But, the ZenWiFi AX performs ridiculously well with really fast Wi-Fi speed. Having a dedicated backhaul band is the key to good performance on a Mesh Wi-Fi system.
When testing the system in a 2700 sq ft double storey house, I found that it is capable of delivering at least 450Mbps for most parts of the house and even up to 800Mbps at some places.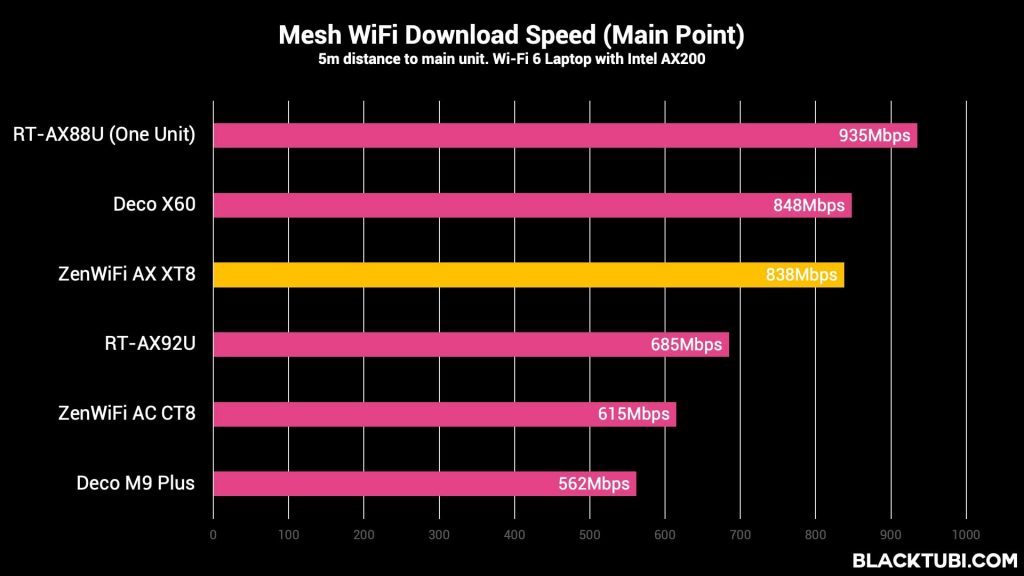 From the main node at the ground floor when I am around 5 meters apart, it met my expectation by performing well over 800Mbps on a speedtest. This is on par with most Wi-Fi 6 routers in the market today. When operating as a single unit, other high performance ASUS routers like the RT-AX88U still perform better than the ZenWiFi AX XT8.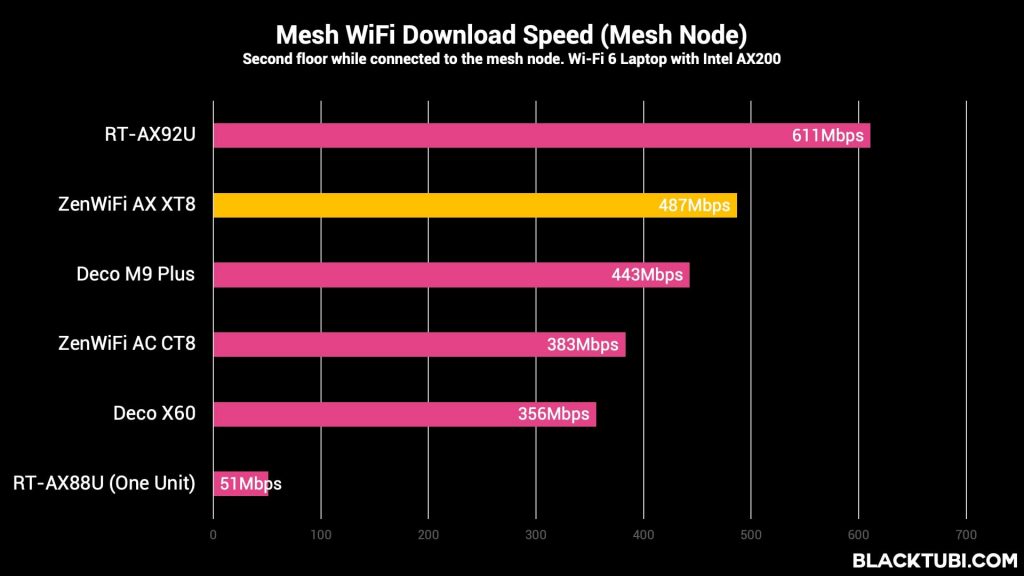 The benefit of the ZenWiFi AX is unleashed when testing the performance at the second floor of my house. With the RT-AX88U itself, I can only get 51Mbps on the second floor. Once swapped to the ZenWiFi AX XT8, the speed is now close to 500Mbps on the second floor. Only the more expensive RT-AX92U is faster than the ZenWiFi AX XT8.
Looking at the overall performance, the ZenWiFi AX XT8 is withoug a doubt one of the fastest if not the fastest mesh Wi-Fi system you can get in Malaysia today. I am still surprised that the RT-AX92U outperforms the ZenWiFi AX. I hope ASUS can further enhance the performance of the ZenWiFi AX with future optimization.
Well, the roaming isn't great and this is expected as ASUS AiMesh does not support 802.11r fast roaming. I will have devices stuck connected to the slower node ocassionally despite the ZenWiFi AX supported 802.11k/v. I contacted ASUS about this and they said they are testing 802.11r internally and it will be supported in the future.
If you have ever used any ASUS routers, you will feel just at home with the ZenWiFi AX as it is running the same ASUSWRT firmware like all ASUS routers in the market. It has a ton of customization and features on the firmware.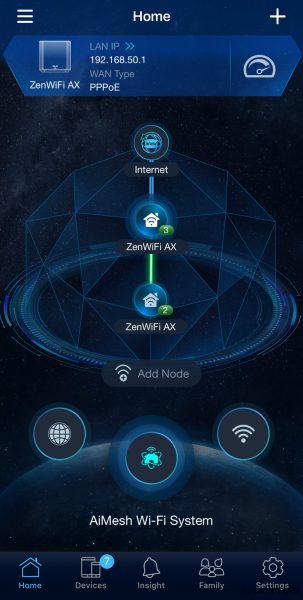 For most users, using just the ASUS router app is totally sufficient. Most of the settings you would normally use can be done using just the ASUS router app. I really like the topology view which shows you how the mesh points are linked and how many Wi-Fi devices are connected to each point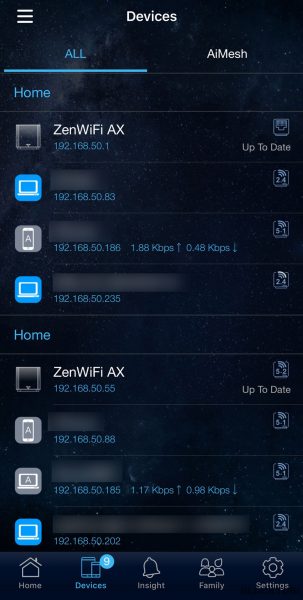 The app will show you the full list of devices connected to your network curretly. It is separated by the mesh points so you know which devices is connected to that unit. It will also show you whether your device is currently using the 2.4Ghz or 5Ghz band.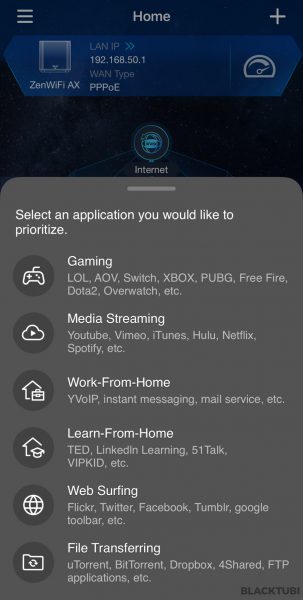 ASUS also included a QoS function to select which kind of traffic you want to prioritize. I find the work from home QoS profile is really useful to prioritize apps used for working. I do notice my Zoom video conference call is smoother when the QoS function is enabled.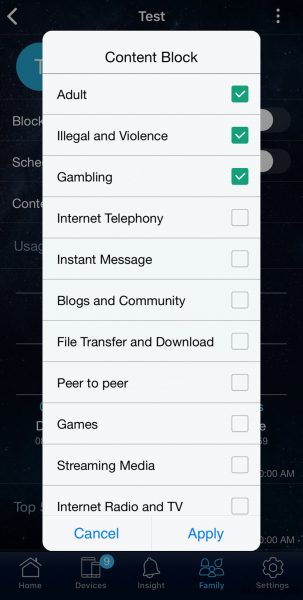 It also has a parental control function to limit access to selected categories of content. It also let you to setup Internet usage scheduling function. But, it doesn't let you to customize what website you wish to be blocked so you can only rely or the categories that ASUS developed.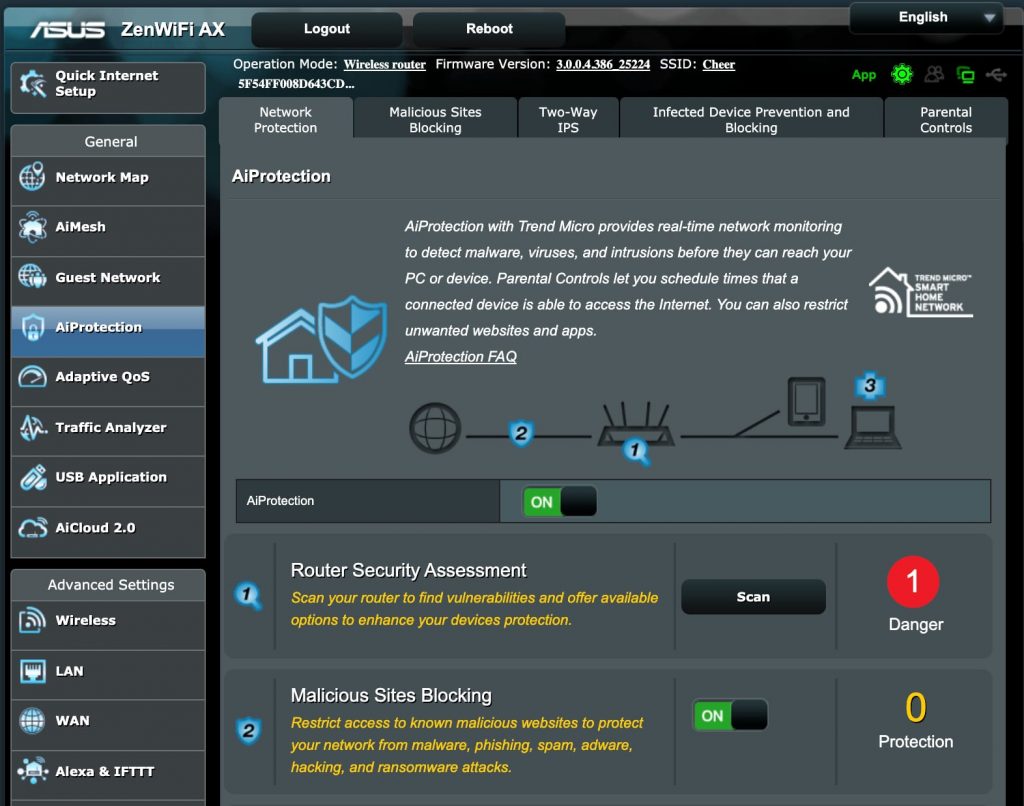 Most of the advanced features can be accessed on the web interface and this include the AiProtection Antivirus function. It is powered by TrendMicro database and ASUS is throwing in a free lifetime subscription. The Antivirus is able to block harmful and virus infected websites from being accessed.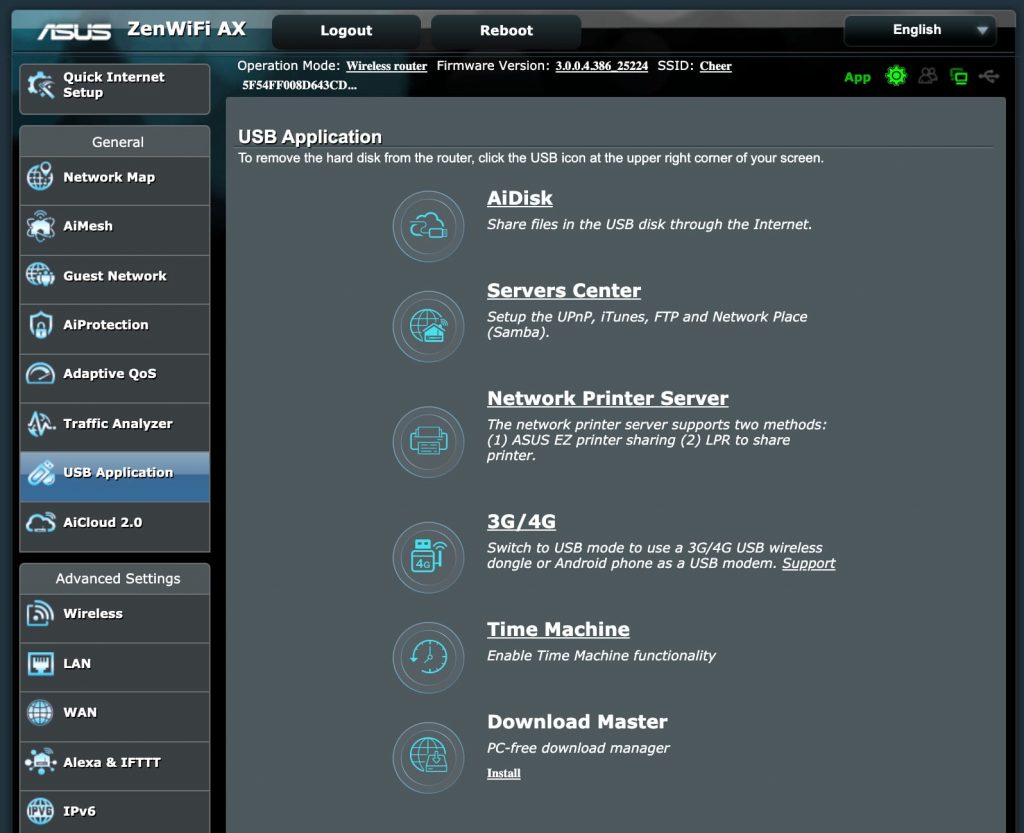 The ZenWiFi AX comes with all the standard USB functions you would expect from a flagship level ASUS routers. It can also perform dual-WAN with load balancing.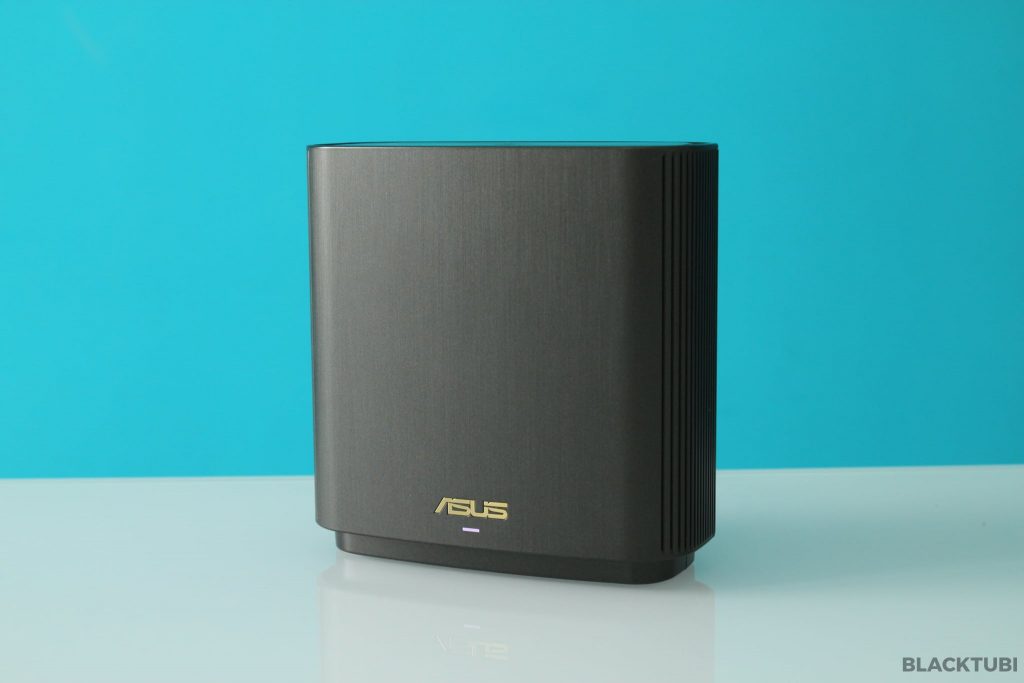 The best part of the ZenWiFi AX is the great performance and the versatility of the device. It is probably one of the fastest if not the best Wi-Fi systems I have tested in terms of overall performance. Besides, it has 3 LAN ports which is really useful in a lot of situations. Not to mention ASUSWRT is a really robust firmware with a ton of features enthusiasts will enjoy.
The price of the ZenWiFi AX twin pack is RM1868 which is not cheap. However, when you look at competing Tri-Band Wi-Fi 6 mesh Wi-Fi system like the Netgear Orbi RBK852, it costs RM1000 more and comes with less function. It makes the price of the ZenWiFi AX a steal.
Ridiculously fast performance
4×4 160Mhz Wi-Fi backhaul
Multi-Gig 2.5G WAN port
Plenty of features
Lacklustle roaming performance
No guest Wi-Fi function