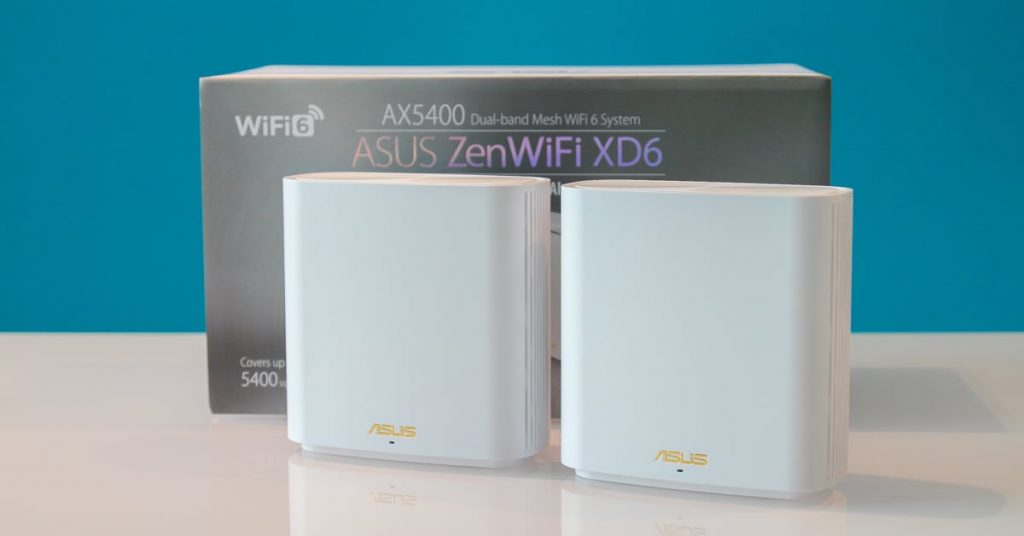 ASUS Malaysia finally launched the ZenWiFi XD6 that's announced in the previous CES. The ZenWiFi XD6 is a high performance WiFi 6 AX5400 dual-band mesh WiFi system. It's available for sale now at RM1499 for the twin pack which ASUS claims can cover up to 5400 square feet.
The ZenWiFi XD6 is a great choice for those looking for not just a strong WiFi coverage. That's because it can deliver a fast WiFi speed throughout the entire coverage area due to the high speed AX5400 WiFi 6 radio. In fact, the total system capacity is actually up to 5400Mbps.
The minimalistic and modern design makes the ZenWiFi XD6 truly stands out of the crowd. While I prefer the black color on the ZenWiFi XT8, the white color on the ZenWiFi XD6 looks great as well. The fine brushed metallic finishing and the golden logo really give it a premium touch.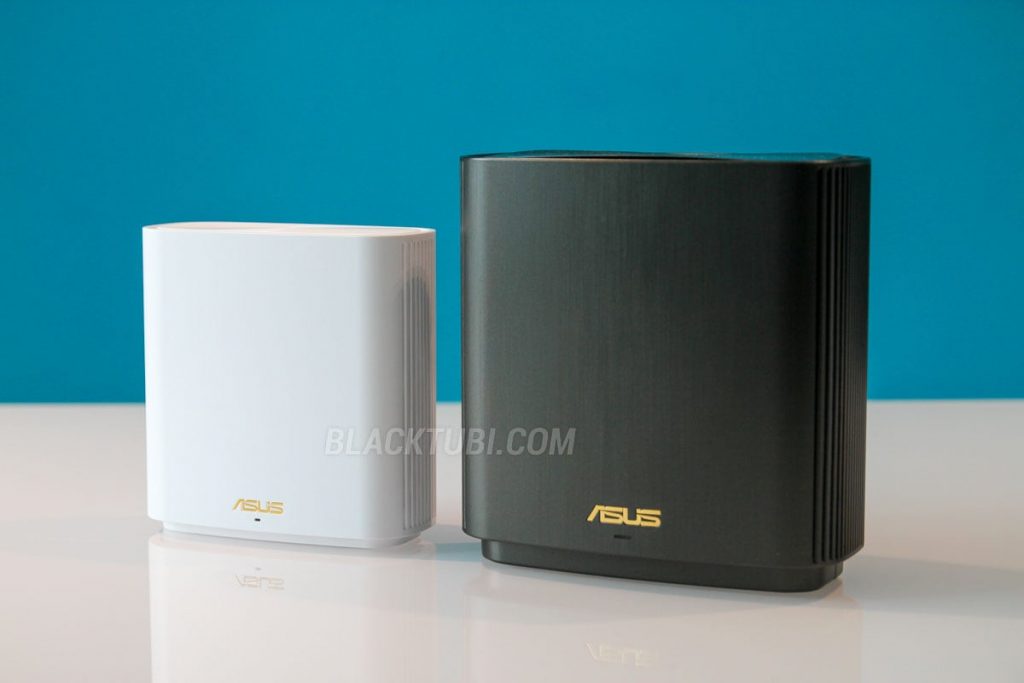 So what's the catch of the ZenWiFi XD6? Well, it offers a great performance thanks to the fast WiFi 6 AX5400 radio. However, since it's a dual-band system, there isn't any dedicated backhaul for the mesh node. This makes it slightly slower than the flagship ZenWiFi XT8 model.
But, this doesn't mean the ZenWiFi XD6 will be slow. That's because total backhaul capacity is up to 4804Mbps under the full speed 160Mhz mode. It's still a lot of capacity available for the network even when operating at really high load on the mesh node.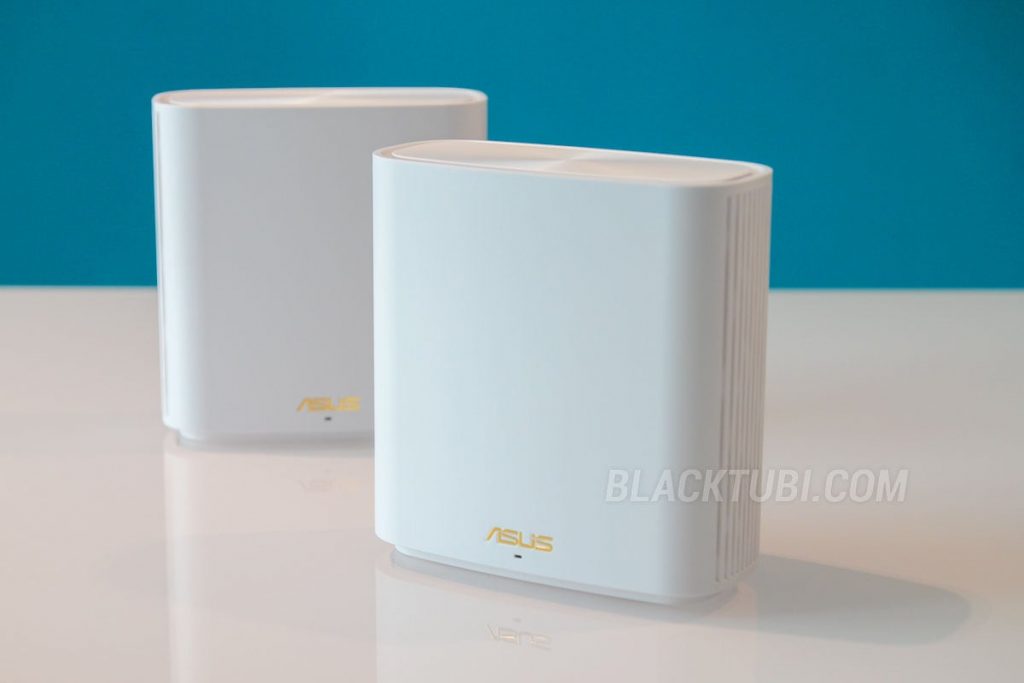 | | |
| --- | --- |
| 2.4Ghz Wireless | WiFi 6 up to 574Mbps (2×2 40Mhz) |
| 5Ghz Wireless | WiFi 6 up to 4804Mbps (4×4 160Mhz) |
| CPU | Broadcom BCM6750 1.5Ghz Triple-Core CPU |
| Ports | 1x Gigabit WAN + 3x Gigabit LAN |
| WiFi Features | WPA3, 802.11k/v, AiMesh |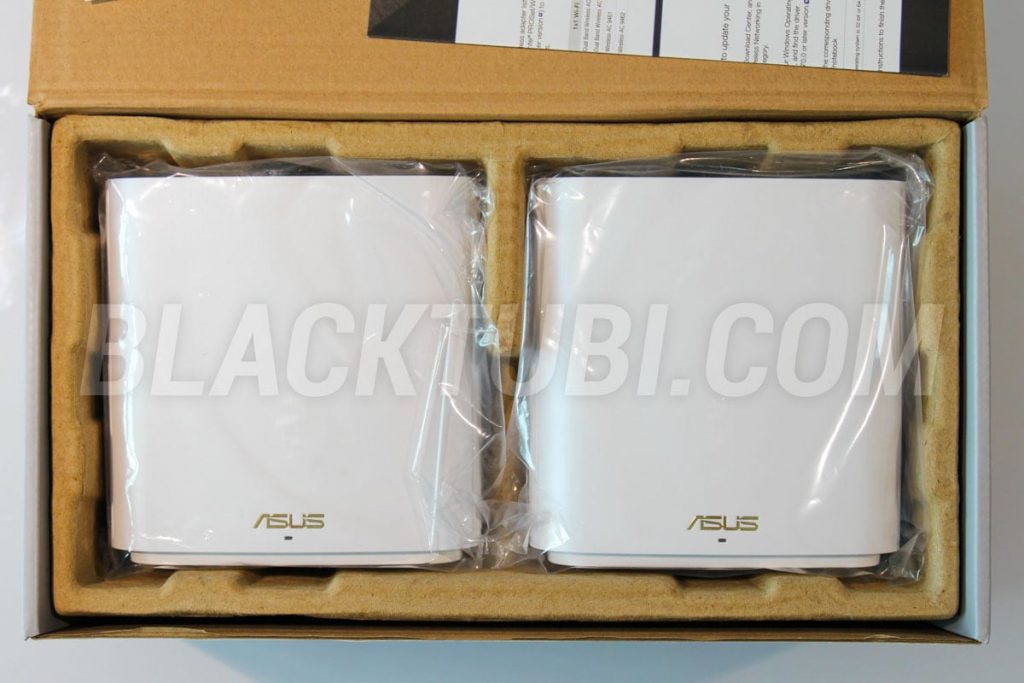 The twin pack variant comes with 2 units of ZenWiFi XD6 which is totally identical. ASUS also included 2 power adapters and a Gigabit Ethernet LAN cable.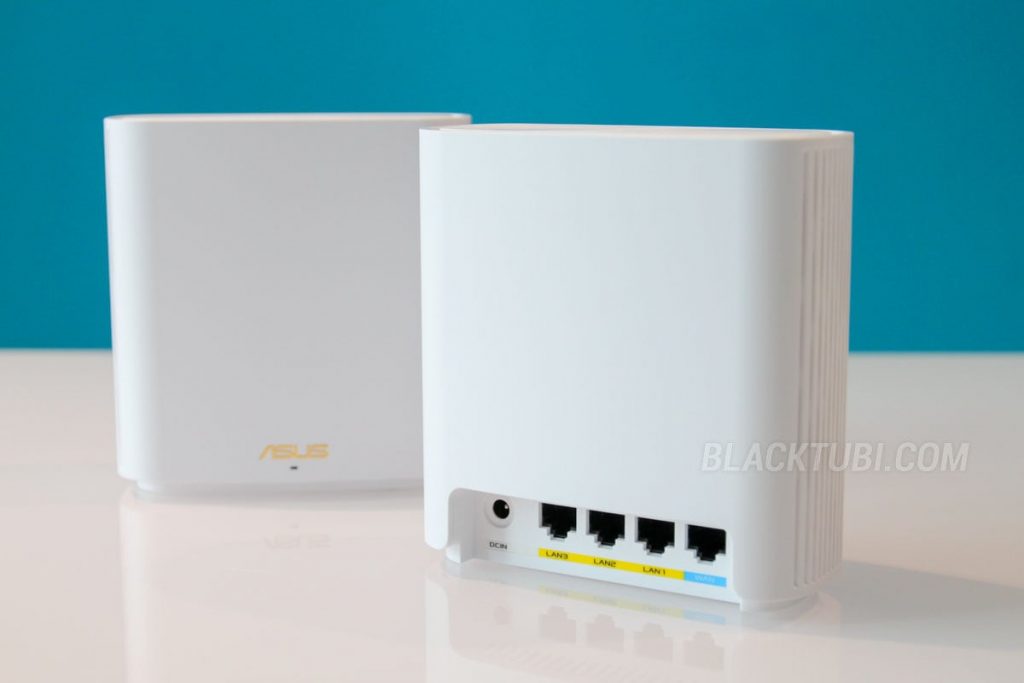 The best part about the ZenWiFi XD6 is the port situation. Unlike most mesh WiFi systems in the market,  it comes with 4 ports on every units which is great for those with more devices at home. However, this model does not come with USB port.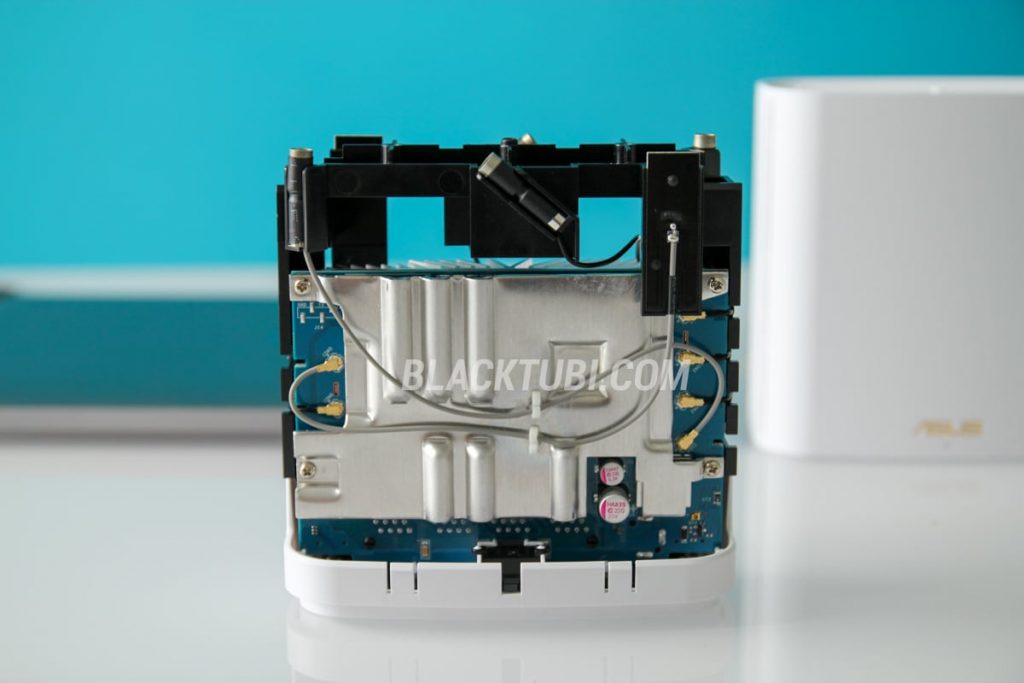 Looking inside the ZenWiFi XD6, it's fairly well built with a huge chunk of aluminium hetsink to cool down the device. There are in total of 6 antennas in the system, one for each stream. The ZenWiFi XD6 is a 6-stream router.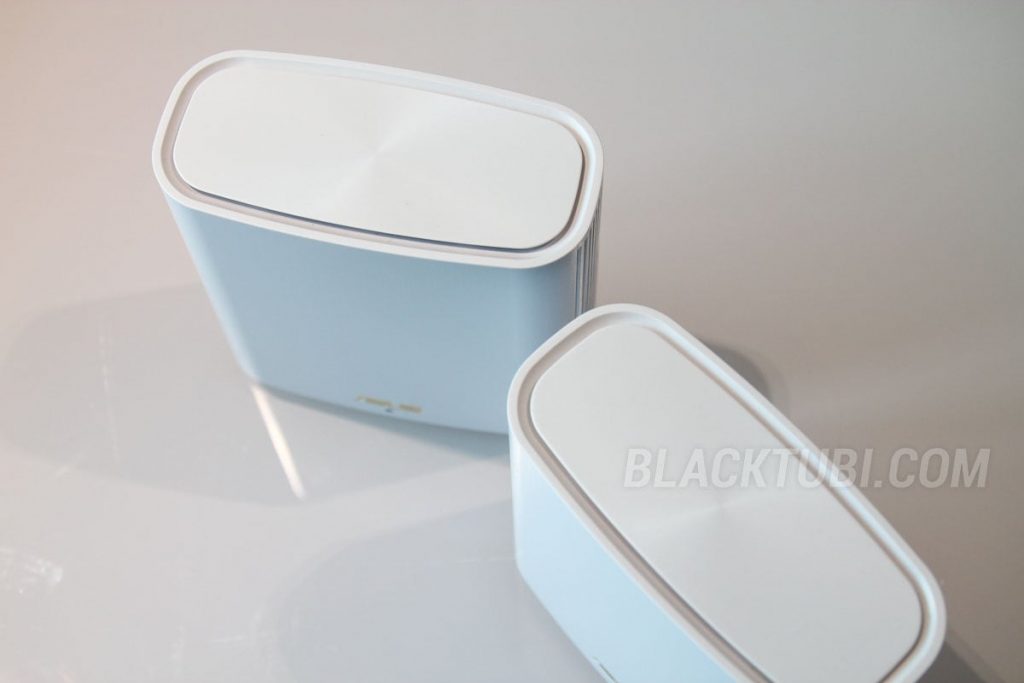 The WiFi performance of the ZenWiFi XD6 is great no matter on it's own or as a mesh WiFi system. Each unit has great coverage thanks to the powerful WiFi radio and really good stability. In fact, I think ASUS should sell the single unit ZenWiFi XD6 as a router which will be a great choice for those looking for an aesthetically pleasing and high performance router.
In this first part, I will test just one unit of ZenWiFi XD6 and determine how good is the actual WiFi performance of each unit before progressing to the mesh WiFi speed test.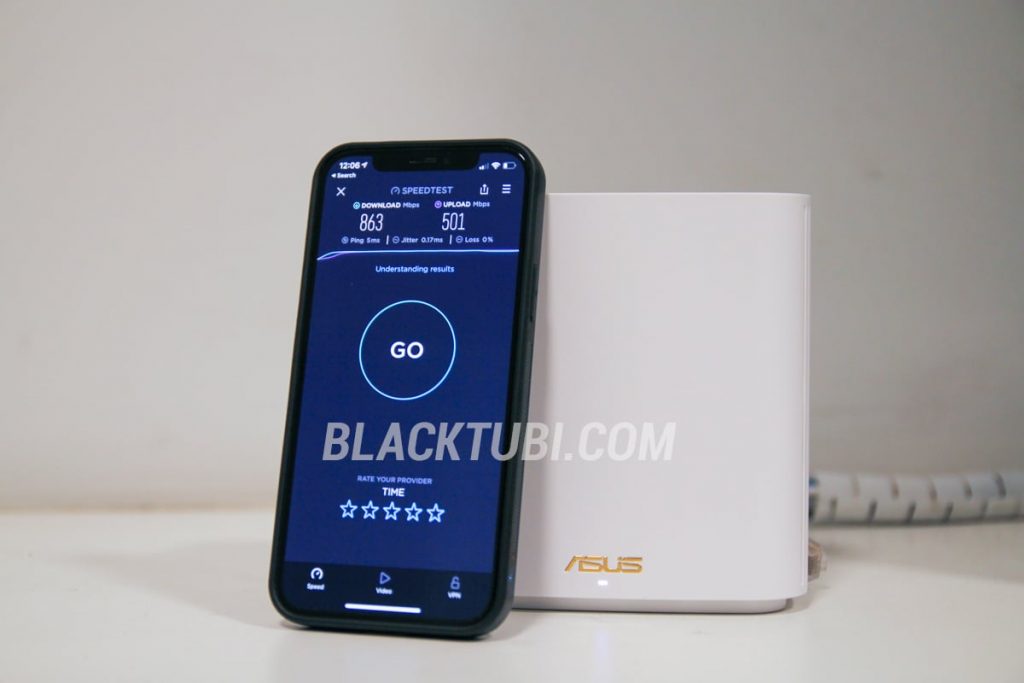 At short distance, I can get over 800Mbps easily on my iPhone 12 which supports the WiFi 6 technology. Expect a slower speed when testing on an older device without WiFi 6 technology.
As a mesh WiFi system, the ZenWiFi XD6 is really good despite being just a dual-band system. The strong signal coverage from each unit of ZenWiFi XD6 ensures a fast and reliable performance throughout the entire WiFi coverage area.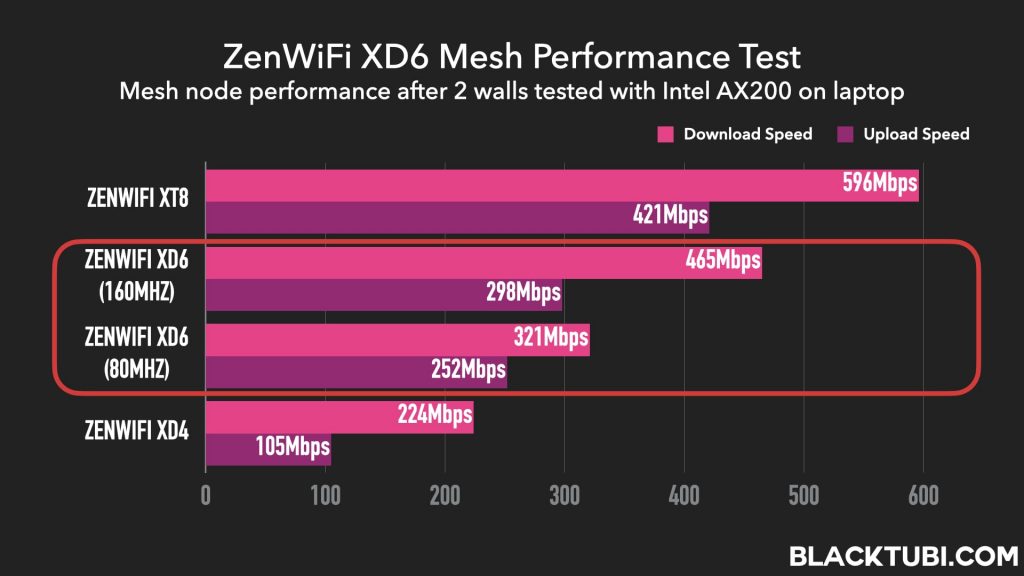 When running speed test with my laptop connected over WiFi to the mesh node, I can get close to 500Mbps out of my Gigabit Internet connection. However, I have to manually select the 160Mhz mode to get the faster speed as the system seems to prefer 80Mhz mode by default.
The ZenWiFi XD6 uses 802.11k/v to provide roaming assistance for devices to make roaming decisions. In reality, it works well on my modern devices. My iPhone is able to switch to the faster network automatically as I walk around in my house.
Unfortunately, AiMesh does not support 802.11r which means the ZenWiFi XD6 does not support fast roaming under 100ms. But, ASUS says this is intentional in order to support the latest more secure WiFi WPA3 encryption method which isn't compatible with 802.11r fast transition.
In reality, despite not having 802.11r, the difference in roaming is barely noticeable compared to other consumer grade mesh WiFi systems. It is still pretty seamless if you use the built-in smart connect software and swich on the roaming assistant function.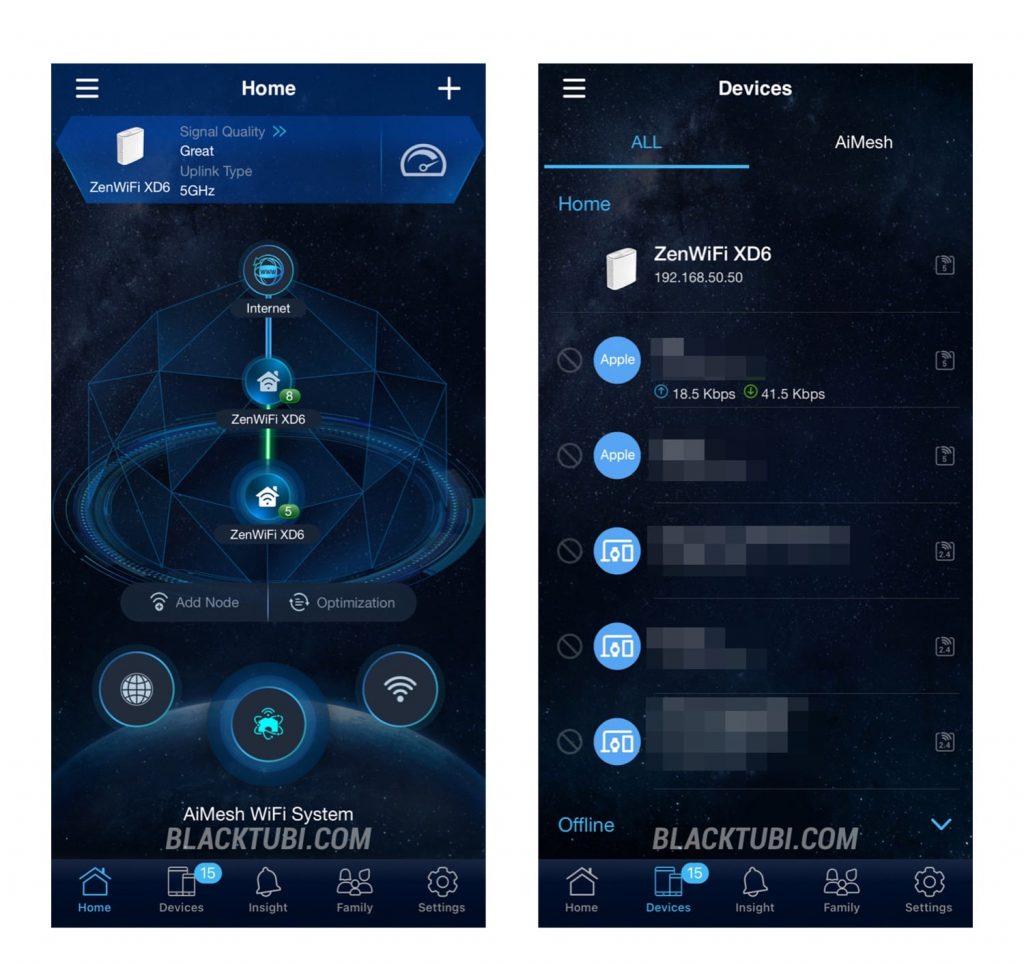 Calling the features extensive is an understatement as ASUS ZenWiFi series is probably the most customizable mesh WiFi system in the market. It runs the familiar ASUSWRT interface which is highly configurable with a ton of extended features.
Configuration wise, I will prefer the user-friendly ASUS router mobile app rather than the web interface. Most of the configurations are available on the app except for selected niche functions. The app offers remote management feature via a free ASUS DDNS service as well.
The good thing about ASUS products is they will provide frequent firmware updates. The ZenWiFi XD6 has already received 2 firmware updates while I am testing the product.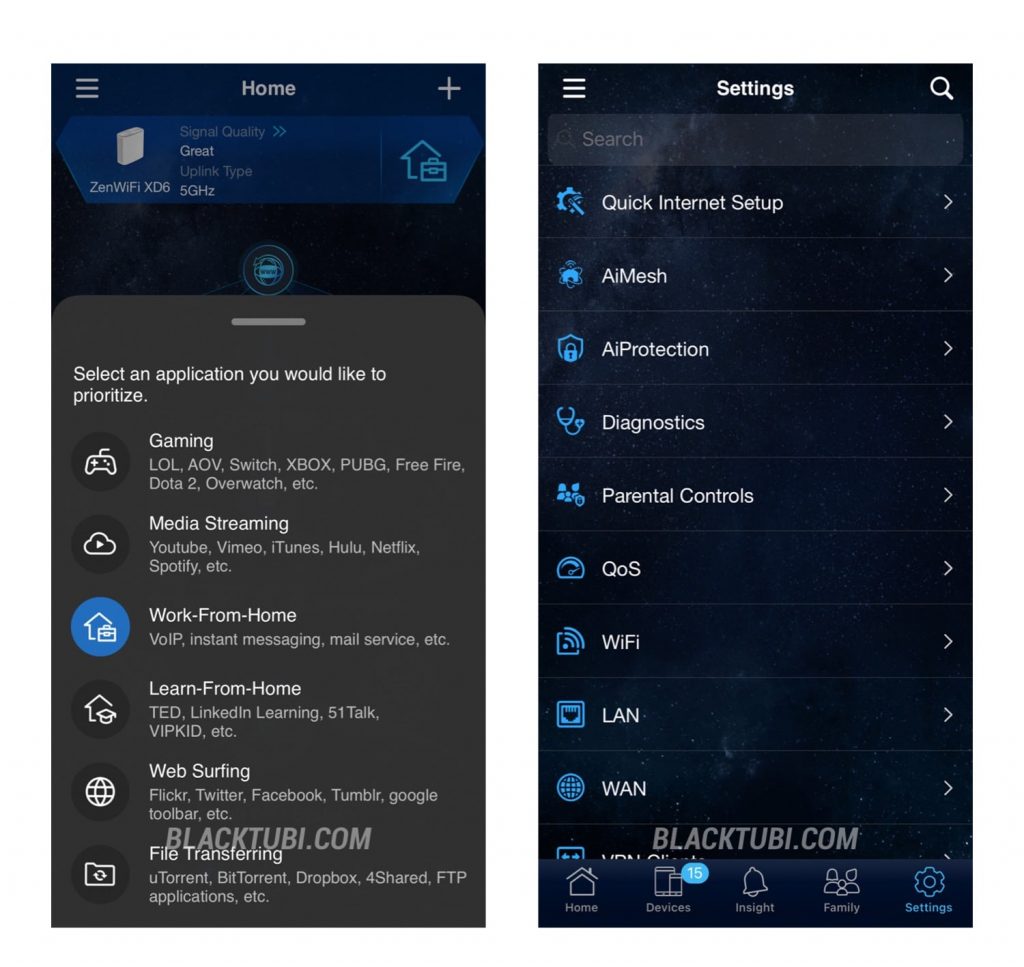 Since we're still working from home, many users will appreciate the Adaptive QoS feature. It has multiple profile to choose from which will optimize the network to prioritize performance. I really appreaciate the Work-From-Home profile which greatly enhanced the stability of my Zoom calls.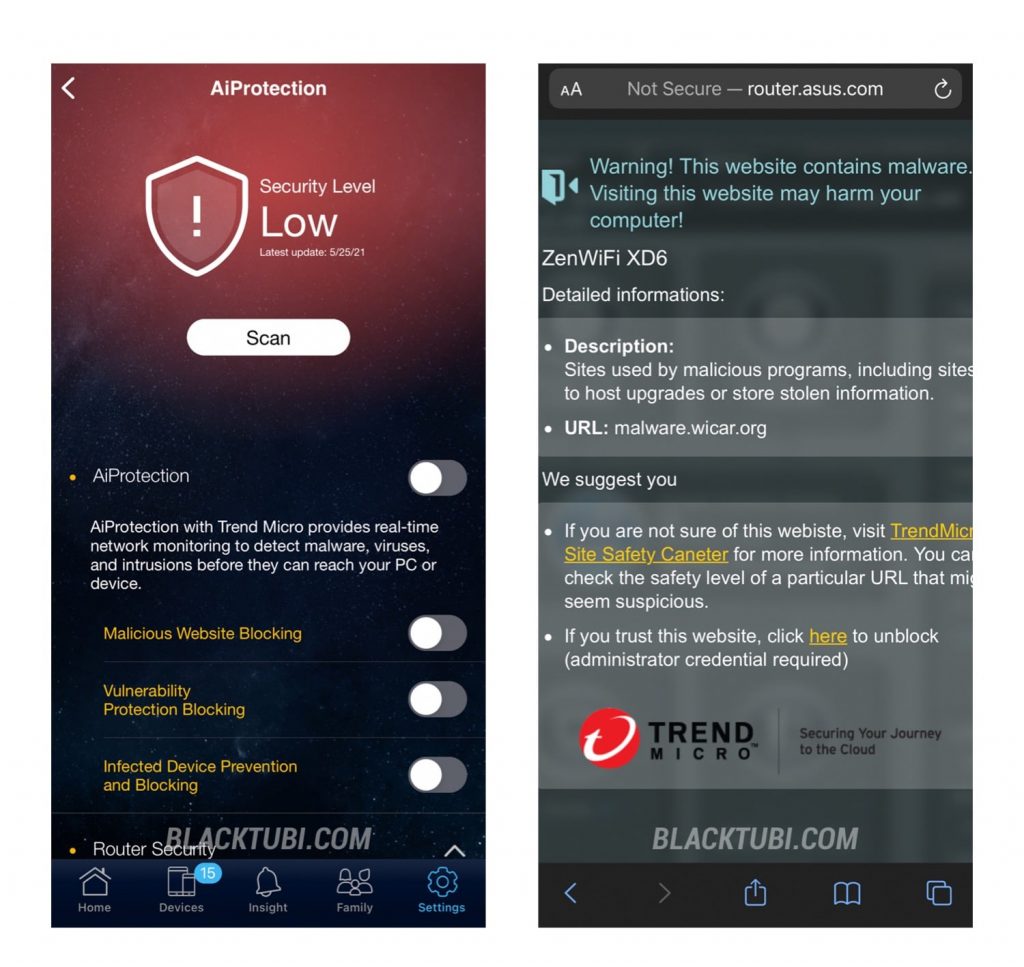 ASUS included their full AiProtection Pro Antivirus feature on the ZenWiFi XD6. The TrendMicro powered Antivirus module will prevent connected devices from accessing a malware infected website. The system will scan itself frequently and prompt a warning when security level is low.
The AiProtection Pro also included the advanced parental control feature that offers web content filtering and usage time limitation. This feature is free of charge for lifetime and ASUS promises to provide periodical updates to the AiProtection database.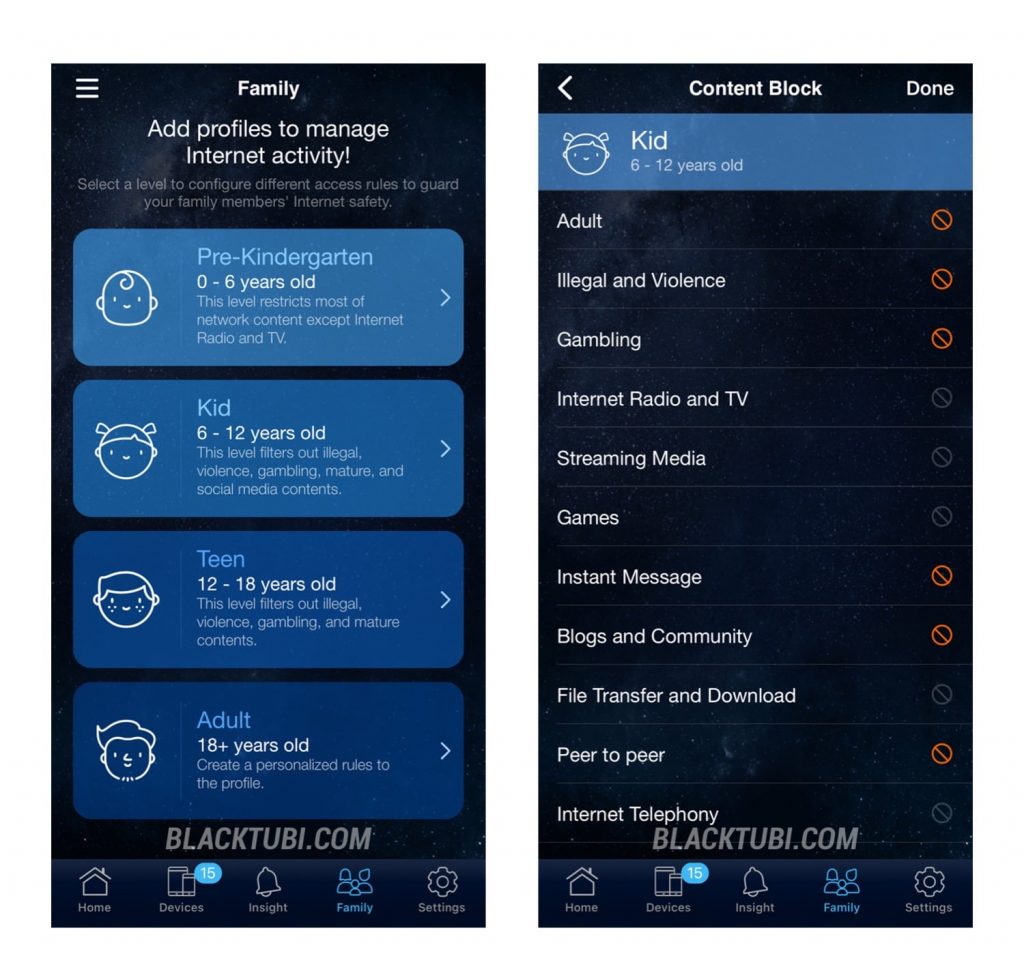 The ASUS AiProtection Pro parental control is really robust especially in the content filtering feature. In fact, I find that it may be overly restrictive at some cases which could be a good thing. ASUS offered a very comprehensive amount of options for filtering profile as well.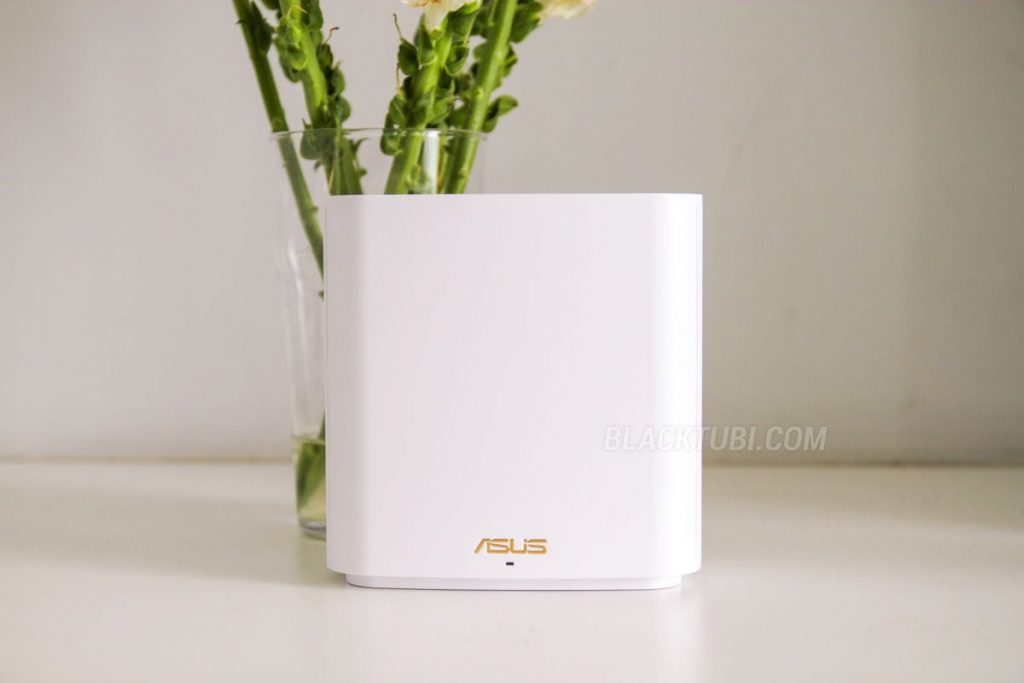 The ZenWiFi XD6 is a great mesh WiFi system thanks to the strong WiFi coverage and fast WiFi speed. This resulted in a really good performance when used as a mesh WiFi system combined with ASUS improved AiMesh 2.0 software that greatly enhanced the stability and consistency.
ASUS still maintain their prowess in their ASUSWRT firmware. The ZenWiFi XD6 comes with a ton of features and customizations that's not possible on many mesh WiFi system. I will recommend the ZenWiFi XD6 to those looking for a great WiFi experience with fast speed at a larger home.
Strong coverage and good performance

4 Gigabit WAN/LAN ports on each unit

Highly customizable with ASUSWRT

AiProtection Pro free for lifetime
No USB port

No 802.11r fast roaming