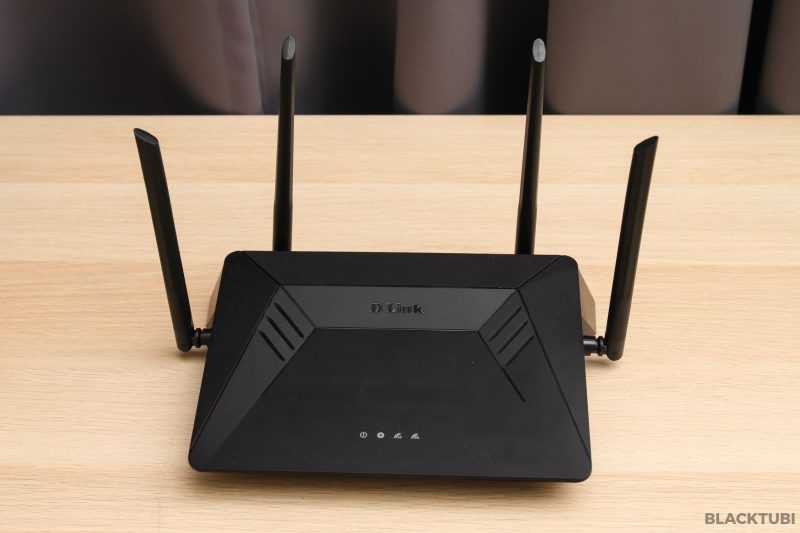 Many people probably heard of D-Link before. They are one of the earliest manufacturers of consumer networking equipment. They recently released the DIR-867 wireless router. It is priced affordably and comes with the latest specifications.
D-Link DIR-867 is a new series of router from D-Link. It has a similar design language with the DIR-878 and DIR-885. I guess D-Link noticed that most people aren't buying routers without external antennas and, thus, the DIR-867 comes with 4 external antennas. The matte black design is a clear departure from D-Link iconic glossy design from the DIR-895L.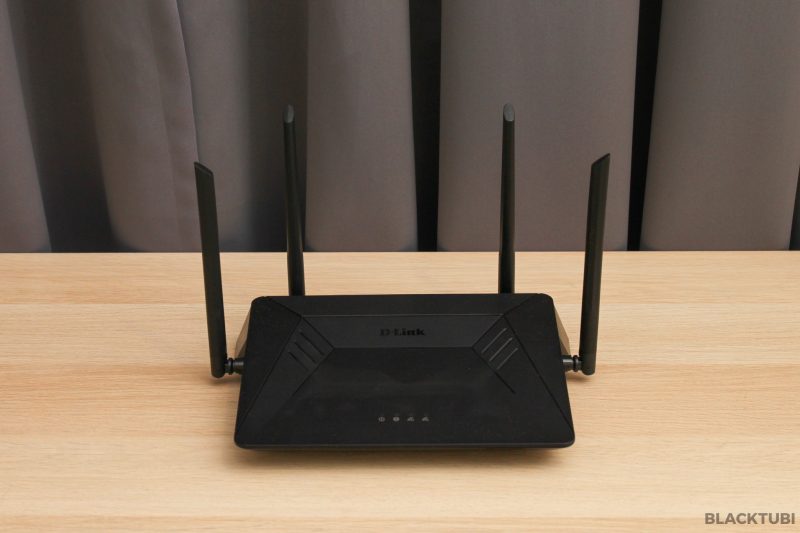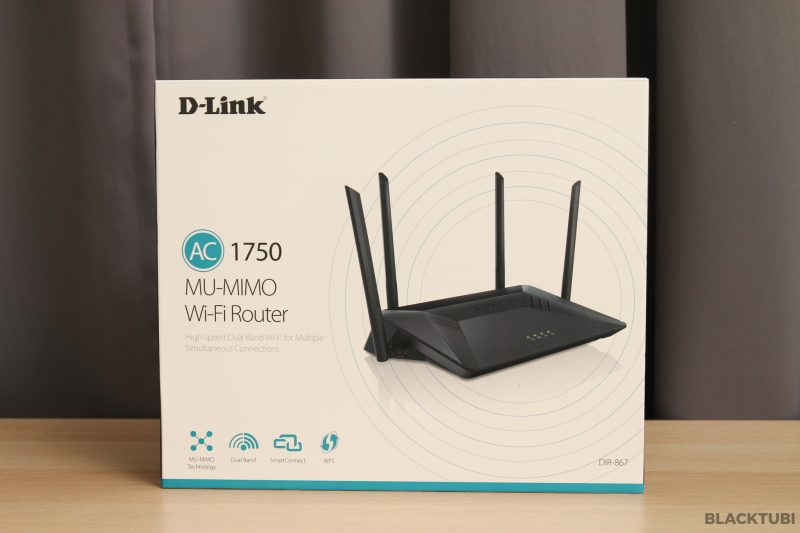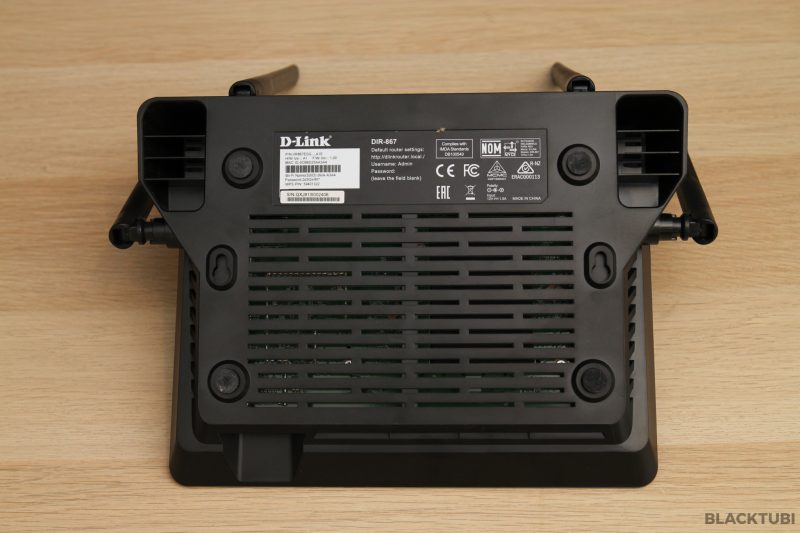 The specifications of a router is probably one of the biggest concern when buying a new wireless router. The DIR-867 doesn't disappoint. It comes with Wireless AC1750 with support for MU-MIMO and beamforming. With that, the router can support a maximum link speed of up to 1300Mbps on the 5Ghz band and 450Mbps on the 2.4Ghz band.
You can reach an actual speed up to 700Mbps over wireless AC 5Ghz if you have the right device which support the AC1750 specifications. Thus, you need a 3 stream Wireless AC adapter such as D-Link's own DWA-192 which support up to AC1900.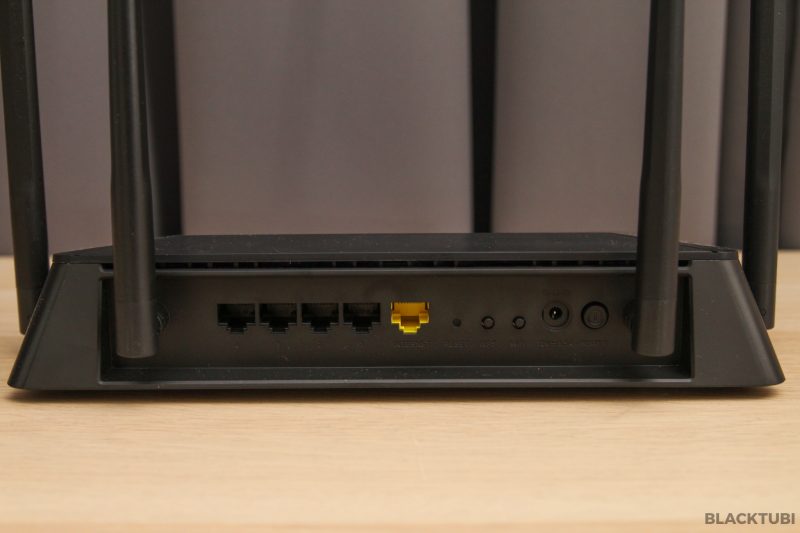 D-Link DIR-867 also comes with all Gigabit Ethernet ports since our Internet are faster than 100Mbps these days with the free upgrade from most ISPs. There is no USB port to be found on this router, probably to save cost and not much people is using that feature anyways.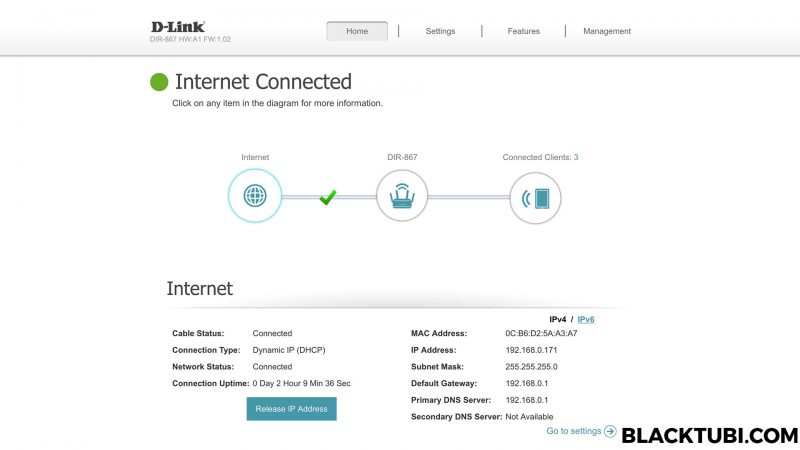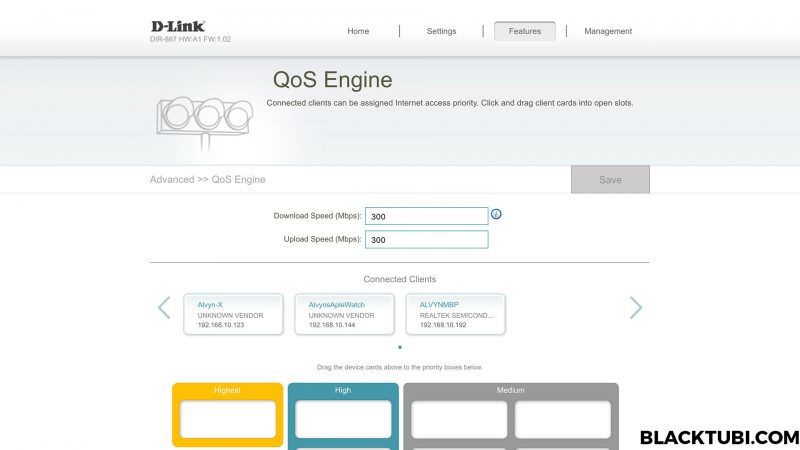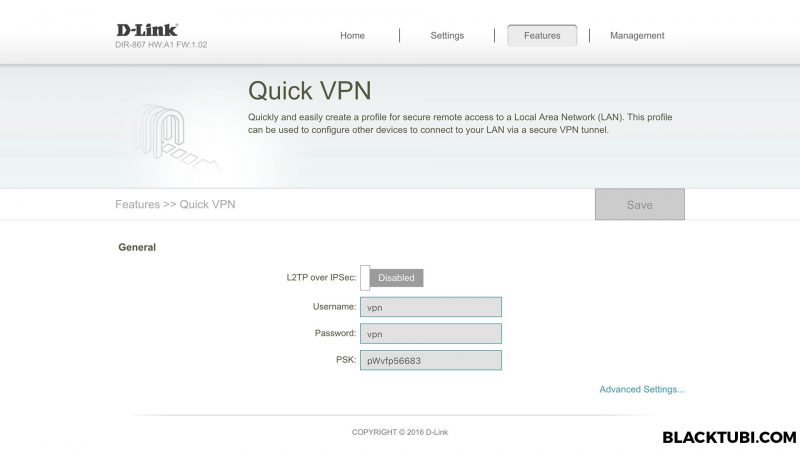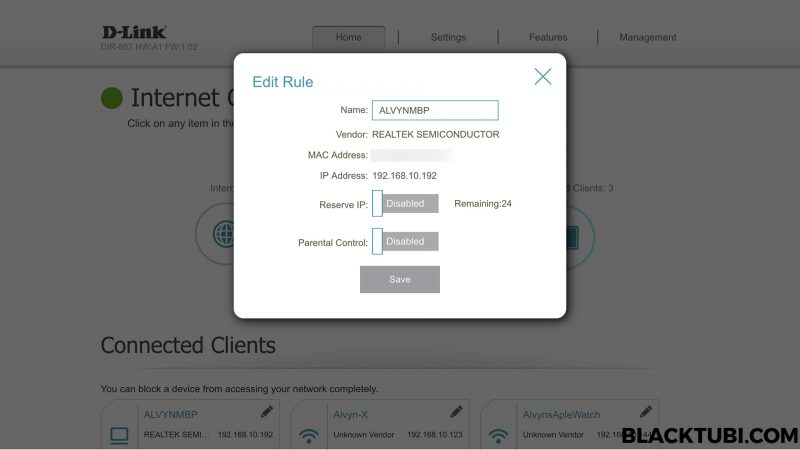 If you have ever used a D-Link router recently, you would have seen this interface before. The interface on the DIR-867 is still largely similar but more refined now. It works a lot better compared to the previous D-Link interface. I do not face any issues with the firmware, it is stable and works well. D-Link DIR-867 is also compatible with Unifi, TIME, Maxis and other major ISPs in Malaysia.
D-Link always have a minimalistic approach when deciding what features to include in their wireless routers. There is a basic priority based QoS system. I do not encourage using QoS if your Internet is faster than 100Mbps as it hurts more than it helps. D-Link also included their free D-Link DDNS service and a simple L2TP VPN Server. The DIR-867 only support running as a wireless router as it doesn't support access point mode.
D-Link recently added the D-Link Wi-Fi app which lets you to manage the router on your smartphone. You can see connected devices and configure some basic settings on the app. The app is available for both Android and iOS devices. 
D-Link DIR-867 Unifi Configuration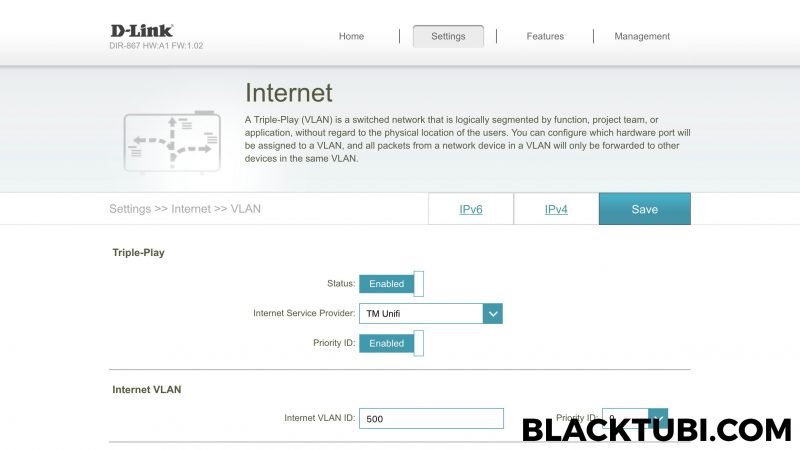 D-Link DIR-867 fully supports Unifi with HyppTV working. However, you may need to update your firmware in order to have the same interface. Your HyppTV should be connected to LAN port 4. 
Having Gigabit Ethernet ports doesn't mean the router can support a 1000Mbps Internet connection. To test the maximum speed this router can support, we performed a WAN to LAN speedtest in a simulated environment and speedtest it with an actual Gigabit Internet connection. 
We found that this router have no issue running upwards of 900Mbps on my Gigabit Internet connection. D-Link DIR-867 is capable of delivering TIME 1000Mbps plan and Unifi 800Mbps over wired Ethernet.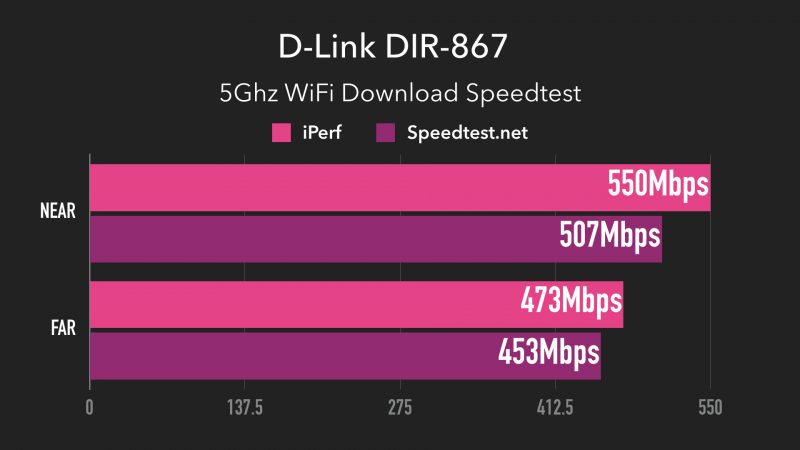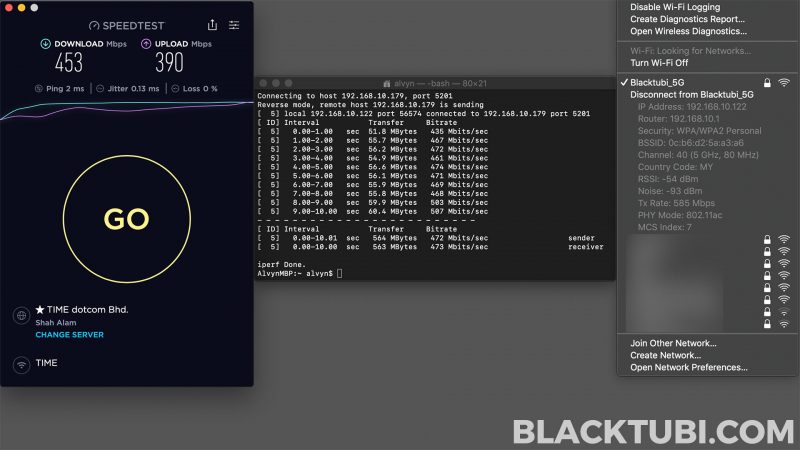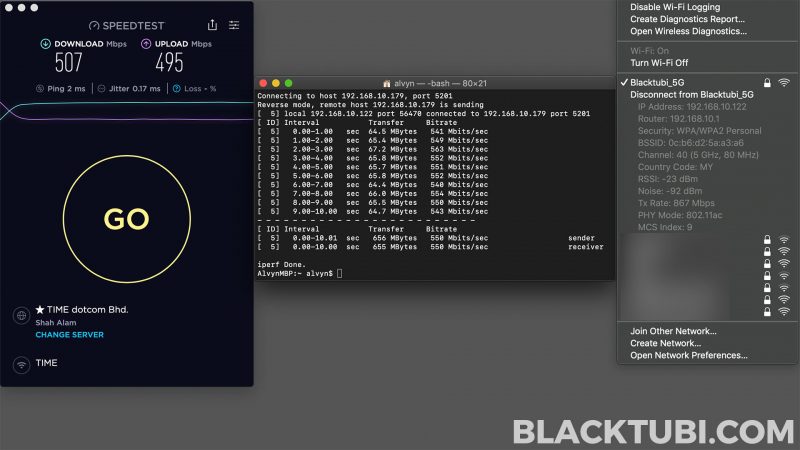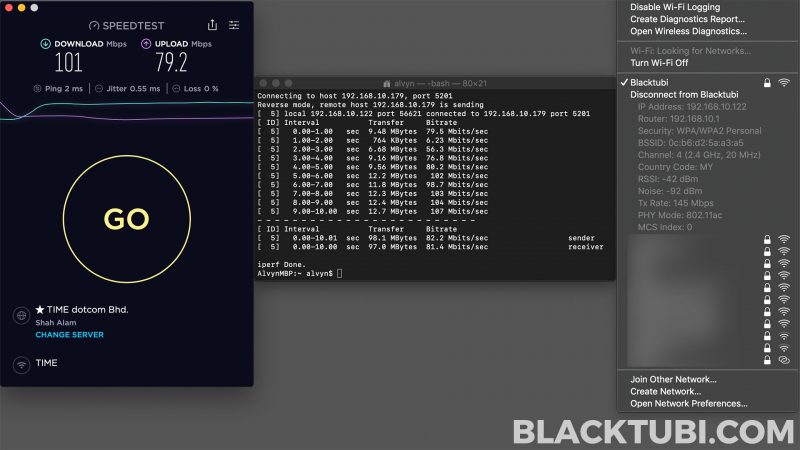 The wireless performance is when the DIR-867 gets interesting. At a short distance, the DIR-867 is peaking at 500Mbps realistically on a speedtest.net test and reaching 550Mbps on my simulated test. Nothing surprising considering even a really entry level router can do that. On the long distance test, the DIR-867 is still pushing 450Mbps on speedtest.net and 473Mbps on my simulated test. This kind of performance only happen on really high end routers with good circuitry. 
The 2.4Ghz performance is surprisingly good on the DIR-867 despite at my rather crowded test environment. I am getting more than 100Mbps on both the short and long distance test. I would say the DIR-867 comes with really good Wireless ability. The router is able to deliver good speed even at longer range from the router. Besides, the wireless coverage is also commendable.
All of these are tested on my laptop with an AC1200 wireless adapter so the maximum actual wireless speed is limited to around 500Mbps. The router comes with a smart connect feature which is designed to automatically balance devices between 2.4Ghz and 5Ghz. That feature during the benchmark.
D-Link DIR-867 is a mid range router but designed to beat even some high end routers. At this point, a mid range router can deliver exceptional performance with our normal devices. I found the DIR-867 have a really powerful WiFI connection with good range and speed. The CPU that come with this router can support an Internet connection up to 1000Mbps over wired LAN which means you can use it with Unifi 800Mbps and TIME 1000Mbps.
Well, as good as it is, it is still far from a premium router which offer more features such as antivirus and advanced QoS. But, if all you want is just some good WiFi coverage and stable internet, the DIR-867 is certainly a great candidate. It is all about practicality without all the bells and whistles.
Amazing wireless coverage and wireless performance while maintaining an affordable price.
Great wifi coverage
Good wifi speed at longer range
All Gigabit ports
No USB Port
Only function as wireless router