D-Link DIR-868L is another router from D-Link with the iconic cylindrical design. Some may say it looks kind of like a small rubbish can but it looks good to me. There is no external antenna on the router and only a single power button at the back. The design is very minimalistic with only 2 LED indicator at the front. There is no indicator for the wireless connectivity and the Ethernet LAN connection.
Quick Specs:
Wireless AC1750
4 Gigabit Ethernet Ports
1 USB 3.0 Port
128MB RAM
Wireless Performance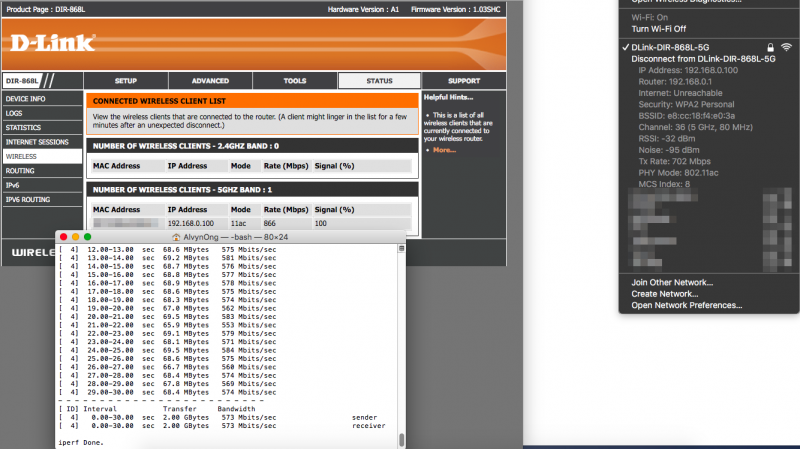 D-Link DIR-868L perform really well on my wireless test. Despite this is no longer a new product in the market, the performance is still pretty decent. I manage to achieve 573Mbit/s on my usual iPerf test. The signal strength of this router is good despite the unconventional no external antenna design. 5Ghz is surprisingly good on this router. Other routers in this price range normally have weak 5Ghz signal strength.

For curiosity sake, I did a 2.4Ghz test. The result is still impressive at 113Mbit/s. However, I recommend everyone to use the 5Ghz whenever possible as the 5Ghz band is much faster and less congested. You will enjoy much better performance and stability on the 5Ghz band.
D-Link DIR-868L Unifi Compatibility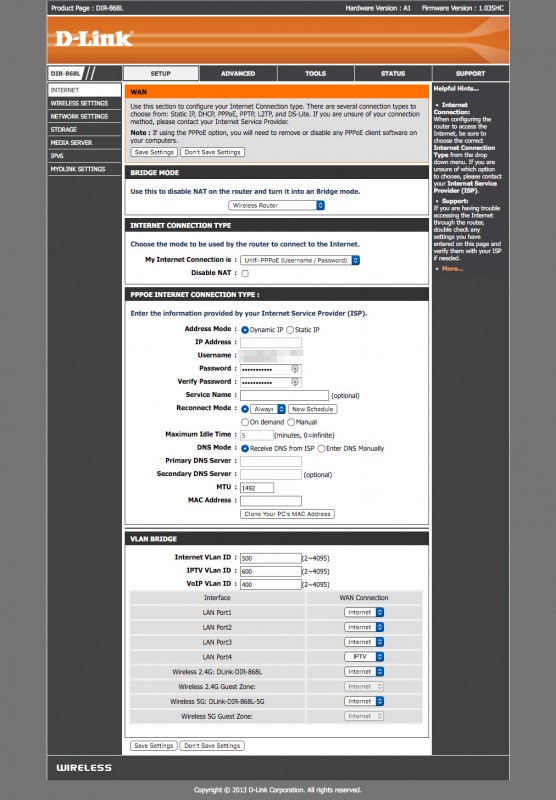 This router is fully compatible with Unifi, Maxis Fibre and Time Fibre. HyppTV is working properly as well. You can follow the configurations as mine. Please download the latest Unifi firmware from D-Link Singapore or Malaysia site. For those require IPV6, yes Native IPV6 is supported on this router.
User Interface
User interface is never D-Link's strength and this router come with the old orange D-Link user interface. It is packed full with technical features and a lot of fine control. However, after trying the new D-Link interface, this model with the old firmware feels dated. The QoS is a great example. I prefer a drag and drop QoS anytime due to the simplicity and most users does not know how to configure traditional QoS properly. Rest not, the firmware is actually fine and very stable. It does not affect the usability of the router. If you are the kind of power users and want more control, you can always install Tomato firmware on DIR-868L.
USB file sharing and cloud features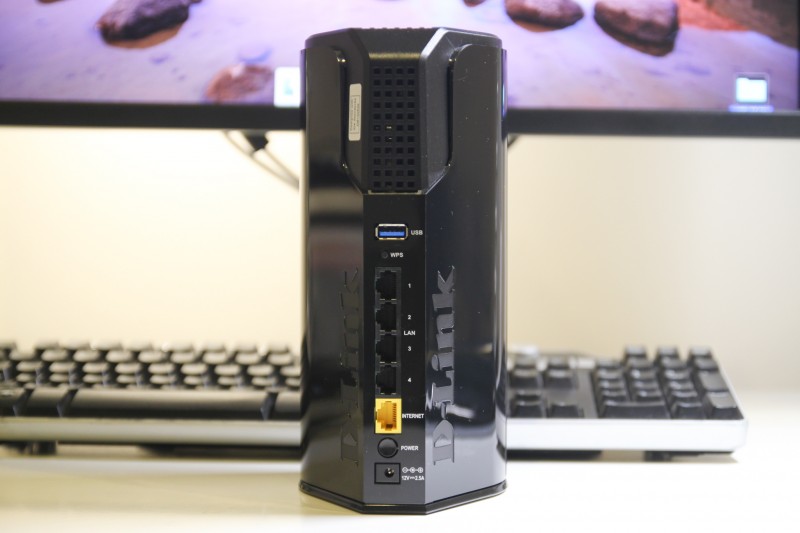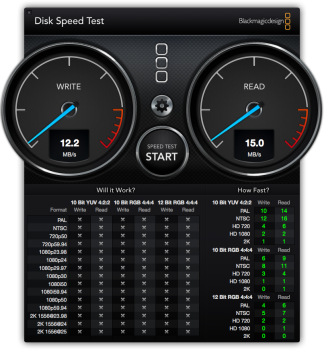 There is a USB 3.0 port on this router and it supports file sharing over your network or the internet. You can share your files to devices in your network over SAMBA or DLNA. The performance is fine with both read and write speed to my NTFS formatted USB Hardisk close to 15MB/S.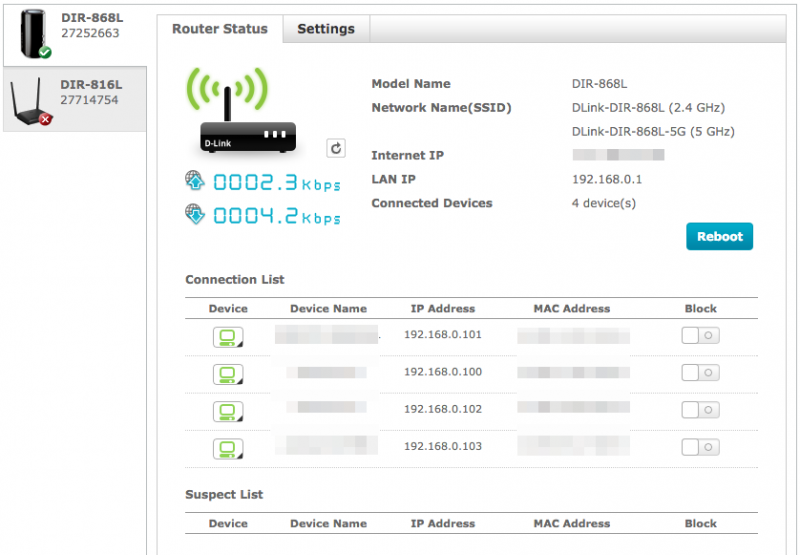 If you want to share your files over the internet, you can use D-Link Shareport feature. It is a relatively basic system but it is there if you need some basic file sharing feature. You can also monitor the status of your router on the internet with this feature.
The Verdict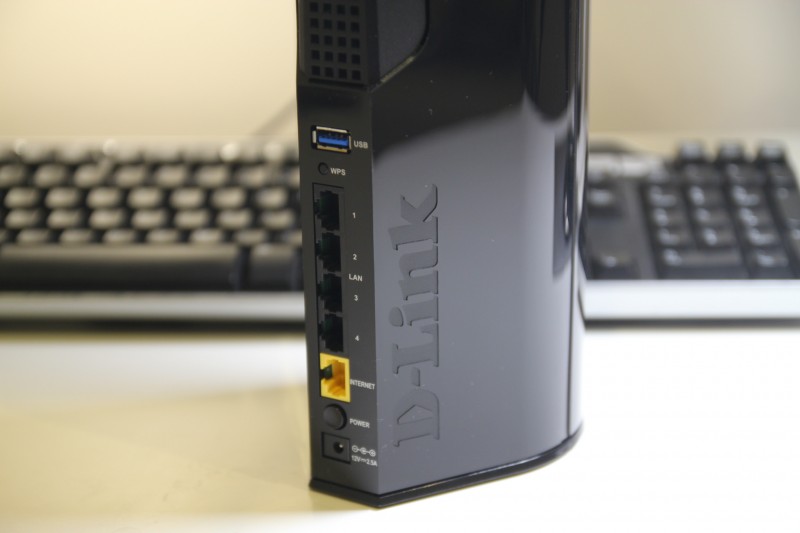 Everything about the DIR-868L is great. I like the shiny cylindrical design without any external antenna. The wireless performance is great. However, the router I receive still comes with the old D-Link orang interface. The firmware is fine with a lot of advanced features. But, the new D-Link interface is easier to use and more user-friendly. Nevertheless, this router is a good router. If you are looking for pure performance, this is a good choice. Oh, this router is compatible with the famous Tomato firmware as well. I have to mention that the D-Link DIR-868L is fully Unifi and Maxis compatible. There is simple no better router in this price range with Unifi compatibility.