D-Link DIR-890L is one of the prettiest router of the year. It comes with a glossy piano finish on top with 6 rather cute little antennas. It is something that I do not mind to put in my living room. My technology illiterate friends' comment when they saw this router is it looks professional and not being overdone. I believe the red/orange version will look even better. It even comes with tools for wall mount if you want to mount your router on a wall.
D-Link DIR-890L supports Wireless AC3200 with triple band. It means this router comes with 3 wireless radio just like the Asus RT-AC3200. As I mention before, it allows you to populate your wireless clients on different channels and avoid congestion. It is definitely useful for the power users with a lot of wireless devices around.
Quick Specs:
Wireless AC3200 (1300+1300+600)
4 Gigabit Ethernet Ports
1 USB3.0 + 1 USB2.0
Wireless Performance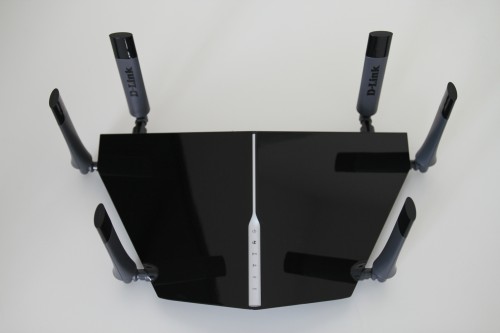 All the 6 antennas on the DIR-890L are not detachable. It means you cannot replace the antenna. On the other side, the antennas are really solidly attached to the router which is great. The signal range of this router is really good.  Wireless Performance is great on this router. With downlink figures consistently above the 500Mbit/s mark. The speed test is performed on my usual Macbook Air 2013.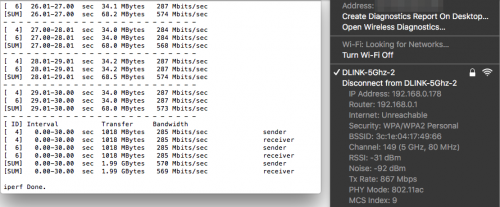 As this is a triple band router, Smart Connect feature is available as well. However, you do not get to play with the configurations. I do not know how it works but it seems to work quite well. My devices are able to switch between different bands quickly without a noticeable drop.
User Interface and Features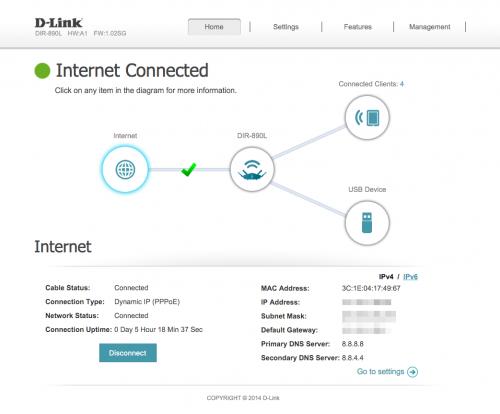 The DIR-890L comes with a rather nice looking interface. It is rather easy to configure with nice visualisation of the router status. Nothing much to say as most of them are the usual features you will see on a router. The QoS option is quite simple as well. You just configure the speed and pull your client to the priority you want and the router will sort it out for you. It is very basic and I hope D-Link will include a profile based priority in the future. In addition, you can use your DIR-890L as a VPN server. It may be useful for you to access your home network when you are away.

D-Link usual cloud features are there. The DIR-890L supports mydlink and shareport. Mydlink allows you to monitor your router's status and shareport allows you to browse and share files via the mobile app or browser. Both of them are quite basic but they work.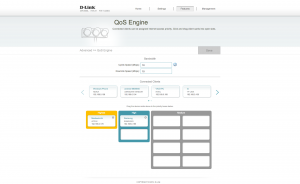 Storage Performance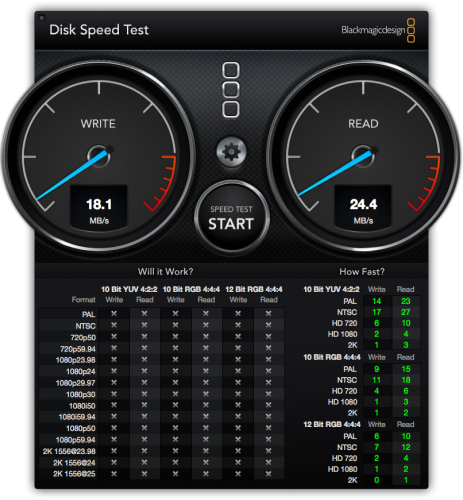 I used my  external hardisk to test the USB performance of the DIR-890L. The performance is just moderate. It is not crazy fast like the RT-AC5300 but it works with speed at around 25MB/S read and 20MB/S write. It supports Samba and DLNA for file sharing. Thus, you can stream your video over DLNA to your supported TV easily.
Unifi  Compatibility
D-Link DIR-890L is fully compatible with TM Unifi. Unifi HyppTV wireless may be supported but I cannot test it due to my HyppTV is the old one. Maxis Fibre is fully supported as well.
The Verdict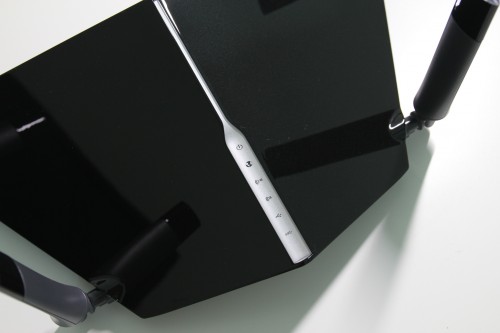 D-Link DIR-890L is a good router. Although it may be limited in features, the performance is actually really good. It looks better than Asus RT-AC3200 with the glossy paint. So, should you buy this? The DIR-890L is RM600 cheaper than the Asus RT-AC3200. The price is almost similar to  Asus RT-AC68U which I am using now. If you do not need all the added features, this is actually a very good buy. It is a very "pure" router and not a mini NAS. There are some cloud features but those are very basic if you compare it with what the competitors can offer. It supports Unifi properly as well.
If you have RM1000 and you need a new router, go for it. The performance is absolutely the best at the RM1000 range. It may be lacking in features you can make it up by purchasing a proper NAS with the RM600 you just saved.
Good stuff:
Cheaper than its competitors
Looks good
Great Performance
Downside: