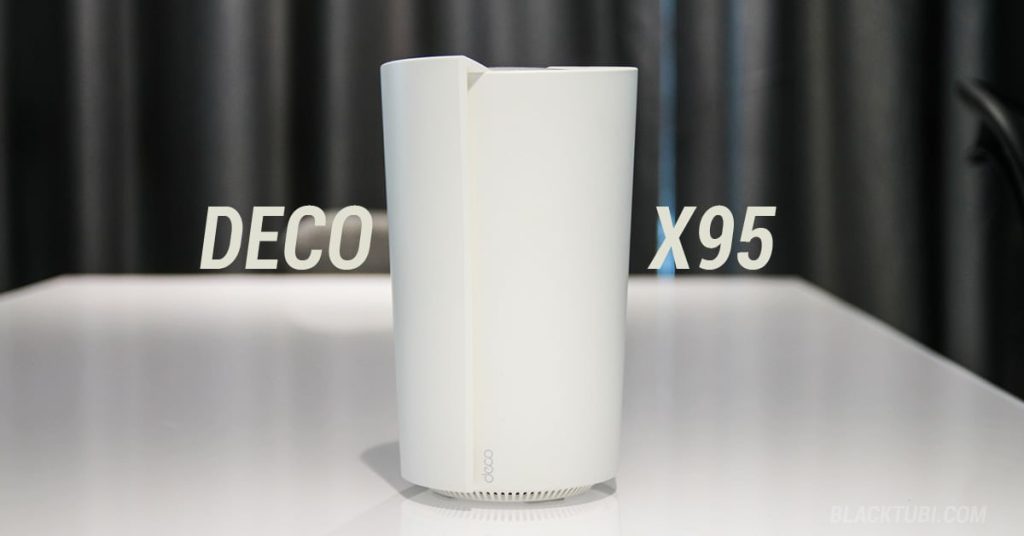 If you ever used a mesh Wi-Fi system, you know they are great at eliminating Wi-Fi dead zone and improving Wi-Fi coverage. But, what if you need a faster speed while having strong coverage at the same time? Well, TP-Link's latest flagship Deco X95 might be an answer for that.
The brand new Deco X95 retails at RM1899, a slight bump over the Deco X90 it replaces. It's a minor refresh with specifications improvement. The MUJI-esque design is still here and I always liked how it looks. The Deco X95 can blend into most interior design easily with the simple and clean design.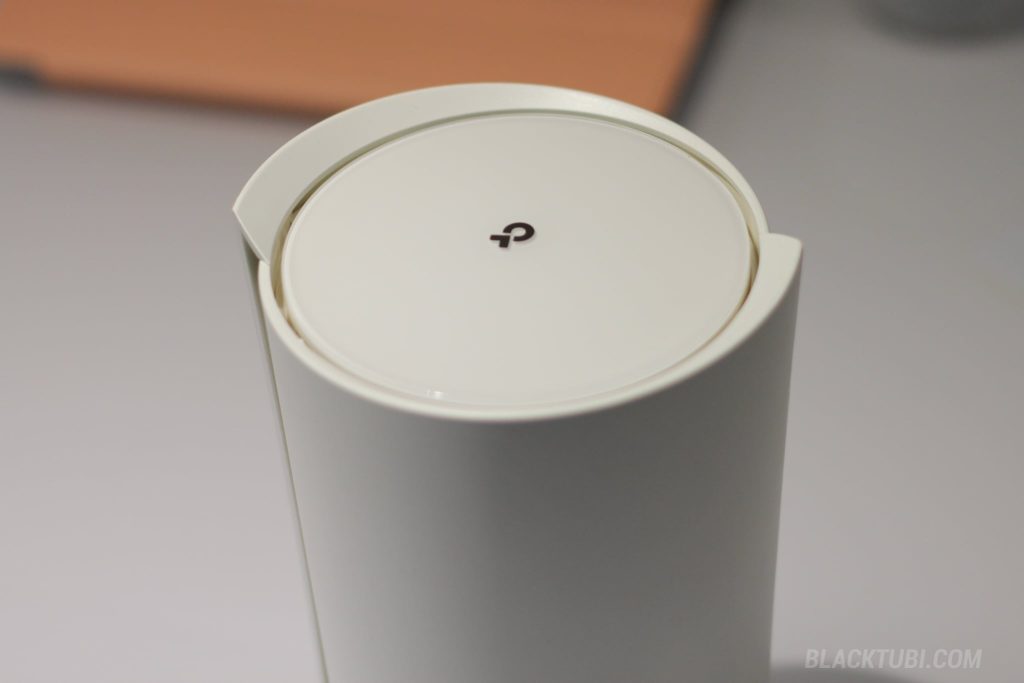 The Deco X95 feels like a more polished product. The Wi-Fi network is faster, the mesh roaming feels more seamless and it just feels much more responsive than the Deco X90. That's probably due to the upgraded Wi-Fi specification and the use of a much faster processor on the Deco X95.
The biggest change is probably the Wi-Fi 6 radio. The Deco X95 comes with Wi-Fi 6 AX7800 capability, making it 20% faster than the predecessor. TP-Link also upgraded the procesor of the product to the newer Braodcom 1.7GHz Quad-Core SoC which is around 10% faster than the Deco X90. 
| | |
| --- | --- |
| 2.4GHz | Wi-Fi 6 up to 574 Mbps (2×2 40Mhz) |
| 5GHz-1 | Wi-Fi 6 up to 2402Mbps (2×2 160Mhz) |
| 5GHz-2 | Wi-Fi 6 up to 4804Mbps (4×4 160Mhz) |
| CPU | Broadcom BCM6756 1.7Ghz Quad-Core CPU |
| RAM | 512MB DDR3L RAM |
| Ports | 1x 2.5G WAN/LAN + 2x Gigabit WAN/LAN |
The Deco X95 retained a tri-band setup with dual 5GHz network. This will provide more Wi-Fi backhaul capacity since TP-Link has upgraded to use multiband mesh backhaul instead of just one dedicated backhaul. Most mesh Wi-Fi systems in the market are just dual-band and they are rather slow.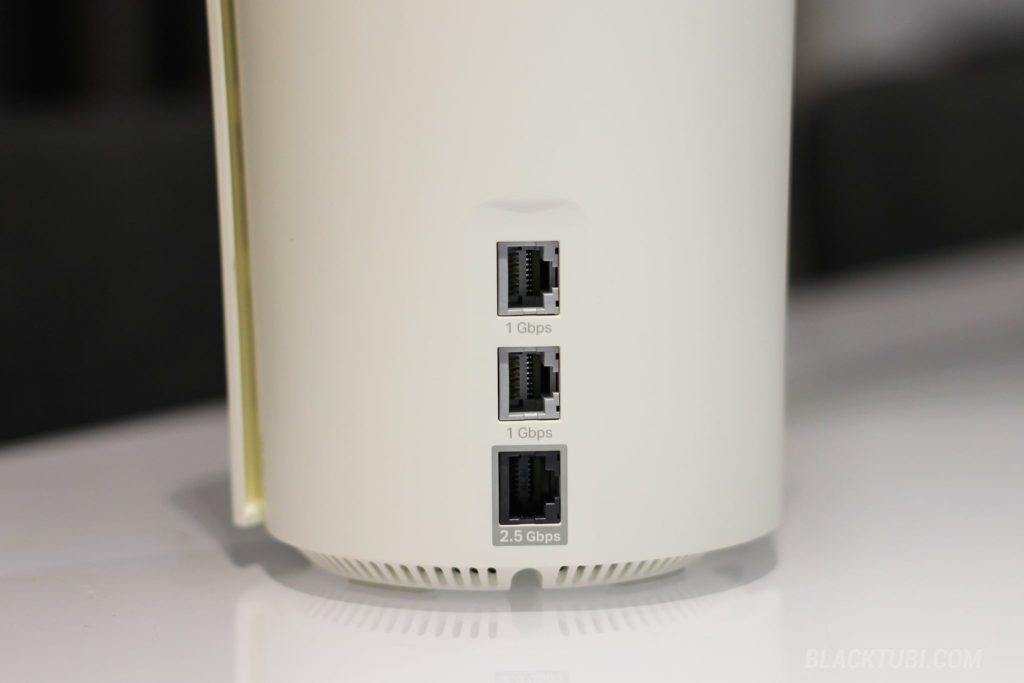 The biggest external change is probably the network ports. There's a single 2.5G Ethernet WAN/LAN port and 2x Gigabit Ethernet LAN ports. That's a total of 3 Ethernet LAN ports on each unit of Deco X95 instead of just 2 Ethernet LAN ports on the Deco X90.
Deco X95 Wi-Fi Performance
Let's jump right into the Wi-Fi performance test where it matters the most. On the short distance test, the Deco X95 can deliver Wi-Fi speed over 900Mbps easily. Not a surprise here as most Wi-Fi 6 routers should be able to do this at short distance without any obstruction.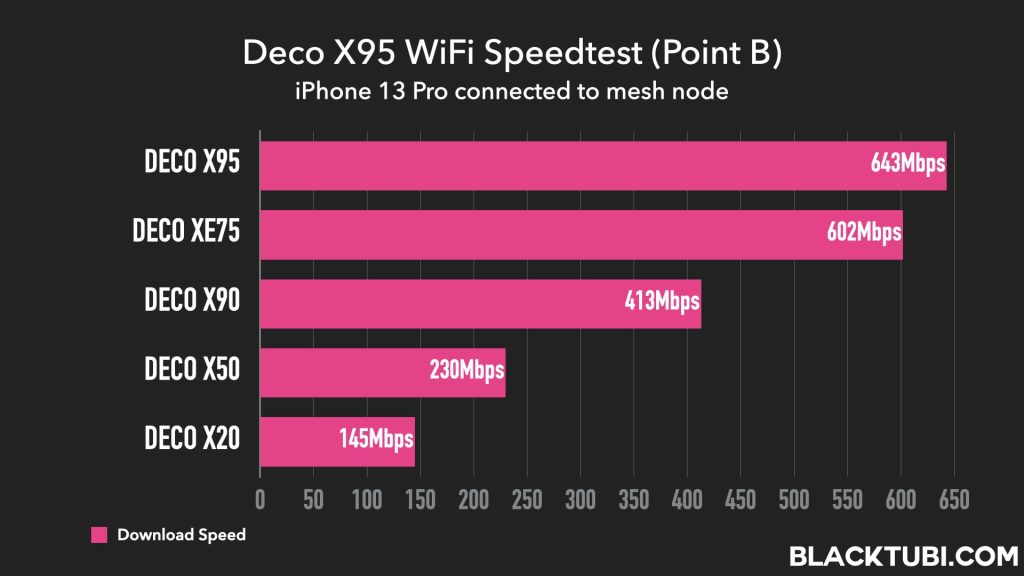 The mesh node performance is a rather significant step up from the predecessor. When running speed test on my Wi-Fi 6 supported laptop, the Deco X95 is around 10% faster. I also notice the speed is more consistent with speedtest consistently reaching the same speed on multiple attempts.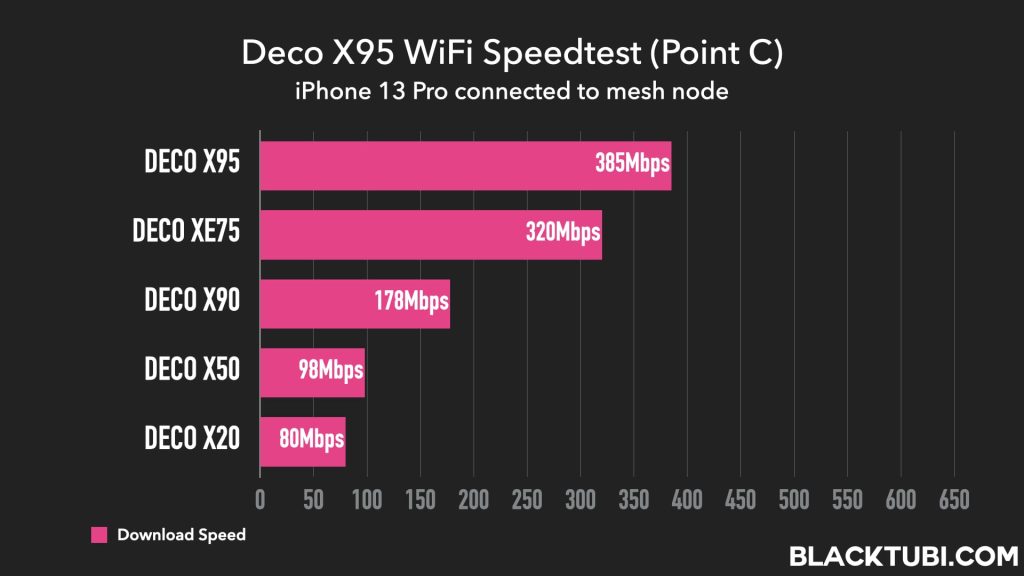 There's a minor improvement on Wi-Fi coverage as well. When testing at a similar spot, the signal strength of the Deco X95 is close to 10% stronger than the Deco X90. That's probably due to the use of Broadcom's newer BCM6715 5GHz Wi-Fi 6 radio chipset with improvements on Wi-Fi interference mitigation.
But, speedtest don't tell the full story when it comes to overall network quality. The Deco X95 loaded latency is much lower than other cheaper mesh Wi-Fi systems. This is very noticeable when scrubbing videos or quickly scrolling contents on TikTok. There's almost zero lag when scrolling videos on TikTok. This also resulted in lower latency when playing games over the Wi-Fi network as well.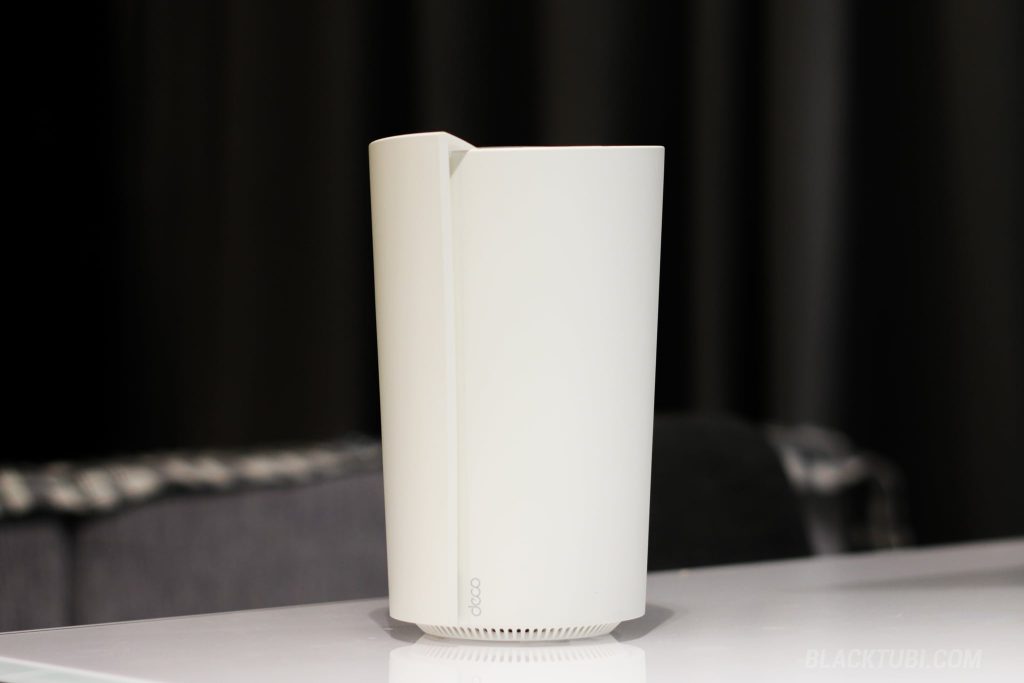 My favorite will be TP-Link's AI-Driven Mesh technology which is what TP-Link calls their mesh backhaul management and roaming technology. As I walk around in my house, network switching is always instanteneous, fairly close to the experience of an enterprise grade wireless access point system.
Deco is really good at making sure my devices are always connected to the most optimal mesh node. That's really important for a mesh Wi-Fi as there are many mesh nodes at home.
TP-Link's latest Deco app is better than before. It's already one of the best in the market and it's even better now. The updated Deco app is more polished and offers a more refined user-experience. It's probably one of the best designed mesh Wi-Fi app in the market now.
The app will show all connected Wi-Fi devices and their current utilized network speed. It's also possible to block suspicious devices or restrict their network usage timing from the Deco app. TP-Link Deco app is also cloud connected which means it works even when I am in another country.
The star of the show is TP-Link's amazing HomeShield parental control feature. You can choose selected devices and prevent them from accesing web contents based on selected categories. It is a great feature if you have young children at home and you wish to prevent them from abusing the Wi-Fi network.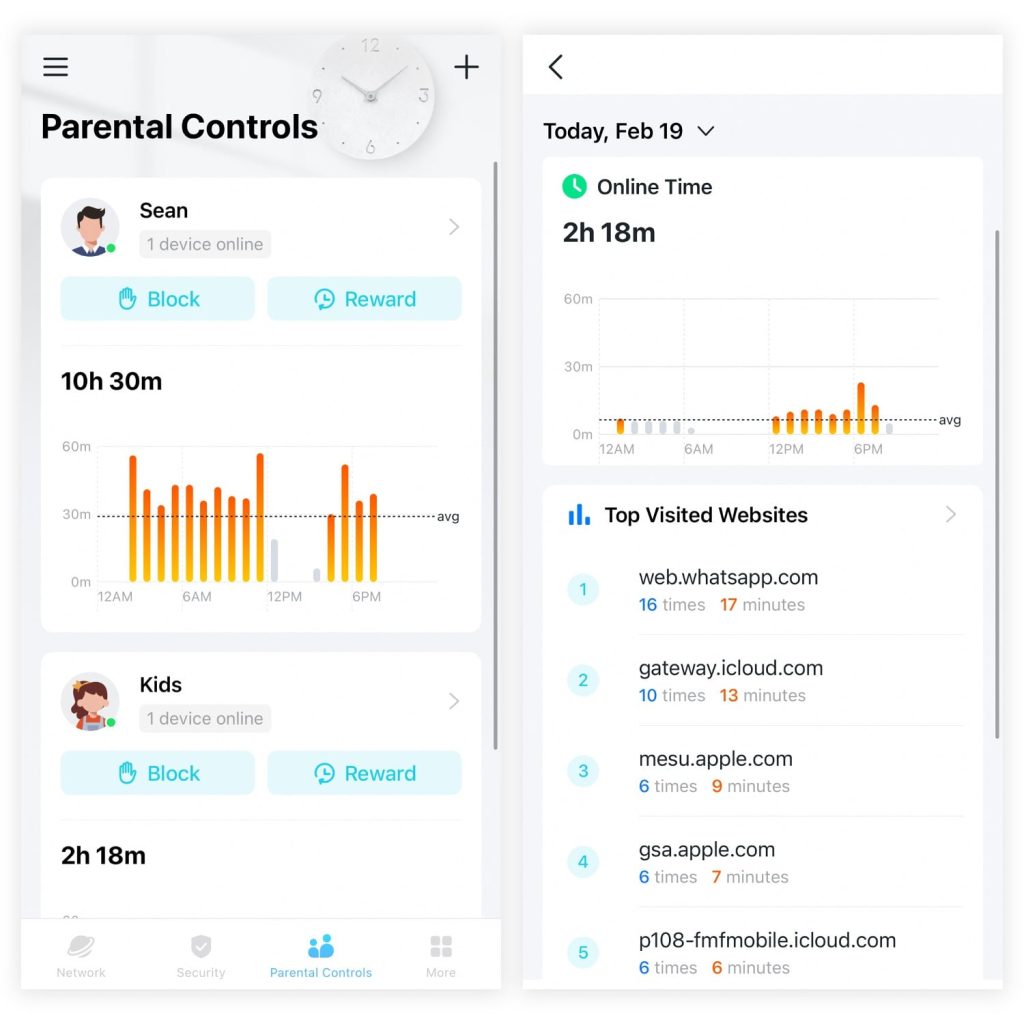 I also really liked how the Deco app presented all the information in a user-friendly and digestible way. The Deco app will report the hourly network usage trend and their top visited webpages. It allowed me to monitor my younger family members and ensure they are not using the Internet on bedtime.
But, while the HomeShield basic features are free. The advanced reporting function and granular controls do require HomeShield Pro subscription which costs RM26.90 per month. That's something to consider about if you wish to utilize all these advanced features in the Deco system.
Another part of HomeShield is the enterprise grade firewall designed to block harmful and scam pages. I tested it with several known webpages and it will block them from being accessed. But, just bear in mind this feature relied on a known database so it might not block some of the new malicious website.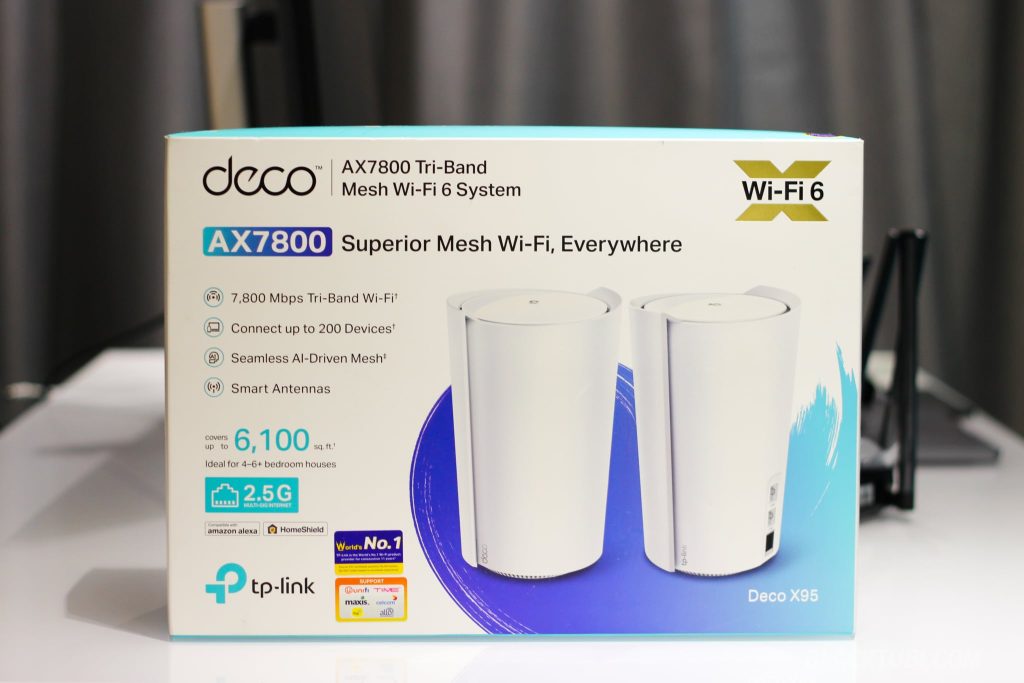 TP-Link Deco X95 is the fastest Deco mesh Wi-Fi system TP-Link ever made. The specs bump provided a much appreciated performance boost and that resulted in a stronger coverage as well. I also liked the new Deco app that's more polished with a more refined user-experience.
At RM1899, the Deco X95 is a well-rounded premium mesh Wi-Fi systems. It's capable of delivering a fast, responsive Wi-Fi network with strong coverage. The premium pricetag is justified by the much faster Wi-Fi speed and significantly lower latency on the mesh nodes than a cheaper mesh Wi-Fi system.
3 Gigabit LAN/WAN on each unit

Faster speed and slightly stronger coverage than the previous flagship Deco
Robust performance and great stability
Some HomeShield features require Pro subscription