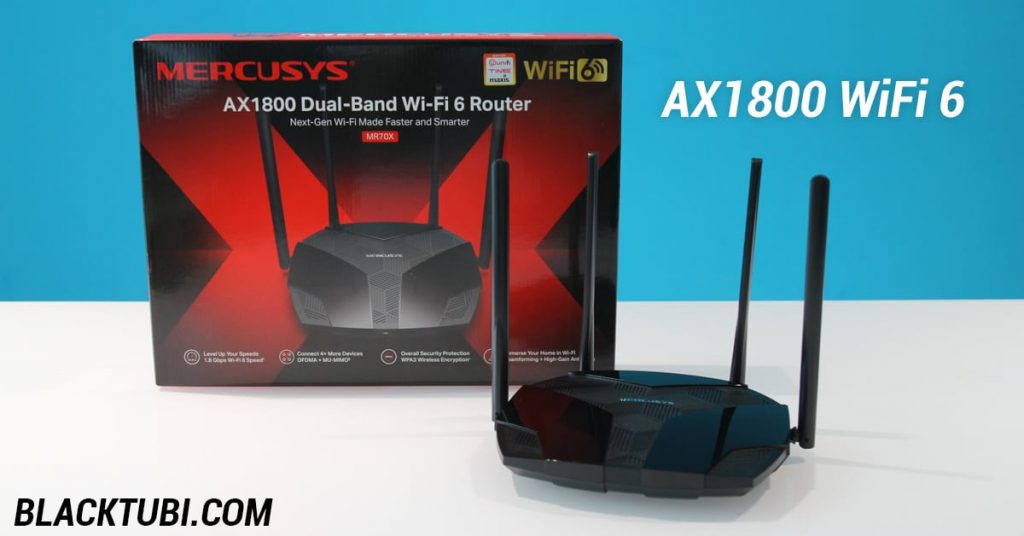 Mercusys MR70X is a budget WiFi 6 router for those looking for an affordable WiFi 6 upgrade. It supports the latest WiFi 6 technology up to AX1800. You can buy the Mercusys MR70X in Malaysia at an affordable price of just RM199 with 3 years warranty now.
Since the Mercusys MR70X supports the newer WiFi 6 technology, it will provide a better performance than Wireless AC routers in similar price range. If you happen to use a WiFi 6 supported smartphone, using a WiFi 6 router will give you significantly better performance.
The Mercusys MR70X is also a decent upgrade from the routers provided by the service provider. It will provide a stronger WiFi coverage and a more stable WiFi connection which will benefit older WiFi devices as well. I will recommend the Mercusys MR70X for those with less than 15 WiFi devices at home.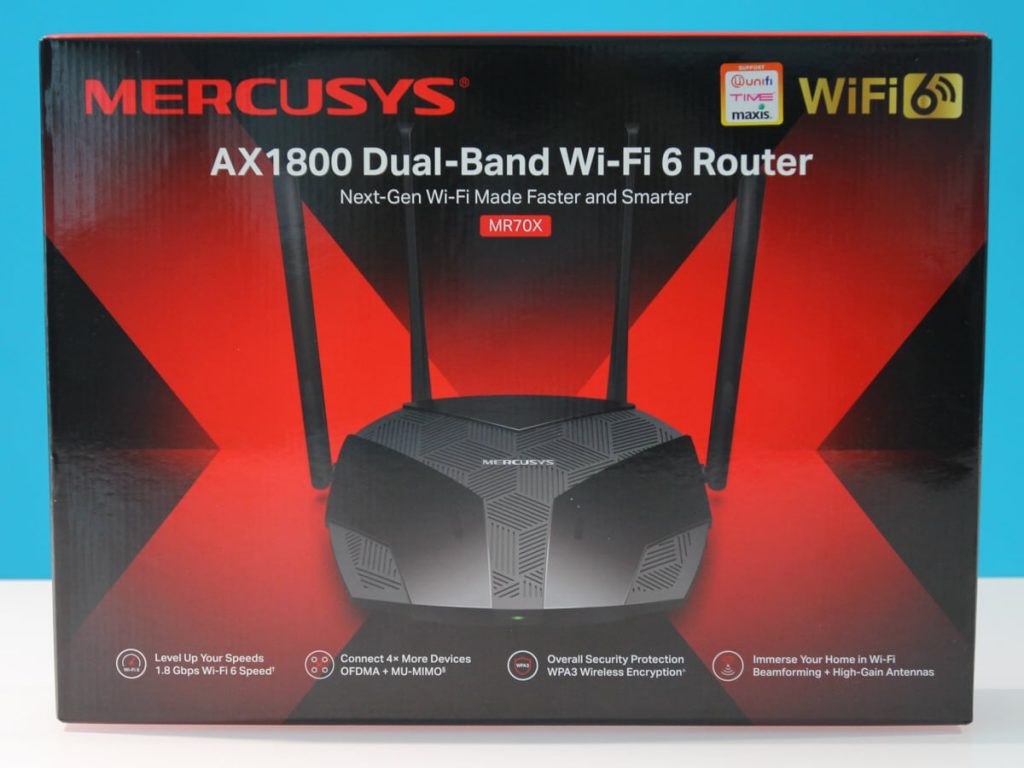 | | |
| --- | --- |
| Wireless 2.4Ghz | Wi-Fi 6 up to 574Mbps (40Mhz 2X2) |
| Wireless 5Ghz | Wi-Fi 6 up to 1201Mbps (80Mhz 2X2) |
| WiFi Features | OFDMA, MU-MIMO, Beamforming, WPA3 |
| CPU | Mediatek MT7621DAT with 128MB RAM |
| Ethernet Ports | 1x Gigabit WAN port + 3x Gigabit LAN port |
The Mercusys MR70X is the first WiFi 6 Mediatek based router that we test over here. The specs are pretty basic with a dual-band AX1800 WiFi 6 radio with OFDMA support. It does come with a Mediatek dual-core 880Mhz ARM based CPU and 128RAM.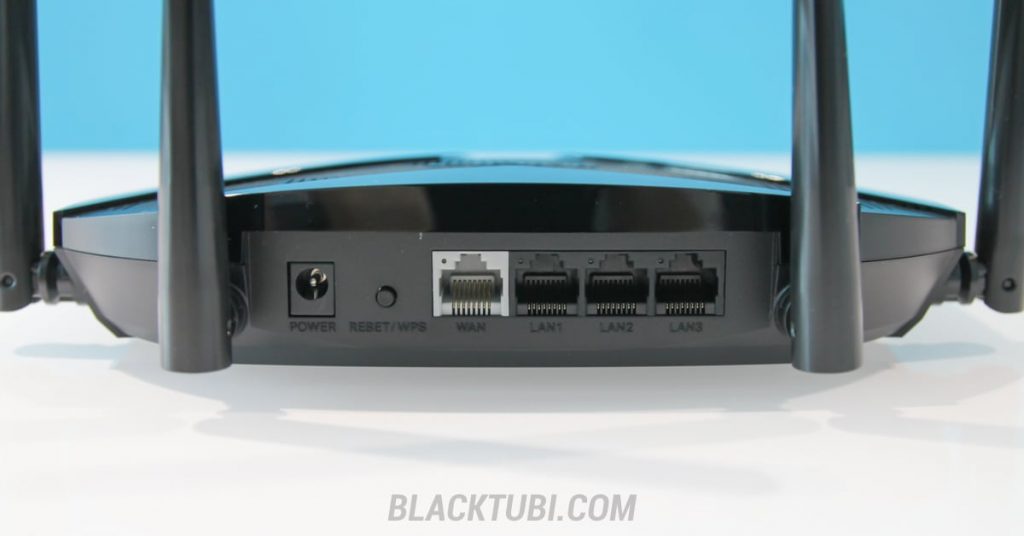 You'll find all the ports on the back of this router. It comes with a single Gigabit WAN port and 3 Gigabit LAN ports. For those staying in Malaysia, the MR70X can support Unifi Hypp TV service on LAN1.
The Mercusys MR70X can support the following service providers in Malaysia with PPPOE mode
TM Unifi
Maxis Fibre
TIME Fibre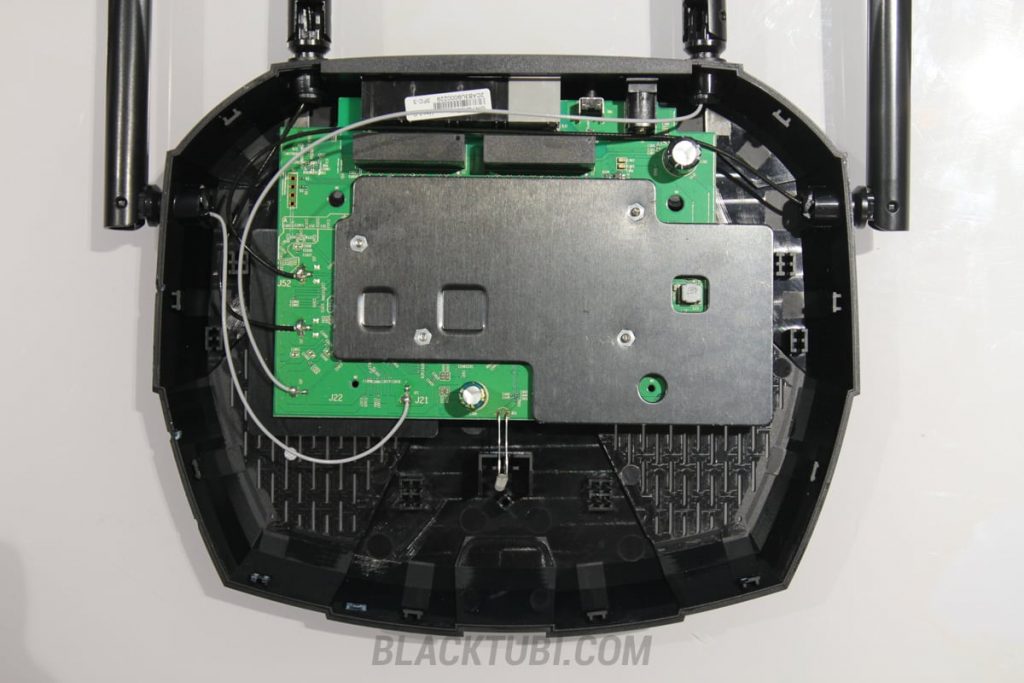 I also perform a quick teardown to look inside the Mercusys MR70X. Nothing spectacular but at least there's a decent chunk of heatspreader acting as a heatsink to cool down the router. 
I will be testing the WiFi performance on my 1Gbps Internet connection with 500Mbps upload speed. My test device will be my laptop and my iPhone, both with WiFi 6 support. My laptop is using the Intel AX200 WiFi 6 adapter. The speed you get may vary depending on the receiver you have.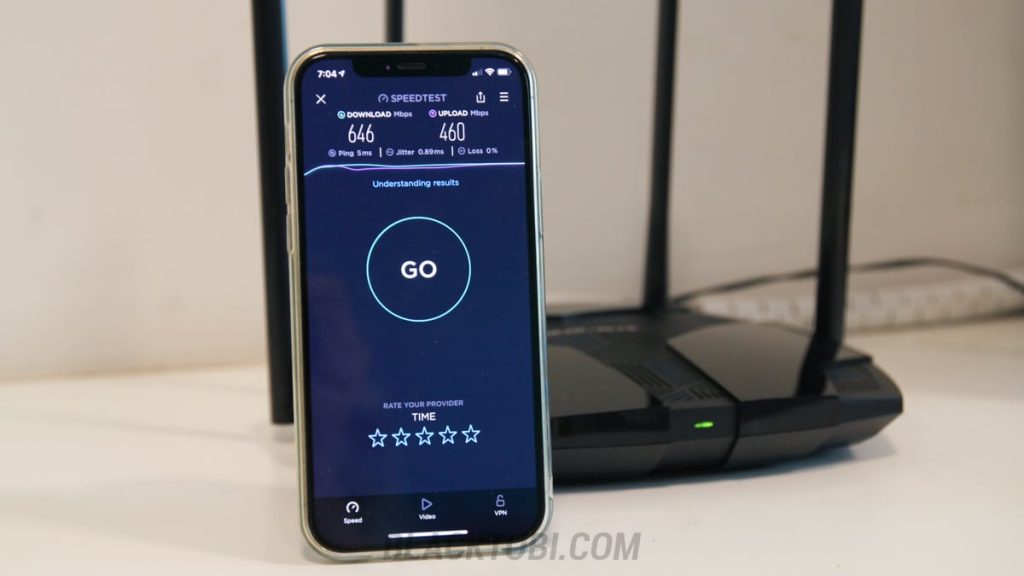 On a short distance, the Mercusys MR70X can reach around 650Mbps on my WiFi 6 supported iPhone.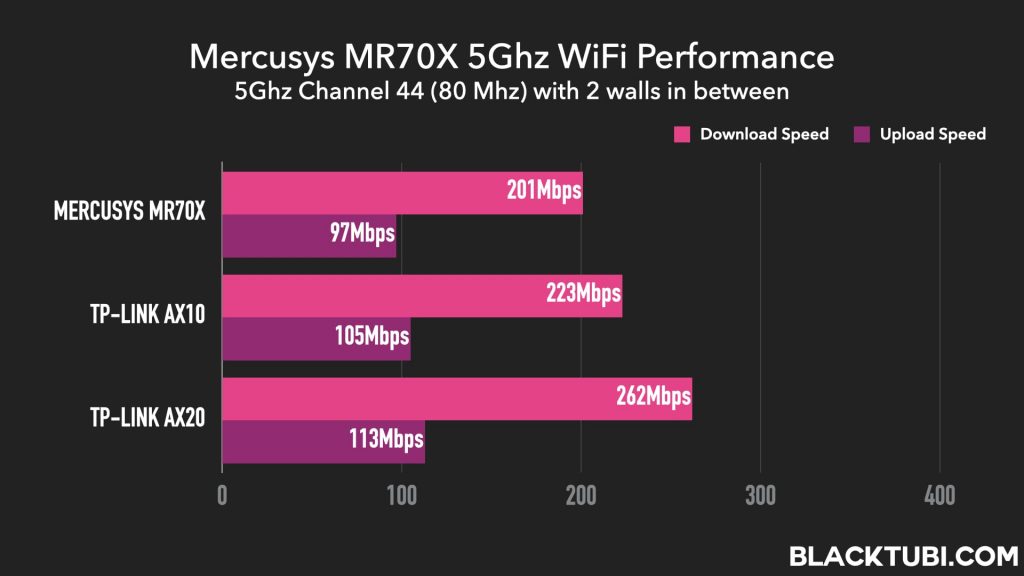 The 5Ghz WiFi performance after 2 walls is still decent. It is only slightly slower compare to the Archer AX10 that I have tested in the past. However, this speed is probably good enough for a lot of people especially those on a lower Internet subscription.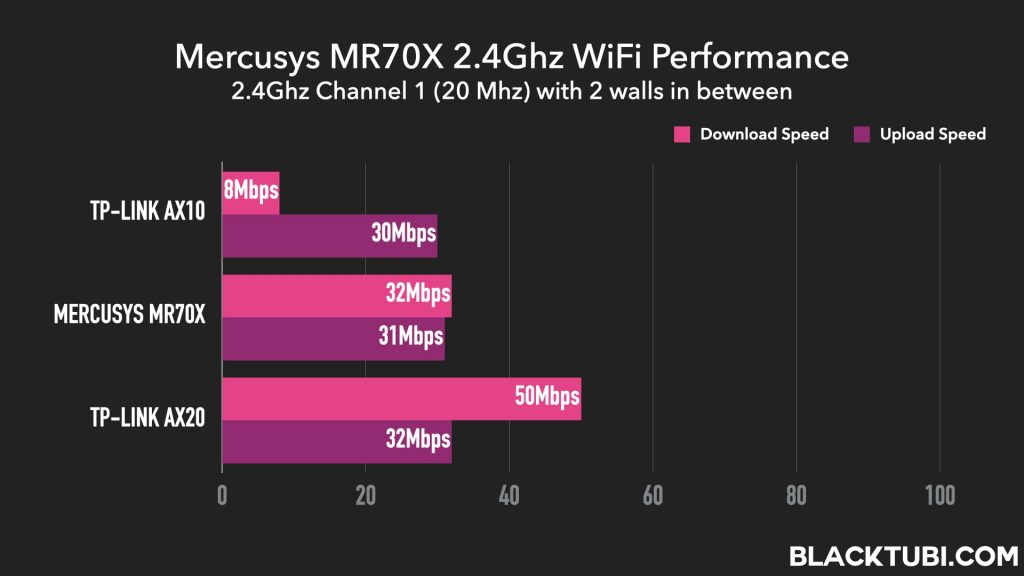 The 2.4Ghz signal is surprisingly decent for the price. The signal is stronger than the Archer AX10 and being more stable in overall. However, I am staying at an apartment with severe 2.4Ghz interference so you will probably get a better 2.4Ghz WiFi speed than me.
Mercusys MR70X runs the same firmware as TP-Link routers which mean it will at least be stable and reliable. The interface is fast and reponsive throughout my test. I find the router to be pretty stable and I do not encounter any firmware crash or restart when testing this router.
While the software is basic, it does have the usual function expected from a WiFi router. There's guest WiFi, dynamic DNS, VPN server and more. I also tested the IPV6 function and manage to get 10/10 on ipv6-test.com. Unfortunately, it does not come with a repeater mode which will be handy to some users.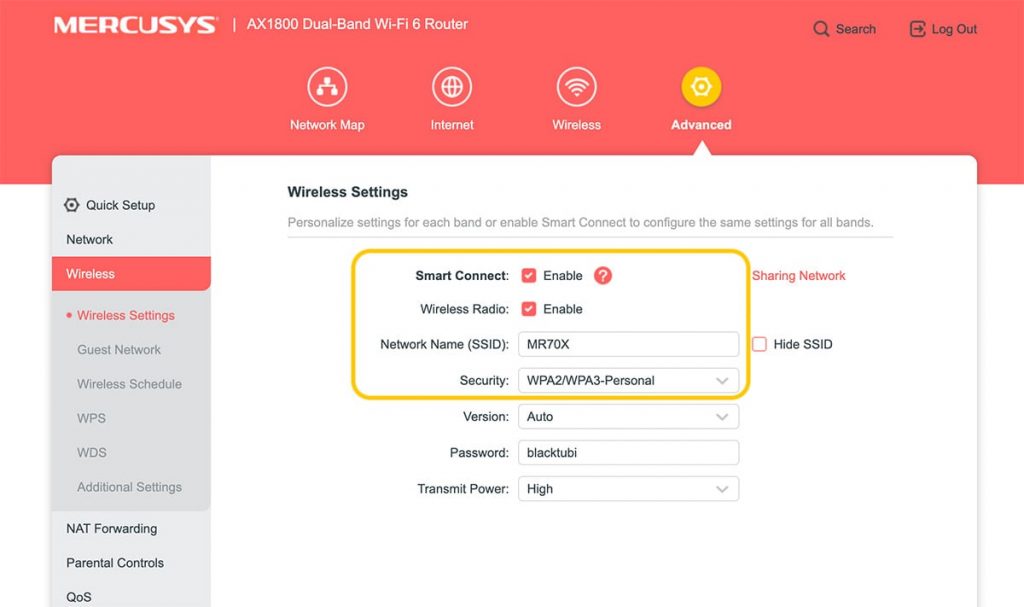 Security wise, the Mercusys MR70X support the latest WPA3 wireless security which is very surprising to us. Cheaper routers typically skip on security features but it is good to see Mercusys got the priority right. However, do not enable WPA3 unless you are 100% sure your devices support it.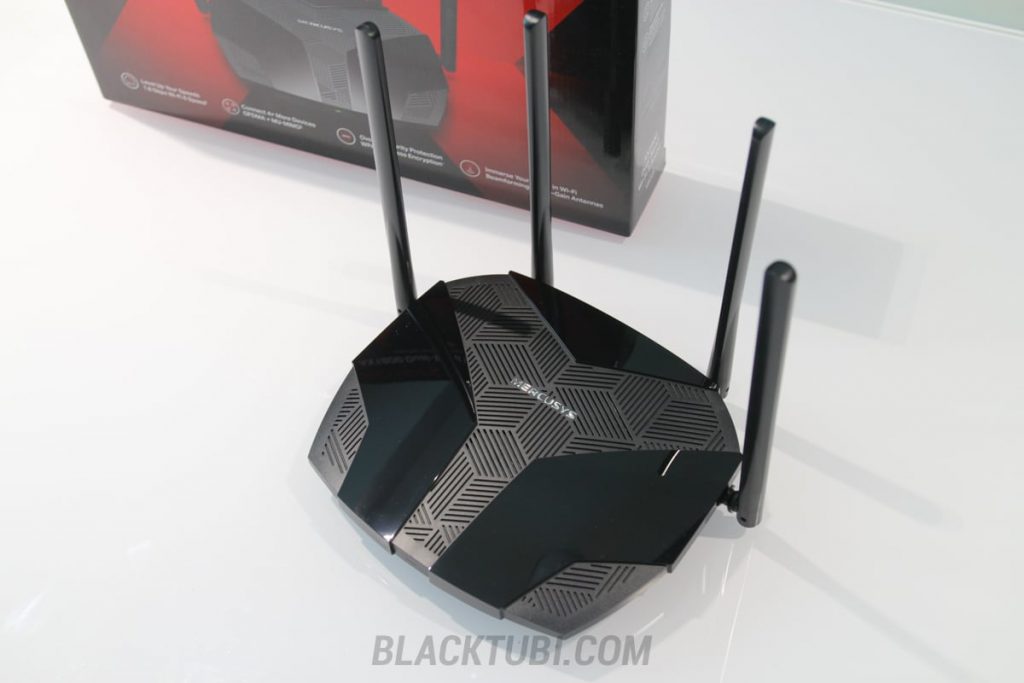 Mercusys MR70X is a decent budget router. It has decent WiFi coverage for a smaller home and decent WiFi speed. I will recommend Mercusys MR70X for those staying in a smaller property under 1000 square feet with less than 15 WiFi devices.
If you are shopping for a cheaper wireless router, the Mercusys MR70X is probably a better choice than most cheaper Wireless AC router due to WiFi 6 capability. Comparing to similar WiFi 6 router, I will recommend buying the Mercusys MR70X over the Archer AX10 due to the better WiFi 2.4Ghz performance.
Affordable price

WiFi 6 support