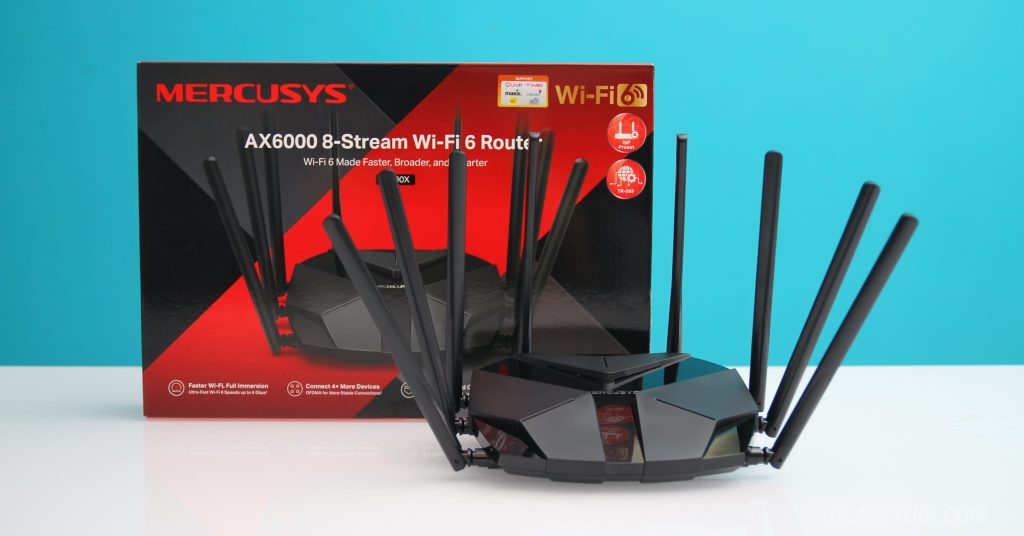 If you are looking for a budget Wi-Fi 6 router with flagship level performance, the new Mercusys MR90X might be worth a look. It comes with Wi-Fi 6 AX6000 Wi-Fi capability and a 1.6GHz quad-core CPU for just RM499. While that is a really affordable price, it does come with some compromises.
Many Internet service providers provide Wi-Fi 6 routers these days. But, they are typically slower routers with weak Wi-Fi coverage. The Mercusys MR90X with Wi-Fi 6 AX6000 capability will be a huge upgrade with much faster Wi-Fi speeds and most importantly, stable performance.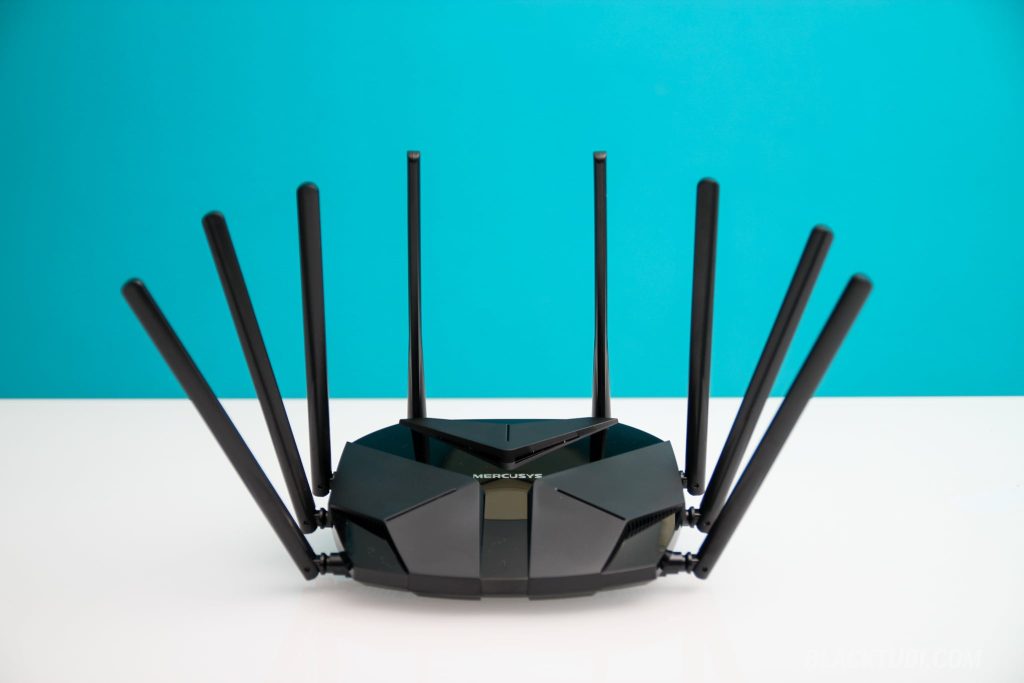 Mercusys MR90X Wi-Fi Performance
When it comes with Wi-Fi performance, the Mecusys MR90X performed really well in our test. It can consistently provide speeds exceeding 800Mbps when running speed test on my iPhone that supported Wi-Fi 6 technology over a short distance.
Over to the long distance 5GHz Wi-Fi 6 test, the Wi-Fi range is impressive. It's on par with other premium Wi-Fi 6 routers that I have tested. The Wi-Fi stability is really good and being fairly stable. That's on top of the already low-heat design of the Mercusys MR90X.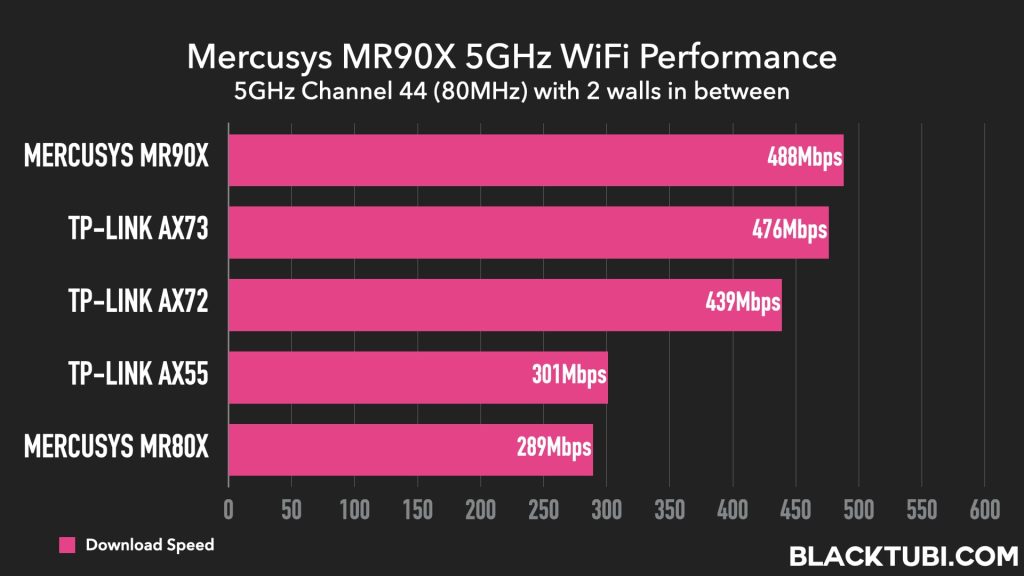 The Mercusys MR90X also comes with Wi-Fi 6 160MHz support which can provide greater speed if you used a compatible device such as laptops with the Intel Wi-Fi 6 adapter. Performance wise, it's also rather decent, quite a bit faster than similarly priced wireless router in the market.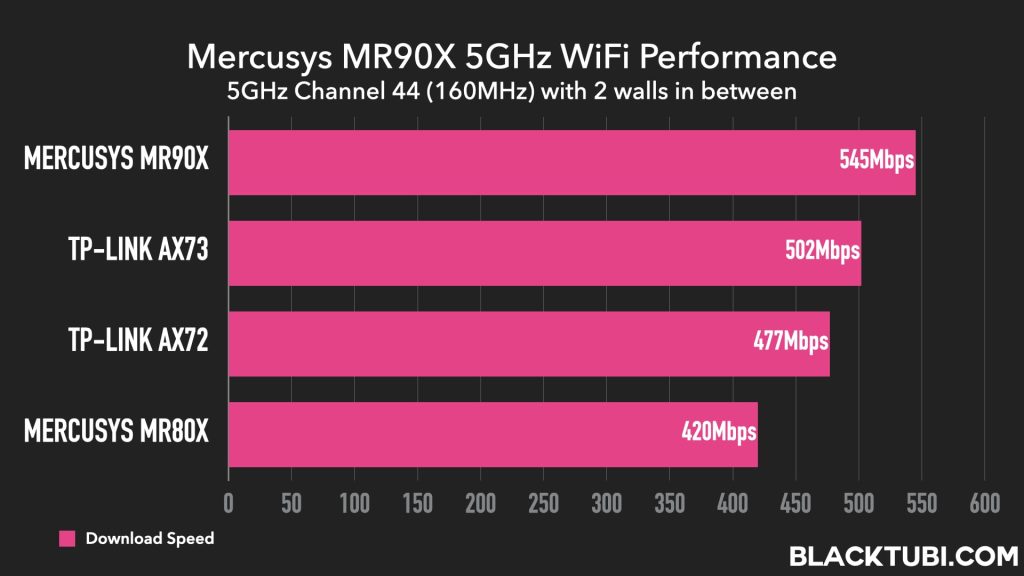 The Wi-Fi 6 performance on 160MHz is really good even after 2 walls. It's faster than both the Wi-Fi 6 AX5400 router from TP-Link despite being cheaper than both of them. If you use a laptop with the Intel AX200 or AX210 Wi-Fi 6 adapter, you will benefit from faster speed on a 160MHz supported router.
The only downside? The Mercusys MR90X doesn't come with EasyMesh feature. This means you cannot link several units of them together wirelessly to form a mesh Wi-Fi system. But, with the strong coverage of this router, I doubt that is necessary unless for bigger properties.
The Mercusys MR90X is powered by a Mediatek Filogic 830 SoC with a Quad-Core 1.6GHz CPU and 512MB RAM. It's a really good SoC and I expect to see the CPU being used in more products this year. I am impressed by the performance of this SoC even when more than 50 devices connected to the router.
I also liked the fact that the Mercusys MR90X emits very little heat. In fact, I can barely feel any heat from the product. That's because the Mediatek Filogic 830 SoC is manufactured on a relatively modern 12nm process which require less power and produce less heat than other routers in the market.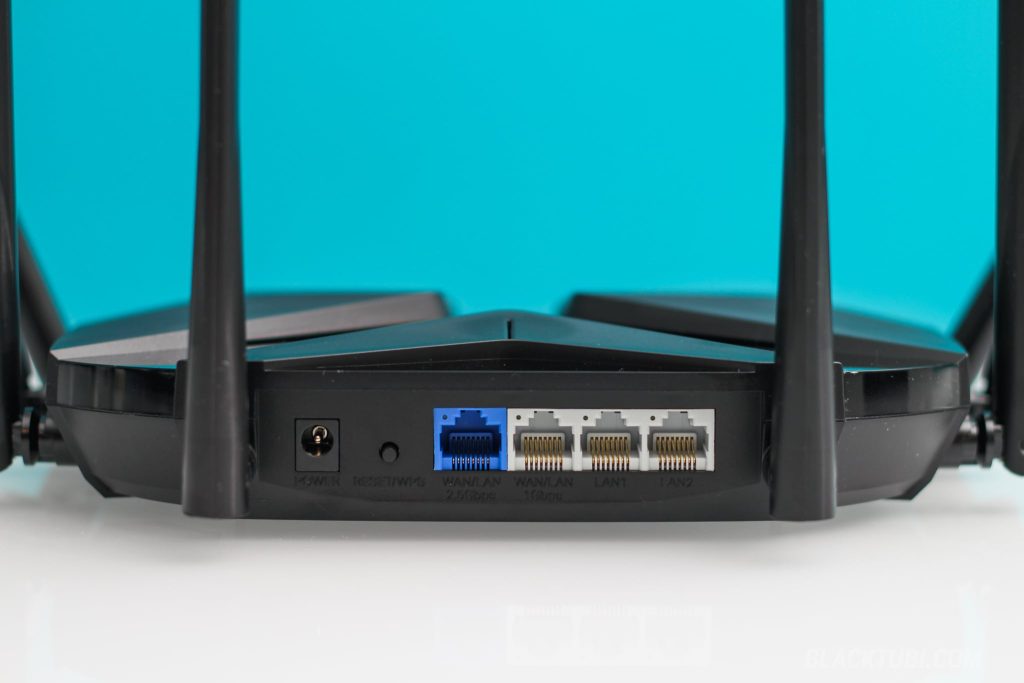 In terms of hardware, the Mercusys MR90X has a 2.5G WAN/LAN port. It also comes with 3 Gigabit Ethernet LAN ports with individual LED indicators for each Ethernet ports on this porduct.
The firmware on the Mercusys MR90X is fairly refined since it's basically TP-Link's firmware with a different shade of paint. It is really stable and consistent while being fairly easy to configure. With just five minutes, you can get it to work with most ISP in Malaysia like Unifi, Maxis Fibre and more.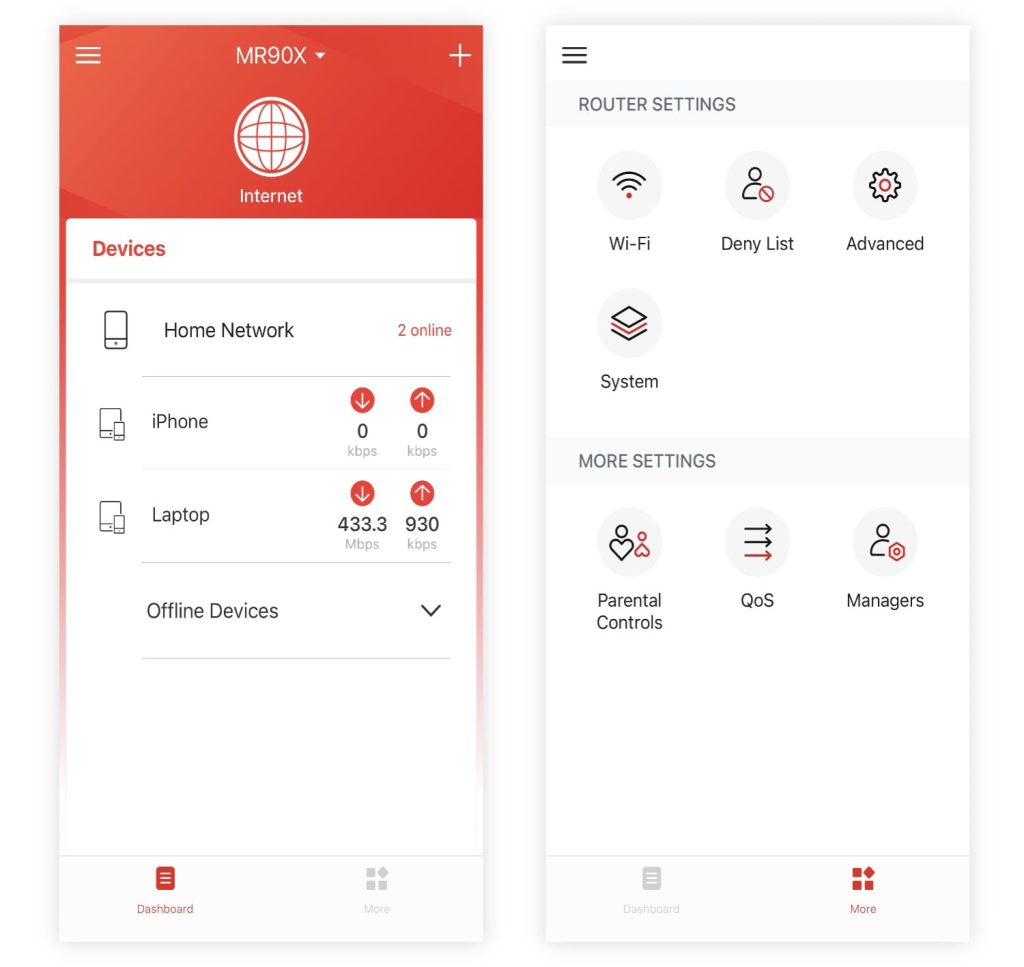 While it may not have all the bells and whistles of other premium routers, the Mercusys MR90X comes with the usual standard features you'd need, like port forwarding, DDNS, VPN server, and more. There's even a basic parental control with usage time schedule and content filtration. 
With the MERCUSYS app, the Mercusys MR90X can be managed from everywhere, even when not being connected to the Wi-Fi of the router. The app can show connected devices and let you to change some quick settings such as the Wi-Fi name and manage the parental control function.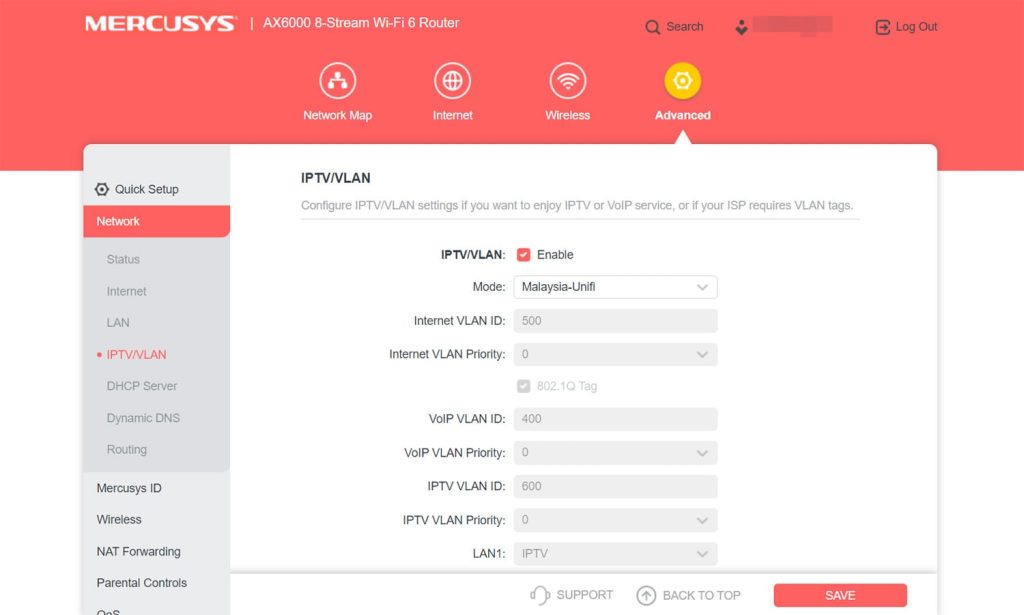 For those of you reading this from Malaysia, the Mercusys MR90X does work with the local ISPs such as Unifi, Maxis Fibre, CelcomDiGi Fibre and TIME. You might need to choose the IPTV/VLAN settings if you are using Unifi, Maxis and CelcomDiGi. They are supported natively on the Mercusys MR90X.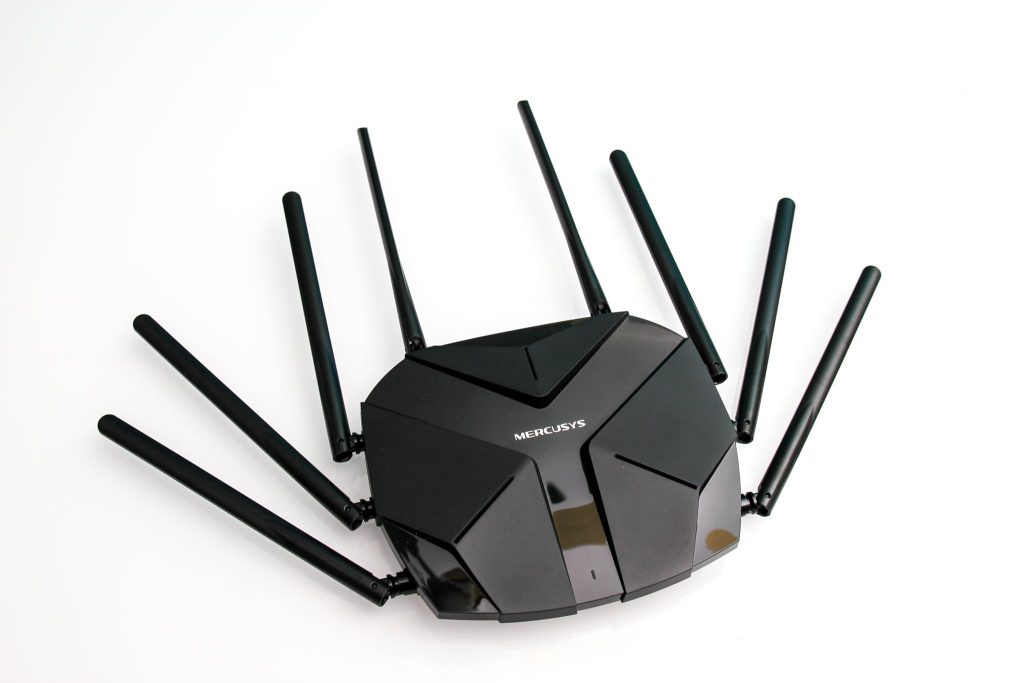 Overall, the Mercusys MR90X is a great choice for those looking for a high-performance wireless router at an affordable price. It offers strong Wi-Fi coverage and impressive performance in this price range. The router is also really stable and consistent, thanks to the low heat design.
I will recommend to buy this router for those looking for a no-frills wireless router with great value and impressive Wi-Fi performance. There's really isn't any fancy features like content filtering parental control. But, if a router is what you're looking for, the Mercusys MR90X is a decent choice.
Affordable price with impressive Wi-Fi coverage and fast CPU performance

Low heat design with stable and consistent performance

Strong Wi-Fi coverage
Does not come with EasyMesh feature
Only 3 LAN ports included instead of 4 LAN ports