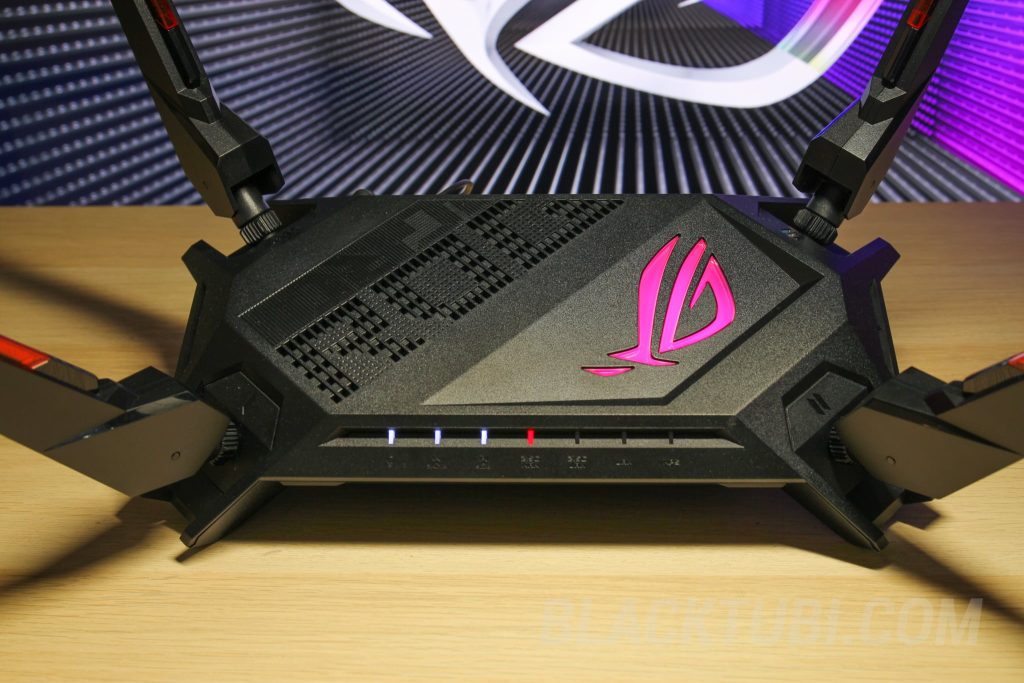 If you are looking for the fastest wireless router, the new ROG Rapture GT-AX6000 is probably your best bet. ASUS new ROG Rapture GT-AX6000 gaming router is an absolute beast when it comes to specs with pretty much the best specifications you can get in the market right now.
ASUS ROG routers are all about performance and giving the best possible experience for gamers. The latest ROG Rapture GT-AX6000 exceeded all my expectations with solid performance and great stability for sustained performance. These are really important especially for long gaming session.
To achieve that, the ROG Rapture GT-AX6000 comes with Broadcom's latest 2.0GHz quad core SoC. This CPU is going to play a huge role in the performance of the router. The Wi-Fi 6 radio are also totally new with ASUS latest RangeBoost Plus technology for stronger signal and faster speed.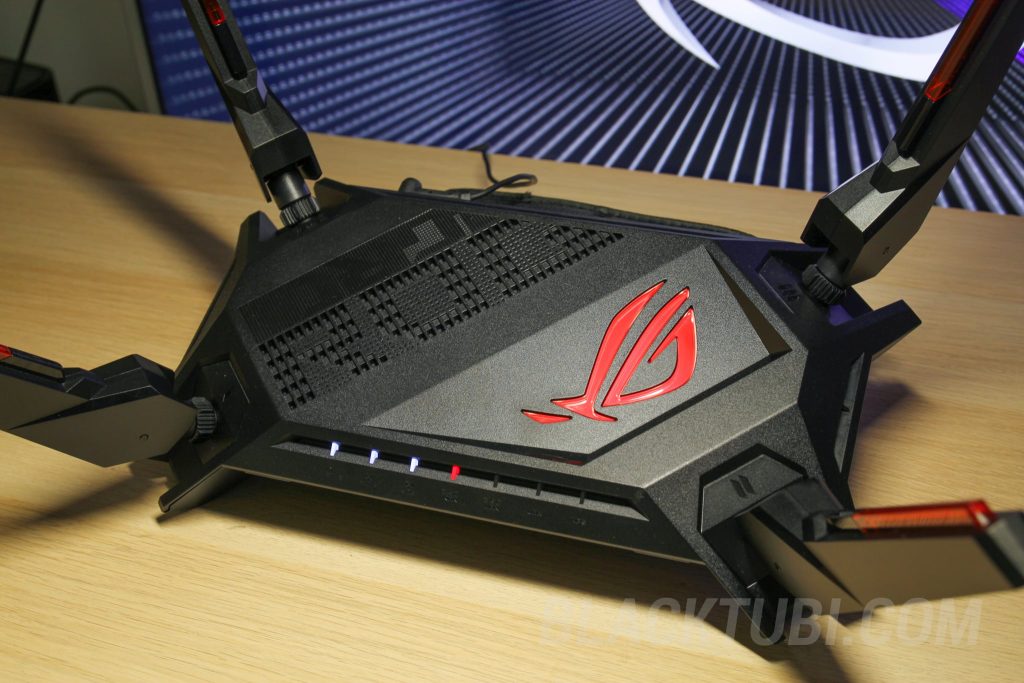 Design is also part of the experience for every ROG product and the ROG Rapture GT-AX6000 doesn't disappoint. Don't be fooled by the pictures, it's a huge router and it weighs slightly more than 1KG. I really like how premium it looks especially the ROG Eye logo with Aura RGB lighting effects.
The RGB lighting effects are similar to what you would expect on other RGB products. There are plenty of effects to choose from and you can even customize the color easily on the ASUS Router app. It would be perfect if it can use the AuraSync feature to sync the lighting effects with other devices.
Powering the ROG Rapture GT-AX6000 is Broadcom's latest 2.0GHz Quad-Core CPU and 1GB DDR3 RAM. The new SoC is an upgrade over the 1.8GHz CPU on the current flagship ROG Rapture GT-AX11000 which is already really fast even by today's standard.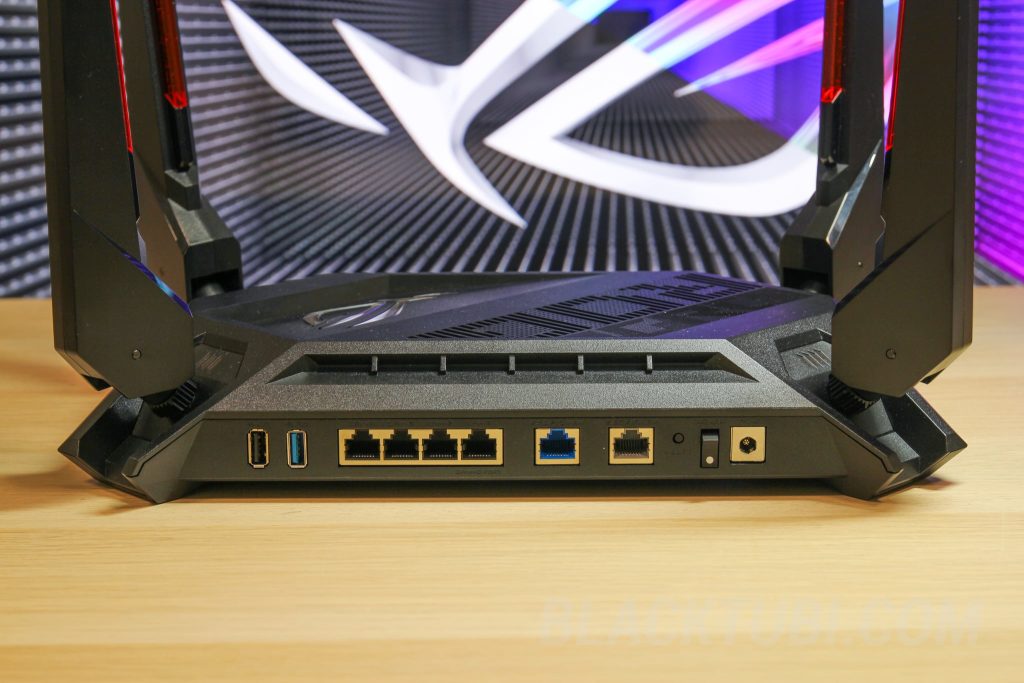 Ports option are really impressive as well. It's the first ASUS router to feature dual 2.5G Ethernet ports which allow the router to support a 2Gbps Internet connection that's already rolling out in some countries like Singapore. There're also 4 standard Gigabit Ethernet LAN ports on the router.
ASUS also included two USB ports which can be used to share files on the network or other advanced ASUSWRT features such as TimeMachine backup, printer sharing and more.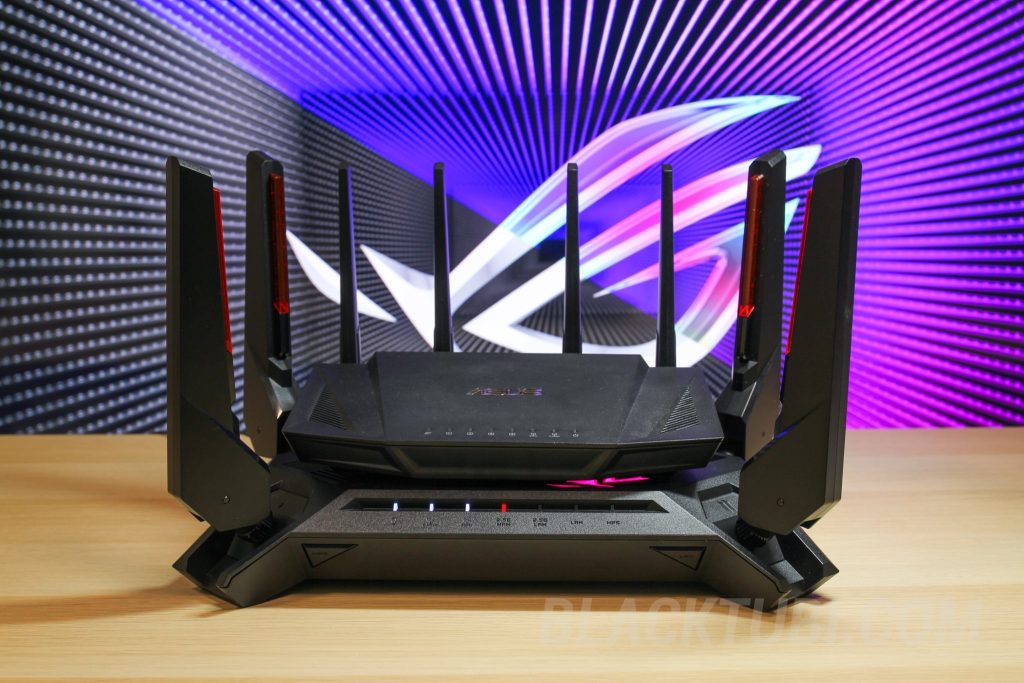 The GT-AX6000 is not a small router. To demonstrate this fact, the ASUS RT-AX3000 can be placed directly on top of the GT-AX6000 easily while still got room to spare.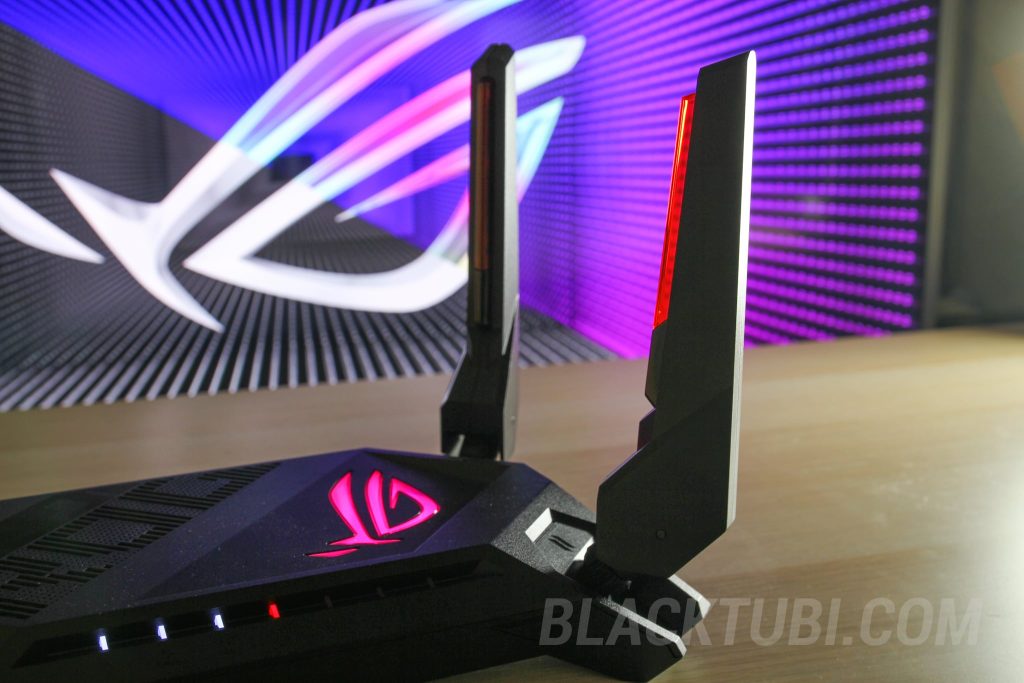 Wi-Fi performance on the ROG Rapture GT-AX6000 is nothing but impressive. It's powered by ASUS latest RangeBoost Plus technology to boost coverage and improve Wi-Fi speed. This is achieved by combining powerful signal amplifier, more sensitive antennas and modern algorithms.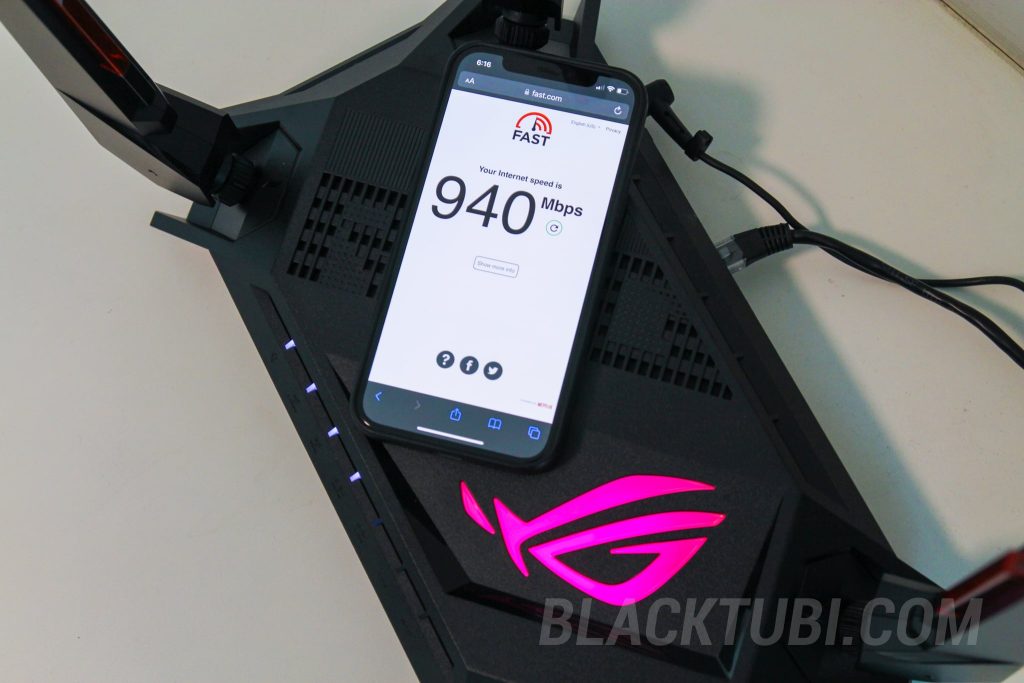 On a short distance, the router can easily reach the peak download speed of my Internet connection which is 940Mbps. This is tested on just a standard laptop with Wi-Fi 6 technology. That's already the maximum speed possible from a Gigabit Internet connection.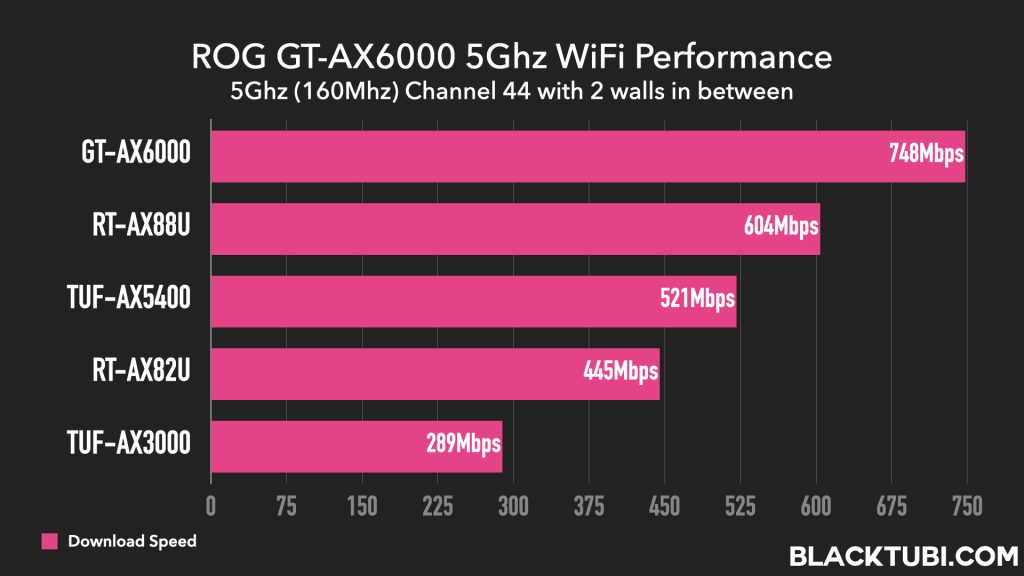 Now, 160MHz performance is shockingly good. This is important as most if not all gaming laptops in the market can support 160MHz WiFi channel. ASUS really tried to step up the performance of the 160MHz network and it shows. It's is literally the fastest router that we have tested.
For other normal devices, the GT-AX6000 is very impressive as well. It can deliver close to 600Mbps after 2 walls on a normal device which only support 80MHz like most mobile phones. Bear in mind that this is over 2 solid metal reinforced concrete wall yet the GT-AX6000 doesn't disappoint.
The performance of the GT-AX6000 is so good and it's probably the fastest Wi-Fi 6 router that we have tested. For those looking for wider coverage, it's really easy to just add another ASUS Router and link it to the GT-AX6000 wirelessly with ASUS AiMesh technology.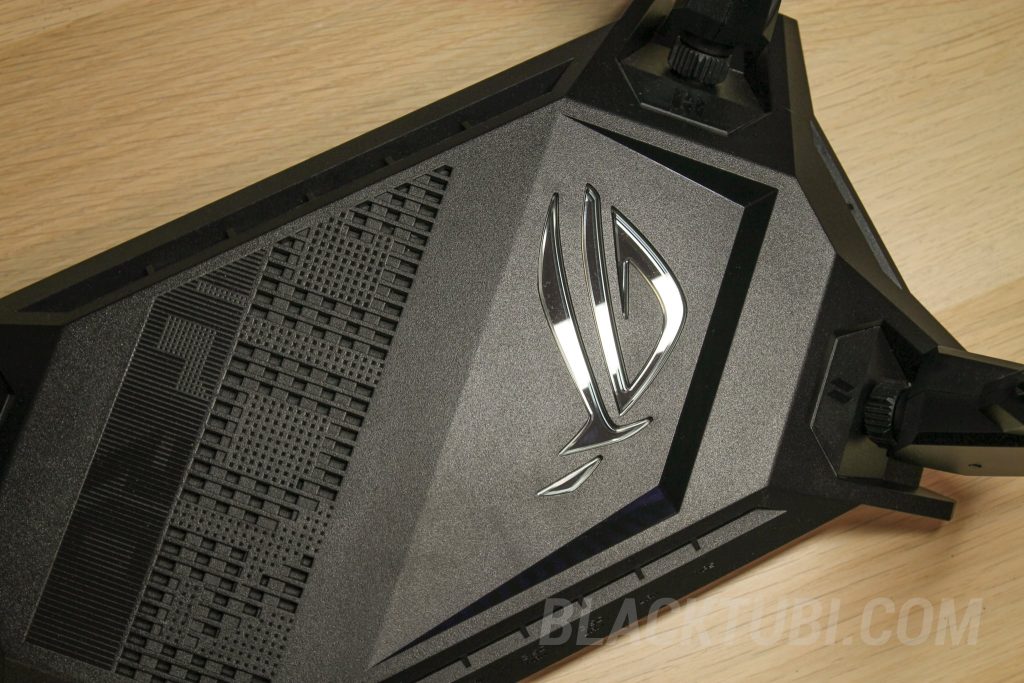 Looking inside the ROG RAPTURE GT-AX6000 explained why it costs so much. The GT-AX6000 is very well-built with plenty of metal shielding for interference mitigation and multiple chunk of heatsinks. The product is also built entirely with solid capacitors for better longetivity.
While there isn't a fan for active cooling, ASUS engineered the product to work with passive cooling. The router can sustain peak performance on extended stress-test while remain relatively cool to the touch. Since there isn't a fan, the router is totally quiet and I wouldn't need to deal with dust issues.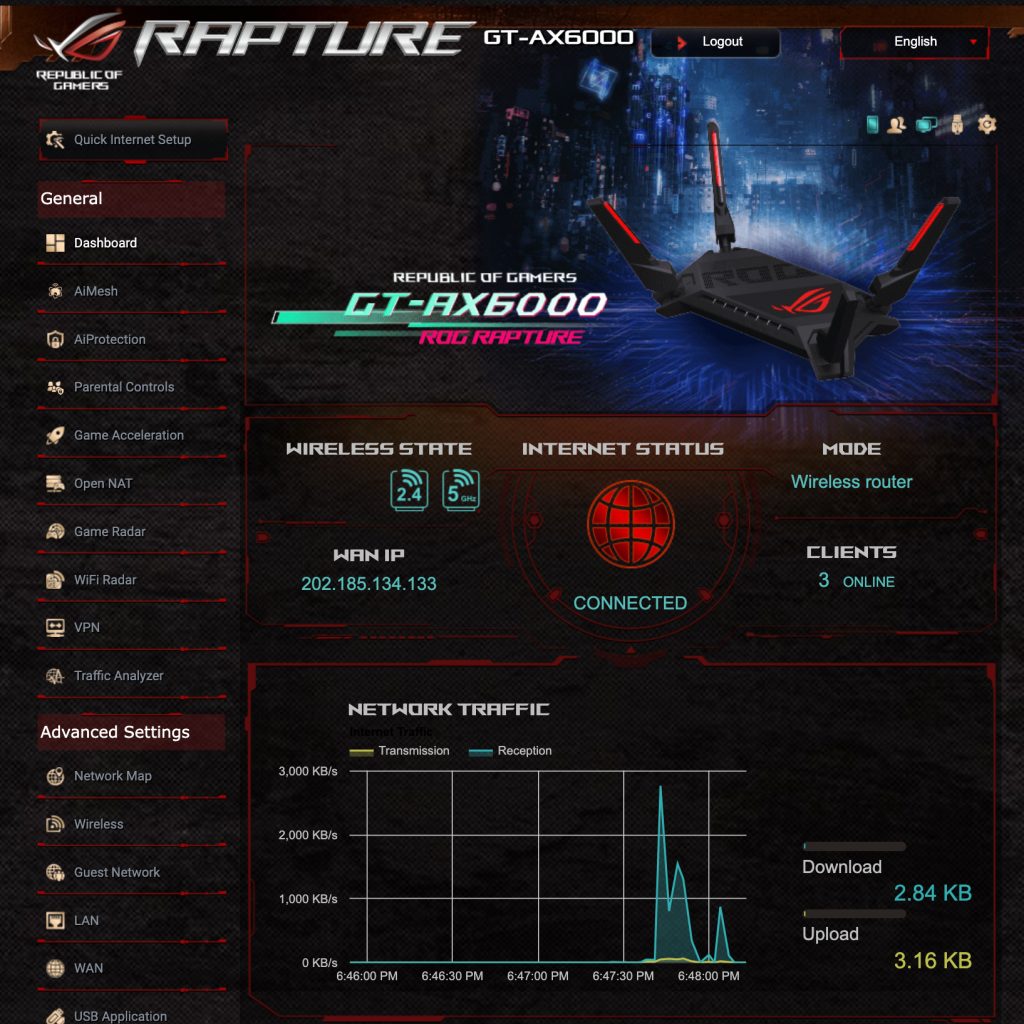 The software of the ROG Rapture GT-AX6000 is well optimized by ASUS to work with the latest CPU from Broadcom. It comes with ASUS full suite of ROG gaming features like their other ROG Gaming router designed to enhance performance for gamers.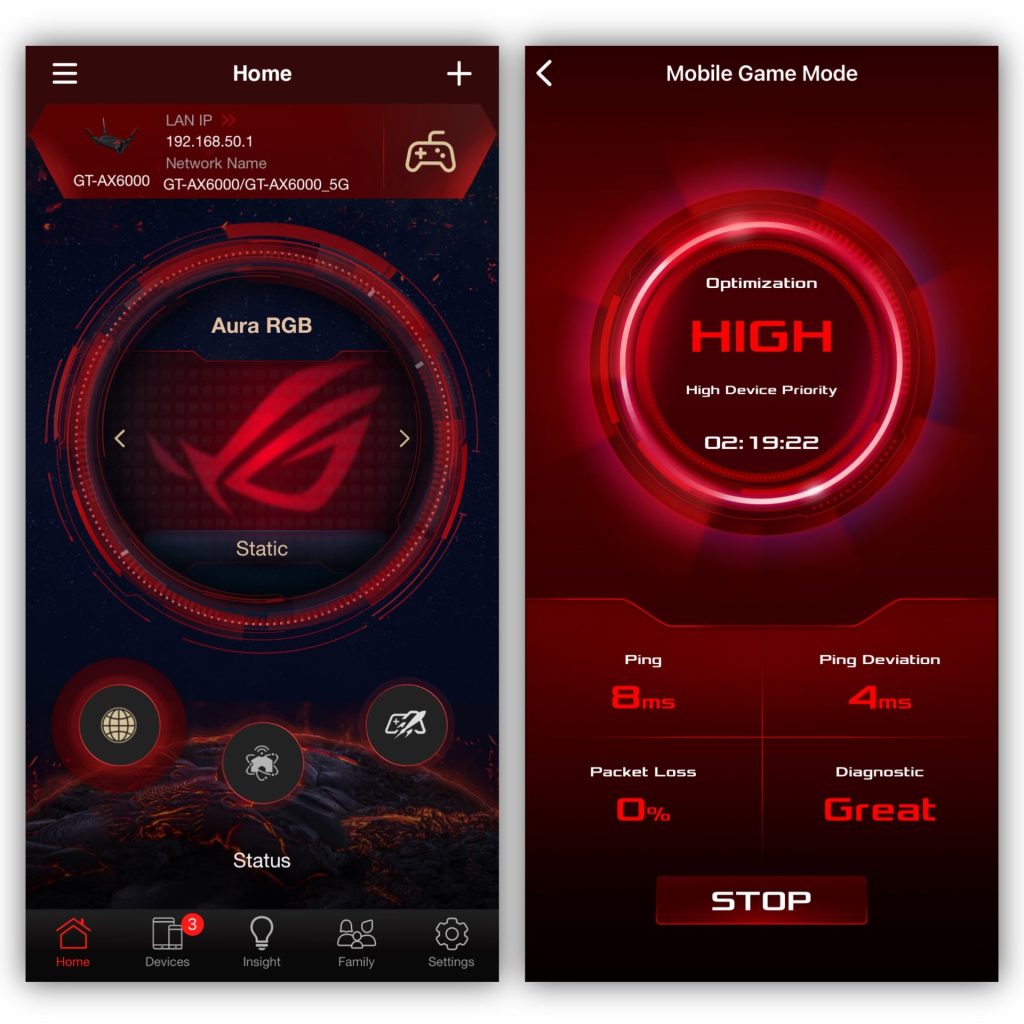 Mobile gamers rejoice as the ROG GT-AX6000 also comes with a mobile gaming mode which will accelerate gaming performance on mobile devices as well. It work directly with the WiFi radio to ensure the mobile phone will enjoy prioritized WiFi connection over other WiFi devices on the network.
ASUS signature triple-level game acceleration is still limited to their ROG routers. By default, the router will prioritize gaming connections to ensure the lowest latency even on a busy WiFi network. It is powered by a packet inspection engine to intelligently identify gaming packets and assign a higher priority for them.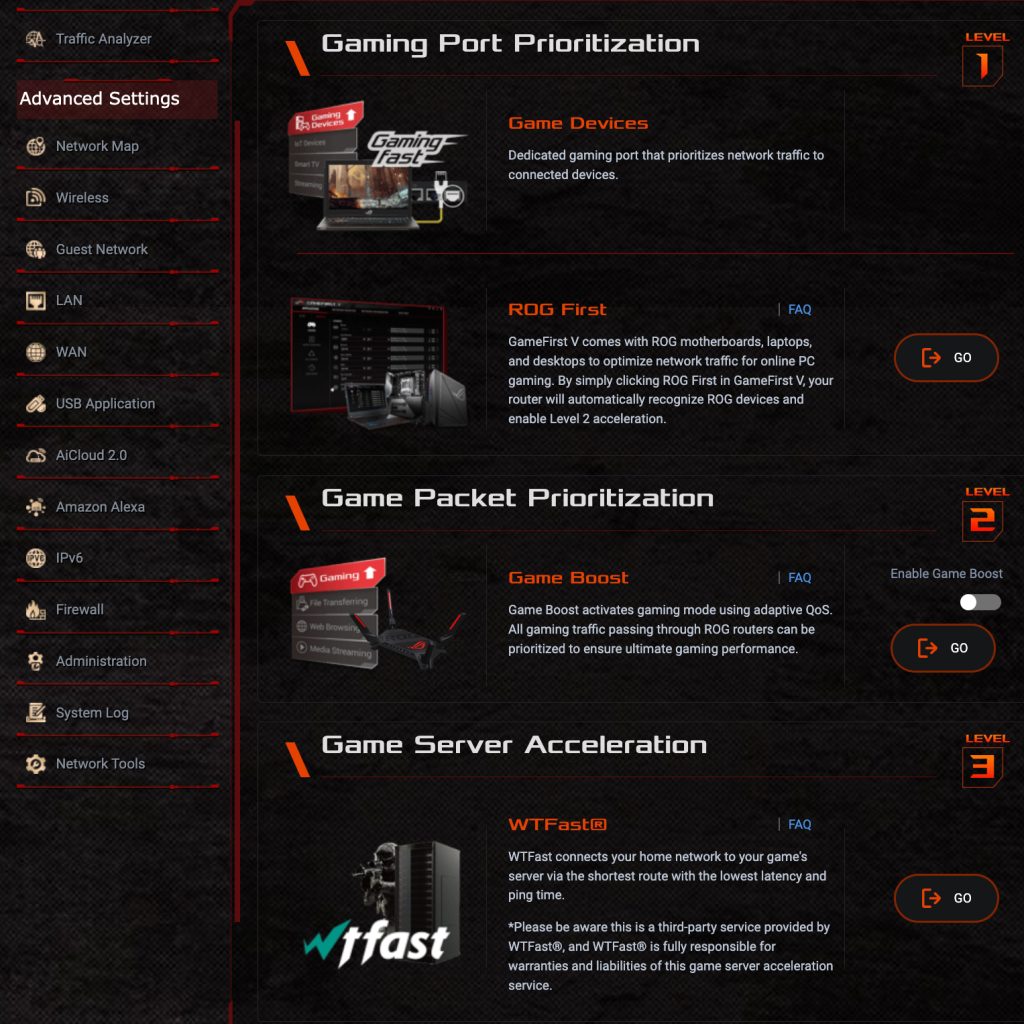 For the cherry on top, the router comes with a built-in gamer VPN feature. It will enhance the Internet routing and lower the ping time especially when playing on a foreign server where the typical connectivity from your Internet service provider isn't ideal.
On a quick test with Dota 2 on a Europe server, the WTFast GPN built-in to the ROG Router reduced ping time by around 20ms. That's a pretty significant boost when playing on a foreign server. However, just bear in mind where it wouldn't help when you're playing on a local server.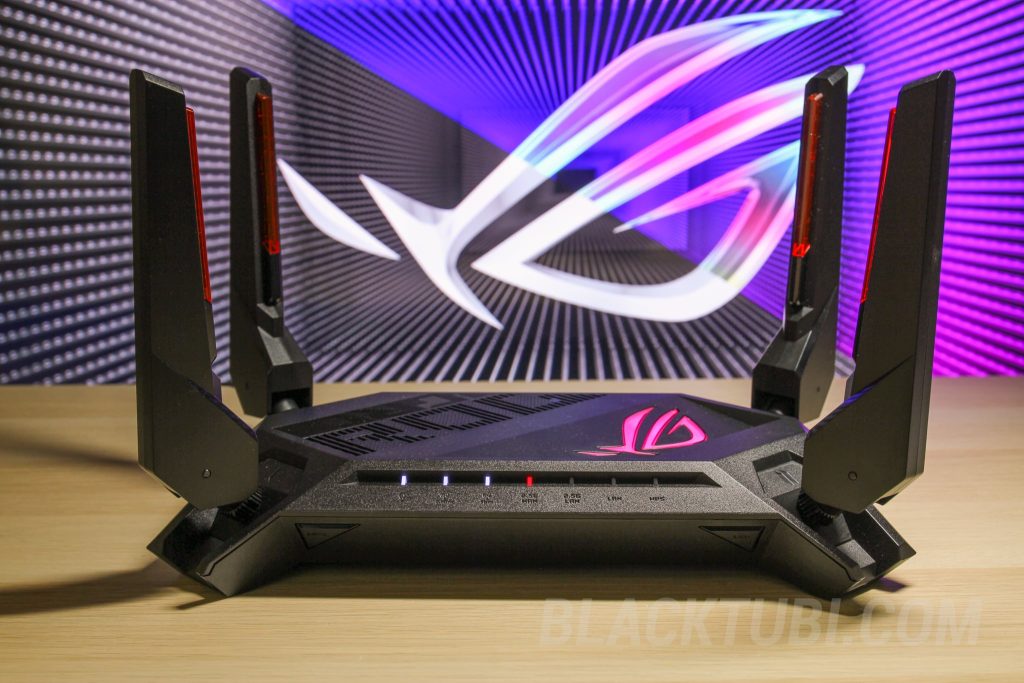 The ROG RAPTURE GT-AX6000 is the fastest WiFi 6 router that I've ever tested. The super fast 2.0GHz Broadcom CPU resulted in a really responsive network in day-to-day usage. ASUS engineers also optimized the firmware really well which resulted in a really stable and dependable router.
As for Gaming, the fast CPU ensure that nothing can impact your gaming performance even on a busy network thanks to ASUS' signature game acceleration (QoS) technology. Wi-Fi signal is so strong that it would cover a double-storey house easily if positioned properly at the center.
ASUS ROG products are never cheap for a good reason. Apart from the specs, the GT-AX6000 used enterprise grade components which often last longer and performs better. ASUS is also known to provide at least 5 years of security updates to their networking product.
Dual 2.5G Ethernet WAN/LAN ports

Very strong Wi-Fi coverage and speed
Solid features to improve gaming performance and stability
RGB lighting without AuraSync is a missed opportunity