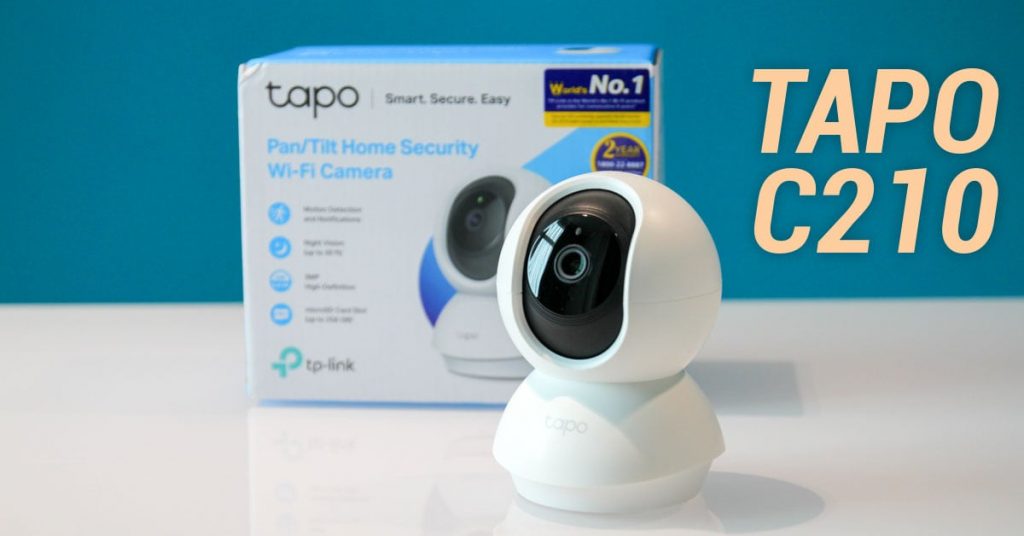 TP-Link Tapo C210 is an improved version of the Tapo C200 which I've reviewed before. At first glance, it doesn't look very different; it still has a motorized pan and tilt camera with speaker and microphone built-in. But, TP-Link improved the camera and this should result in better image quality.
Build quality is really good here thanks to the high quality plastic material. The camera is pretty compact and lightweight. TP-Link hidden the MicroSD card slot which means you need to manually turn the camera up in order to access the slot and the reset button.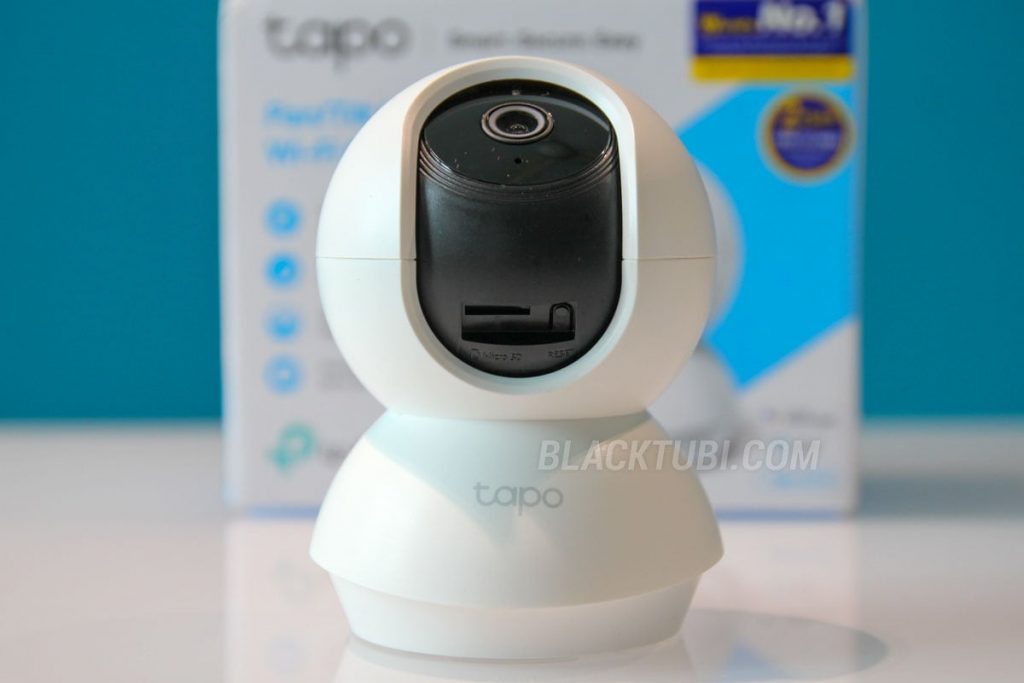 Being a WiFi security camera, it will connect to a WiFi network and let you to see the video footage on the Tapo app remotely. You can see what's happening at home or monitor your pets. There's also a motion detect alarm function which can be used at a business after working hours as well.
The camera support recording to a MicroSD card or Tapo Care cloud storage service. However, the cloud storage feature will be released soon. TP-Link gave me an early preview of the feature and I will talk more about it once it is released.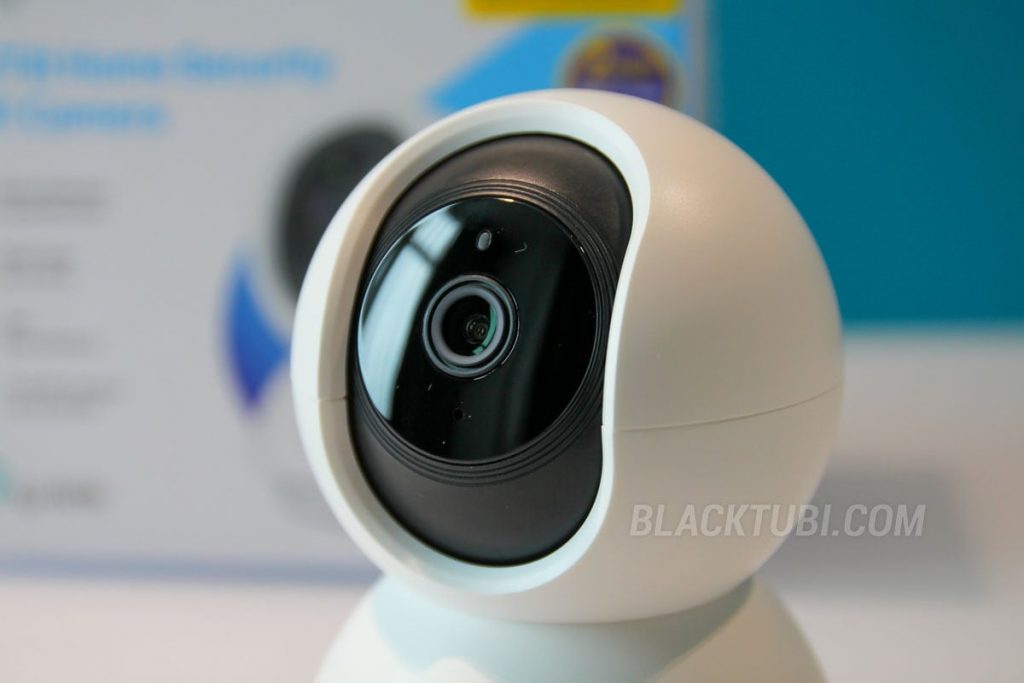 According to TP-Link, the maximum recording length is up to 21 days with a 256GB MicroSD card. I will recommend using a high endurance MicroSD card for better stability.
Hardware and Specification
| | |
| --- | --- |
| Video Resolution | 2304×1296 at 15fps, 1080p, 720p |
| WiFi Connectivity | 2.4Ghz Wireless N 1×1 20Mhz |
| MicroSD | Up to 256GB |
| Cloud Storage | Coming Soon |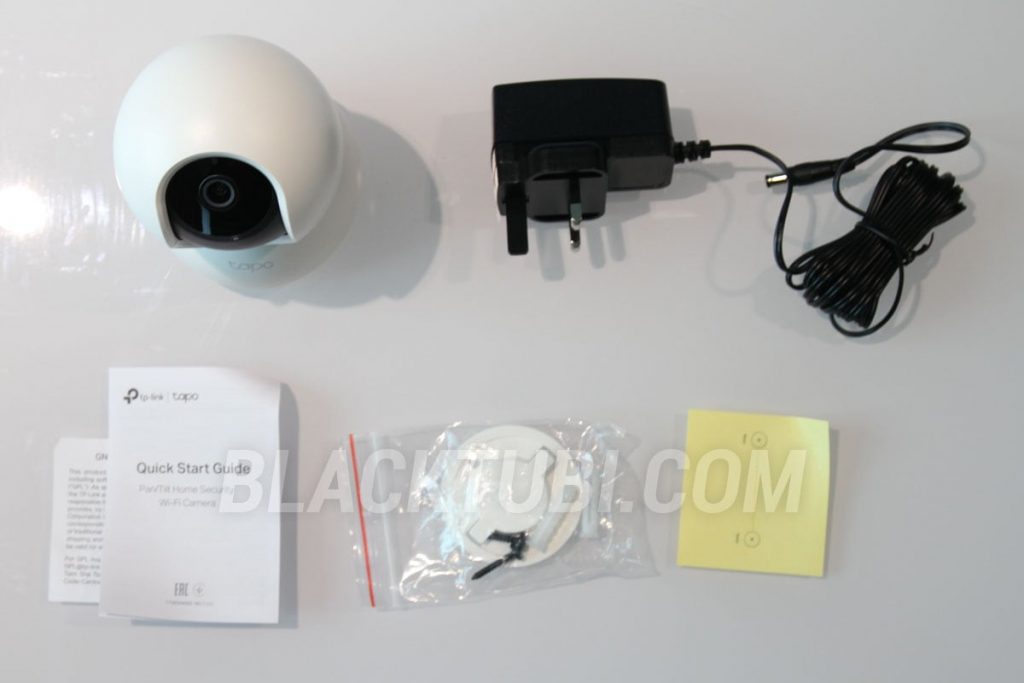 Inside the box, you'll find a power adapter and the mouting accesories. The camera can be wall-mounted but drilling will be required. The length of the included power adapter is 5m.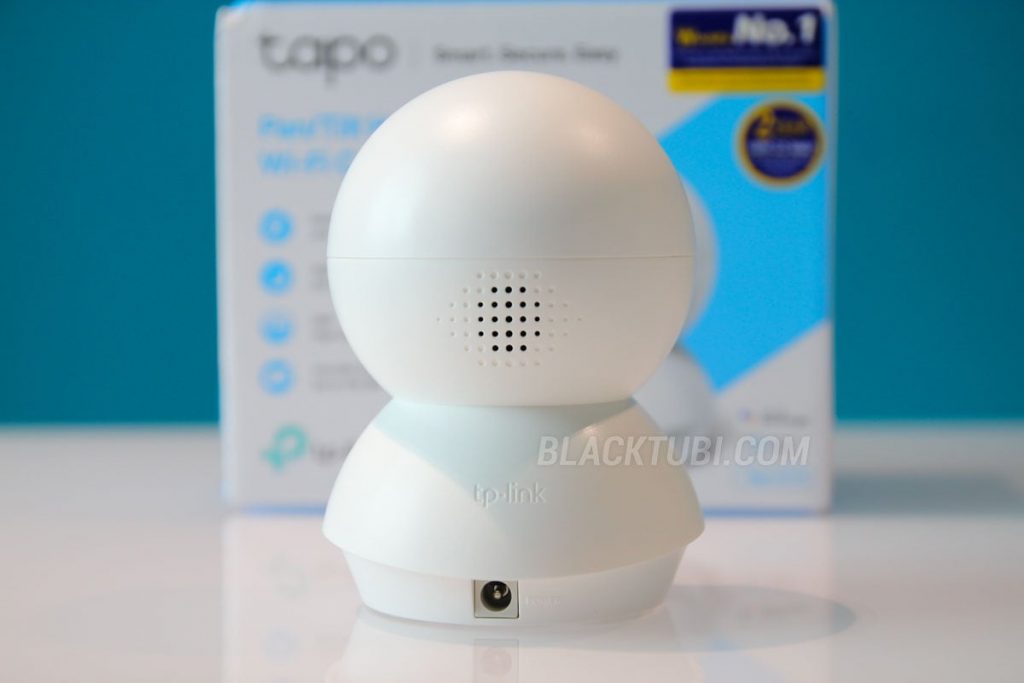 The Tapo C200 is not a weatherproof camera and it doesn't have any IP rating. I will not endorse using it outdoors but it should be fine as long as it's shielded from rain or shine.
The image quality is significantly enhanced on the new Tapo C210 with a new sensor that supports up to 3MP. While that doesn't sounds a lot, it's actually 44% more pixels than a Full HD 1080p IP camera. This results in more detail and clarity in the footage but at an expense of larger files size.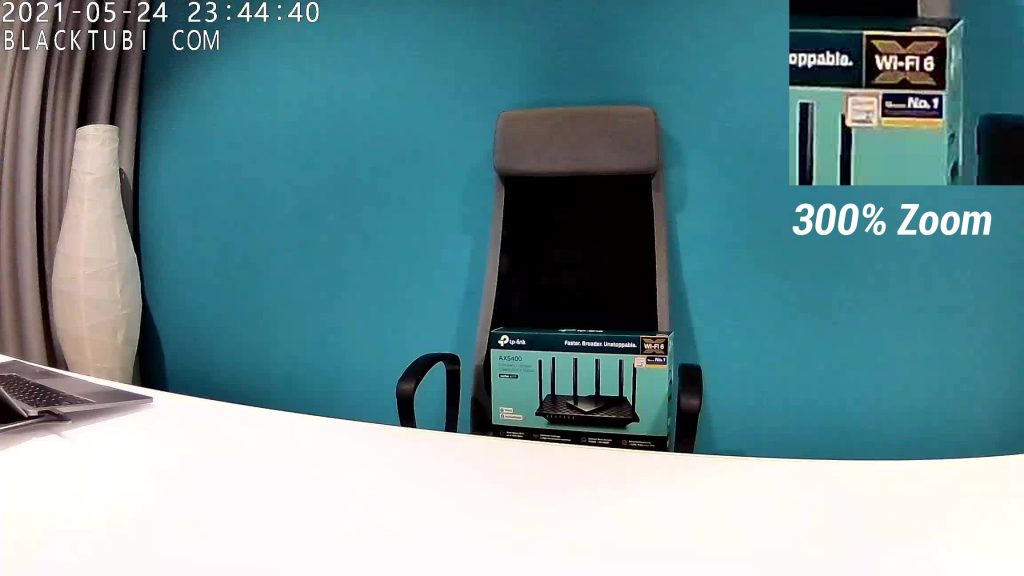 TP-Link will let you to use a smaller recording size down to 720p or 1080p on the app. I added a 300% zoom crop image to compare the image quality.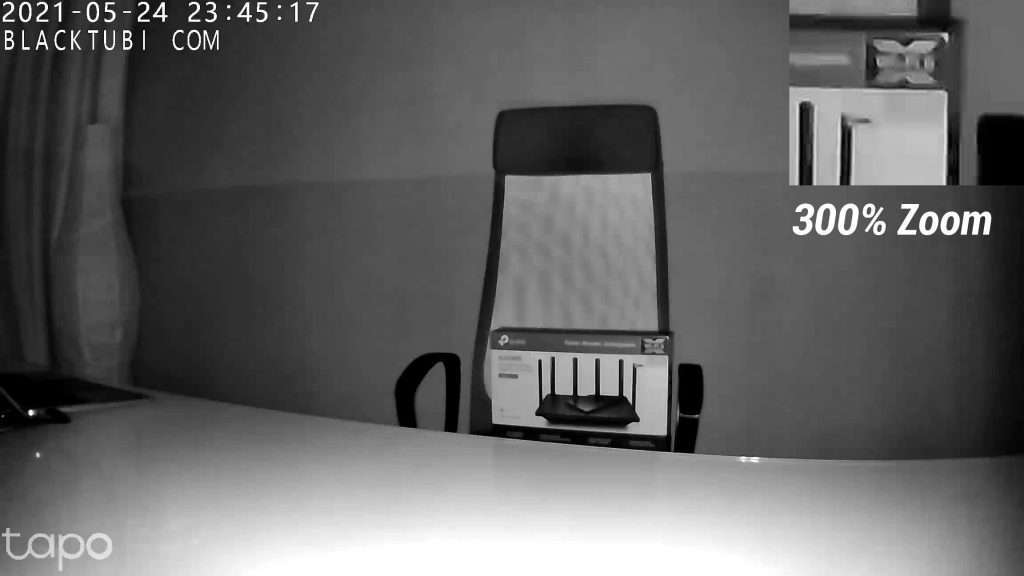 Being an indoor security camera, Tapo C210 has a really good night vision capability which can illuminate up to 10m distance. The camera will automatically switch to night vision mode when the scene is dark. However, when night vision is enabled, the image will be black and white.
The next image is the blind test on both condition by using a really bright flash light. Tapo C210 seems to be able to compensate for bright light and adjust the exposure for better dynamic range. This will be useful if the camera is facing bright lights constantly.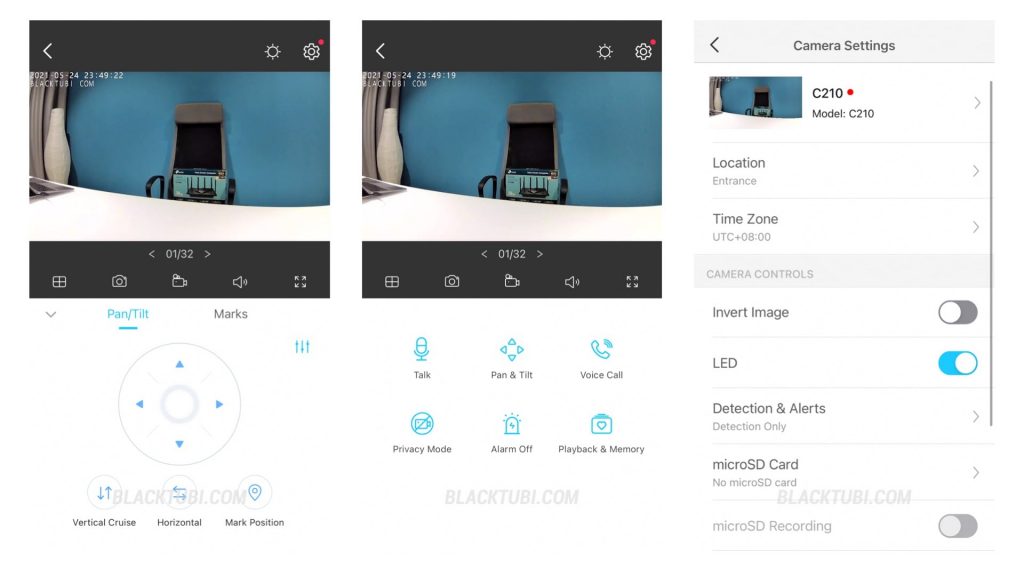 I've tried many IP cameras and surprisingly, the Tapo app is certainly one of the best. It loads the video stream quickly even on a slower Internet connection and works with any WiFi routers. The camera pan and tilt angle can be adjusted on the Tapo app remotely as well.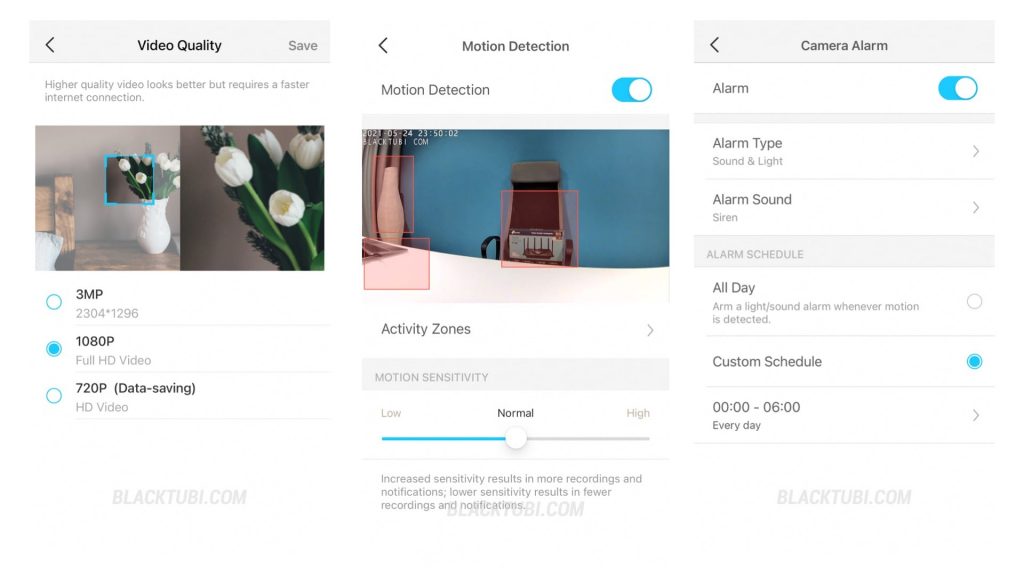 I prefer the built-in motion detection recording rather than continuous recording as it will reduce storage usage significantly. There's also an alarm feature which willl sound the alarm and send a notification to the app when motion is detected.
Reviewing recorded footage can be done on the app with the timeline feature. The timeline will indicate when motion is detected and the recording can be downloaded. However, since the footage is recorded on the MicroSD card, this will only work when the camera is connected to the Internet.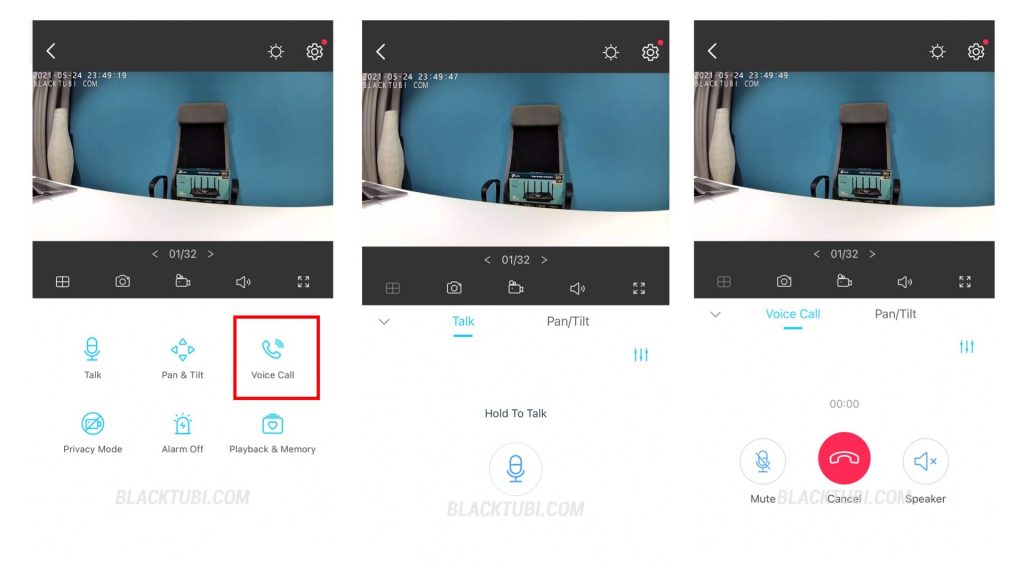 Tapo C210 is also a really good baby monitor or pet monitor. It will let you to listen to the camera in real-time and send your voice with the built-in speaker and microphone. In fact, the audio quality is surprisingly good compared to other security cameras that I have tried.
Security and privacy is an important factor here. The app service is hosted on Amazon AWS service. Besides, the camera connection is encrypted and secured with your own TP-Link ID. There's also a privacy mode which will disable all recording and remote viewing function when enabled.
Lastly, the Tapo C200 will only works with the Tapo app for Android or iOS devices. Although TP-Link offers ONVIF support, there's no easy way to view the stream on a PC computer. This is why the Tapo app is so good as the app is the only way to view the camera stream.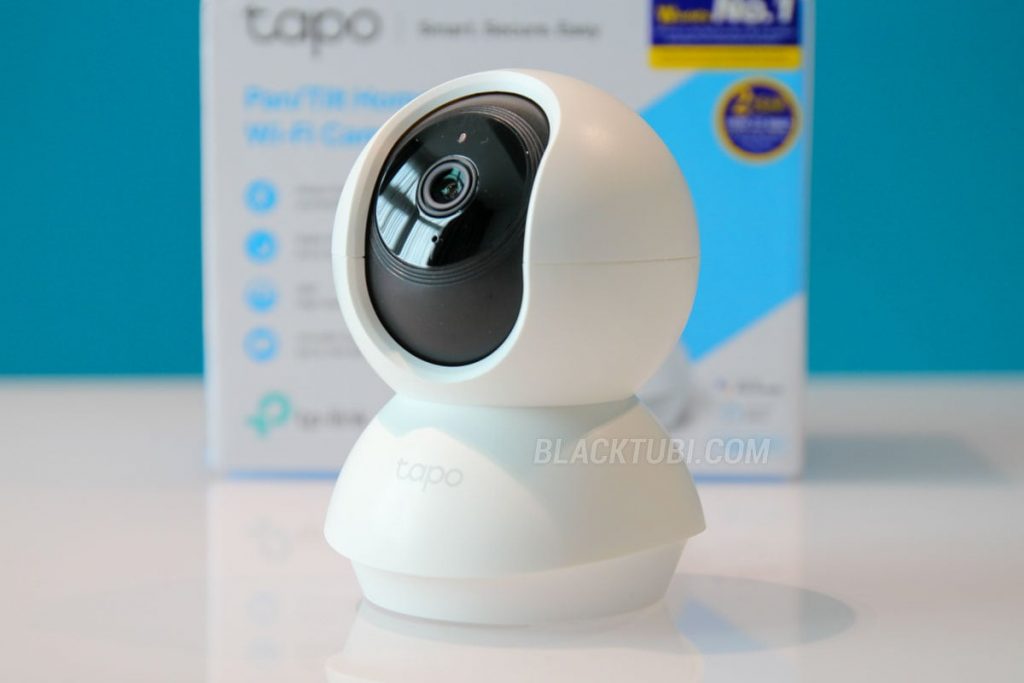 There's really nothing bad to complain about the Tapo C210. It offers a great image quality at day and night with a well designed app that's very user-friendly. At just RM139, it offers better performance and a much better app than competing products. I think that the Tapo C210 is probably the best budget IP camera in the market right now and I highly recommend this.
Reliable and fast app
Good camera quality
Good design and small size