TP-Link Archer A10 is TP-Link latest mid range router which aims to bring high performance networking to the masses. To do that, TP-Link given the Archer A10 some pretty decent specs. It supports Dual-Band Wireless AC up to AC2600 with MU-MIMO and beamforming. At a price of RM639, it is probably the most affordable AC2600 router in the market now.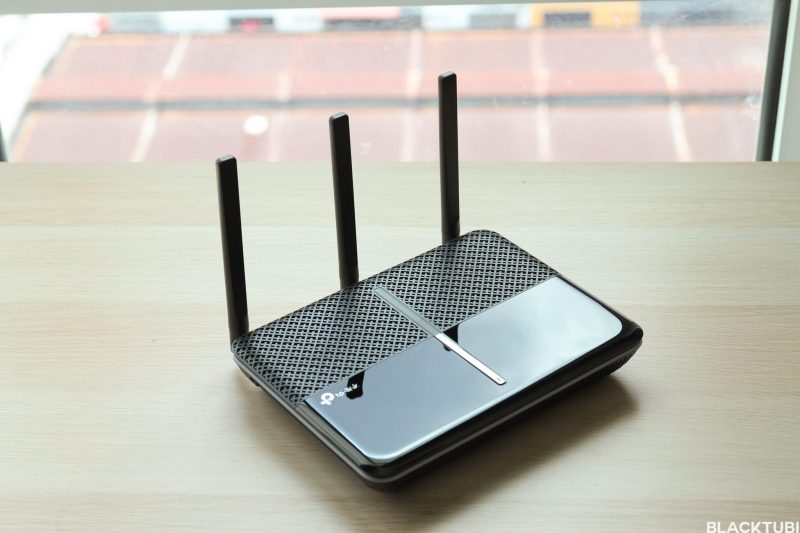 The outlook for the Archer A10 looks really similar to the existing TP-Link Archer C2300. Both routers spot a three antenna design and seems to be having the same hardware. Except, they are not the same. The Archer A10 is powered by a totally different chipset and have very different configuration.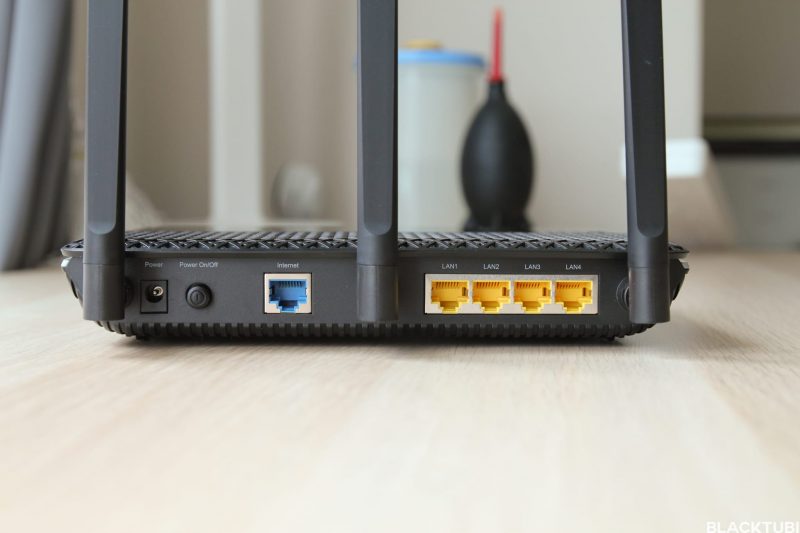 | | | |
| --- | --- | --- |
|   | Archer A10 | Archer C2300 |
| Chipset | Mediatek | Broadcom |
| CPU Specs | 880Mhz Dual Core | 1.8Ghz Dual Core |
| RAM | 128MB | 512MB |
| WiFi Rating | AC2600 | AC2300 |
| 5Ghz Peak Speed | 1733Mbps | 1625Mbps |
| 2.4Ghz Peak Speed | 800Mbps | 600Mbps |
| Antenna Config | 4×4 (Quad Stream) | 3×3 (Tri Stream) |
TP-Link Archer A10 is powered by Mediatek chipset unlike the Broadcom based Archer C2300. Like D-Link DIR-882 we reviewed before, it is powered by the Mediatek MT7621A chipset. The chipset is known for decent performance and good WiFi range.  The Archer A10 is actually a 4X4 router so there's actually a forth antenna inside the router. This enabled the router to reach a maximum of 1733Mbps link speed on the 5Ghz band. 
In order to reduce cost, TP-Link done a few changes. The RAM on the Archer A10 is slightly lesser and it does not come with any USB port. Both of these probably helped to make the Archer A10 more affordable to the end user. 

TP-Link Archer A10 Unifi Setup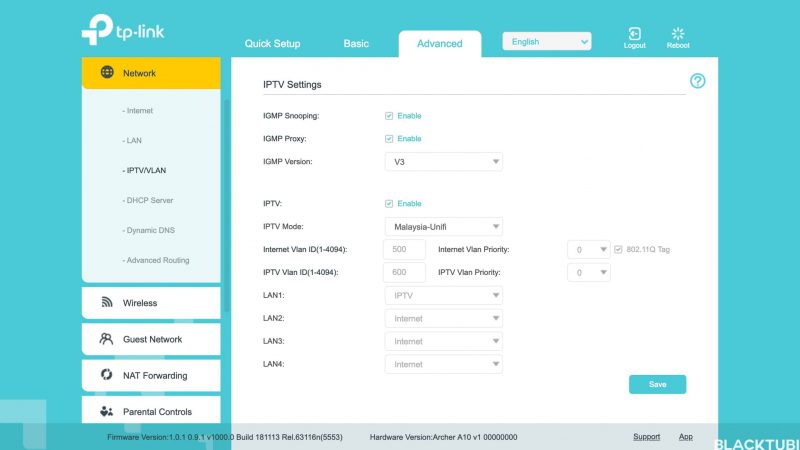 TP-Link Archer A10 is very easy to setup. It is compatible with TM Unifi, Maxis and TIME Fibre. You can refer to our TP-Link Unifi setup guide over here. This router also support HyppTV as well. 
The router WebUI is tplinkwifi.net or 192.168.0.1 and the default WiFi password is labeled under the router. You can also use a Gigabit Ethernet cable to setup the wireless router. The router setup is not hard and it will ask you to select the ISP profile in the setup wizard.
The firmware is your familiar box standard TP-Link firmware. It is pleasant to use and the interface lets you to monitor your network rather easily. All the features you expect from a wireless router is definitely there and nicely laid out. There is a tool to check if your port speed of the LAN port, useful to check if your LAN cable have degraded. There is also a built-in VPN server but the router does not feature any USB port. 
The features on the Archer A10 is lesser than the more expensive Archer C2300.  It features a basic QoS engine which does not work when NAT Boost is enabled. We recommend to have NAT Boost enabled all the time for the performance benefit especially on faster Internet. The router also features a Guest WiFi and VPN server function which both are also handy shall the requirement arise. There is also a basic Parental Control which can limit usage timing and configure keyword blocking. 
The Archer A10 also features the TP-Link Tether app which lets you to manage your wireless router on your phone. You can bind the router to TP-Link cloud account and monitor your wireless router remotely when you are out from your house. The app is able to monitor the network conditions and toggle some quick settings quickly.
The WAN performance test is designed to see the maximum speed the CPU of the router can handles. In our test, the Archer A10 can handle up to 930Mbit/s on wired LAN, the peak speed of Gigabit Ethernet. 
Peak WiFi Performance Test
The peak WiFi test is designed to test what is the maximum speed when the router can deliver. We are testing this using a 4×4 AC3150 WiFi Receiver. With that, we are peaking at slightly over 800Mbit/s on Ookla's Speedtest.net. 
As the 4×4 WiFi Receiver have to be connected to a physical desktop, we cannot conduct the far distance test. 
Typical WiFi Performance Test
The typical WiFi performance test is conducted on our Macbook with an AC1200 wireless receiver as most people do not have a 4×4 WiFi receiver. This is to simulate the speed on real world conditions as AC1200 receivers is the most common in devices we use. We will also test this at a close distance with line of sight and further distance over 7m with a wall in between.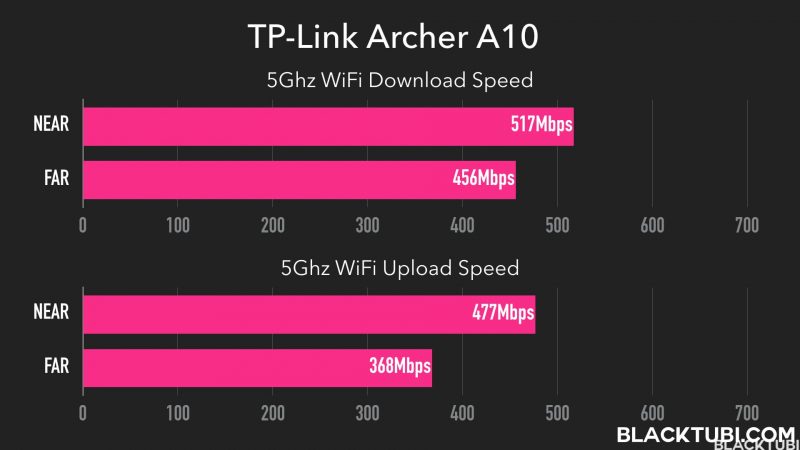 The performance is pretty decent here, peaking at over 517Mbps download speed on our Macbook and only dropped slightly to 477Mbps as we go further. The WiFi coverage is also really good with this router, better than TP-Link Archer A7.
TP-Link Archer A10 also features smart connect which combine 2 bands and the router will automatically steer devices to the best band. We recommend enabling this option so both the 5Ghz and 2.4Ghz will have the same name and you do not need to manually switch between the 5Ghz and 2.4Ghz WiFi.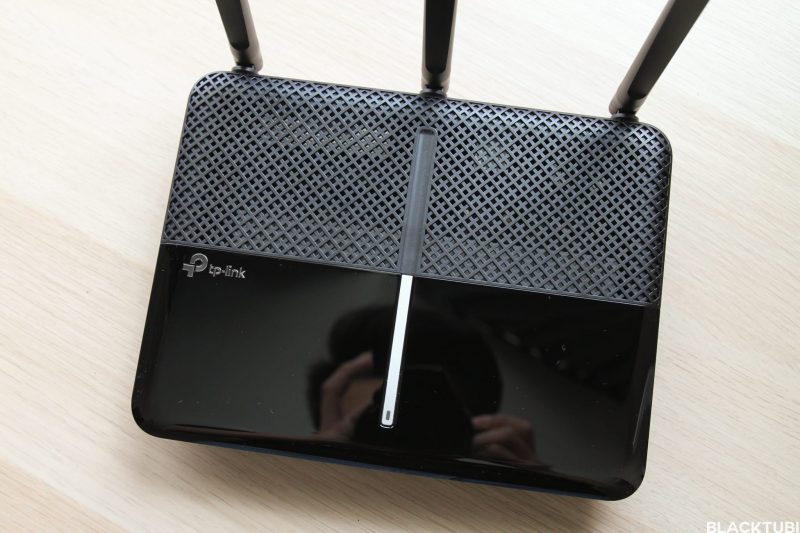 TP-Link Archer A10 is designed to make high performance WiFi affordable to the end user. It is probably the cheapest wireless AC2600 wireless router in the market, even cheaper than D-Link DIR-882. The performance of the Archer A10 below Archer C2300 but it is a very significant improvement against the A7/C7 wireless router. The wireless range is amazing and we get really good WiFi coverage out of it. 
TP-Link firmware is quite pleasant to use and simple to setup nowadays. But, we hope it comes with more features here. The features are rather barebones but we won't complain since this is an affordable router. We will recommend this wireless router to users that's looking for something affordable but with good performance.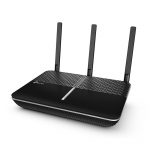 TP-Link Archer A10 is a router that focus only on performance without the unnecessary features.
Decent WiFi speed
Great WiFi coverage
Gigabit ports
No USB Port
Basic features