TP-Link Archer A6 is next TP-Link addition to the A series which include the Archer A7 that we reviewed previously. The A6 comes with a slightly newer hardware than the A7. Another difference worth mentioning is it supports AC1200 instead of AC1750 on the Archer A7. TP-Link also removed the USB port on the Archer A6 probably to save cost.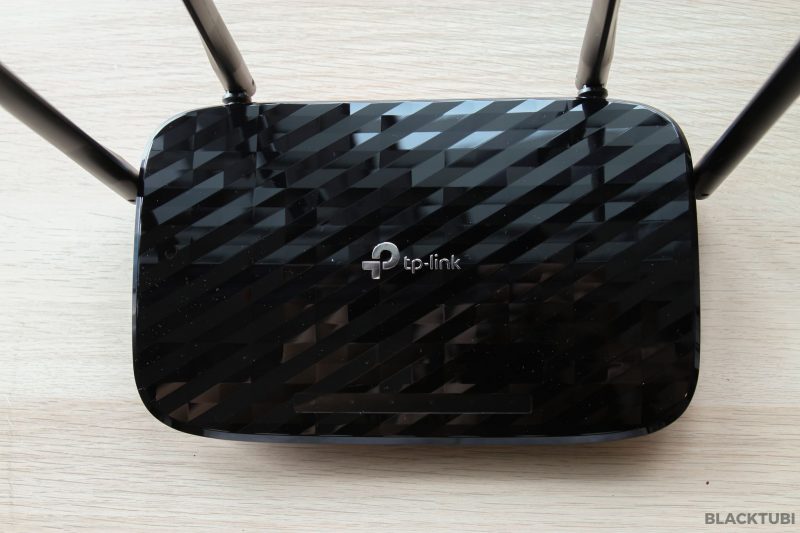 TP-Link Archer A6 is pretty decent in terms of spec for an affordable wireless router like this. It supports wireless AC1200 and it comes with 4 external antennas. It has all Gigabit Ethernet ports which is a good thing especially for such an affordable wireless router.
Well, you may be asking, what is the difference between the A6 and C6? Well, there are no negligible difference that we can observe from the hardware and the specifications. I think they are basically the same router just with a different model.
Hardware and Specifications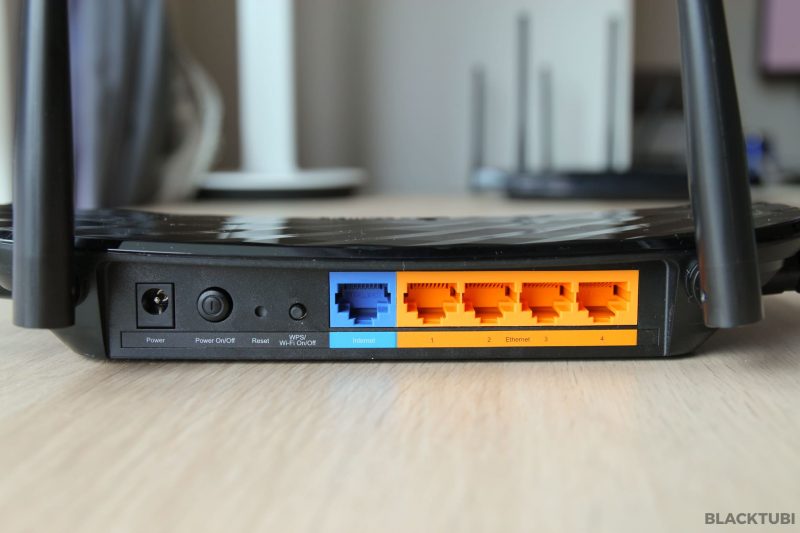 Like the Archer A7, the Archer A6 is powered by a Qualcomm wireless chipset so it should be a pretty stable router. It supports Wireless AC1200 which mean up to 867Mbps link speed on the 5Ghz channel and 300Mbps on the 2.4Ghz channel. Mind you that you will not get anywhere close to this figure after all factors considered.
TP-Link Archer A6 also supports MU-MIMO and Beamforming on the 5Ghz channel though it is not enabled by default probably for compatibility reason. The 5Ghz channel is powered by a newer Qualcomm QCA9886 chipset rather than QCA9880 on the Archer A7/C7. That explain why it comes with MU-MIMO and Beamforming which the Archer A7 does not have. 
There are not a lot of features for an affordable wireless router but the firmware is at least very easy to use and rather simple. We do not face any difficulties in the setup process of the Archer A6. I have the router running for one week and we do not face any stability issues with this model.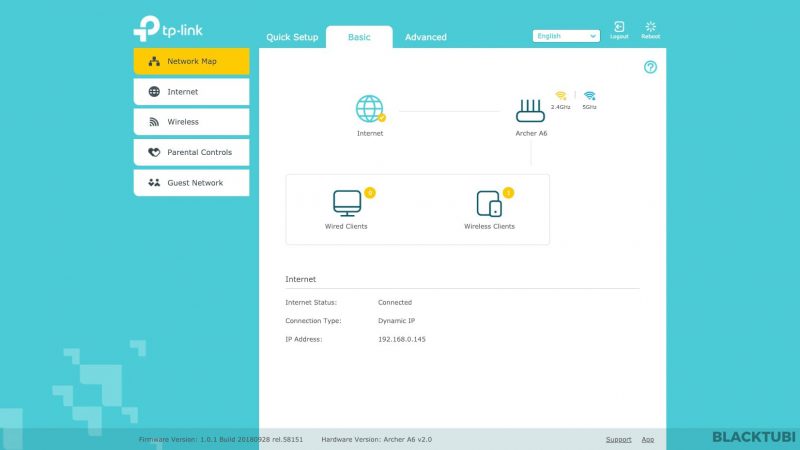 There is a built in priority based QoS though we do not recommend using it if your Internet plan is more than 100Mbps as it will disable NAT Boost. NAT Boost is important and you must enable it in order to enjoy faster performance on your wireless router.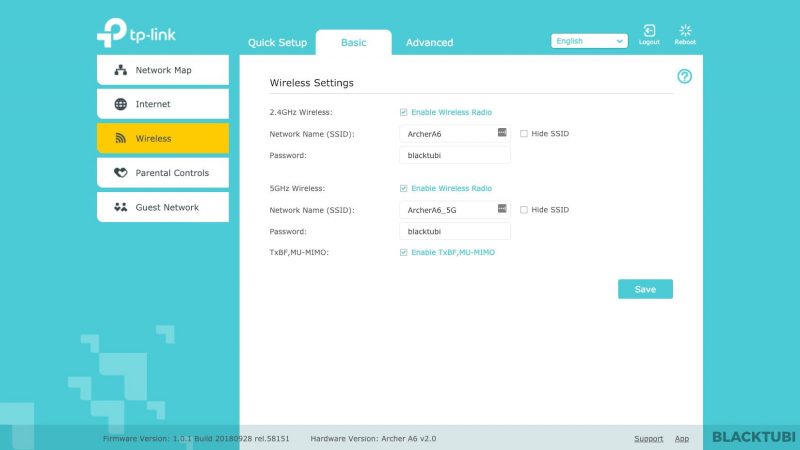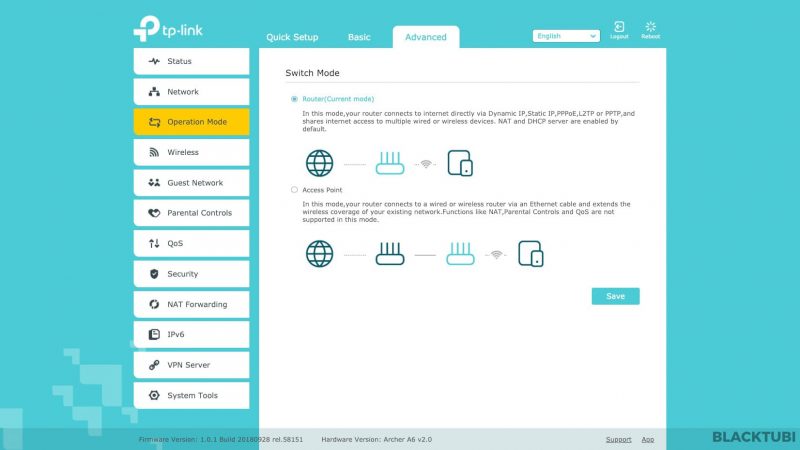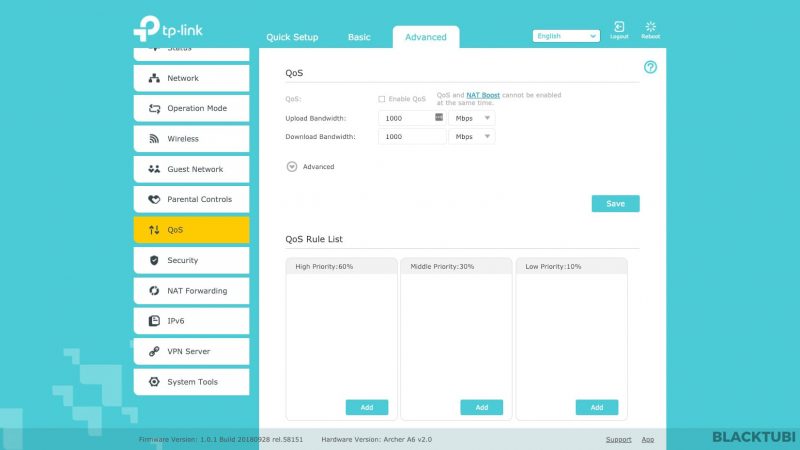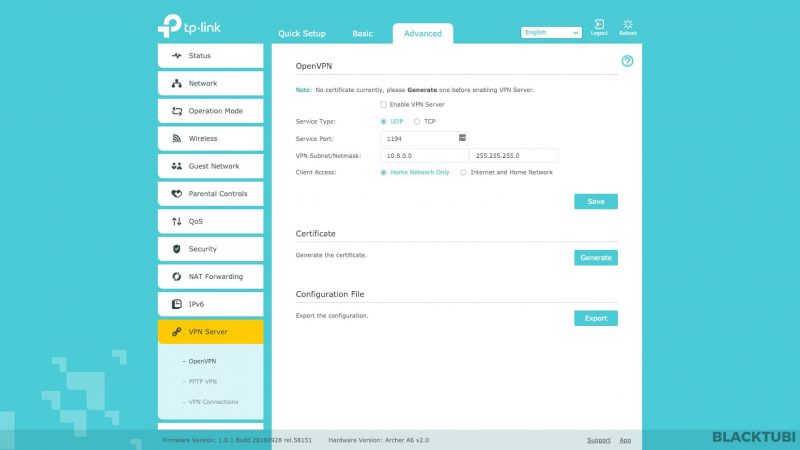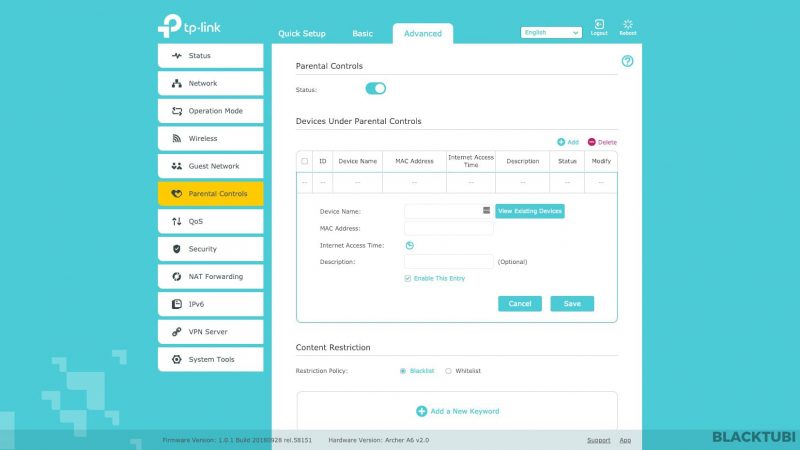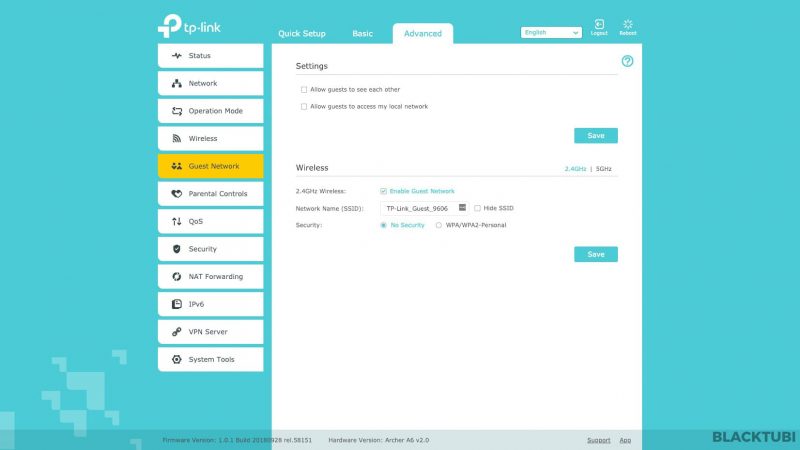 As for other for user oriented features, the Archer A6 have a basic parental control. Unlike the Homecare parental control on higher end TP-Link routers, the parental control on the Archer A6 can only limit the usage time. There is also a guest WiFi and VPN server feature.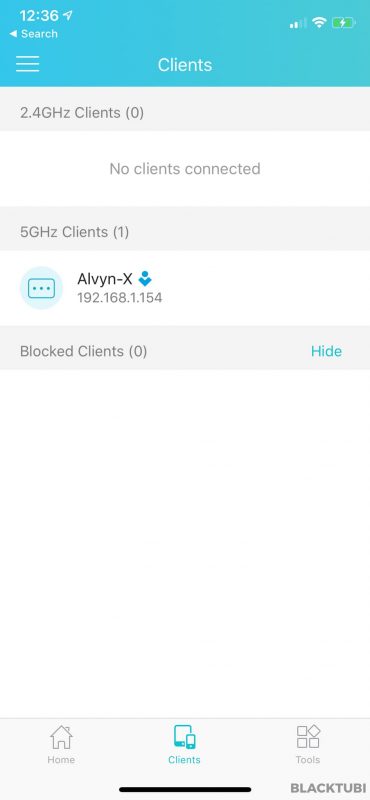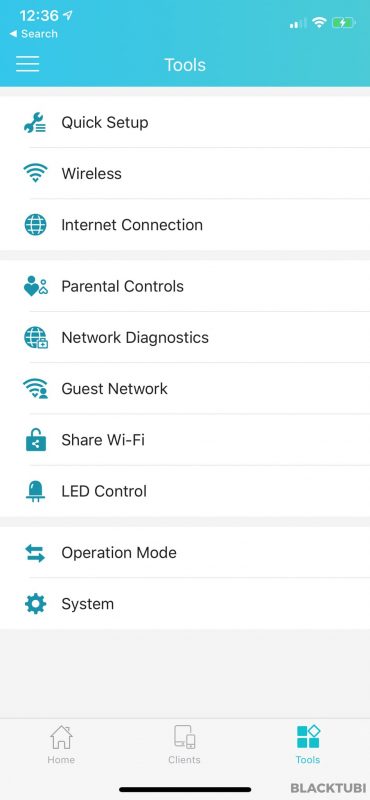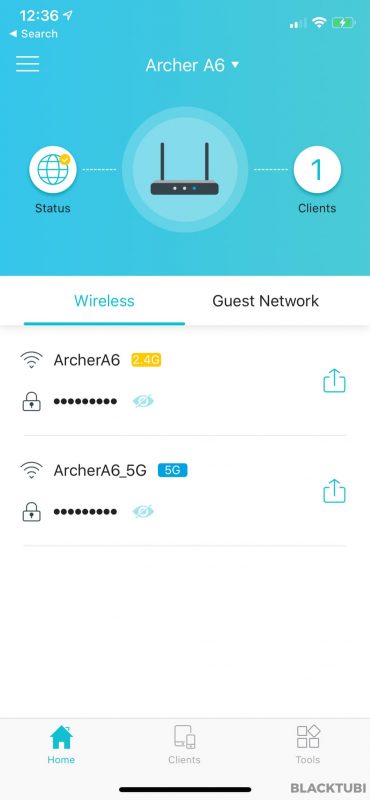 TP-Link Archer A6 also support app management via the TP-Link Tether app which is available for both Android and iOS. It allows you manage your router and change a few settings using your phone. It does not support TP-Link cloud which is understandable for such an affordable router.
TP-Link Archer A6 Unifi Setup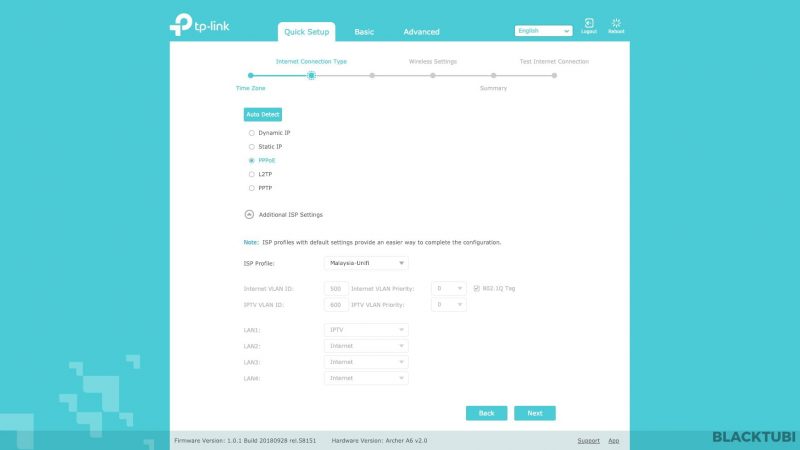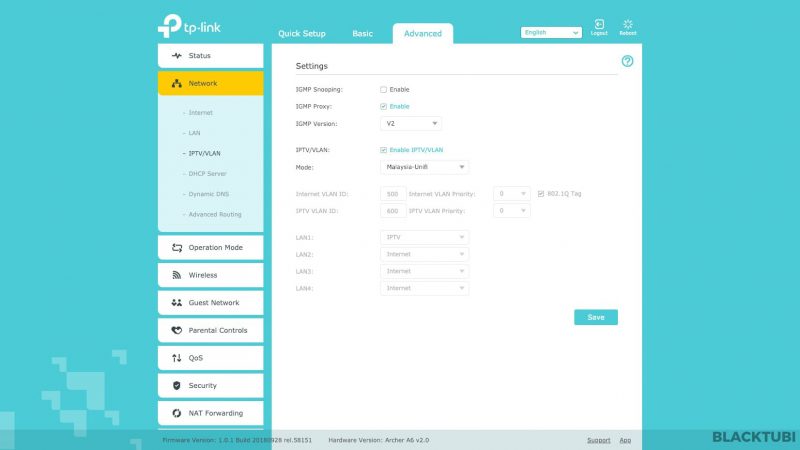 TP-Link Archer A6 is compatible with Unifi and the setup process is rather simple. Just remember to select the Unifi profile in the setup wizard. If you missed it, you still can manually select it in the. You can refer to my TP-Link router Unifi Setup Guide. 
Performance and Benchmark
The WAN Performance is used to test what is the maximum speed of the wireless router as we all know not all router with Gigabit ports can actually support Gigabit Internet speed.
Well, with NAT Boost enabled, we can reach 940Mbps reliably on the Archer A6. This router can support Unifi Turbo up to 800Mbps and TIME 1Gbps if you just intend to use it on wired LAN. 
We will be using a laptop with an AC1200 wireless card to test the speed of the Archer A6 and compare it against the Archer A7. This will be slight unfair to the Archer A7 as my laptop only support AC1200 but the Archer A7 support up to AC1750. But, our justification is due to most devices in the market only support AC1200 today so this will give a better representation of real world results.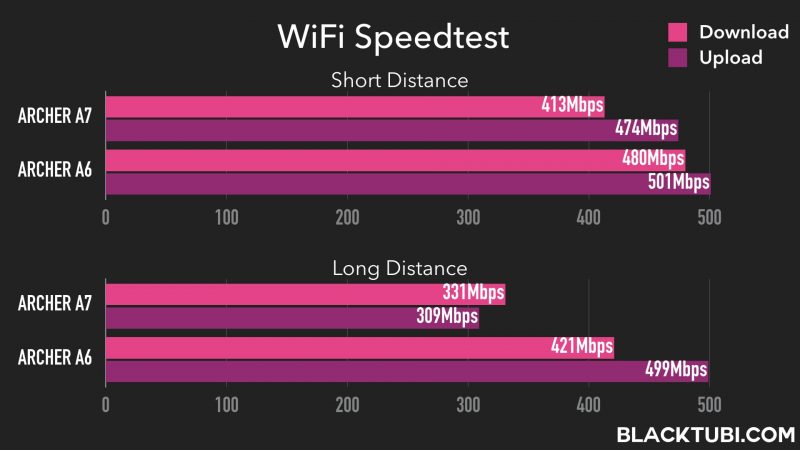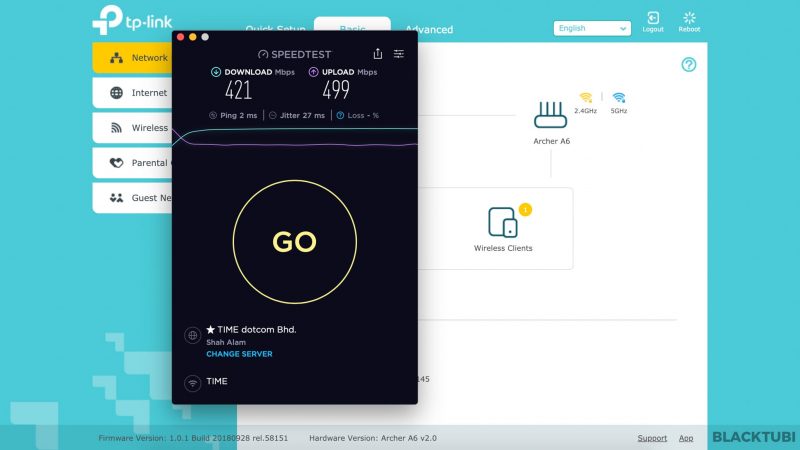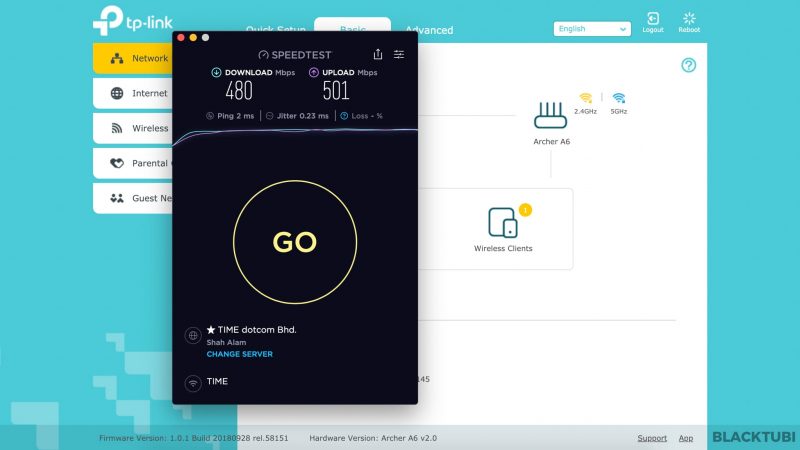 The results are indicated above. As you can see, the Archer A6 is actually slightly faster than the Archer A7 when testing it with an AC1200 client on long distance. This is probably thanks to the newer wireless chipset on the Archer A6 with beamforming support. I believe the Archer A7 will definitely beat the Archer A6 if I am using an AC1750 client.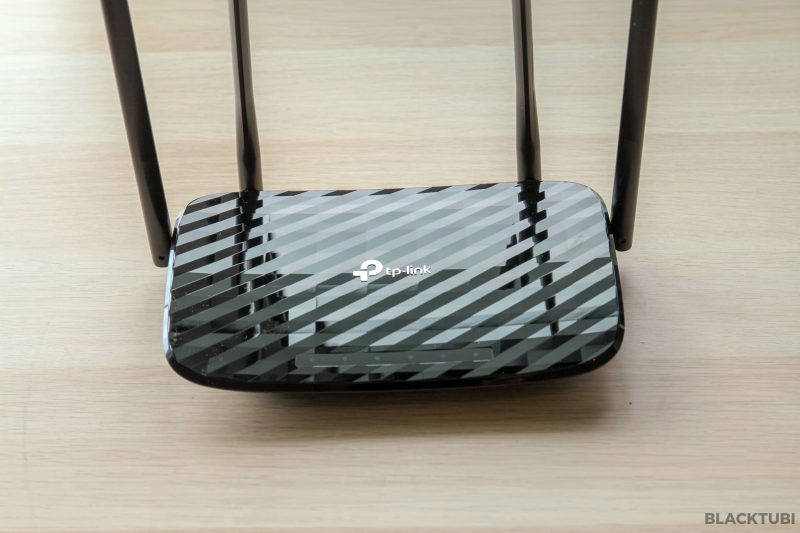 TP-Link Archer A6 is a great affordable wireless router. At a price of less than RM200, I doubt anything in the market can deliver the same level of performance like the Archer A6. The performance is pretty decent that it may potentially be the same if not better than the Archer A7 on an AC1200 device. I highly recommend this for anyone looking for a budget yet decent performance wireless router. I think this router is suitable for Internet up to 500Mbps and around 15 simultaneous connected devices. 
Well, it is not without the drawbacks as it does not have a USB port. If you absolutely need a USB port, you can consider TP-Link Archer A7 which we reviewed here.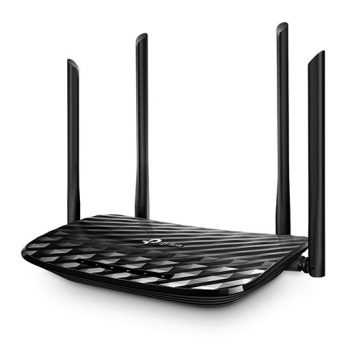 TP-Link Archer A6 is the best affordable wireless router in the market right now. It is really affordable and it performs really well. 
Really good value for money
Decent performance
MU-MIMO and Beamforming
Summary
Reviewer
Review Date
Reviewed Item
Author Rating