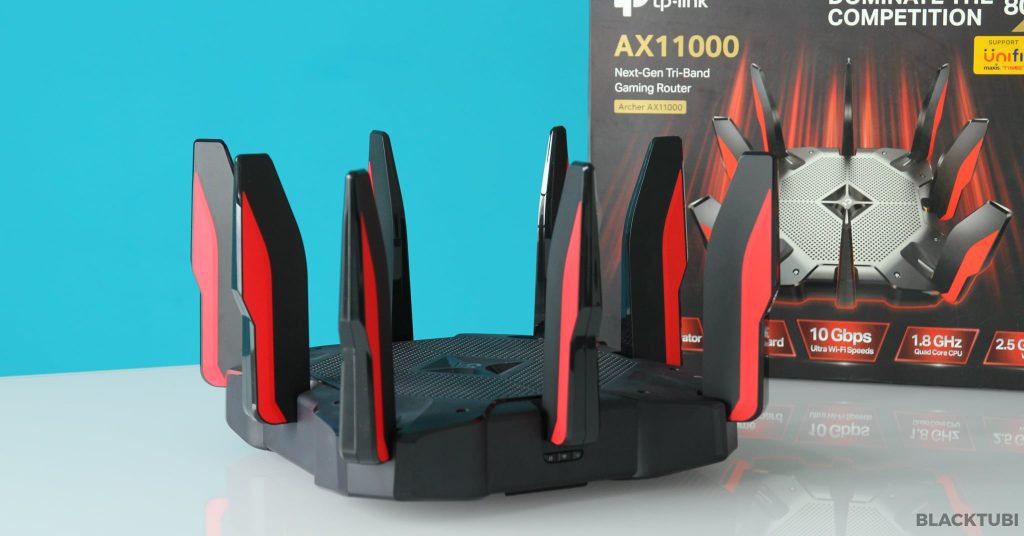 TP-Link recently launched their newest wireless router, the Archer AX11000 with support for the latest Wi-Fi Generation 6. To put it simply in words: the Archer AX11000 is the fastest TP-Link router I ever try. It's an excellent wireless router with lightning fast performance and terrific WiFi coverage.
Wi-Fi Gen 6 or better known as Wireless AX is the latest WiFi technology developed to further improve WiFi speed and coverage. If you haven't heard the news, the latest iPhone 11 comes with Wireless AX. Almost every high end devices launched in 2020 will definitely come with Wireless AX.
Excellent WiFi performance
Strong WiFi coverage
8 Ethernet LAN ports
I wouldn't go into the technical details on how Wi-Fi 6 will make Wi-Fi faster. To put it simply in words, the 6th generation Wi-Fi introduced many new technologies that will make Wi-Fi a lot faster when you are using on a Wireless AX network.
To enjoy the full potential of Wireless AX, you will need a Wireless AX supported devices. They are expected to be more common in 2020. You can also do so by getting a Wireless AX WiFi adapter for your computer. 
Unboxing the Archer AX11000
The box of TP-Link Archer AX11000 is really big and it has a big 802.11ax logo to remind you that you bought a Wireless AX router. It is a huge box as the Archer AX11000 is a huge router. Opening the box will reveal the huge and heavy Archer AX11000.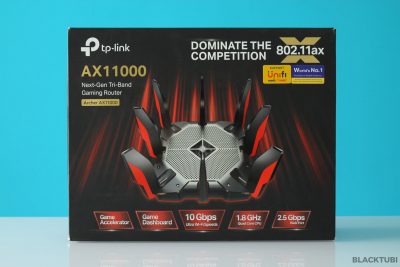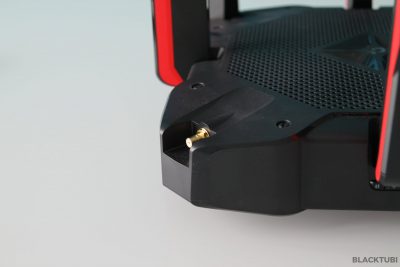 All the 8 antennas are removable and installing them is just as simple as plugging it it. This powerful router is powered by a 12V 5A powerbrick. However, it only comes with a CAT5E Ethernet cable in the box although this router comes with 2.5G Ethernet WAN port.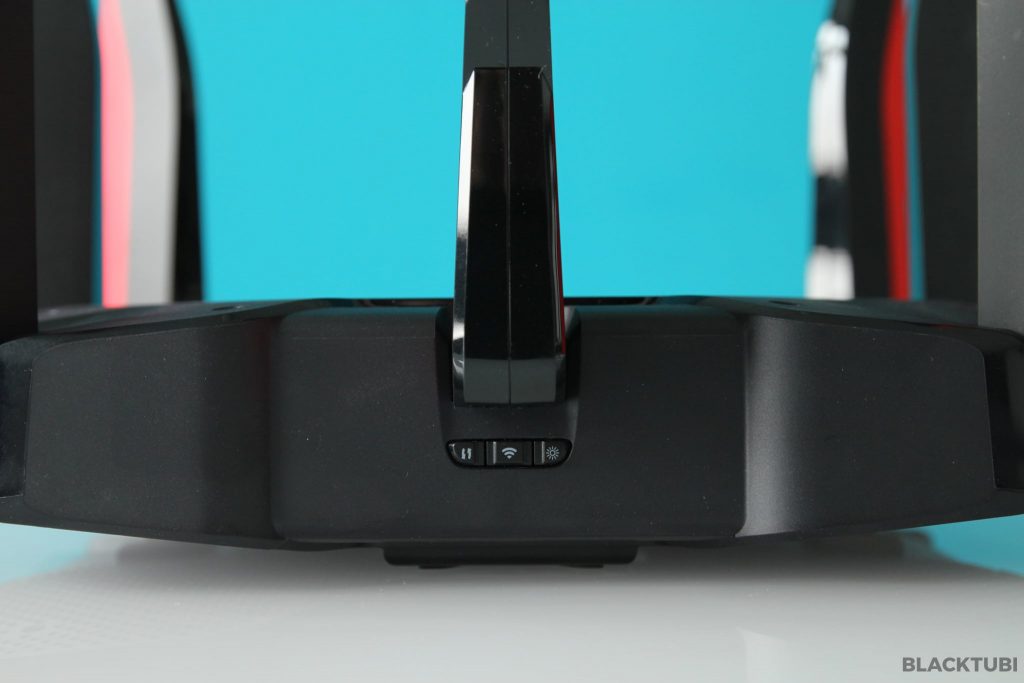 It has a similar design to the Archer C5400X with red coloring on the antennas for a more gaming kinda outlook. There are also 3 buttons on the router to configure WPS, WiFi on/off and LED control. The entire top part of this router is packed full of ventilation to cool it down.
Wireless 2.4Ghz
Wireless AX up to 1148Mbps (40Mhz)
Wireless 5Ghz Band 1
Wireless AX up to 4804Mbps (160Mhz)
Wireless 5Ghz Band 2
Wireless AX up to 4804Mbps (160Mhz)
CPU
Broadcom Quad Core SoC up to 1.8Ghz
RAM
1GB
Ports
2.5G Ethernet WAN port + 8x Gigabit Ethernet LAN port
USB 3.0 x1 Type A + USB 3.0 Type C
The specs of the Archer AX11000 is definitely one of the top among all consumer routers you can buy today. With 160Mhz mode, each Wireless AX band can support up to a maximum link speed of 4804Mbps. The fastest consumer devices that support Wireless AX is only up to 2404Mbps today. 
During normal use, the router will get a little warm from the heat produced by the powerful Quad Core CPU but this is totally within my expected range. Full specs on TP-Link website.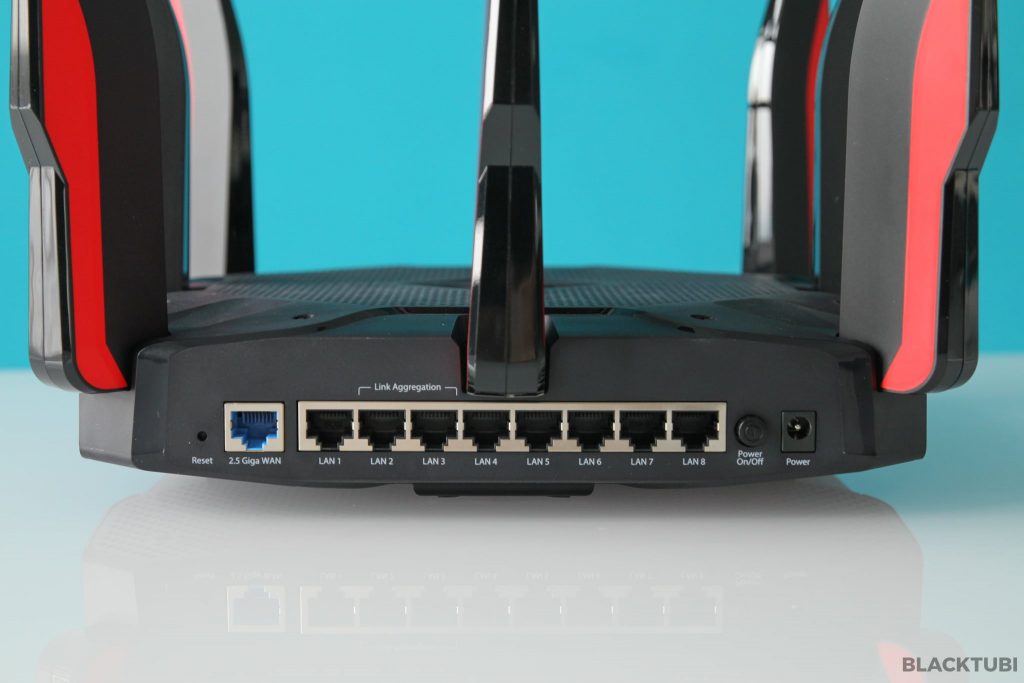 TP-Link also included a 2.5G Ethernet WAN port. This will be useful for some countries with 2Gbps Internet connection such as Singapore. The 2.5G WAN port is also backwards compatible with Gigabit Ethernet or Fast Ethernet. 
There are also 8 Gigabit Ethernet LAN ports with support for 802.3ad link aggregation up to 2Gbps on LAN2 and LAN3.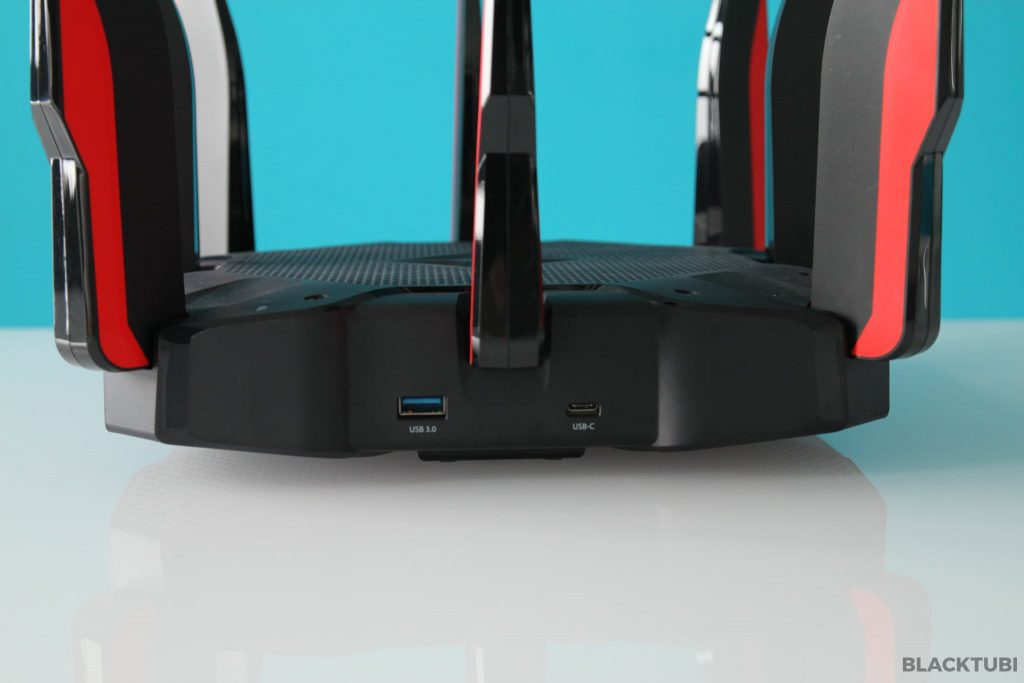 Like the Archer C5400X, the Archer AX11000 comes with 2 USB ports but one of the port is now USB Type-C. Both USB ports support USB 3.0 port speed.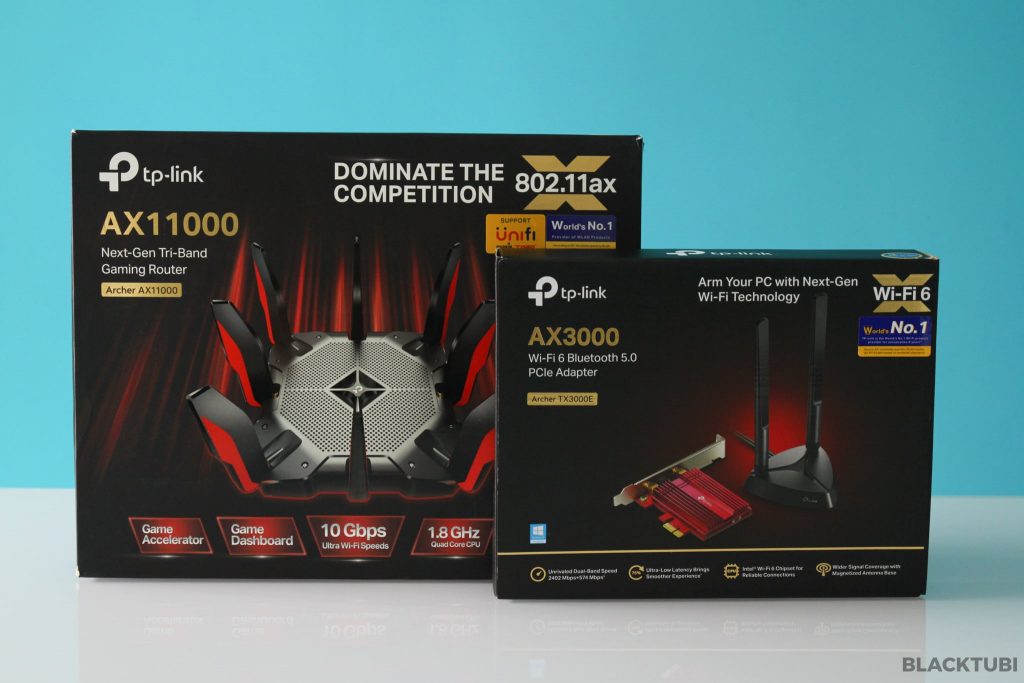 So, how fast is the TP-Link Archer AX11000 actually? The fast is, it is probably one of the fastest WiFi router with the strongest WiFi coverage you can get today. To realize the full potential of the router, TP-Link sent us the TX3000E Wireless AX WiFi adapter to test it.
The performance is mind blowingly fast. 800Mbps over a WiFi connection can be achieved with ease even after a single wall to the wireless router. The WiFi signal of the router is also extremely powerful, able to cover 2 floors without an issue.
How much faster is Wireless AX?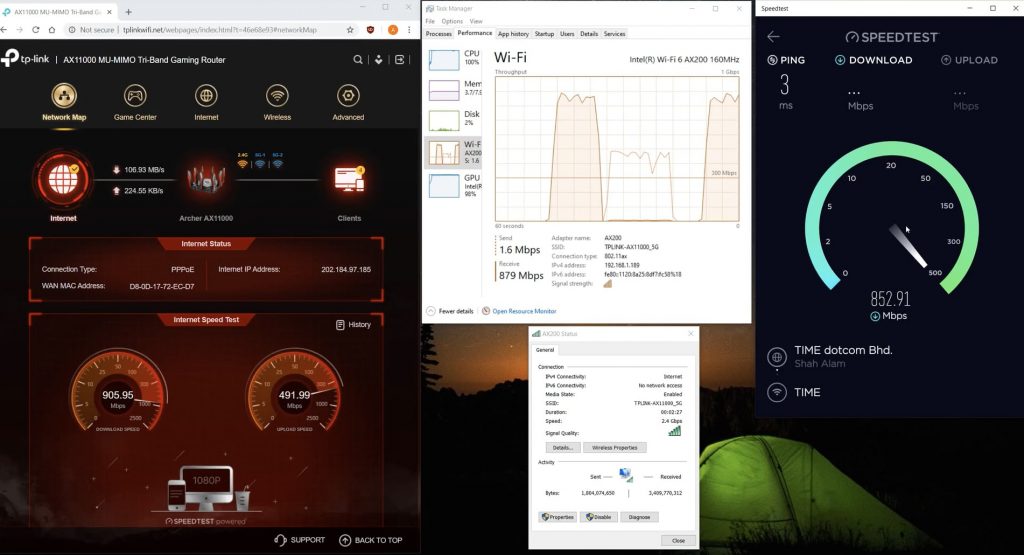 Compared to TP-Link's previous top of the line Archer C5400X, the difference is very obvious. The upgrade to Wireless AX improved the performance by 35%. The clearest improvement is the WiFi speed when the signal is weaker where AX is absolutely winner compared to AC.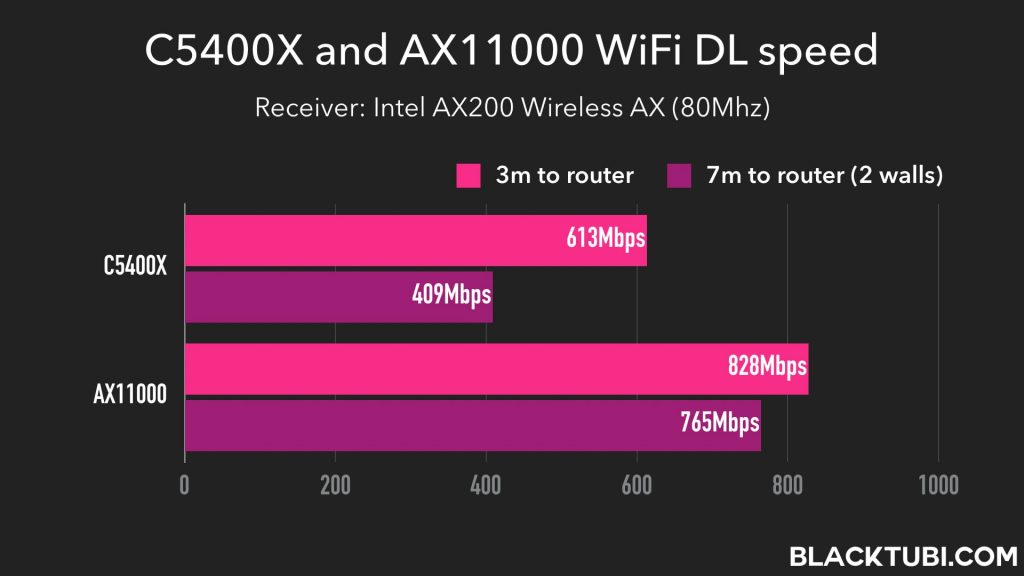 his is all tested using a pre-production firmware and TP-Link says it will be even better when they are shipping the router. We will update this review when we received the final firmware.
TP-Link Firmware and Features
The firmware on Archer AX11000 is updated with a new gaming interface added. While it certainly looks cool, the red font make some information hard to read. You can update the firmware from the user interface or just use the TP-Link Tether app.
TP-Link added a new game center with a new Game Accelerator feature added. It can automatically optimize the connection for your game by giving it a higher priority. You can view the full list of supported games on TP-Link's website.
The Game Center provide a quick glance of your entire network and the status of the wireless router. It also let you to select which device you wish to prioritize.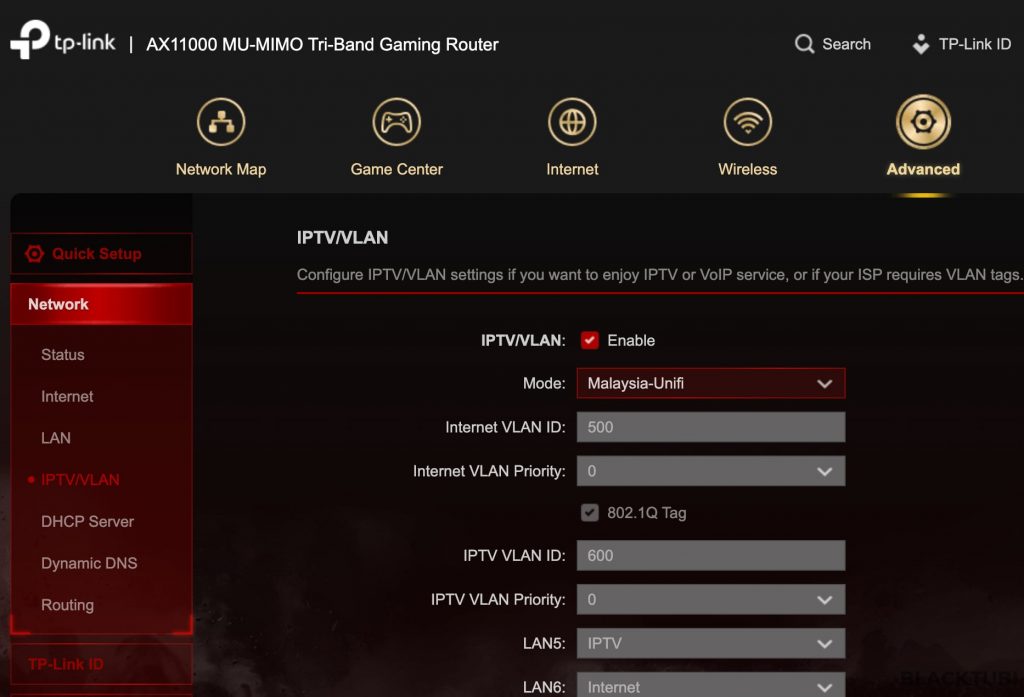 If you are from Malaysia, TP-Link Archer AX1100 also support TM Unifi and HyppTV. But, unlike on other TP-Link routers, your HyppTV box should be connected to the LAN Port 5 in order for it to work properly on the Archer AX11000. You can refer to my Unifi setup guide here.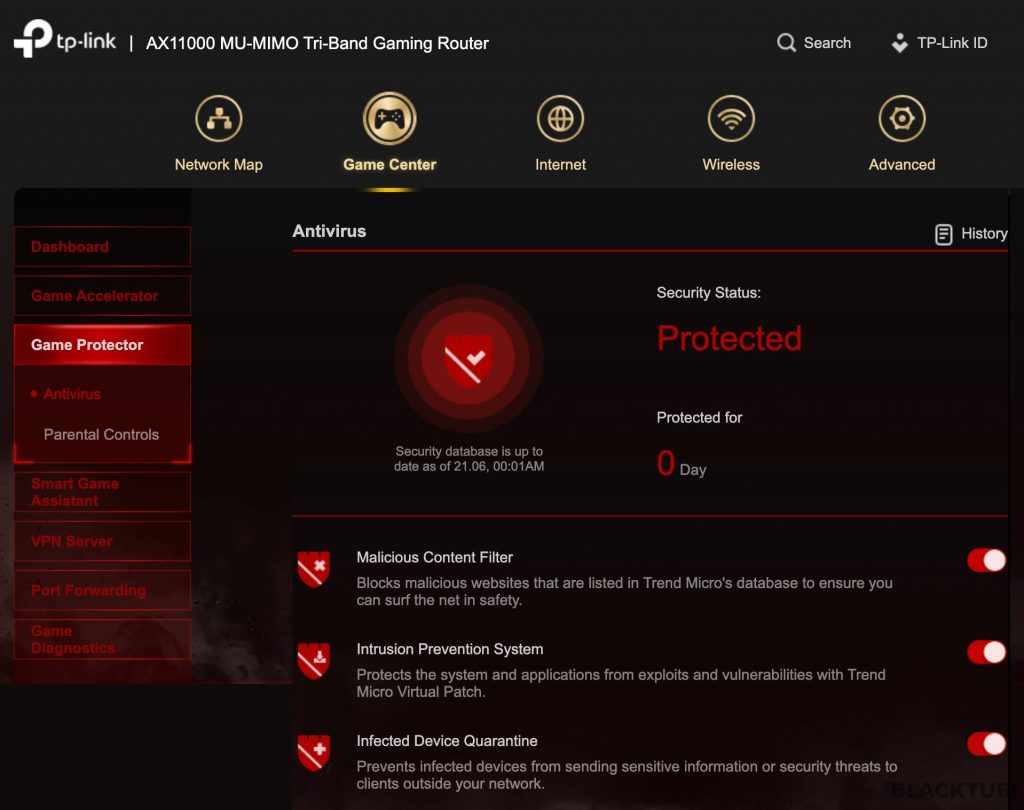 TP-Link also included the Antivirus function provided by TrendMicro known as Game Protector over here. It can block harmful viruses and malware from your devices with deep packet inspection technology. I recommend enabling this function as it is disabled by default.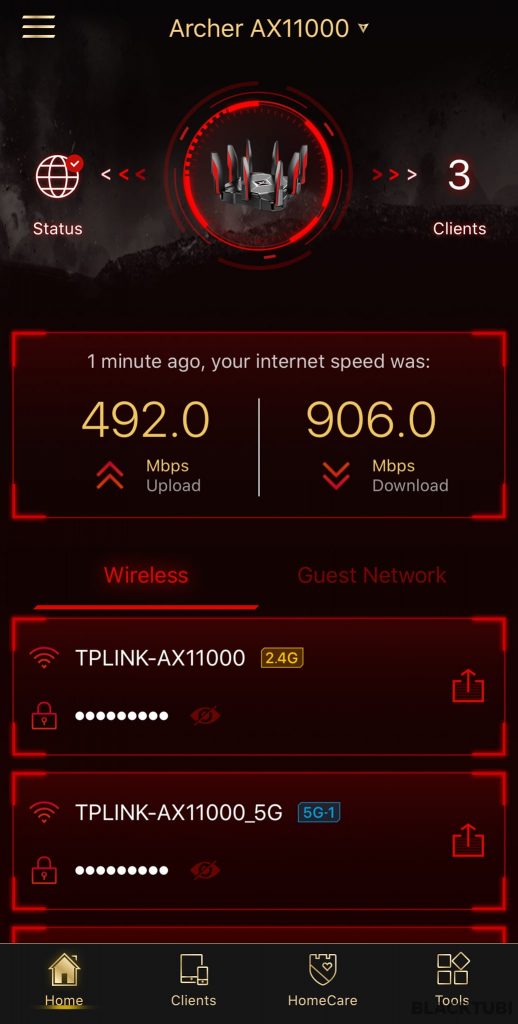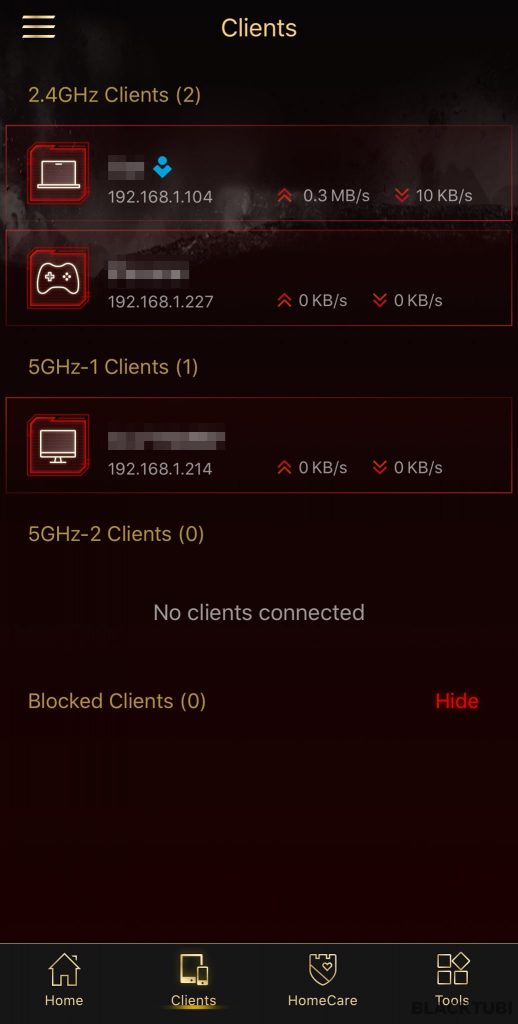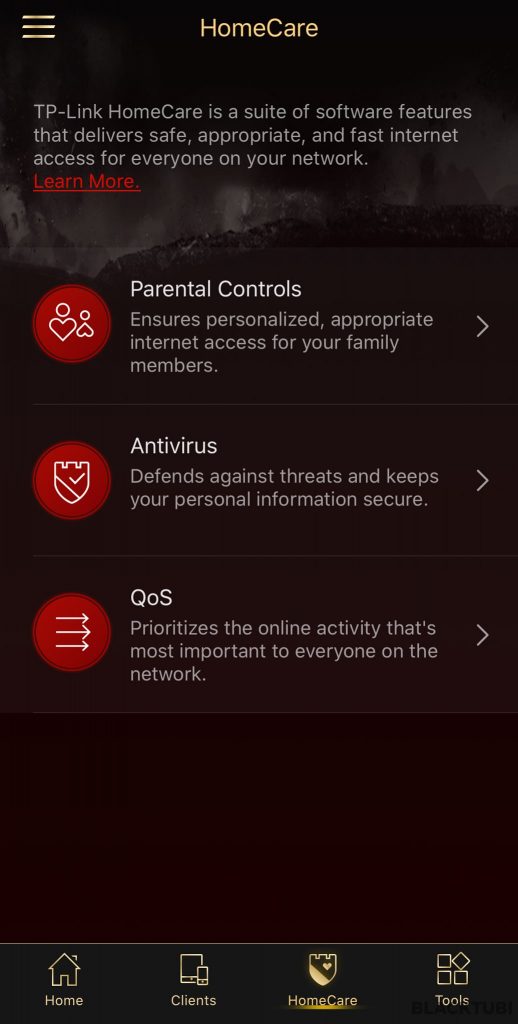 TP-Link Tether app also received a fresh coat of paint with the gaming user interface. The app is much better now as you can do a lot of configuration on the app. There is even a built-in speed test tool for you to test the speed of the Internet connection.
Wireless AX Configuration
TP-Link enabled Wireless AX by default and separated the WiFi into different name. By default, the system will only go up to 80Mhz, you can force it to run at 160Mhz mode if your devices support it.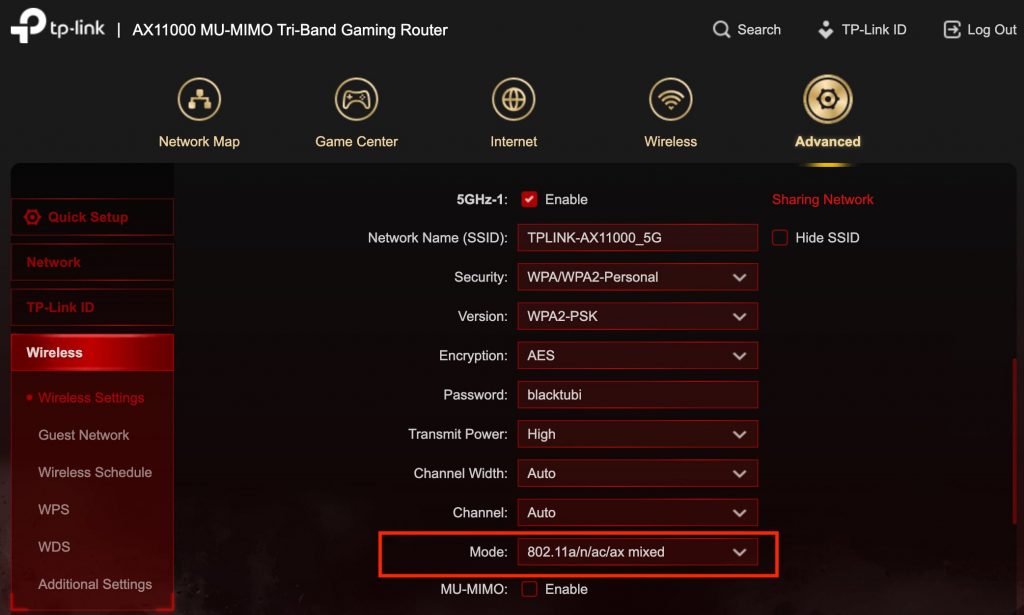 You may need to update the driver of your WiFi adapter if you have issues with this router when Wireless AX is enabled. The Wireless AX support can be disabled shall that be required. WPA3 is supported but it will only be enabled when Wi-Fi 6 is finalized by the Wi-Fi Alliance.
TP-Link Archer AX11000 take 56 seconds to boot up from an off state to usable Internet. Your duration may vary depending on how fast your ISP takes to authenticate the PPPOE connection.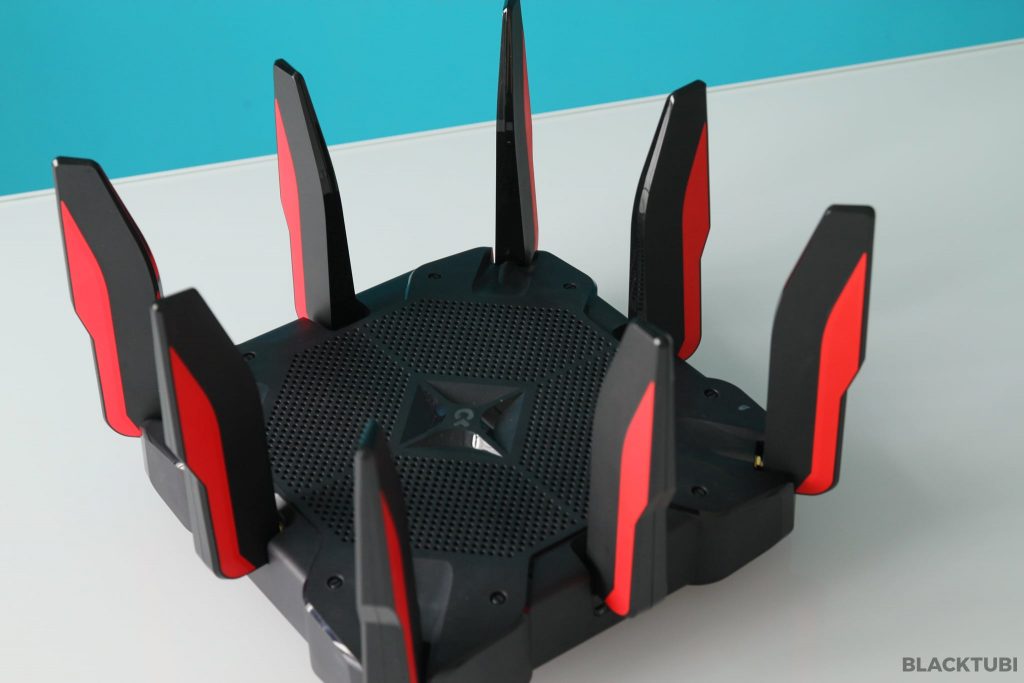 So, is it worth getting a Wireless AX router today? If you are looking for a new high end router today and you have the money to spend, the answer is a yes. The WiFi performance is vastly improved with a Wireless AX supported client which will be more common next year. 
Personally, the answer would be a yes as I can upgrade the WiFi adapter of a PC or even some laptop to something with Wireless AX support. The performance improvement is very huge compared to existing Wireless AC. Not to mention that existing Wireless AC devices can also enjoy the better WiFi coverage.