TP-Link Archer AX50 is the latest wireless router from TP-Link. Unlike conventional TP-Link routers, it is powered by the latest next generation Wi-Fi technology that promises to enhance Wi-Fi connection with lightning fast Wi-Fi speed by introducing Wireless AX.
TP-Link Archer AX50 supports Wi-Fi 6 or better known as Wireless AX. This is the latest version of wireless technology promise to make WiFi much faster compared to Wireless AC. It is already available on some devices such as the Apple iPhone 11 and Samsung Galaxy S10 series.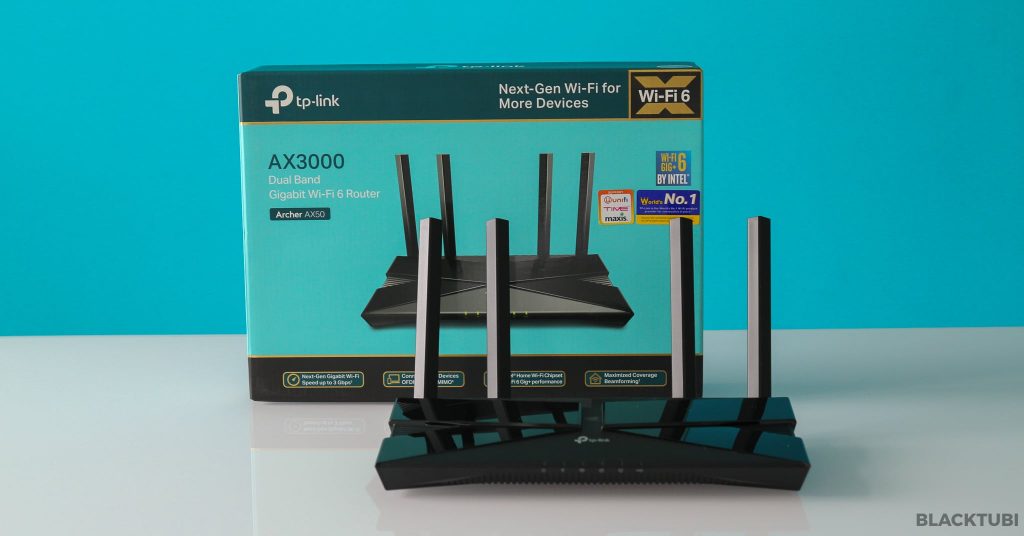 Wireless AX will greatly improve the Wi-Fi speed but to enjoy this benefit, you need to have a device that supports Wireless AX and of course, a router with Wireless AX technology. Right now, they are extremely expensive but TP-Link Archer AX50 is developed to bring Wireless AX to the mass.

The design of TP-Link Archer AX50 is totally new. It has a rectangular shape with plenty of vents to help with cooling down the router. There are 4 external non-removable antennas and multiple LED indicators to show the status of the router.
TP-Link Archer AX50 comes in a 2×2 configuration and it supports both OFDMA and MU-MIMO. Both of these are standard feature on Wireless AX but they can be disabled if required. Besides, the router can support 5Ghz DFS channels with up to 160Mhz support.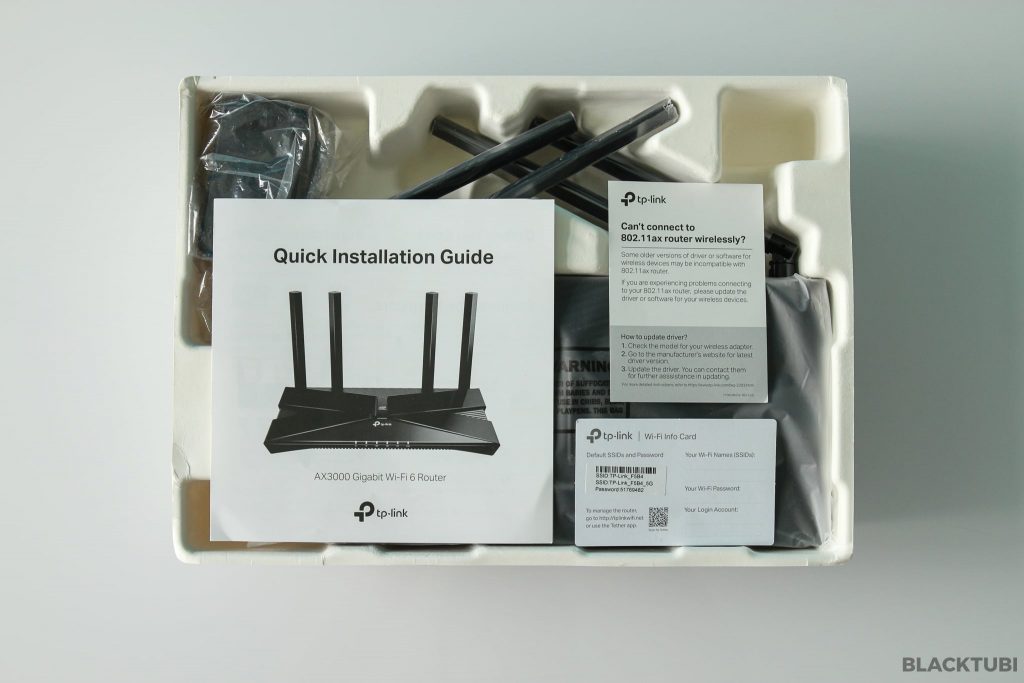 | | |
| --- | --- |
| Wireless 2.4Ghz | Wireless AX up to 574Mbps (40Mhz) |
| Wireless 5Ghz | Wireless AX up to 2402Mbps (160Mhz) |
| WiFi Features | OFDMA, MU-MIMO, 2X2, Beamforming |
| CPU | Intel AnyWAN GRX350 |
| RAM | 256MB |
| Ports | 1x Gigabit WAN port + 4x Gigabit LAN port |
|   | 1x USB 3.0 port |
The hardware of the Archer AX50 is powered by Intel WiFi chipset with an Intel AnyWAN GRX350 SoC combined with Intel WAV654 for the 5Ghz radio. Coupled with 256MB RAM, it should perform pretty decently. It do get a little warmer during operation but it wouldn't affect the performance. The router can be cooled by a cheap laptop cooling pad if you feel uncomfortable with the heat.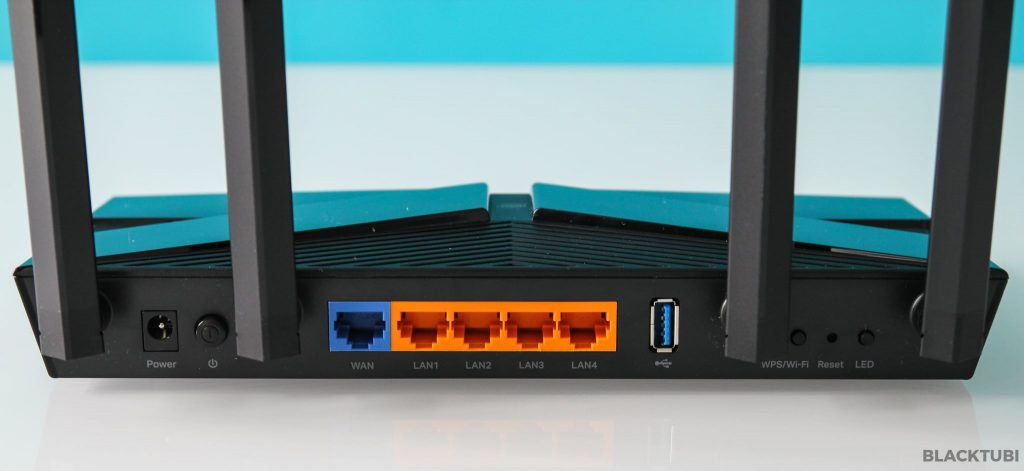 The Archer AX50 also comes with a Gigabit Ethernet WAN port and 4 Gigabit Ethernet LAN ports. There's also a single USB 3.0 where you can share files on the network or use it to share a printer on the network. You can view the full specs here. 
The setup process of the Archer AX50 is very simple by just connecting the router to the modem from your ISP. The default WiFi name and password is labeled below the device and you can setup the router using the web interface on a computer.
The setup process is really simple and it takes around 10 minutes to get everything up and running. If you use Unifi, remember to select the Unifi profile during the setup procedure and connect the Unifi Hypp TV box to the LAN 1 port.
You can refer to our Blacktubi TP-Link Unifi setup guide here.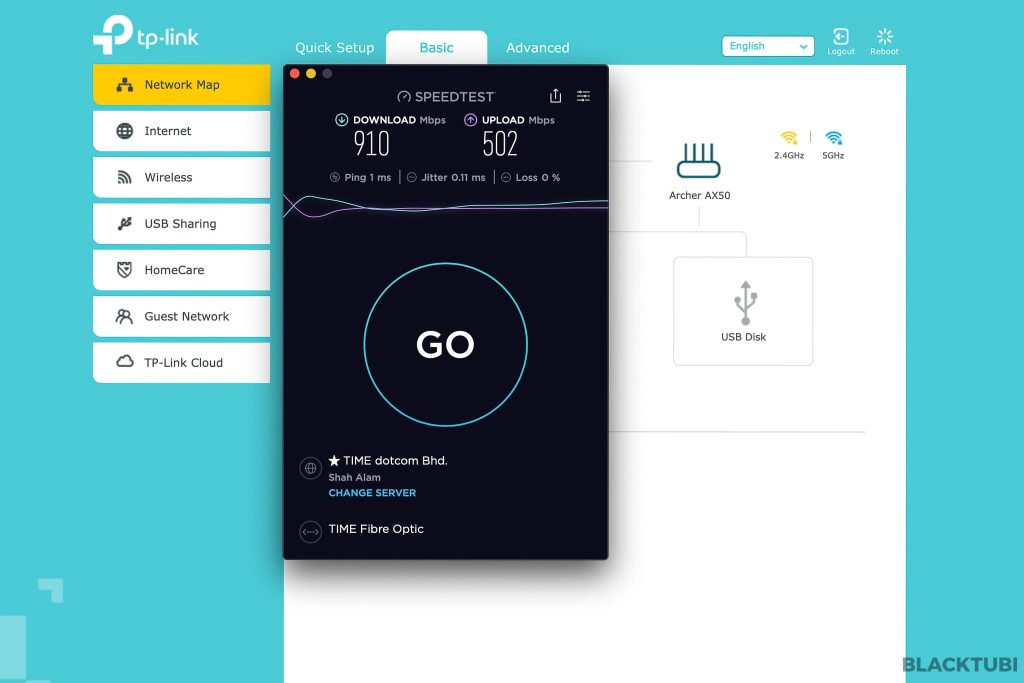 First, we tested the WAN to LAN performance of the Archer AX50 to verify that this router can actually support full Gigabit speed. This test is done by running a Speedtest on our Internet connection with 1Gbps download speed and 500Mbps upload speed.
To test the Wireless AX capabilities of this router, we will need a computer with Wireless AX ability. This means we added the TP-Link TX3000E WiFi Adapter to our computer. Next, we will run several speedtest using Speedtest.net with our Gigabit Internet connection.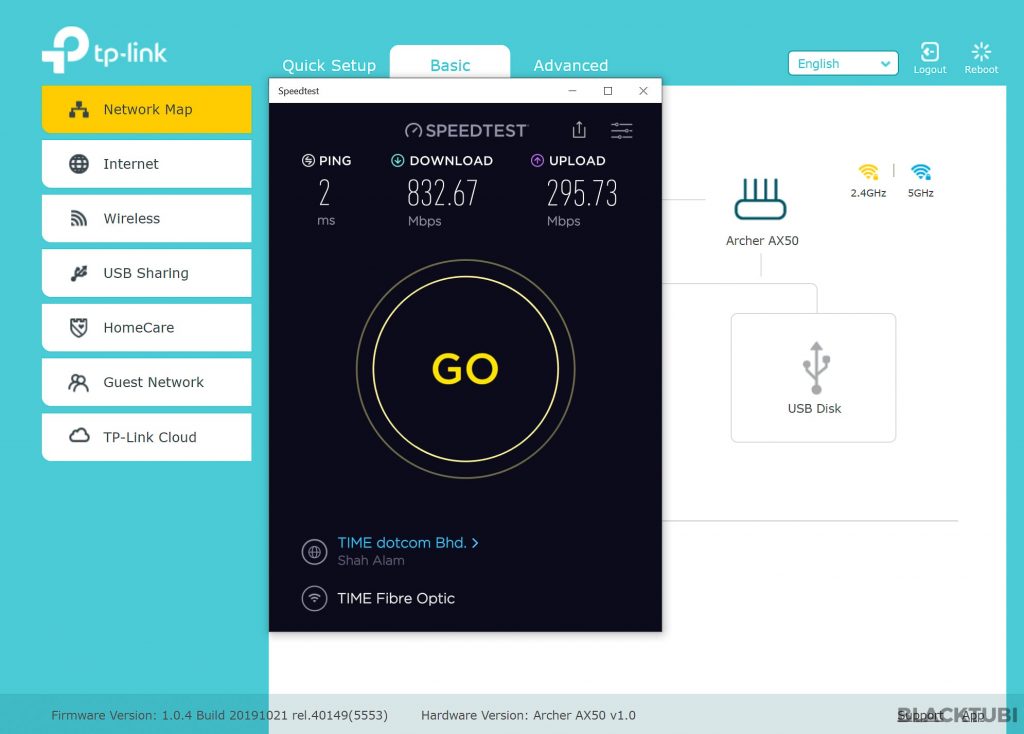 On the Wi-Fi speedtest with my laptop that support Wi-Fi 6 with an Intel AX200 wireless adapter, I manage to get over 800Mbps over the Wi-Fi network. However, I noticed that the upload speed is slower.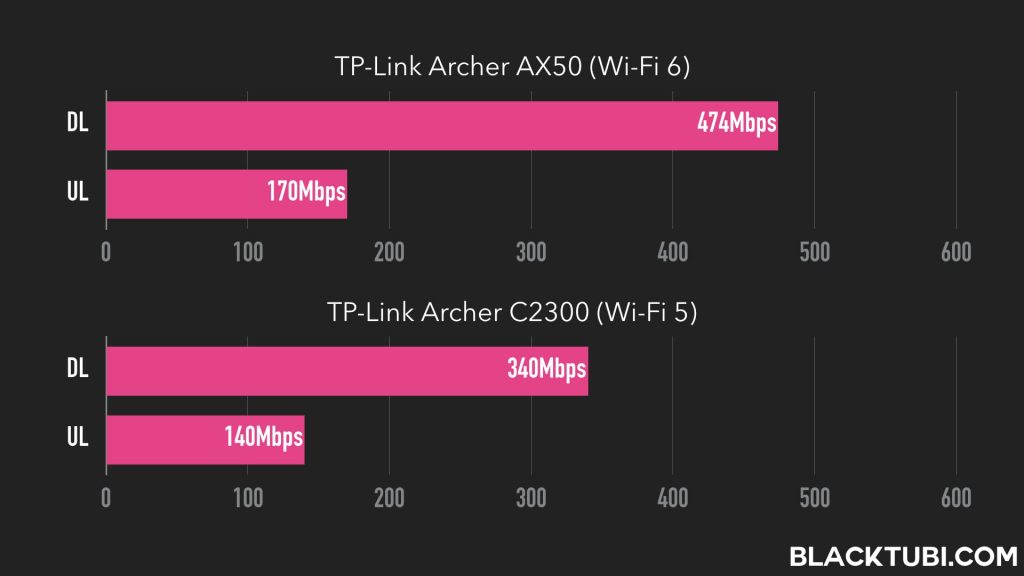 Of course, nothing is relevant without a proper comparison. This is why we compared the Archer AX50 against the previous Archer C2300 also from TP-Link using a Wi-Fi 6 laptop. 
TP-Link firmware been really stable and modern lately. They are really easy to use and even able to support TP-Link Tether app for cloud monitoring of the status of your wireless router.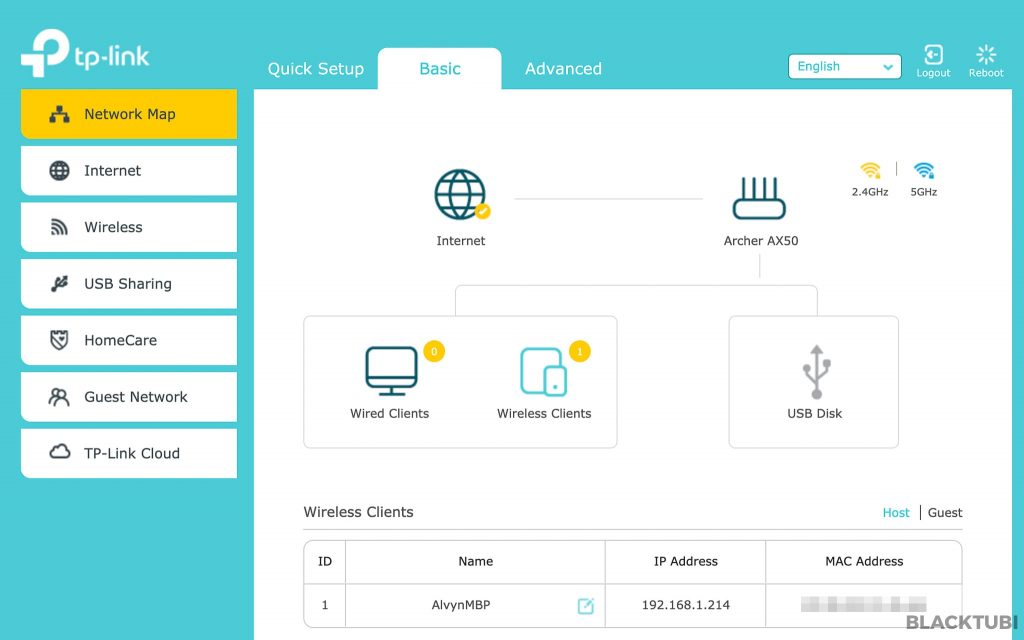 The router firmware interface is very clean and easy to understand. The homepage can show all the connected devices on the network. It is also able to show the Ethernet port speed of each connected devices.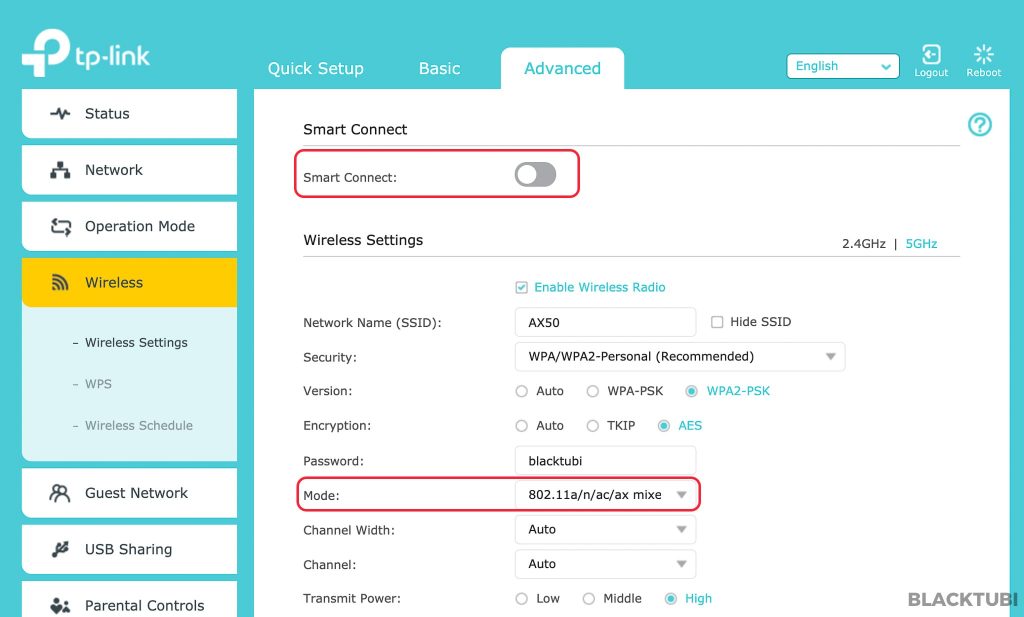 The Wireless AX ability of the Archer AX50 is enabled by default and you can disable them if required. TP-Link also included the Smart Connect band steering feature which combine both 5Ghz and 2.4Ghz band into a single WiFi name. I recommend keeping it enabled and the router will automatically steer your devices to the best band depending on the signal condition.
The Archer AX50 can also be controlled using TP-Link Tether app and linked to a TP-Link cloud account. The app can let you to do almost everything on the web interface and it is very easy to use. You can view connected devices and their current connection speed on the app. 
TP-Link also included an Antivirus function as part of their Homecare suite. The router can block any websites containing a virus or malware from being accessed. The database of the Antivirus is maintained by TrendMicro and it is updated frequently.
Archer AX50 also comes with Homecare parental control feature. The parental control let you to select which categories of website you wish to block based on a database maintained by TP-Link. It also have the ability to configure internet usage time restriction based on hour or usage time limit.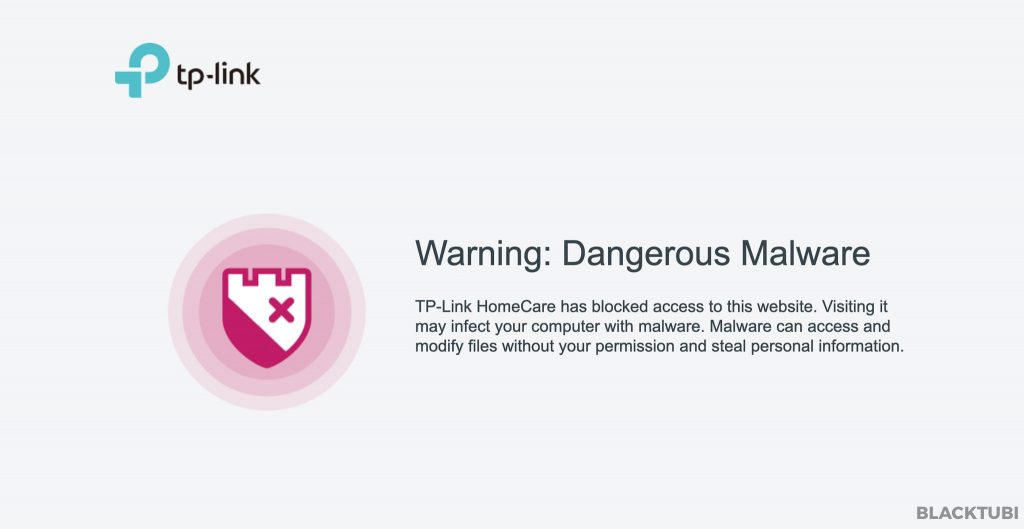 Both Homecare feature works really well and they can only be enabled on the TP-Link Tether app for now. Right now, TP-Link is giving users 2 years of free database update and can be subscribed on the app if required.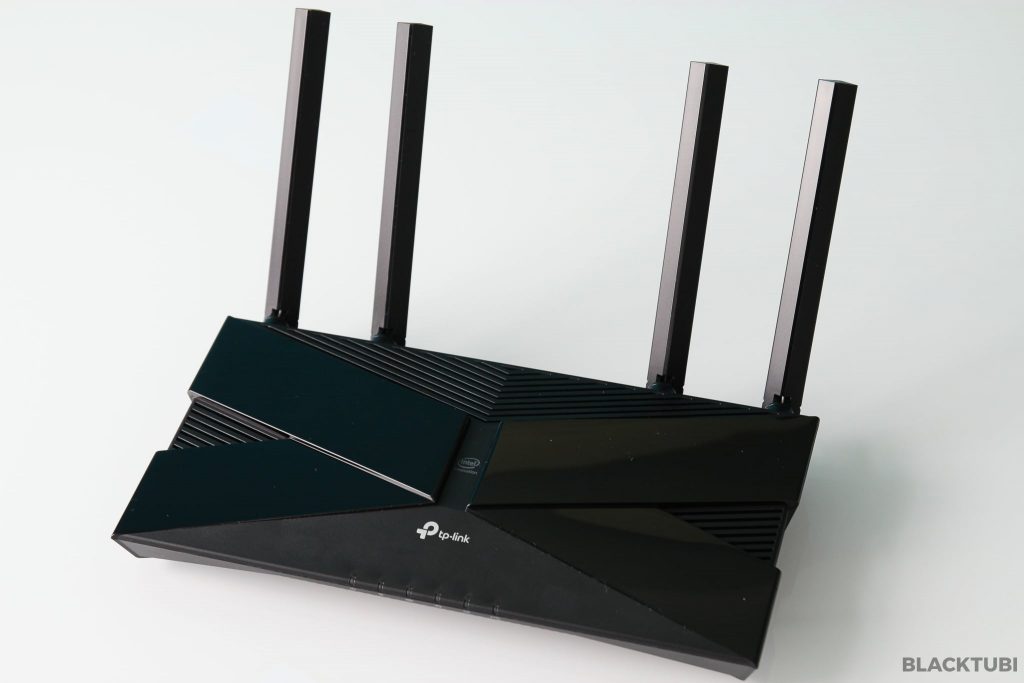 TP-Link Archer AX50 is a really great wireless router. It offers Wireless AX at an affordable price and good WiFi performance for users with Wireless AX devices. While it is affordable, TP-Link also provided their Homecare Antivirus and Parental Control feature which is a great value.
I recommend the TP-Link Archer AX50 for users looking for a new router today. Wireless AX will be common starting from 2020 and getting a Wireless AX router now is a good time.
Fast WiFi 6 connection

160Mhz and DFS Support

HomeCare Antivirus Support