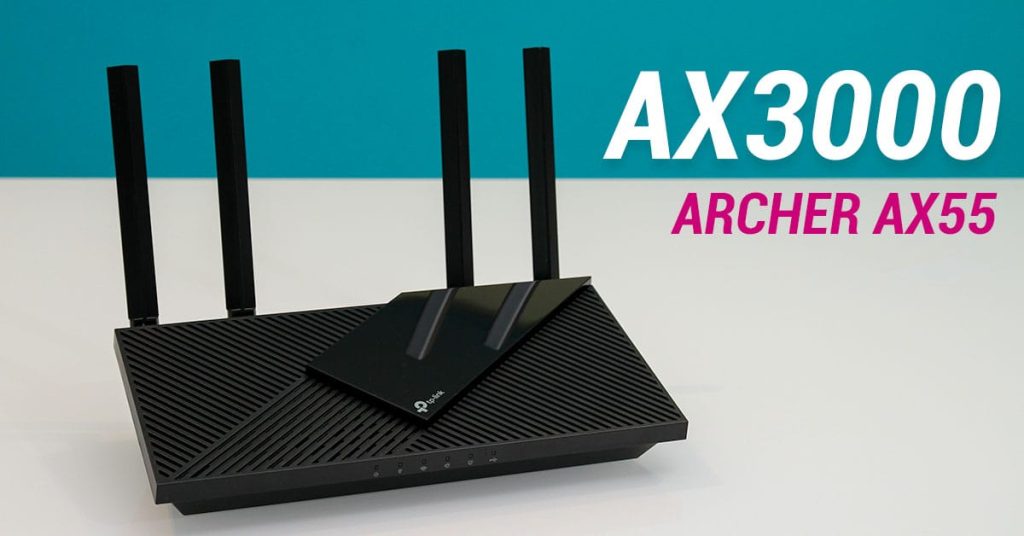 TP-Link's latest Archer AX55 WiFi 6 AX3000 router is a great choice if you're looking for a router that will perform well and wouldn't break the bank. The new Archer AX55 now comes with improved performance thanks to a new Qualcomm chip and an improved HomeShield security feature.
I've tested the Archer AX55 for two weeks and it's a great product. Every aspects of this router is better than the Archer AX50 it replaces thanks to the new Qualcomm chip. The WiFi performance is stronger, faster and most importantly, it is a lot more stable and consistent.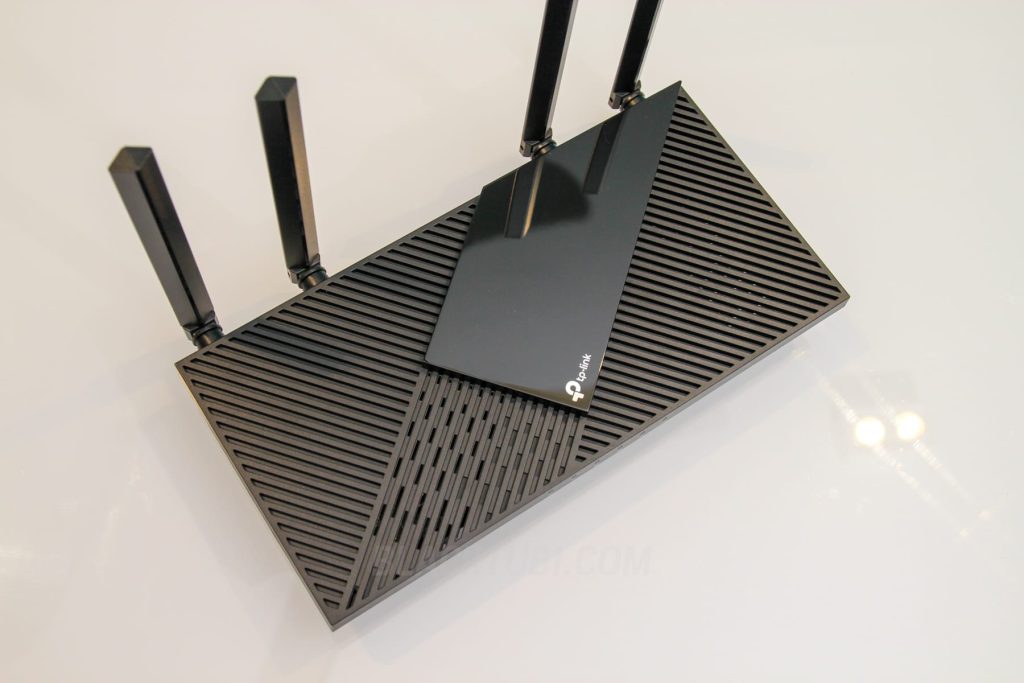 TP-Link redesigned the chassis with more emphasis on cooling since these products are passively cooled. In reality, the new Qualcomm chip is barely warm to the touch even after extended stress testing. That's certainly a huge improvement over the warm Intel SoC in the previous TP-Link AX3000 model.
The Archer AX55 retails at just RM349 with 3 years of hardware warranty in Malaysia. It is fully compatible with Unifi, Maxis, TIME, Celcom, DiGi Fibre and more.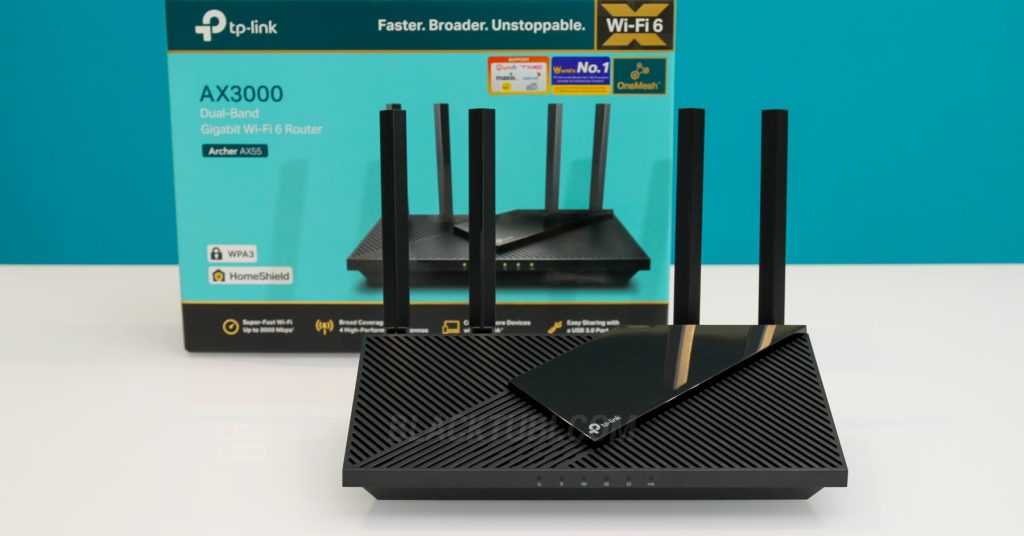 | | |
| --- | --- |
| Wireless 2.4Ghz | Wi-Fi 6 up to 574Mbps (40Mhz 2×2) |
| Wireless 5Ghz | Wi-Fi 6 up to 2402Mbps (160Mhz 2×2) |
| WiFi Features | OFDMA, MU-MIMO, Beamforming, WPA3, OneMesh |
| CPU | Qualcomm IPQ0518 with 512MB RAM |
| Ethernet Ports | 1x Gigabit WAN port + 4x Gigabit LAN port |
|  USB | 1x USB 3.0 port |
The unit I received is the Archer AX55 (V1) which is powered by Qualcomm IPQ0518 SoC which contains a 64-bit ARM A53 dual-core 1Ghz CPU and a dedicated single core NPU to accelerate network tasks. It's actually the exact same processing unit as the Archer AX72 I reviewed previously.
View full specifications on TP-Link website here.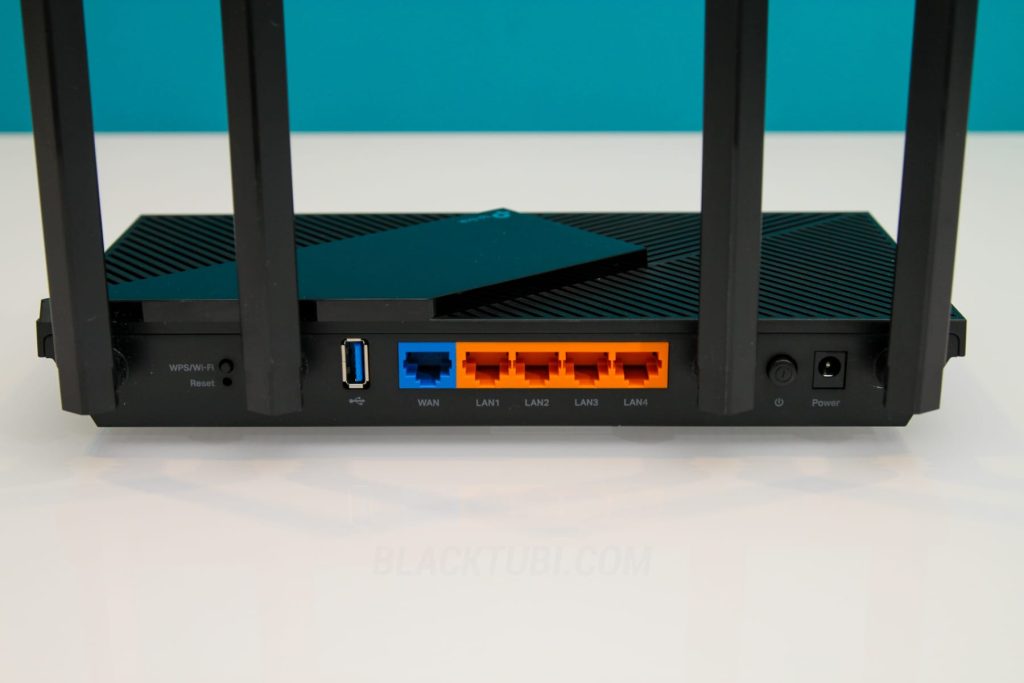 The ports are pretty standard like any modern WiFi routers. You get 4 Gigabit Ethernet LAN ports with a single WAN port. No Dual-WAN function is available here. However, there's a USB 3.0 port which can support USB file sharing server for a USB external hard drive.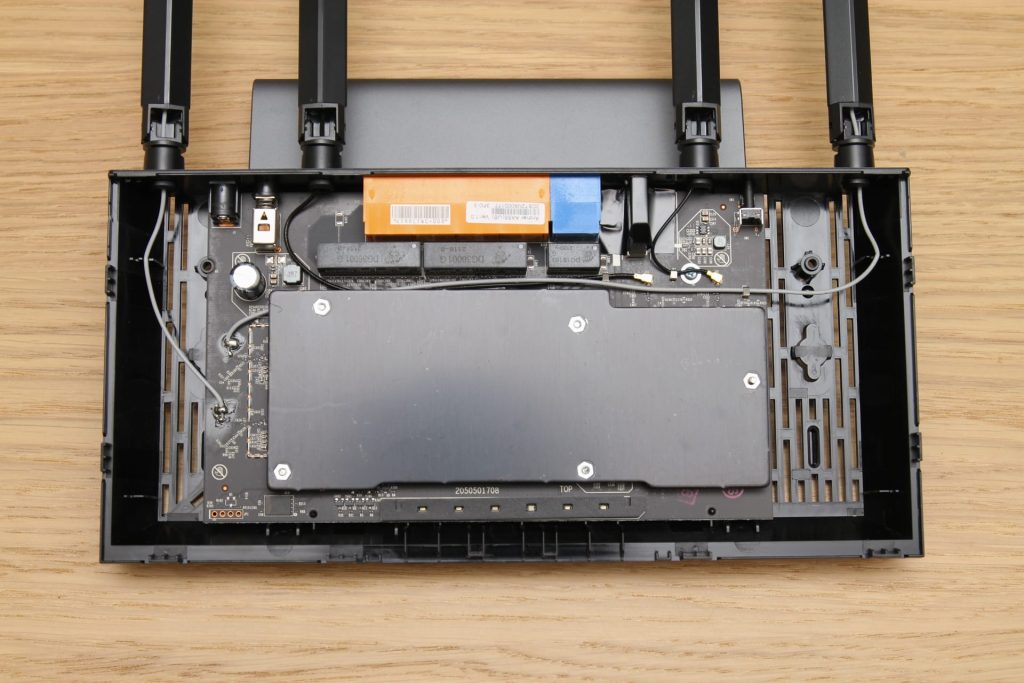 Build quality is still pretty good with two metal heatspreader on both side of the PCB. In reality, the Qualcomm chip is pretty cool and I don't think a fan is required for TP-Link Archer AX55.
The WiFi stability on the Archer AX55 improved significantly over the Archer AX50 it replaces. It can provide consistent and replicable performance even after stressing the router for a few days.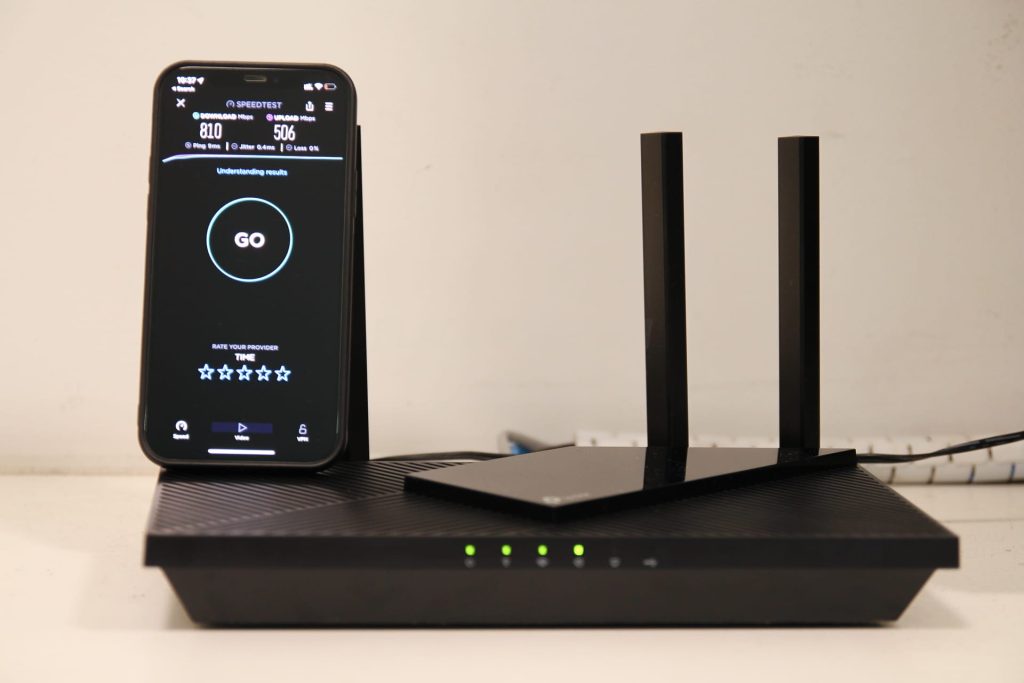 On short distance of around 3m with line of sight, I can obtain speed more than 800Mbps easily on both my iPhone and laptop with WiFi 6 function.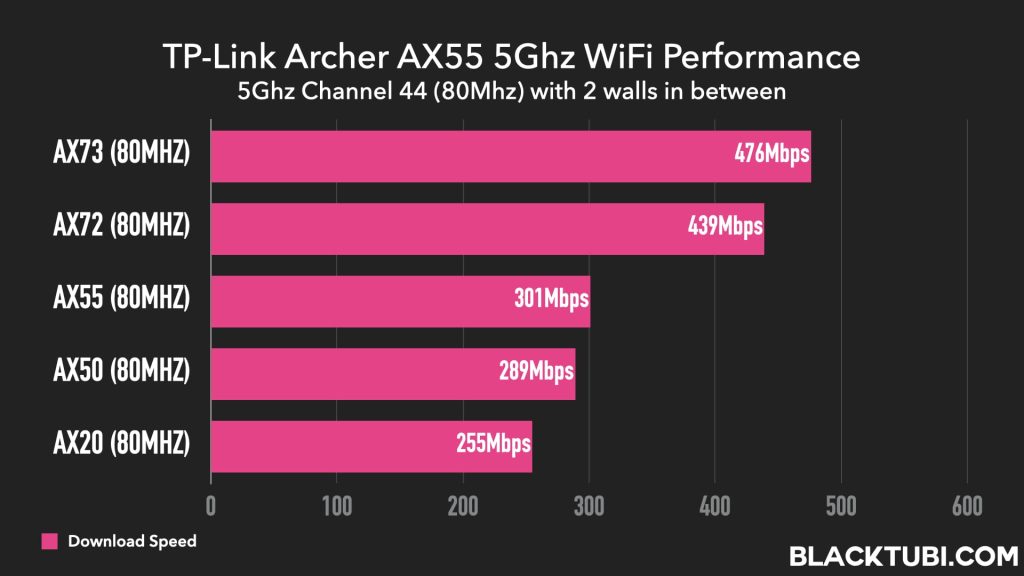 After 2 walls, the speed dropped to just slightly below 300Mbps on the 5Ghz network. Comparing this to other TP-Link routers, you can see that while it is definitely faster than the Archer AX20, there is a huge gap to the performance of Archer AX72.
OneMesh is supported right out of the box which means you can form a mesh WiFi system with other OneMesh extenders such as the RE505X. Having OneMesh will provide better user-experience with unified WiFi name, centralized control and seamless roaming function unlike normal WiFi extenders.
TP-Link firmware are really user-friendly and generally really stable. I like the modern and responsive user interface when setting up the router. The router will automatically install firmware updates one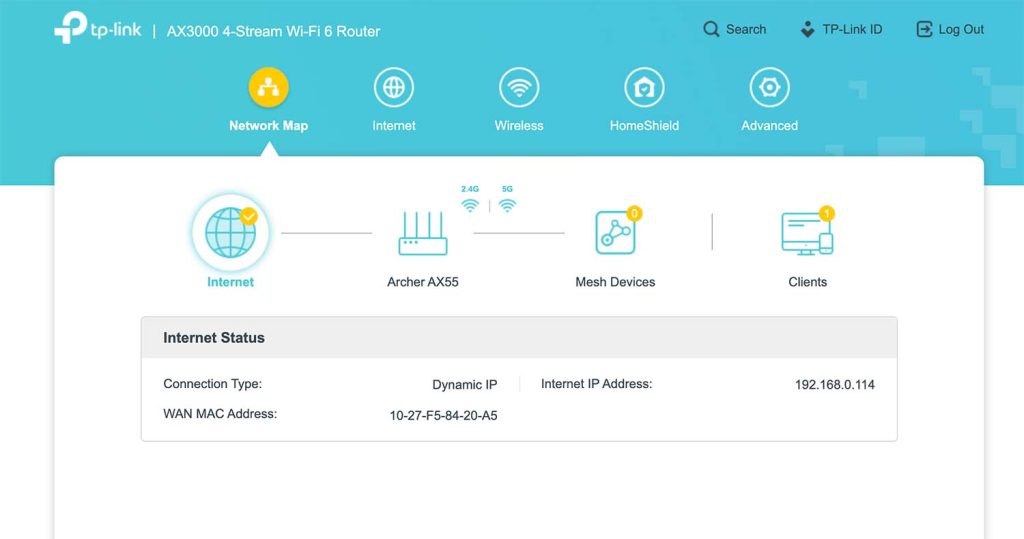 While the web interface is good, I prefer to use TP-Link's Tether app as it is just easier. The app can be linked to a TP-Link account and access remotely even when not connected to the home WiFi connection. Most of the features on the router can be controlled on the app.
HomeShield Pro Parental Control
I really like TP-Link upgraded HomeShield Pro parental control feature as it is really robust. The system is able to block website based on category like most routers in the market. The categories are pretty comprehensive and include most mainstream websites.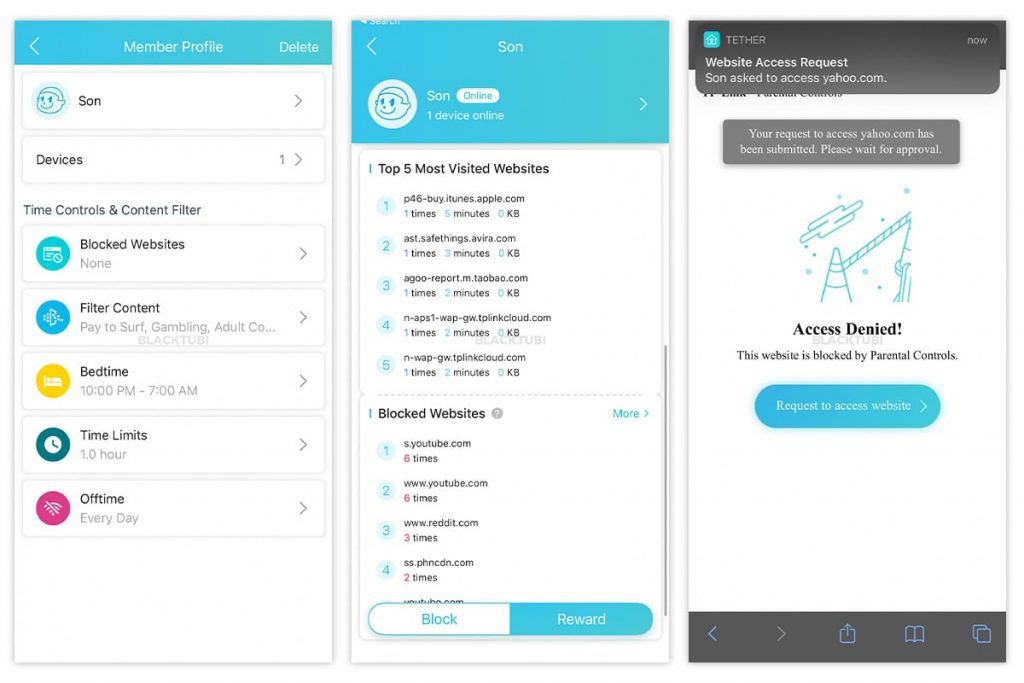 It is also able to perform the Internet usage scheduling function and bedtime limit. TP-Link even lets you to decide the daily Internet usage quota based on hour for selected device which is something I've never seen on other router brands.
The best part of the system is the reporting capability. It can show the top blocked and top visited websites. The system is even able to show hourly network usage history for each device. This will be really helpful to monitor the network usage of minors since e-learning is a huge thing now.
The new HomeShield Pro security feature is now powered by Avira's database. It is able to prevent your device from accessing a website containing malware with other features such as DDOS protection and IoT device security.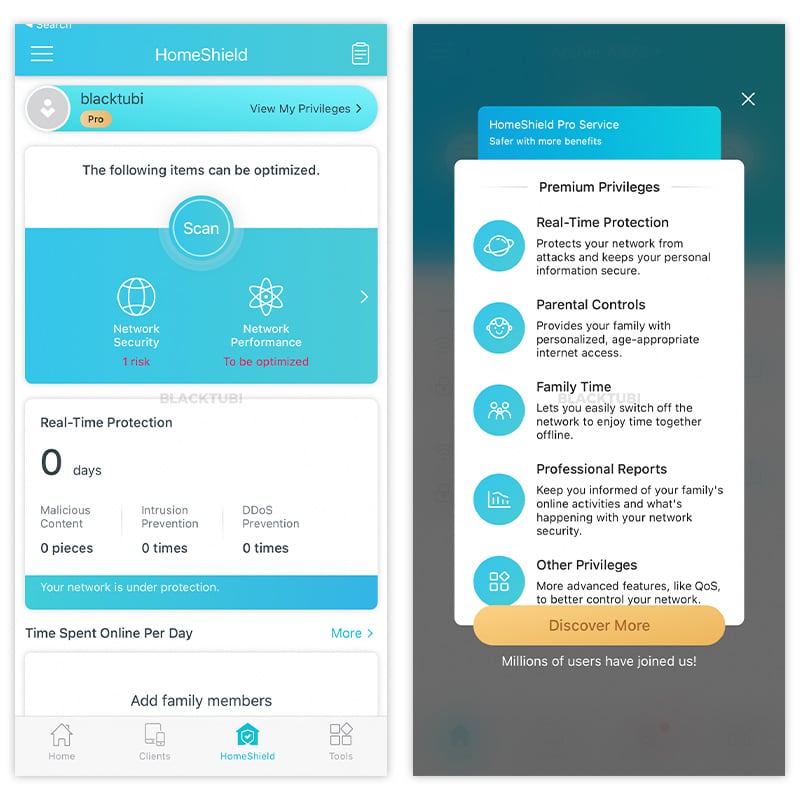 However, bear in mind that this new HomeShield Pro will require a subscription of RM24.90 per month. The HomeShield Basic tier comes with less function and TP-Link will provide a free 30 days trial to try the Pro service. Refer to more info on TP-Link website here.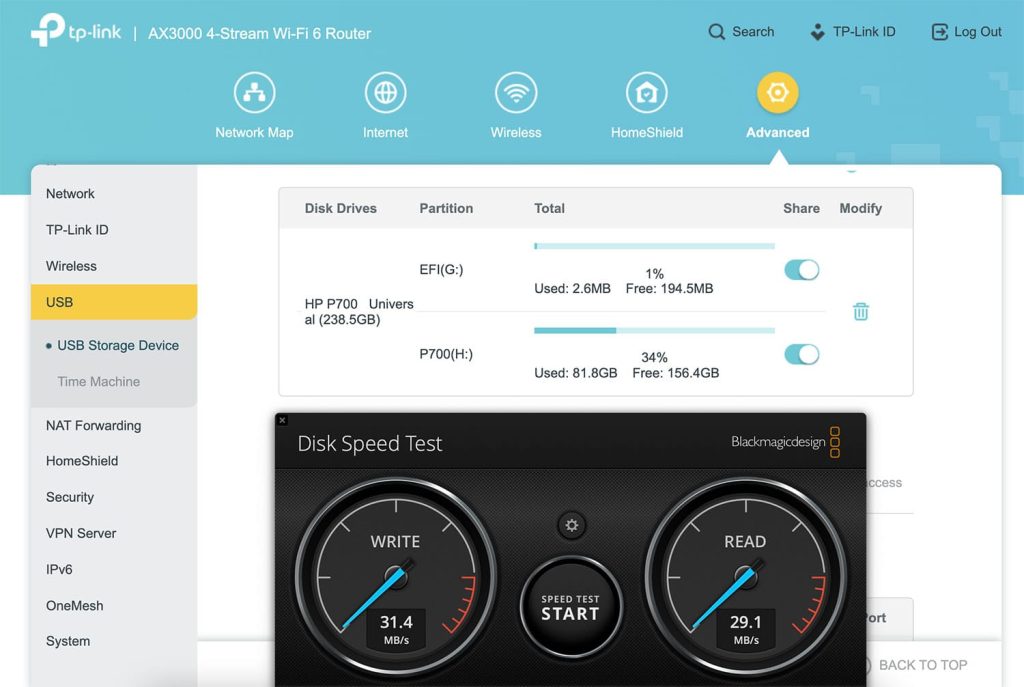 Thhe router can support my USB SSD and external hard drive and share files on the network to my Mac and Windows computer. It can even function as a TimeMachine backup server for my Mac computer. Performance is decent and it should be able to support up to 4K video streaming easily.
30MB/s speed is definitely really fast especially from a router on this price range. This is probably thanks to the fast Qualcomm chip on the Archer AX55.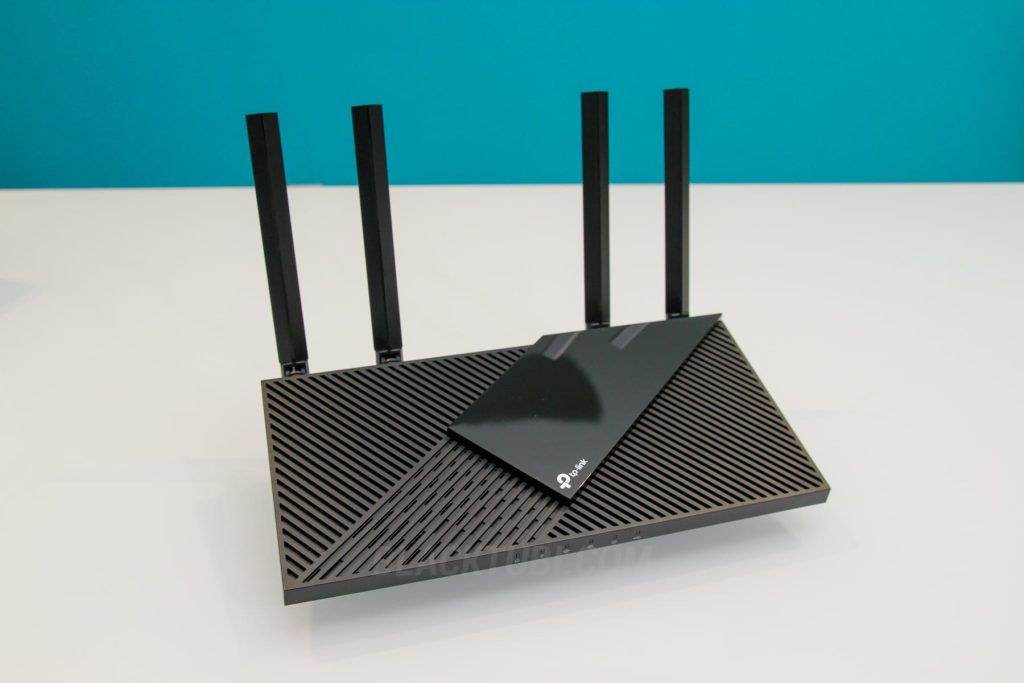 TP-Link new Archer AX55 is a huge improvement over the Archer AX50 it replaces. It is more refined thanks to the new Qualcomm SoC which resulted in greatly improved stability. While WiFi performance is largely similar, the consistency is miles ahead of the previous AX3000 router from TP-Link.
However, while the Archer AX55 is great, it suffers from the middle child syndrome. For just RM50 more, the Archer AX72 offers much better value with a performance gap that's almost double.  that would be very noticeable especially on Internet speed faster than 300Mbps.
Affordable performance upgrade

User-friendly firmware and mobile app

Stable and consistent performance

Fast USB file transfer performance
HomeShield Pro requires a subscription
OneMesh only works with extenders