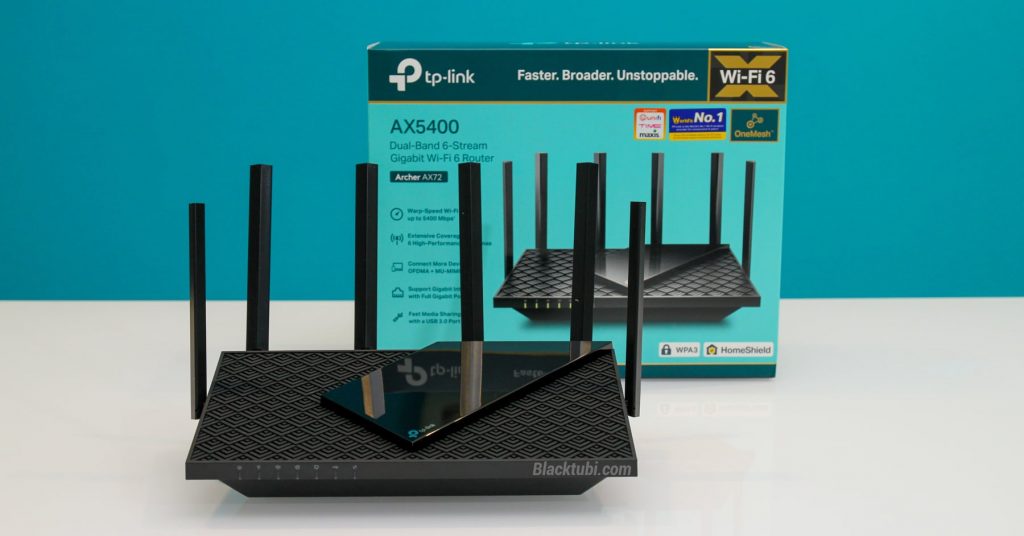 The new Archer AX72 from TP-Link is a high performance WiFi 6 AX5400 wireless router that promises to deliver strong WiFi coverage and lightning fast performance. It's basically the Archer AX73 that's slightly watered down so it can be sold at a more affordable price.
The Archer AX72 is strange as it is pretty much the same with the Archer AX73 with mostly similar specification. I fact, the performance is very similar performance to the Archer AX73 that I've reviewed in the past here. It makes me wonder why such a product exist in TP-Link lineup.
Let's face it, the Archer AX72 has the same design as the Archer AX73. Thankfully, the design is great. There are plenty of ventilation holes on both side of the product which will provide really adequate cooling. There are still 6 external antennas on the router for stronger WiFi coverage.
The Archer AX72 retails for RM399 with 3 years hardware warranty in Malaysia. It is compatible with TM Unifi, Maxis, Celcom, DiGi, TIME Fibre and more.
Archer AX72 Hardware and Specs
The Archer AX72 is powered by Qualcomm IPQ0518 SoC which contains a 64-bit ARM A53 dual-core 1Ghz CPU and a dedicated single core NPU to accelerate network tasks. This is supported by a 512MB RAM. Stay tuned for future comparison with the Broadcom BCM6750 on the Archer AX73.
| | |
| --- | --- |
| | Wi-Fi 6 up to 574Mbps (40Mhz 2×2) |
| Wireless 5Ghz | Wi-Fi 6 up to 4804Mbps (160Mhz 4×4) |
| WiFi Features | OFDMA, MU-MIMO, Beamforming, WPA3, OneMesh |
| CPU | Qualcomm IPQ0518 SoC with 512MB RAM |
| Ethernet Ports | 1x Gigabit WAN port + 4x Gigabit LAN port |
| USB | 1x USB 3.0 port |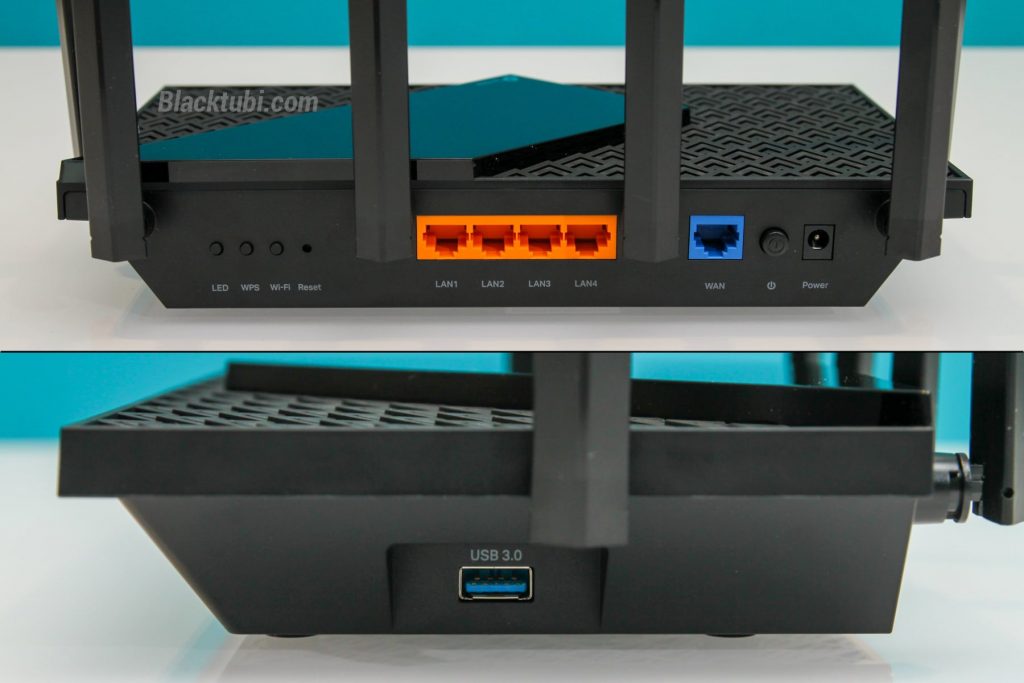 In additional to the usual LAN ports, the Archer AX72 comes with a USB port which can be used as a file sharing server via Samba, DLNA, FTP and TimeMachine protocol. It will work with most devices in the market including most smart TVs.
It's possible to wall mount or even ceiling mount the Archer AX72 with two mounting holes on the bottom of the router. However, the screws are not included with the package. The default WiFi name and password is labeled on the bottom of the router as well.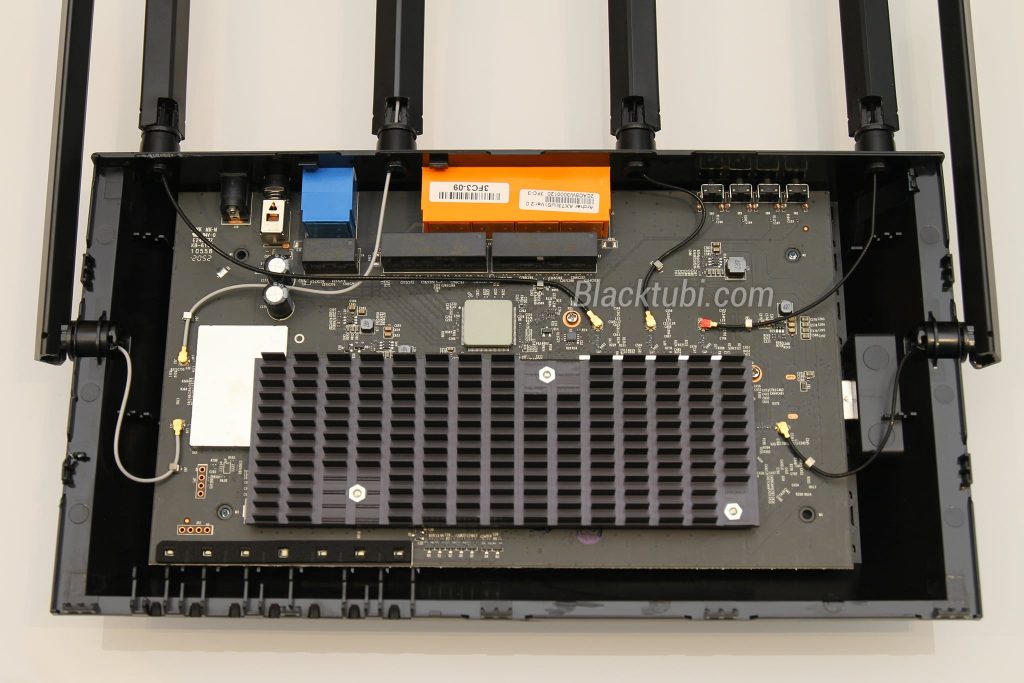 Looking inside the Archer AX72, it's good to see that TP-Link is not cheaping out despite being a cheaper product. There's still a decent sized heatsink for heat dissipation on the product. The surface of the router is only slightly warm to the touch even after stress test the product.
Archer AX72 WiFi Performance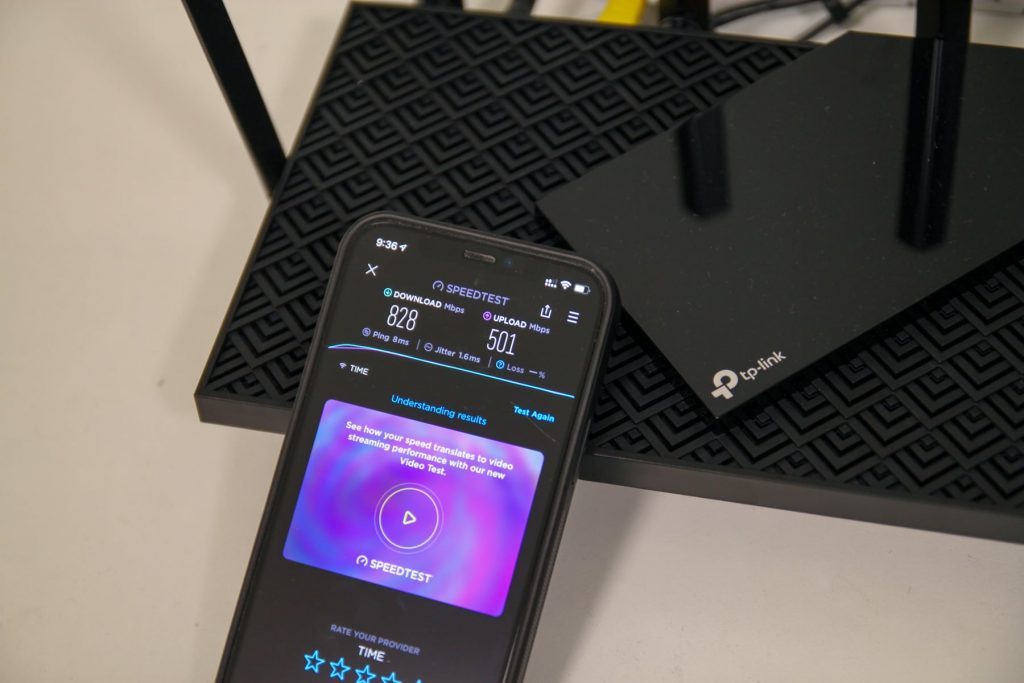 The star of the show will definitely be the WiFi performance of the Archer AX72. I have no issues obtaining more than 800Mbps consistently on my iPhone 12 Pro when running speed test on my 1Gbps Internet connection.
Moving on to the long distance speed test, the Archer AX72 shines with really good WiFi speed when testing on my laptop with the Intel AX200 WiFi 6 adapter. Granted, it's slightly slower than the more expensive Archer AX73 but the difference is really small here.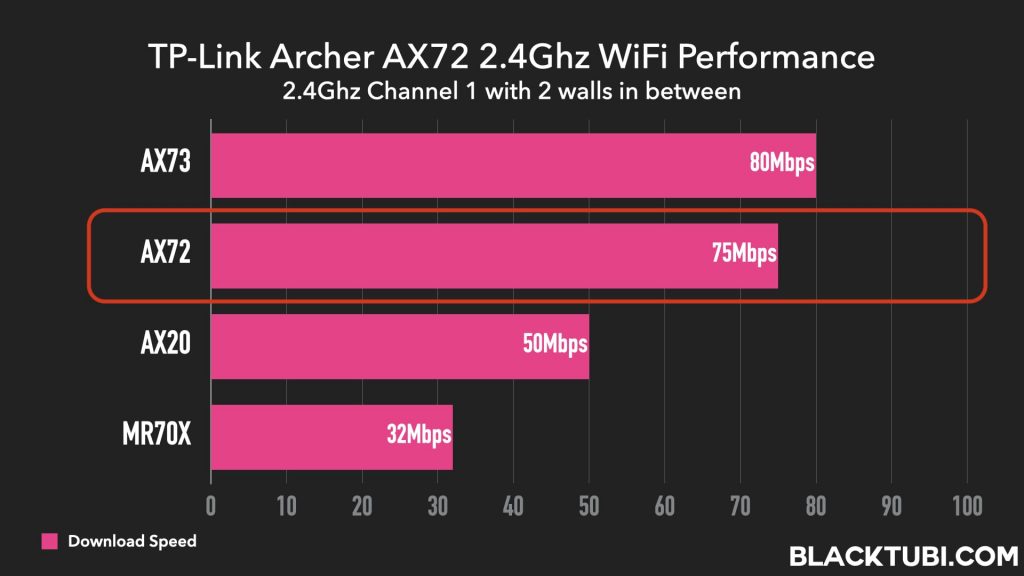 I will be testing the 2.4Ghz signal this time. Like the 5Ghz test, the Archer AX72 performs decently with good 2.4Ghz WiFi speed and great stability even when the signal is weaker. That's because I am using a laptop with WiFi 6 as well and on my older laptop, the speed will be much slower.
OneMesh and EasyMesh Compatibility
Staying in a bigger property? You can expand the WiFi signal by adding TP-Link OneMesh Extender. The Archer AX72 is a mesh router and it can communicate with TP-Link OneMesh Extender wirelessly and work as a mesh WiFi system. Check out my full review of the RE505X OneMesh Extender here.
Unlike normal extender mode, TP-Link OneMesh has many benefits such as seamless roaming, universal WiFi name and centralized control. However, it doesn't work directly with Deco mesh system. If you wish to use Deco, you still need to connect one unit of Deco to the router.
The Archer AX72 also comes with the EasyMesh feature which can be used to link other EasyMesh supported routers to form a wider coverage area. I'm able to do this by linking 2 units of the Archer AX72 wirelessly without having to use Ethernet LAN cable.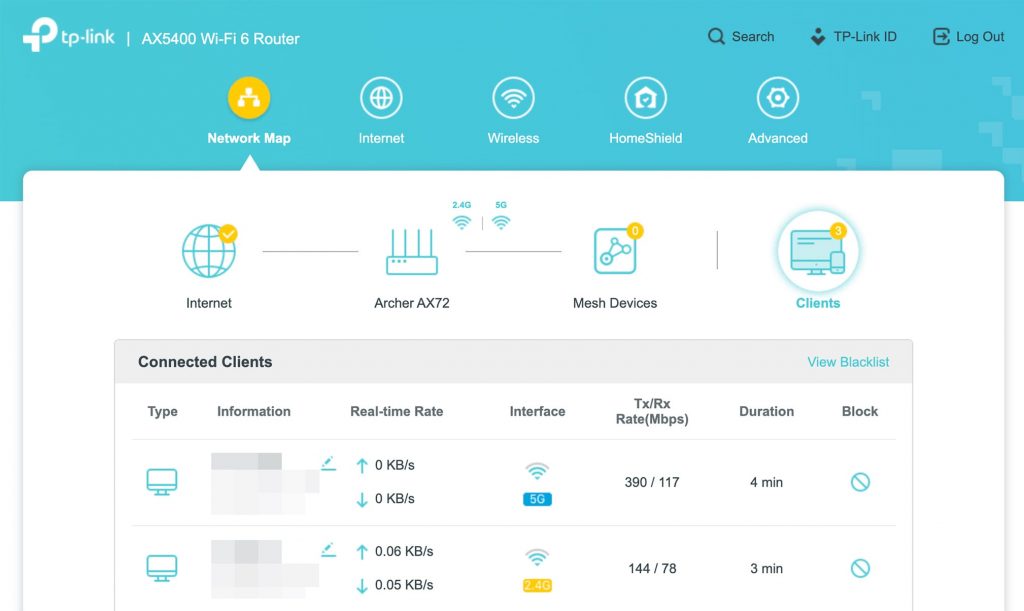 TP-Link firmware is generally stable and pretty reliable in our test. TP-Link doesn't try to squeze too much features into the firmware which could be a good thing. The firmware is really fast and it is really easy to operate and setup the router. You can refer to my Unifi setup guide here.
While there's a web interface, I prefer to use the Tether app since it is more convenient. The app can control most of the settings and it does work really well. It can show all the connected devices and let you to change the WiFi settings on the router.
HomeShield Pro Parental Control
I really like TP-Link upgraded HomeShield Pro parental control feature as it is really robust. The system is able to block website based on category like most routers in the market. The categories are pretty comprehensive and include most mainstream websites.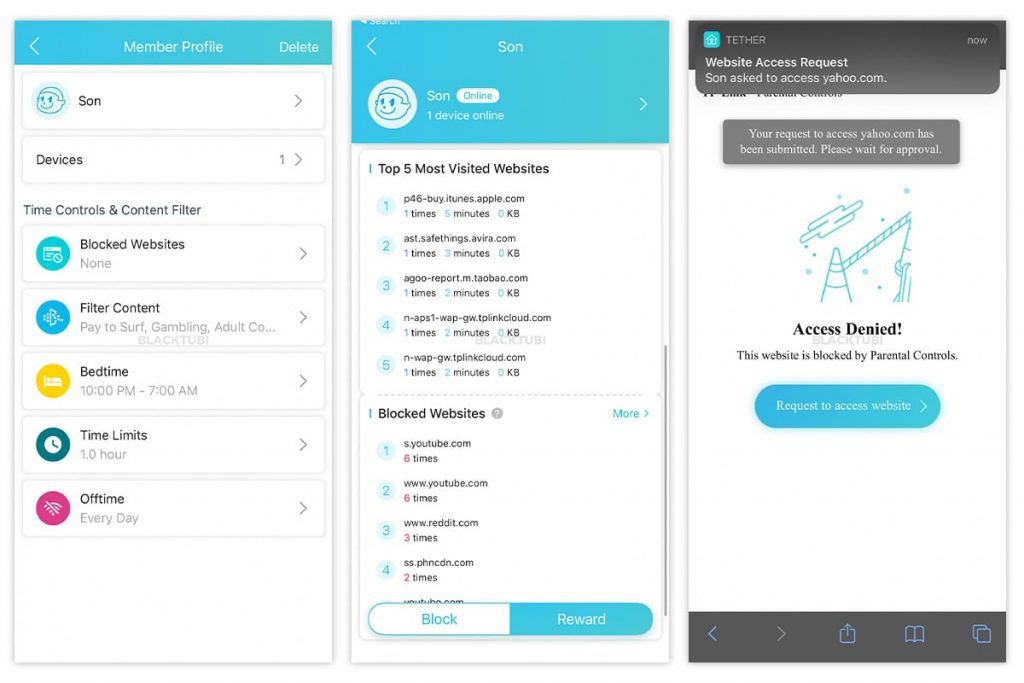 It is also able to perform the Internet usage scheduling function and bedtime limit. TP-Link even lets you to decide the daily Internet usage quota based on hour for selected device which is something I've never seen on other router brands.
The best part of the system is the reporting capability. It can show the top blocked and top visited websites. The system is even able to show hourly network usage history for each device which is a great tool to monitor the network usage of minors in the family.
The new HomeShield Pro security feature is now powered by Avira's database. It is able to prevent your device from accessing a website containing malware with other features such as DDOS protection and IoT device security.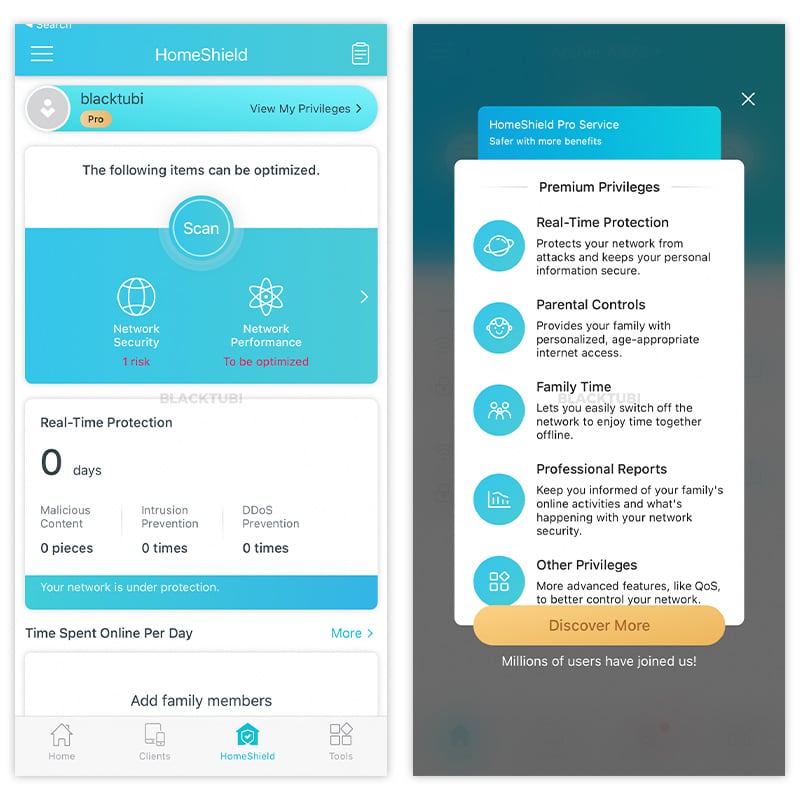 However, bear in mind that this new HomeShield Pro will require a subscription of RM24.90 per month. The HomeShield Basic tier comes with less function and TP-Link will provide a free 30 days trial to try the Pro service. Refer to more info on TP-Link website here.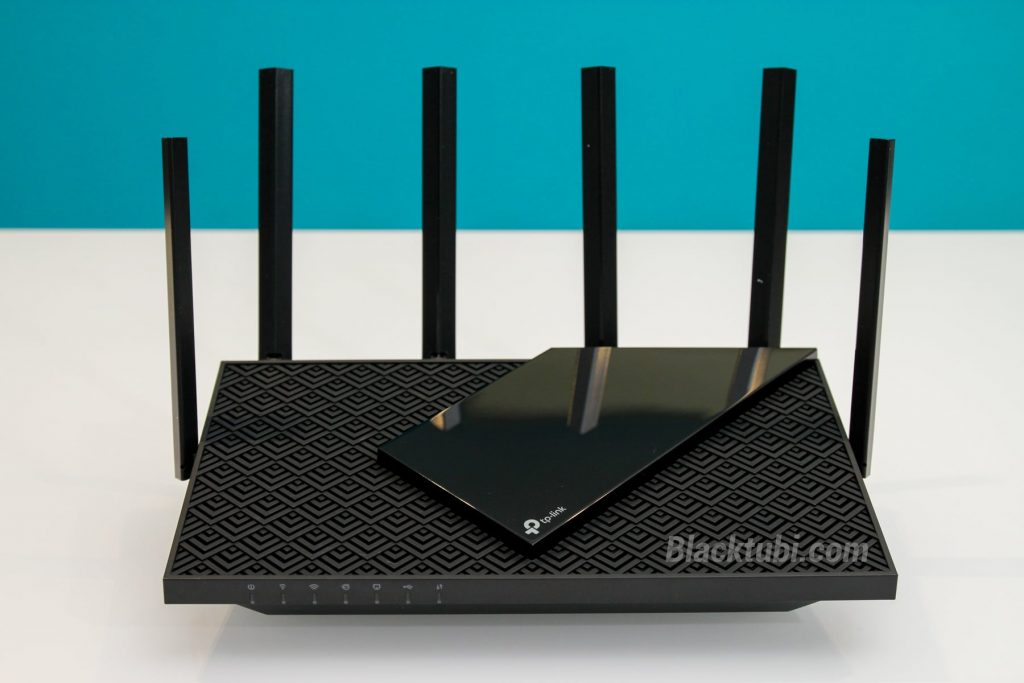 TP-Link Archer AX72 is a great product with really good performance and strong signal strength. It turns out that it is exactly 10% slower than the Archer AX73 while being 10% cheaper. For most people, I reckon the Archer AX72 is more than enough especially for those with 500Mbps Internet subscription.
Strong

WiFi coverage with consistent performance and EasyMesh support

HomeShield security services

User-friendly and easy to operate
HomeShield Pro requires a subcription
EasyMesh doens't support Ethernet backhaul