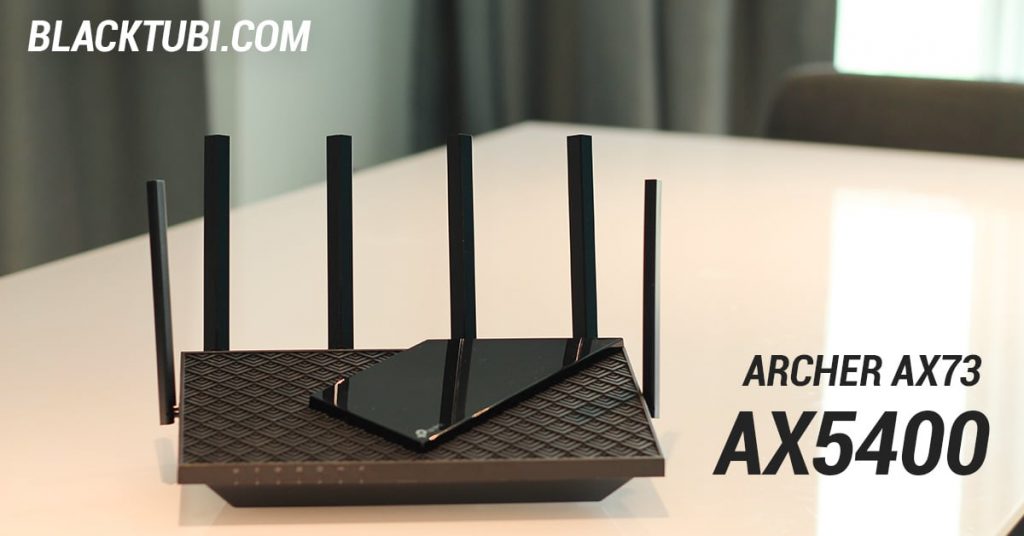 It's 2021 and the pandemic is still here. This means we're still working from home until things get better. Having a reliable and fast WiFi connection is crucial for work productivity. Thus, that brings us to the new TP-Link Archer AX73, a high-performance AX5400 wireless router now available in Malaysia.
The Archer AX73 support the latest Wi-Fi 6 technology that promise to enhance Wi-Fi performance and signal coverage. It can support a speed rating up to AX5400 which is 80% faster than a typical AX3000 wireless router. But, the best part about this product is the price and the specifications of the device.
The Archer AX73 is now available for sale at just RM399 in Malaysia and it comes with a 3 years one-to-one exchange hardware warranty and after sales support from TP-Link.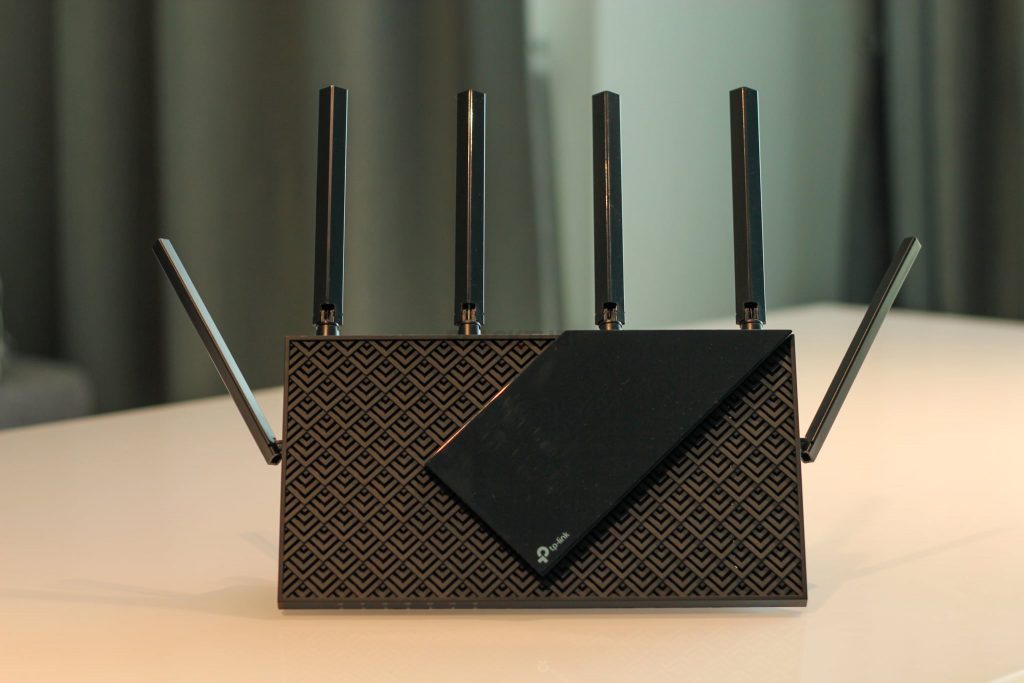 The first thing that you'll notice from the Archer AX73 is the 6 antennas poking out from the router. These antennas are real and not just for show. We've already tear down this router and identified that 4 antennas are used for the 5Ghz network and 2 antennas are used for the 2.4Ghz network.
The reason why there are 6 antennas is because the Archer AX73 uses an individual antenna for each transmit channel rather than combining both the 2.4Ghz and 5Ghz into a single antenna module. This means the design of each antenna can be fully optimized for their desired frequency without compromising on the performance. It promises to deliver a really strong WiFi coverage as the key selling point.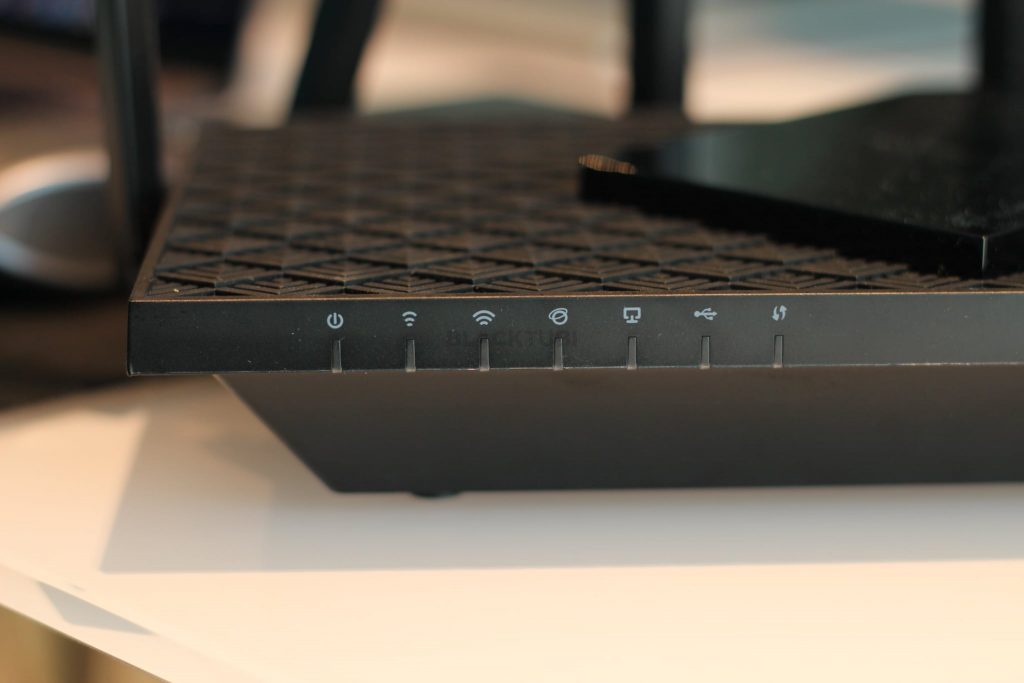 The Archer AX73 also runs really cool and stable in our test. TP-Link improved the cooling capability by using a much larger heatsink and more ventilation hole. As such, the Archer AX73 is bigger and chunkier with cleverly designed ventilation holes. It barely heats up even on prolonged stress test and certainly much cooler than the Archer AX50.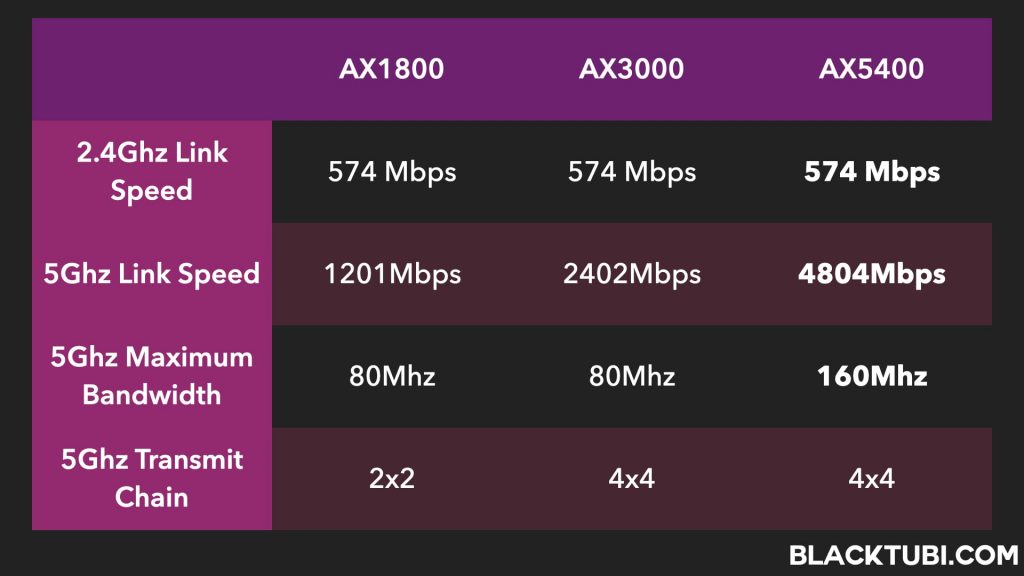 Despite having a relatively affordable price, TP-Link is not cheaping out on the specifications of the device. The Archer AX73 support Wi-Fi 6 up to AX5400 which means it has a 4×4 transmit channel and up to 160Mhz bandwidth. However, bear in mind this is theoretical maximum link speed and the actual speed you get will depends on the device that you use.
The Archer AX73 is powered by the Broadcom BCM6750 1.5Ghz triple-core CPU with 512MB worth of RAM. TP-Link says this router can actually support up to 200 devices connected simultaneously. While I don't have 200 devices to test, the router do work realiably in my home with close to 50 devices connected to it.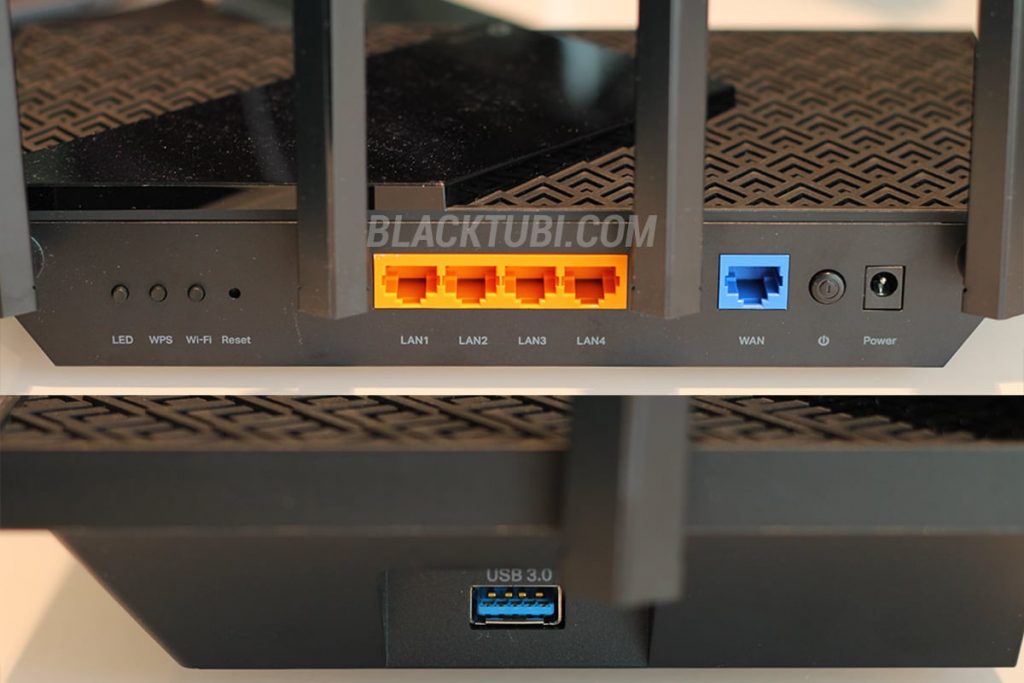 Connectivity wise, the router comes with 4 Gigabit Ethernet LAN ports and a single Gigabit Ethernet WAN port. It also comes with a USB 3.0 port which can be used for file sharing and printer sharing to devices connected to the wireless router. The LED status indicator on the router can be disabled if needed.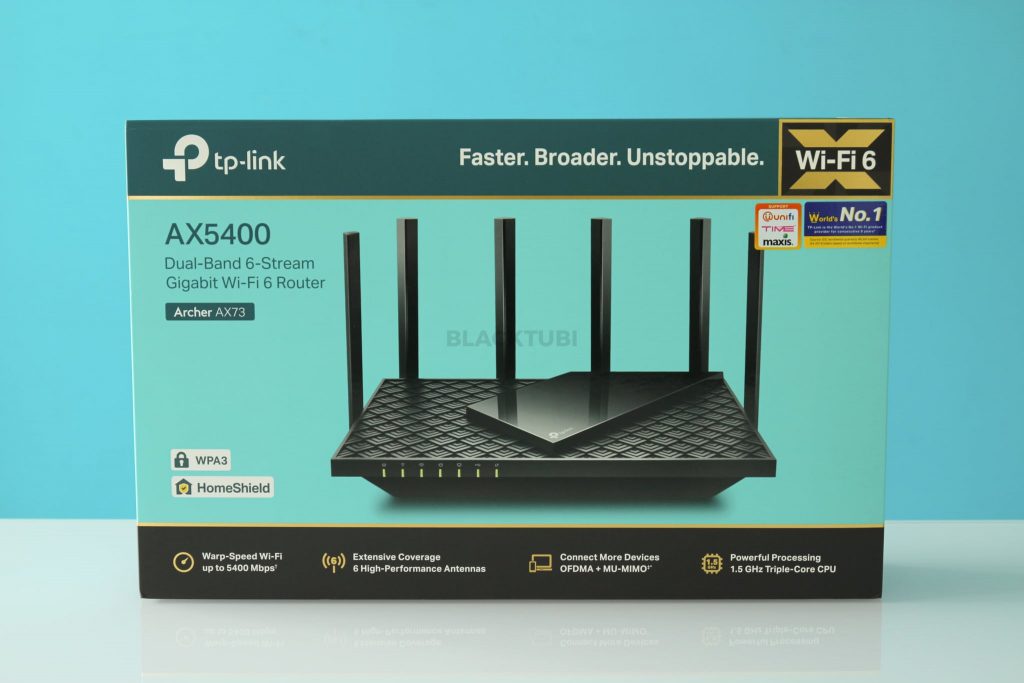 The box of Archer AX73 for Malaysia market comes labeled with support for TM Unifi, Maxis Fibre and TIME Fibre.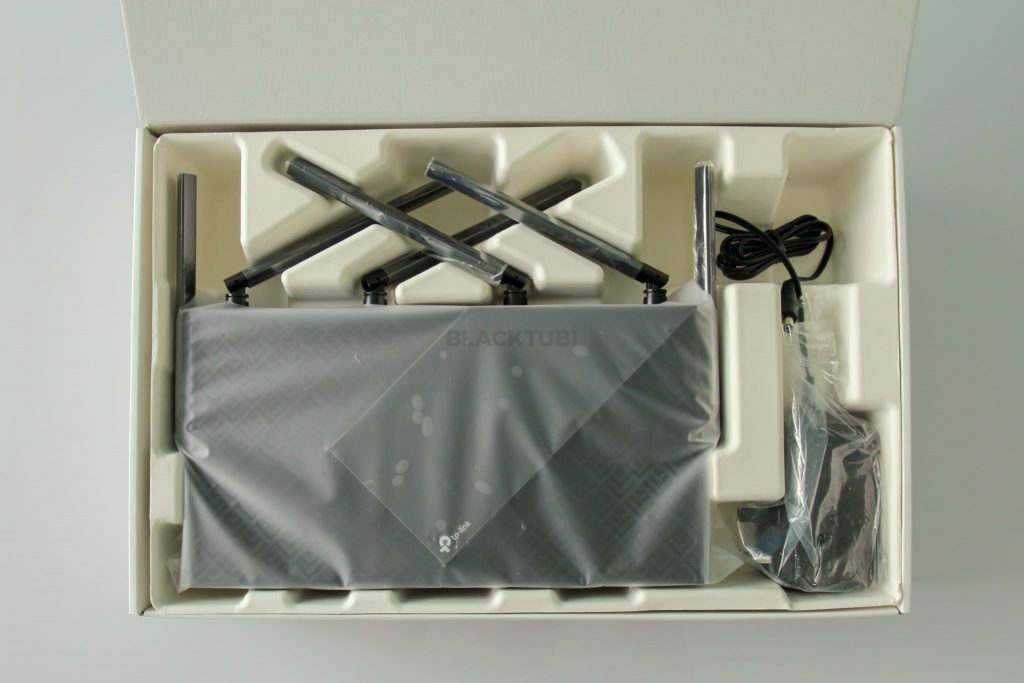 The routers and and accessories are individually wrapped and they are well protected by the cardboard box. It comes with a standard Ethernet LAN cable and a 12v power adapter.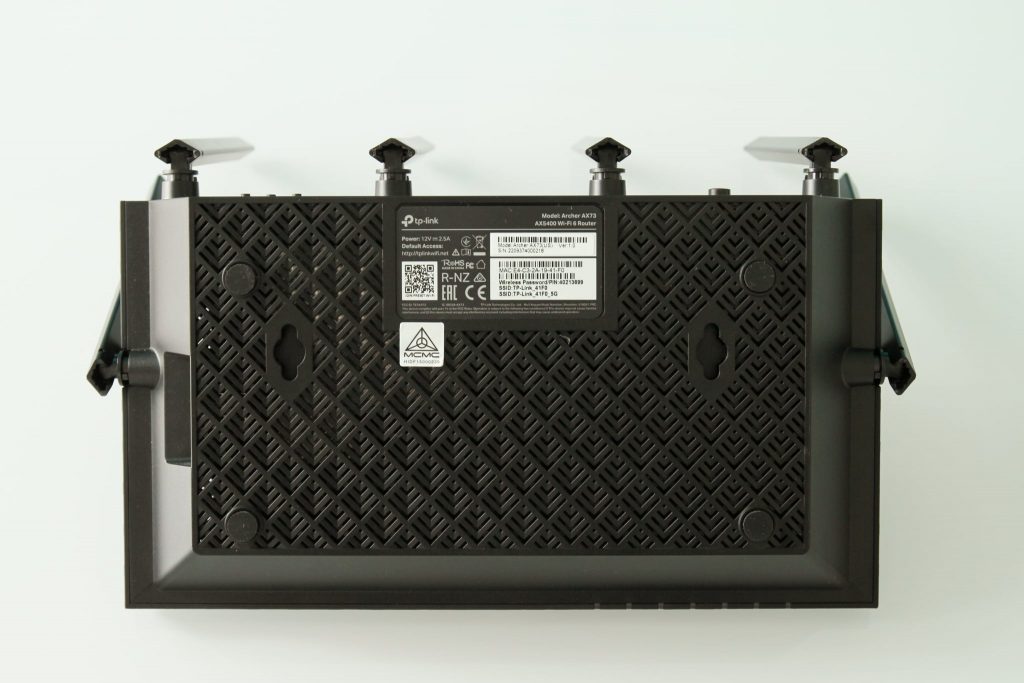 It is possible to wall-mount the wireless router with 2 mounting holes behind the product. The default WiFi name and password is also labeled on the back of the router.
With the beefy specifications, let's see if that actually transfer into actual performance in our benchmark test. I will be using a laptop with the Intel AX200 wireless adapter and an iPhone to test the Wi-Fi 6 performance of TP-Link Archer AX73.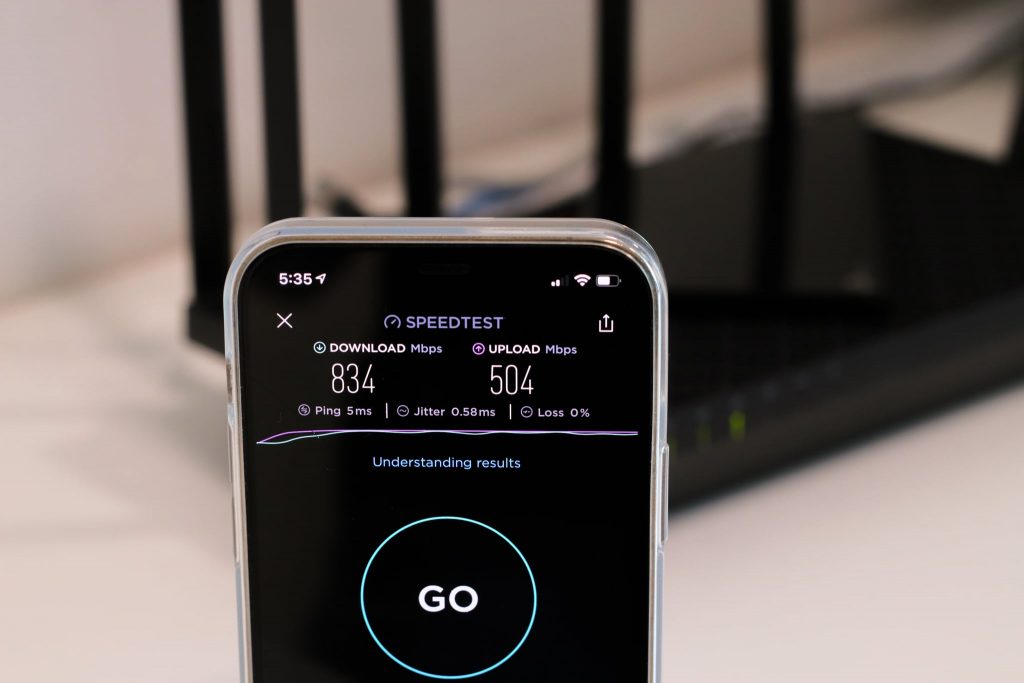 At short distance to the router, even my WiFi 6 support iPhone can achieve over to 800Mbps on the 5Ghz Wi-Fi network. This is not surprising considering most Wi-Fi 6 routers, even the budget models like Archer AX10 can deliver such performance. What we really want to know is the long range signal coverage and performance.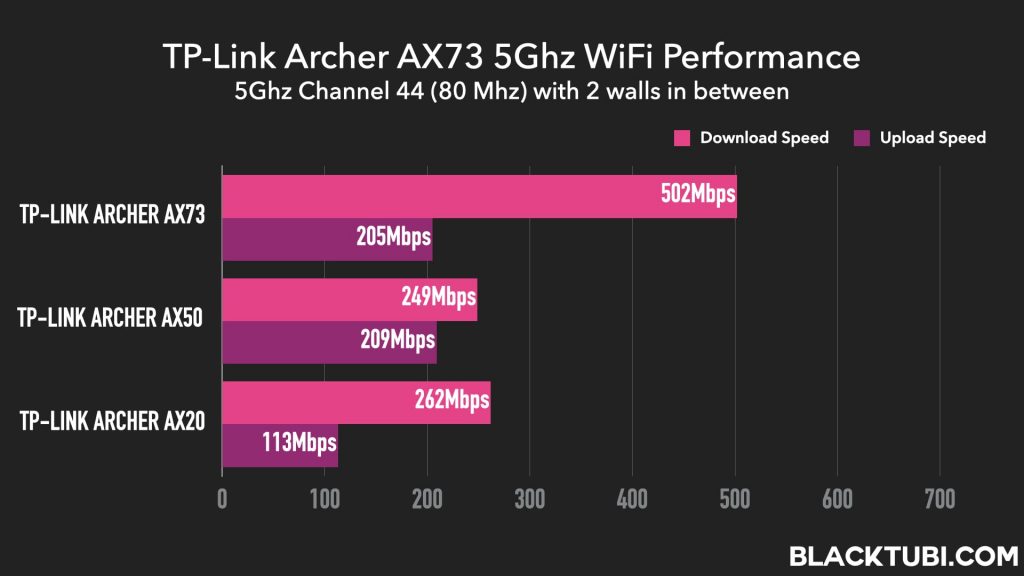 The Archer AX73 does not disappoint us in the long range 5Ghz performance test. 5Ghz coverage and performance really surprises us considering this router cost less than RM500. In fact, the 5Ghz WiFi network is faster and stronger than every single AX3000 wireless router that we've tested on this site. The performance is also stable and consistently replicable througout our review.
Security wise, it can support the latest WPA3 security right out of the box. However, I do not recommend using WPA3 now as many devices in ther market are still not updated to support WPA3 and it will cause compatibility issues. Considering a router last many years, having WPA3 support is a future proof feature.
TP-Link maintain their philosophy of not overly bloating the firmware with features and I think it works here. The firmware is really stable and reliable without any noticeable bugs throughout my usage. Having a reliable and dependable router is crucial considering most of us are still working from home nowadays.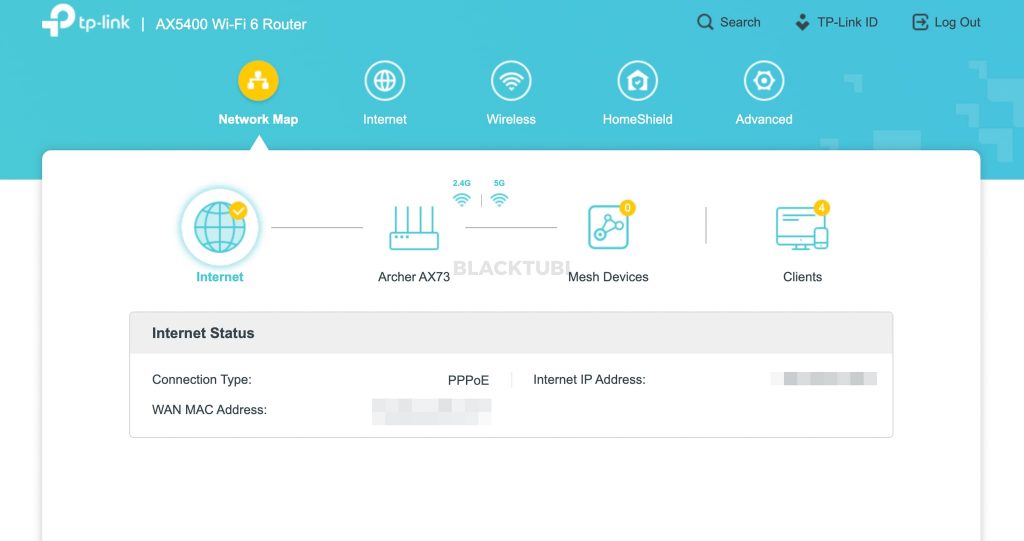 The web interface is simple to operate and certainly very easy to setup the router. It can support TM Unifi, Maxis Fibre and all ISPs in Malaysia. For most users, it will involve connecting the router to the modem and use the setup wizard on the interface. The VLAN profile must be selected for TM Unifi or Maxis Fibre users in Malaysia.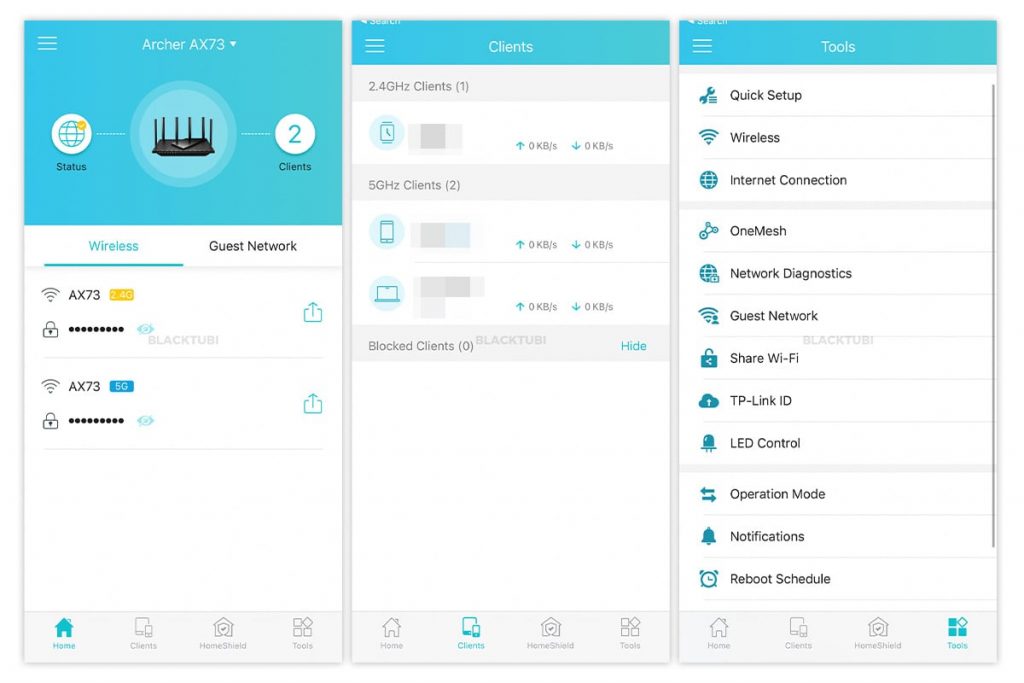 TP-Link Tether app offers a quick overview of your home network condition such as connected devices and network speed. The app is well designed and really responsive in our test. It is securely linked to TP-Link cloud and authenticated with your personal TP-Link account. TP-Link HomeShield security feature is only accessible on the app as well.
TP-Link HomeShield Security
TP-Link HomeShield is their new commercial grade firewall replacing the previous HomeCare feature. It can protect your devices from accessing a malicious website containing a virus or malware. This feature is now powered by Avira Antivirus databsed.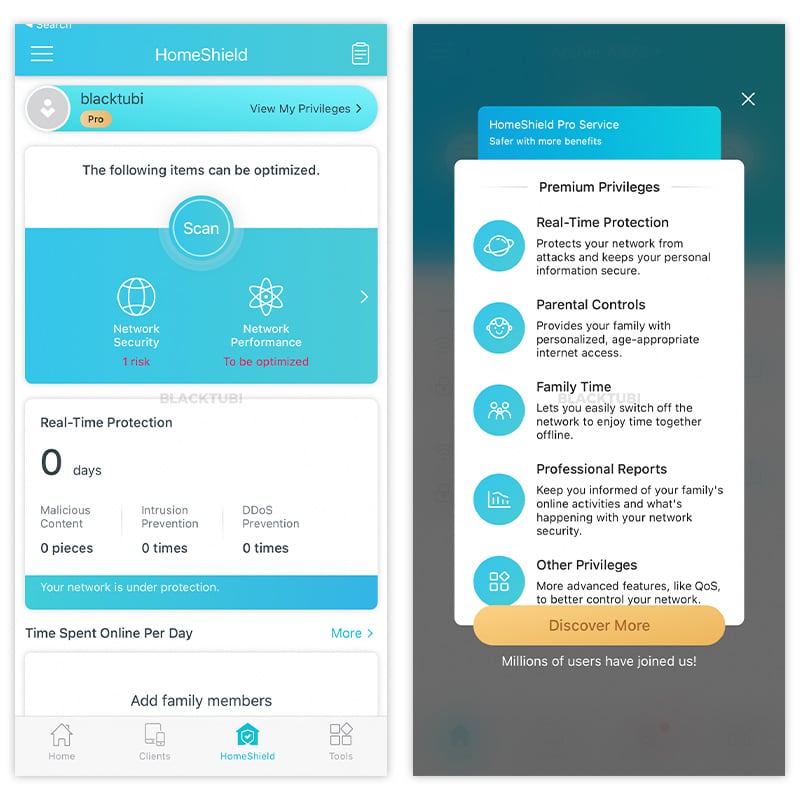 It also added protection for smart home and IoT devices. Considering these devices rarely receive firmware updates, having extra protection for these devices against online attacks is certainly helpful. TP-Link claims it can protect an insecure device from being used as a loophole to launch attacks on your home network. While we have no way of verifying these claims but time will tell.
HomeShield Parental Control
TP-Link new HomeShield parental control is also much smarter than before.  It can perform content filtering by category and usage time limitation. The categories are more comprehensive and it covers more websites than before. Based on our testing on some known sites, it is certainly more effective than HomeCare and other similar systems that we have tested on other brands.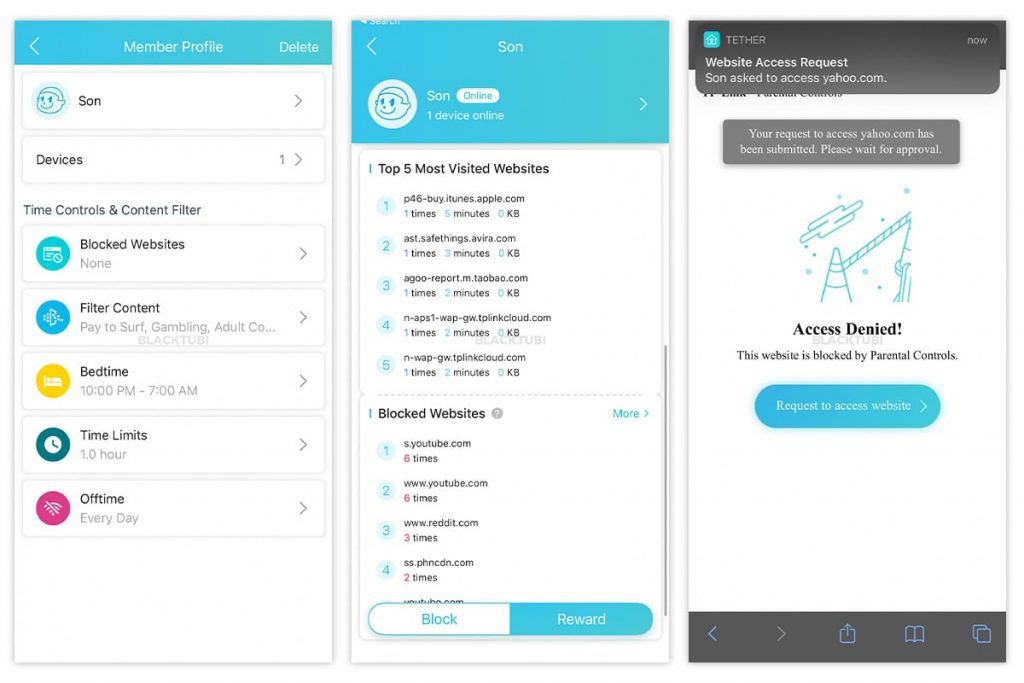 What's so great about the new parental control is the ability to display usage charts and history of your children. It will show the top sites browsed and blocked sites attempted by each user. If a page is blocked by the parental control feature, your children can request access and you can grant access on the TP-Link Tether app even when you are not at home.
However, the upgraded HomeShield feature is not fully free. The Free tier only comes with the basic firewall without the advanced malicious content filtering feature. It also does not provide the comprehensive reporting of the parental control feature. More details available on TP-Link website here.
While TP-Link provide a 30 days free trial of the Pro tier, it will cost RM24.90 per month after the trial has ended. I have no problem with a subscription based model but the price is slightly too much to be acceptable for most Malaysians and I wish TP-Link can readjust the pricing based on local spending habits.
I am really impressed by TP-Link new HomeShield parental control capability. It offers a really high transparency that I've never seen before on a consumer grade product. Although it is a paid feature now, it is worth paying the price if you have young children in your home that you wish to protect them against online threats.
For those staying in a bigger home, it's possible to create a mesh WiFi network with this router by adding a OneMesh extender like the TP-Link RE505X. The OneMesh extender will work together with the router to create a stronger WiFi coverage. OneMesh also support seamless roaming among the router and the mesh nodes with just one WiFi name.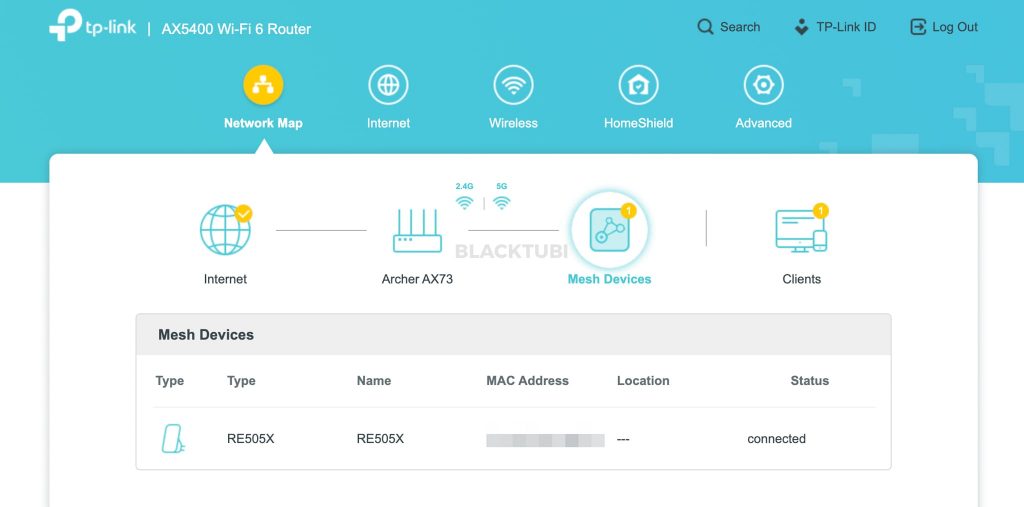 The performance will depends on the OneMesh extender you use. TP-Link OneMesh supports the 802.11k/v assisted roaming and it has band steering and AP steering capability. Check out my detailed review of TP-Link OneMesh in my article here.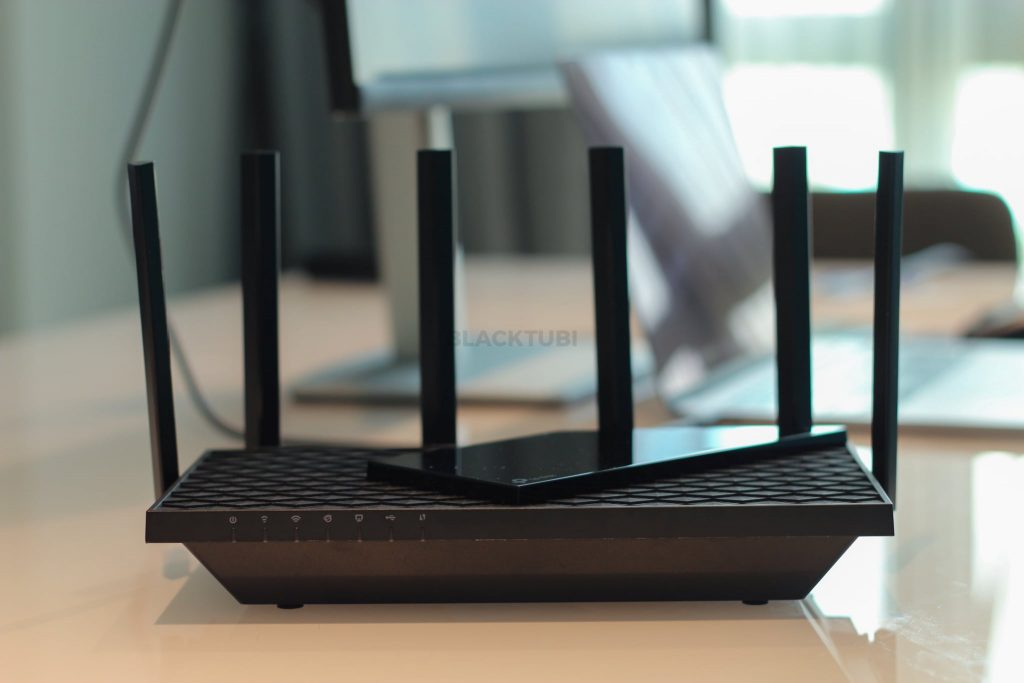 At RM399, it makes buying the Archer AX73 from TP-Link a no-brainer even comparing to TP-Link's own AX3000 wireless router. The Archer AX73 WiFi performance is so good that it is even better than some products that cost more than twice as much. It is certainly the fastest wireless router under RM1000 you can buy right now.
The router is also smarter than ever with a class-leading parental control feature that's really robust and comprehensive. I have to give credit to TP-Link for including WPA3 security support right out of the box. TP-Link is also committed to provide additional security to smart home and IoT devices with the new HomeSuite security suite.
Affordable pricing with really great 5Ghz WiFi performance

Highly comprehensive parental control solution

Improved security with commercial grade firewall

Stable and dependable firmware
Advanced HomeShield feature require a subscription
HomeShield subscription is not cheap