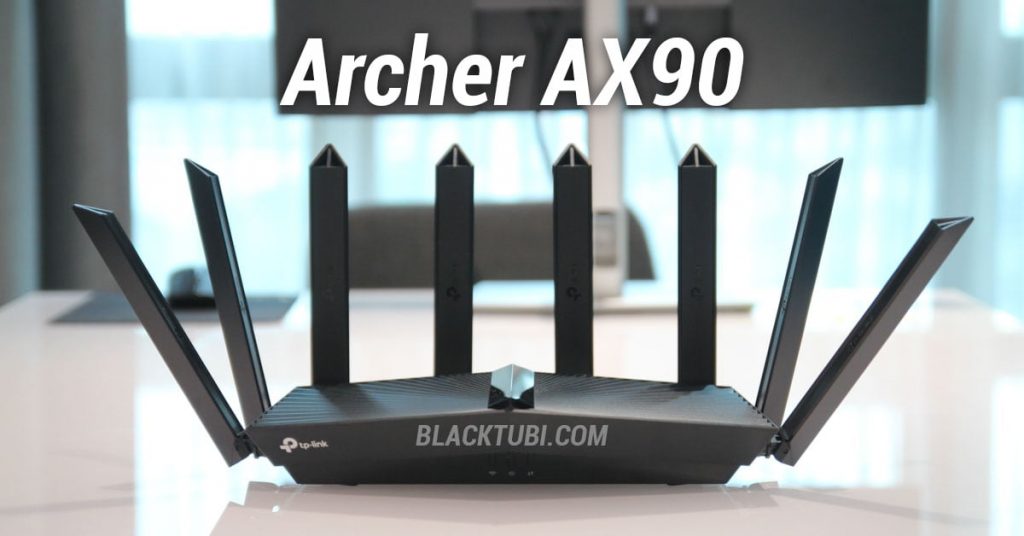 TP-Link been doing a lot of right thing lately with the Archer AX73 providing really good performance at an affordable price. Now, TP-Link launched the Archer AX90 with Tri-Band WiFi 6 capability and supported a total of 8 WiFi streams for a total WiFi capacity up to 6600Mbps.
The Archer AX90 is basically a souped up version of the Archer AX73 with an additional 5Ghz band making it a Tri-Band wireless router. TP-Link also gave it an additional 2.5G WAN port and an additional USB port on this router. Check out my review of the Archer AX73 here.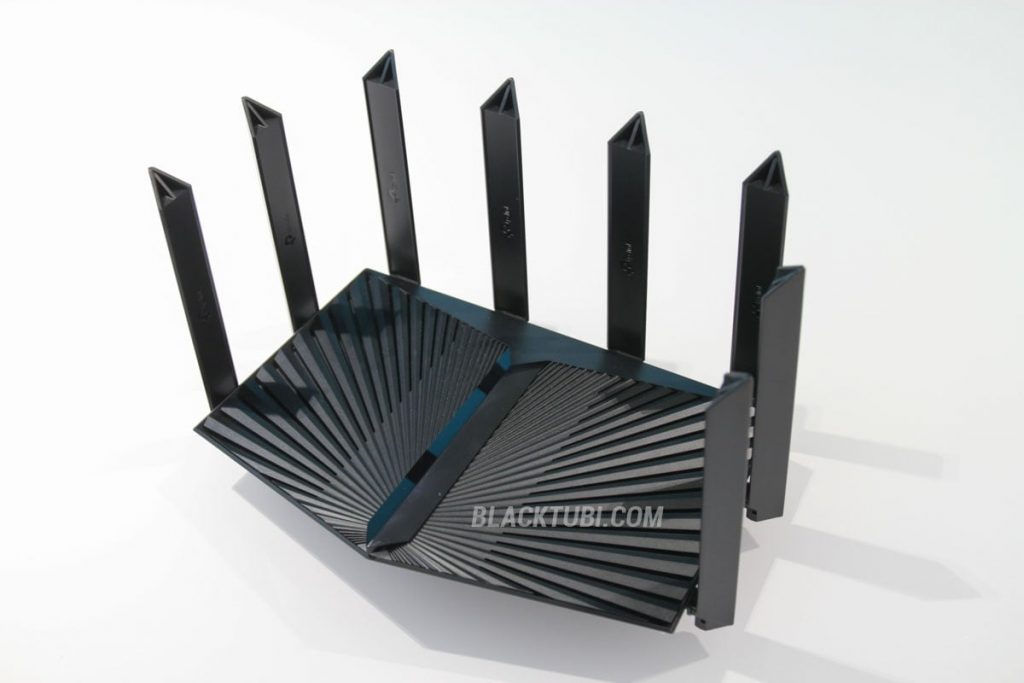 So what's the poing of having Tri-band? Well, the second 5Ghz band lets the router to serve more clients without degrading the overall performance. You may be familiar with this if you have more WiFi devices connected to the router, it tends to slow down quite a bit due to congestion. The second 5Ghz band on the Archer AX90 is designed to improve the capacity.
Being a WiFi 6 router, the Archer AX90 will also provide a faster WiFi speed comparing to an older Wireless AC router. TP-Link claims they used high-power WiFi power amplifier on this product to improve the 5Ghz signal strength and it does show in our WiFi performance test.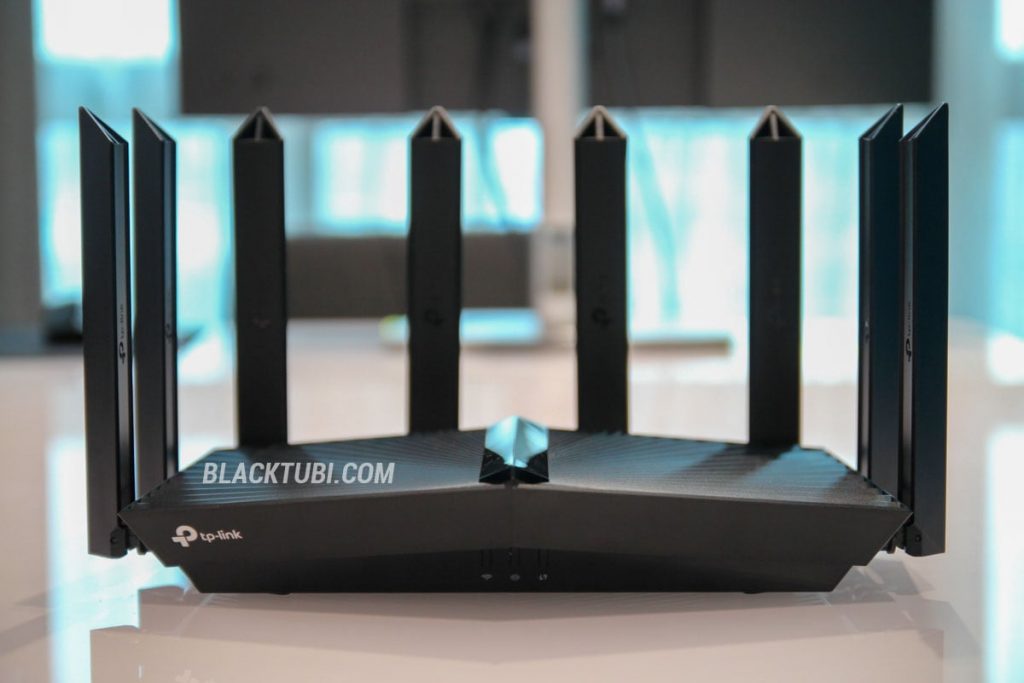 TP-Link Archer AX90 definitely looks like an expensive product with a refined design and high quality plastic material used on the router. It's also really heavy and bulky in order to fit 8 external antennas for the Tri-Band WiFi network. In fact, there's actually one antenna for every WiFi Stream! However, I notice the Archer AX90 only comes with one multi-color LED indicator rather than several independent status indicator. 
The Archer AX90 will be officially sold by TP-Link Malaysia at a retail price of RM699 with 3 years warranty. This is a really good price considering what the product is offering.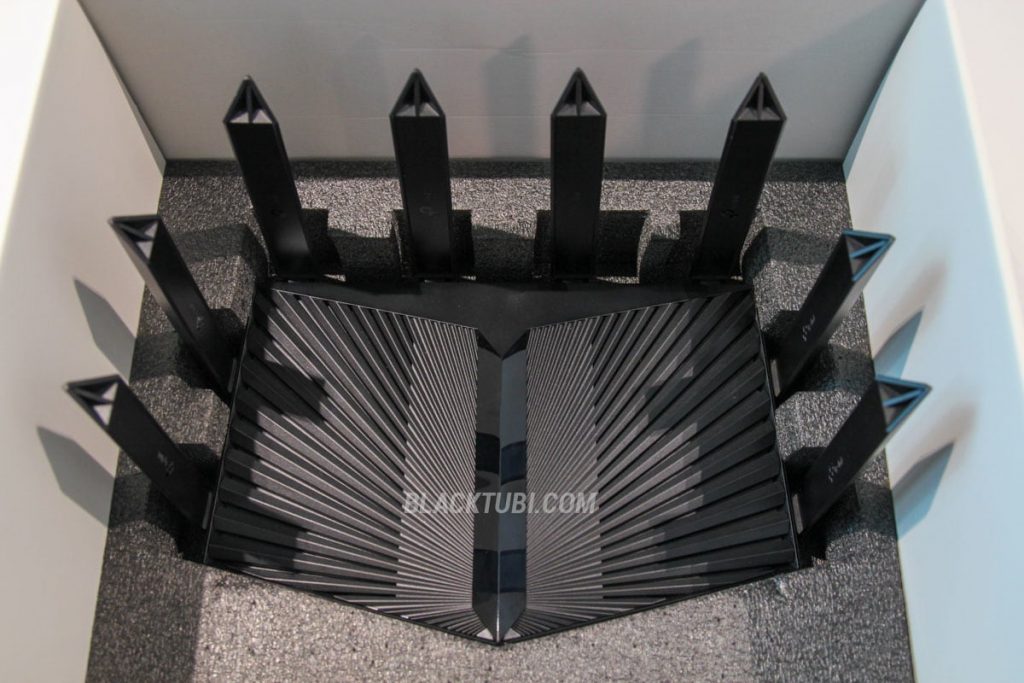 On first sight, the box is ridiculously huge! The box is padded full of foam material to protect the router during shipping.
The Archer AX90 runs pretty cool in our test as TP-Link probably learned their lesson from the Archer AX50. There are a ton ventilation holes cleverly hidden within the design elements and I think it looks great here. It's also possible to wall mount the Archer AX90 with the mounting holes.
Hardware and Specifications
| | |
| --- | --- |
| Wireless 2.4Ghz | Wi-Fi 6 up to 574Mbps (40Mhz 2X2) |
| Wireless 5Ghz-1 | Wi-Fi 6 up to 1201Mbps (80Mhz 2X2) |
| Wireless 5Ghz-2 | Wi-Fi 6 up to 4804Mbps (160Mhz 3X3) |
| WiFi Features | OFDMA, MU-MIMO, Beamforming, WPA3, OneMesh |
| CPU | Broadcom BCM6755 1.5Ghz Quad-Core |
| Ethernet Ports | 1x 2.5G WAN/LAN port + 4x Gigabit LAN port |
| USB | 1x USB 3.0 port + 1x USB 2.0 port |
Comparing to the cheaper Archer AX73, the Archer AX90 comes with a faster Quad-Core 1.5Ghz CPU. It supports WiFi 6 up to 160Mhz on the second 5Ghz channel for a maximum speed up to 4804Mbps. This means your WiFi speed can get really fast if you have a 160Mhz supported device.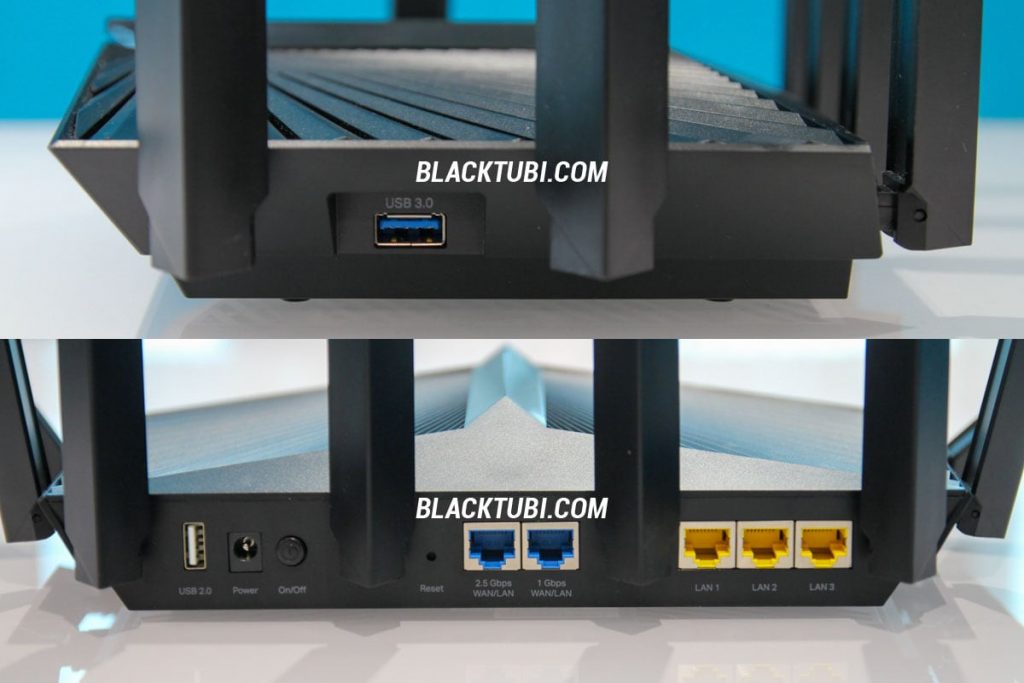 Connectivity wise, the Archer AX90 added a 2.5G port which will be beneficial for those having a faster 2Gbps Internet connection. We are also glad to see that  TP-Link used metal shielded Ethernet ports on this router which will help in improving stability on some circumstances. The router comes with dual USB port which can be used for file sharing purpose.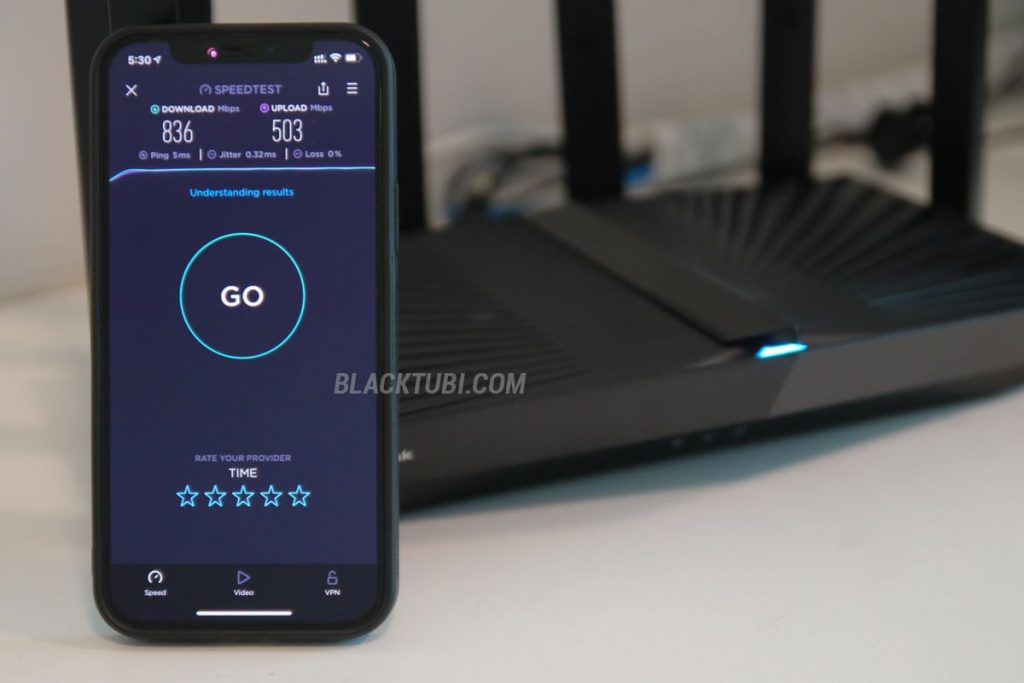 In the short distance test with my iPhone, the Archer AX90 performs similarly to the Archer AX73 which is not a surprise. Both the 5Ghz band is able to deliver WiFi speed exceeding 800Mbps on my 1Gbps Internet connection with 500Mbps upload speed on the Ookla's Speedtest app.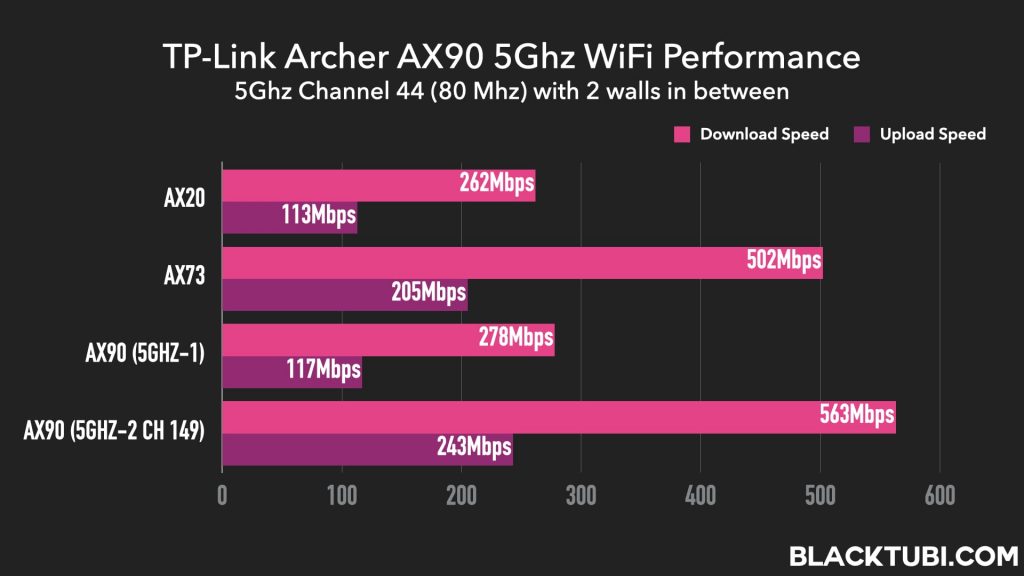 The long distance speedtest on my laptop with the Intel AX200 WiFi adapter is also really good thanks to the strong WiFi coverage. The speed is consistent and slightly faster than the Archer AX73. However,  I notice the 5Ghz-2 band have a faster WiFi speed than the 5Ghz-1 band which is expected.
To verify TP-Link's Tri-Band claims, I connected 3 laptops wirelessly to the router and download a file from my private server capped at a speed of 100Mbps. Then, I will perform a speed test via the Ookla'a Speedtest app on my iPhone. I will compare the Archer AX90 with the Archer AX73 with both routers on the factory default settings and smart connect enabled.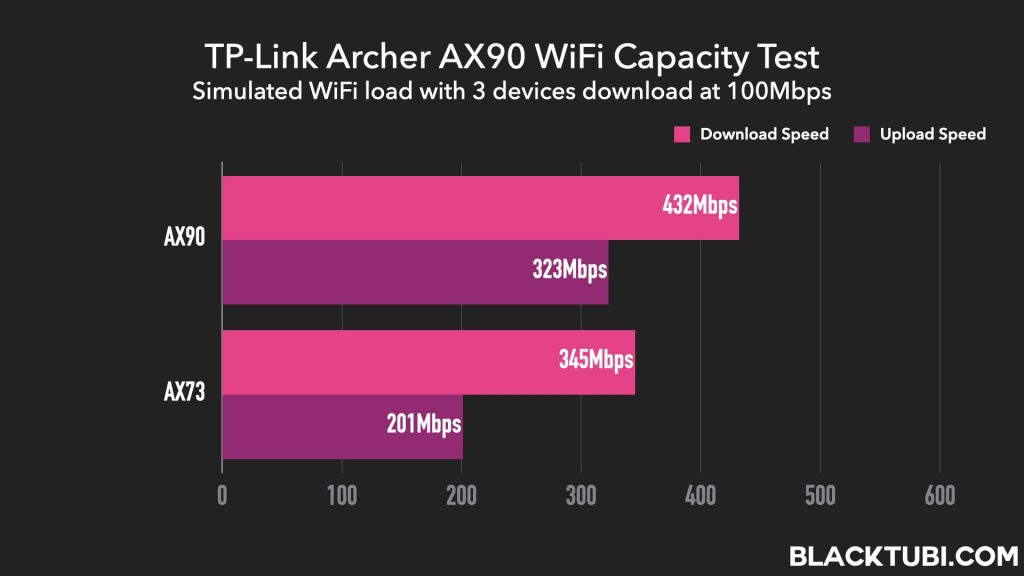 As expected, the Archer AX90 outperforms the Archer AX73 significantly in this test. The additional 5Ghz band will provide additional capacity when there's increased load on the network. This will be useful when there are more devices connected to the router on a busier network.
However, bear in mind that this is far from a scientific test. This is a simulated scenario to test the benefits of having the Tri-Band setup on the Archer AX90 based on the equipment that I can access.
For those looking for an even bigger coverage, it's possible to use TP-Link OneMesh extenders to form a mesh WiFi network with the same WiFi name throughout the network. Unlike normal extender mode, OneMesh comes with 802.11k/v roaming technology to improve performance.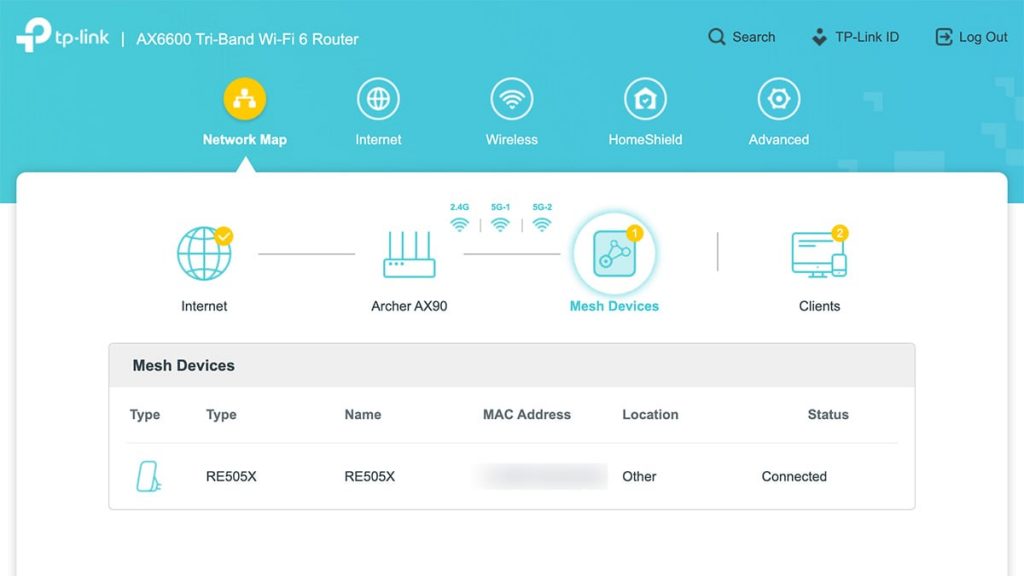 Disappointly, OneMesh still doesn't allow you to link another router to form a mesh WiFi network unlike what other brands are doing now. It's strictly limited to TP-Link OneMesh extenders for the mesh node for now. TP-Link really want you to consider their Deco mesh WiFi series which has a vastly superior mesh technology instead.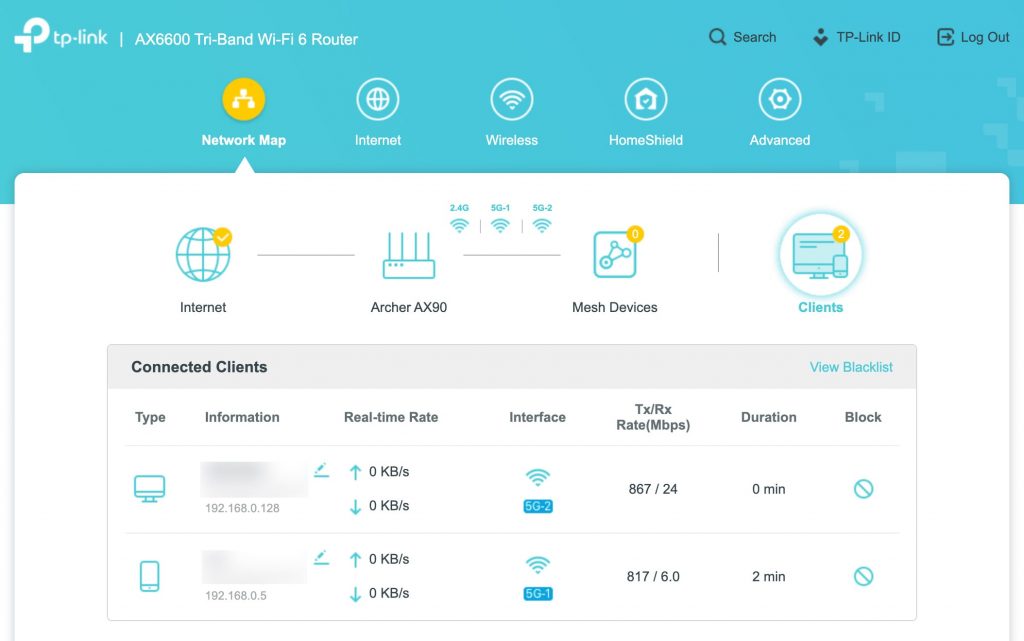 The firmware on the Archer AX90 is the exact same on any modern TP-Link routers. It's fast, functional and not overloaded with features that slow down the router. In this case, the Archer AX90 is very stable and reliable. There's even a cloud-enabled app to manage the router remotely.
TP-Link's Tether app will let you to see connected devices and their current usage even when you're not home. This is because the app is linked to TP-Link cloud and secured with your personal TP-Link ID. You'll be able to perform some basic settings and management on the app.
The Archer AX90 comes with the latest WPA3 WiFi security right out of the box but I would't suggest using it unless you're sure that all your devices are compatible. There's also TP-Link HomeShield antivirus feature that's powered by Avira.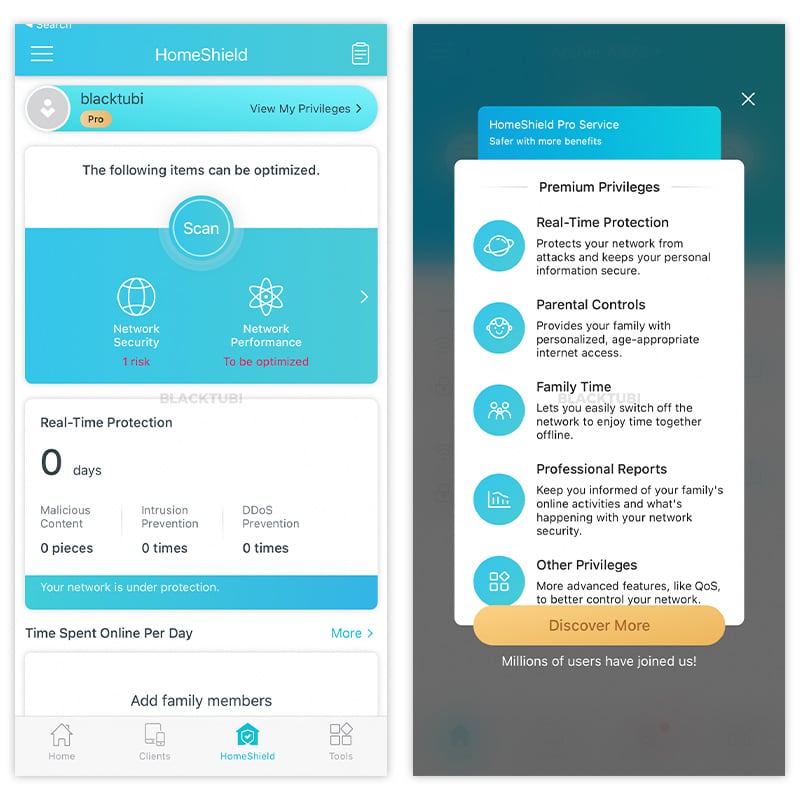 The Antivirus feature will block virus or malware infected websites from being accessed. This means all devices connected to the router will have an additional level of network security. It's powered by Avira's database and it is frequently updated by TP-Link. However, this is not a replacement to an actual antivirus product but more of an addtional firewall protection.
For those looking for having more control on their family, the new upgraded HomeShield security will be a great addition. It's extremely robust and have a ton of control over what you want selected devices to be able to access. The feature is very easy to use and only accessible on the TP-Link Tether app a your mobile device.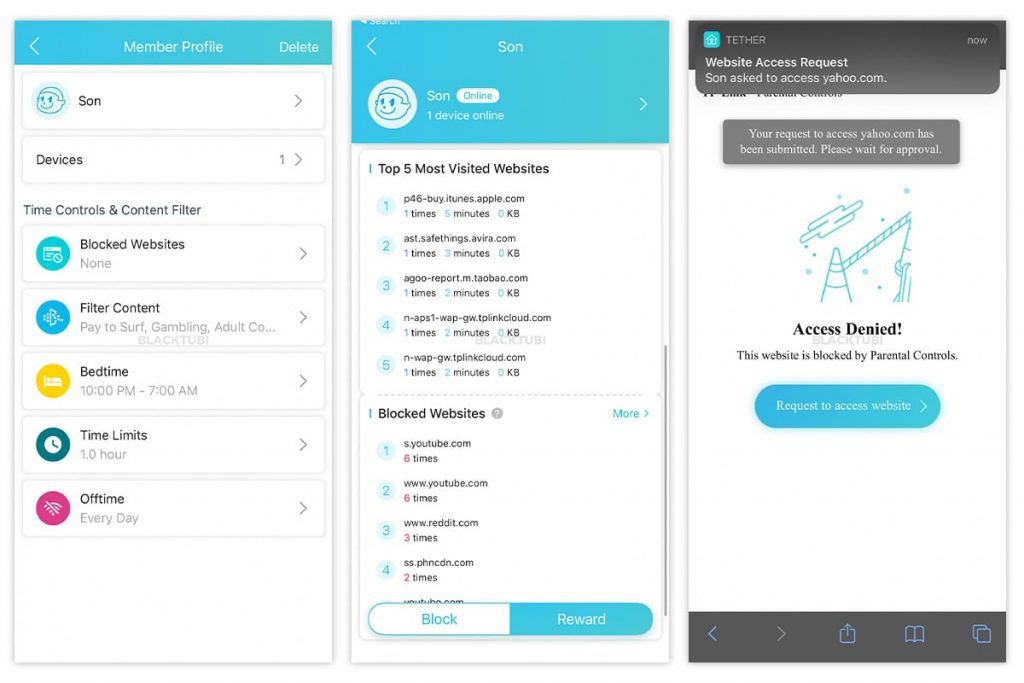 It can restrict selected devices to access certain category of websites such as Youtube and Facebook. This means HTTPS website can be blocked on the router as well. There's also hourly usage limitation and scheduling feature for WiFi access.
The reporting function is very extensive as it's able to show blocked websites request and most visited websites for selected devices. TP-Link also lets the device to request access to certain website if it's blocked and it can be approved via the TP-Link Tether app.
However, although the parental control feature has improved significantly, TP-Link switched to a subcription based model. This means some of the advanced blocking feature will require a monthly subscription of RM24.90. There's a 30 days free trial for those that's interest to try it.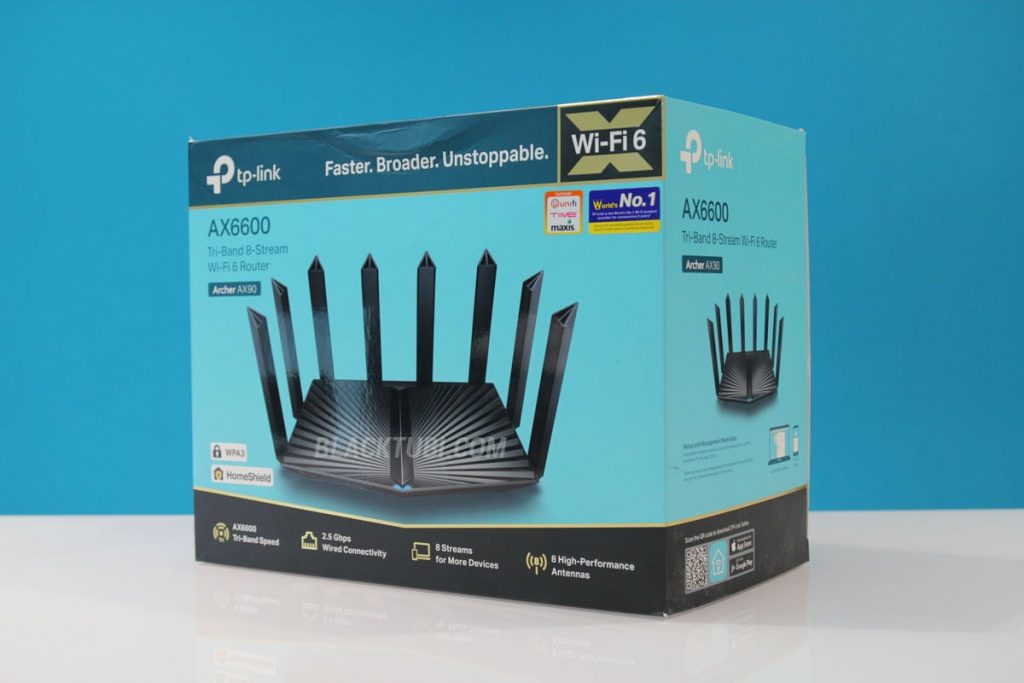 The Archer AX90 is a great product in terms of WiFi performance and stability. Having the second 5Ghz band is very helpful if you have more connected devices. The firmware is no-nonsense and it is very reliable with a really robust HomeShield parental control feature.
For most people, I think the Archer AX73 offers a better value but for RM200 (~$50 USD) extra, the Archer AX90 provide better total capacity which will be very helpful if you have more WiFi devices at home. In fact, I think the Archer AX90 is very suitable to be used at a restaurant or a small office.
Great WiFi capacity and performance

2.5G WAN Port is included

Robust HomeShield parental control software
Stable and reliable firmware
OneMesh does not support using router as mesh node
Some HomeShield features require a paid subscription