TP-LINK Archer C2600 is TP-LINK attempt at high performance router. TP-LINK is never known for their high performance router. They are known for being really affordable with great value. The TP-LINK TL-WR1043ND is a good example of great TP-LINK product. The Archer C2600 is still relatively cheap for the specifications it offers but, it is no longer a cheap router. I expect more from TP-LINK for a router this price.
The Archer C2600 is quite a looker. It looks subtle and professional. There is a lot of ventilation around and the whole thing feels high quality. There are 4 external antennas each with TP-LINK labeled to remind you this is a TP-LINK product. The first impression is very good for this router.
Archer c2600 Quick Specs:
AC2600 (1733+800)
4 Gigabit Ethernet ports
2 USB 3.0 Port
512MB RAM / 32MB Flash
Wireless Performance and Range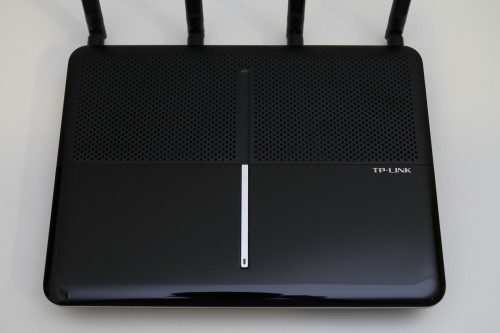 The Archer C2600 come with 4 antennas. 2 of them are 2.4Ghz and 5Ghz for the rest. The wireless performance on this router is absolutely outstanding. It comes with support with MU-MIMO wireless with the latest Qualcomm chipset. The performance is great and so with the stability.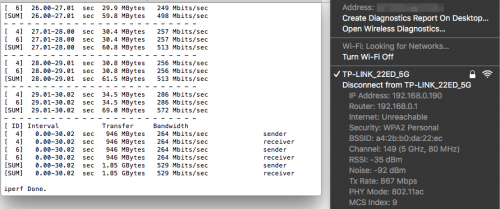 On my standard close distance testing, the router is able to achieve a decent 529Mbit/s throughput. The performance is simply outstanding on this router. If you are looking for fast wireless speed, this router certainly worth a look.
As for wireless range, it is fine. Nothing spectacular about the range except it is good enough. 2.4Ghz is great and 5Ghz is usual. But they all work great.
User Interface and Features
The user interface on new TP-LINK devices improved a lot. It is so much better than the previous green interface. Everything is simple and easy to understand. I like the new user interface a lot. It is very user-friendly and easy to navigate around. As usual, TP-LINK routers do not come with a lot of features. The whole firmware is very basic and nothing much. You can try the firmware via the emulator here.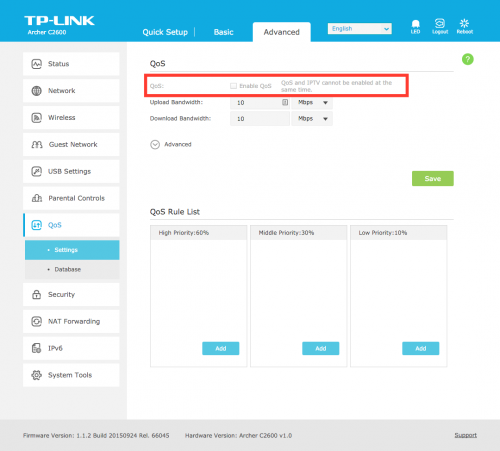 Being cheap, there is going to be inevitable compromises. The firmware is the most obvious one. The Archer C2600 supports QoS but you cannot use it when you have IPTV enabled. It means you cannot use QoS if you want to use Unifi. I hope TP-LINK will fix it soon. There is also not much feature such as file downloading. No cloud features for remote file access as well. This is just a very pure router without additional features.
TP-LINK Archer C2600 supports the TP-LINK Tether app on Android and iOS. The app is very basic which allow you to see who are connected and disconnect them if you want. The app is very simple and easy to use. You can block unauthorised users from the app and that's pretty much it.
TP-LINK Archer C2600 Unifi Support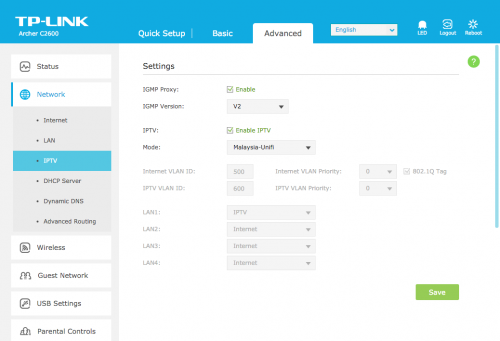 The Archer C2600 is fully compatible with TM Unifi unlike some previous TP-LINK models. Like I mentioned previously, QoS will be disabled when you enable IPTV. It is compatible with Maxis Fibre as well but it still suffers from the no QoS issue. In short, QoS will be disabled on any ISP rely on VLAN tagging.
Storage Performance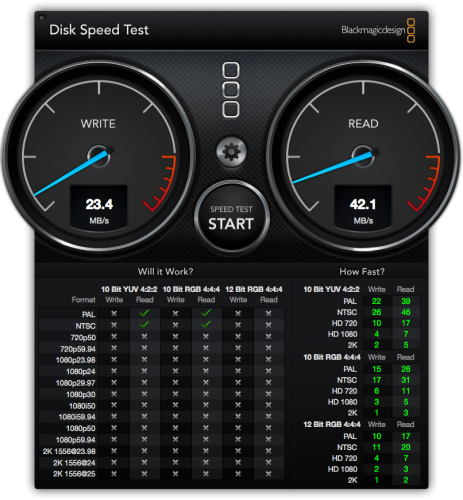 TP-LINK Archer C2600 comes with 2 USB 3.0 ports and the performance is fine. Nothing spectacular but I am able to achieve quite a decent 42.1MB/s read and 23/4MB/s  write. TP-LINK supports file sharing over Samba. It works pretty well and TP-LINK is quite generous for the dual USB 3.0 port.
The Verdict
The Archer C2600 is a great router. The wireless performance is absolutely amazing. The new firmware is much better and Unifi support is more stable finally. TP-LINK can produce quality high performance product if they want. The hardware on this model is amazing and the stability is great. I hope the signal strength for 5Ghz is better. The firmware improved a lot but that is not enough. TP-LINK still have some catch up to do in their firmware department. I hope there are more cloud features and I certainly hope they will fix the QoS with Unifi one day. QoS is a very basic feature and it should not be broken by VLAN. If you are looking for a basic router without all the bells and whistles, TP-LINK Archer C2600 is a good choice.
Good Stuff:
Affordable
Good performance
Improved user interface
Downside:
You cannot use QoS with VLAN ISP
Need more features