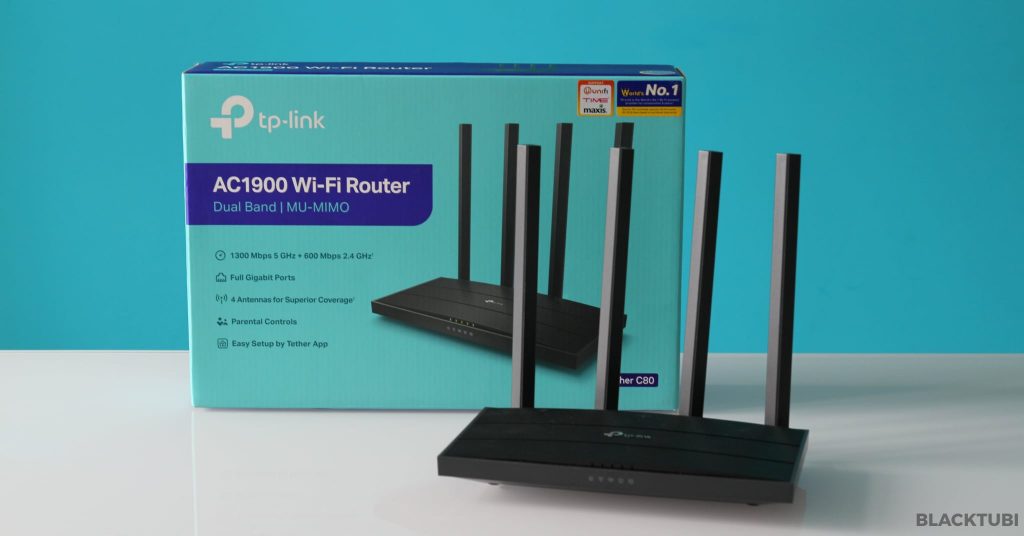 Plenty of times when you are facing unstable and slow WiFi connection, it is due to the slow wireless router you are using. The wireless router that comes from your Internet service provider are often basic router with really low specs to reduce cost.
You can always buy a third party router and replace the router provided from your ISP which will help your connection greatly. Today, we will be looking at TP-Link Archer C80 AC1900 dual-band MU-MIMO wireless router. This is an affordable entry level router but with decent specs.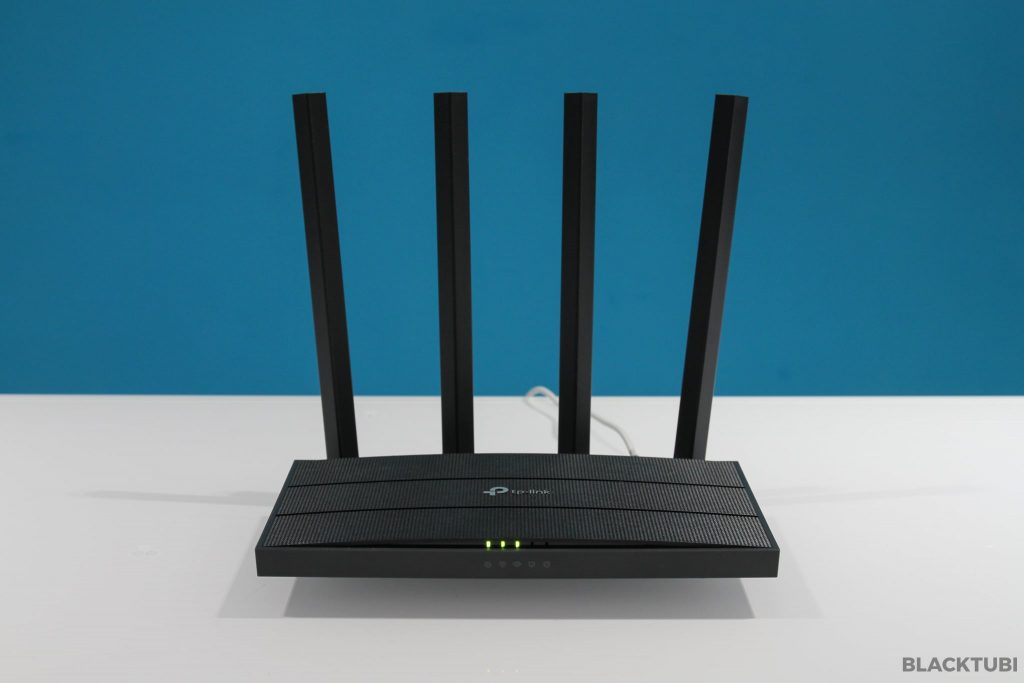 TP-Link Archer C80 is now available for sale in Malaysia at just RM269 at the time of writing this article. It comes with a 3 years one to one exchange warranty from TP-Link.
| | |
| --- | --- |
| Wireless 2.4Ghz | 3×3 up to 600Mbps |
| Wireless 5Ghz | 3×3 up to 1300Mbps |
| Wireless Features | MU-MIMO, Beamforming, Guest WiFi |
| CPU | Mediatek |
| RAM | 128MB RAM |
| Ports | 4x Gigabit Ethernet LAN + 1x Gigabit Ethernet WAN |
The Archer C80 comes with Wireless AC1900 and it can support a maximum WiFi speed up to 1300Mbps on 5Ghz channel and 600Mbps on 2.4Ghz channel. It supports Wireless AC MU-MIMO and Beamforming feature for a better WiFi performance.
MU-MIMO technology will let it to have better performance when having more devices connected to your wireless router. It allows the router to achive Multi User, Multiple Input Multiple Output simultaneous connection which will result in better speed.
TP-Link also added beamforming function to the Archer C80, something which TP-Link Archer C7 does not have. This will provide a stronger WiFi signal for your device by carefully adjusting the anenna power to steer the signal towards your WiFi clients.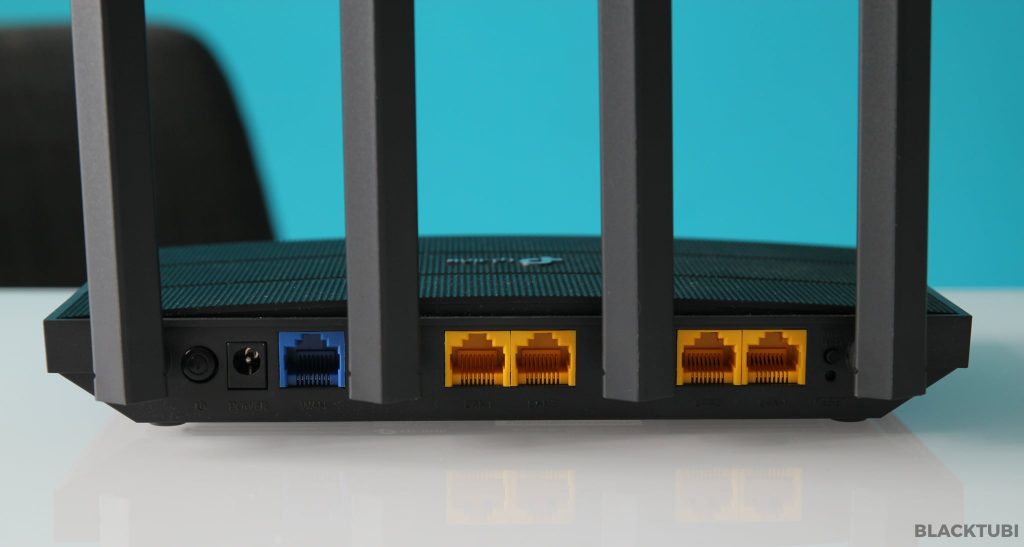 It has 4 Gigabit Ethernet LAN ports and a single Gigabit Ethernet WAN port that can support up to 1Gbps on these port. This is a really important factor to consider when shopping for an affordable router. Some routers can only support up to 100Mbps.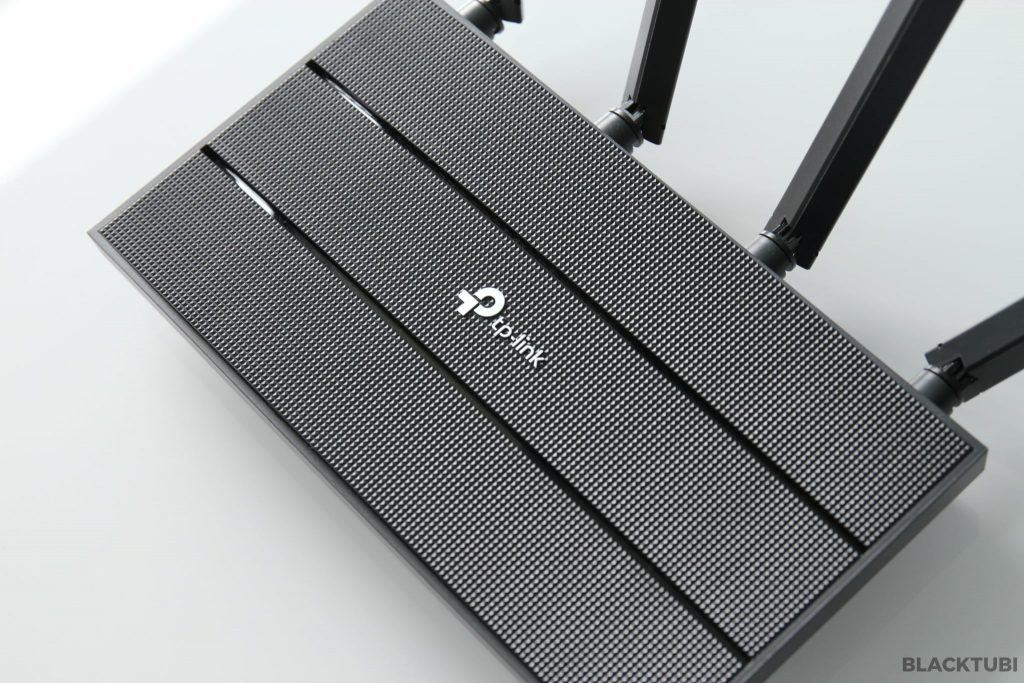 Design wise, I think it looks fine. The new design looks kinda clean as it doesn't show dust easily. There are 4 non-removable high gain external antenna. See the full specs of the Archer C80 on TP-Link website here.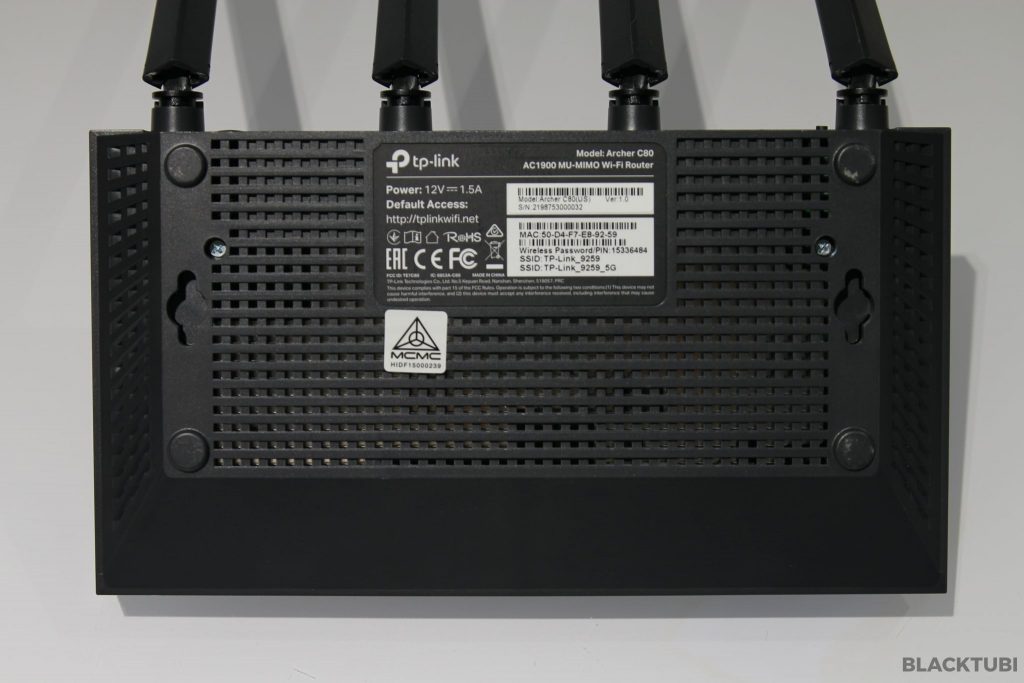 Under the router, you will find the default WiFi name (SSID) and the default WiFi password. I also notice there are 2 holes which make it possible to wall mount or ceiling mount this wireless router.
Replacing your old wireless router with the Archer C80 is really simple. Just unplug your old router, connect to this new router and do some basic setup process. The steps may be slightly different depending on what Internet Service Provider you use.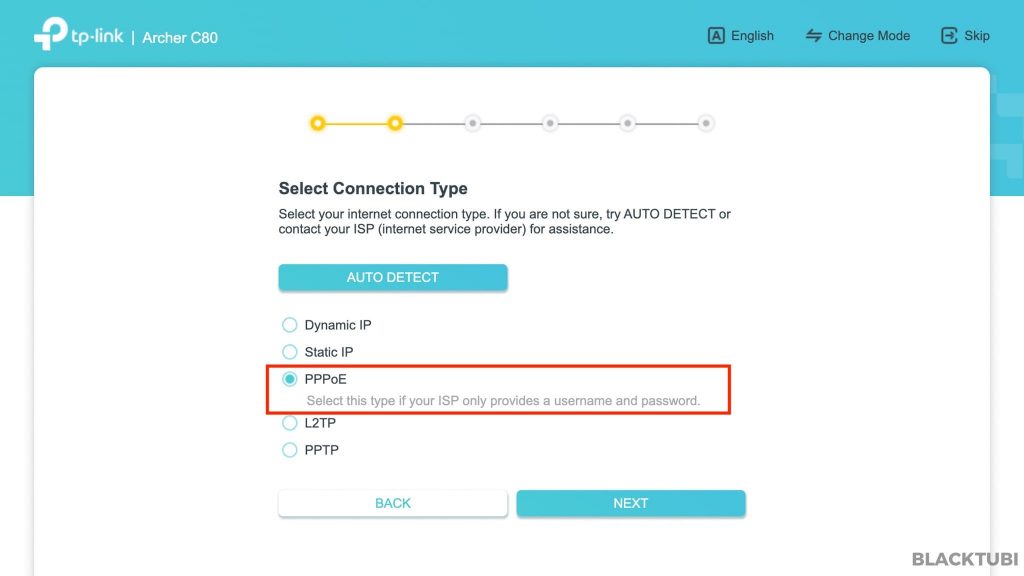 Once you switched on the new Archer C80, use your computer to connect to the default WiFi of this router then navigate to the setting spage to perform the initial setup process. The default settings page of the router is tplinkwifi.net or 192.168.1.1. 
Most users will use the PPPoE mode and you will need to request the PPPoE username and password from your Internet Service Provider. For users in Malaysia, you must select the ISP profile if you use Unifi or Maxis. You can refer to my TP-Link Unifi setup guide over here.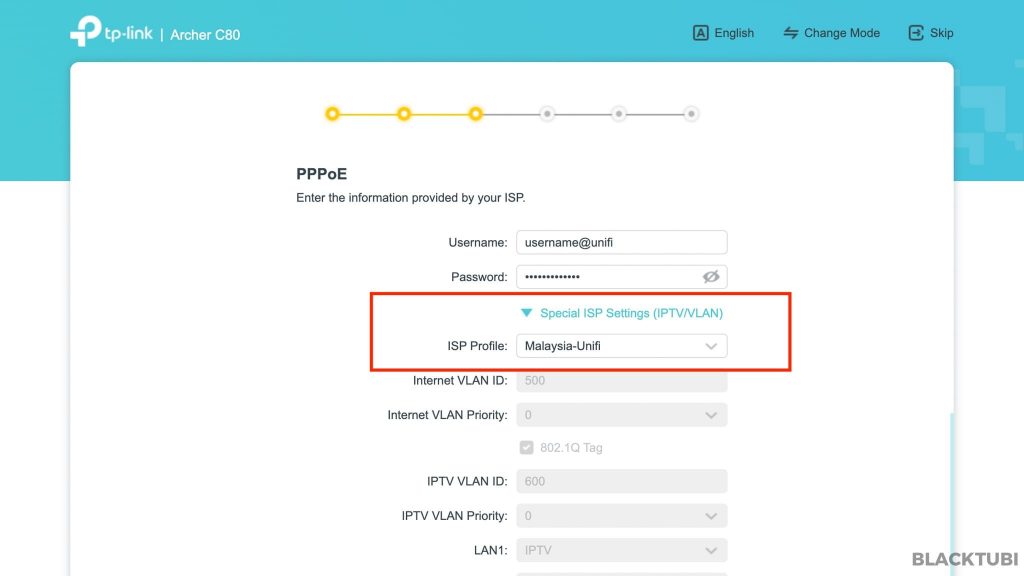 It is also compatible to the Unifi TV box and you must connect your Unifi Hypp TV box to the LAN 1 port. The port is labeled as LAN 1 on the back of the wireless router.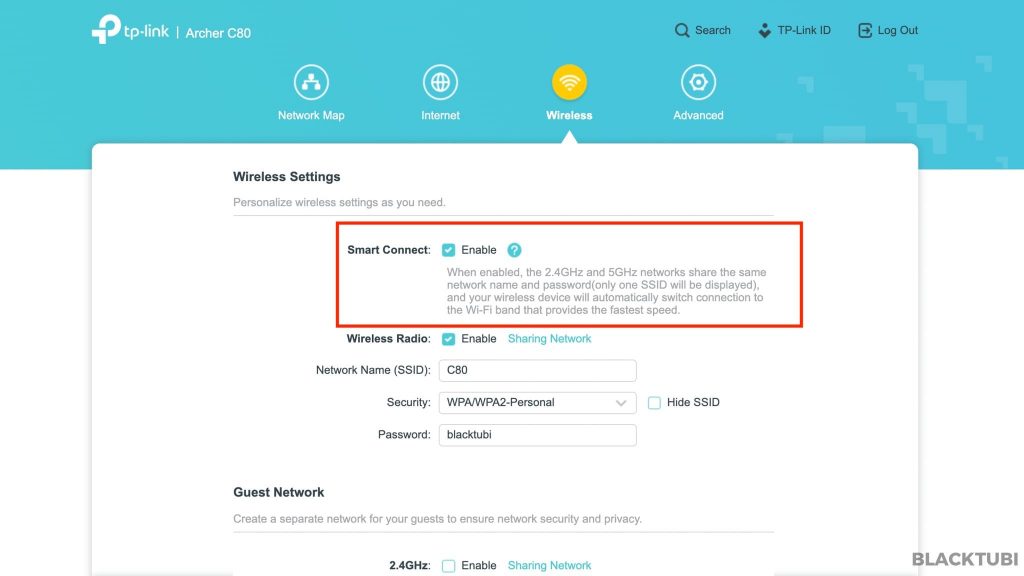 I highly recommend enabling the smart connect function. This will merge the 5Ghz and 2.4Ghz band under a single WiFi name (SSID). It will provide a more seamless connection as the router will intelligently steer your devices to the best band best on signal quality without you having to switch between the 2.4Ghz WiFi and 5Ghz WiFi manually.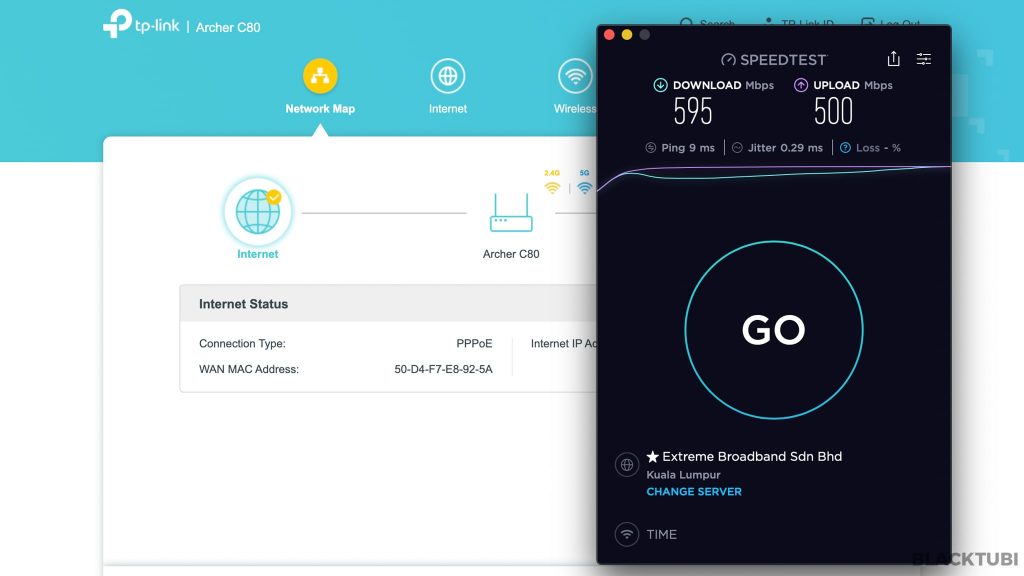 I am getting pretty good WiFi speed out of the Archer C80 when testing it with my laptop with a Wireless AC1200 WiFi adapter. The speed is close to 600Mbps on a short distance. I am really surprised by how fast and stable is the WiFi network of this affordable wireless router.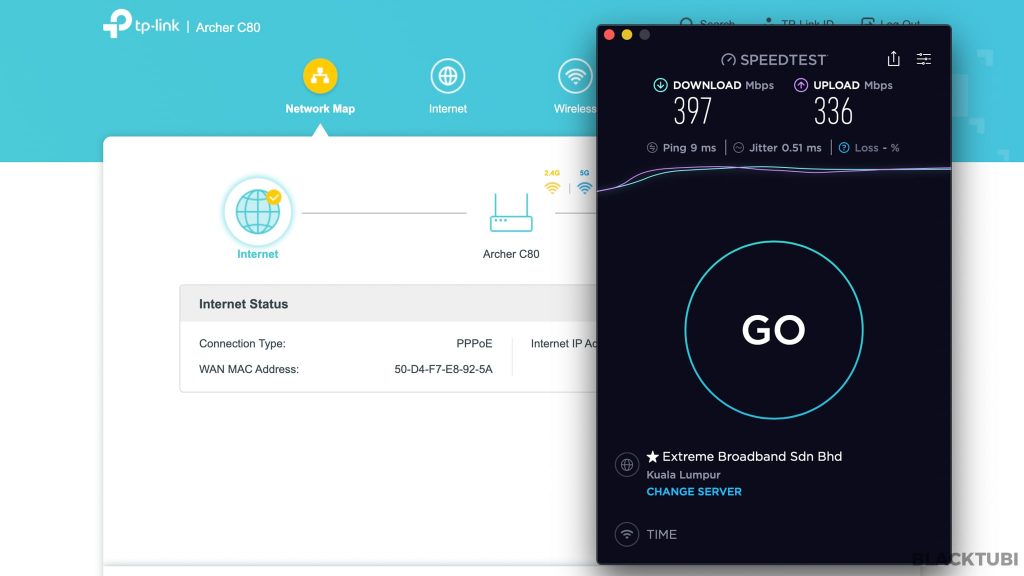 When I am on further distance after 2 walls, the 5Ghz WiFi speed dropped to just slightly below 400Mbps. This is still a really good performance that I did not expect from this router. I did not notice any disconnections when using this router.
You will need a device that support Wireless AC in order to enjoy fast WiFI speed. Most devices sold after 2018 should already support Wireless AC technology. If you are using an older computer, you can upgrade the WiFi receiver by buying a new Wireless AC WiFi adapter.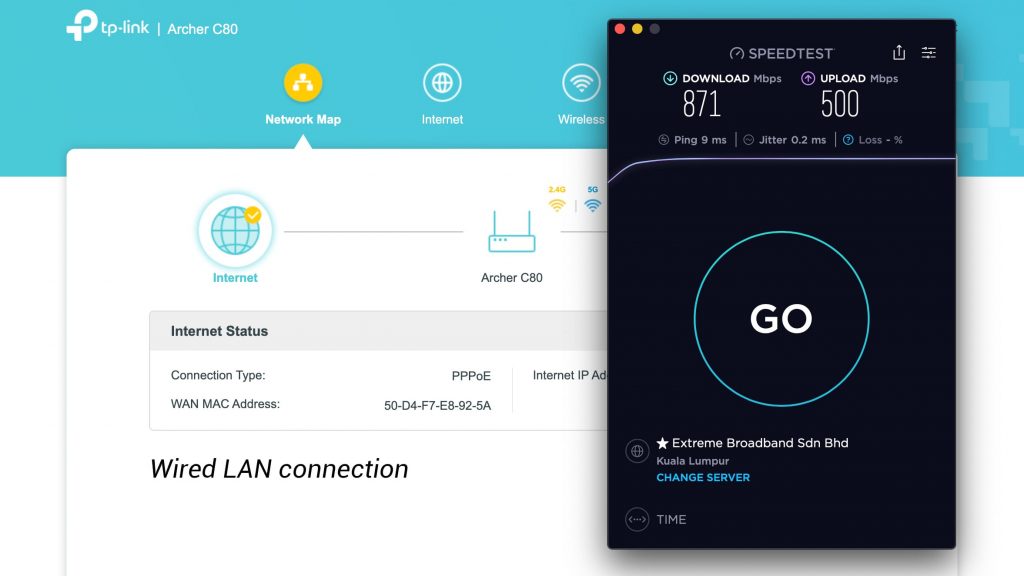 On a wired LAN connection, I can reach a maximum download speed of up to 871Mbps on TP-Link Archer C80. 
If you use the Archer C80, you will want to download the TP-Link Tether app on your phone as it compliments the experience of owning this wireless router.  The app will show you many information and let you to manage your home network easily as it is link to a TP-Link account.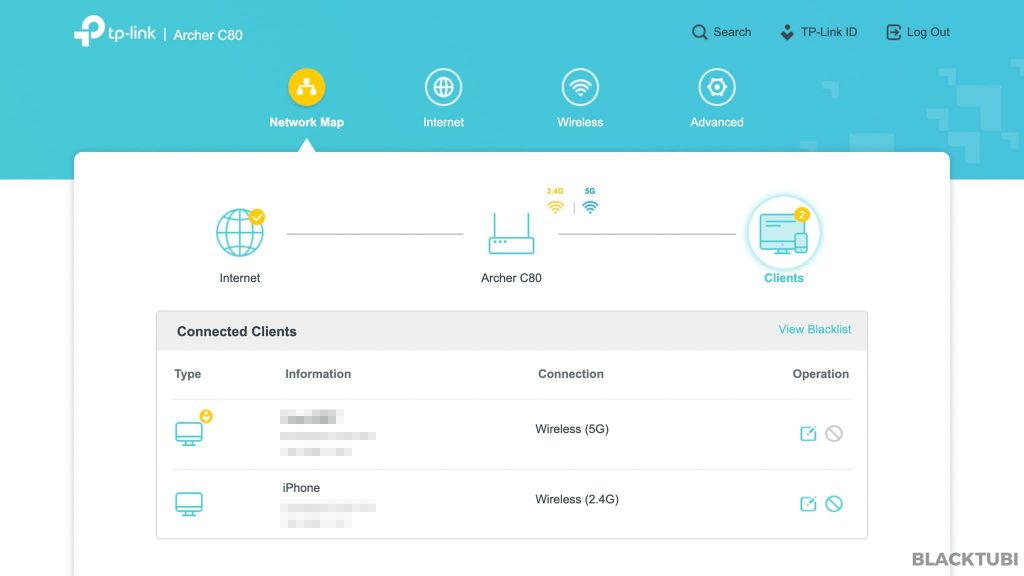 Personally I feel TP-Link router settings interface is the prettiest and most user friendly in the market now. Everything is really easy to understand and things are shown clearly. You can see how many devices and how they are connected in real-time.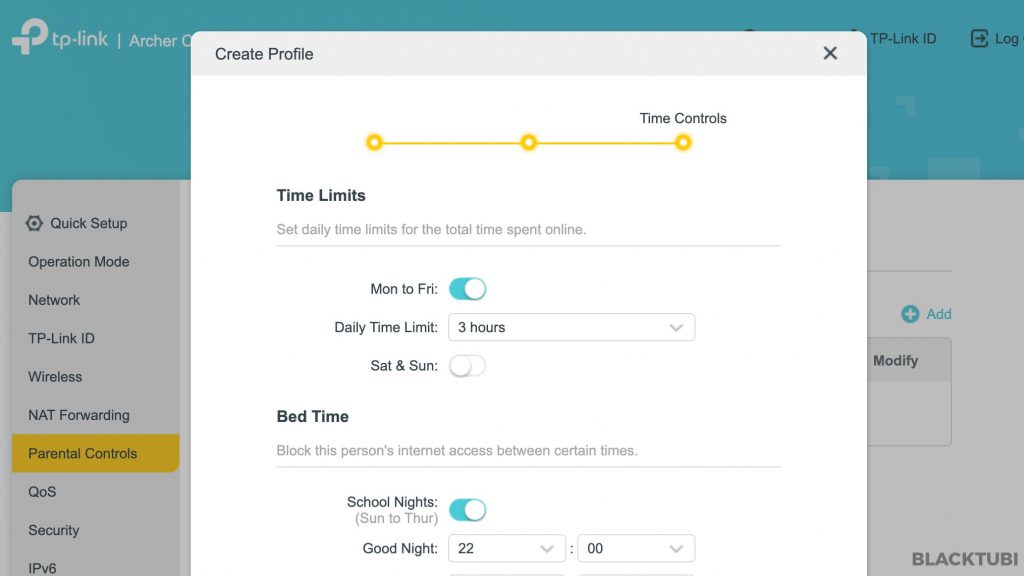 The parental control function lets you to perform keyword blocking to block specific content for selected devices. It also lets you to configure daily Internet usage limit and bedtime Internet limit. They are all really easy to configure on the web interface.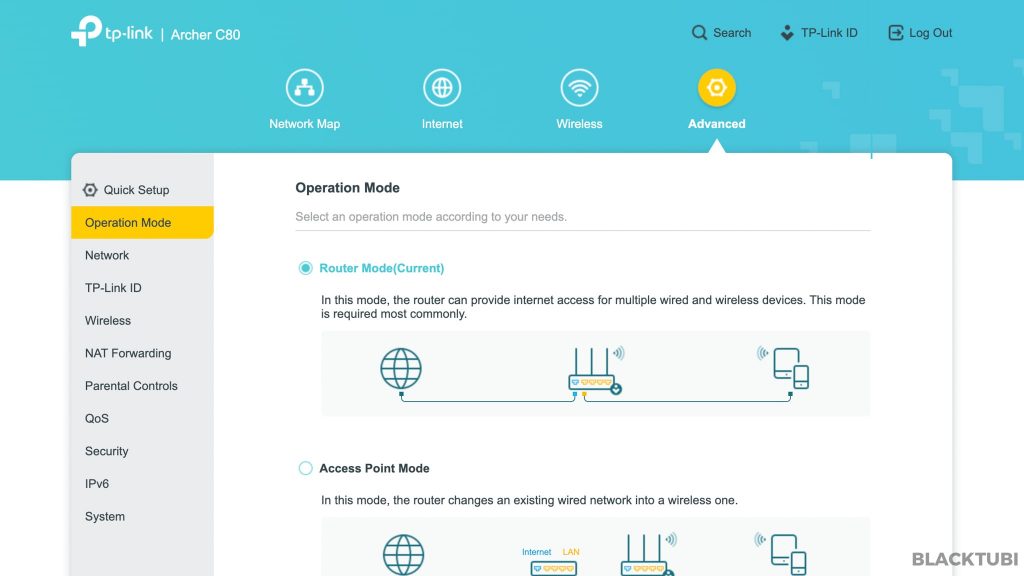 TP-Link Archer C80 also comes with a built-in access point mode. I think this is great as the C80 have great WiFi capabilities, it is a great model to consider for access point. TP-Link also included a guest WiFi function on this router.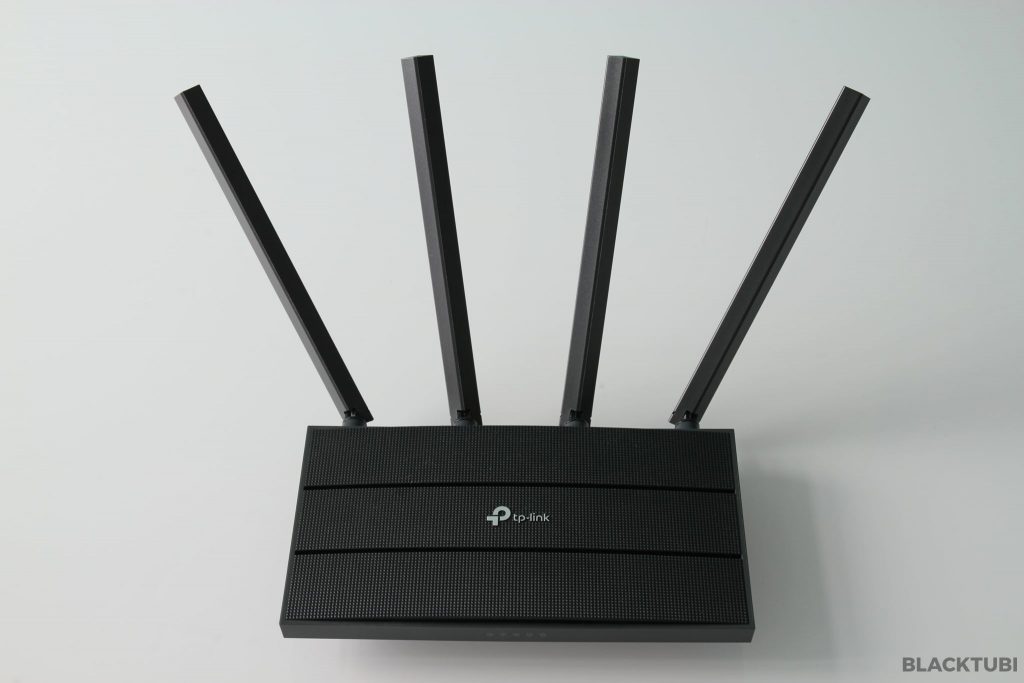 TP-Link Archer C80 is a great affordable wireless router that performs beyond expectation. It is a a good upgrade to improve your WiFi coverage and stability especially if you still using the default wireless router provider by your service provider. It is stable and pretty fast which seals the deal for a budget router like this. 
Easy to setup
Stable WiFi performance
Good value for money