TP-Link Deco M5 (3 nodes)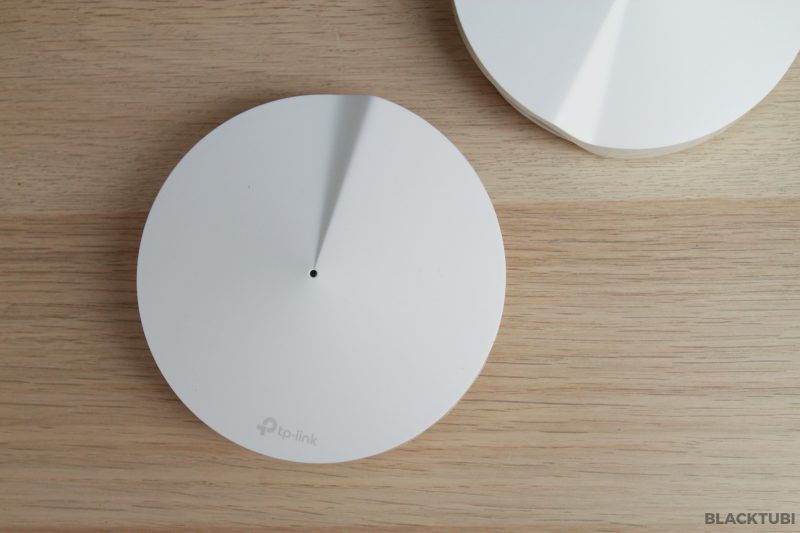 TP-Link Deco M5 is a mid-range mesh wireless system from TP-Link. While their Deco series is still rather new in the market, it receives nothing but compliments from users due to the simplicity and the usability of the mesh WiFi system.
With internet connection getting faster, users demand for better WiFi speed. The solution is to add more Wireless access point in your home. But, installing an Ethernet cable requires wall hacking which is rather costly. So, this is where mesh WiFi come into play.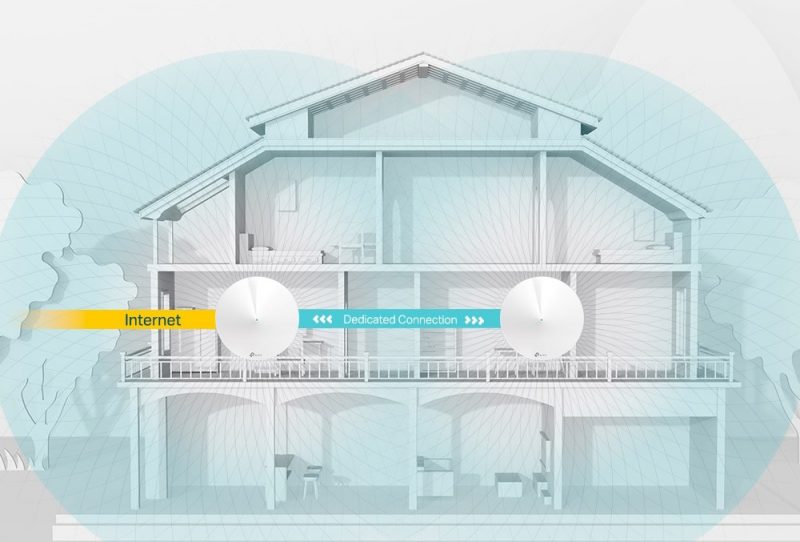 Well, let's be honest here, a lot of people are confused about how exactly a mesh WiFi system work. So, a mesh WiFi system comes with multiple nodes and they all work together to form a bigger WiFi network with stronger WiFi signal. This will result in better WiFi speed and better stability. It is able to do this by using a wireless link providing backhaul to all the mesh nodes in a mesh WiFi system.
It differs from WiFi repeaters as mesh WiFi system will broadcast a single WiFi network. You only need to connect to just one WiFi name. There's no need to manually switch the WiFi connection since it all happen behind the scene. 
The design of the Deco M5 is simple and clean. I think traditional wireless router with external antennas is a bit dated today. The Deco M5 simply blends into your home without disrupting the overall outlook. There is also a single multi-color LED indicator on top of the device.
A typical mesh wireless system come with multiple nodes. The Deco M5 comes in a 2 pack and 3 pack version in Malaysia. The main node will be connected to the modem and function as a router. The remaining device will then be put everywhere around your home and they all function together to broadcast the WiFi connection. 
There's one thing that the Deco M5 can improve on will be the port situation. Well, there are only 2 ports. One of them must be connected to the modem and you will be left with just a single Gigabit Ethernet LAN port. If you need more ports, you will need a switch. But, the good thing is, those Ethernet ports at the satellite nodes do function normally as LAN ports even on mesh WiFi mode.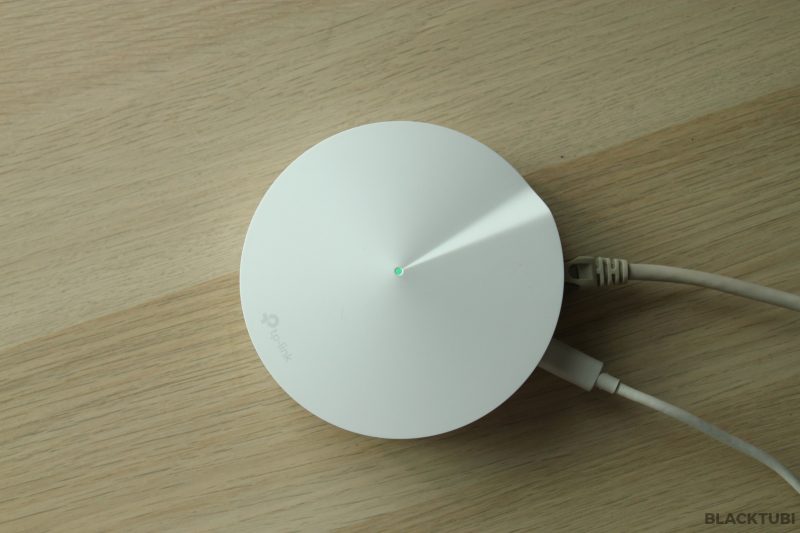 The biggest advantage of a mesh wireless system is they all run on the same network and they have the same WiFi name. In this case, there's no need to keep changing WiFi network as you walk around your home. TP-Link also features band steering, AP steering and even top it off with 802.11k/v/r fast roaming. 
Another big advantage with TP-Link Deco system is it has adaptive routing ability. It means if one of the nodes is offline, the system will self repair the connections automatically. The end result is a truly seamless experience to the end user.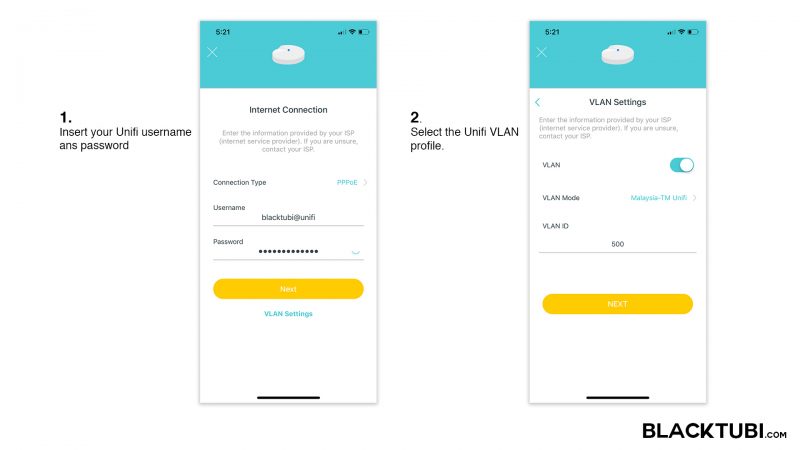 TP-Link Deco M5 can only be configured using the Deco app available for both iOS and Android. The great part with TP-Link Deco products is they are all linked to a TP-Link cloud ID which makes it really simple to configure. You still can manage your network and receive notifications on the app even not connected to the home WiFi.
Setting up TP-Link Deco M5 is very simple. We connected the first Deco to the Unifi modem and followed the setup wizard. Once that is done, adding the second and third Deco is as easy as clicking a few buttons. The app provide very helpful guidelines regarding where you can place your Deco devices.
Deco M5 Unifi Compatibility
TP-Link Deco M5 is compatible with Unifi and it support HyppTV with the latest firmware update. The IPTV function can be disabled if you do not watch HyppTV.
The configuration is very simple, connect the Unifi modem to any port on your Deco and follow the setup guide on the app. The app will prompt you to insert your Unifi PPPOE username and password. Make sure you tick VLAN and select the Unifi profile in the app. 
TP-Link Deco App and Features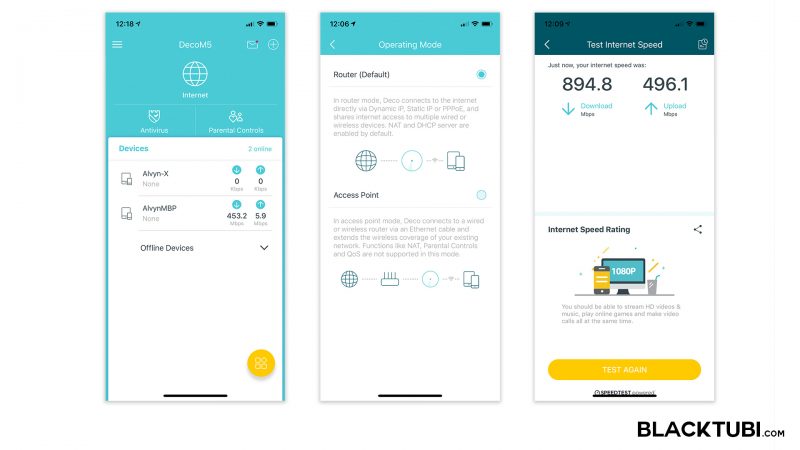 The Deco app is also one of the strengths of TP-Link Deco mesh WiFI system. It comes with a built-in Speedtest feature which let you to test the actual Internet speed. The home screen also show you all the connected devices together with their current Internet speed.
TP-Link Deco M5 also supports running it on access point mesh mode. It means the main node is connected to an existing router as a WiFi access point with all the mesh nodes working properly. There is also an option to disable 802.11k/v/r fast roaming and Wireless AC beamforming. I don't recommend disabling these unless really necessary.
TP-Link Homecare Antivirus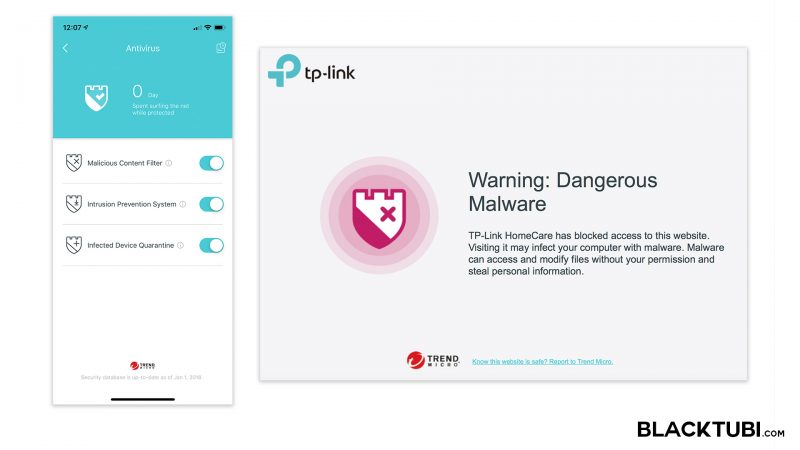 Another great thing with the Deco M5 is the Antivirus feature. The antivirus database is powered by TrendMicro and it will block Internet based attacks. It will also prevents you from accessing a website containing a virus. All this means you will be better protected from Internet threats.
Although this is not a bulletproof Enterprise level firewall, it is good enough for a typical home.
TP-Link Deco M5 also features the HomeCare application priority based QoS system. It lets you to select which traffic to have a higher priority. But, we really do not recommend using QoS as our Internet connection is fast enough which make QoS like this really pointless.
HomeCare Parental Control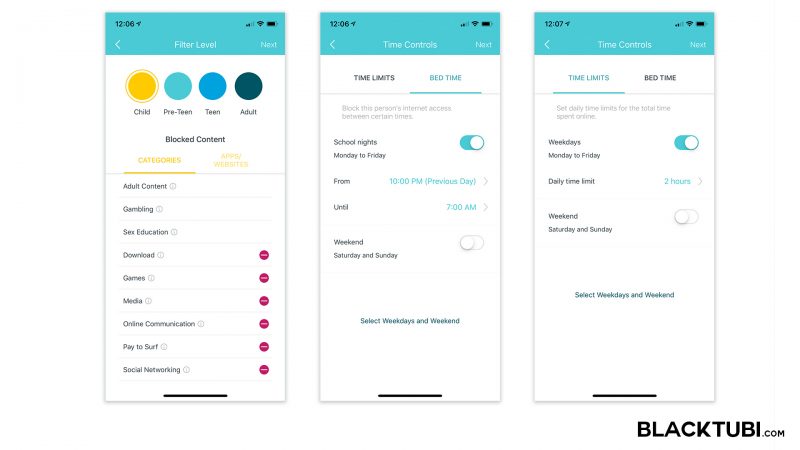 The HomeCare parental control feature is really robust as well. It has a preset filtration level which prevent your users from accessing certain categories of website. I found the preset list to be really extensive unlike other brands where the user need to input the website manually. 
The time control feature is really comprehensive as well. You can prevent internet access at bedtime or even configure the time limit a user can use the internet in a day. It is by far the most comprehensive parental control system out there.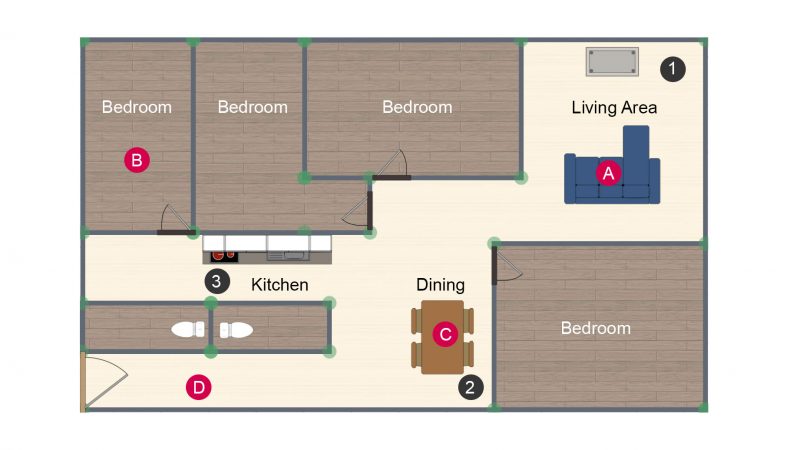 The floor plan of my apartment is above. I placed 3 units of Deco M5 around my house with the main unit at the living area connected to the ISP modem. I then proceed to test the speed in several spots of the house, labelled in red and see how well they perform.
TP-Link Deco M5 features AP steering where both the 2.4Ghz and 5Ghz are combined. I will let the system do its magic while I walk around and conduct speedtest around my home.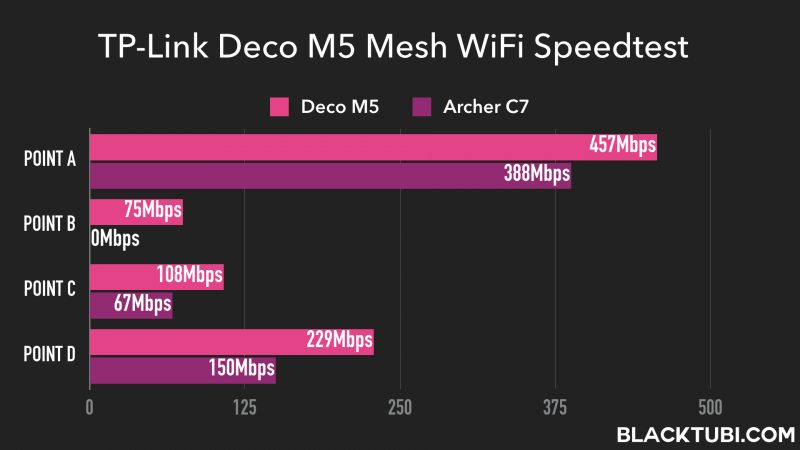 The download speed results are rather conclusive. TP-Link Deco M5 performs better at every point when compared with the Archer C7. This is especially obvious at some points where the Archer C7 receive no signal but a Deco M5 mesh WiFi is still having a decent speed.
This is all tested using my iPhone X with the Ookla's speedtest.net app on TIME 1Gbps Internet connection. Your mileage may vary and some devices have inferior hardware which may result in slower WiFi speed.
Roaming and User Experience
TP-Link Deco M5 also features 802.11k/v/r fast roaming support. With it enabled, I can use Facetime on my iPhone while walking around my home without even a noticeable stutter. The AP steering and band steering mechanism works really well.
Wireless roaming is complicated and it may cause some compatibility issues with older unsupported devices. The fast roaming feature can be disabled on the app. But we don't face any issues even on our older laptops.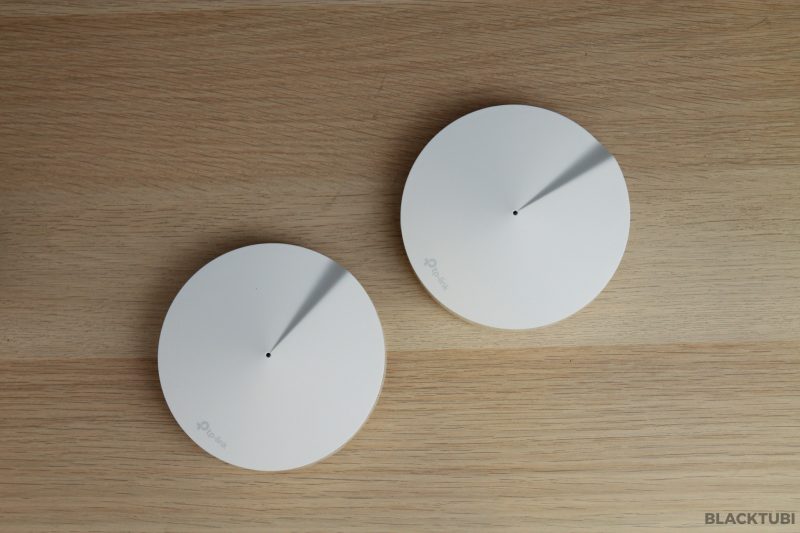 TP-Link Deco M5 is a great mesh wireless system. The hardware and software are really well optimized to deliver a seamless user experience. The Deco app is also really easy to setup and I appreciate the HomeCare Antivirus and QoS feature.
Mesh WiFi is really the best solution in solving WiFi coverage and performance issue. Although TP-Link Deco series is simple, the end result is a really seamless experience. Besides, the price is really affordable. If you looking for an even higher performance, you can take a look at the Tri-Band Deco M9 Plus here. 
Unifi compatible and HyppTV support

Easy to setup with the app
Powerful software with plenty of features