TP-Link Deco M5 is a mid-range mesh wireless system from TP-Link. While it is launched over a year ago, it has received multiple updates to improve the product in general. The specs remain the same with AC1200 dual-band WiFi. It also supports VLAN based ISP such as Unifi and Maxis Fibre now.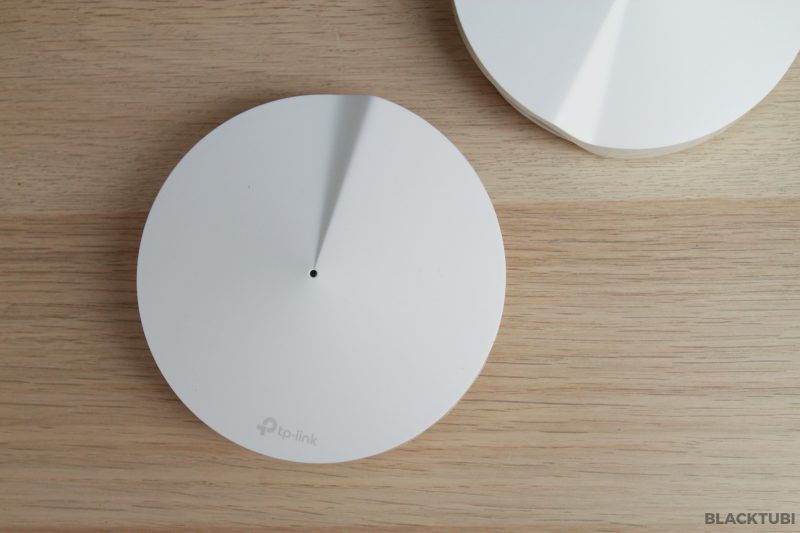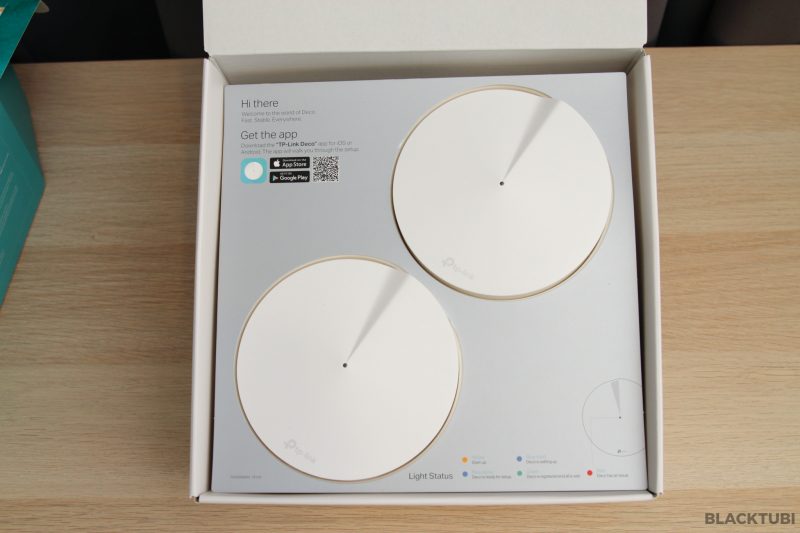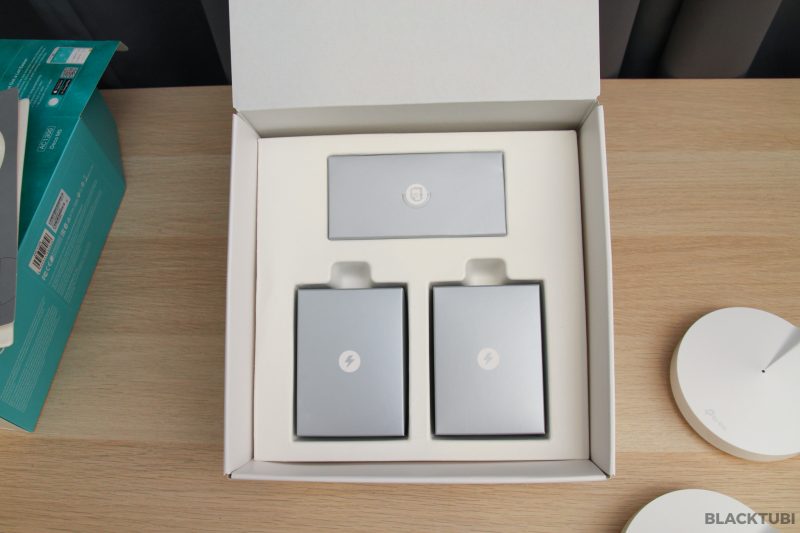 I think it still has one of the best looking design around with a small footprint and clean looks. There are only 2 Ethernet ports behind the device. All things considered, I think the Deco M5 is still a great product due to the excellent software that power the hardware. It comes with many software optimization that make it a really good mesh system.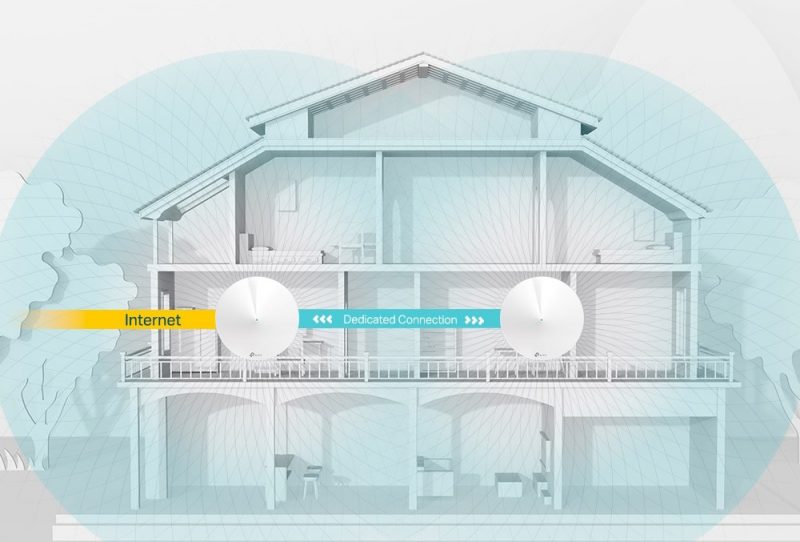 Well, let's be honest here, a lot of people are still confused about how exactly a mesh wireless system work. In short, it is basically wireless repeaters but with better integration and execution. Like wireless repeaters, a mesh wireless system expand your coverage by using a wireless link as backhaul. However, what different here is how the software that make everything run together. The software is what determine how different mesh wireless products perform as well.
A typical mesh wireless system come with multiple nodes. The Deco M5 comes in a 2 pack and 3 pack variant. The main node will be connected to your ISP modem where the other nodes are those that will connect to the main node wirelessly and expand the network. You can place the secondary and third nodes everywhere in your house as long as it still have some good connectivity to the main node.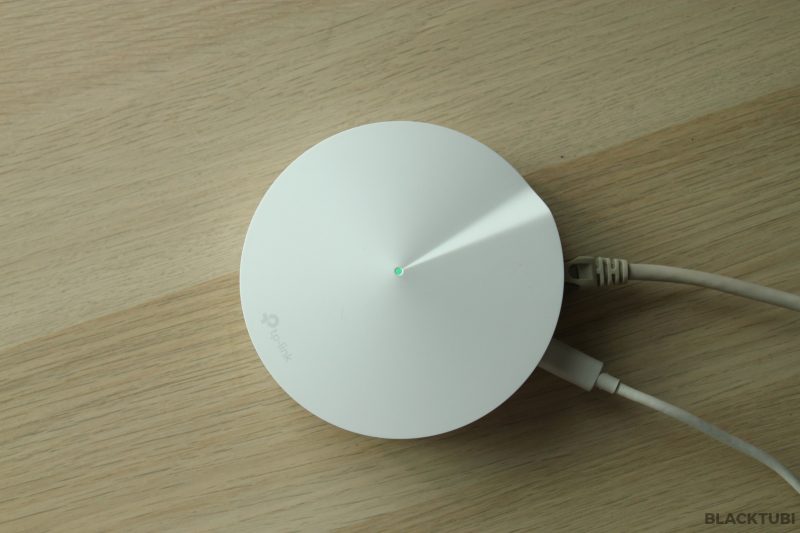 The biggest advantage of a mesh wireless system is they all run on the same network and they have the same wireless name. In this case, you do not need to keep connecting to different WiFi network as you walk around your home. Besides, the mesh nodes will automatically pick the best path to connect to the main node. They will also self repair if one of the nodes are taken offline, they will automatically connect to another nodes.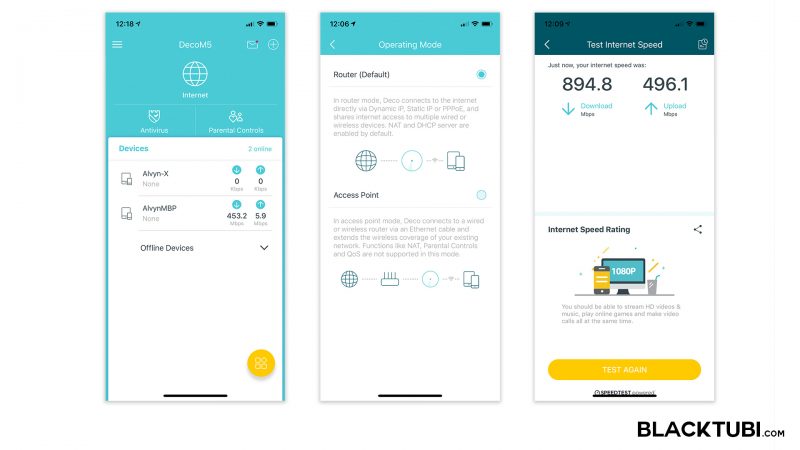 Configuring the mesh system is slightly more difficult compared to your normal wireless routers. TP-Link Deco M5 is entirely configured and managed by the TP-Link Deco app. There are no web interface so you have to rely on the app for every configuration.
TP-Link Deco M5 is very simple setup and the app works really well. You just need to connect the first Deco to the ISP modem and follow the setup guide. Once that is done, adding the second and third Deco is as easy as clicking a few buttons. The app provide very helpful guide in where you can place your Deco devices.
The app also come with many powerful features. You can see what devices are connected and what speed they are running on. There is a speedtest feature which lets you to check if you are getting the correct speed from the ISP directly from the router so any possible overheads are removed. The Deco M5 also has an access point mode where it will still function in mesh system even in that mode!
Deco M5 Unifi Compatibility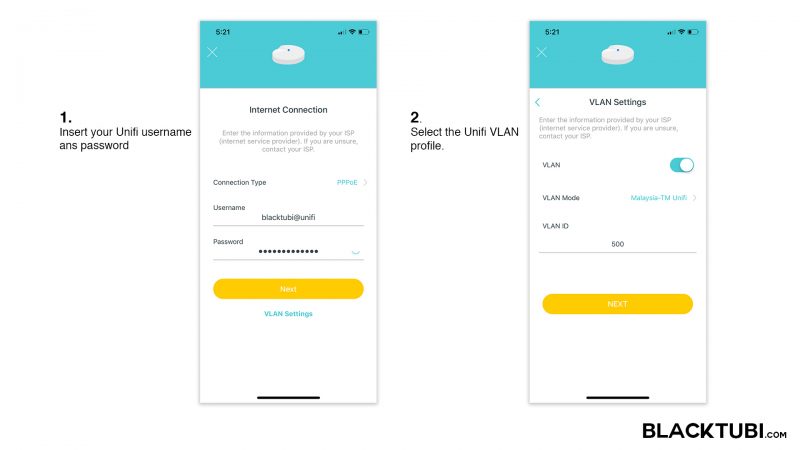 TP-Link Deco M5 is compatible with Unifi but there is a caveat. It cannot support HyppTV but Internet will work fine. TP-Link says they are working on a firmware update that will bring HyppTV support to the Deco M5 soon.
The configuration is very simple,  connect the Unifi modem to any port on your Deco and follow the setup guide on the app. The app will prompt you to insert your Unifi PPPOE username and password. Make sure you tick VLAN and select the Unifi profile in the app. 
Wireless router todays are very different from the past where they just provide network connectivity to our devices. Modern home gateways provide a lot more features and TP-Link is definitely following the trend.  TP-Link Homecare is a suite of features which designed to benefit the users.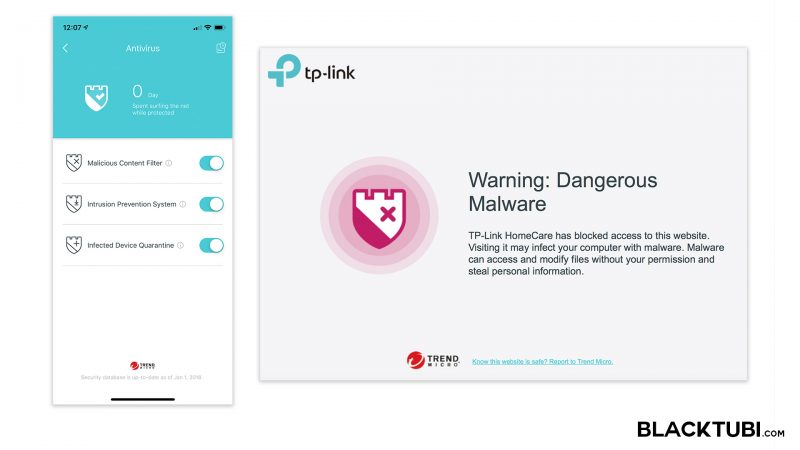 The start feature will definitely be the Antivirus. It will prevent your devices from accessing websites containing a virus or malware. The feature also feature intrusion prevention system which is essentially an upgraded firewall to prevent unauthorized access to your network. We found this feature to work properly as it is powered by TrendMicro. 
TP-Link also added an application based QoS system on the Deco M5. It has a few options to select which application you want to prioritize in your network. There is also a custom option to fine tune their priorities. I suggest you to keep it in the standard mode unless your Internet connection is slower than 100Mbps. There is little to no need to enable QoS with fast internet connection these days.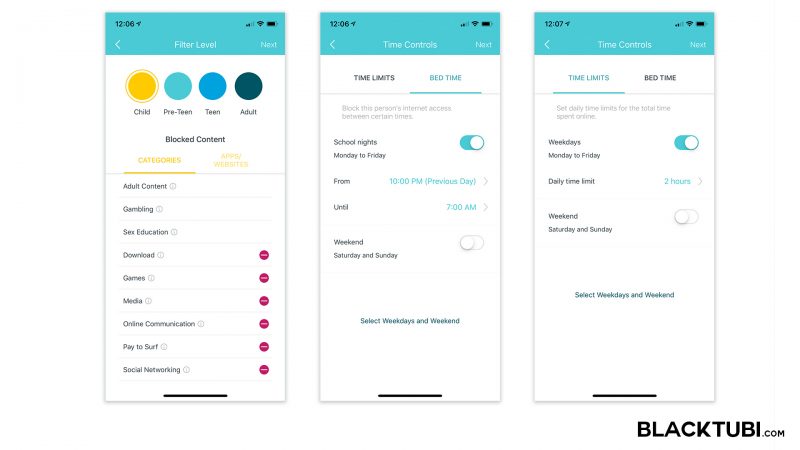 TP-Link Deco M5 also comes with a rather comprehensive parental control feature. It has a preset filtration level which prevent your users from accessing certain categories of website. I found the preset list to be really extensive unlike other brands where the user need to input the website manually. 
The time control feature is really comprehensive as well. You can prevent internet access at bedtime or even configure the time limit a user can use the internet in a day. It is by far the most comprehensive parental control system out there. 
Testing the speed of a mesh wireless system is a bit different compare to any normal routers. The aim of a mesh system is to have good wireless coverage with decent speed in the entire home. I will be using just my phone to conduct speed test around my house with my 1 Gigabit Internet connection. We want the test to be as realistic as possible like a real world situation.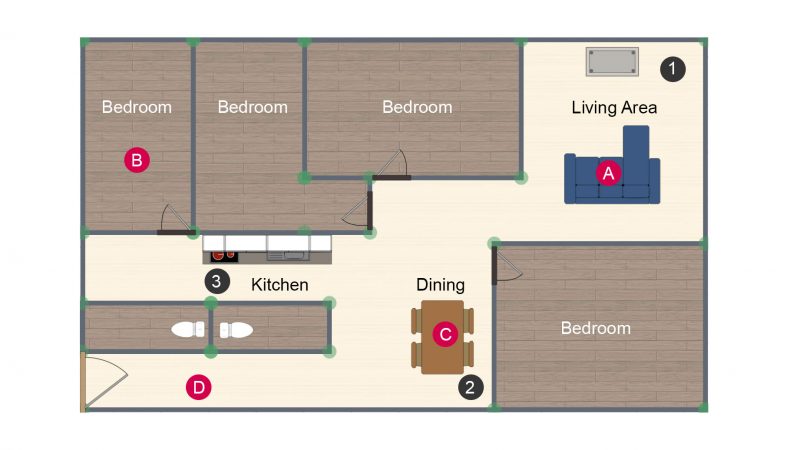 The floor plan of my apartment is above. I placed 3 units of Deco M5 around my house with the main unit at the living area connected to the ISP modem. I then proceed to test the speed in several spots of the house, labelled in red and see how well they perform. On the Deco M5, both the 5Ghz and 2.4Ghz are combined so I let the Deco band steering and AP steering do its job. As for the Archer C7, I will perform a test on both 2.4Ghz and 5Ghz and pick the fastest band to compare with Deco M5.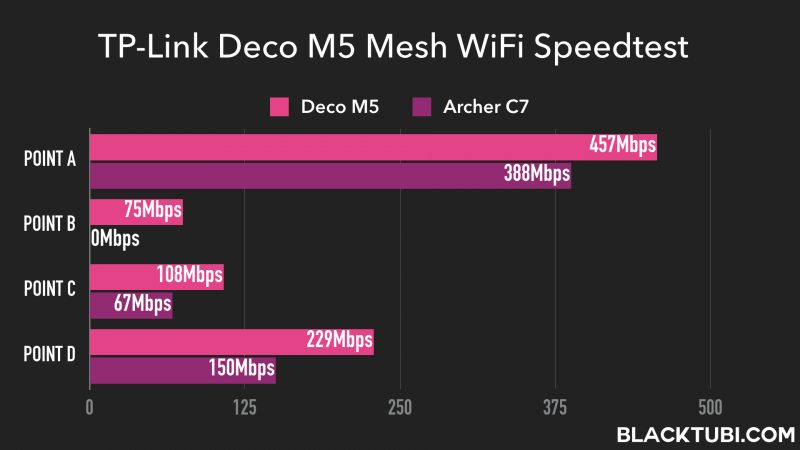 The download speed results are rather conclusive. TP-Link Deco M5 is consistently better at every point when compared with the Archer C7. At Point B, the Archer C7 is already dead but the Deco M5 is still getting some pretty decent speed. A mesh wireless system is the future of our household as our internet get faster and faster.
802.11r Fast Roaming, Band Steering & AP Steering
The Deco M5 supports 802.11r fast roaming, AP steering and band steering. These are the powerful features that make the Deco stands out from the competitors. They work together to ensure that your phone is always connected to the Deco nodes with the best signal strength to your device.  With 802.11r fast roaming, it lets your devices to roam to another Deco much quicker with smaller downtime when connecting to another node. Coupled with AP steering and band steering, all these work in the background to make sure your devices always have the best connectivity to the network. 
I found the Deco to be the best mesh system I have tried in the roaming aspect. I can literally walk around my apartment and not even once I need to reconnect the WiFi, it just switches over without me noticing. However, 802.11r fast roaming is not enabled by default and I highly recommend you to enable this!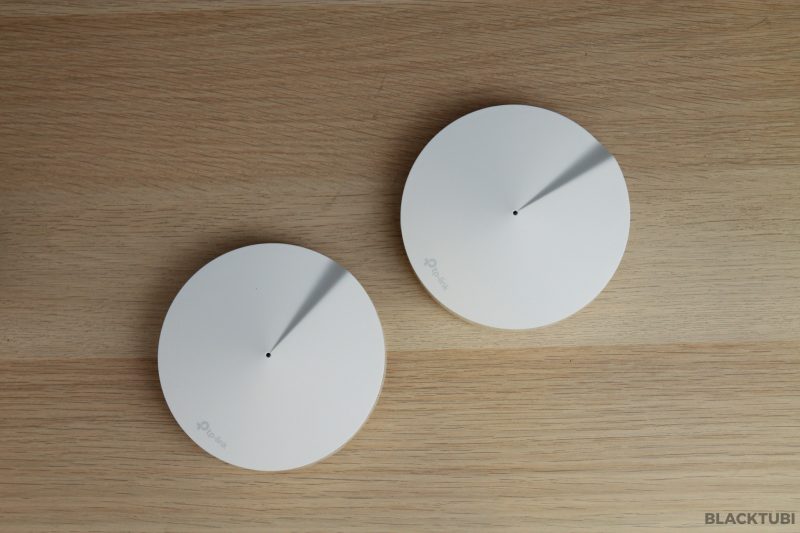 TP-Link Deco M5 is a great mesh wireless system. The performance is solid thanks to the good hardware powered by very good execution in the software. I really like how easy it is to configure this mesh wireless system compared with other competitors. It also comes with plenty of software optimization such as AP steering and 802.11r fast roaming to make everything works better as a package. I appreciate the TP-Link Homecare features as well. 
If you are looking for a mesh wireless system right now, I would recommend the Deco M5. It is literally one of the best mesh system you can get right now after the Deco M9 Plus. Not to mention that it is not expensive and relatively affordable. There are cheaper ones in the market but I think the Deco M5 worth the extra. You can also check out the review of the Deco M9 Plus here.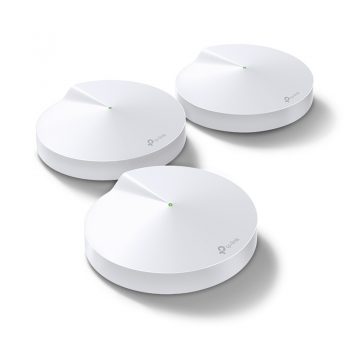 TP-Link Deco M5 performs amazingly well and offer a very seamless experience to the user.
Affordable
Unifi compatible
Easy to setup with the app
Powerful software with plenty of features
No HyppTV support
2 LAN ports only
Summary
Reviewer
Review Date
Reviewed Item
Author Rating