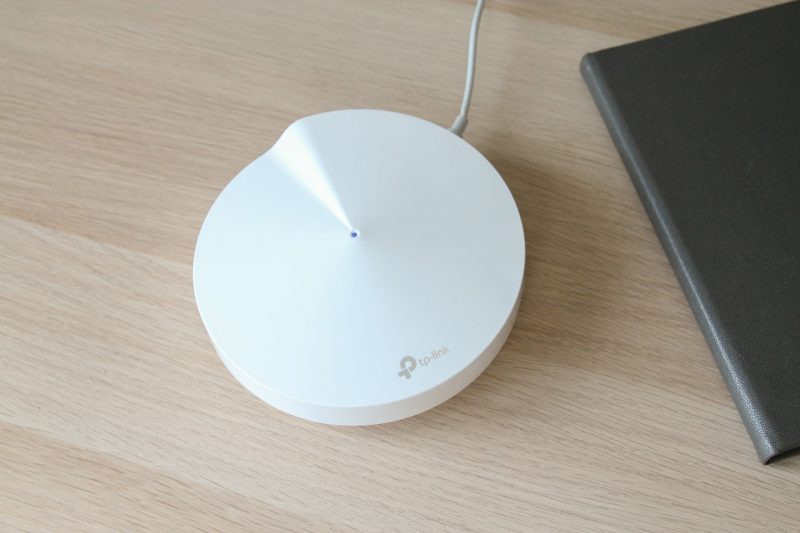 TP-Link Deco series of mesh WiFi system have been really great lately. They are easy to setup and performed really well. TP-Link Deco M9 Plus is the upgraded version of the Deco M5 with a Tri-Band design and beefed up specs for better speed.
Well, mesh WiFi isn't that complicated to begin with. Like all WiFi router, the main unit of a mesh WiFi system will function as a router and it will be connected to the ISP modem directly. Next, it comes with multiple satellite units or mesh nodes where they are all linked together to form a bigger WiFi network.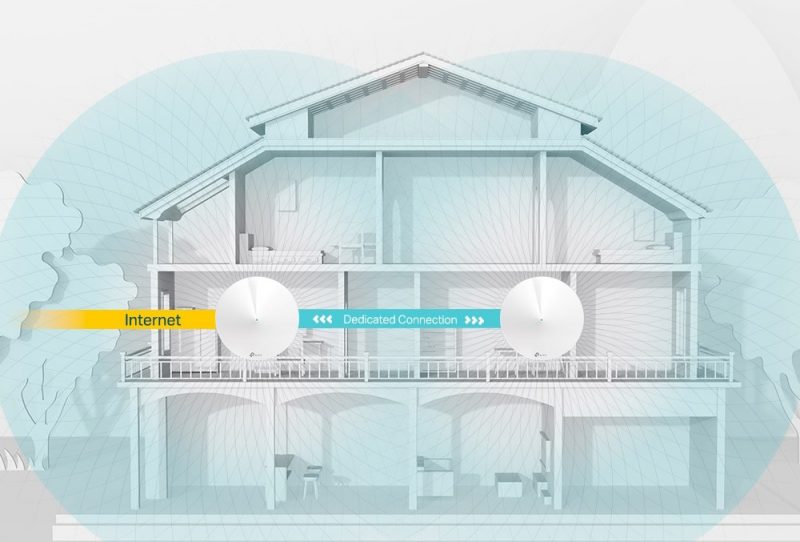 The WiFi connection will be much faster with bigger coverage as multiple mesh nodes are broadcasting the WiFi network. Besides, as they are all meshed, they all have the same WiFi name and password. You do not need to manually change WiFi as you walk along your home, the Deco M9 Plus will automatically manage it for you. 
TP-Link Deco M9 Plus features band steering and AP steering, it will automatically steer your device to the fastest WiFi network. Besides, with fast roaming enabled, the downtime when switching between mesh node is almost not noticeable.
Wireless AC2200 Tri-Band

2.4Ghz Wireless N 2×2 up to 300Mbps
5Ghz – 1 Wireless AC 2×2 up to 867Mbps
5Ghz – 2 Wireless AC 2×2 up to 867Mbps
Fast roaming, band steering, AP steering, MU-MIMO, beamforming

512MB RAM Qualcomm IPQ4019 
2x Ethernet LAN/WAN port
As for expansion, it is still rather minimal with just 2 Gigabit Ethernet LAN ports. The Deco M9 Plus also features a single USB port but it only function as a USB port to charge your device for now. It can be handy to plug in an IoT device or just power another device such as a Chromecast dongle.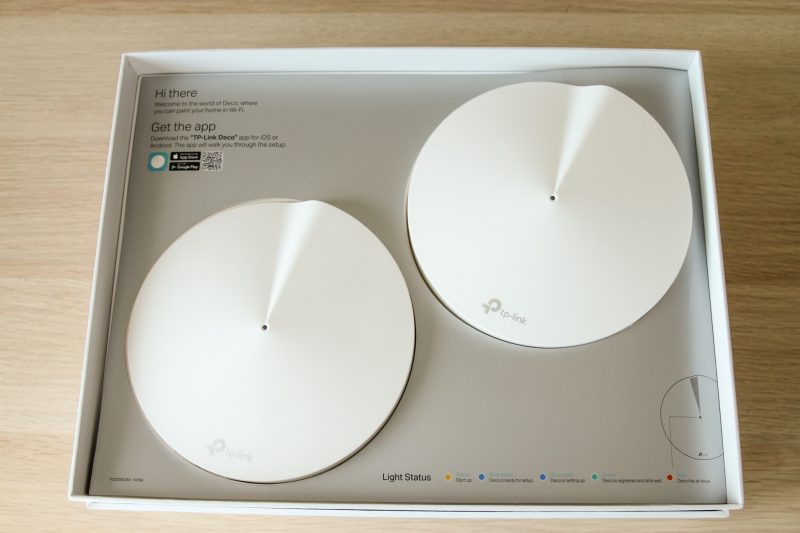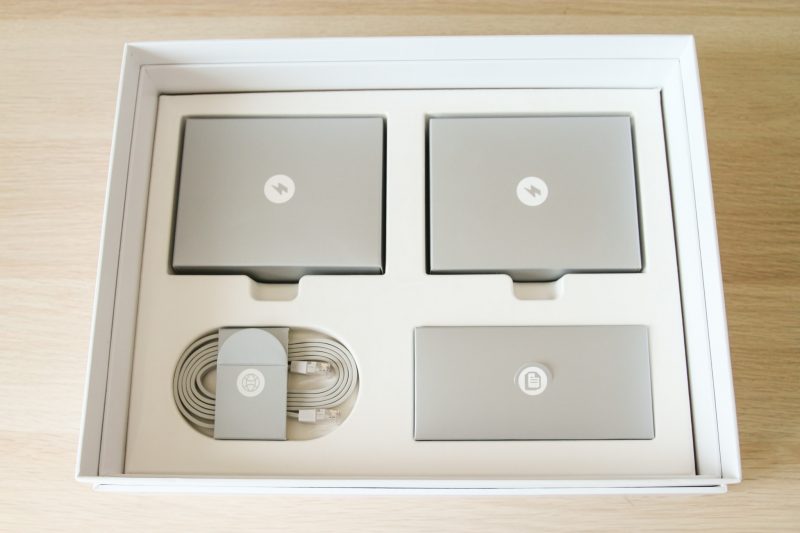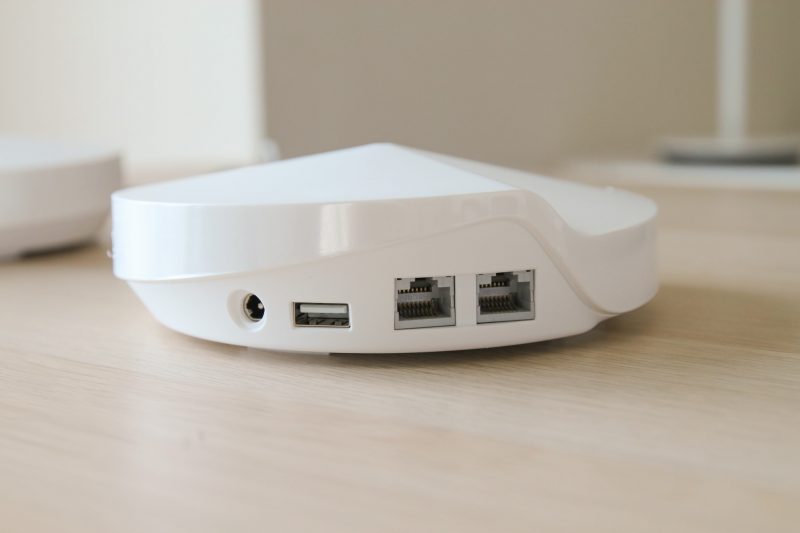 The Deco M9 Plus comes in the twin pack and the 3 pack version. The 2 pack model should be enough for most users but the 3 pack version can be considered for bigger house especially those with 3 floors.
The Deco M9 Plus is basically a bigger Deco M5 since the design is largely the same. There is a single multicolor LED indicator to show the status. The size is still really small and the clean design means you can put it everywhere and it will blend in nicely to your home interior design. There's still no option for wall mount. 
TP-Link Deco M9 Plus Setup
The setup process is very quick and simple with the TP-Link Deco app. It took us just 10 minutes to get the entire system configured with everything working properly. The app also included helpful tips on where to place your mesh nodes. The setup process is actually very similar to Google WiFi. 
The system is linked to a TP-Link ID so you can manage it no matter where you are as long as you are connected to the Internet. The system can also update itself automatically from the Deco app.
TP-Link Deco M9 Plus Unifi Setup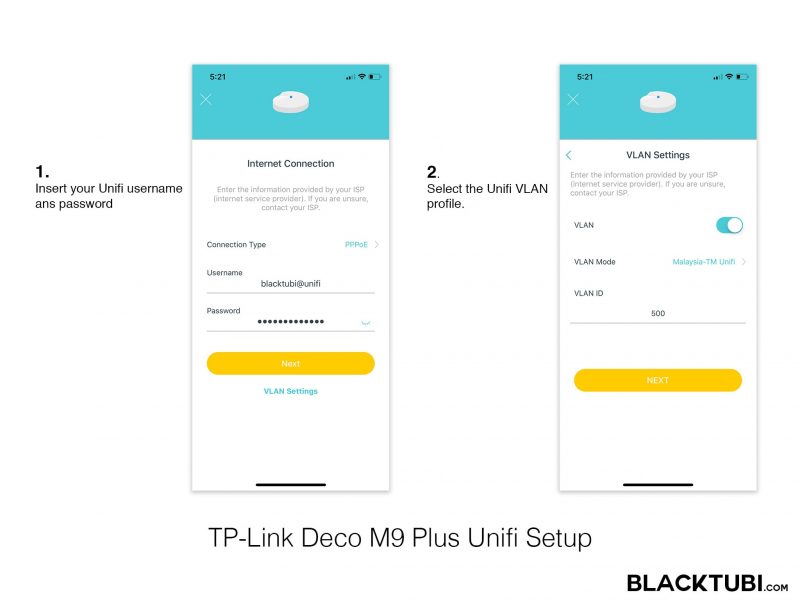 TP-Link Deco M9 Plus is compatible with Unifi and it is selectable in the app. The configuration is very simple, you just connect the Unifi modem to any port on your Deco and follow the setup guide on the app. The app will prompt you to insert your Unifi PPPOE username and password. Make sure you tick VLAN and select the Unifi profile in the app. 
However, as the Deco M9 Plus only comes with 2 ports. Using the Unifi mode will reserve the first LAN port on the main unit for HyppTV. You cannot use it for other devices even if you do not watch HyppTV.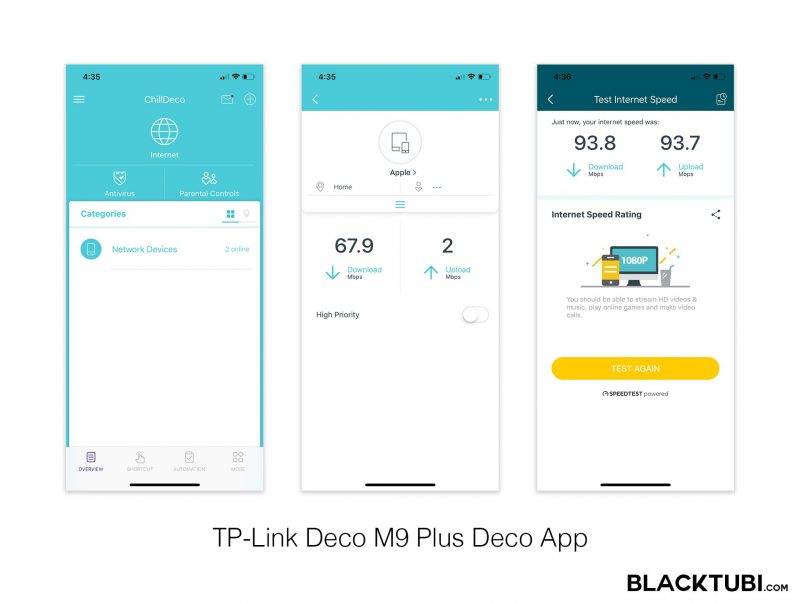 The Deco app also included plenty of features. We really liked the built in speed test tool to test the Internet connection directly from the mesh system. You can also see the realtime usage of each device on the network in realtime.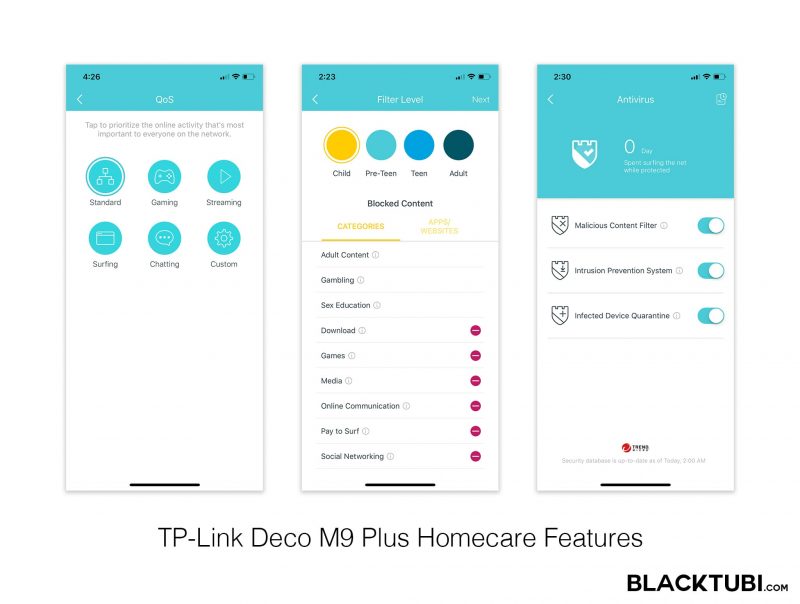 TP-Link Homecare features
Antivirus
QoS
Parental Control
TP-Link Deco M9 Plus also features TP-Link Homecare suit which include advanced parental control, Antivirus and QoS. The Antivirus is actually powered by TrendMicro. It will prevent your devices from accessing a website and protect it from attacks from the Internet. TP-Link included 3 years of free updates on the Antivirus feature.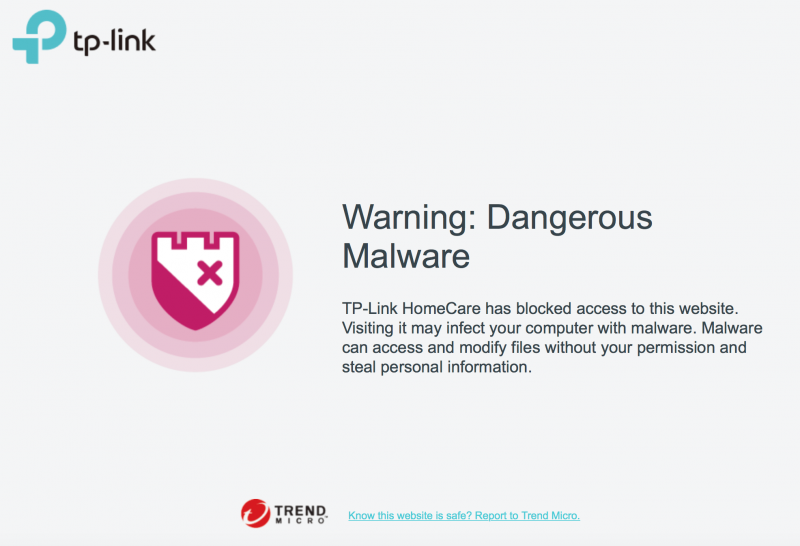 The Homecare QoS engine is basically an application priority selector. It lets you to select which application to have higher priority. This is only useful on slower connections. TP-Link also lets you to select which device to have high priority. This will be useful for devices sensitive to latency such as VOIP phones or gaming devices.
TP-Link Homecare parental control is also really powerful. It is able to restrict content to selected devices based on the category. The database TP-Link has built is rather accurate in our test. Besides, there is also an option for usage time limit and usage time scheduling. 
TP-Link Deco M9 Plus is also a smart home IoT hub and features support Amazon Alexa and IFTTT. It supports Zigbee and Bluetooth powered IoT devices. Most devices supported currently are from the TP-Link ecosystem and it depends whether third party manufacturers for this feature.
The full list of supported devices is available on TP-Link website here.
The mesh backhaul test is designed to see what is the maximum speed that can be obtained on the mesh node on a good signal condition. This test will determine the backhaul capacity of the mesh network.
We manage to obtain a speed of up to a solid 600Mbps in our test with an 1Gbps Internet connection. 
The performance of TP-Link Deco M9 Plus is really impressive in our test.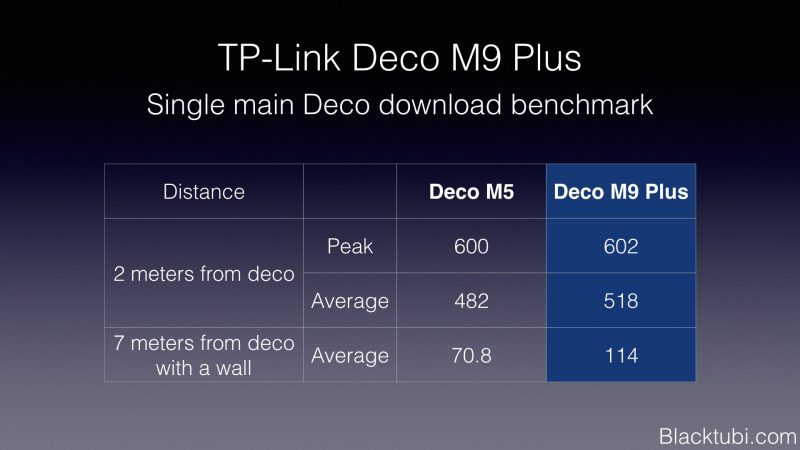 The performance of both Deco M5 and Deco M9 Plus is quite similar on single device mode.  On our test setup with the main Deco at short distance, we have no problem averaging at 518Mbps over wireless with my AC1200 laptop. After a distance of over 7 meters and 1 concrete wall, the speed is left around 114Mbps. The Deco M9 Plus is slightly faster than the M5.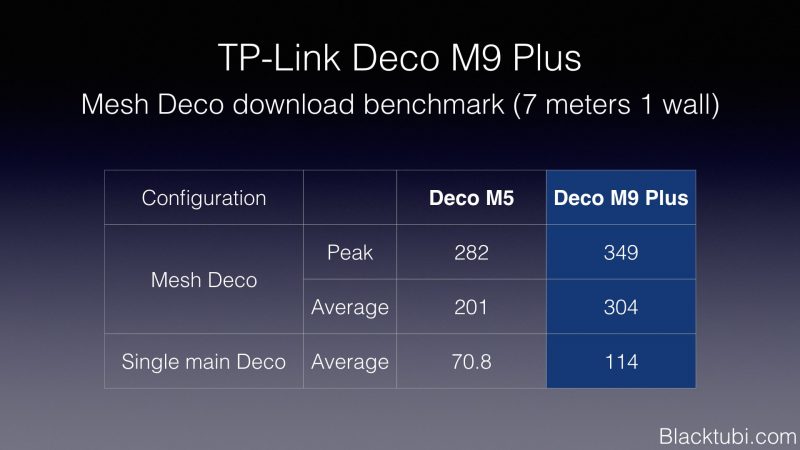 On to the mesh performance after the secondary mesh Deco is introduced to the network, we see an improvement of wifi performance up to 200% on the Deco M9 Plus. We can see that a mesh wireless system can not only improve the wireless coverage, it can effectively increase the speed of your wifi network throughout your property. The Deco M5 with a dual-band wireless is also impressive but at a more modest 130% improvement. 
Like your mobile phone, roaming happen when you walk from the coverage area of a Deco to another Deco. Roaming is really important as you want your device to be connected to the fastest Deco at all times. You also do not want any downtime when your phone is switching over to the coverage area of another Deco as you walk around your house.
This is where the Deco M9 Plus shines as it supports the 802.11r, k and v fast roaming standards. It lets you to walk from the coverage of one Deco to another with minimal disconnection. Besides, the 802.11r also ensure that your phone is always connected to the best access point so you do not need to figure that out and keep turning your wireless on and off. Currently, most other mesh solutions in the market which rely on their own roaming system as 802.11r is typically only being used on Enterprise wifi gear.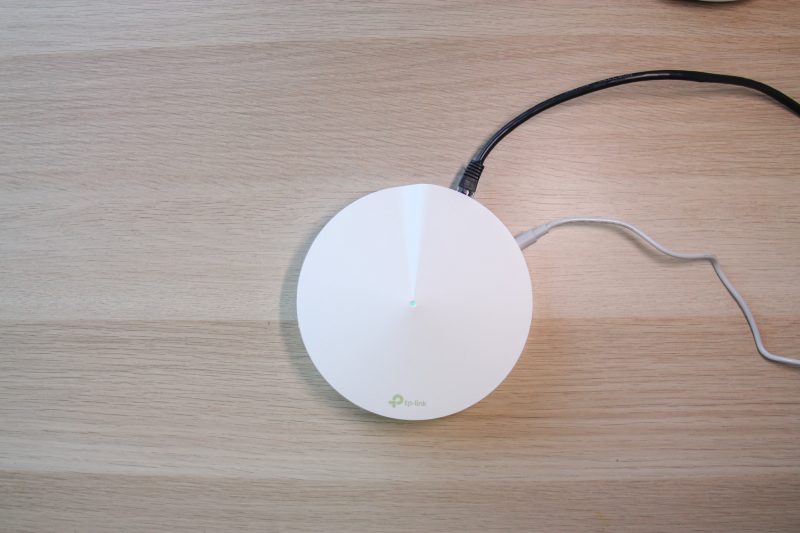 I think the TP-Link Deco M9 Plus is easily the best mesh wireless system that I have tried so far. The technology is mature enough and properly implemented. I also love the nicely designed, modern hardware as it looks clean in a modern household. The performance is equally as impressive as well. I am satisfied by the performance and I can say that it is compatible with Internet plan up to 500Mbps.
Besides, the software running the Deco M9 Plus is also really important. TP-Link simplified the setup process and make the complex technology almost invisible to the users. TP-Link Deco actually work really well and feel really polished unlike mesh systems from other brand which may be buggy. It also comes with the Homecare suite of features which is handy. TP-Link expertise in Enterprise networking can also be seen here with the 802.11r fast roaming support.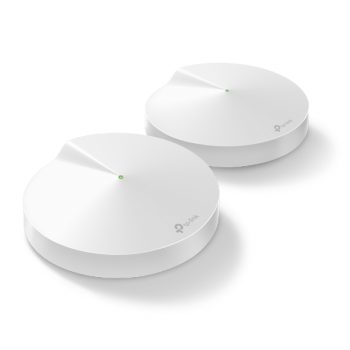 Best mesh wireless system you can buy in Malaysia now. The performance and stability of the mesh network is unbeatable.
Amazing performance performance
802.11k/v/r fast roaming support
Unifi and HyppTV compatible
Easy setup and configuration
Only 2 ports
No wall mount
Summary
Reviewer
Review Date
Reviewed Item
Author Rating