Mesh WiFi systems are gaining popularity lately. They are the best tool to provide great WiFI coverage for your entire home. This is achieved by having multiple WiFi access points working together to blanket your home with WiFi coverage. 
TP-Link Deco M9 Plus is a triple-band mesh WiFI system unlike the dual-band Deco M5 mesh WiFi system from TP-Link. By having a third band, it will be used as a dedicated backhaul for the mesh WiFi network. This will effectively reduce the load on the fronthaul network, leading to way higher mesh WiFi speed the badwidth aren't shared.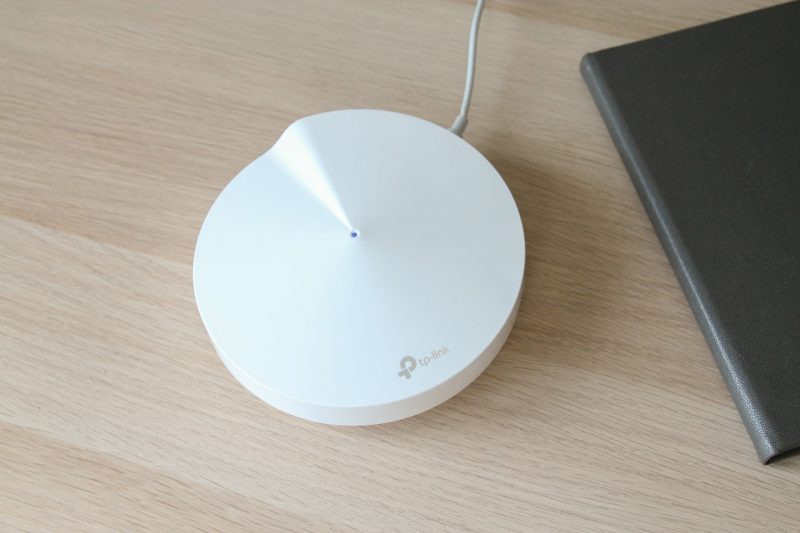 In this article, we will be reviewing the twin pack Deco M9 Plus mesh wireless system which currently retail at RM899. TP-Link says this is good up to 4500 square feet. There's also a triple pack system available at RM1359. I suggest getting the twin pack system and only buy the third unit separately shall the need arise.
Well, mesh WiFi isn't that complicated to begin with. Like all WiFi router, the main unit of a mesh WiFi system is as a router and it will be connected to the ISP modem directly. Next, it comes with multiple satellite units or mesh nodes where they are all linked together to form a bigger WiFi network.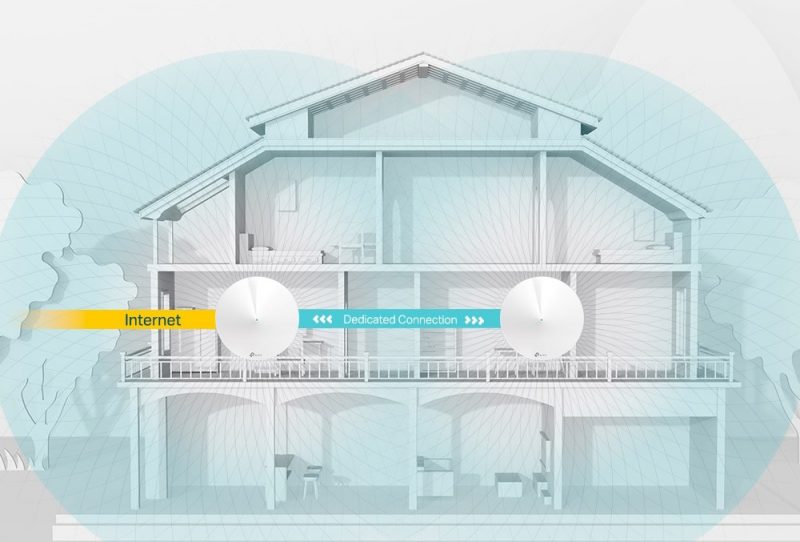 The WiFi connection will be much faster with bigger coverage as multiple mesh nodes are broadcasting the WiFi network. Besides, as they are all meshed, they all have the same WiFi name and password. You do not need to manually change WiFi as you walk along your home, the Deco M9 Plus will automatically manage it for you. 
TP-Link Deco M9 Plus features band steering and AP steering, it will automatically steer your device to the fastest WiFi network. Besides, with fast roaming enabled, the downtime when switching between mesh node is almost not noticeable.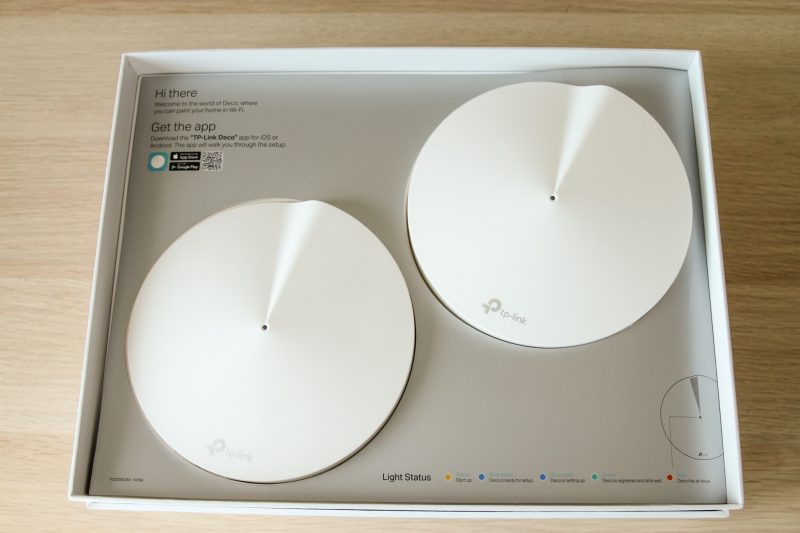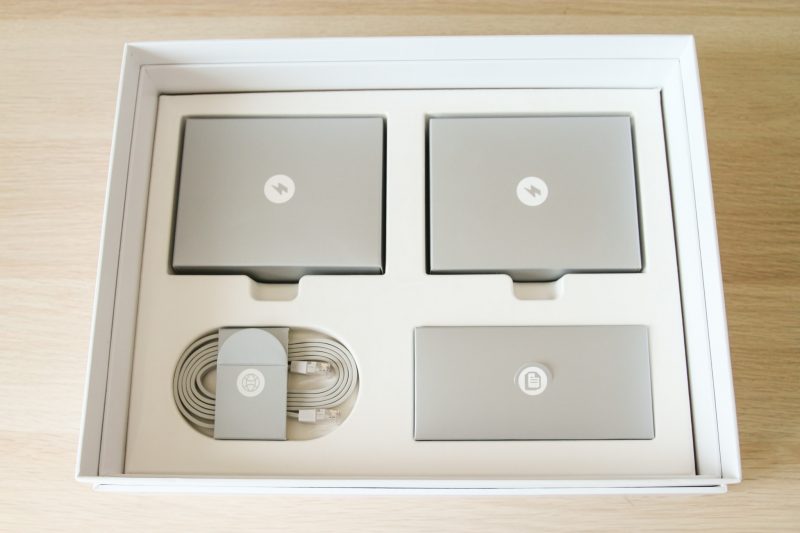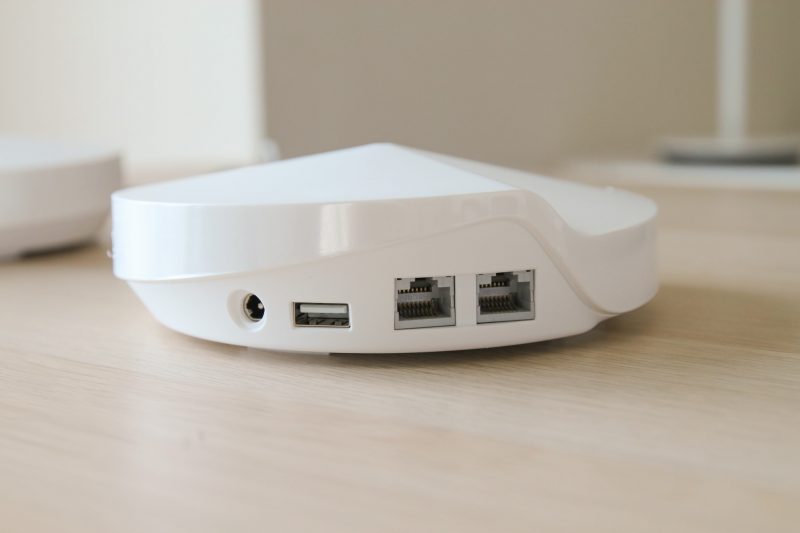 | | |
| --- | --- |
| Wireless 2.4Ghz | Wireless AC up to 300Mbps (40Mhz 2X2) |
| Wireless 5Ghz – 1 | Wireless AC up to 867Mbps (80Mhz 2X2) |
| Wireless 5Ghz – 2 | Wireless AC up to 867Mbps (80Mhz 2X2) |
| WiFi Features | MU-MIMO, beamforming, fast roaming, band steering |
| CPU | Qualcomm quad-core IPQ4019 CPU |
| RAM | 512MB |
| Ports | 1x Gigabit WAN port + 1x Gigabit LAN port |
As for expansion, it is still rather minimal with just 2 Gigabit Ethernet LAN ports. The Deco M9 Plus also features a single USB port but it only function as a USB port to charge your device for now. It can be handy to plug in an IoT device or just power another device such as a Chromecast dongle.
The Deco M9 Plus is basically a bigger Deco M5 with similar design. There is a single multicolor LED indicator to show the status. We really like the clean looks of the Deco M9 Plus as it blends nicely into a modern household. There's still no option for wall mount. 
TP-Link Deco M9 Plus Setup
The setup process is very quick and simple with the TP-Link Deco app. It took us just 10 minutes to get the entire system configured with everything working properly. The app also included helpful tips on where to place your mesh nodes. The setup process is actually very similar to Google WiFi.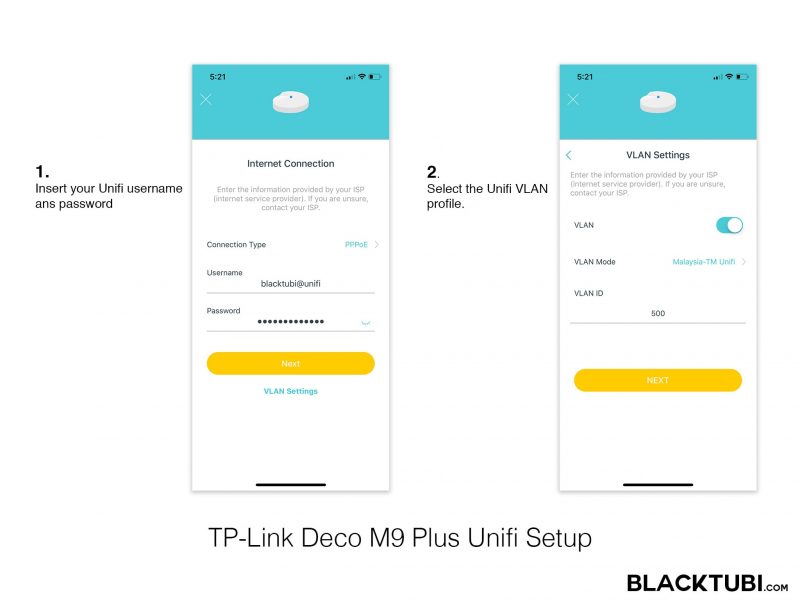 TP-Link Deco M9 Plus is compatible with Unifi. We connected the Unifi modem to the Deco M9 Plus and follow the setup guide on the app. The app will prompt you to insert your Unifi PPPOE username and password. You will need to click VLAN settings and enable the Unifi profile during the setup wizard.
TP-Link Deco app is really pleasant to use and manage the mesh WiFi system. The homepage will show you some quick status of the mesh WiFi connection with the real time speed of the devices.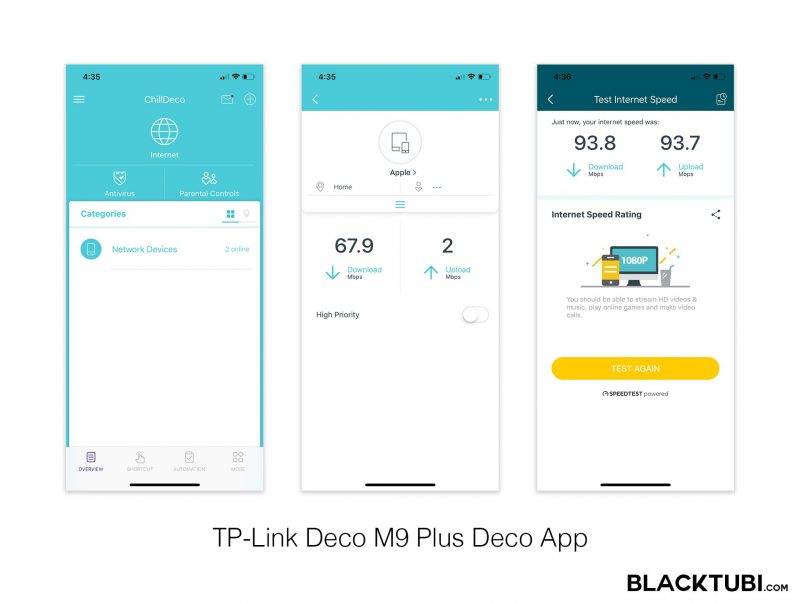 TP-Link also included a built-in speedtest tool right on the Deco app. This will be handy to determine the actual connection speed of your Internet connection.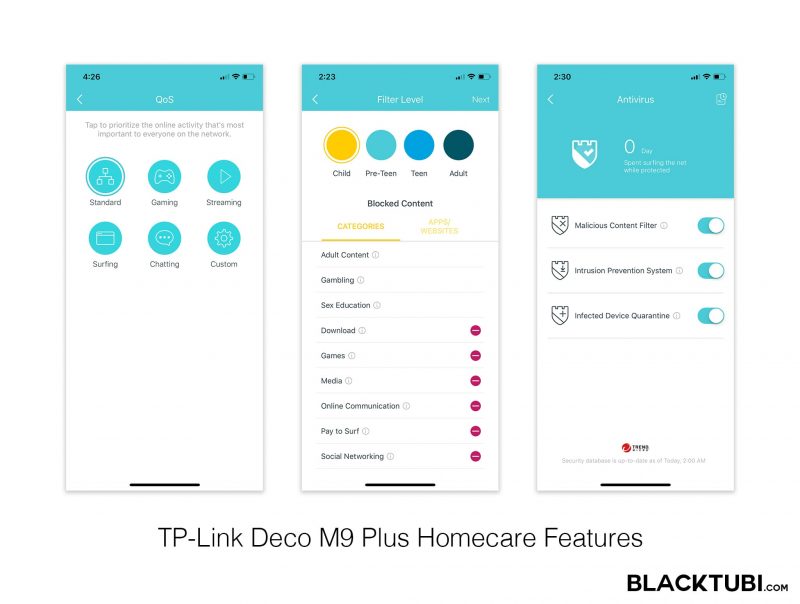 TP-Link Homecare features
Antivirus
QoS
Parental Control
TP-Link Deco M9 Plus also features TP-Link Homecare suit which include advanced parental control, Antivirus and QoS. The Antivirus is actually powered by TrendMicro. It will prevent your devices from accessing a website and protect it from attacks from the Internet. TP-Link included 3 years of free updates on the Antivirus feature.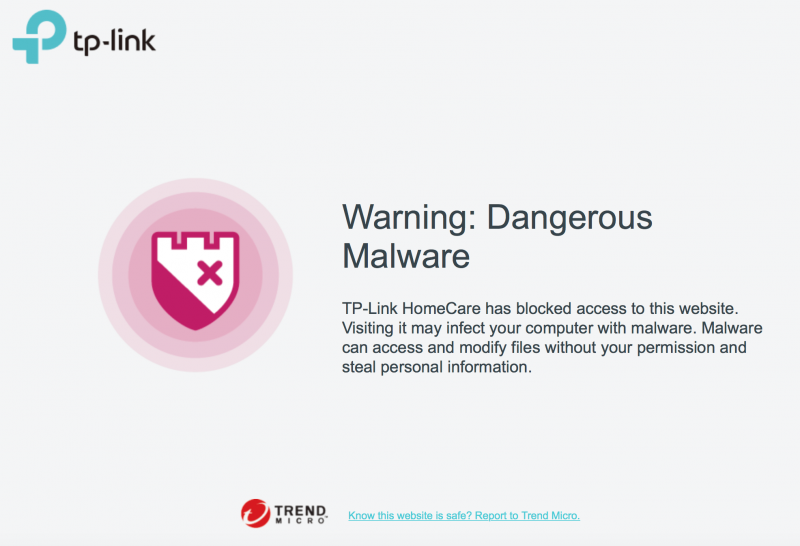 The Homecare QoS engine is basically an application priority selector. It lets you to select which application to have higher priority. This is only useful on slower connections. TP-Link also lets you to select which device to have high priority. This will be useful for devices sensitive to latency such as VOIP phones or gaming devices.
TP-Link Homecare parental control is also really powerful. It is able to restrict content to selected devices based on the category. The database TP-Link has built is rather accurate in our test. Besides, there is also an option for usage time limit and usage time scheduling. 
We also tested the mesh backhaul to see what is the fastest speed the Deco M9 Plus can deliver between the mesh nodes. This is determine the throughput of the entire network.
We manage to obtain a speed of up to a solid 600Mbps in our test with an 1Gbps Internet connection. 
The performance of TP-Link Deco M9 Plus is really impressive in our test.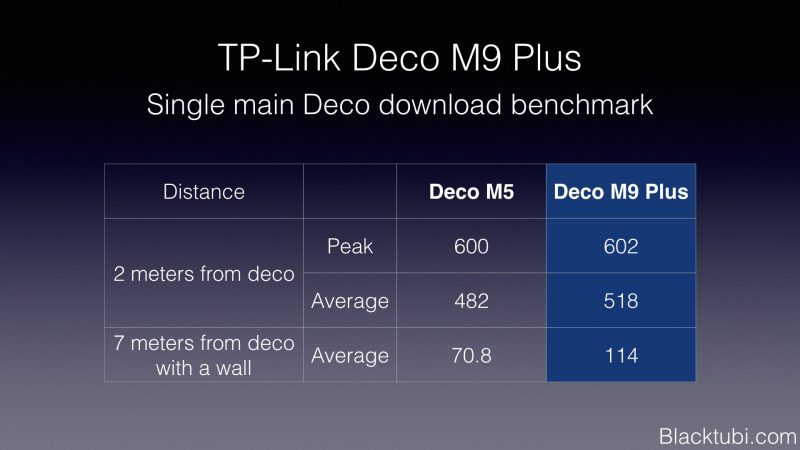 The performance of both Deco M5 and Deco M9 Plus is quite similar on single device mode.  On our test setup with the main Deco at short distance, we have no problem averaging at 518Mbps over wireless with my AC1200 laptop. After a distance of over 7 meters and 1 concrete wall, the speed is left around 114Mbps. The Deco M9 Plus is slightly faster than the M5.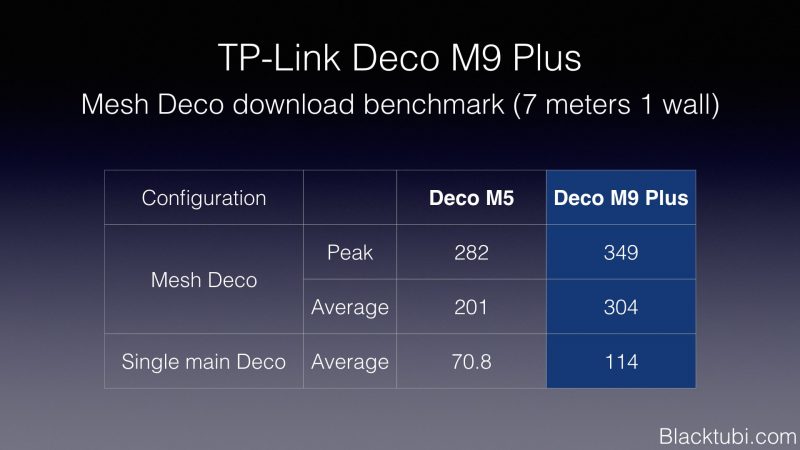 On to the mesh performance after the secondary mesh Deco is introduced to the network, we see an improvement of wifi performance up to 200% on the Deco M9 Plus. We can see that a mesh wireless system can not only improve the wireless coverage, it can effectively increase the speed of your wifi network throughout your property. The Deco M5 with a dual-band wireless is also impressive but at a more modest 130% improvement. 
Wireless roaming happen when you connect from one Deco to another Deco. The roaming performance of the Deco M9 Plus is very quick without noticeable disconnection. This is possible as TP-Link Deco M9 Plus supports the 802.11r, k and v fast roaming standards. 
However, as good as fast roaming is, it is not supported on all devices. Some older smartphones do not support fast roaming and it may cause connectivity issue.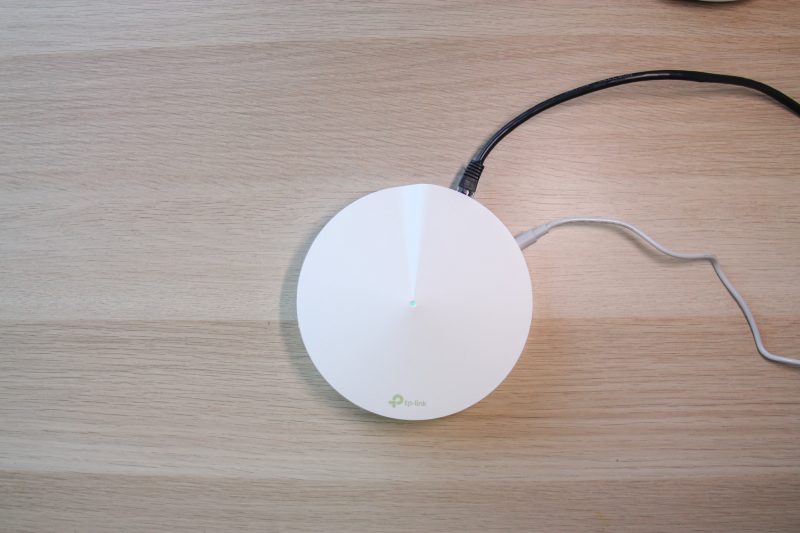 TP-Link Deco M9 Plus is a great mesh WiFi system. It can solve WiFi coverage issues and improve the WiFi speed with a mesh WiFi network. Having Tri-Band support also improved the WiFi speed even further compared to the Deco M5.
The configuration is also really simple with the TP-Link Deco app. With that, Deco M9 Plus is very easy to operate and provide a really seamless user experience. All in all, a great mesh WiFi system that's inexpensive yet perform decently.
Fast and stable connectivity
802.11k/v/r fast roaming support
Unifi and HyppTV compatible
Easy setup and configuration
Only 2 ports available
No wall mount