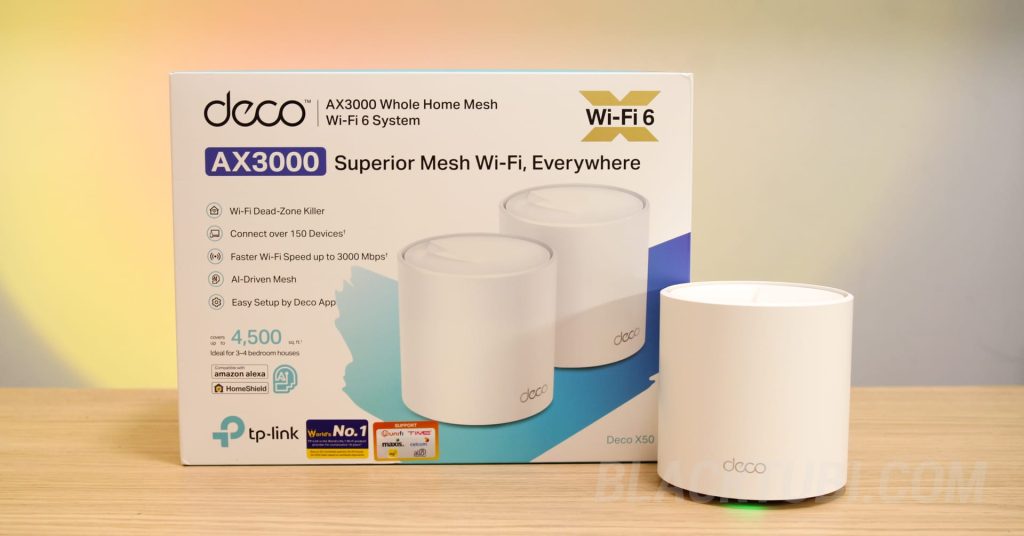 Mesh WiFi is the best solution to poor WiFi signal for bigger houses due to how simple it is to install them and they actually work as promised. Introducing the new Deco X50 from TP-Link, a WiFi 6 AX3000 whole home mesh WiFi system with a claimed coverage up to 6500 sq ft.
There are a lot of of good things about the Deco X50 and affordability is the biggest selling point. In fact, if you used TP-Link entry-level mesh WiFi such as the Deco M4 previously, the Deco X50 which costs RM899 for the 2-pack model is a great upgrade with significant performance boost.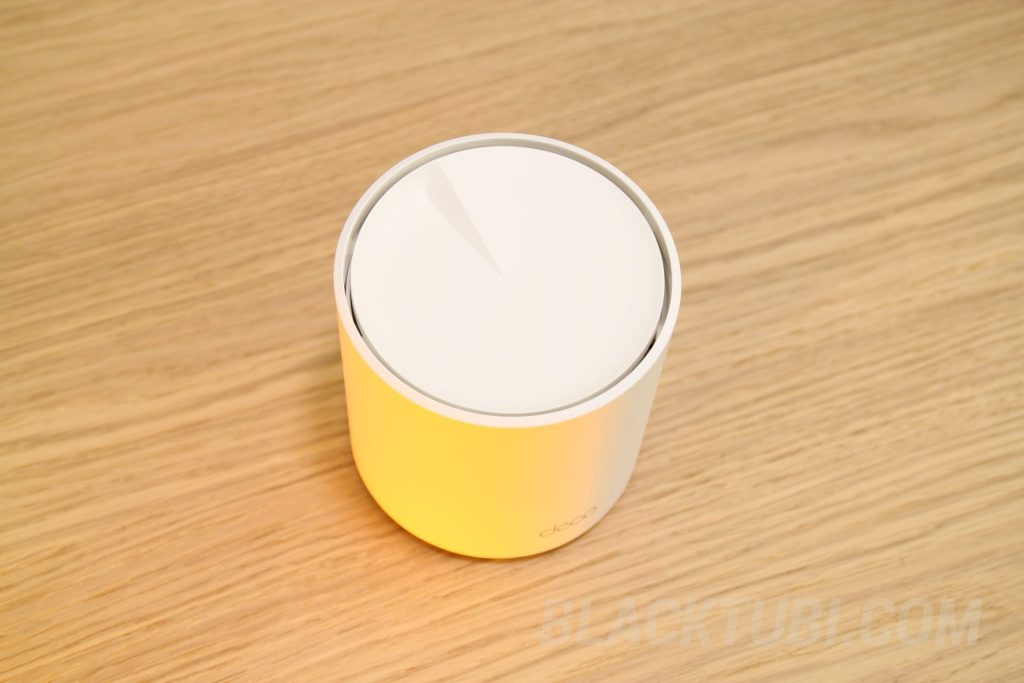 Upgrading to WiFi 6 technology will provide faster speed and stronger coverage especially for your new WiFi 6 devices. This will also benefit older devices due to technology improvement in WiFi signal processing resulting in a WiFi network that can support plenty of devices while being faster.
I always liked how TP-Link mesh WiFi looks, I think are really clean and simple. The best part is the neutral design language will fit into most modern interior design without being obstructive. That's really important as mesh WiFi should never be hidden in a cabinet for the best coverage.
Deco X50 Mesh Performance Test
Let's jump right into the performance of the Deco X50. Thanks to WiFi 6 capability, the Deco X50 is much faster than the predecessors. The WiFi performance and stability has vastly improved over the Deco M5 or Deco M4 it replaces.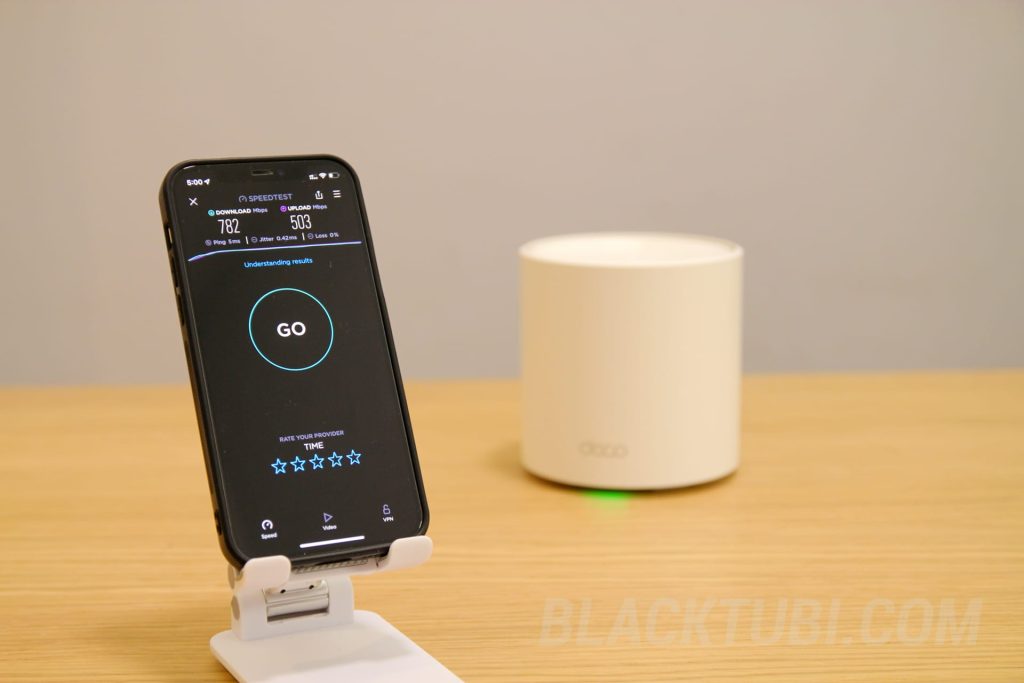 Ths biggest difference is probably the maximum WiFi speed. I can now get 800Mbps easily on my phone with the Deco X50 compared to an older Wireless AC mesh WiFi system. This is tested on a short distance without any obstruction to the main mesh point.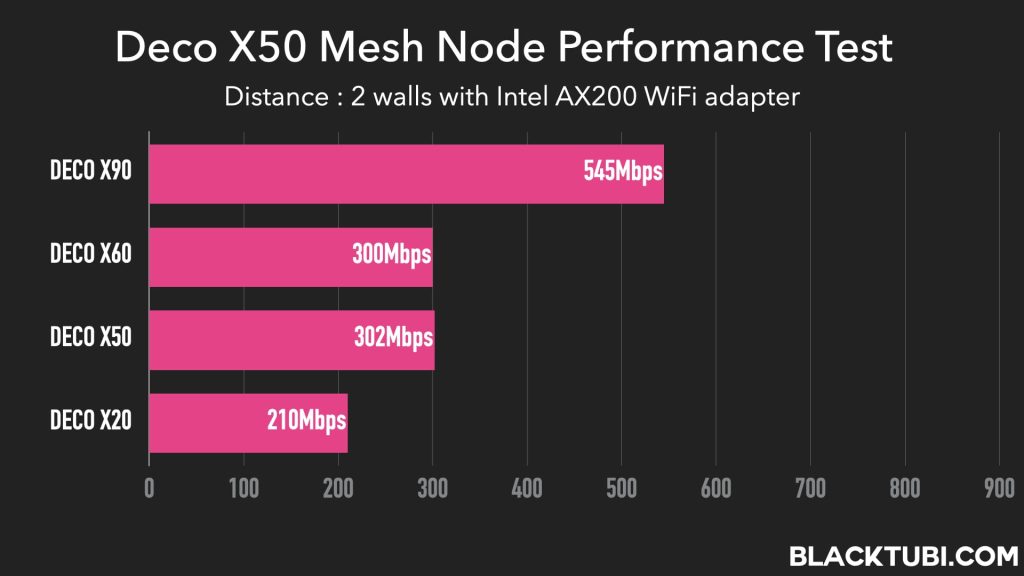 On the second location bedroom, I can still get a decent 300Mbps from the mesh node of the Deco X50 mesh WiFi system. It outperforms the Deco X20 rather significantly and it's even slightly faster than the Deco X60. 
Deco X50 Hardward and Specs
| | |
| --- | --- |
| WiFi Band 1 | 2.4Ghz WiFi 6 up to 574Mbps (2×2 40Mhz) |
| WiFi Band 2 | 5Ghz WiFi 6 up to 2402Mbps (2×2 160Mhz) |
| CPU | Qualcomm Quad-Core CPU |
| RAM | 512MB |
| Ports | 3 x Gigabit Ethernet LAN/WAN Port |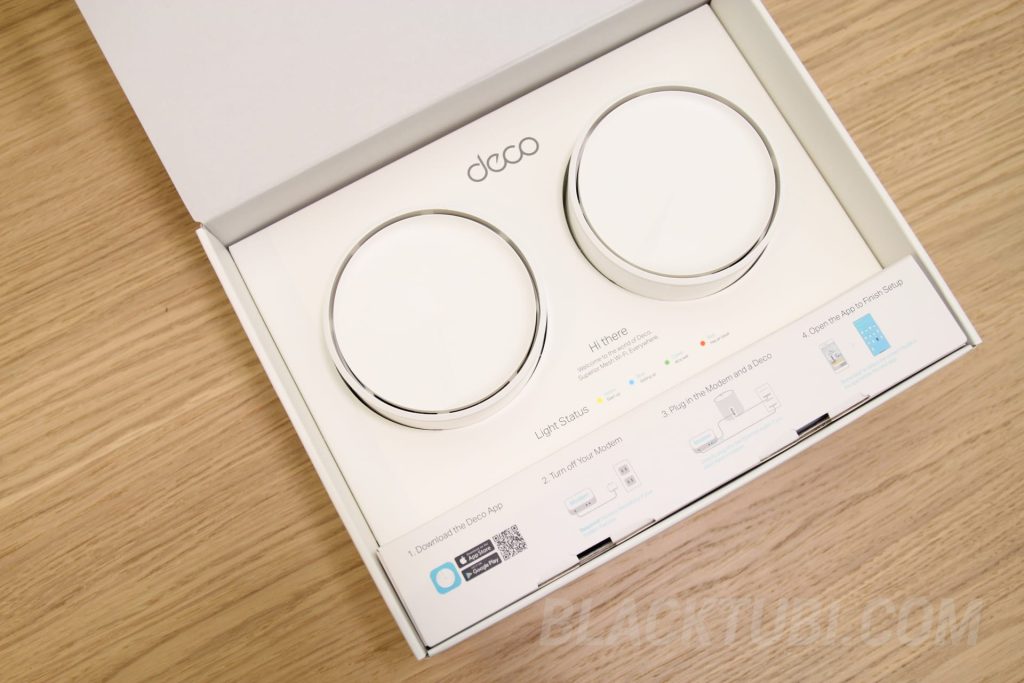 TP-Link did not tell us much about the specifications but we know it comes with a Qualcomm Quad-Core CPU and 512MB RAM. It also comes with a WiFi 6 radio that can support up to AX3000 with 160Mhz bandwidth supported on the 5Ghz band.
If you read my review of the Deco X60 in the past, the Deco X60 is powered by a 4 stream 5Ghz radio with 80Mhz bandwidth. However, the Deco X50's 5Ghz radio is slightly different. It's just 2 stream but the bandwidth is now doubled to 160Mhz to suit most WiFi devices in the market.
This means devices that supported 160Mhz mode will be able to enjoy a much faster speed. That include most laptop in the market that's powered by the Intel AX200 WiFi 6 receiver and certain Android smart phones as well.
The Deco X50 is also the first TP-Link Mesh WiFi with more than 2 ports and that's a great improvement. In fact, both the main unit and mesh nodes come with 3 ports on each of them and they are all functional. They can work in wired backhaul for better performance or connect other devices to them.
Installing Deco X50 Mesh WiFi
The best way to install the Deco X50 mesh WiFi is by connecting the main unit directly to the modem. This will ensure there will be no bottleneck caused by the router provided by the service provider and reduce interference. Then, put the remaining mesh nodes within 2-3 walls from the main unit.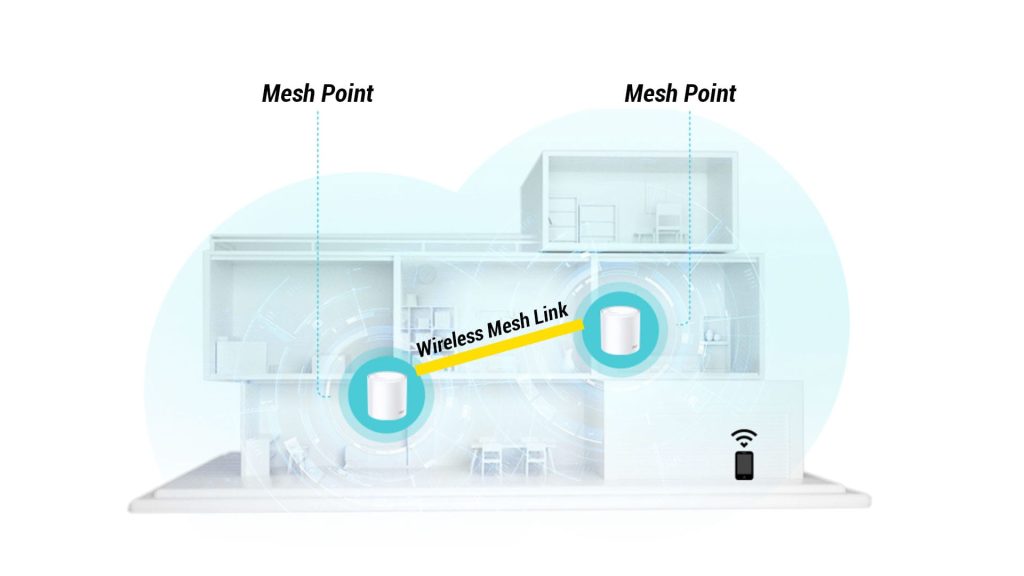 Once that is done, the mesh nodes will wirelessly link with the main unit and work together to blanket your entire home with a single WiFi network. Devices will automatically switch between the coverage of the nearest mesh node as you move around in your house for the best signal coverage.
TP-Link's excellent mesh roaming technology is now known as AI-Driven Mesh and it works like magic. The network switching is almost unoticeable as I walk around in my house. My devices will always switch to the strongest mesh points seamlessly without any manual switching required.
That's because Deco Mesh WiFi system support the 802.11r fast roaming feature in addition to the standard 802.11k/v roaming assist. Having 802.11r fast roaming technology can provide millisecond level roaming capability for supported devices like most high-end smartphones.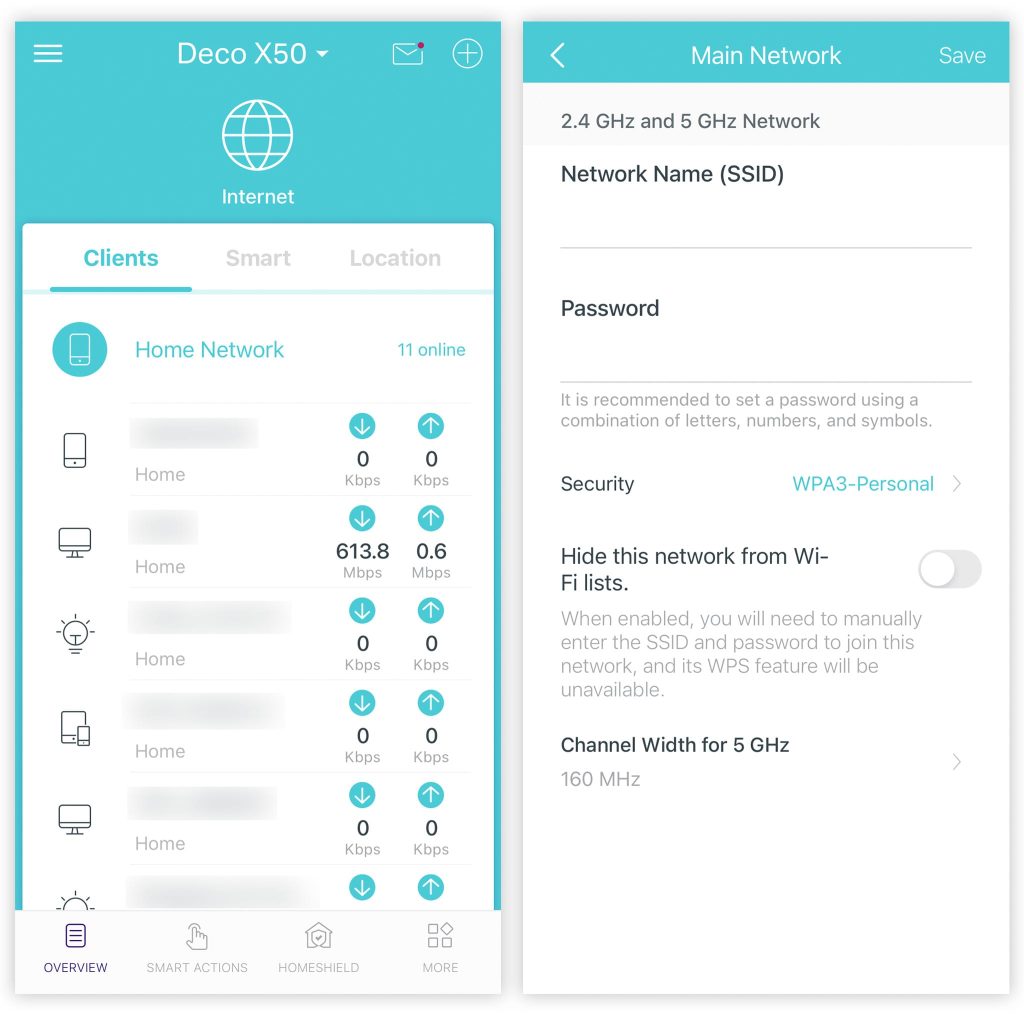 TP-Link software for their mesh WiFi has always been really good. The app is really easy to use and the software is very stable. Since the Deco Mesh WiFi is linked to TP-Link cloud, you can view the status of your home network easily even when you are away from home.
The star of the show is TP-Link's HomeShield security software. It is a software suite including an antivirus, advanced parental control feature and a quality of service (QoS) feature. Some of the features are free but the Pro features will require a monthly subscription.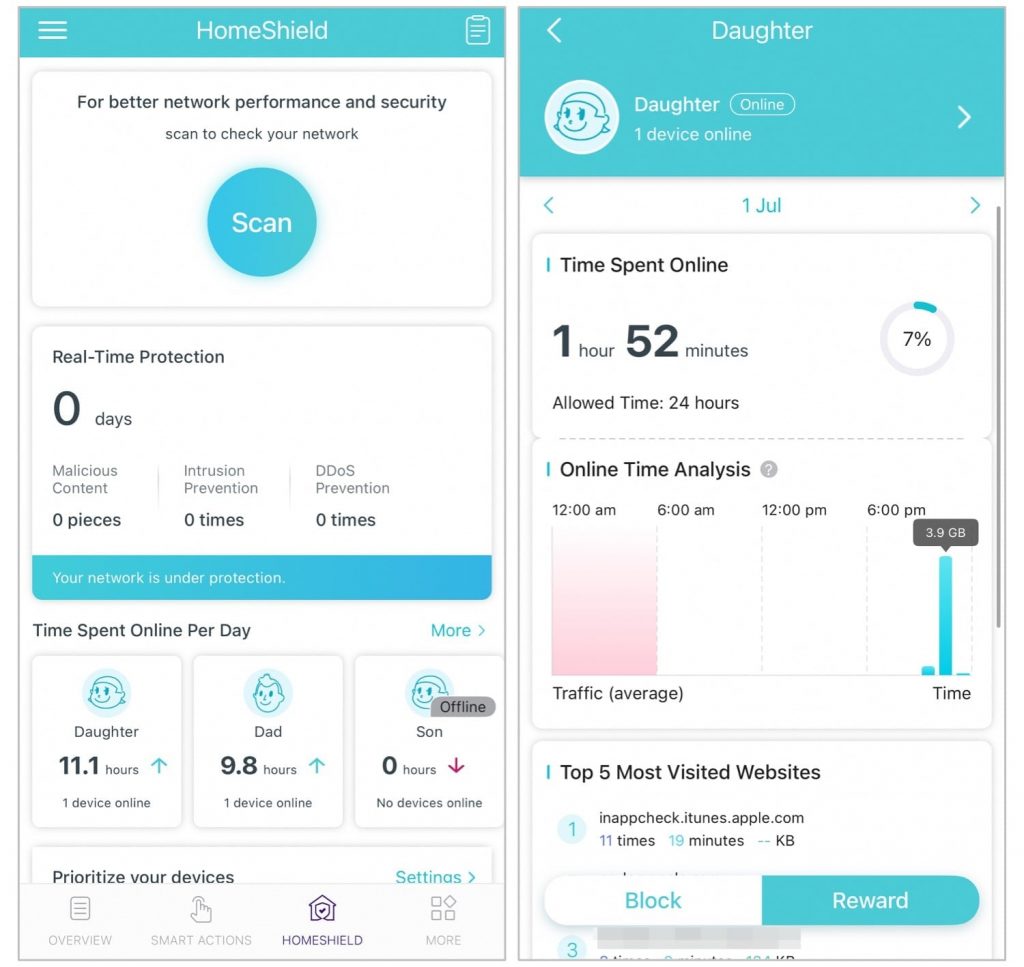 The best part of the HomeShield Pro software is the parental control feature. It can filter webpages based on category selected and it works really well. There are plenty of categories to choose from and TP-Link have a very extensive database of website for each categories.
The reporting feature in the app is also great. It will show usage trends, top blocked and top visited websites by each devices which will be really handy if you have young kids in your family. I find it really handy to monitor whether the kids in my family are using a ton of Internet when I'm not around.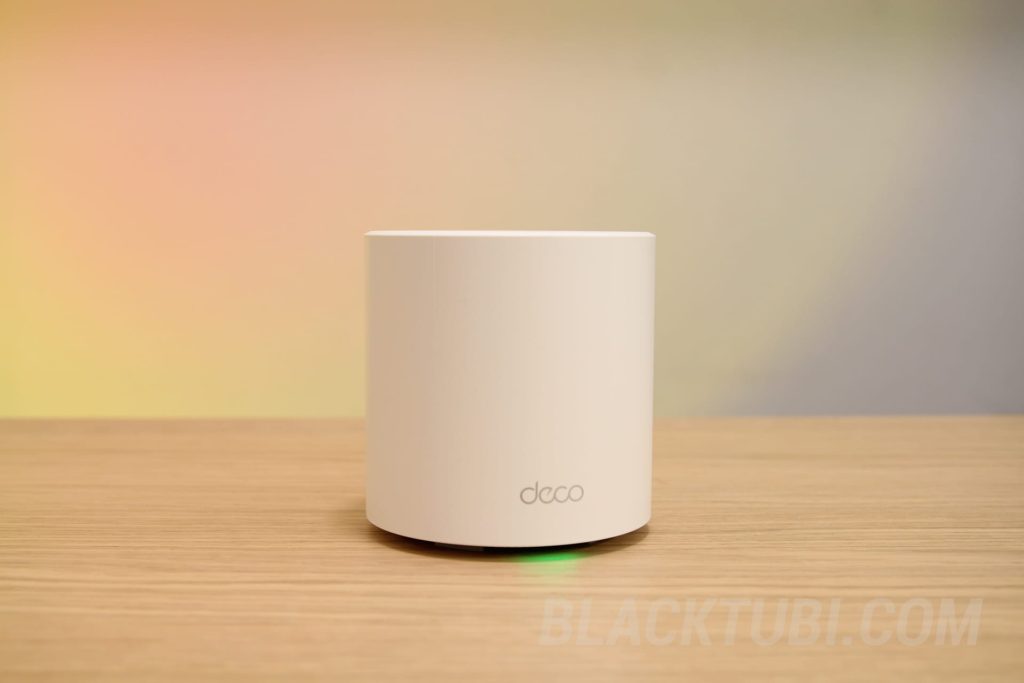 At RM899 for the twin-pack model, the Deco X50 is cheaper than other competing WiFi 6 AX1800 mesh WiFi in the market. That makes the Deco X50 an enticing value and will probably be really popular. It's not the fastest mesh WiFi in the market but it is enough for those with a 300-500Mbps Internet connection.
So, for the vast majority of people, the Deco X50 will perform well, looks good and doesn't cost a fortune. I guess TP-Link finally got a great WiFi 6 mesh WiFi with the right price and performance. TP-Link also listened to what consumers wanted and added more ports on their product.
3 Gigabit LAN/WAN on each unit

Excellent fast roaming and mesh steering
Easy to setup with Deco app
Monthly subscription required to get more features from HomeShield Pro