WiFi routers are important to the performance of your home network. They are the central networking hub in your home and every devices will connect to the internet through the wireless router. This is why having a good wireless router is critical to provide good performance to your everyday home networking. But, having a good WiFi router is not the complete story.
If you always wonder why your WiFi speed is slow after a new router? It could be due to your old WiFi adapter in your computer is due for an upgrade. In this article we collaborated with TP-Link to showcase their WiFi adapter and which will recommend which model is the best for you.
All the wireless adapters you can buy in the market are either USB based or a PCIE card based. USB based WiFi adapters are really convenient since they connect via USB port. It works with laptops and desktop computer.
 A PCIE WiFi adapter will only work with desktop PC but they are a lot better as PCIE is a lot more stable than USB. You will need to open the chassis and insert the WiFi card to an existing PCIE slot but it has a lot of benefits over a USB WiFi adapter. 
USB WiFi adapter is a quick and simple way to provide WiFi connectivity to a computer. It is compatible with all computers and some do not even need a driver. Do remember to use a USB 3.0 port for the best performance. 
We will compare all WiFi adapter with TP-Link's own Archer C5400X to see what is the faster WiFi speed they all can achieve in both the 2.4Ghz and 5Ghz channel. The results below are obtained with Ookla's Speedtest.NET.
The results are very consistent as even the cheapest Archer T2U can delivers 300Mbps. A new WiFi adapter will not only provide better performance. New features such as beamforming will improve the stability of your WiFi connection as well.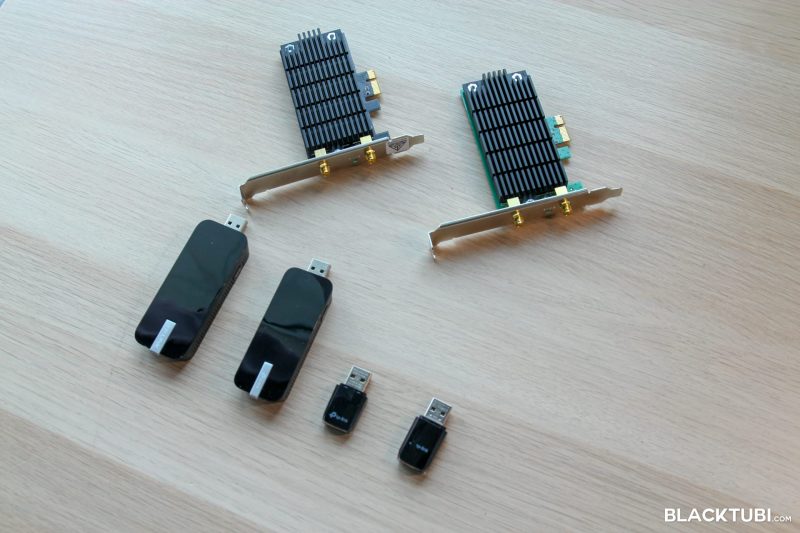 TP-Link USB WiFi adapters are affordable and they can provide significant improvements to your WiFi speed especially if you are using an older WiFi adapter previously. 
After testing all the adapters, I highly recommend picking up the Archer T4U as the performance is really good at an inexpensive price. If your budget is higher, the AC1900 Archer T9UH will give you slightly better performance at a much higher price. For lower budget, the Archer T2U is a decent choice especially for older computers.
If you use a desktop PC, I recommend just buying the Archer T6E PCIE WiFi adapter and forget about USB WiFi adapters. We found that it is more stable especially on long extended usage as USB WiFi adapters will get quite warm.