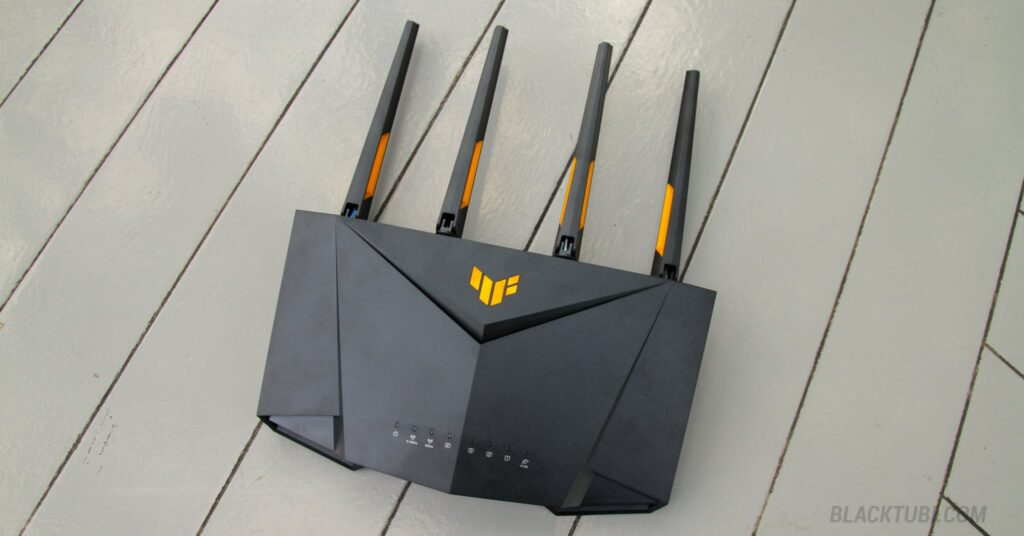 Wi-Fi 6 has been around for several years and they are getting affordable these days. ASUS' brand new TUF-AX4200 Wi-Fi 6 gaming router is packing plenty of features normally reserved for the flagships. All the performance comes at a relatively affordable price that wouldn't break the bank.
The TUF-AX4200 replaces the previous TUF-AX3000 model from ASUS. It comes with a much faster 2.0GHz quad-core chip which led to significant boost in performance and a much stronger Wi-Fi radio. I notice significantly stronger Wi-Fi coverage and much faster speed when I'm further from the wireless router.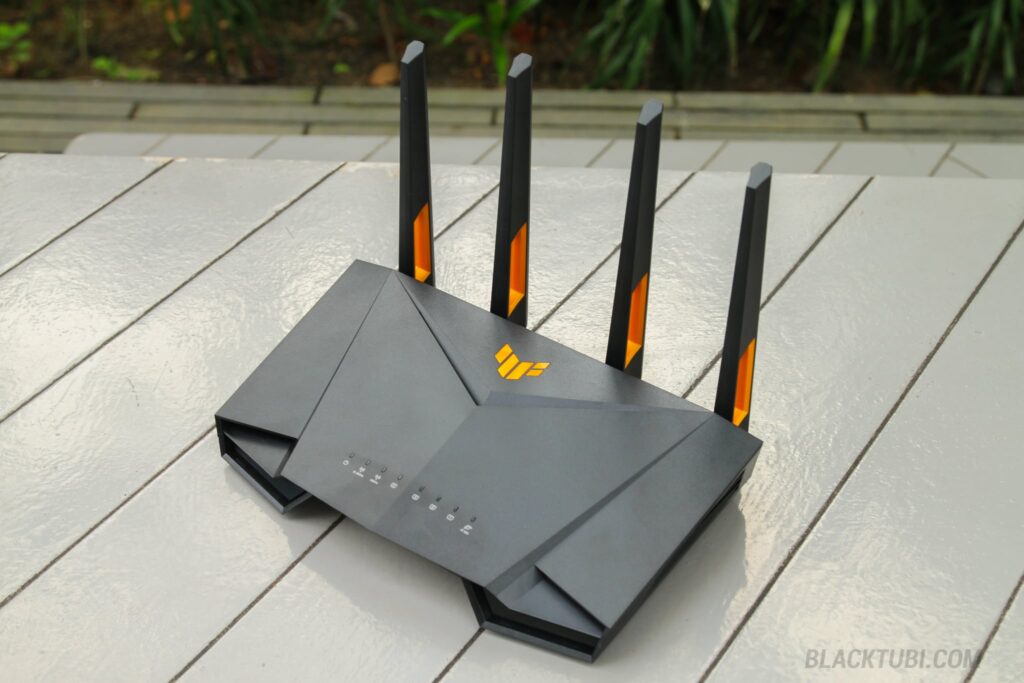 As a member of the ASUS TUF Gaming family, the TUF-AX4200 features a familiar gaming-centric design. Despite its gaming brand, it's actually an excellent router for smart homes with plenty of devices. ASUS offers the TUF-AX4200 at an MSRP of RM688 with a 3-year product warranty in Malaysia.
TUF-AX4200 Wi-Fi Performance Test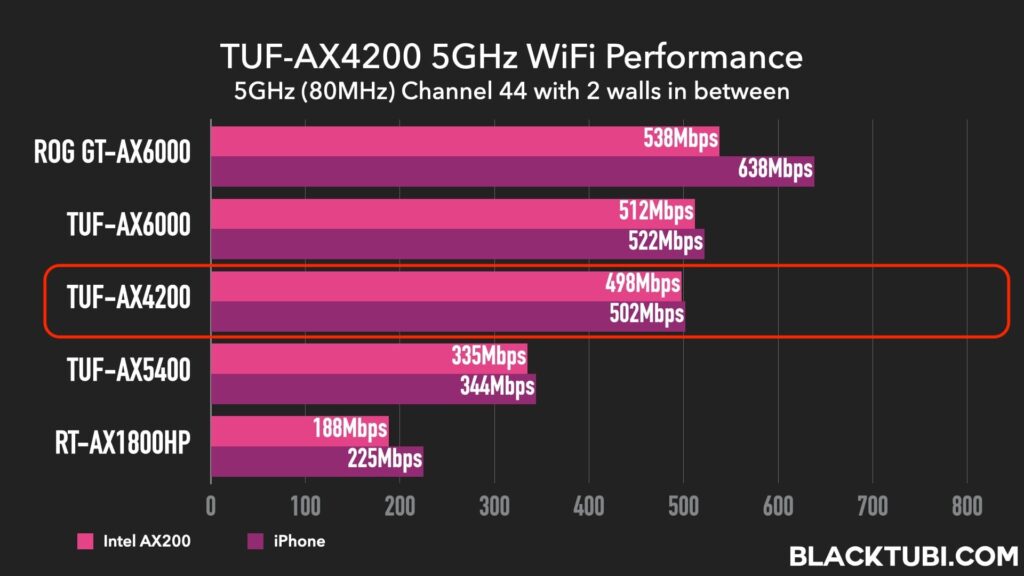 The Wi-Fi performance of ASUS TUF-AX4200 is excellent. I notice much stronger Wi-Fi coverage than the previous model with performance almost on par with ASUS' own flagship wireless router. It's also really consistent when testing across my laptop with the Intel Wi-Fi 6 wireless adapter and my iPhone.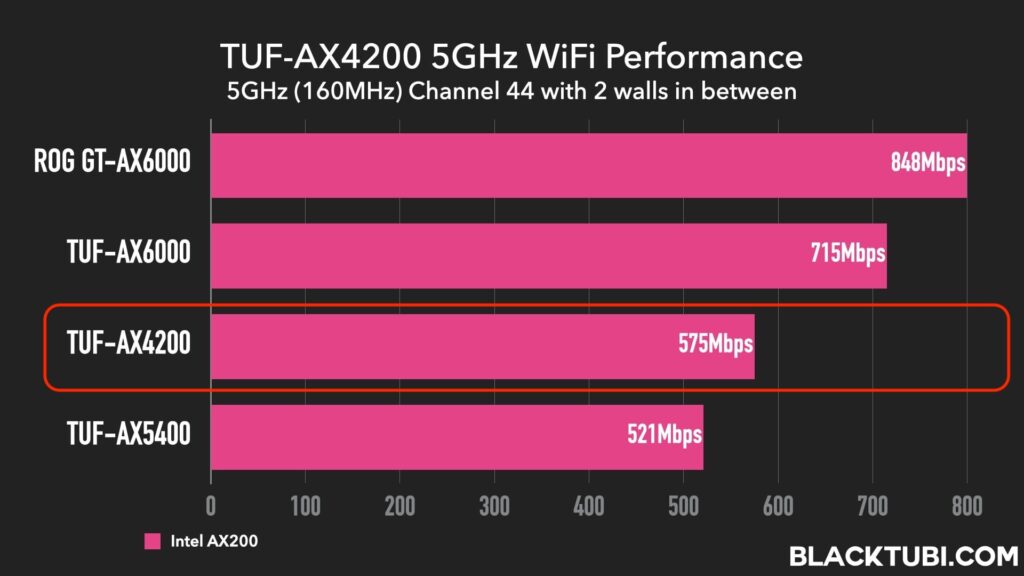 The 5GHz Wi-Fi 6 coverage of the TUF-AX6000 is a huge step up from the previous model. While the coverage is definitely stronger, the speed improved significantly. That's really obvious from my long distance test when I am located 2 walls distance to the wireless router.
The performance is even better when replicating the test on my laptop powered by the 160MHz capable Intel Wi-Fi 6 wireless adapter. The newer Wi-Fi 6 radio is able to provide a faster speed even when it's compared to the TUF-AX5400 model from ASUS.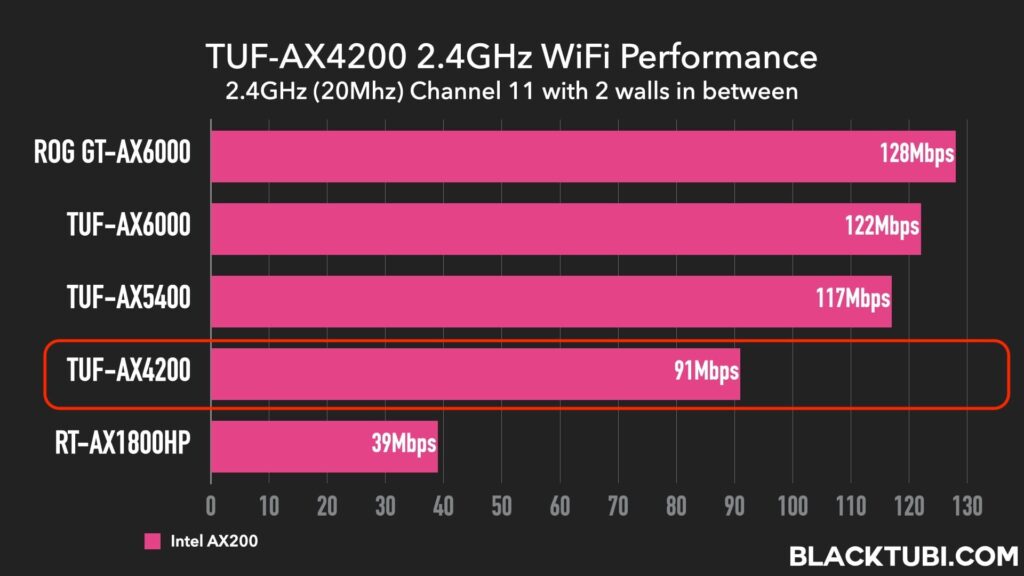 I observed a consistent pattern in which the TUF-AX4200 outperforms the TUF-AX5400 in all tests except for the 2.4GHz network. This once again highlights that a manufacturer's specification sheet merely serves as a guideline, and real-world performance may differ significantly.
CPU Performance Benchmark
While having great Wi-Fi performance is crucial. I also noted a signficicant increase in processing power from the new 2.0GHz Quad Core CPU from Mediatek. The best way to test the performance of the CPU is by running a VPN client on the router and hosting a file sharing server.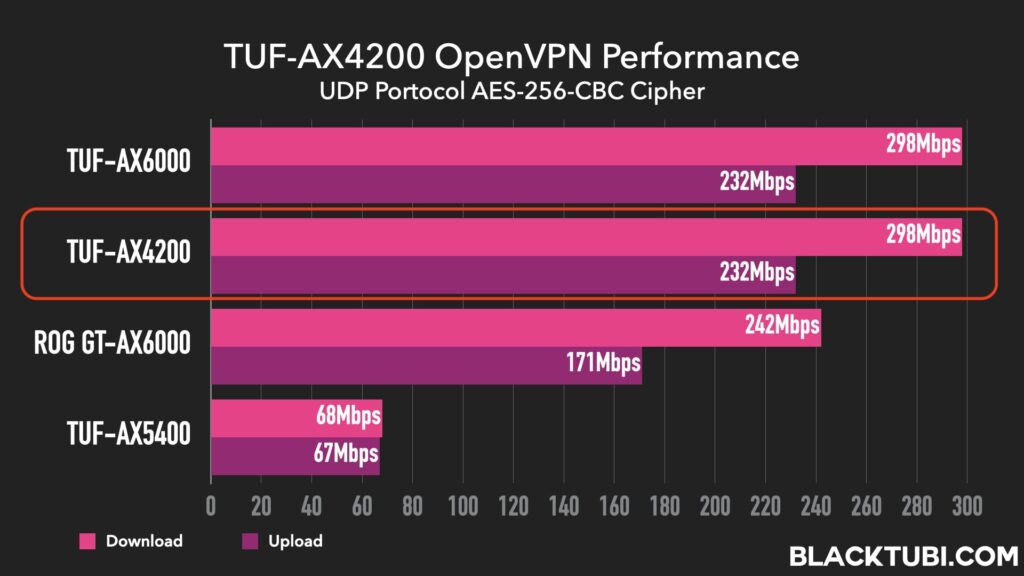 I am running a OpenVPN based VPN client with UDP protocol. The performance is superb, more than tripling the performance of the TUF-AX3000 or TUF-AX5400. In fact the VPN performance is even better than the flagshop ASUS Gaming routers such as the ROG Rapture GT-AX6000 that we tested previously.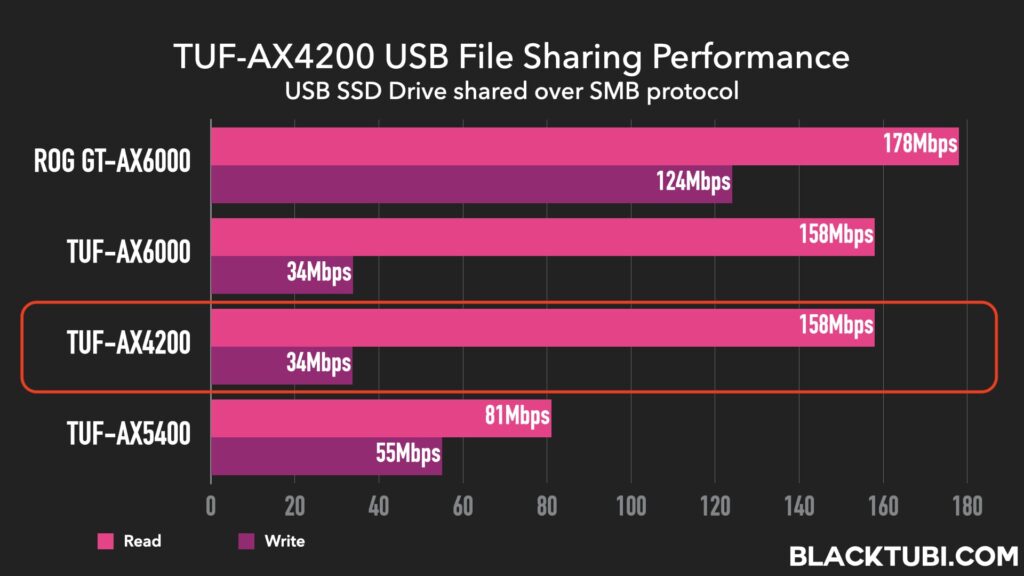 When it comes to the USB file-sharing test, I hooked up a USB portable SSD drive to the router and turned it into a network drive with the SMB feature in ASUSWRT. Although there's a slight dip in the write speed, the read speed steals the show, nearly doubling what we saw with the previous model.
The CPU performance is exactly same as the TUF-AX6000 as well. That's not a surprise since the CPU and the RAM is exactly same for both models. It's good to see ASUS is not intentionally throttling the performance of the cheaper model here unlike some other brands that might do so.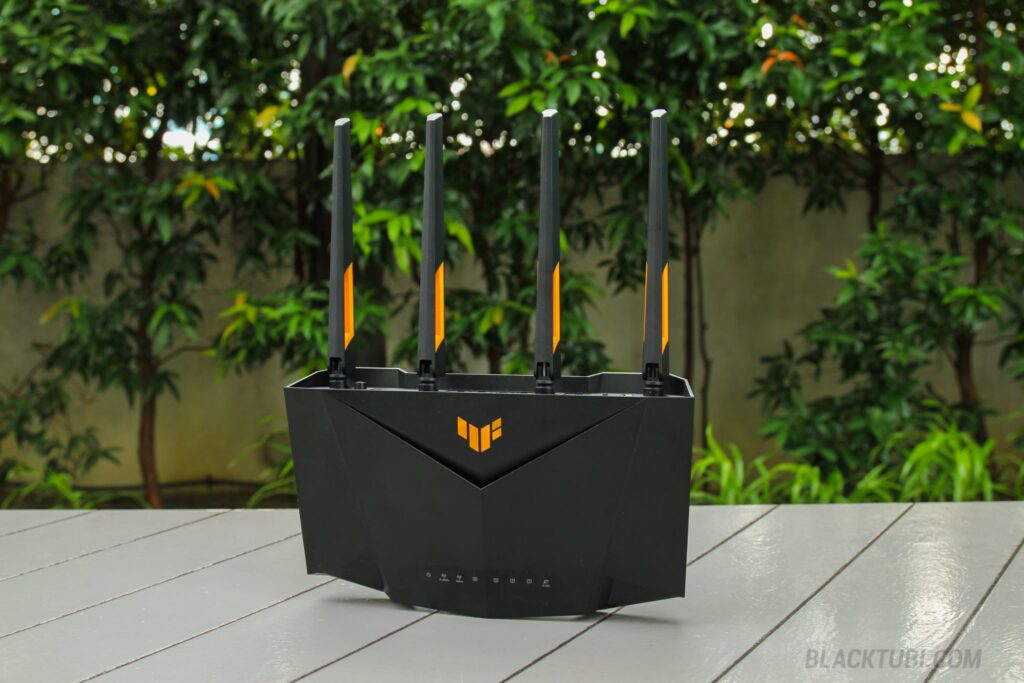 The Mediatek Filogic 830 SoC is a huge step-up from Mediatek's previous product. It's based on a relatively modern CPU architecture that's signficantly more power efficient. What's cool is that this router stays chill, literally! It doesn't kick out a lot of heat and that might be good news for Wi-Fi stability too.
ASUS is also being generous here by including a 2.5G Ethernet WAN port. That's great if you're planning to upgrade to a multi-gigabit Internet connection. Apart from that, it comes with the standard four Gigabit Ethernet LAN ports for your wired devices and a handy USB 3.0 port for file sharing or backup.
ASUSWRT Firmware and Features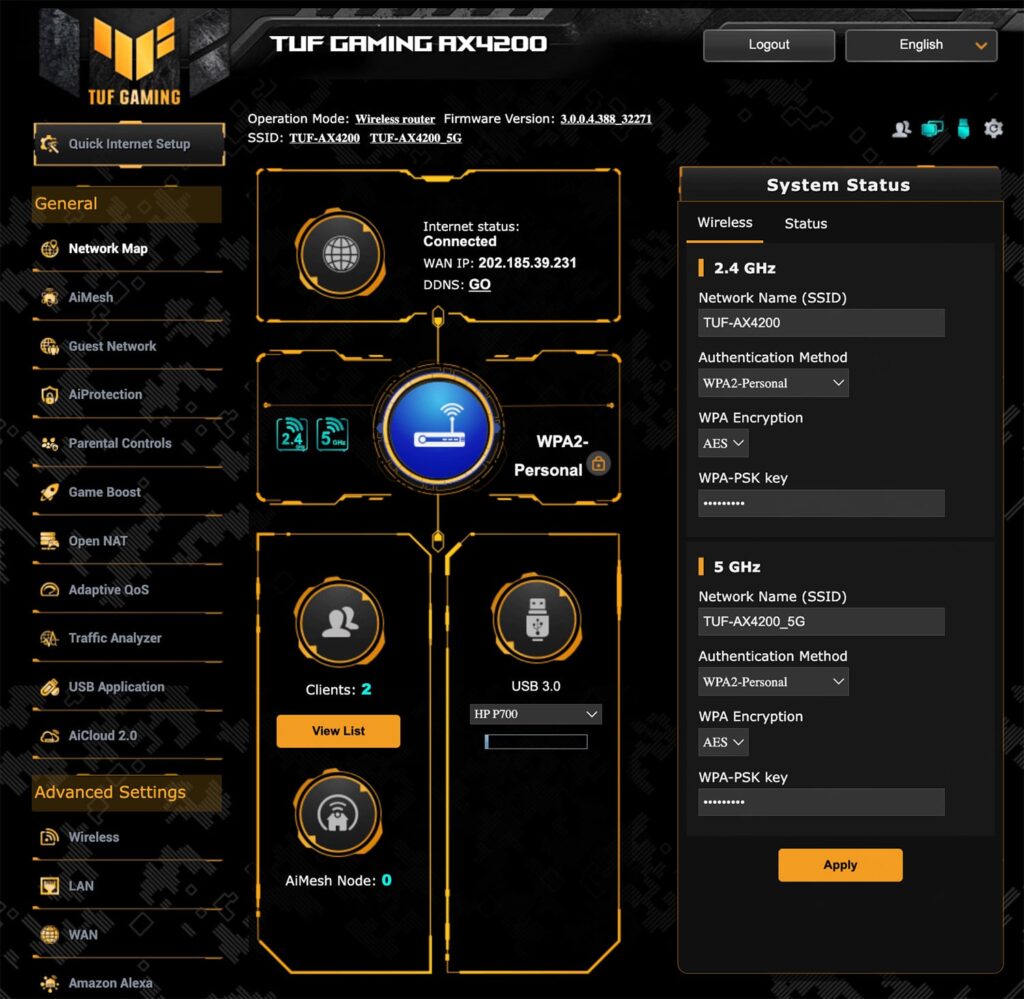 As for the firmware devision, it's the usual ASUSWRT affair with tons of room for customizing and fine-tuning. ASUS also did a good job at optimizing the firmware with the new Mediatek platform. It stayed rock solid and being rather consistent during the two weeks I spent testing the router.
A gaming router is not complete without gaming features. ASUS is throwing in their usual triple level gaming accelerator here. I particularly like the device acceleration feature to prioritize my gaming device. This will ensure a consistent lag-free and low latency connection during my gaming session.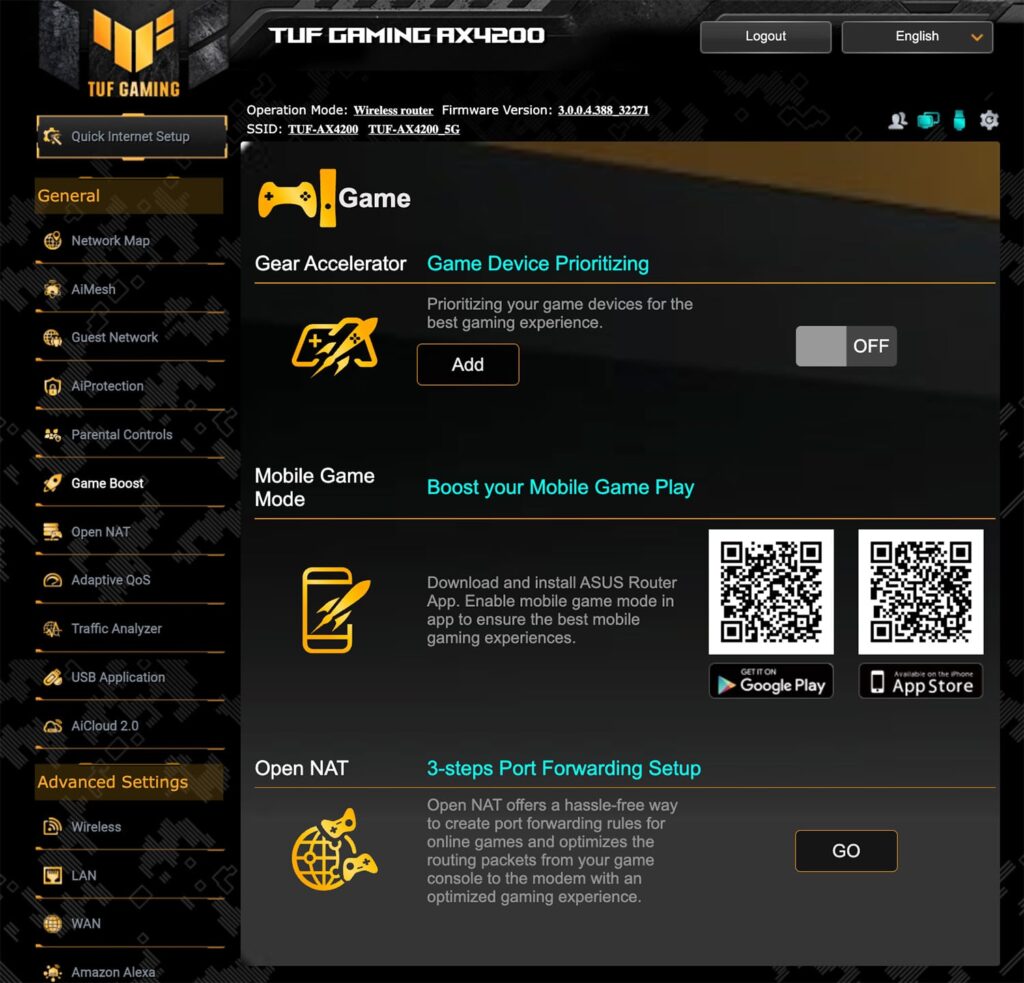 There's also the tried-and-tested AdaptiveQoS feature which proven to be really useful at prioritizing gaming packets. The deep-packet-inspection technology will know which network packets are gaming traffic and it will assign a higher priority to those packets, leading to a lower round-trip latency.
While it has great credentials as a gaming router, it's also a great wireless router for those who don't game. The TUF-AX4200 comes with a the AiProtection Pro enterprise grade security and powerful parental control feature that doesn't require any additional monthly subscription.
Once enabled, it's able to block malware infected webpages or pesky scam pages from being accessed. The parental control feature is able to block website contents based on categories for selected devices as well. That's really useful if you want to prevent your kids from accesing certain kind of websites.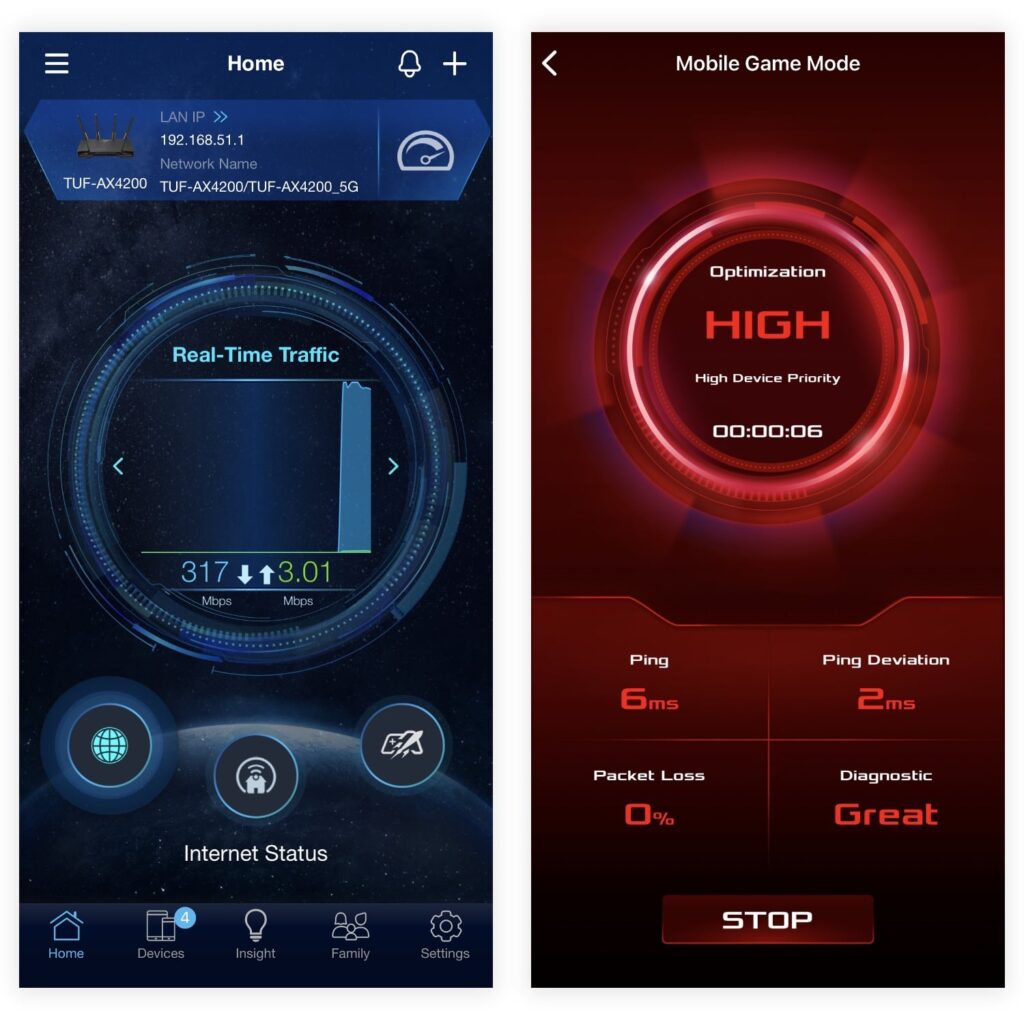 The router can be controlled on the ASUS Router app as well. While it's not as polished as some other brands, it makes up for this with more cuztomization options. I'm also able to extend the coverage with my other ASUS AiMesh routers wirelessly without Ethernet cable. That's really useful for bigger property or if you're planning to share your Internet connection with your neighbour.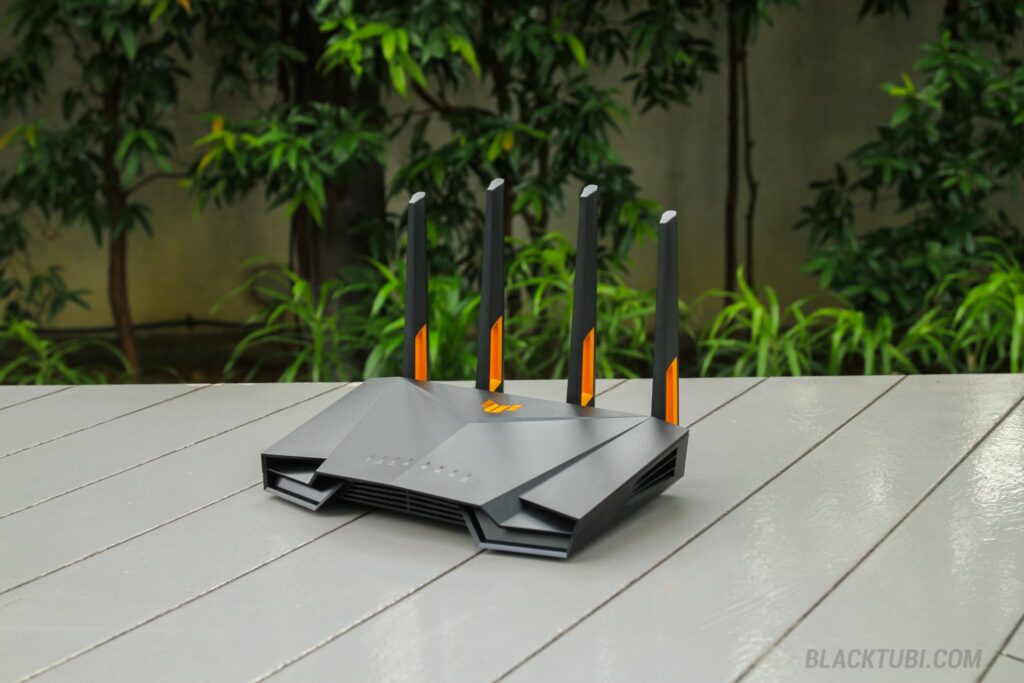 ASUS TUF-AX4200 might be one of my favorite wireless routers released in 2023. It's relatively affordable for a flagship grade performance thanks to the powerful CPU and strong Wi-Fi radio. I also like the fact that I can easily extend the coverage of this router by wirelessly link with other ASUS AiMesh routers.
A gaming router is also the perfect router for a modern smart home. The powerful processor will ensure smooth network connectivity for gamers and also for those with plenty of gadgets or smart home devices. If you're looking for a Wi-Fi 6 router now, the TUF-AX4200 is definitely worth considering.
Excellent 5GHz Wi-Fi coverage with significant increase in Wi-Fi speed
Can be easily extended by adding other ASUS AiMesh wireless routers
Good software update policy with free lifetime update of AiProtection Pro
Doesn't come with a smart home hub