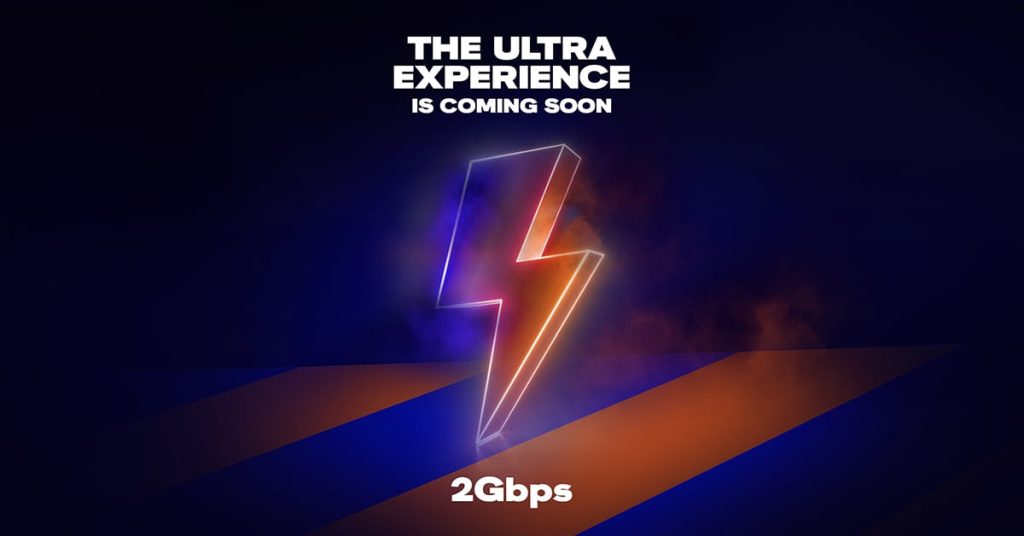 If 800Mbps is not fast enough for you, TM is finally offering speed up to 2Gbps for their Unifi Fibre Internet. However, if you find 2Gbps is too much, TM also announced their new 1Gbps. This new offering is set to redefine high-speed Internet access in Malaysia with TM's broader fibre availability.
The Unifi 2Gbps plan is a significant upgrade from their previous offerings, more than doubling the speed from their current 800Mbps plan. The 2Gbps ultra-fast speed will be able to support more devices which is really helpful especially for those with a bigger household.
| | | |
| --- | --- | --- |
|   | Unifi 1Gbps | Unifi 2Gbps |
| Download Speed | 1Gbps | 2Gbps |
| Upload Speed | 500Mbps | 1Gbps |
| Price | RM409 | RM459 |
The new 2Gbps plan is slightly pricier than the existing 800Mbps plan. However, TM is including access to the Unifi TV service and several other subscription content such as Disney+. There's also an introductory promotion of RM399/month for the Unifi 2Gbps plan and RM349/month for the Unifi 1Gbps plan.
Also worth mentioning is the upload speed is a rather significant increase over the 200Mbps from the 800Mbps plan. The 1Gbps upload speed of the Unifi 2Gbps plan is double the speed of TIME Fibre's 2Gbps plan. It's great to see TM finally playing catch-up to TIME fibre.
Unifi 2Gbps Router and Mesh
As for equipment, TM is giving D-Link's DPN-FX3060V Wi-Fi 6 certified all-in-one optical network router (ONR) which comes with an intergrated fibre modem and Wi-Fi 6 router. Unfortunately, the ONR only comes with Gigabit Ethernet LAN ports and only Wi-Fi 6 AX3000 capability.
This means the Ethernet LAN speed will not exceed the 1Gbps speed on a single device even when you're subscribed to the 2Gbps plan. As such, Unifi only promise a maximum aggregate speed of 2Gbps when several devices are using the Internet.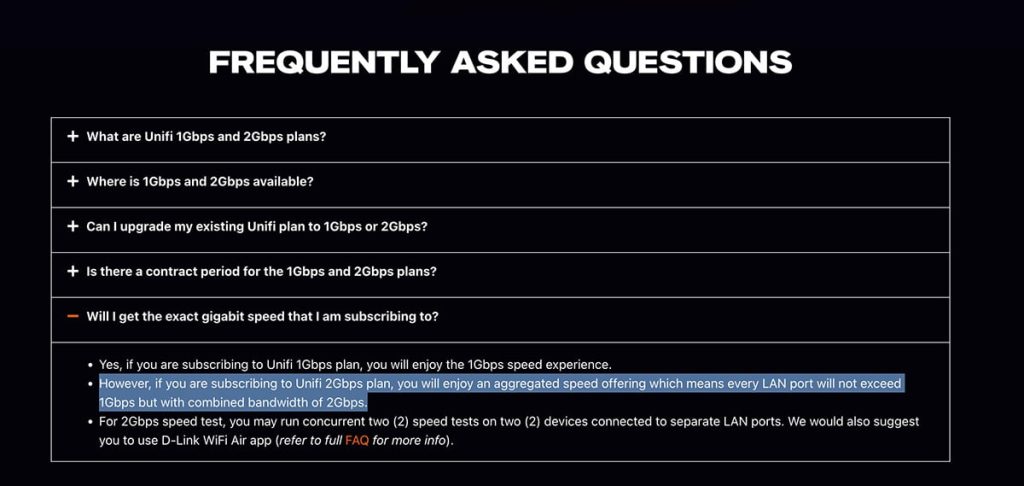 TM also does not allow the use of third party optical fibre modem. It is not possible to use a third fibre modem to get speed faster than 1Gbps on a single device even with the 2Gbps plan. Getting over 1Gbps speed when using the Wi-Fi will be hard with the rather mediocre Wi-Fi 6 AX3000 specifications.
TM is also including free Wi-Fi 6 certified mesh Wi-Fi units for new users subscribing to the 800Mbps up to the Unifi 2Gbps plan. The mesh Wi-Fi units will be really helpful especially to those staying in a bigger homes by expanding the Wi-Fi coverage signal to every corner of the property.
More info are available from TM's portal here. However, just bear in mind that it will come with a 24 months contract for new and customers who upgrade to the new plans. TM is also providing a guarantee where any service disruption will be resolved within 12 working hours for the new ultra-fast plans.
TM said the 1Gbps and 2Gbps plan will be available nationwide. However, TM also mentioned that it will depends on port availability and they did not release a detailed coverage map where the faster plan can be support. I suggest visiting your nearest TM point to check whether your location is covered.