Time have been one of the fastest consumer ISP in Malaysia utilising a full fibre infrastructure. The plans used to be the best deal until recently surpassed by Unifi Advanced 30 plan. It appears that they are not letting Unifi to steal the Crown. Today, they announced some really competitive new plans with faster speeds and lower price.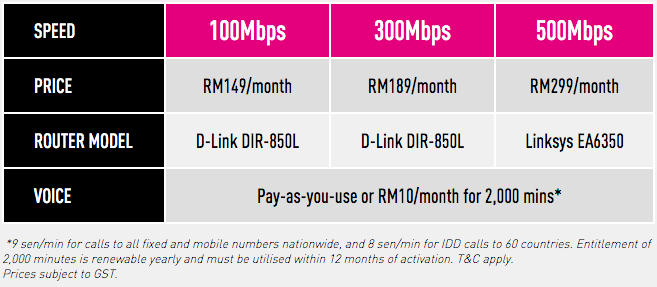 The new plans now start at RM149 but with an increased speed of 100Mbps. This is cheaper than the basic Unifi 30 plan but with speed faster than the most expensive Unifi plan! The 300Mbit plan is RM189 and the 500Mbit plan is only RM299. Time totally scrapped the quota and all new plans come with no quota! You can add just RM10 and enjoy 2000 minutes of voice call. However, the new plans do not come with any boost but it does not matter since all plans are faster than the 50Mbps boost speed now. Kudos to Time for providing a Wireless AC capable router! The D-Link DIR-850L is a great router to compliment the fast speed.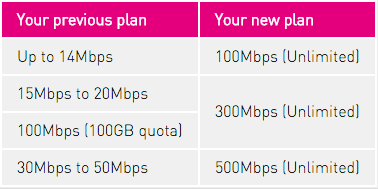 The old plans are scrapped with the announcement of the new plans. Time will migrate existing customers to the new plan stage by stage. Some users are already receiving the free upgrade! 10Mbit users will be upgraded to the 100Mbit plan without any change in their subscription fee. That means they are paying just RM129 for a 100Mbit internet. 20 Mbit users will be upgraded to the 300Mbit plans. Lastly, users on the 30Mbit and 50Mbit plan will be upgraded to the 500Mbit plan. It is good to know that customers on the previous 100Mbps plan with 100GB quota will be upgraded to the 300Mbps plan which comes with no quota! They all are able to maintain their current subscription fee while getting a way better deal. For more information, check out Time's FAQ here.
With Time Fibre lowering their prices with exciting new plans, we hope this will spark an ISP war in Malaysia. The pricing totally blows the competitors out of the water. TM's 30Mbps plan is priced at RM179 currently, it is much slower and more expensive. I hope Time Fibre is able to expand their coverage areas with more areas being covered. Time Fibre is mostly limited to high rise building currently. This is a much-welcomed innovation for Malaysia ISP scene which had stagnated in the recent years.