Asus RT-AC55UHP is very similar to the RT-AC55U which is not available in Malaysia. It comes with 2 ridiculously huge 9dBi antennas. The HP naming stands for high power. Asus claims it is able to provide a better signal coverage and performance. Besides, the router supports fast Wireless AC1200 which should guarantee you a great wireless transfer speed. It is one of my favourite routers and I always recommend it for people looking for a replacement to their ISP provided router.
The RT-AC55UHP is a really eye catching router with the dual enormous antennas on the back. It comes with 1 USB 3.0 port in front and 1 USB 2.0 port at the back. There is only 1 combined activity indicator for the 4 LAN ports.
Quick Specs:
Wireless AC1200 (867+300)
4 Gigabit Ethernet LAN ports
128MB RAM 128MB Flash
Dual 9dBi antenna
Click here for the complete specification by Asus
Click here for the technical specification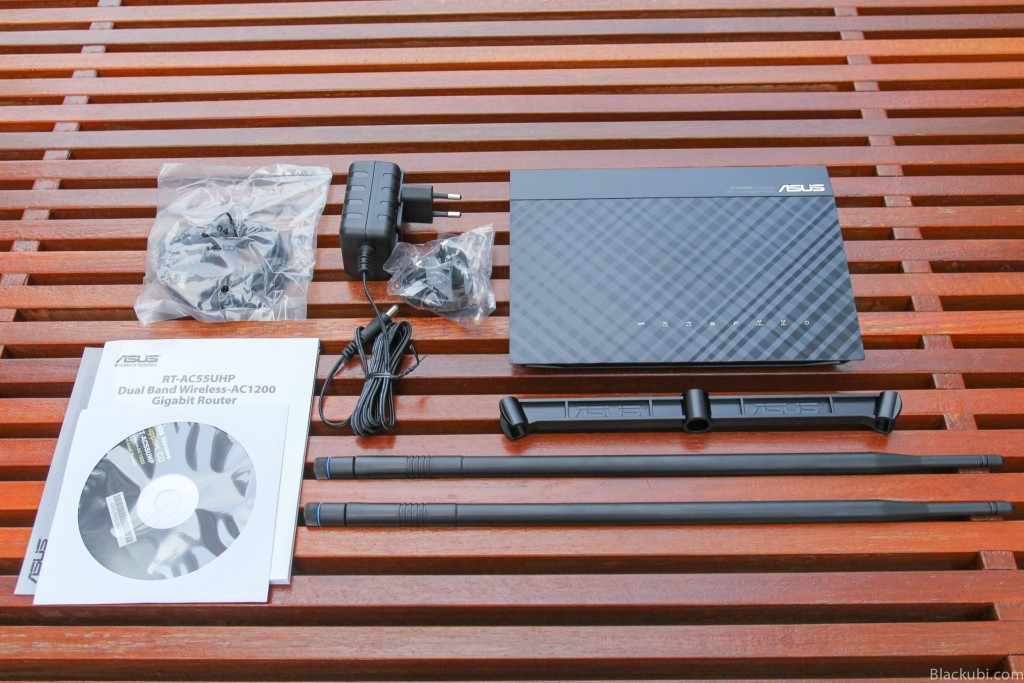 Wireless Signal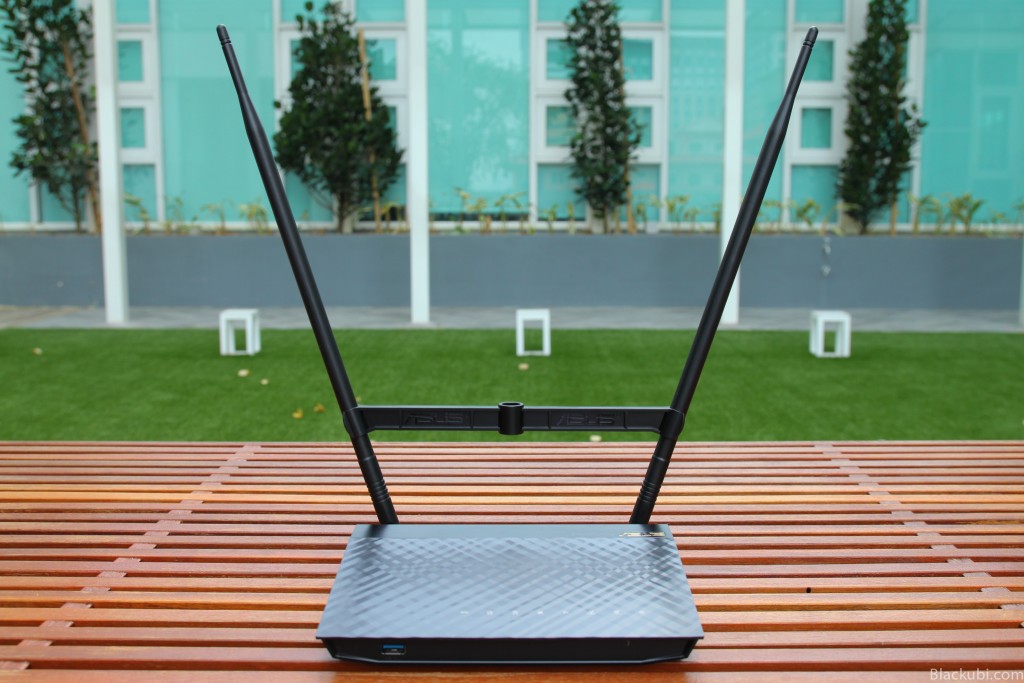 Asus RT-AC55UHP live up to its claim with the dual high gain antenna. The signal coverage from this router is really good. I am able to use my wireless connection at certain part of my house which I never able to use with the ISP provided router. Please make sure the antenna is properly angled for the best performance. Asus provided an antenna spacer just for that usage.
Wireless Performance
The RT-AC55UHP comes with dual 9dBi antennas which Asus claims to help boost the wireless range of the router. We shall see if the antennas really do help with the range of the router. This router support Wireless AC up to AC1200 which is 867Mbps on 5Ghz and 300Mbps on 2.4Ghz. I am conducting a simple benchmark on my laptop which similarly support Wireless AC1200 as well. I will be using iperf test with my another computer acting as a Server on Gigabit Ethernet.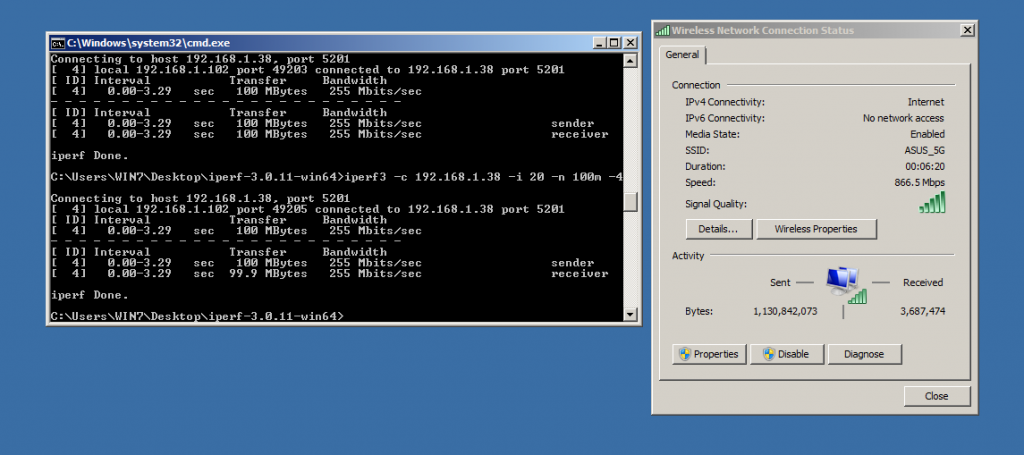 On my close distance testing, it is able to hit a real life performance of 255Mbit/s consistently. Wireless throughput speed is 867Mbps from Windows readout. It is reasonable from a router this range.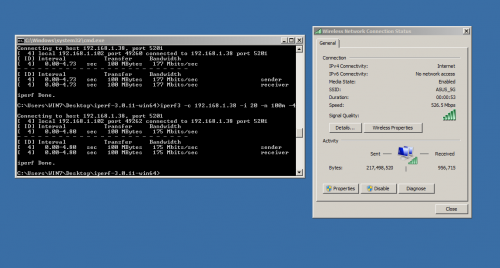 Here's the interesting part. As I move into another room, I still able to obtain a very impressive real life performance of 177Mbit/s although the wireless throughput dropped to 526.5Mbps. The dual 9dBi antennas do work as advertised and able to provide a strong signal. If you want something with strong signal strength, this is the router for you.
Overall, the performance of this router is promising. Streaming movie over the wifi is really smooth without dropped frames.
Asus RT-AC55UHP Unifi Compatibility
Asus RT-AC55UHP is fully compatible with Unifi with HyppTV working. In addition, Native IPV6 is working properly. It is definitely much more stable than the stock router provided by TM. You can refer to this article on how to configure Unifi on Asus routers. Sidenote: Maxis Fibre is working properly as well.
User Interface and Features
The RT-AC55UHP comes with AsusWRT. AsusWRT is the firmware used on all new Asus routers and it is really user-friendly and easy to configure. It includes a lot of features such as AiCloud, Download Master, 3G/4G sharing, USB file sharing, VPN client, Smart QoS and etc. You can download torrents, run a private cloud and more. The list of features is the most extensive in compare to its competitors. The value added features are really powerful and it sorts of transform your router into a mini NAS. The full list of features is available on Asus site here. I do hope that it comes with Adaptive QoS which is currently reserved for the more expensive Asus routers.
USB File Sharing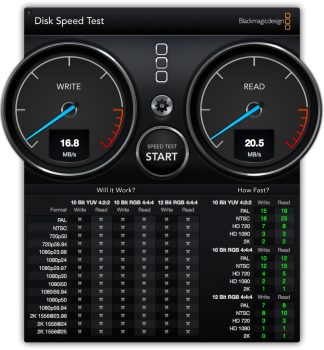 Asus RT-AC55UHP comes with 2 USB port which you can use it to share files over your network. On my test with a USB 3.0 external hard disk, it is able to reach a decent 16.8MB/s write and 20.5MB/s read. Besides, you can also have the router to download torrents or set up your personal cloud with the Aicloud feature. The USB port can be used for USB 3G/4G modem and printer sharing as well. It is a very functional router.
The Verdict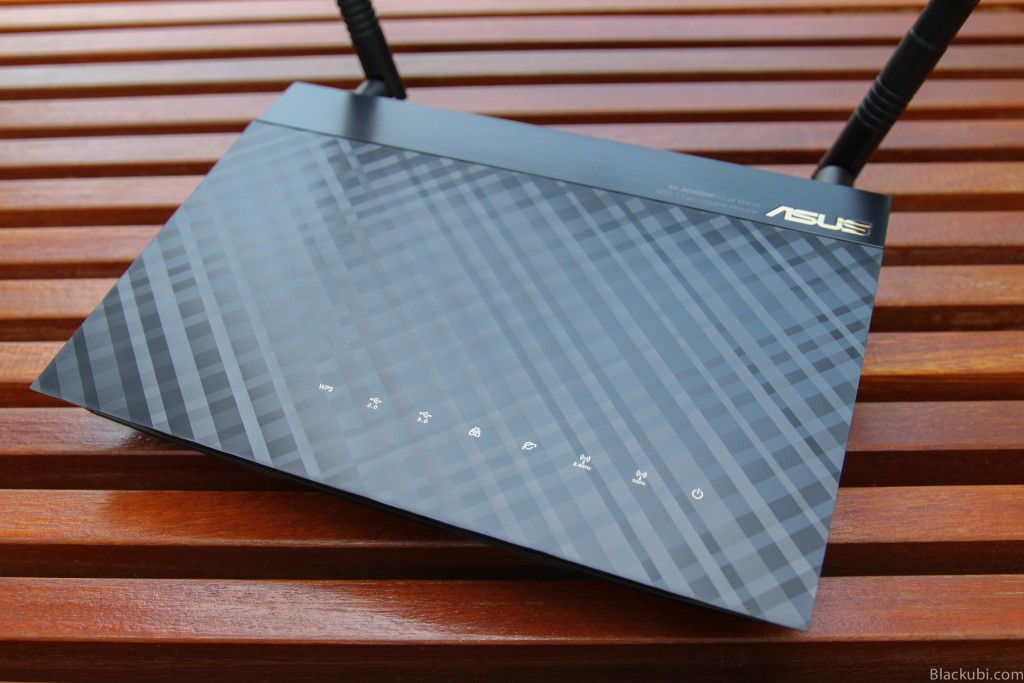 Asus RT-AC55UHP is a really good all-rounder, it is very stable and performs well. The wireless performance is definitely a significant step up over the ISP provided router. Do not worry about getting the full speed of your internet package. AsusWRT comes with a lot of useful and powerful features to compliment the already great hardware. It is worth noting that most wireless devices on the market currently only support up to Wireless AC1200. This router is the perfect candidate as a modern wireless router. Lastly, it is fully compatible with Unifi and HyppTV as well. If you are shopping for a new router, you can't go wrong with this.