D-Link DIR-885L is the latest router additional to D-Link range of wireless routers. It is a wireless AC3150 capable and it comes with support for wireless MU-MIMO Wave 2 which enable simultaneous multi-client transmission for higher performance. It is supposed to be a fast router and we shall see how it compares against other routers.
Hardware and Design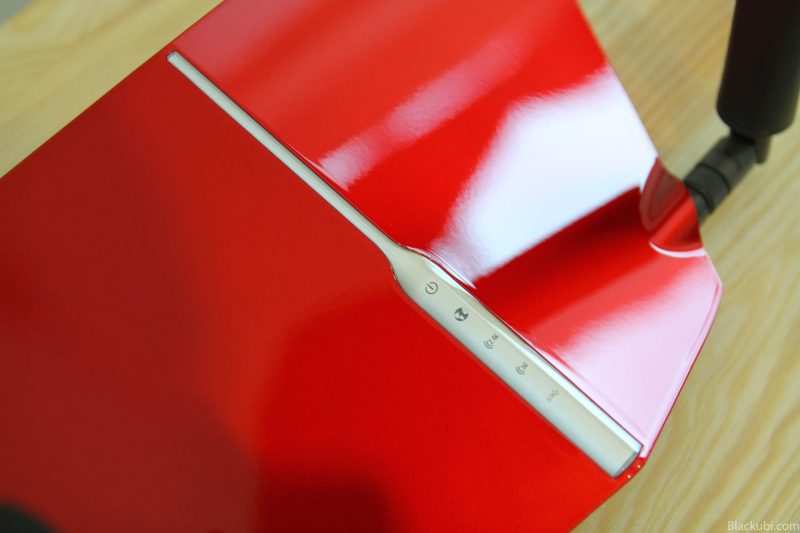 The hardware look similar to D-Link flagship router, DIR-890L. The unit I am reviewing is the red unit and it is really attractive and pleasant to the eyes. The entire top is finished with a glossy bright orange-red paint. All the antennas on the router are removable, unlike the DIR-890L.
On the back of the router, we have a range of ports. There are 4 Gigabit Ethernet ports and a single USB3.0 port on this router. D-Link included a dedicated hardware switch which is able to change the operation mode between wireless extender or router.
D-Link DIR-885L Unifi Compatibility
This router is fully compatible with Unifi with HyppTV working. You will need to select the Unifi mode on the connection page. Besides, it is fully compatible with Time Fibre as well.  With its fast wireless performance, you are definitely able to browse at the full speed of your Time Fibre connection.
For more Unifi compatible routers, you can refer to our own Unifi Router Replacement Guide.
Wireless Performance and Features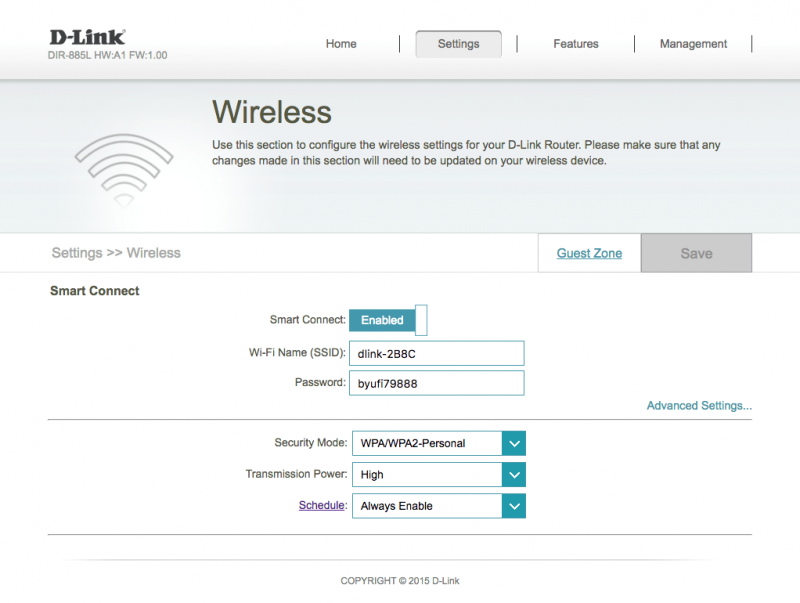 Wireless performance is true the focus of the DIR-885L. This is a wireless AC3150 capable router and It is insanely fast and stable. Streaming media and transferring files to my NAS is a breeze on my Macbook Air. The wireless range is really impressive as well. There is no good way of describing the range but it is definitely above average. On my usual wireless benchmark, it peaked at 600Mbps which I believe it is the limit of the wireless card in my laptop. It will definitely reach a higher performance if I use a faster wireless card such as the Asus PCE-AC88 I recently reviewed here. With my 100Mbps internet connection, I have no issues reaching the peak of the connection.
Besides, it is worth noting that the DIR-885L supports MU-MIMO wireless. It is able to transmit seamlessly with multiple clients simultaneously and this will be able to increase the performance if you use it with MU-MIMO capable devices such as the latest Samsung Galaxy S8. This router can operate in various modes namely, router mode, bridge mode, AP mode and as a wireless repeater (range extender). It is a really flexible device as it is able to serve multiple roles. I personally love the repeater mode to extend the coverage due to the strong signal reception of this router.
Firmware and features
D-Link routers always come with decent firmware and the DIR-885L is no different. The firmware is user-friendly and being basic, it is easy to set up this router as well. The home page allows you to monitor the status of your router with the connected clients and internet status. Diving deeper, the router comes with various value added features. The new drag and drop style iQoS is really easy to use and convenient. You just drag the device you want to limit to the relevant QoS profile and the router will do its job automatically. There is even an OpenVPN server which allows you to setup VPN to your home network remotely and securely.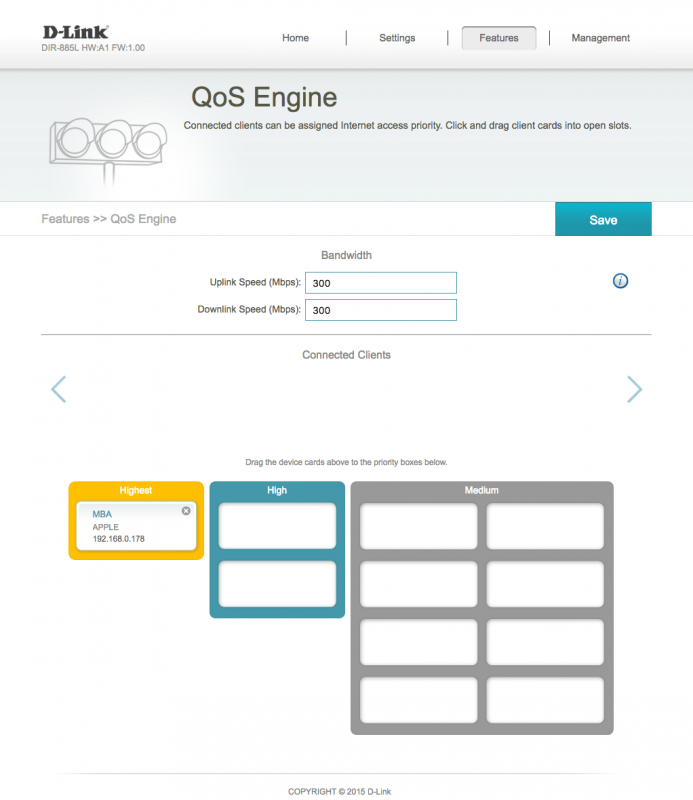 D-Link says an update in the future will enable video recording for supported D-Link IP camera. It is a good sign that D-Link is improving in terms of router features. In short, D-Link is on a right path for firmware development with a decent amount of features and good stability.
USB features and performance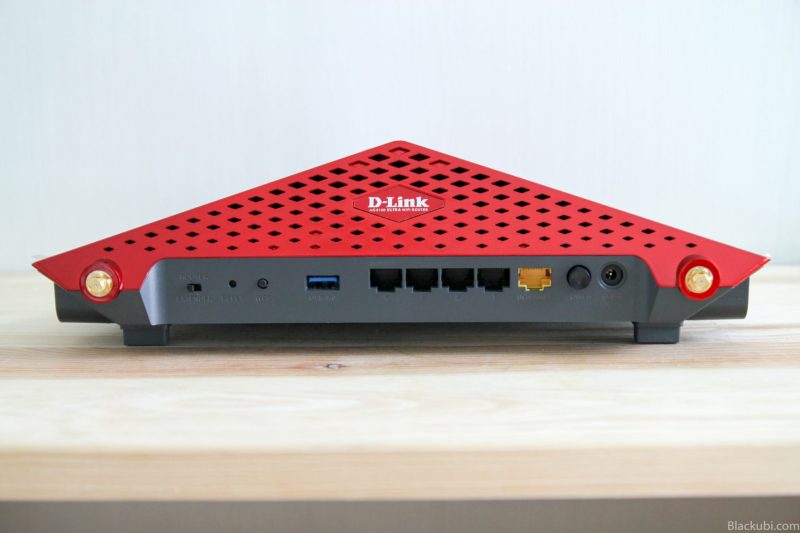 D-Link DIR-885L come with a USB 3.0 port and it is are able to share files on your network. You can stream your videos in your external hard disk to your smart TV over DLNA as well.
The Verdict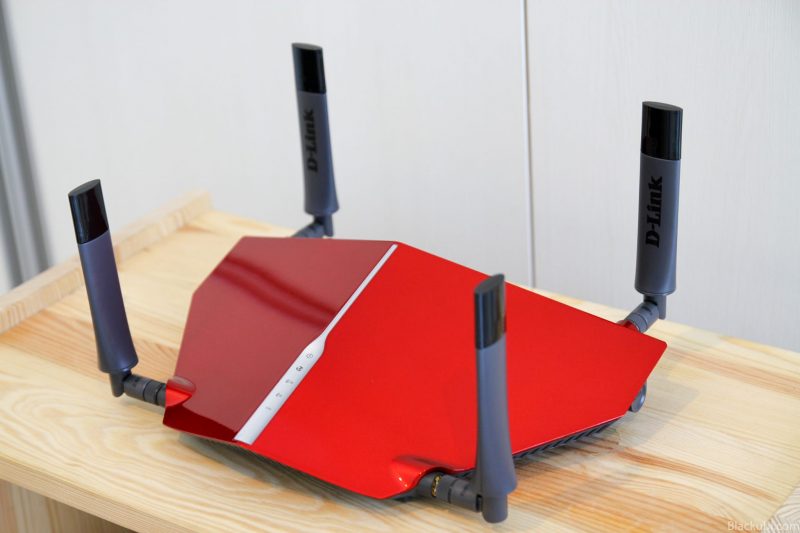 D-Link DIR-885L is an impressive router. The firmware is no nonsense and it is very basic in terms of feature. I wish it comes with more features and a better mobile app for easier monitoring. Performance is the key focus of this router. I am really impressed by the wireless performance and this could be the fastest AC3150 router I have tested. It is worth nothing that the wireless range is really impressive as well. I am having better signal strength on this router than the DIR-890L.
In short, D-Link DIR-885L is a great router with good specifications and impressive performance. It is relatively affordable compared to other AC3150 routers as well. I wish the firmware can come with more features but apart from that, it's all good. I highly recommend this router if you have a 50Mbps internet plan and you are looking for a high-performance router.