Asus RT-AC87U is one of the fastest wireless router available when it first released. The RT-AC87U support 4 spatial streams and MU-MIMO as part of Quantenna's Wave 2 features. As a result, the performance is blistering fast especially when paired with the Asus EA-AC87 as media bridge. However, as device manufacturers are still catching up with wireless development, you can expect getting around 500Mbps on most devices currently.
[one_half]Quick Specs:
4 Gigabit Ethernet port
128MB Flash and 256MB RAM
Compatible with Unifi/Maxis Fibre
Dual-Band Wireless AC-2400 (1734+600Mbps)
Refer to Asus Website for detailed specifications
Wikidevi article on hardware specifications
[/one_half][one_half_last]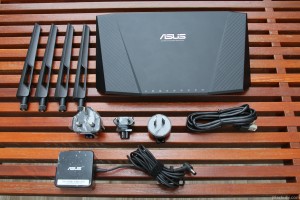 [/one_half_last]
Hardware and Design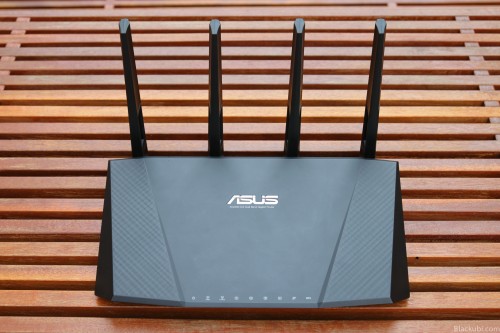 This RT-AC87U design looks closely adhered to Asus' ROG design language. It's sexy and edgy with a matte finish all over the device. The blue LEDs can be turned off if you prefer a subtler looks.
There're 4 external antennas which allow 4×4 MU-MIMO, one of the fastest wireless AC implementation currently. The USB 3.0 port is hidden under the lid in front for easy access.
Unifi Compatibility
Unifi compatibility is perfect on Asus RT-AC87U as expected, HyppTV works really well. If you are having problems with configuring this device, you can refer to my Asus Unifi configuration guide here. Unsurprisingly, IPV6 is working on this router as usual. Beside, Maxis Fibre is working on this router as well. However, I do not test the compatibility with Maxis VOIP and Astro IPTV.
Performance
Performance is great on this router. I configured the router to share my external hard disk on the network via Samba and it was great. I was able to stream 1080p movie smoothly over wireless. Unfortunately, I did not conduct a proper benchmark to show the performance.
Another interesting feature is hardware-accelerated NAT which allow full 1Gbit LAN to WAN connectivity. It is going to be useful in other countries such as Singapore where 1Gbps connection is available now. This is expected on a router this price anyway.
Wireless Testing
Asus RT-AC87U is one of the fastest wireless routers on the market right now and I expect the performance to be good. I am using iperf3 to conduct a simple benchmark on the network performance. Do note that this is a simple test and the result may vary. My test hardware is my 2013 Macbook Air which support up to Wireless AC 867Mbps on 5Ghz.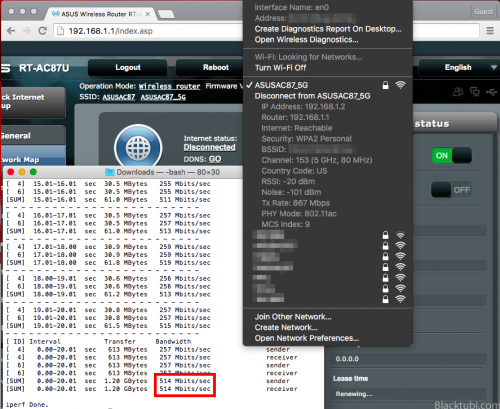 Rather unsurprisingly, I am able to achieve up to 514Mbps of actual throughput over wireless. The throughput is consistent even when I connect my other wireless devices on the network. Performance is consistent without dropouts on this latest firmware. Unfortunately, I need an even faster wireless adapter in order to benchmark this beast properly.
Media Bridge Mode
Media Bridge is one of the key features of RT-AC87U. What is Media Bridge you ask? It's basically a wireless bridge which allow you to provide connectivity to other Ethernet only devices wirelessly. This router is clearly designed to be used with Asus EA-AC87, notice the similar naming scheme.
The wireless performance if amazing when paired with EA-AC87. I am able to achieve close to Ethernet throughput. Stay tuned to my full review of Asus EA-AC87. On the other side, the repeater mode from the AC68U is no longer available. It's not an important feature but an extra feature is always good. 😛
Features
This router comes with ASUSWRT and since this is a high-end model, it come with the full suite of ASUSWRT features. They are really useful and sort of transform your router into a mini NAS. I particularly like the new AiProtection feature which allow
AiProtection first debuts with this model and it aims to protect the user with various tools. It comes with a number of tools and I particularly interested in Malicious Site Blocking. I tested this feature with an antivirus test site and it works! The site is blocked and a warning is shown to warn the user. The user will be prohibited from accessing the site.  However, I must stress this is not a full replacement of Antivirus software.
Asus RT-AC87U Verdict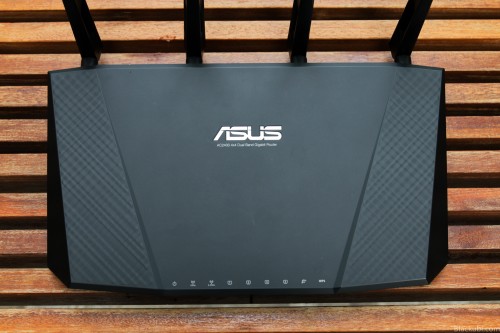 The performance on this router is good. The wireless issues reported previously had been fixed on the latest firmware update. As this price point, there's simply not much to say. This device fulfills my expectations without disappointment. You can expect smooth streaming files from your NAS over wireless. ASUSWRT's extensive list of features are amazing but the average users won't fully utilise it. If you are shopping for a new router, this is a good choice.
There's not much competitor in this segment if you need Unifi compatibility. TP-LINK is cheap but the Unifi compatibility is hit or miss. The closest competitor for this model is Netgear's R7500 but Netgear's presence in Malaysia is relatively small and support is poor. I consider the Asus RT-AC3200 to be the closest competitor of this router in this case. Stay tuned to my future review of the Asus RT-AC3200.